Jimdo Review
Jimdo – rich in features, easy to use, and affordable for the pockets, and a multidimensional website builder
Building a website can be the most indigestible bite of Internet for many. Getting the layouts correct isn't always an easy task, and unless you are well equipped with the smart tools and tricks of a seasoned coder, your dream of having a vibrant, content rich, functionally impressive and multi-dimensional website might always remain that – a dream. Thanks to website builders, your dream can take the form of a colorful reality in a matter of a few hours, and without you having to dig inside your pockets.
The website builder market space is ruled by tools that tend to adopt the 'jack of all trades' design philosophy rather than the 'master of one' school of thought. It's not uncommon for web enthusiasts to keep on upping the ante every now and then. What begins as a hobby website can easily progress to the status of a well-developed blog, which then branches of into a niche web store. Jimdo is an easy to use, versatile, easily affordable, and single stop tool for all such endeavors. At its core, Jimdo is a website builder that brings you affordable website building solutions that can help you stand in line with the well-established websites in terms of designs and features. If you are looking for a customized website that you can experiment with and scale up as per your needs, then Jimdo is a pretty decent option for you. With responsive customer service and a well spread out community forum, Jimdo is right up the alley for progressive web entrepreneurs who like to keep things simple yet substantial.
Catering to personal use websites, online stores, blogs and business websites, Jimdo has been ramping up the features menu ever since the time of its inception in Germany. Today, Jimdo lets you create websites that support 12 languages. With more than 10 million satisfied users, Jimdo has the numbers to make a winning case.
Jimdo Free Website Builder
You will not have to surf far in your quest for a free website builder service. However, whether the free service is of any real use is not a question that often gets answered in the affirmative with most free website building services. Thankfully, things are different with Jimdo's free website builder, as it offers a convenient platform for budding web entrepreneurs to create their first web projects without investing much time into the designing work.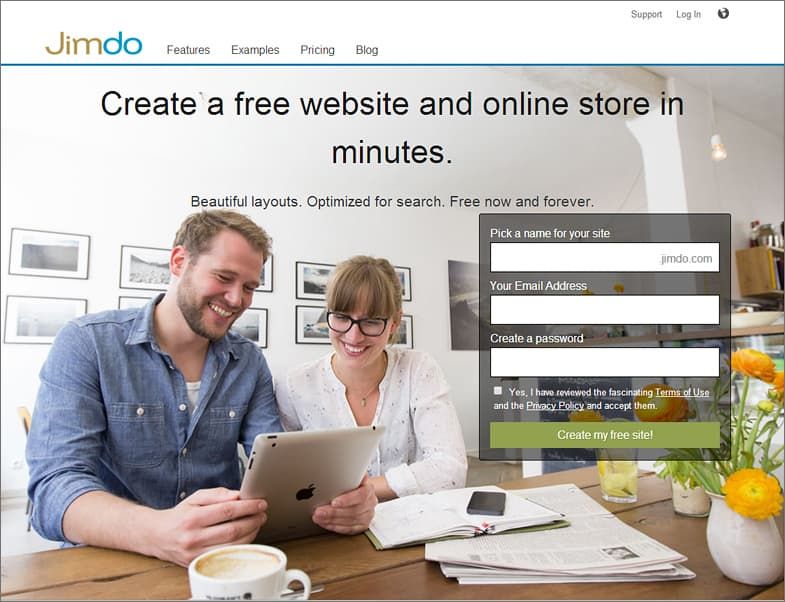 Signing up for Jimdo's free website builder is a walk in the park, and hardly takes more than a few seconds. All you have to do is to fill in 3 fields – your desired site name, your email id, and your password. In the free version, you don't get the flexibility of using your own domain name. Instead, your website name is attached to the Jimdo domain name. In case the name you choose for your website is already, you are informed of the same on the same screen.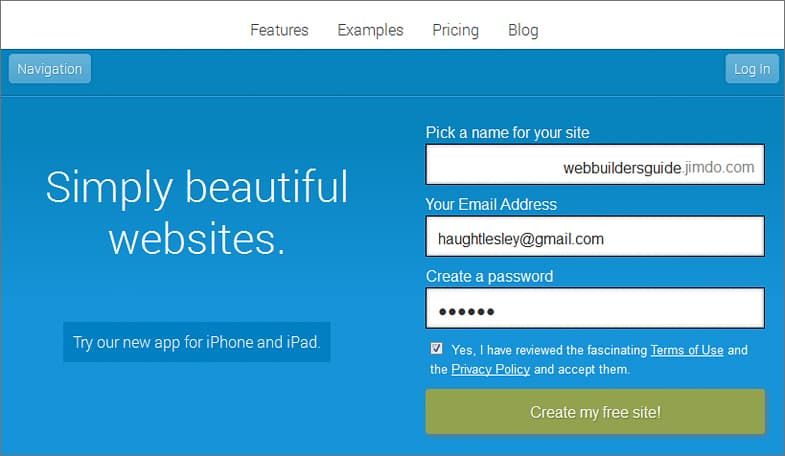 Once you are through this breezy registration, you are greeted with a video tutorial screen. The video quickly takes you through the functions and features of Jimdo's website builder and is a good investment of a few minutes before you get into the development phase of your website.
Next up, you are taken to the first screen of your new website, which is actually just a standard modifiable layout of text, header elements, images, and other page design components.
Here's something very interesting about the Jimdo free website builder. If you have some experience of working with some of the other website builders from the top players in this market, you might have reasons to not be completely overwhelmed with this website builder. That's because it is not exactly a drag and drop website builder. Instead, you are given pre-placed components. You can easily edit the, and hence customize the content of the page as per your needs. Does this mean that you are stuck with the layout you are given?
Firstly, you do have the flexibility to move the page design blocks around, although the movement is not as flexible as in the case of a few other website builders from the market leading services. Secondly, you have the option of selecting among several layouts, using the menu bar.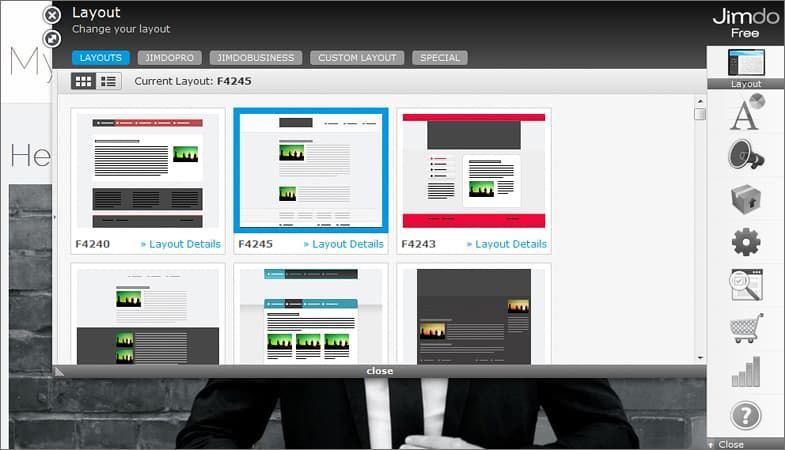 If, however, Jimdo happens to be your first real move onto the website builder route, then you will really not have anything to complain about. That's because you get pretty much all kinds of page design elements provided to you in the layout, and can easily modify them as per your needs. Moreover, all this can be done without you having to know even a single line of coding.
You will also see 'About' and 'Contact Us' page links to the top right of the page. Once you hover your mouse over these, you get the option to change the navigation pattern, and add new pages to the website.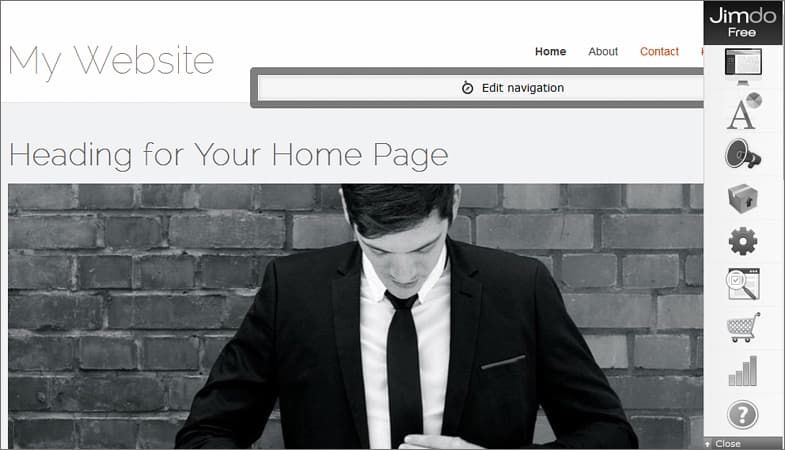 All the web page editing and website management features are brought to you easily and conveniently through the vertical menu bar on the right side off the editor screen.
Here's how you can use the menu bar to create heart winning websites.
Layout – Choose from among several dozens of layouts to ensure that your web pages look precisely like what you'd want them to. The layout selection window gives you pretty decent sized icons of how the page's layout would look. You can easily navigate across the different categories of the layouts from the buttons that appear above the window. Also, most of these come with modifiable backgrounds, thus helping you create remarkably unique pages. Also, you can exhibit your HTML and CSS prowess if you want to, and explore great enhancements to the preset layouts.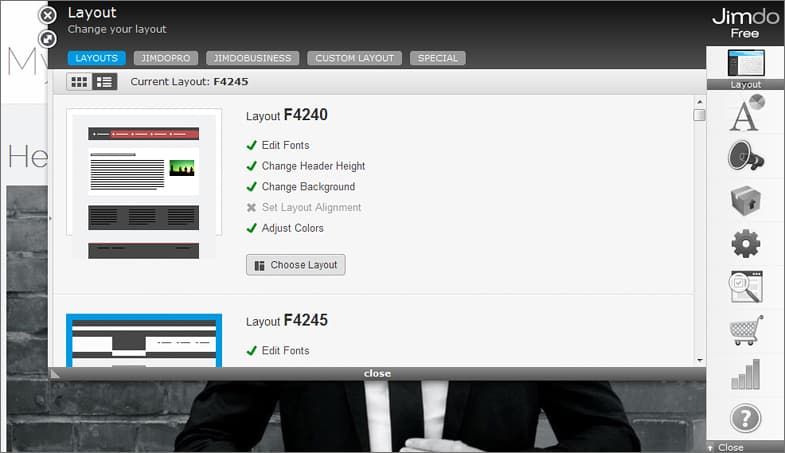 Style – This is where you add all the vibrancy to your web pages. Playing with different fonts, styles, background patterns, colors, store and blog styles is what this option enables you to do easily.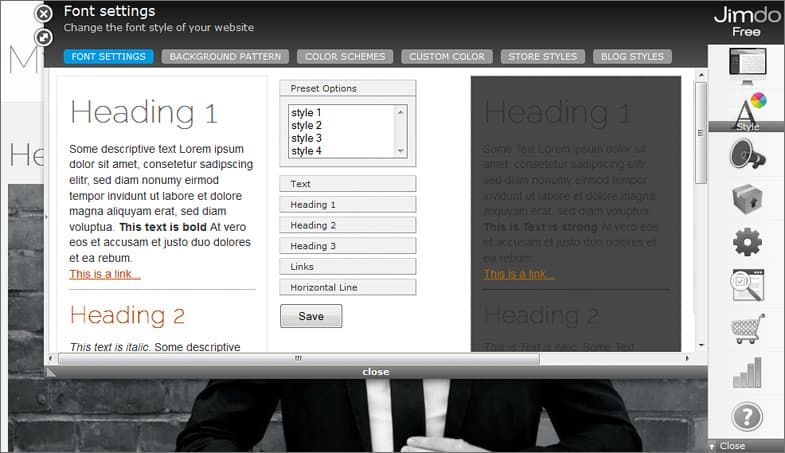 Blog – If you wish to begin blogging on your website, then this is where you can activate the feature.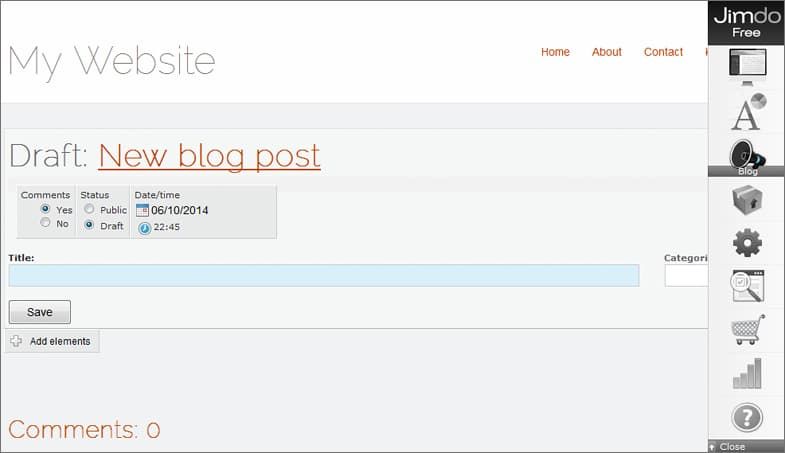 Upgrade – If you are planning to move up the features ladder and upgrade to the Business or Pro versions of the Jimdo website builder, you can easily do that from here.
Settings – Managing your password, email addresses, profile picture, language, personal profile, and controlling website related functions like storage, privacy policies, favicon, footers, site title, password controlled access at cetera can all be done easily and within a few clicks from here. SEO and web store related administration is also conducted from here.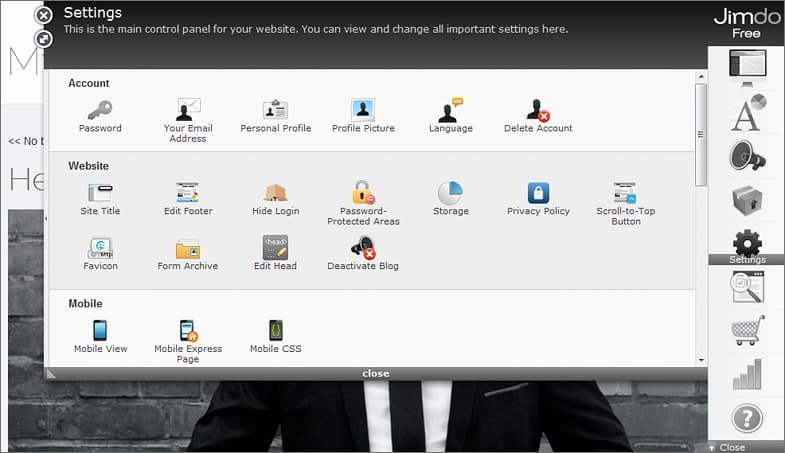 SEO – Want to optimize your website for better visibility on search engine result pages? Check out the SEO options here.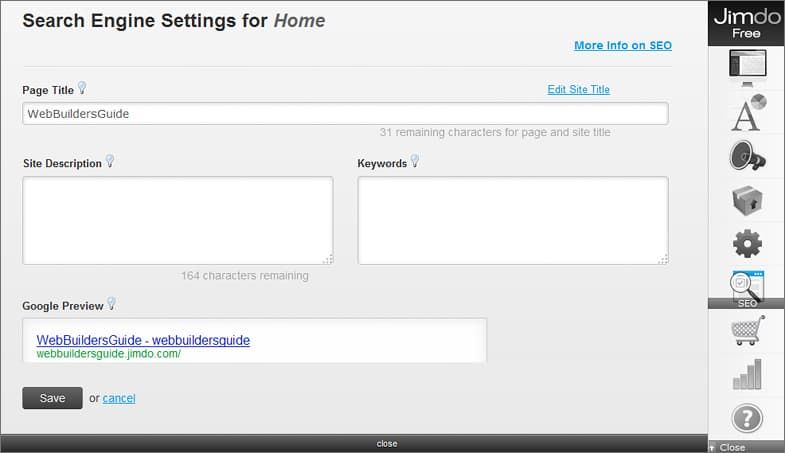 Store – If you want to use Jimdo's free website builder to open a web store, you'll need this option to manage orders, inventory, discounts, and much more.
Statistics – With regular feed of important stats about your website's traffic, you can fine tune your online campaigns for the best results. This is where you do all such stuff, but only with the paid versions.
Help – If you like to experiment, then this is a treasure bank for you, as you can find answers to pretty much every query you have regarding the working of the website builder and its amazing features.
What do the paid versions of Jimdo have in store for you?
Jimdo comes to you in three different flavors, each differing in terms of the price, and the intended application. The Free version is obviously for adventurous web enthusiasts who wish to create crisp and classy websites filled with decent features without investing several hours of time and several bundles of dollars into it. The Pro version will suit those who wish to take their web projects to the next level, without burning a hole in their pockets while doing so. The Pro version overcomes quite a few limitations of the free version, and proves to be the most suitable option for all those who are desirous of creating sophisticated websites that can help them initiate a bit of selling also. At the top of the price and the features ladder is the Business version of Jimdo website builder, which ensures that all your web store needs are sufficiently catered to. Now, how exactly do these paid versions justify their price tags? We explore the answers in this section.
Domain name – You don't get the option of using your own domain with the free website builder. However, the Pro and Business versions give you the flexibility of using one and two own domains respectively.
Email – The Business version lets you use 20 email accounts with unlimited email forwarding with your website. You get one email address with the Pro version, whereas the free website builder doesn't allow you any email account.
Customer support – The responsiveness of customer support increases as you move from the free to the Business version of the Jimdo website builder.
Storage – The free website builder comes with 500 MB storage, whereas the Pro and Business versions allow you 5 GB and unlimited storage respectively.
SEO – The Pro version lets you use Meta Tags, whereas the two other versions lack this functionality.
Web Store – You can add unlimited items in your store if you are using the Business version, whereas the Pro and free versions let you add 15 and 5 items respectively.
In addition to all these, you can also overcome some limitations of the free website builder such as over exposure of ads, non-modifiable logos and footers, and lack of statistics, by using the paid versions.
Conclusion
Undoubtedly, Jimdo qualifies as a website building service that will feature above the average marks on all sorts of ratings for such services. For all those of you looking to venture into the virtual domain with a little extra than what the routine free website builder will offer you, Jimdo is a stable bet. The number and quality of the design templates that Jimdo offers to its free service subscribers is pretty impressive. Moreover, the 500 MB storage space ensures that you can actually build a presentable website with the free website builder. What differentiates it from even the highly regarded website building services of these times is the fact that even the free version of Jimdo lets users enjoy the marvels of eCommerce facility. Of course, with a limitation of just 5 items in the store, one can't expect to make it big with the free e-store builder, but then, this is as big a taster as you can get of such sophisticated web based selling stores.
Jimdo might not be the most velvety website builder you'll ever come across (since it's not a purely drag and drop styled interface), but you'll never feel the want of anything amiss with the builder. The best part – you get what you see on the screen, which makes page building a breeze.
The Jimdo Pro and Jimdo Business services come across as impressive picks for all those of you who are looking to seriously leverage the power of Internet to reach out to audiences. Purely on the basis for the bang you get for your bucks, Jimdo's premium services sail through on every parameter. Not only do you enjoy ample resources such as bandwidth and email accounts with these paid services, but also get top class and lightning fast customer support service.
Jimdo Review