20 Best Ecommerce Website Examples in 2023
WebBuildersGuide.com earns commission from some of the web builders and hosting providers listed on this website.
Learn more
How about taking a look at a couple dozen great ecommerce website examples? These online store examples are built using the most popular ecommerce platforms – WordPress (WooCommerce), Wix, Webflow, Godaddy Website Builder, Squarespace, Shopify and Magento.
"With great website comes great responsibility,"….or was it entirely different? However, websites are immensely vital to showcase your products and services worldwide. You are responsible for designing and uplifting your website to attract potential clientele to make a sale.
Ecommerce is gaining popularity amongst website designers due to many reasons, and one of those is the recent pandemic. The Covid has presented itself as an opportunity to create online shopping websites that let you transact with your potential clients. If you visit the web, you can find many inspirational ideas that you can keep as a baseline for your Ecommerce store.
Talking of designing and crafting the stunning website that you have in mind, you must first have a sample or inspiration based on which you can create your website. Specifically speaking of examples of Ecommerce websites, this article will help you in deciding what your website will look like in the final phase. Moreover, this article will provide options for the different ecommerce website builders you can use to build your Ecommerce website.
Below are the reviews of the 20 best ecommerce website examples:
WordPress Ecommerce Website Examples
A huge number of websites have been created on WordPress CMS, including online stores. Here are some excellent examples:
FACE TO FACE Fashion Ecommerce Site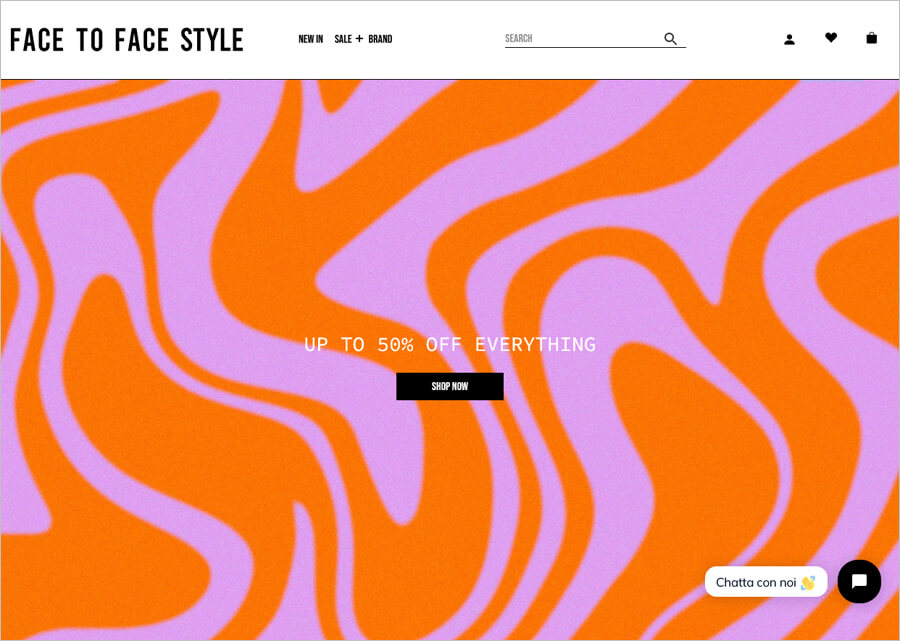 Check this online store
Face to face style screams out feministic style that is cool, vibrant and empowerment of our casual women. This Italian clothing website is visually appealing and aesthetically vibrant with bold and beautiful color combinations of the products. However, the white space containing text has been given.
The website sells clothes for different occasions on which the categories are developed. The website's layout is unlike most Ecommerce stores as it uses carousals showing the products. HDR photography of the models makes the products stand out with a white background.
Maison Charlotte Beaude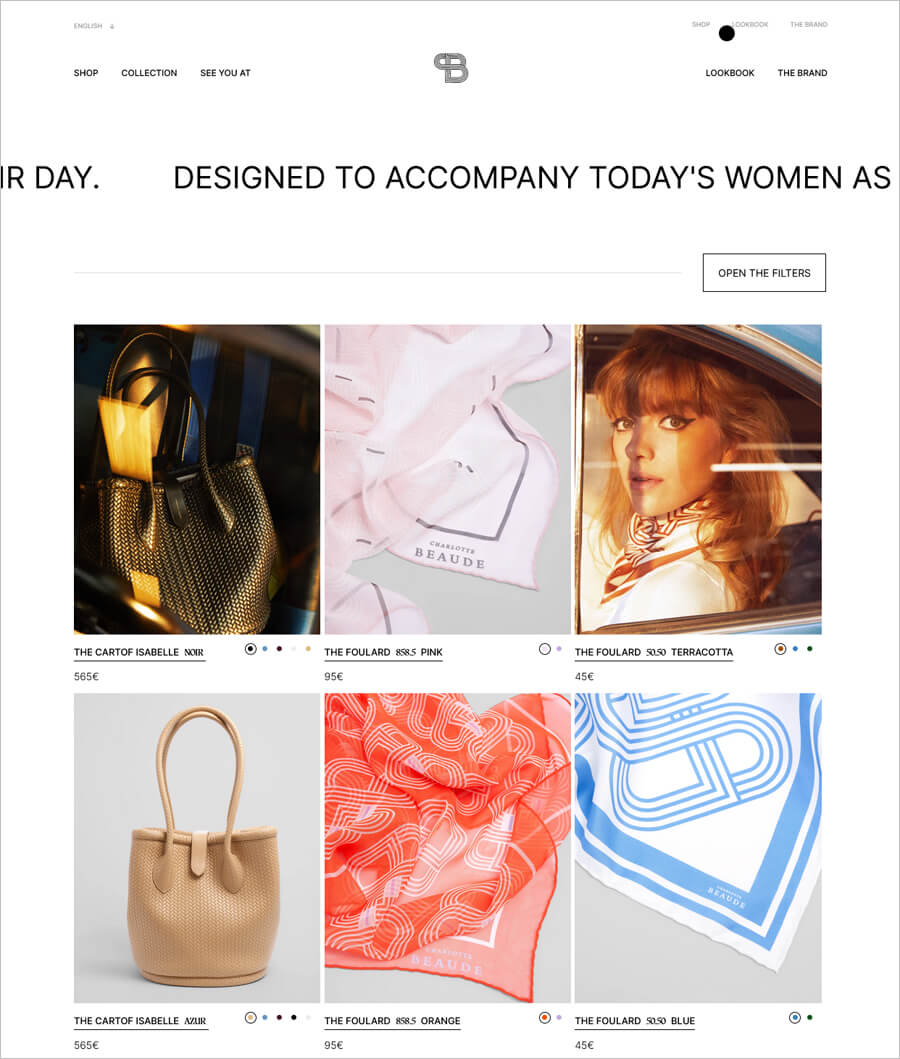 Check this online store
Yet another fashion-related website…but this one is different from the previous one as there will be a lot going on your screen at once. The white background goes perfectly with the colored product photography that is available in a perfect size for viewing. The 3-column product layout doesn't merge the product line even if the background of each product seems to be the same.
This website has an animated arrowhead with a black circle behind it, so your pointer doesn't get lost. Such Ecommerce website examples can be used as a base for selling product lines with diverse categories, as is done in this website with bags, foulards, and belts.
Steffie de Leeuw Art Online Store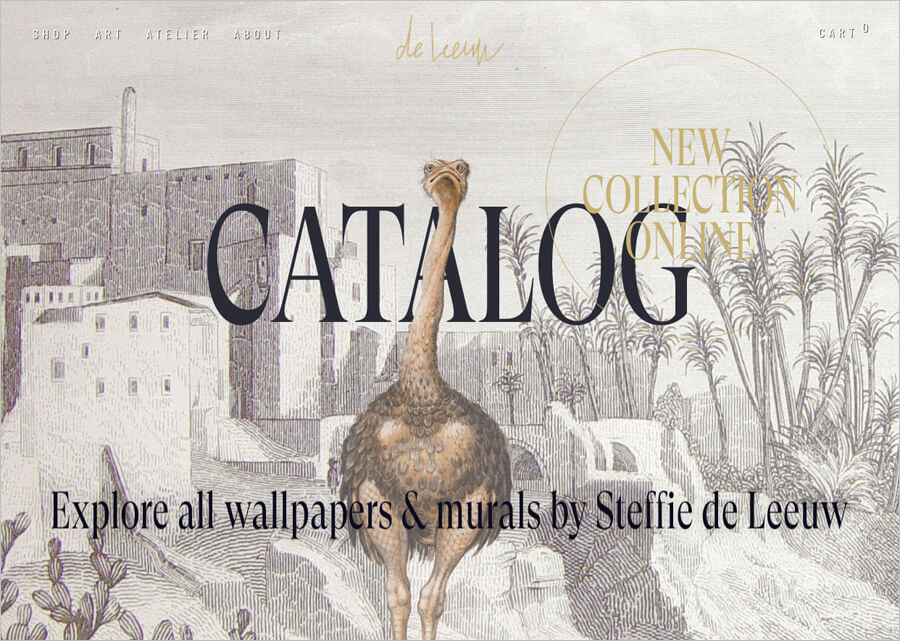 Check this online store
Steffie, who is an artist from Amsterdam, wanted a website that would act as a portfolio as well as an Ecommerce website design to sell her work. This website delivers on both the front. From the very first impression, this kind of website will deliver and provide a glimpse of your artisan talents. With a dark blending off-white background, the colorful artworks stand out independently.
The 2-column layout for product lines is enough to highlight every aspect of the design, and if a closer look is needed, the buyer can always click on the image to view it closely. The design and artworks are carefully categorized into just three sections. The best thing about these kinds of websites is they are personalized to the designer's requirements and how you want to interact with the world.
Wix Ecommerce Website Examples
Wix, being the leader among free website publishers, has great ecommerce templates and great options for creating ecommerce websites. Learn more about Wix by checking out Wix Review.
Bensimon Boutique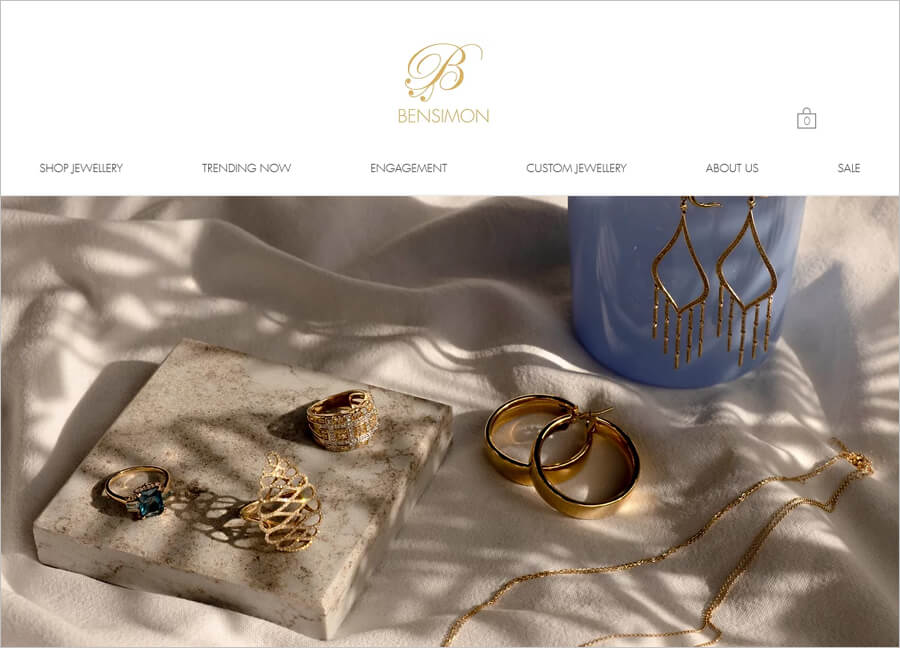 Check this online store
As is the trend, this jewelry website has a white background to highlight the HD images of the products. The menu's uniqueness provides many options you can use on your website to sell your jewelry. The menu displayed reaches east and west of your screen making it attractive and easy to read.
If you are interested in letting your clients know that you deal in custom-made jewelry, this website offers a brilliant example of how to do that in style. This website has a unique menu that highlights the trending products to attract customers.
Black Sheep Bikes Store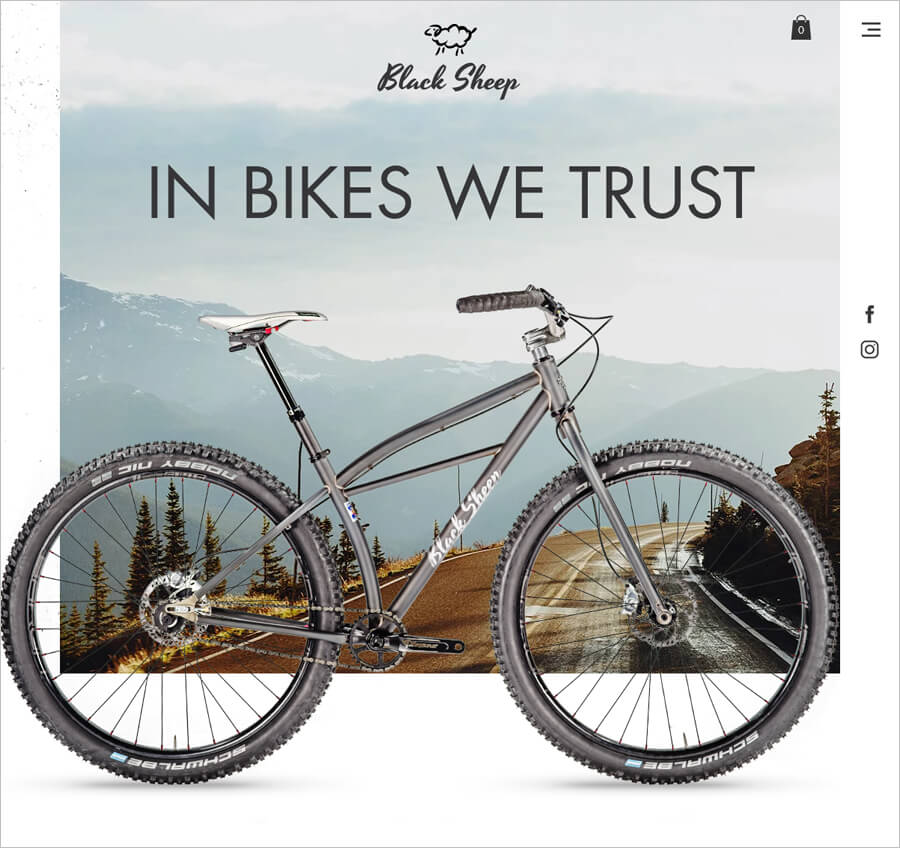 Check this online store
In many countries, riding a bicycle is not just a healthy pastime but has been engulfed in their daily routine. The owner of this business spotted a potential in the bike niche and tapped into it via this elegant website design. The white space is utilized systematically in this Ecommerce website design, and the HD images with natural backgrounds give out an enticing vibe. The color contrast of aqua and white is soft to the eyes, and the client will tend to stay and discover the website.
This website sells customized bikes and related accessories. One would know this because of the shopping cart's display on the website's top side.
Celia Bernardo Fashion Online Store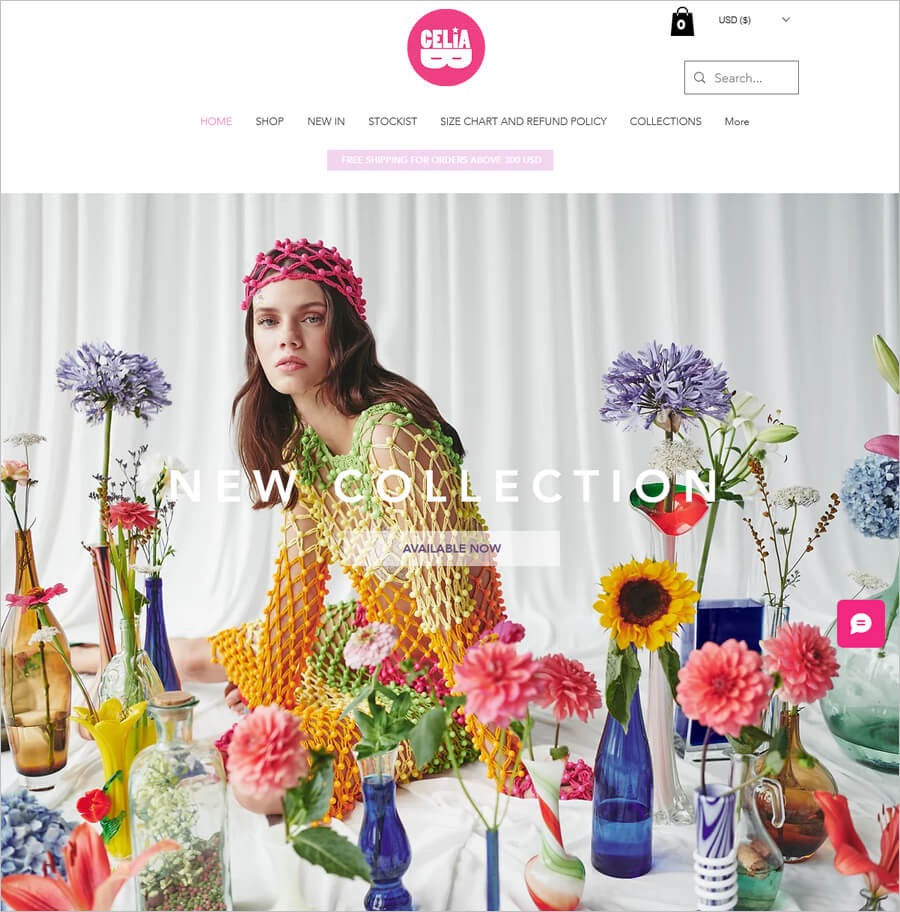 Check this online store
Celia Bernardo is a Spanish woman who designs sustainable and timeless clothing for women. The main motto is to make the woman shine in the crowd. Do you feel that your brand might have similar sensations? Then this might be the website you are looking for as it features colorful, bold, vibrant, and super comfortable products. The colors used are very light and reflective.
If you observe, you will see that this website highly depends on images and videos of models wearing the clothes, which makes the buyer more attracted to the products. The website's menu is simple at first look, but it holds many pages inside.
Webflow Ecommerce Website Examples
Webflow is a powerful online platform that is somewhat similar to the familiar WordPress, but more flexible and easy to use. Despite the fact that Webflow has a free plan, it is not suitable for free development of an online store. Webflow is not a full featured free ecommerce website builder and ecommerce is a premium option available only in paid plans. Check out these online store examples built on Webflow:
Lark Distillery Shop Whisky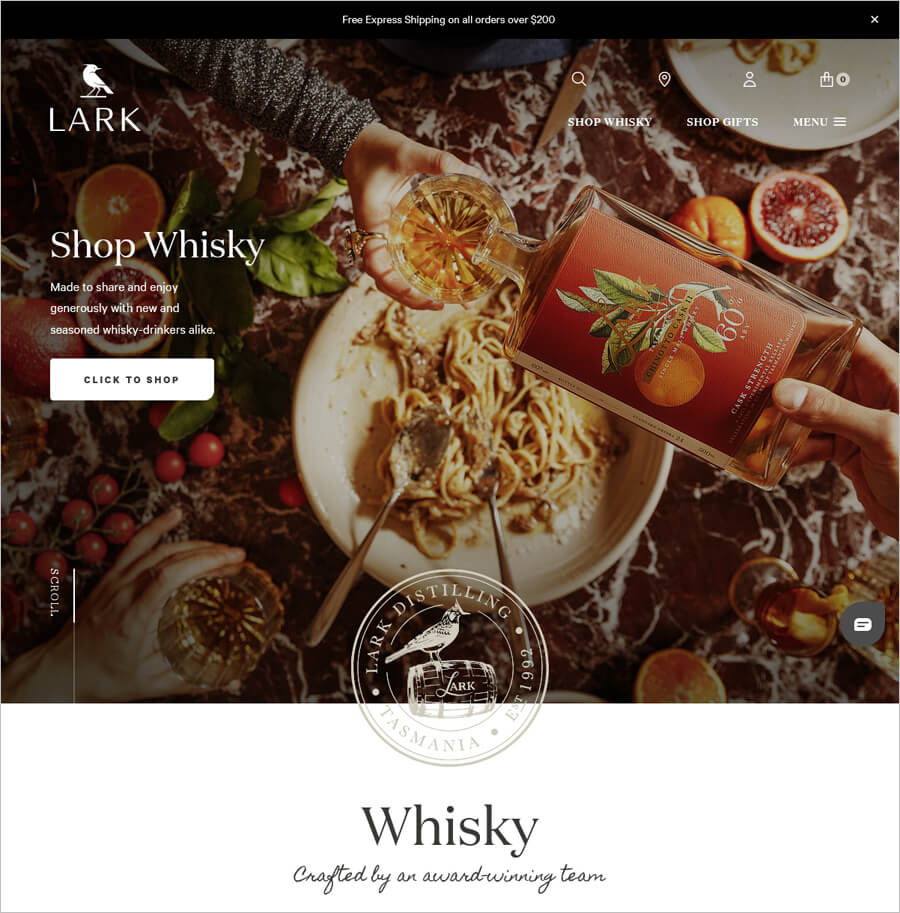 Check this online store
"Shaken, not stirred" … just like the legend, Lark Distillery has designed an awesomely good Ecommerce website that reflects the 30-year-old Tasmanian legacy of beverages. With its earthy colors and rusty ambiance, the website gives out a punch of the whisky that the company is selling. The white texts are visible in the dark background of the whisky images.
A genuinely eye-catching feature of the website is the white-colored icon menu through which you can navigate the whole website. Afterward, when you scroll down the website, the menu changes to a hanging version with a shopping cart icon and a display menu.
Aro Single Product Ecommerce Website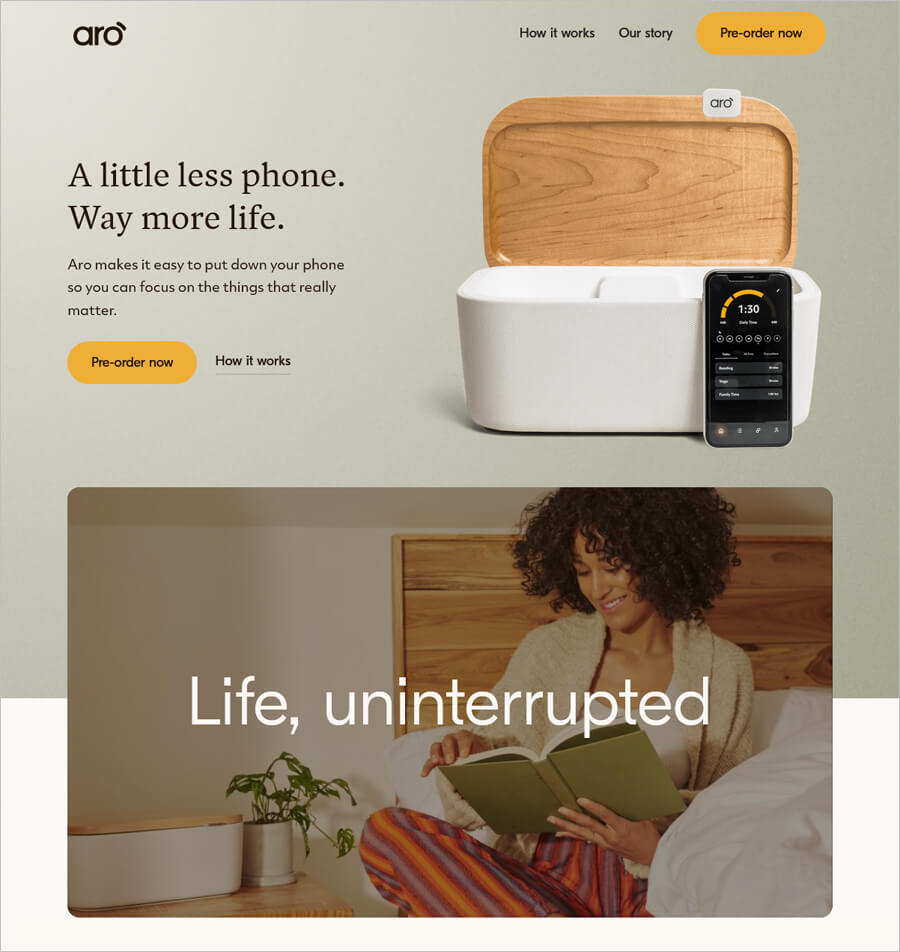 Check this online store
This is one of those online shopping websites that focus on a single product rather than categories of different products. The sleek and simple website delivers the message to its customers in a very subtle and natural way. The white space is used boldly to showcase the product, and the contrasting dark font makes it easy for the viewers to read.
The most exclusive feature of this website is that it doesn't offer any product pricing straightforwardly. The designers want the clients to click on the pre-order button and learn the details about the product. With its simplicity, the website only provides details about the usage of the product and the story behind it.
SOS Foods Online Shop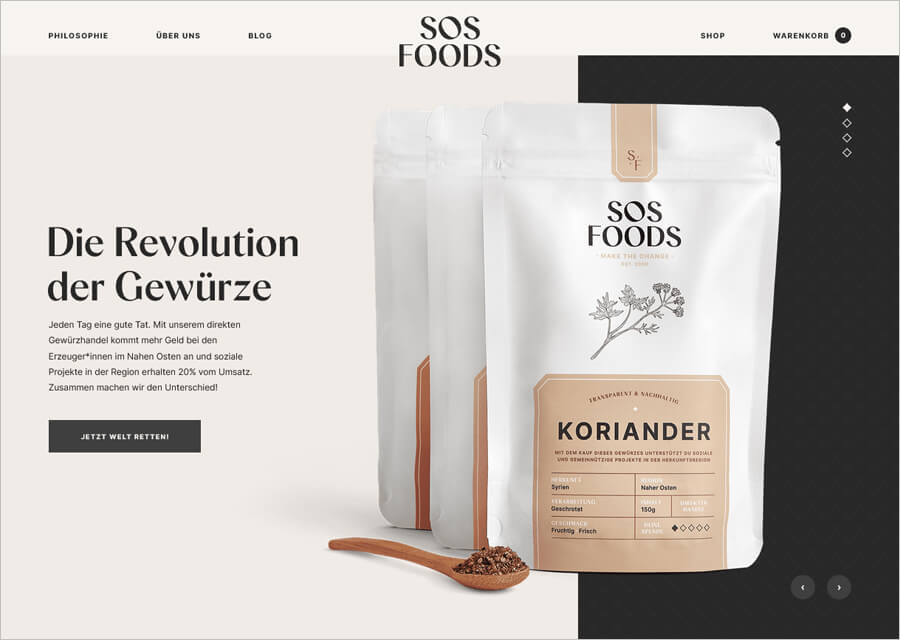 Check this online store
This is another Webflow Ecommerce website inspiration that could be used to sell household or kitchen items with a minimalistic sort of design. The combination of dark colors and white background looks outstanding yet has its sense of simplicity. The Syrian range of spices with incredible packaging photography displays the minimalism of the owners of the Ecommerce Company.
This Ecommerce website design has many features you would like to implement in your website due to its effortlessness. Amongst those features are the filters that can be used to search the products distributed in order of taste, application, and process.
GoDaddy Ecommerce Website Examples
GoDaddy is not only about domains and web hosting. GoDaddy has its own website builder that works well for creating small online shops. Check out these couple of GoDaddy ecommerce examples:
Landis Originals Shop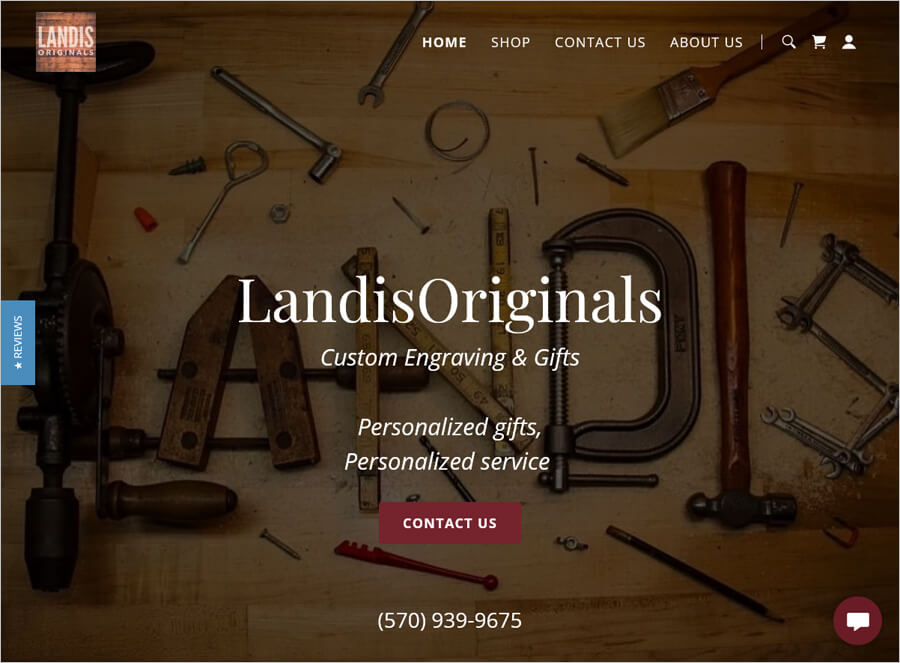 Check this online store
Landis Originals is the perfect example of a business run by a couple from the comfort of their home. They produce custom handmade gifts and engravings that could be used for many occasions such as weddings, birthdays, or anniversaries. The color palette used in this website is maroon and white, which gives out an earthy vibe and feels natural to the product line.
One of the distinctive qualities of this website is that it seems to be designed by non-professionals positively. This type of website will be easy to build for anyone who doesn't have the budget to hire a website designer.
Siphon Draw Apothecary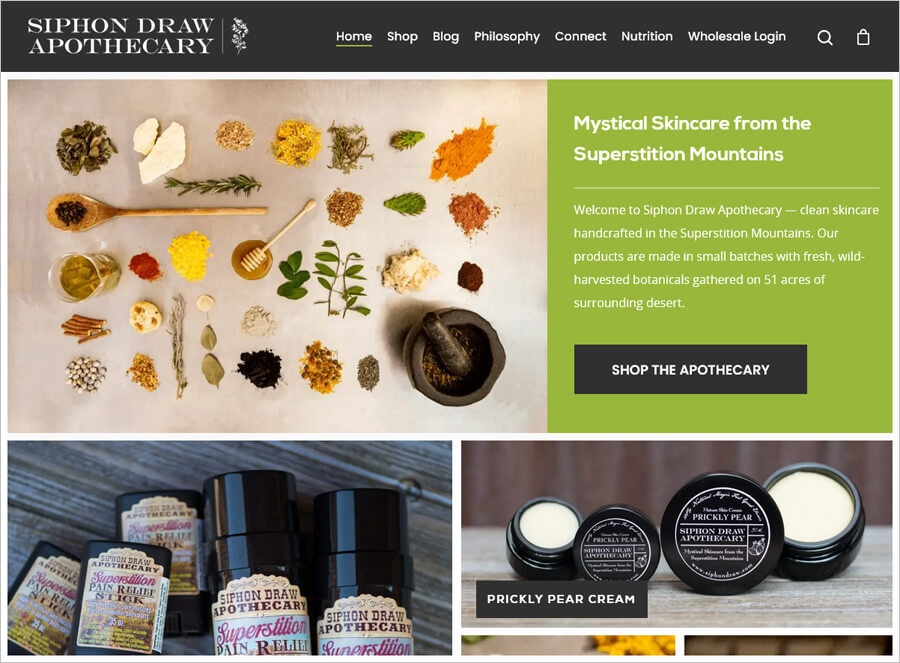 Check this online store
GoDaddy Ecommerce website examples like these make you desire to design your website. By the looks, the website seems very simple to build. The white background alongside the colorful images and the dark grey menu/button theme seems very attractive and soothing. For the product photography to stand out, it has been done with dark and natural backgrounds.
The home page shows the categories, which are also displayed as a menu on the shop page. Furthermore, a link is given to another sister website on the menu displaying the nutrition side of the business.
Squarespace Ecommerce Website Examples
Squarespace is one of the best website builders for creating online stores with great ecommerce themes and many useful features. Check out Squarespace Review to learn more about Squarespace's ecommerce business opportunities.
AAKS Online Store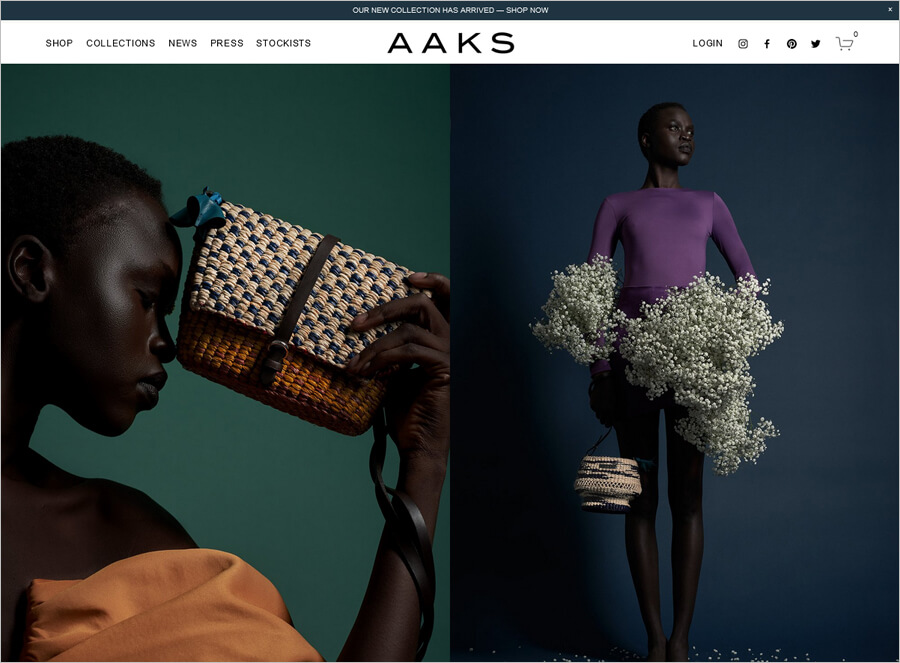 Check this online store
AAKS is one of the examples of an Ecommerce website that was made keeping in mind a person and her cultural background. This website has been designed by a lady belonging to Ghana and exhibits the handmade designs of handbags. The white space has been utilized perfectly to highlight the HD quality images of the handbags. The hovering of different images related to a particular product gives a mesmerizing look to the product line.
The best part about this Ecommerce website is that the top menu remains straight to the point by giving options to view the products and learn more about these products only. If viewers want to know more about the company or any other information, they must move to the bottom of the page.
Ruffles and Bells Online Shop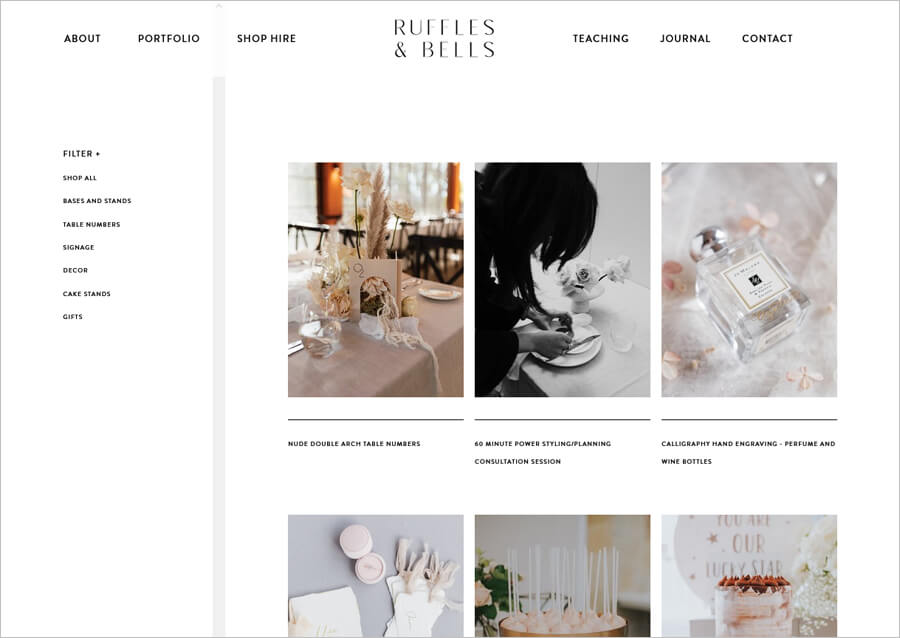 Check this online store
Ruffles and Bells is a website dedicated to an Ecommerce company that creates magical moments on wedding days. If you have a passion for decorating and styling events and are looking for website inspiration, then look at this website. the designers have planned well in advance regarding the font and the size of images as the layout has to deliver the impact to the potential clientele. The white space and the images with light grey or dark grey backgrounds contrast very well.
If you look at this website closely, you can observe that the company provides physical products and has a tab on the menu for teaching services.
Bembien Accessories Ecommerce Site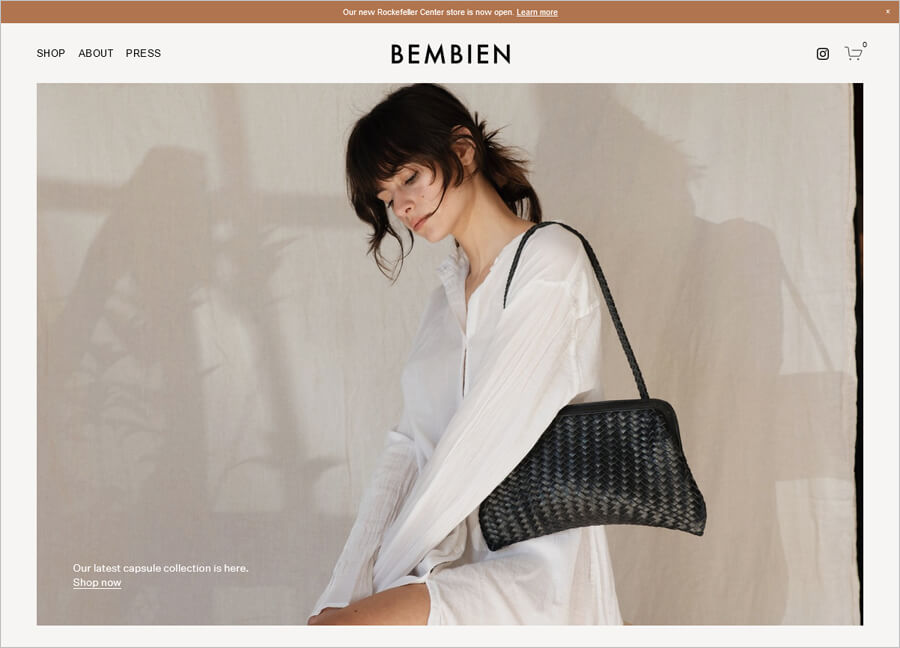 Check this online store
Bembien is a New York-based Ecommerce company led by a businesswoman inspired by the nostalgic look of a young woman carrying her handmade bag across the street. Her experience at Vogue and her connection to a small village in Bali, which used to weave various products, gave birth to this fantastic business. The website's design is simple yet elegant and provides the viewers with a good look at the product line.
The products are limited to just three categories, so the organization of the whole website is unsophisticated. The beauty of the handbags and the scarves are enhanced due to the white background and the hovering effect on the images.
Shopify Ecommerce Website Examples
Shopify is ranked #1 in many best ecommerce platforms ratings. It's an ideal platform for creating large e-commerce projects. Check out the Shopify Review to find out why.
Custo® Pre Order Ecommerce Site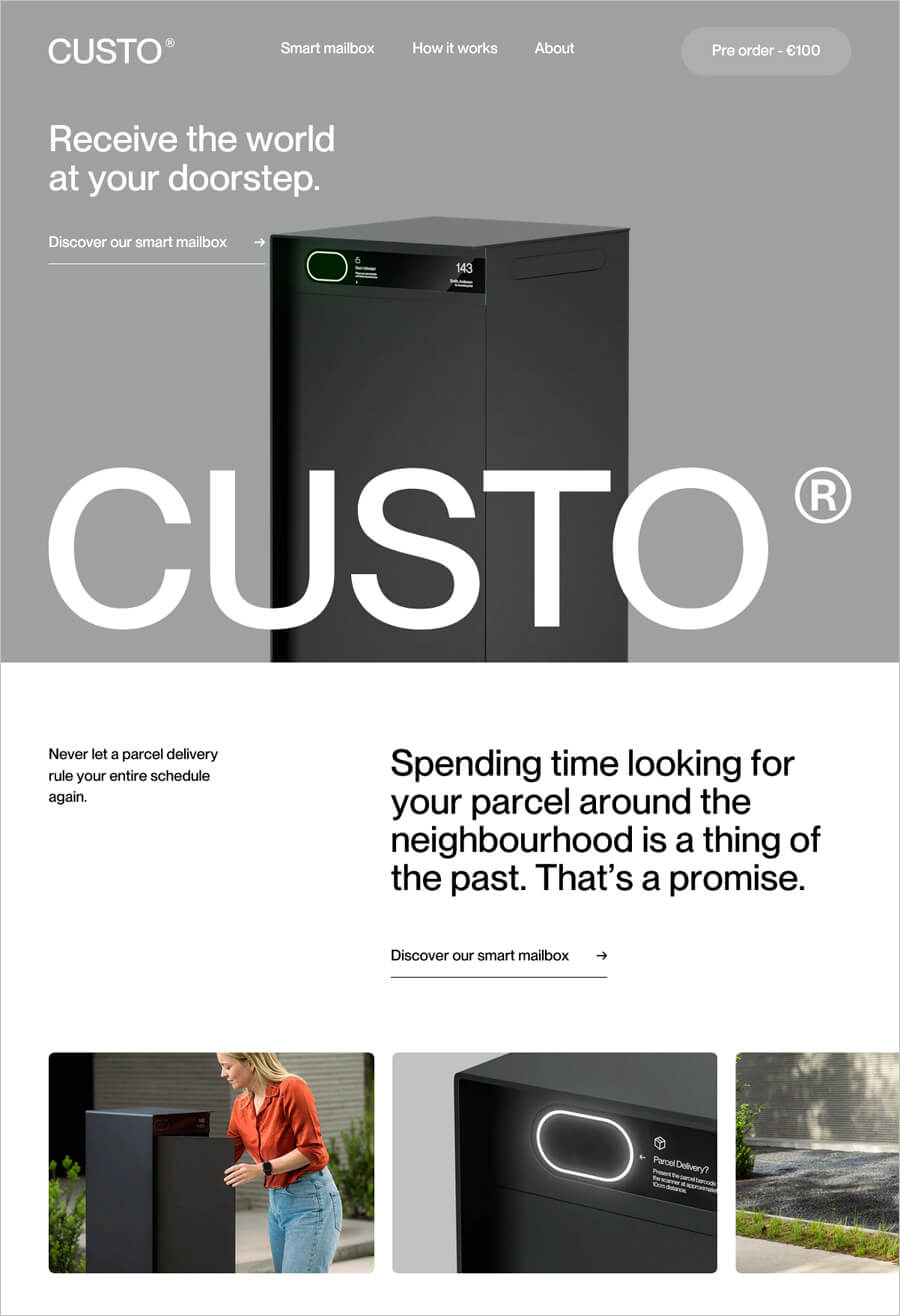 Check this online store
'Necessity is the mother of all inventions'… CUSTO is also a technological invention created by Belgian problem solvers who wanted to save wasted time searching for your lost parcel. To reach out to a maximum number of customers, the Ecommerce Company had to design a sleek and aesthetically impressive website. The light grey and white colors complemented each other and were chosen because the product also had a similar color combination.
Websites made for a single product often have the advantage of creating a hassle-free, simple shopping experience. Similarly, this website doesn't have a shop button or a shopping cart icon but only a single link to pre-order the product.
MAEN Watches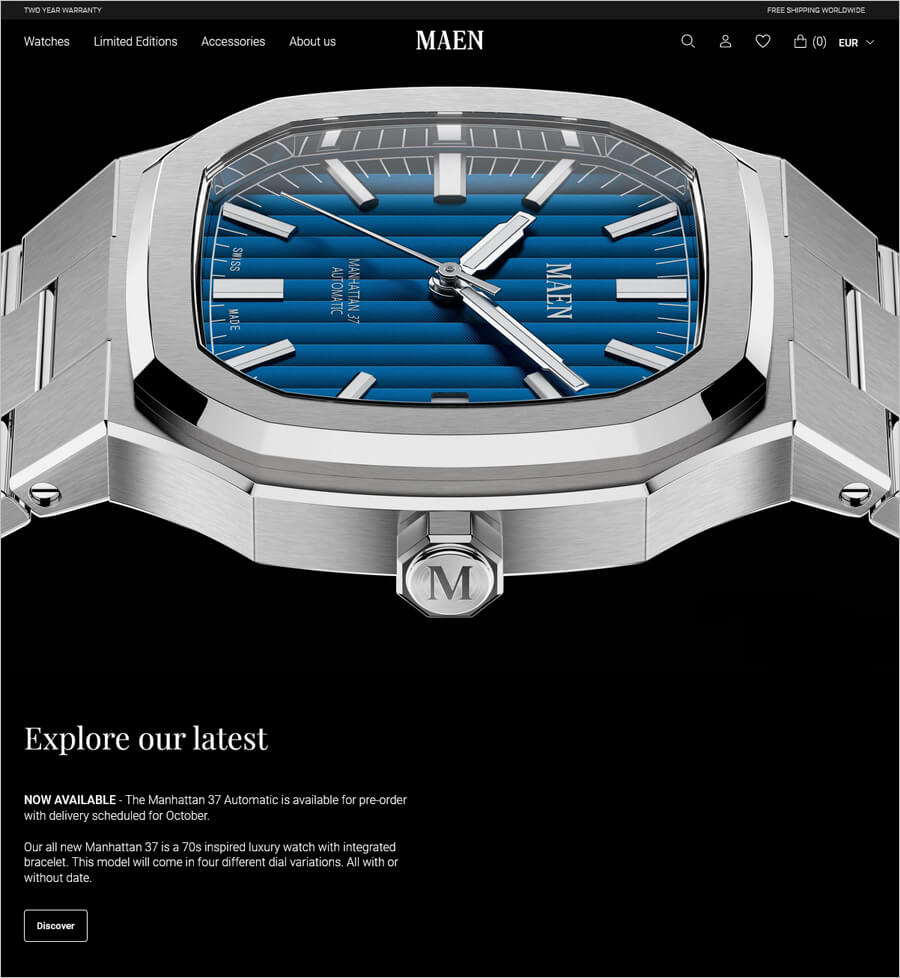 Check this online store
MAEN is an Ecommerce website that will conquer the hearts of watch-loving clients through extravagantly stunning products that are shown all over the website. The color combination of white and black is flawless and produces great HD quality product images of silver-chromed watches.
This website has some distinctive qualities that many of us as website designers can use for reference. Among those qualities is the application of 5 different currencies for buying the watches, which provides ample opportunity to international clients. Similarly, there is a favorite button so that clients can select and save the watches they like to make a buying decision at the end.
Visionist Eyewear Store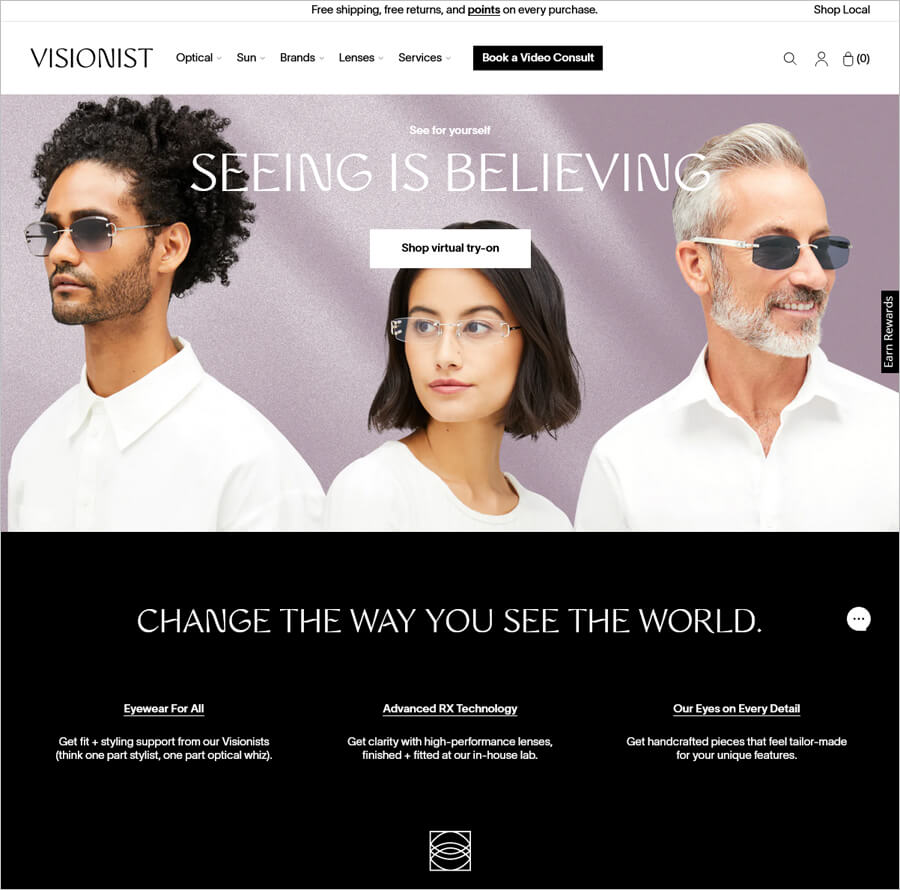 Check this online store
Visionist is a Shopify Ecommerce website example that displays a wide variety of flamboyant glasses and frames. Various light-shaded colors have been boldly used against the white background to supplement the viewership.
The website has many features to guarantee customer satisfaction, which is unique from any other website in the market. First is the close popup. You're welcome to provide a $20 gift voucher to be used with the first sale. Secondly, the intriguing black button says 'Book a Video Consult.' Thirdly, the three extra services (Quiz about the wish list, Virtual Try-on, and Real-time styling advice) would keep the clients glued to the website for a long time.
Magento Ecommerce Website Examples
Magento is a popular open-source ecommerce CMS based on PHP. Here are some interesting Magento online shop examples:
Lala Berlin Fashion Online Shop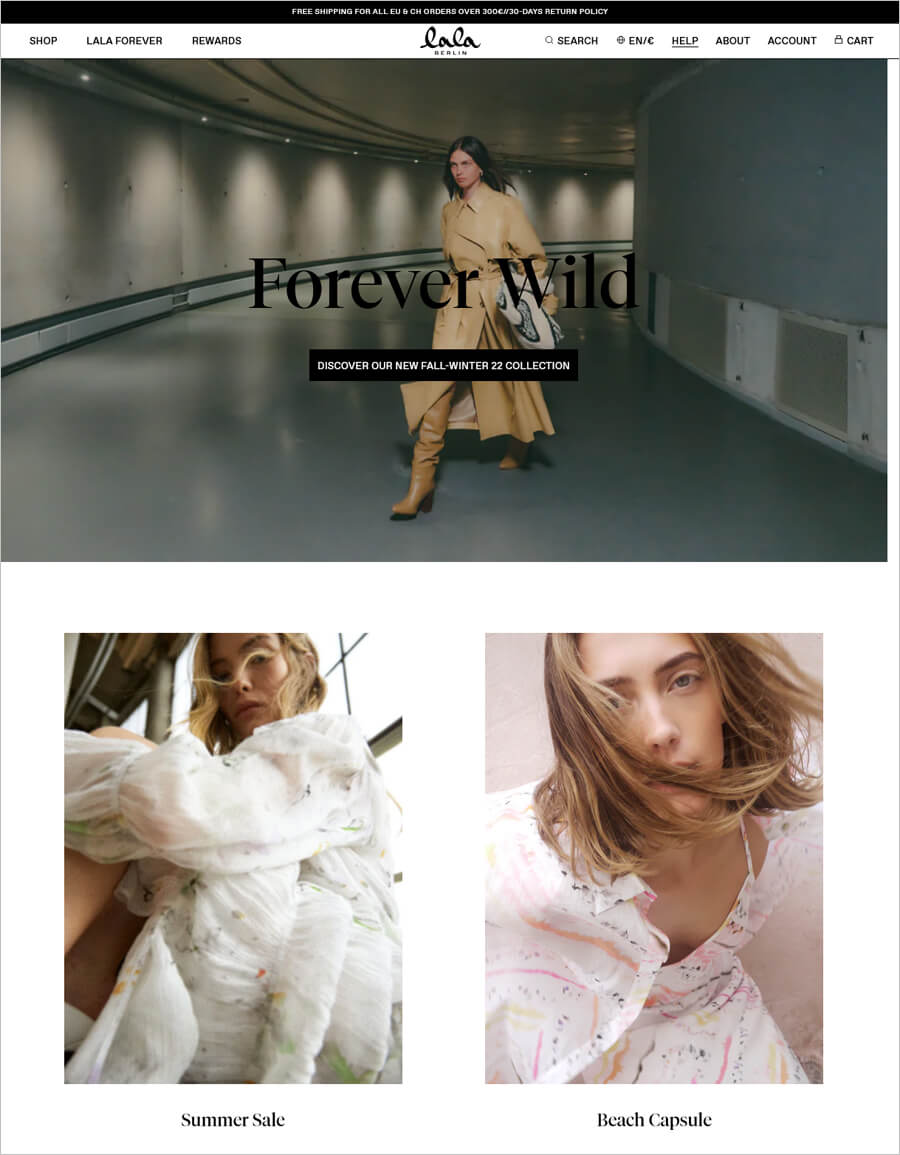 Check this online store
Lala Berlin is a fashion Ecommerce store that amalgamates white space and great sunlight imagery of the product designs. This Magento Ecommerce store can be your inspiration if you want a well-developed and carefully led structure with excellent photography placements.
The website looks straight in the eye and says online shopping. The menu and product categorization on the home page suggest that everything else is secondary; the company is here to make a sale. The website also rewards for becoming a member and shopping from the store. Moreover, there is an option to trade your used Lala products against points that could be used while shopping online.
N21 Fashion Ecommerce Site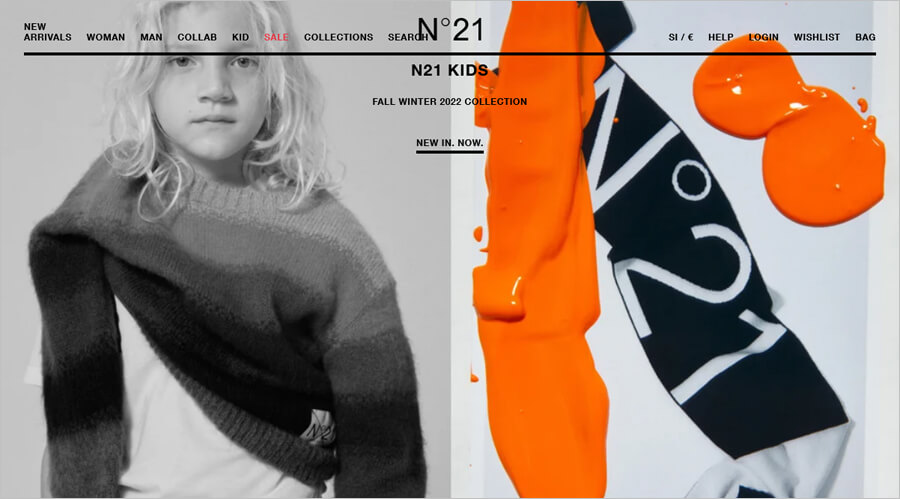 Check this online store
N21 is a fashion Ecommerce store started by an Italian business that focuses on trendy wear for Men, Women, and kids. The home page is heavily illustrated with the photography of the product categories making it easier for the visitors to navigate or jump to the desired section.
The uniqueness of this website sits in its sophisticated background working. The website grabs your location and displays the language and currency accordingly. There is a long list of countries where you can buy an N21 product. Additionally, the website directly addresses online shopping as each menu button and link resonates with the Ecommerce methodology.
ME+EM Ecommerce Website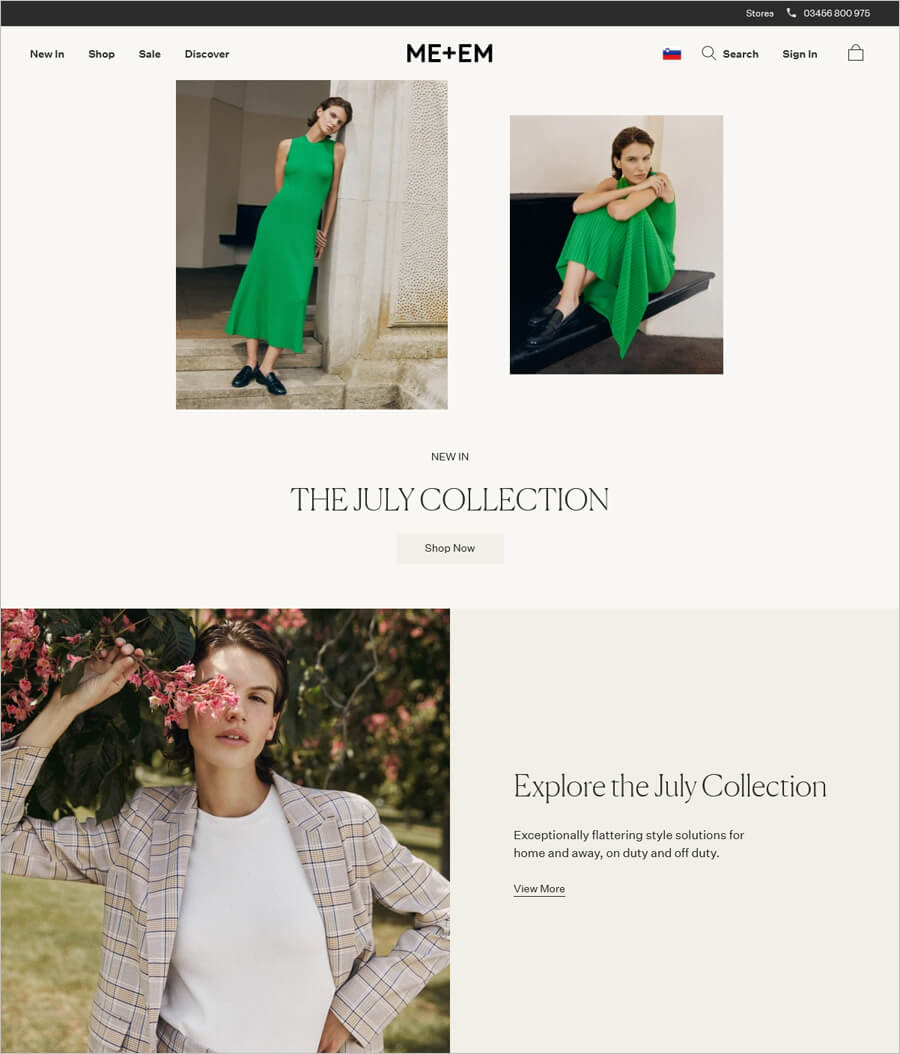 Check this online store
ME+EM is a United Kingdom-based online fashion store that prides itself on producing flattering, functional, forever clothing for women. The owner has emphasized the business being business-to-customer with no third party involved. The white background emphasizes the colorful images of the models wearing the various designs, and the checkered style layout gives off an exciting new look.
As you enter the website, it locates you and tells you that the store ships in your country. The menu displays the client's country of origin and sets the country's language and currency accordingly.