How to Install a WordPress Theme on GoDaddy: A Step-by-Step Guide
WebBuildersGuide.com earns commission from some of the web builders and hosting providers listed on this website.
Learn more
Learn how to install WordPress theme on Godaddy hosting. This detailed guide consists of 8 steps and will allow even beginners to simply install WordPress on Godaddy.
Want to set up a website for your business, side hustle, or hobby? And you also want it to be affordable and easy to manage? We have good news—WordPress and GoDaddy combo has you covered.
Why choose this combo? Well, because WordPress is the world's leading content management system (CMS), powering over 40% of the Internet. On the other hand, GoDaddy is one of the fastest-growing hosting providers globally, managing over 84+ million domains.
WordPress and GoDaddy work seamlessly together and individually, and they boast a number of features to help you build an attractive, quick-loading, and secure web presence. In addition, WordPress themes are inexpensive and super-customizable to your brand's needs and wants.
In terms of hosting, GoDaddy is one of the safest and most cost-effective options out there, with pricings fitting everyone's budget.
In this article, we'll give a brief overview of WordPress and GoDaddy and outline a step-by-step guide for installation a WordPress theme on GoDaddy.
What Is WordPress?
WordPress is a free, open-source content management system (CMS) for building and running customized websites. As well as business website builders this CMS allows users with no coding experience and professional developers to create a website and share content quickly and easily.
Besides the options to manage the website's appearance and content, WordPress offers a number of features, including customizable themes, plugins, widgets, spam prevention, search engine optimization, social media integration, analytics, and statistics tracking.
What Are WordPress Themes?
WordPress themes are templates that can be used to customize the look, feel, and functionality of a WordPress website. They come in a variety of styles and can be used to create anything from simple blog websites to complete eCommerce stores. WordPress themes are available both free and paid and can be customized to meet user needs.
In terms of pricing, there are free and premium WordPress themes. Free themes are usually found in the WordPress Theme Directory and, despite being free, are often fully usable. Premium themes can largely vary in cost, but they provide better support, regular updates, and more features.
You can also hire DesignRush companies to create a custom WordPress theme design for you. This is a pricier alternative to free/premium WP themes, but the benefits are unparalleled. If you'd like to further research your options, reach out to the best San Antonio website design agencies to get a custom WP theme design offer.
What Is GoDaddy?
GoDaddy is a leading web hosting, website building, and domain registrar platform. It allows users to easily create, host, and manage websites. Besides getting a domain name, a web hosting plan, and a website builder, GoDaddy users can access marketing tools, email services, Microsoft 365, and much more.
This web hosting service has become known for its easy setup and low-cost services, making it a popular choice among small businesses, entrepreneurs, and individuals. GoDaddy's WordPress hosting plans range from $8.99/mo to $20.99/mo, with the latter being tailored to eCommerce needs.
How to Install a WordPress Theme on GoDaddy in 8 Steps
Here are eight steps you need to take to upload a WordPress theme from the WordPress.org Theme Directory to GoDaddy:
STEP #1 To begin, set up your GoDaddy account or sign in to your existing one. Go to My Products under your account name, then click Set up under the Website Hosting option.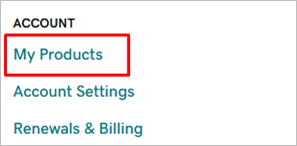 STEP #2 Now, enter your domain in the box, and in the next step, select your data center (choose the location that corresponds to the location of your business.
STEP #3 When a Create a WordPress website pop-up appears, click the Yes, let's do it button. Set up your WordPress account, and store access data in a secure place.
STEP #4 Once the account is set up, a screen with DNS (Domain Name System) records will pop up. Click I'm done, continue setup. When you get the notification that the onboarding is complete, click the button to continue.
STEP #5 If you get a notification that your website can't be reached, don't worry. DNS propagation takes time, so this is completely normal. In case your domain is not registered on GoDaddy, you might need to push it manually. Go to Domain Management > DNS > Manage DNSSEC DS Records , and copy the two NS records on the list into the Namecheap's Name Servers.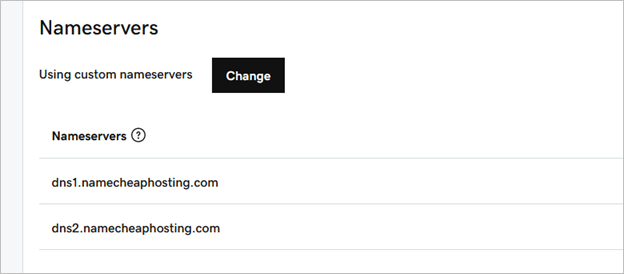 STEP #6 After a couple of minutes, refresh your website. Once it's live, log in to your WordPress dashboard by typing /login at the end of your domain name. Log in using your username and password.
STEP #7 Once logged in, you can opt for any of the starter themes offered by WP. However, if you're interested in purchasing a premium WordPress theme, click Exit to WordPress Dashboard.

STEP #8 Your final step before starting to customize your website and craft content is to update everything in the Updates panel on the left.
WordPress Theme Installation on GoDaddy via cPanel
cPanel is a web hosting control panel that boasts a graphical interface and tools that make website administration easier. By following these steps, you can manually install WordPress themes using your GoDaddy hosting with cPanel.
STEP #1 Sign in to your GoDaddy, go to My Account and click Manage . In the upper right corner, click the black button saying cPanel admin .
STEP #2 Now that you're in the cPanel interface, scroll down to Web Applications and click WordPress .

STEP #3 On the right, click the button Install the application . Type in the HTTPS version of your website, and create a username and a password to sign in to your WordPress website.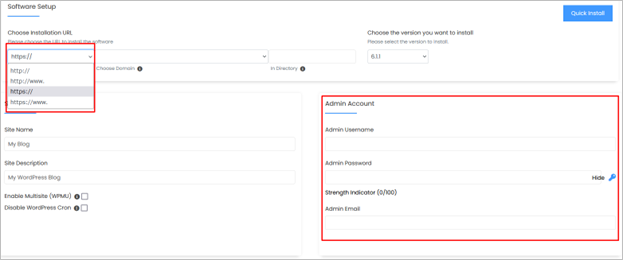 STEP #4 Install WordPress on GoDaddy by clicking the + Install button, wait until the installation is complete, and log in to your WordPress by choosing the second link under My blog , the one that ends in /wp-admin .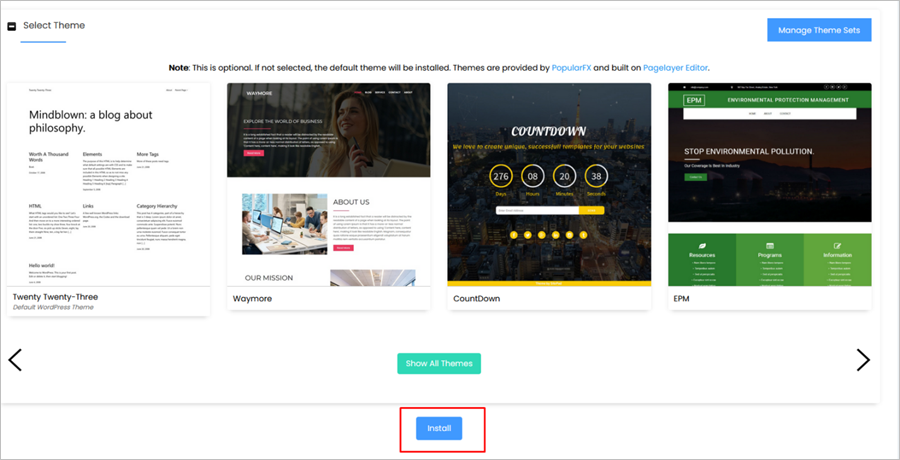 STEP #5 If you want to install a theme right away, select the one you like from the list. Otherwise, click Exit to WordPress Dashboard.
Now that you have your website up and running, you can continue playing with the looks of your website and further customize it to suit your needs. Install the plugins you'd like to use, optimize your site's speed and performance, and begin creating and publishing valuable content.
If you don't know how to install WordPress on GoDaddy and don't want to mess around with it, take a look at free WordPress alternatives for beginners. These are various free online software that allows you to develop websites in the cloud, without the need to download a distribution kit and then install it on a website hosting. Perhaps for you it will be a simpler and more convenient solution.