5 Best Church Website Builders for 2023
WebBuildersGuide.com earns commission from some of the web builders and hosting providers listed on this website.
Learn more
Nowadays, having a church website is as much a necessity as having, for example, a church events calendar. In fact, the website for the church is an online newsletter where parishioners can find out the necessary information about upcoming events. In addition, donations can be set up directly through your church website. This is convenient for both parishioners and church leaders.
According to statistics, 33% of people in a survey said that they found about their Church through the Internet. So, to be able to bring people to Christ, you need to be found on the web first. Another 80% of people said that they visited the church website before visiting the church. And 64% of churchgoers mentioned the website as a factor that facilitated participation in the church.
Now, it is obvious that websites for churches should be welcoming for new and regular visitors alike. But if you don't have the time, skill, and budget to build a religious website, it may seem like there is little that you can do.
However, church website builders are Godsends in such a situation. Unlike business website builders platforms for church website creating have special church themes and can offer unique feature for specially church website.
The Best Church Website Builders
There are a lot of website builders out there for building a church website. But only five can be called the best. Here they are:
Wix for a Church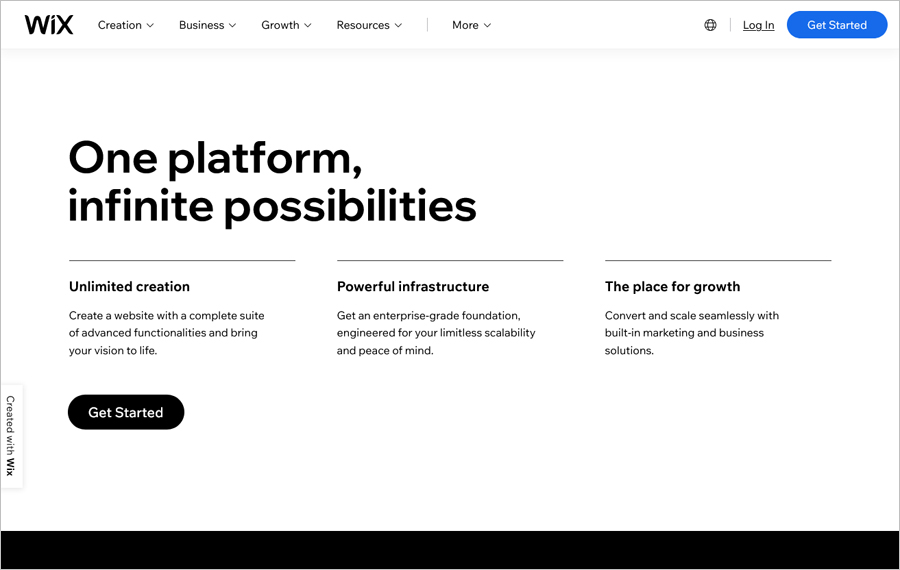 Wix is one of the most popular website builders on the market. It is fast, easy, and effortless. But it isn't specifically designed for churches. However, it does have church website templates for you to choose from.
Pricing
Wix has seven affordable plans that you can choose from. The lowest plan costs $11/month (if paid annually). This makes it one of the most affordable options. You can create a free website first to analyze what Wix has to offer before financially committing to it.
Pros:
Wix comes with a drag-and-drop editor. You just need to select the elements you want on your site. And you can drop them where you want to see them. This makes it very simple to create a customized church website design.
When you create a website with Wix, it comes with hosting. This saves you from the hassle of finding another hosting service provider. With the paid plans, you also get to use a custom domain for your church website.
The church-specific templates let you add pages for events, donations, and contact. You can post sermons on your website and also share blog posts that interest your audience. And all these templates are responsive, which means your website will load perfectly on any device.
Not optimizing your website for search engines is a grave mistake. But with Wix, you won't be making that mistake. It comes with plenty of SEO features ranging from the basic ones to even the advanced options. For starters, you can add meta title, meta description, and alt tags. You can also link your website to Google Analytics to keep track of your visitors.
Wix has a very informative Help Centre where you can find all the information you'll need to get started. Also, you get intuitive prompts throughout the website building process. If you still feel stuck somewhere, you can contact support via phone or email. English on-call support is available 24/7.
Cons:
Wix's only downside is that the free plan and the lowest paid plan both come with advertising. To remove the adverts, you will have to go with the $14/month plan. Also, for some users, advanced SEO with Wix can be a tough nut to crack.
Summary
If you want a professional-looking website customized to your church's specific needs, Wix is the overall best website builder to go with.
Squarespace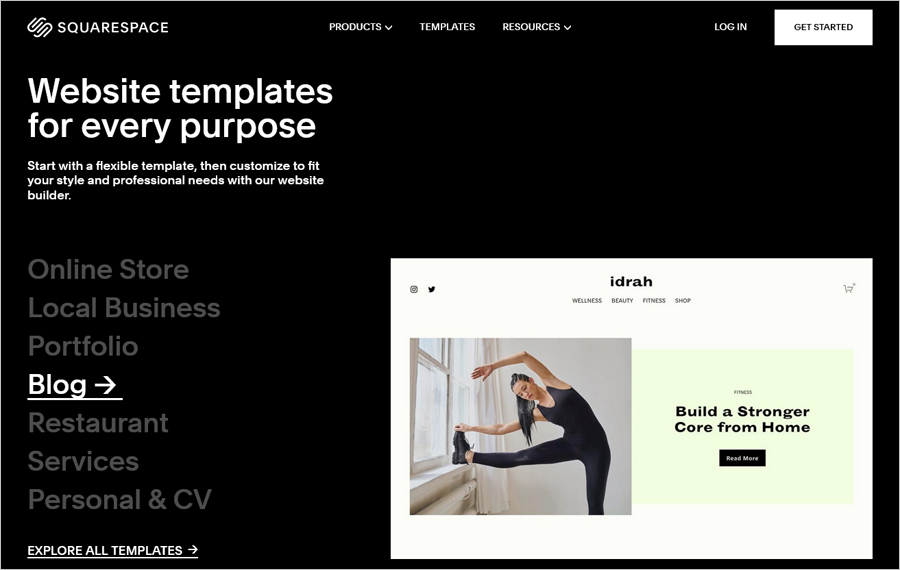 A study revealed that 94% of the reasons why visitors don't trust a website relate to its design.
This means the content isn't the only thing that needs to be up to the mark on your website. You also need perfect designs. And Squarespace is the website builder that lets you do that.
It is a generic website builder known for its extensive and exemplary collection of designs and templates.
And you can find templates suitable for church websites in the Community and Non Profit segment.
Pricing
The entry plan costs $12/month (when billed annually). With all the plans, you also get hosting and a custom domain name. While there is no free plan, you can take a 14-day trial to test the waters.
Pros:
Squarespace's editor is made of blocks and segments. You can drag and drop different elements to the sections and create pages that have the right balance of images, text, and widgets. Also, Squarespace doesn't just focus on ease. It is an intuitive builder that guides those who aren't experienced.
Squarespace has robust blogging features. With a blog that is informative and engaging, you can build a regular readership. And with Squarespace's features like RSS feed, customizable URLs, drafts, etc., creating a blog becomes very easy.
If you want to collect donations through your website, Squarespace is your best bet. Unlike other builders that just give you a PayPal button, Squarespace has a complete system in place. You get custom checkout, suggestions for donation options as well as customized email receipts to put your donation system in place.
If you would like to post sermons on your website in the form of podcasts, you can do that with Squarespace. It offers an option to syndicate the podcast, which is necessary for adding it to Spotify or Apple podcasts.
A lot of visitors to your website use mobile devices for browsing. And Squarespace supports Accelerated Mobile Pages (AMP). When you enable the AMP option, you can create lightweight pages that load fast on mobile devices. Also, the templates that you get with Squarespace are mobile optimized.
Squarespace has both a forum and a knowledge center that you can use. Also, you get 24/7 email support and a live chat option.
Cons:
If you are using one of the Business plans for your church website, Squarespace charges a 3% commission on donations. This fee is in addition to what your payment partner would charge. If you want to get rid of Squarespace's commission, you'll have to go with eCommerce plans, which are a little expensive.
Summary
While it is no doubt focused on design, Squarespace doesn't skimp on other features. It is an all-round church website building solution.
Ministry Designs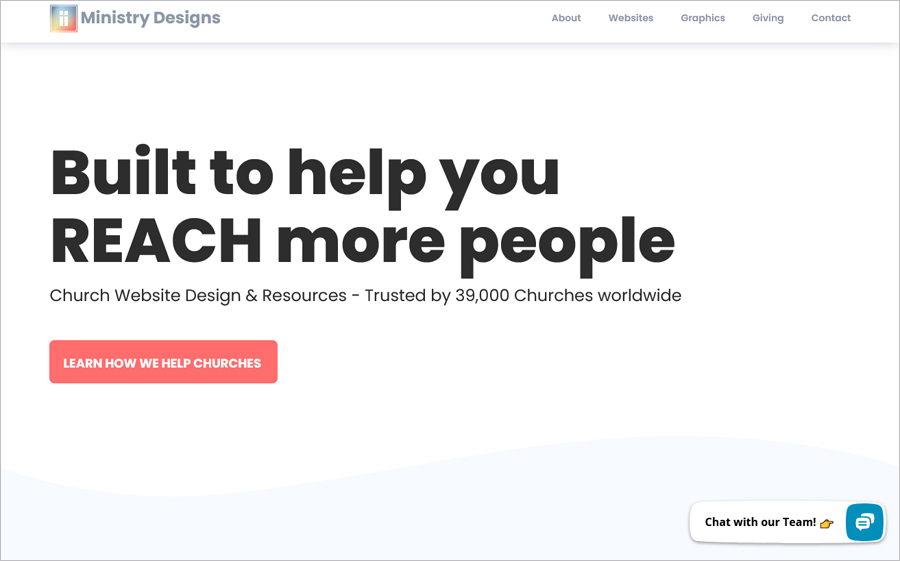 Each member of the Ministry Designs team has worked for a church ministry in the past. Their experience and skills make Ministry Designs a great pick for building Christian websites. Especially for those who want to get support and specific functionalities.
Pricing
Ministry Designs' monthly hosting plan costs $20/month. Plus, you have to pay $1000 upfront as a one-time fee when you sign up.
Pros:
Ministry Designs comes with plenty of beautiful templates suitable for use by churches. No matter what kind of a template you are looking for, you'll find it with Ministry Designs. Also, all these templates are responsive. This means your website will load perfectly on all devices and screen sizes.
You get a lot of features that are tailor-made for churches. You can create a calendar, add sermons, and also build an email list. These features are added, keeping in mind the need to bring in more viewers and keep them coming back for more.
Your Ministry Designs account will, by default, be a multi-user account. This helps you bring volunteers on board to help you with website building and maintenance. You can add up to three users for free. And for adding more users, you'll need to pay extra.
Ministry Design also lets you add multimedia content to your website. You can add podcasts and video backgrounds. Plus, it comes with blogging tools as well that help you build readership.
When you sign up with the builder, you get an hour-long phone call as a welcome gesture. Then you are assigned a Ministry Success Representative who can help you learn how to build your website using screen sharing. Also, there is unlimited training available. And you can contact support as and when you need help.
Cons:
Ministry Designs' hosting package is by no means cheap. And the one-time fee that you have to pay upfront makes it an expensive option.
Summary
If you need a lot of tech support, Ministry Designs is the website builder that will suit your needs. Customer support is where it shines brightest. But, be prepared to pay a hefty upfront fee and a high monthly charge.
Sharefaith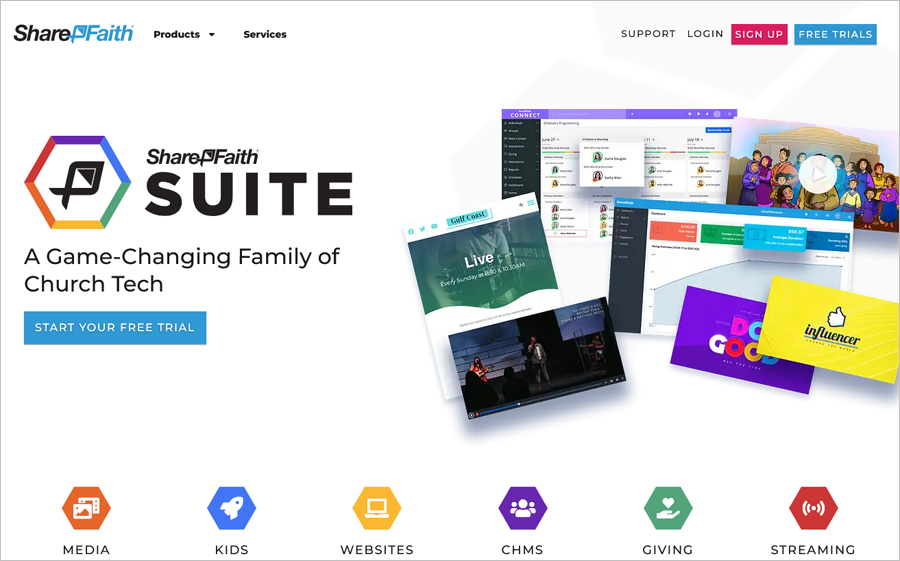 Over 8,000 ministries have created their website with Sharefaith. And that says a lot about its efficiency and suitability. It is a dedicated church website builder that uses cutting-edge technology to spread the word of God.
Pricing
Sharefaith's Web+Media package that you need to build your website costs $45/month. It includes free hosting and a donation system. It also comes with support for switching your site from another platform to Sharefaith.
Pros:
All the themes that you find in Sharefaith are suitable for churches. You just have to look for a theme that matches your needs. Also, you can get a demo of the templates without having to pay even a dime.
If you want to keep your audience engaged, you'll need to add images, banners, and other multimedia content. And with Sharefaith, populating your website with graphics and visual content is a breeze. You can also add audio and video recordings of sermons on your website.
Sharefaith comes with a built-in calendar feature that lets you create a list of events, services, and more. This is a feature that you won't easily find in generic builders.
To accept donations, you can use the Sharefaith Giving feature. There is no setup fee. Only a 3% transaction fee is charged. You can easily set up an online form and start receiving donations.
Sharefaith lets you add other users to your website. This is made possible using Advanced tools. You can use this feature to add volunteers to the website builder's backend to update and manage the site. The level of access that additional users get can be controlled.
Cons:
Sharefaith's expensive pricing is its biggest downside. You can get better features at a fraction of the price with the generic website builders.
Summary
If you don't have budgetary constraints and would like to have a specific website builder suitable for churches, you can choose Sharefaith.
Nucleus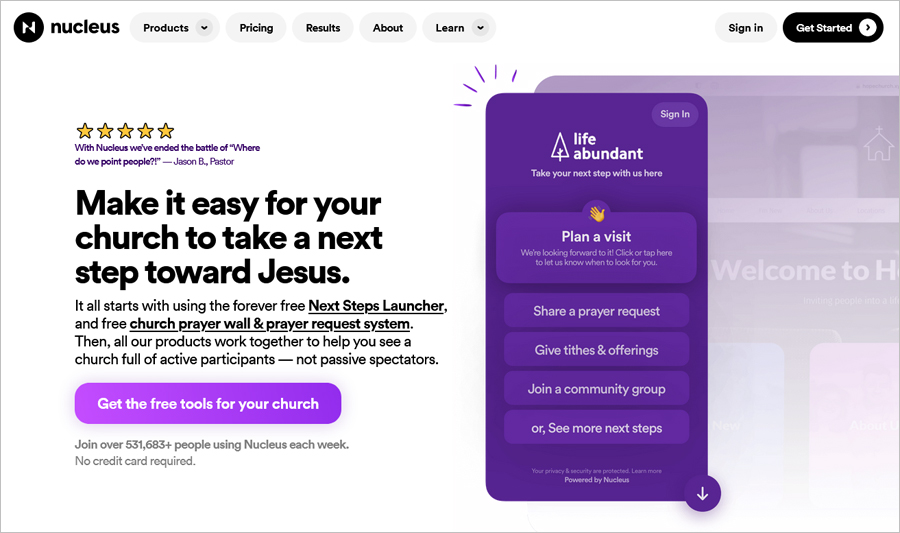 If you want to make sure that your church has active participants and not just passive spectators, Nucleus is the website builder for you.
Well, that is what Nucleus says about itself. And with over 1,000 churches using the platform, it is evident that you can trust it too.
Pricing
The website builder in itself costs $99/month. But for the whole package, it will set you back by $125/month. This includes hosting. And you get a 30-day free trial to take it for a test drive.
Pros:
Nucleus comes with all the church-specific features. These include uploading sermons, beautiful and responsive templates, and an option for your users to get notifications and sign up for events.
Signup forms are at the core of Nucleus's offering. You can create stellar signup forms and direct people to the forms. This helps you create a central hub for your church.
Nucleus comes with a lot of pre-created social media posts. The images come with a text overlay and suggested captions. You can use these posts on your social media channels to build a following there too.
Nucleus has a responsive support team and many informational resources that are helpful for first-timers. Also, you have an option to apply for scholarships. If you have a small church and the platform's fee doesn't fit your budget, you can inquire about the scholarship.
Unlike most other options in the market, Nucleus lets you test the website builder without the need to give out your credit card details. This significantly increases the trust factor. If you feel you want to use the test version for a couple of more days, you can contact the support staff for a trial extension.
Cons:
Nucleus' support team is available only from 9.00 am to 5.00 pm EST. This can mean you have to wait for a couple of hours before your issue gets resolved. Also, the cost at which it comes is expensive when compared to other builders.
Summary
If you want your website to be the nexus of your church, Nucleus is the builder that lets you do that by centralizing control, though the facility comes at a cost.
Depending on your specific needs, you can pick the best church website builder from this list. And create a website that helps you connect existing and new visitors to your church and Christ.
Guide for Building a Church Website
1. The Utility Of Church Websites – What Purpose Do They Serve?
A church's website is its digital profile. It introduces prospective members to your church's appearance, location, history and services. It also keeps existing members more connected. According to LifeWay Research, at least 80 percent of US churches have a website.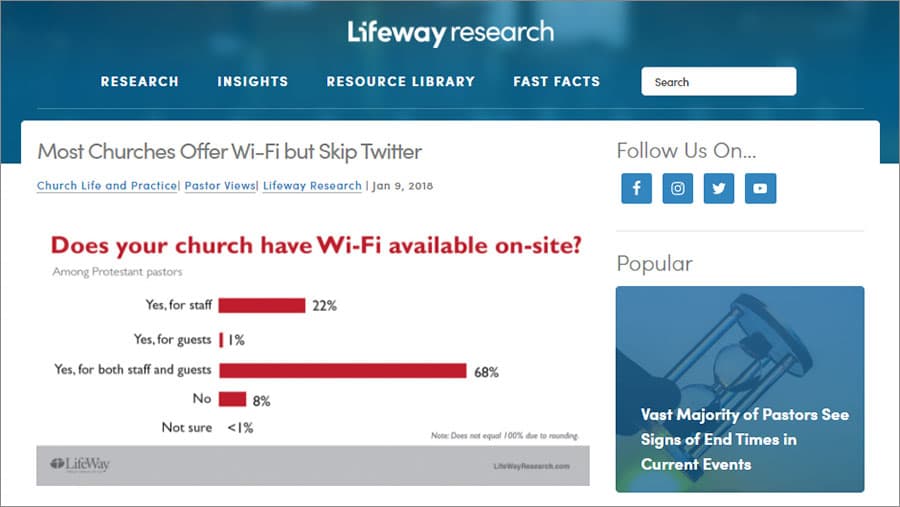 If you're creating a church website, it's essential you remember the purposes it's required to serve:
Identify, Introduce And Promote Your Church
Your church website should be able to guide a new member to the church's physical doorsteps! It must include photographs and videos, the church's basic information and directions. It should act as a quick introduction to what your church is all about. The online visitor should be able to learn of your church's leadership, vision, history and services.
Your website also needs to succeed as a digital poster for your church. It should speak in a clear, appealing way, highlight your church's offerings and encourage people to come and visit the church.
Inform And Engage Your Congregation
The website's interface and utility needs to be tailored to the needs and expectations of the congregation. As such, it can act as a digital platform to inform them of the church's regular activities, future events and important updates.
Features like members' directory, chat, blogs and online sermons are simple, effective ways of keeping the congregation engaged even on days other than the holidays and Sundays.
2. Importance Of A Competent Church Website
To help your church grow, you need a website that meets the current standards of technology and social engagement. Here's why a competent website is important:
It Adds To Your Church's Credibility
A competent website lends credibility to the church. It relays the church's mission, past and present activities with the site visitors so they can develop trust in your church.
IT Is An Excellent Expansion Tool
A competent website can help your church grow monetarily and in congregation size. According to statistics, 24 percent church donations are done online. In addition, 57 percent donors prefer to donate through mobile apps. A mobile friendly church website allows users to make tithes and non-traditional donations online in a familiar, trusted and time saving manner.
3. Must Have Features Of A Church Website
What makes for a competent church website, sets it apart from the generic websites? It's these essential features:
Easy To Find Information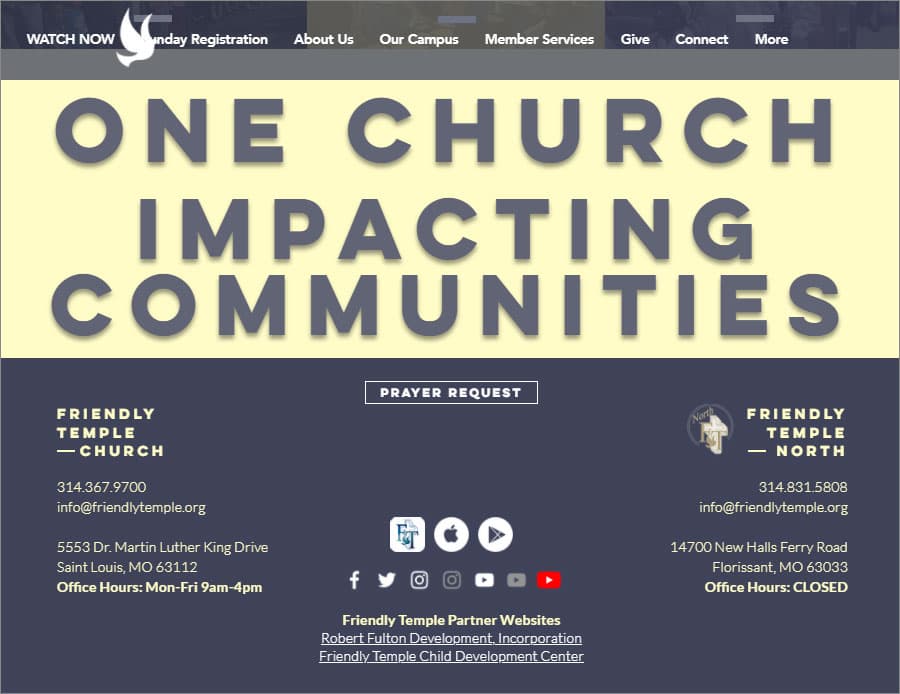 Your website must include your church's address and contact information such as working phone numbers and email and the church service schedule. This information should be easy to locate on your website, preferably through the top menu on the website's Home page.
Online Donations
Your church website should have an online giving option, so members can tithe and offer other donations in a quick, easy way. According to church giving surveys, online giving is the preferred mode for 26 percent of people that attend mass regularly.
Online Giving report of the Center for Applied Research in the Apostolate (CARA) has revealed that 32 percent of working age Catholics have made online donations at some point of their life. A website using reliable contemporary online giving options can significantly improve your church's finances.
Strategically Placed Video Content
According to cisco.com, by 2022, over 82 percent of all internet traffic will be driven by online videos. It's clear having video content on your website is important to increase user involvement. Video related to recent events and live sermons should be embedded on the website's home page.
A YouTube channel is a great way of promoting your church and draw in your congregation. Ensure the links to the church's YouTube channel are strategically placed on the home page. You can also include a dedicated tab for sermon video library in the home page's main menu.
4. Which Is Better For Your Church – General Website Builder Or Church Specific Website Builder?
The answer depends on your resources, needs and finances. A general website builder is a non-specific platform to create websites that won't really stand out from other church websites. It's cheaper than a Church Specific website builder that designs websites around your church's specific geography, history and offerings.
A church website builder is a platform with existing design templates, Search Engine Optimization (SEO) tools, site hosting, security and technical support features that enable you to build your website without having to start coding from scratch. When choosing a website builder, you have two broad choices – General website builders like Weebly, Squarespace and Wix, and Church Specific website builders like Nucleus and FaithConnector.
Church Specific website builders offer dedicated technical support to resolve any problems that may arise with your website. If you have a small budget and already have a web developer with you, you should opt for a general website builder. If, however, you're looking to build a website around your church's identity, speak to a target audience, and budget isn't a constraint, a Church Specific website builder is right for you.
Criteria For Selecting A Church Website Builder
When searching for the best church website builder, make sure your choice meets these criteria:
Attractive, Flexible Design
The church website design needs to be simple, attractive and contemporary. Your website builder must satisfy these design needs. Look into the website builders' customization options. The builder should have color schemes and templates that you like.
Dedicated Calendar
A dedicated events calendar is a must for church websites. The website builder you choose should enable you to create and easily update a calendar that relays the church's yearly and day to day activities.
Easy Video Uploads
The website builder should allow you to easily upload videos. It's advisable you take a close look at the website builder's video editing options and compare these with other website builders' before making a final decision.
Newsletter Feature
Your church's own newsletter is a useful way of encouraging participation and promoting the church. Make sure the website builder you select has a newsletter service or allows you to add a newsletter registration form in future.
Essential Sections for a Modern Music Band or Artist Website
No matter which free music website template you choose, it can have any web design, be black or bright, or minimalistically strict. It's all a matter of taste. But what is truly important is the structure of your music website – the sections that must be present on the site.
So, in addition to the Home page, a modern music website should have several main sections:
About
The About section is where the band or artist shares their story, influences, and background. Include a brief biography, high-quality photographs, and information about each band member or the artist. This section helps fans connect on a personal level and build a deeper understanding of the music.
Music
The Music section should be dedicated to showcasing the band or artist's discography. Provide streaming options for fans to listen to the music, with links to popular platforms like Spotify, Apple Music, or Soundcloud. If the band or artist has released physical albums or merchandise, include an e-commerce store or a link to purchase the items.
Tour Dates & Events
Keep fans informed about upcoming concerts, tours, and events by maintaining a regularly updated calendar. This section should provide details such as dates, venues, ticket prices, and links to purchase tickets. Additionally, consider including past event highlights or reviews to give newcomers a sense of the band's live performance.
For example, take a look at the Tour page on Metallica's official website: https://www.metallica.com/tour/ On this page, you can not only see all the scheduled concerts of the Metallica band, but also purchase tickets right away. It's indeed very convenient.
Videos
A Videos section allows the band or artist to showcase their creative side through music videos, live performances, or behind-the-scenes footage. High-quality videos can significantly enhance fan engagement and encourage sharing on social media platforms.
News & Blog
A regularly updated News & Blog section provides fans with the latest updates, announcements, and insights into the band or artist's journey. This content can range from new music releases to personal stories and even fan spotlights. Keeping this section updated encourages fans to visit the website regularly and stay connected.
Contact & Booking
The Contact & Booking section should provide clear information for fans, event organizers, and media representatives to get in touch with the band or artist. Include a contact form, email address, phone number, and social media links for quick and easy communication.
Social Media Integration
Integrate social media icons and feeds directly into the website to encourage visitors to follow and engage with the band or artist on platforms such as Facebook, Instagram, Twitter, and YouTube. Social media integration helps drive traffic and increases the chances of gaining new fans.
Conclusion
A well-designed and comprehensive website is an invaluable tool for a music band or artist to promote their work, engage with fans, and grow their online presence. By incorporating these essential sections into the website, bands and artists can create a cohesive and engaging digital experience that leaves a lasting impression on visitors.