Best Free Website Builder Software for 2023
WebBuildersGuide.com earns commission from some of the web builders and hosting providers listed on this website.
Learn more
Even before you start searching answers to 'how do I build my website for free?', you need familiarity with the most dependable website builders. In this survey of the best free website building software, you'll get precisely that. I recommend it for reading for anybody looking to build a great website. I guarantee that after this you'll have a robust understanding of how to build a website and which platform to choose for that.
In fact, when you're looking to build free websites, there are only two key options.
The first one is to use ready-made free website design templates. This includes your customized design template and a domain name connection. Then you download all this and upload it on a remote server offering web hosting. By the way, you can get standalone web hosting. The second option is to use free website builders' capabilities – that's quick and for free.
As you have probably guessed, the first pattern provides a shareware kind of website building, because you are to buy a domain name and web hosting to make your website live. You can get a free SSL certificate or even do without it. In addition to all this, you must have skills in web design, HTML/CSS layout, and at least a little knowledge of how to work with hosting providers.
As for the second option, you build your website free with the help of a platform offering all-inclusive website building, right from templates to hosting. Template choice and editing, domain name selection, and hosting connection – all this is available via a single website builder, which means more convenience.
All you should do is to choose a good free website builder. Taking into consideration the number of online website builders, this is not an easy task. This guide is fully devoted to helping you find the right tool.
Top 10 Free Website Builder Software
I've spent a lot of time experimenting and testing different website builders, including free ones. I've selected the best (according to my opinion) software for building websites, that won't cost you any cent.
Most website creators in this survey have drag and drop editor with lots of additional options. They comply with 'out-of-the-box' principle. This means that you can create your website just after registration. And all is free, including the domain name, hosting, and even SSL certificate. The best part – getting all this done is easy, all you need to do is to follow the on-screen prompts.
Let's now pass directly to website builders:
Wix Free Website Builder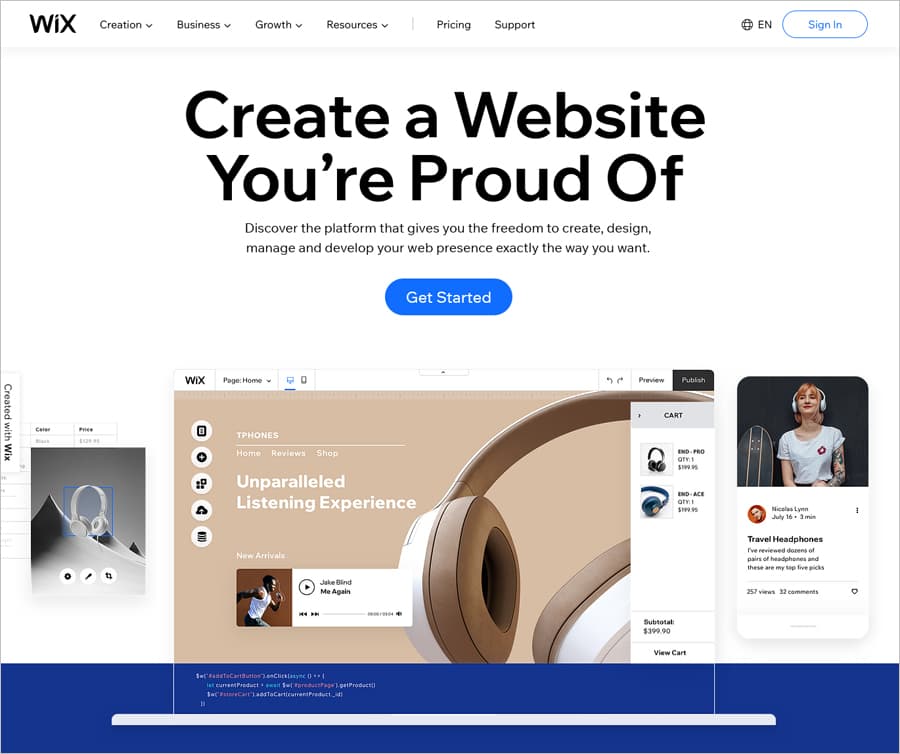 Wix, being a leading free website builder, is the ideal pick for convenient website creation. I readily recommend Wix to everyone who wants to get a perfect website for free and almost effortlessly. This is an easy-to-learn website builder and right at the top of the rankings, across both free and paid web platforms.
Wix: Technical Benefits
After Wix's purposeful transition to HTML5 and replacing platform programming language with Scala instead of clunky Java in 2011, it has become much more reliable.
One of the reasons for choosing Scala was its open-source library Netty. Thanks to it, the developers got the opportunity to protect themselves from numerous problems in the future. The problems were the result of the growing user base and the platform's globalization.
Another pro with Scala is that the developers got access to developing patterns. They allowed creating a much smaller code database, that's why it was easier to make use of it. In so doing, the code appeared more functional, concise, and technically meaningful. That's why, if the developers discover some problems with a certain program module, they're likely to solve it while drinking coffee.
Wix Drag and Drop Editor
Using HTML5 and Scala was just a beginning. The very breakthrough was drag and drop editor creation – a powerful, yet intuitive tool.
For your information: drag and drop editor is a graphical user interface that allows creating or editing a website design via simply dragging its design elements from one place to another with a computer mouse.

A basic drag and drop editor example is your computer desktop where you can move elements anywhere you like. The real drag and drop editors work on the very simple principle.

I've seen and used tens of different drag and drop editors on various platforms; Wix has the most powerful one. It's strong enough in functionality and, at the same time, very simple even for beginners.
Website Templates
Wix will be a pleasure for users due to its massive collection of free templates, highest among all online website builders. There are more than 550 fully responsive templates that will look nice on any device, whether it be PC, tablet or smartphone.
I'm also pleased with web templates design quality – every template or theme is created by professional web designers. Perhaps only Squarespace can beat Wix in template design excellence. But Squarespace isn't a free website builder. For more info check Wix Review.
More Wix Pros:
wide site customization possibilities
ready-made optional solutions (ecommerce, blogs, forums, chats)
artificial intelligence – Wix ADI
wide SEO options – Wix SEO-master
additional Wix apps in App Market
you could download your own templates
many tutorials and instructional videos
Wix Cons:
ecommerce is only available for Premium plans
web pages download speed may be low
Conclusion:
It is one of the best free website builders for business websites, personal websites, and blogs.
Webnode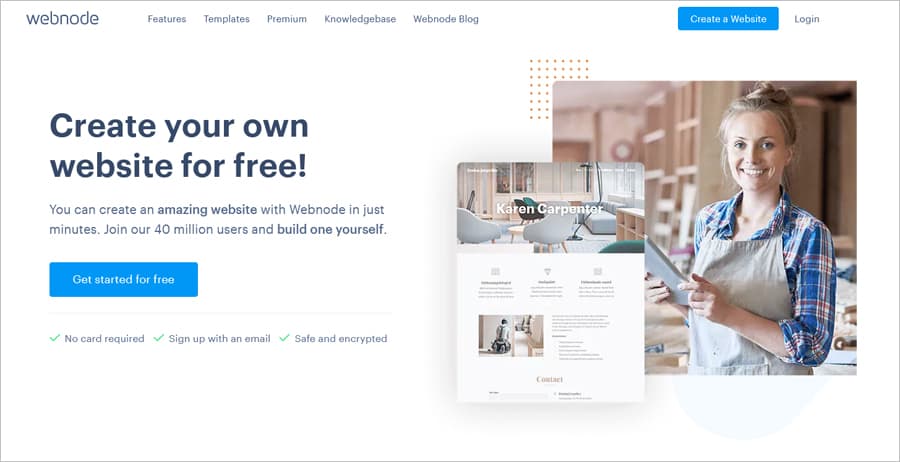 Webnode started way back in 2008, and has been empowering individuals, businesses, and bloggers with its website creation software. More than 22 million websites have been created using Webnode already. With a wide range of impressive templates, SEO features, and customer support, Webnode is an automatic entry in any list of top free website builders.
Webnode's template selection is not as expansive as those of, for instance, Wix, but the designs are impressive enough, modernistic, and above all, responsive. Webnode is particularly well suited for creating personal, photography, and business websites, as reflected in its template designs. Webnode is particularly well suited for creating photography, personal and business websites, as reflected in its template designs. You can add content elements to the template using a point and click based design interface, with individual element level customizations. Also, Webnode offers you advanced SEO options to improve your website's online visibility. For more info check Webnode Review.
Pros:
Advanced easy to use website editor;
Unlimited sub-navigation;
Automatic mobile version of your website;
Access to the CSS for customizing your website;
You can add your own domain name to your website for free.
Cons:
Limited collection of website templates;
Limited e-commerce options;
Not so comprehensive support.
Weebly
Another long standing player in the website builder marketspace, Weebly offers all inclusive website building to beginners as well as professionals. Weebly hosts your website on its subdomain (in its free plan), takes care of backend security and upgrades, and delivers you all the design assets you need to create a memorable website.
Once you select a suitable responsive template, Weebly offers you a drag and drop and WYSIWYG powered website builder software. Note that the drag and drop functionality here is not a pure as Wix's, as you can position your content elements at one of the many possible 'areas' on the page. However, even for control freaks, the flexibility can accommodate all your design choices. You get complete HTML and CSS code access, and hence, with programming and web development knowledge, you can tweak the design to any possible extent (unlike Wix).
Weebly scores well at assisting beginners in navigating the initial learning curve, with a beneficial drip email campaign, and on-screen help with most buttons and menu options. Weebly also offers basic SEO and marketing functionalities to get you started. The app store is not as expansive as Wix's, but is growing and offers some pretty useful addons. For more info check Weebly Review.
Pros:
Free web builder software;
Ability to create two free sites on one account;
Easy and intuitive Drag & Drop interface;
Ability to download the site for hosting else where;
Automatic mobile version of your website;
Assign different access levels for editors;
Unlimited depth of navigation;
Mobile optimized version of your website.
Cons:
Average quality of Weebly's templates;
Very basic blog functions for free version;
Limited ecommerce options;
No special features to create multilingual sites;
Doesn't provide its own email.
Jimdo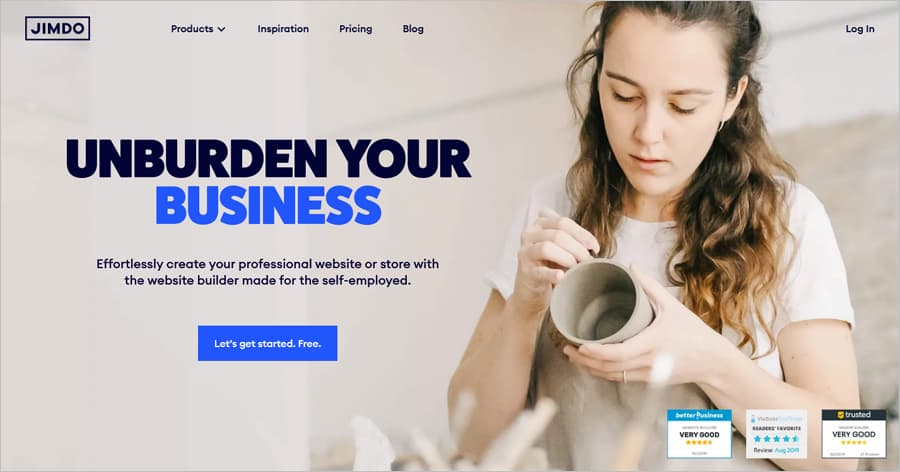 Jimdo, a German web development platform, is not your average website builder. The platform has a truly global presence and empowers over 20 million websites under its network. Responsive, robust, and reliable, Jimdo is the perfect choice for growing start-ups and medium-scale enterprises that want to expand their business online. And the best part is that it's absolutely free! There's no pressure on the customer to upgrade the regular JimdoFree plan to the JimdoPro or JimdoBusiness plans. You can access the website builder for free for an unlimited period of time. Though, this website builder is one of the cheapest builders. Also, Jimdo doesn't ask visitors to submit their credit card details at the time of registration unlike most other platforms in the market.
Jimdo is based on one key idea – user-friendliness. The website builder has something in store for you, regardless of whether you're a blogger or a businessman. Set up a web store, create your portfolio, add contact forms, build a blog – you can all of this and more here at Jimdo for free. The drag and drop interface is perfect for beginners as it requires no coding skills. There is no need to flip back and forth between the interface and the published page, the live editor allows you to make and implement changes in real time.
Jimdo offers users over 120 templates to choose from, all of them fully customizable and optimized for mobile devices. The platform even generates an Android and IOS application for your store for free the minute you publish it. This makes Jimdo an effective website builder for Mac, Windows or Android systems. Your website is synced to the app, i.e. all the text, images and videos you upload in the store is automatically reflected in the application. Jimdo even offers customers free web hosting, domain registration, and cloud support.
Pros:
Free web builder software;
WYSIWYG website builder platform;
Extra customizable web templates;
Lots of categories of web templates;
Cons:
Mobile version won't be created automatically;
Most options aren't free;
No access to templates code.
WebStarts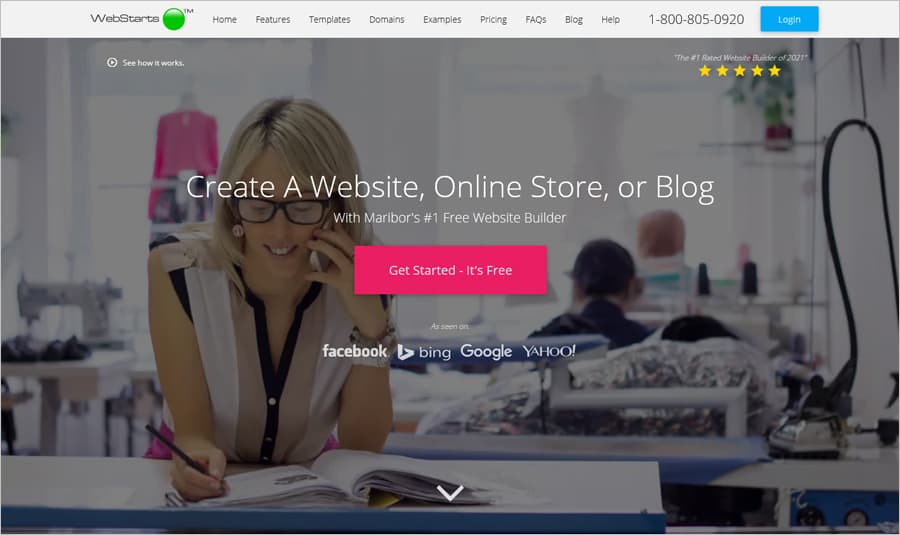 With its speedy registration and well-designed website building interface, Webstarts is the ideal tool for those making their first moves into the world of website building. Programmers might not want to head this way, as Webstarts focusses on blending ease into every website building task. You get a sidebar with several website content elements. All you need to do is to drag these and drop them where you want the corresponding content to appear on the page. Then, you also have dependable customer support to guide you so that you don't get stuck anywhere. Webstarts comes to you with an inbuilt Form Builder, SEO Wizard, and Photo Gallery editing tool, all of which combine to provide you a pretty impressive first experience of designing a content rich website for free.
The templates on offer create a decent mix of bright and dull colors, so there will be something up you alley when you choose your website's template. Moreover, there are ample customizing options available with Webstarts, so it will not be tough for you to add those differentiating elements into your web pages.
Pros:
Free web builder software;
Easier and faster registration with your Facebook account;
WYSIWYG website builder platform;
Extra customizable web templates;
Cons:
Extremely basic templates;
Mobile version won't be created automatically;
Limited eCommerce options;
Most options aren't free.
Webs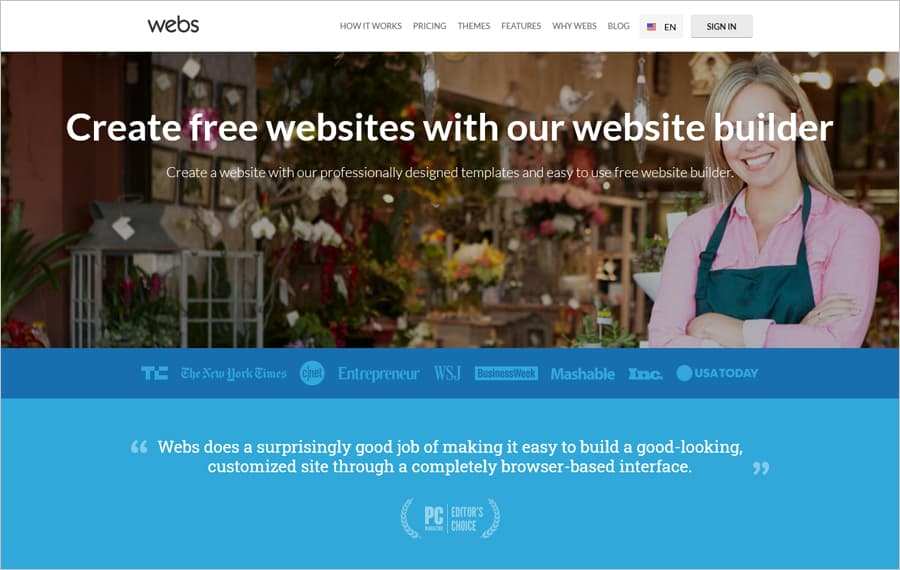 Because Webs has been in the website builder market since 2001, a whopping 55 million websites have already been built using this platform. The features are geared towards the need of business websites, though the templates and features are expansive enough to cover all kind of website requirements.
Over 450 website template across 20 industry categories make Webs a picky designer's dream come true. The drag and drop builder allows you to easily position content elements where you want them to appear. Webs offers six page layouts (standard, sidebar left, sidebar right, banner, etc). Plus, there are specialty pages which are pre configured for purposes such as video content, membership pages, forums, guest books, appointments, etc. Webs' membership feature makes it special; you can offer subscriptions, and selectively allow content access.
Pros:
Free website builder tool;
User-friendly drag and drop builder;
Cons:
Limited number of website designs;
No access to templates code;
Concluding Remarks
You don't really need to look beyond the 10 free website builders we've covered in this guide. These free software are accessible via the internet, don't need any downloads, allow code free website creation, and offer customer support.