In spite of how easy everything has become because of availability of free software and free advice, website creation continues to be a bit of a challenge for many people. It's natural, considering how a website requires time, money, experience, creativity, design expertise, technical expertise, domain knowledge, and what not.
Thankfully, you don't have to build your capabilities around all these aspects. Instead, you could use a best free website builder software and create a world class website in less than an hour. Blogs, portfolio websites, ecommerce stores, agency websites, subscription based portals – you name it, and there's a website builder available to help you create it.
The biggest advantage of using a free web builder software is that you don't need to write any HTML/CSS code to create your website. For starters, most people don't know how to code. Even those who do, prefer using programs that present a visual interface to help them create content, instead of creating everything via line after line of coding. Website builders deliver an intuitive, easy to use, and purely visually powered interface for website creation. This takes more than 90% of the difficulties of website creation out of the picture.
Then, the next best thing about website builder tools is that they provide you professionally designed website templates that will certainly appeal to the masses. This means you don't need to make crucial and difficult design decisions. Nor do you need to pay a website designer to create a unique and good-looking website. On top of these pre-set templates, you get a WYSIWYG (What You See Is What You Get) website builder software using which you can customize the look and feel of your web pages, and add your unique content.
Beyond these basics, the best website builders offer you specialized add ons, widgets, plugins, and tools to add all kinds of amazing functionalities to your websites, for better outreach, marketing, driving sales, and publishing stunning content.
Let's tell you more about some of the most dependable free website builder soft you can use.
WIX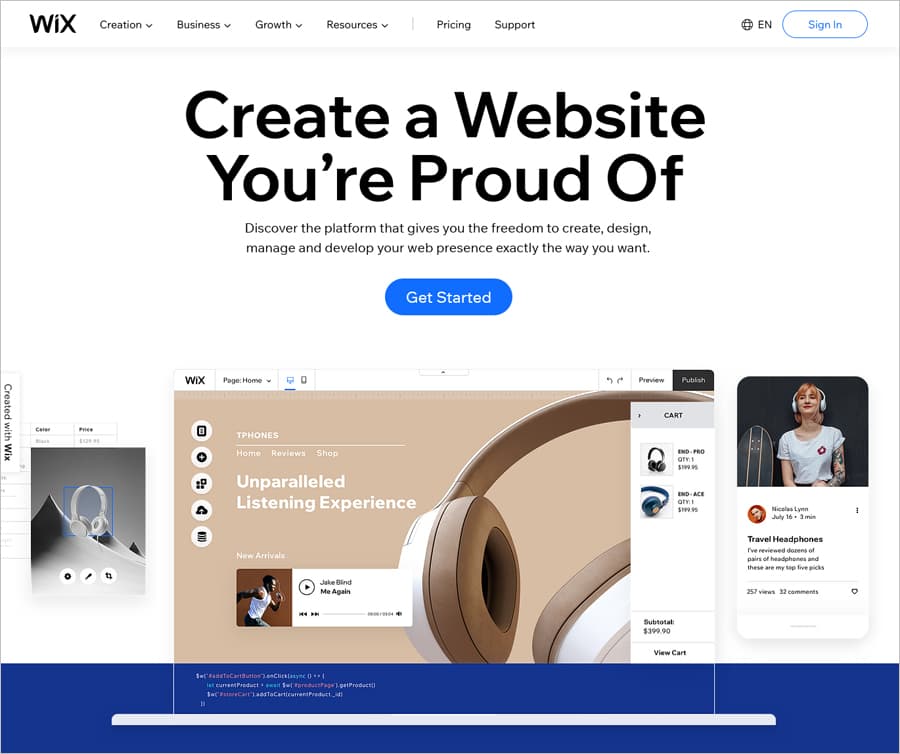 One of the veterans of the website builder market, Wix is an end to end solution for anybody with any kinds of website creation needs. Once you sign up Wix shows you some eye-popping designs to choose from – you can build ecommerce website or real estate angency in a few minutes. You can then use Wix's WYSIWYG based drag and drop styled website editor to give the final shape to your website.
Wix's Artificial Design Intelligence tool makes it, by far, the most advanced website creation option from a design perspective. The ADI tool asks you a few questions, and creates a basic website design in a jiffy. Another differentiator is Wix's pixel-perfect drag and drop, which means you can position any content element at any pixel on the screen, giving you complete control over the layout. Wix also lets you animate text and image elements on screen, one of the few website builders to allow so.
Wix's App Store packs a punch. Online bookings, live chat, newsletter, advanced SEO, email marketing, integration with 3rd party services – there's an app for everything you could ask for. Wix's email and telephone support makes sure you get answers to your queries and complaints. For more info check Wix Review.
Pros:
Free website builder software;
Quick and easy registration process;
Quick and easy registration process;
Over 475 professional looking HTML5 templates;
Mobile optimized version of your website;
Easy Social Media integration;
Unlimited depth of navigation;
Excellent App Market with premium and free add-ons;
Various help options, 24/7 support over the phone/email/live chat.
Cons:
You can't switch to a different template when you feel like a redesign;
No access to ecommerce tools in free version;
Limited storage and bandwidth;
Doesn't provide its own email.
Webnode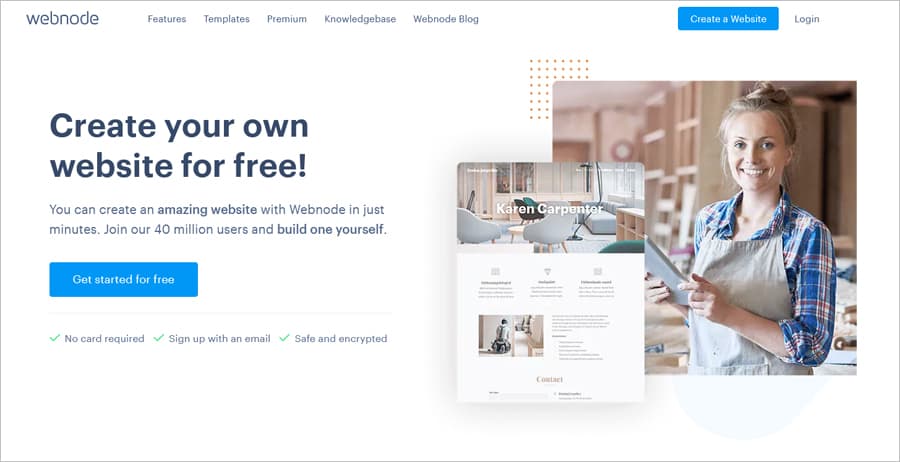 Webnode started way back in 2008, and has been empowering individuals, businesses, and bloggers with its website creation software. More than 22 million websites have been created using Webnode already. With a wide range of impressive templates, SEO features, and customer support, Webnode is an automatic entry in any list of top free website builders.
Webnode's template selection is not as expansive as those of, for instance, Wix, but the designs are impressive enough, modernistic, and above all, responsive. Webnode is particularly well suited for creating personal, photography, and business websites, as reflected in its template designs. Webnode is particularly well suited for creating photography, personal and business websites, as reflected in its template designs. You can add content elements to the template using a point and click based design interface, with individual element level customizations. Also, Webnode offers you advanced SEO options to improve your website's online visibility. For more info check Webnode Review.
Pros:
Advanced easy to use website editor;
Unlimited sub-navigation;
Automatic mobile version of your website;
Access to the CSS for customizing your website;
You can add your own domain name to your website for free.
Cons:
Limited collection of website templates;
Limited e-commerce options;
Not so comprehensive support.
Weebly
Another long standing player in the website builder marketspace, Weebly offers all inclusive website building to beginners as well as professionals. Weebly hosts your website on its subdomain (in its free plan), takes care of backend security and upgrades, and delivers you all the design assets you need to create a memorable website.
Once you select a suitable responsive template, Weebly offers you a drag and drop and WYSIWYG powered website builder software. Note that the drag and drop functionality here is not a pure as Wix's, as you can position your content elements at one of the many possible 'areas' on the page. However, even for control freaks, the flexibility can accommodate all your design choices. You get complete HTML and CSS code access, and hence, with programming and web development knowledge, you can tweak the design to any possible extent (unlike Wix).
Weebly scores well at assisting beginners in navigating the initial learning curve, with a beneficial drip email campaign, and on-screen help with most buttons and menu options. Weebly also offers basic SEO and marketing functionalities to get you started. The app store is not as expansive as Wix's, but is growing and offers some pretty useful addons. For more info check Weebly Review.
Pros:
Free web builder software;
Ability to create two free sites on one account;
Easy and intuitive Drag & Drop interface;
Ability to download the site for hosting else where;
Automatic mobile version of your website;
Assign different access levels for editors;
Unlimited depth of navigation;
Mobile optimized version of your website.
Cons:
Average quality of Weebly's templates;
Very basic blog functions for free version;
Limited ecommerce options;
No special features to create multilingual sites;
Doesn't provide its own email.
Ucraft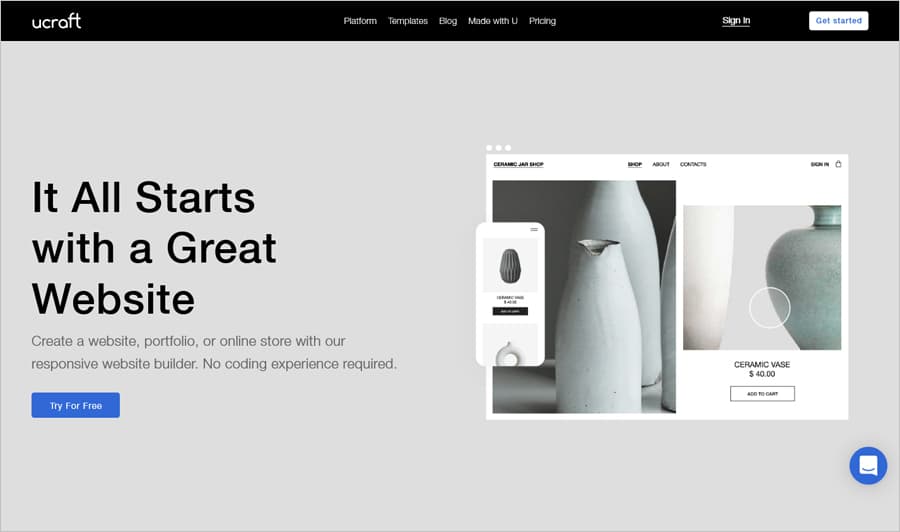 Choose Ucraft for a convenient business website building experience. It's also recommended for creating standalone landing pages. After choosing a template, you can use the website builder interface to customize the template. Drag and drop content elements, and tweak attributes such a color, size, spacing, and positioning.
Ucraft lets you use 'blocks' which are readymade designs to perform specific tasks such as adding header and footer, contact form, feedback form, gallery, etc. These content blocks can be dragged and dropped to desirable positions on the screen.
Ucraft also offers you 'elements' which are multi-purpose widgets, such as Soundcloud, countdown timer, video, icons, maps, text, image slider, etc. Ucraft web templates are mobile responsive, which is a great help. Flat design, industry specific styling, and full screen formats make Ucraft templates pretty impressive. The knowledge base makes it convenient enough for beginners to find their way around even if they encounter technical difficulties. There's live chat support, though, for more immediate and complex queries. For more info check Ucraft Review.
Pros:
Free website builder tool;
Easy-to-use Drag & Drop editor;
Modern website templates;
Ability to create 5 free sites on 1 account;
Free Connect Domain option;
Mobile optimized version of your website.
Cons:
Limited collection of website templates;
Only 1 page for free websites.
Bookmark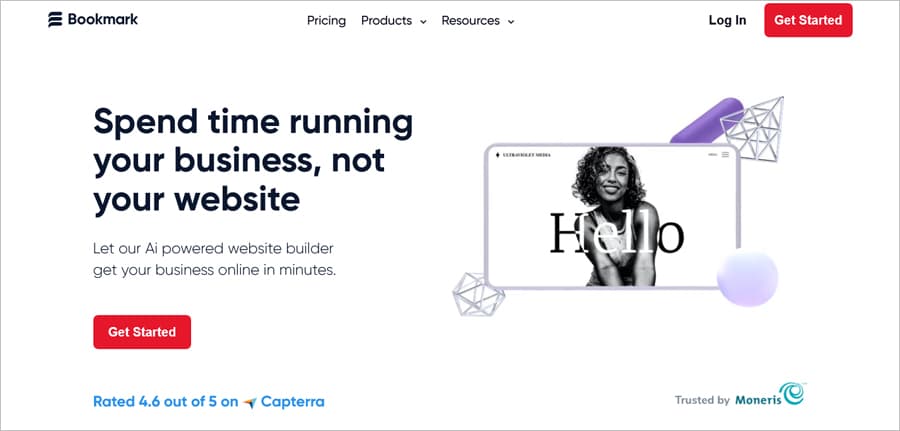 Bookmark, a user-friendly website builder, provides website building training for everyone from beginners to professionals. With Bookmark, you don't just learn about how to set up your website, but how to run it and make it better. Bookmark's in-built AI, AiDA (Artificial Intelligence Design Assistant) helps you build your website in as little as 2 minutes. AiDA has helped create some beautiful websites for brands such as the Huffington Post, NBC, and so on. With one of the best AI website builders you also get a variety of features and tools to do so much more with your website and brand.
SSL security certificates, Amazon cloud hosting and mobile and search engine optimization are just a few of the key benefits that Bookmark offers. Their "Drag and Drop" feature helps make your website design a lot more fun and their video backgrounds add to the fun factor!
You can also get real-time analytics that tell you about how your website is ranking on search engines, the number of views and clicks you are getting, and so on. If you are having trouble getting a domain, you can simply use Bookmark's free sub-domain and get your website live for free! Bookmark's list of features is growing by the day and for those looking for an inexpensive way to start their website, this is the site you need to see today.
Pros:
Free web builder software;
Artificial Intelligence website builder;
WYSIWYG website builder platform;
Free SSL security certificate;
Mobile optimized version of your website;
Cons:
Limited collection of website templates;
Doesn't provide its own email;
No access to templates code.
Jimdo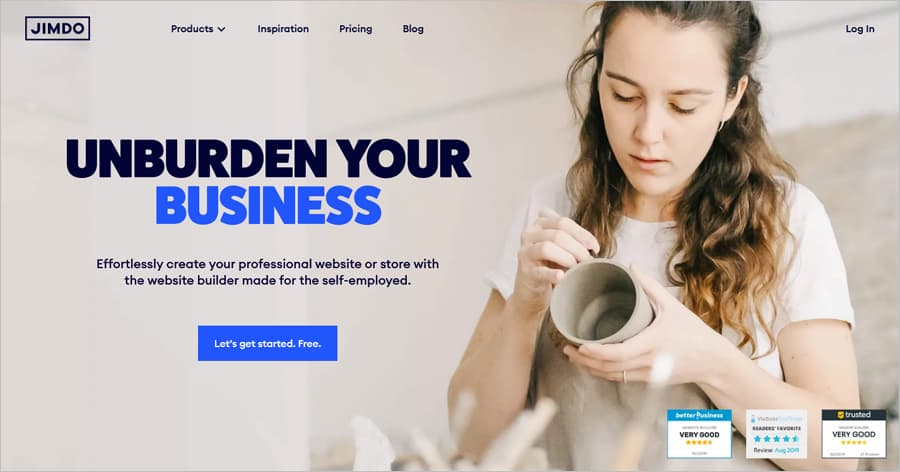 Jimdo, a German web development platform, is not your average website builder. The platform has a truly global presence and empowers over 20 million websites under its network. Responsive, robust, and reliable, Jimdo is the perfect choice for growing start-ups and medium-scale enterprises that want to expand their business online. And the best part is that it's absolutely free! There's no pressure on the customer to upgrade the regular JimdoFree plan to the JimdoPro or JimdoBusiness plans. You can access the website builder for free for an unlimited period of time. Though, this website builder is one of the cheapest builders. Also, Jimdo doesn't ask visitors to submit their credit card details at the time of registration unlike most other platforms in the market.
Jimdo is based on one key idea – user-friendliness. The website builder has something in store for you, regardless of whether you're a blogger or a businessman. Set up a web store, create your portfolio, add contact forms, build a blog – you can all of this and more here at Jimdo for free. The drag and drop interface is perfect for beginners as it requires no coding skills. There is no need to flip back and forth between the interface and the published page, the live editor allows you to make and implement changes in real time.
Jimdo offers users over 120 templates to choose from, all of them fully customizable and optimized for mobile devices. The platform even generates an Android and IOS application for your store for free the minute you publish it. This makes Jimdo an effective website builder for Mac, Windows or Android systems. Your website is synced to the app, i.e. all the text, images and videos you upload in the store is automatically reflected in the application. Jimdo even offers customers free web hosting, domain registration, and cloud support.
Pros:
Free web builder software;
WYSIWYG website builder platform;
Extra customizable web templates;
Lots of categories of web templates;
Cons:
Mobile version won't be created automatically;
Most options aren't free;
No access to templates code.
WebStarts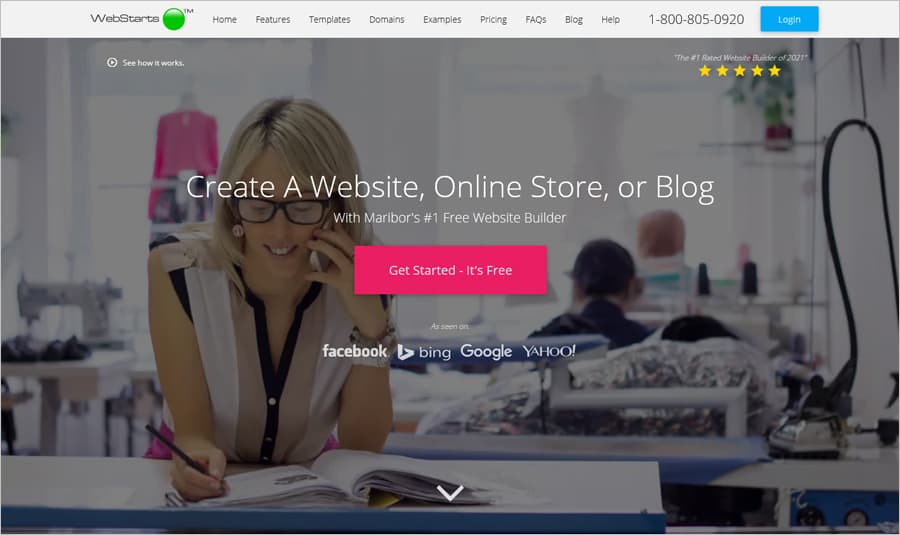 With its speedy registration and well-designed website building interface, Webstarts is the ideal tool for those making their first moves into the world of website building. Programmers might not want to head this way, as Webstarts focusses on blending ease into every website building task. You get a sidebar with several website content elements. All you need to do is to drag these and drop them where you want the corresponding content to appear on the page. Then, you also have dependable customer support to guide you so that you don't get stuck anywhere. Webstarts comes to you with an inbuilt Form Builder, SEO Wizard, and Photo Gallery editing tool, all of which combine to provide you a pretty impressive first experience of designing a content rich website for free.
The templates on offer create a decent mix of bright and dull colors, so there will be something up you alley when you choose your website's template. Moreover, there are ample customizing options available with Webstarts, so it will not be tough for you to add those differentiating elements into your web pages.
Pros:
Free web builder software;
Easier and faster registration with your Facebook account;
WYSIWYG website builder platform;
Extra customizable web templates;
Cons:
Extremely basic templates;
Mobile version won't be created automatically;
Limited eCommerce options;
Most options aren't free.
Webs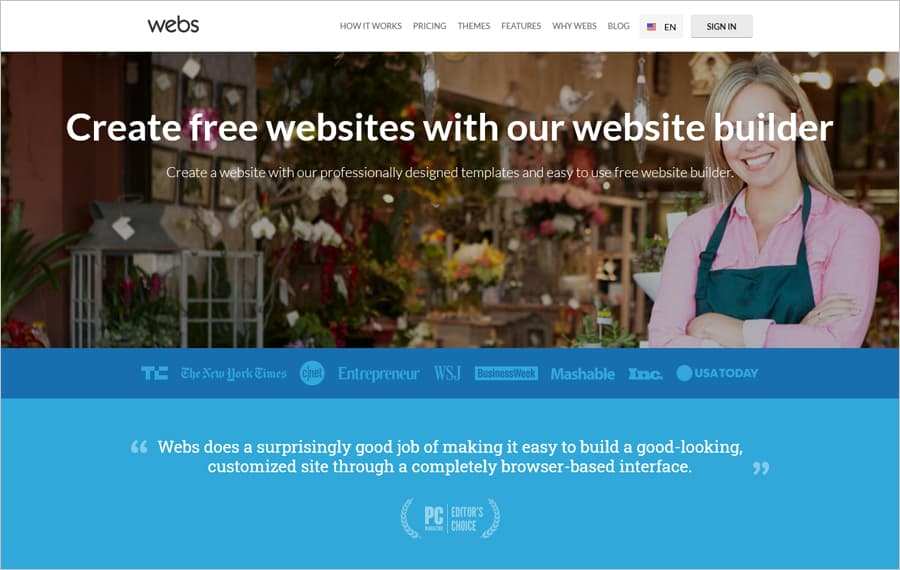 Because Webs has been in the website builder market since 2001, a whopping 55 million websites have already been built using this platform. The features are geared towards the need of business websites, though the templates and features are expansive enough to cover all kind of website requirements.
Over 450 website template across 20 industry categories make Webs a picky designer's dream come true. The drag and drop builder allows you to easily position content elements where you want them to appear. Webs offers six page layouts (standard, sidebar left, sidebar right, banner, etc). Plus, there are specialty pages which are pre configured for purposes such as video content, membership pages, forums, guest books, appointments, etc. Webs' membership feature makes it special; you can offer subscriptions, and selectively allow content access.
Pros:
Free website builder tool;
User-friendly drag and drop builder;
Cons:
Limited number of website designs;
No access to templates code;
Concluding Remarks
You don't really need to look beyond the 10 free website builders we've covered in this guide. These free software are accessible via the internet, don't need any downloads, allow code free website creation, and offer customer support.