The Best Membership Website Builders: Free and Paid Tolls
WebBuildersGuide.com earns commission from some of the web builders and hosting providers listed on this website.
Learn more
If you have ever visited an e-learning site like Udemy or an online community like Facebook, you know what a membership website is. In its simplest form, it is a portal with restricted access to its content, available to members only, although access can be paid, free, or a mix of both. Popular models include:
Of, course you can use one of the best all-around website builder, bu specialized membership site platforms are the best way for thought-leaders to build their brand, develop an online community, and get paid for the knowledge transfer. This allows businesses with specialized information to set up a consistent revenue stream.
82% of the businesses adopting the "subscription economy" model claim it helped them become industry disruptors. But for every success story, there are dozens of others who have failed. One of the probable causes: choosing the wrong platform to build their portal.
The Top 8 Membership Website Builder
Wild Apricot
Wild Apricot is a fast-growing cloud-based software with a website builder platform to create membership sites. The standout feature? You get your own mobile app designed separately for customers and admins. You can also embed the Wild Apricot widget in other websites to promote an event you are managing on the Wild Apricot site.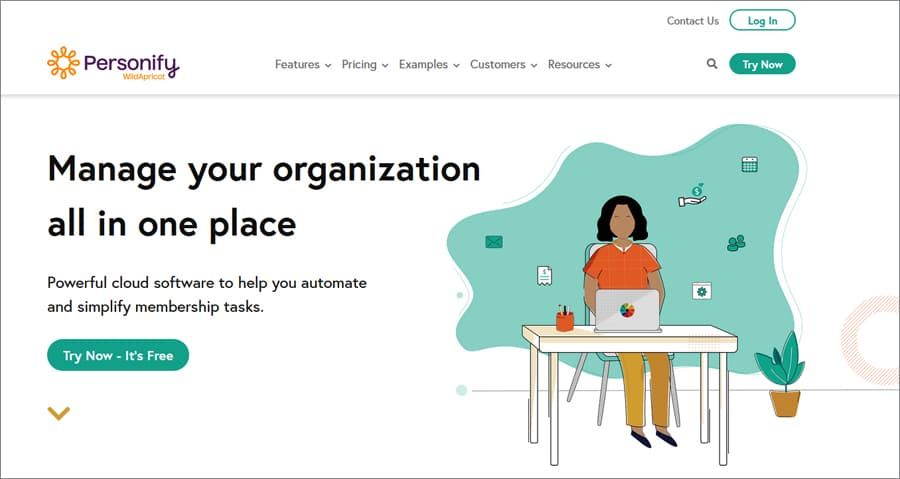 Wild Apricot
For example, you can embed a calendar widget to a WordPress site for cross-platform publicity. Wild Apricot also offers a free version that can be used by organizations with 50 members or less. All plans include a 30-day trial period with full access to all features within the trial period.
Pros of Using Wild Apricot
Excellent database and event management tool.
Event coordination feature that lets you send promotions, discounts, and reminders to attendees.
Unlimited email campaigns.
Native mobile app for both Android and iOS that accepts payments and registrations.
Cons of Using Wild Apricot
The blogging platform is outdated and lacks basic features such as content moderation.
You can't allot a membership ID within the software.
Wix
Although not the most intuitive membership free website builder in the market, Wix is a strong contender because of the scalability it offers, along with an affordable pricing plan. The platform allows you to create a members-only area, add pages with restricted content, and process subscription payments.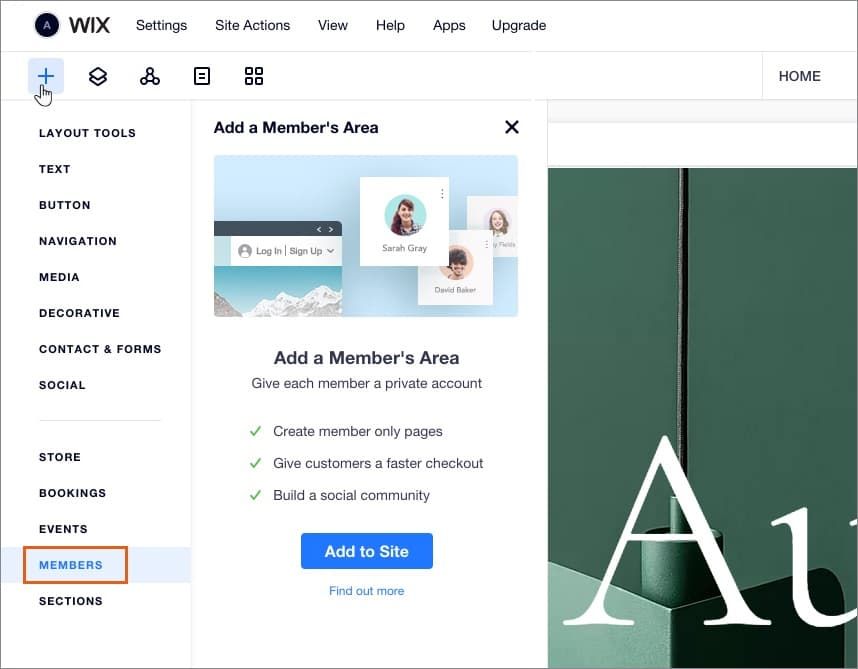 Wix Member's Area
You can integrate multiple Wix plugins to enhance the experience, including the Pricing-plan app, Wix bookings, Wix Events, Wix Forum, Wix chat, etc.
Pros of Using Wix
Membership areas can be created for free, although you can't process payments with them.
Contacts are automatically synced in the back-end with the Wix email marketing tool.
Supports multi-platform registrations like Google, Facebook, or email.
Allows recurring payments.
The Pricing-plan app allows setting up a Paywall to grant restricted access to paid members.
Member roles restrict access to specific users on your site.
Cons of Using Wix
Has a steep learning curve, not suitable for novices.
New registrations have to be manually approved to send confirmation emails to users.
Doesn't have a Learning Management System, so you can't create online courses.
Doesn't support content dripping and content locking.
Memberpress
An easy-to-use WordPress membership plugin that allows you to create multi-tiered memberships, online courses, content-dripping, and integrating 3rd-party plugins to build communities.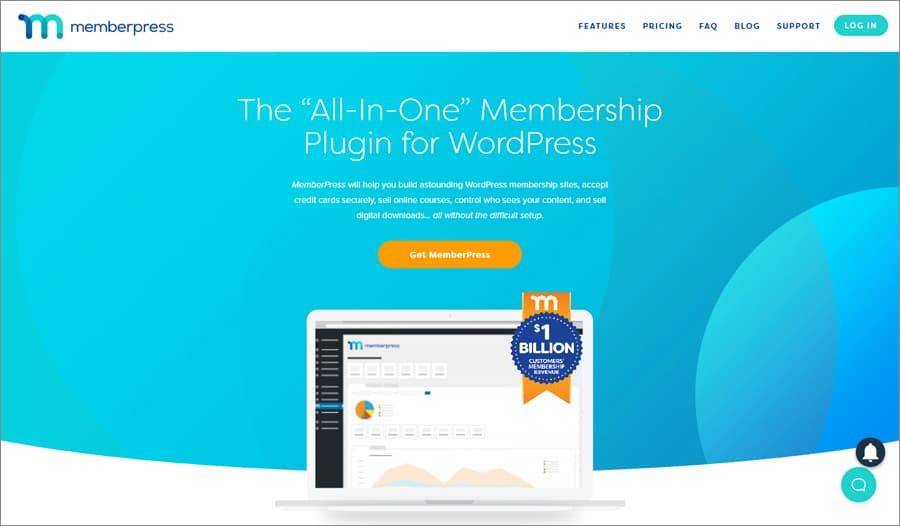 Memberpress
One of the standout features of Memberpress is Paywall – a tool that allows non-members to access certain bits of content for free, a great bonus to attract initial users. With three different pricing options, you can choose to install it on a single website or across 5 different websites.
Pros of Using Memberpress
Integrates with existing WordPress sites.
Creates unlimited multi-level membership across all plans.
Users can have more than one membership at a time.
Multiple access rules, including posts, pages, categories, tags, files, etc.
You can set content start and expiration dates.
Wide range of pricing options for subscriptions – recurring payments, monthly/yearly payments, free/paid trials, etc.
Customizable coupons and email marketing tools.
Analytics reporting dashboard.
Cons of Using Memberpress
Doesn't support other CMS platforms.
Doesn't offer a lifetime purchase plan.
Doesn't have a built-in forum tool; you need to install an additional WordPress forum plugin.
You cannot customize registrations and login forms.
Squarespace
Squarespace's new Member Areas feature has remedied the one big issue that marred its utility as world class membership website builder – the software's lack of integrated membership features necessary for creating members-only content. You can now create a membership website with Squarespace in two ways – use Member Areas, its very own membership software, or use MemberSpace, a third-party plug-in available with a business or higher plan.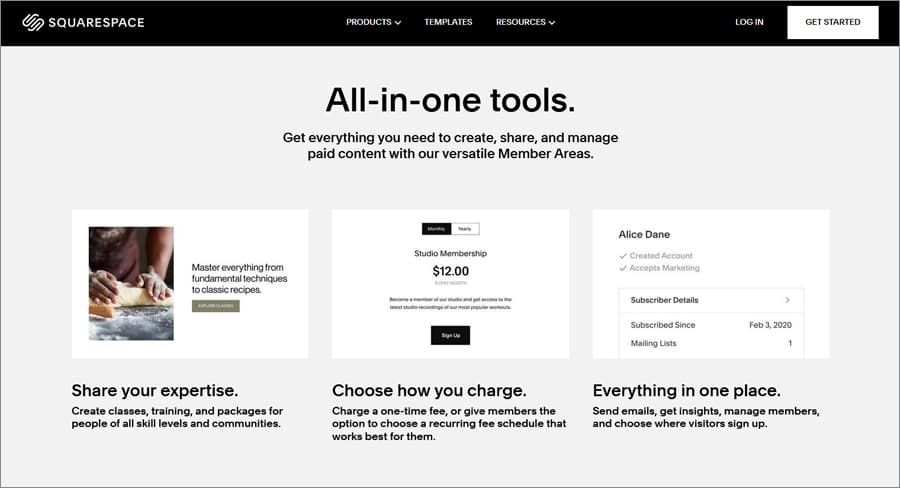 Squarespace
The builder offers virtually every tool you can think of for creating, sharing and managing exclusive content.
Pros of Using Squarespace
It allows access to a wide range of high-quality, royalty free stock images, including the entirety of image gallery from Unsplash.
It includes a vast line-up of web fonts, including more than 600 fonts from Google and approximately 1000 fonts from Adobe.
Accelerated Mobile Pages (AMP) enabled web pages that allow for accelerated content delivery on mobile devices.
Cons of Using Squarespace
Squarespace blogs lack the Autosave feature, so you can lose your content in the event of a server crash or accidental post deletion. This makes the platform unsuitable for professional bloggers.
Limitations on organizing the static pages and blog posts make Squarespace ill suited for creating large, more complex websites
Yourmembership
Here's a premium paid membership website builder that strikes the perfect balance of design and functionality. Yourmembership is a comprehensive platform with excellent content, event and membership management tools. It offers efficient blogging and email marketing solutions, along with the ability to manage both members and events through a single, advanced dashboard.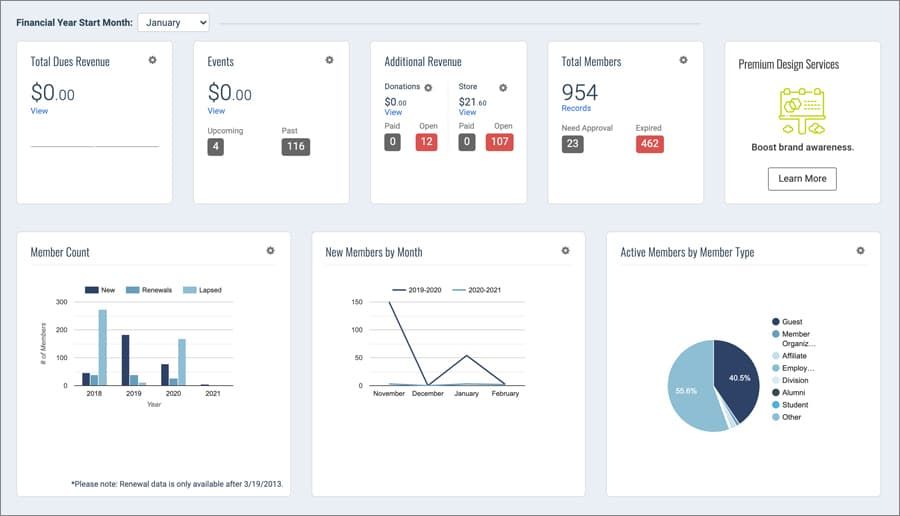 Yourmembership dashboard
Yourmembership excels at creating engaging, mobile responsive websites with futuristic features such as Microsites and expert website design assistance.
Pros of Using Yourmembership
Highly intuitive backend that makes updating and editing content a breeze.
It allows for seamless integration of the members' registration pages and the events section.
It offers excellent accounting tools to help with invoice generation and delivery, tracking financial information such as the members' donations and dues.
Cons of Using Yourmembership
The content editing and customization options are limited in comparison to other top membership website builders.
Yourmembership is one of the pricier software for building membership websites which makes it unaffordable for businesses with a limited budget
Weebly
Weebly is one of the easiest to use website builders with membership features such as single click members' login, different membership tiers, email newsletters and online store.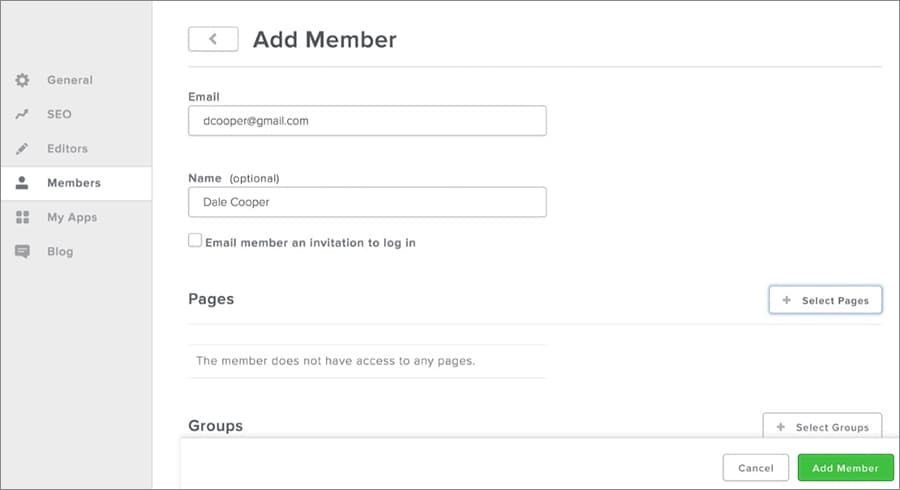 Weebly membership area
With Weebly, you don't need to traverse a learning curve to create your membership website. Simple, drag-and-drop mechanism allows you to select the desired elements and click on them to edit or include additional features. It's an excellent choice for businesses who aim to quickly build a community and offer online courses.
Pros of Using Weebly
Websites built with Weebly are practically ad-free. Weebly's personal and free membership website builder plans include a Weebly logo at the screen's bottom. Even the logo is absent in Weebly's paid plans.
Unlimited navigation levels which support the creation of large, complex website structures.
Cons of Using Weebly
Doesn't support multilingual sites. Character sets for languages such as Arabic, Chinese and Russian aren't fully supported.
Certain features are too pricey compared to other top membership site builders. Attaching an email address to your website's domain, for instance, entails a monthly cost of $6.
Thinkific
Thinkific is one of the most popular and powerful platforms for creating, promoting and selling online educational courses.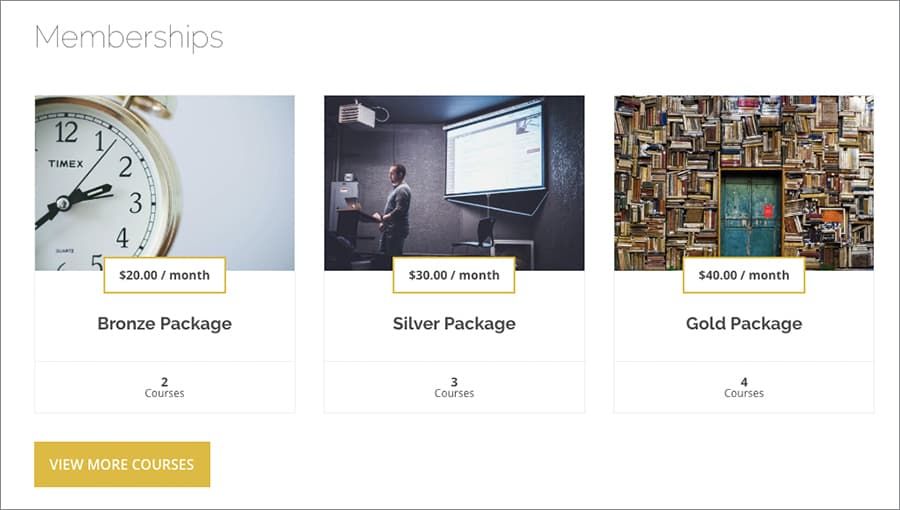 Thinkific
You can include high resolution videos, images and rich text in your courseware. In addition, you can offer downloadable content such as quizzes, tables and certificates. The free plan includes excellent customization options and is great for new instructors who're just starting out selling online courses. The premium plans allow you to create unlimited courses.
Pros of Using Thinkific
Thinkific allows you to extend a monthly payment option for the pricier courses.
The excellent voice-over tool for creating PowerPoint presentations allows even beginners to create quality video content.
Cons of Using Thinkific
Thinkific lacks integrated features for email marketing, so you'll have to rely on third-party email providers.
Doesn't offer chat support.
Kajabi
Kajabi enables you to create and market membership websites, online coaching programs and courses using single-click templates.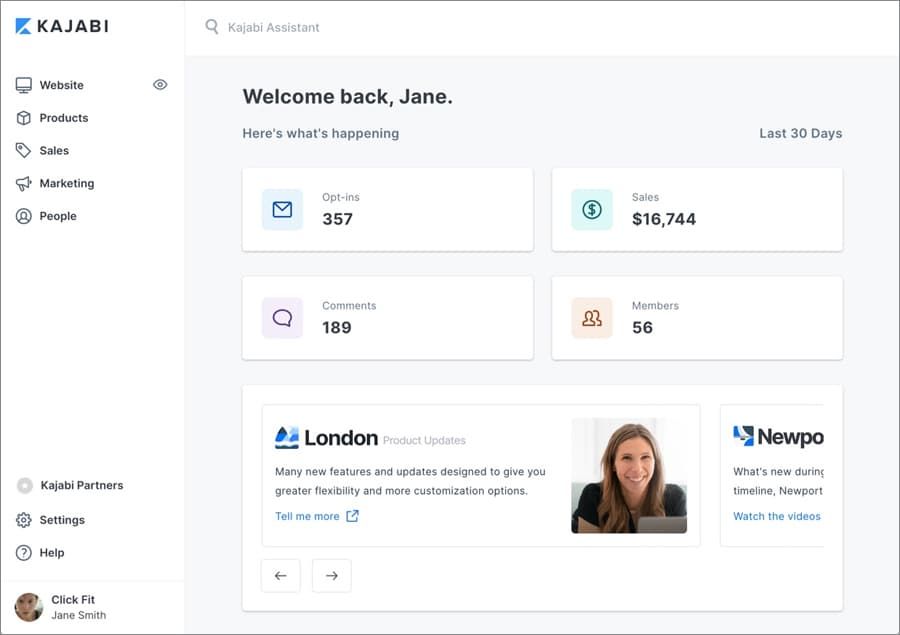 Kajabi dashboard
Kajabi Pipelines offers custom automations for optimizing and scaling your website and online courses which reduces your team's workload. The platform specializes in building large scale, close-knit online communities based on your business' terms and conditions.
Pros of Using Kajabi
It has an excellent mobile app that facilitates better connectivity and uninterrupted learning. The app is included in all of Kajabi's plans.
The visual email builder features allows for creation of beautifully personalized messages integrated with countdown timers, videos and animations.
Cons of Using Kajabi
It has a limited library of landing page templates.
Doesn't support key quiz elements such as randomization and question banks.
What Is a Membership Website Builder?
Membership website builders allow you to create gated or members-only websites having features such as paid membership, discussion forums, knowledge-based webinars, courses or classes, ebooks, and newsletters, along with exclusive perks such as free or expedited shipping, early access, discount offers and more. These membership websites can be paid, free, or include a tier-based monetary system for their members.
If your goal is to create a membership website, even the most popular or highest rated regular website builders can turn out to be inadequate. While many top-rated generic website builders do include premium membership features, you can only access them via additional plugins. The act of adding membership features by scouring through dozens of plugins can be both time-consuming and ill-suited to individuals that lack prior coding experience and technical skills.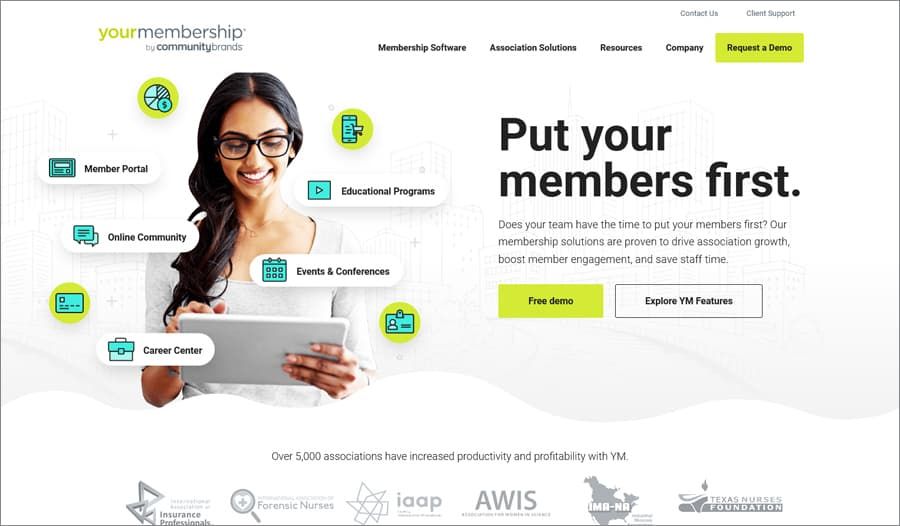 A good membership website builder offers powerful, built-in membership tools such as recurring membership payment, discussion boards, Q&As, and drip campaign management – definitely the best choice for building your online membership platform.
What can you do with a Membership Website Builder?
In addition to the necessary website building tools such as customizable templates, the ability to add and modify pages, graphics, and media, the best membership website builder will also help you accomplish these tasks:
Create an Intranet portal for your members
With a good membership website builder, you can set up a password-protected intranet portal and create secure pages where members can sign up for exclusive programs and courses, share their personal details and engage other members in the discussion.
Create and manage dedicated member directories
A members' directory is a handy means of listing and categorizing members who've signed up for exclusive products or services. It's also a much-sought feature among the members for searching and connecting with other members. A good membership website builder allows you to create and manage the members' directories in an easy, efficient manner.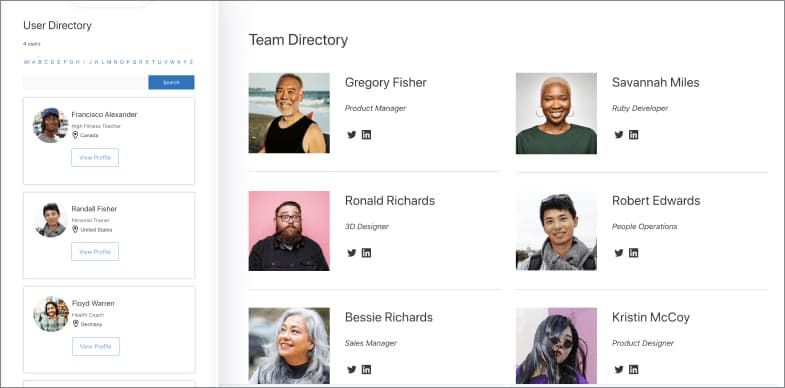 Plan and run effective marketing campaigns
A good membership website builder can help you market your products and services by using efficient marketing tools that aid in creating and customizing microsites and promotional campaigns that target email addresses and the members' individual profile pages.
In addition to these benefits, the right membership website builder can also help you manage the events calendar, allow for a mobile check-in facility and e-ticketing. The best builders offer extensive learning material and expert, round-the-clock customer support, so you can get quick responses and resolutions to your queries and complaints.
Criteria To Select a Membership Website Builder
How to build a website with user accounts? You have two options – either to opt for a hosted solution or to install a plugin to your existing CMS platform. Both options can work equally well so don't get into the analysis-paralysis mode.
Choose a platform that offers multiple pricing options and fits into your budget constraints. Look for hidden costs that come in the guise of set-up, support, or additional features.
Your chosen platform should be easy to learn, with minimal steps for adding new users. Check if you can test the platform from the user's perspective to better understand its intuitiveness and simplicity.
Most providers offer a basic security level to all businesses. If you are considering additional security levels in your website, for example adding a captcha or two-factor authentication, check your options with the service provider.
Know what are the learning and engagement tools provided by the platform. If you are an educator, you would probably want learning management software integrated into your website.
What are the options to create a forum or community? Does the platform have built-in forum features or do you need to add third-party tools?
Opt for platforms that have tiered membership levels so you can segregate members according to services offered.
You would probably have events that users can sign up for. Look for platforms that include tools like event calendars and online registrations.
The Best Membership Website Builder for You Is…
Different businesses have different needs, but a common thread across all membership sites is the membership base. Your membership base is dictated by the niche you have created for yourself in the industry. Hence, it would be wise to choose a website builder according to your business goals and the structure of your membership plans.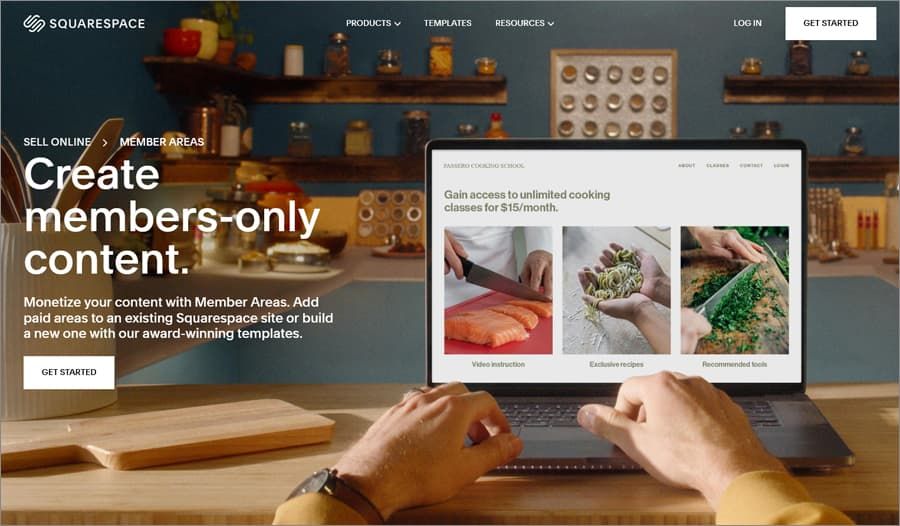 For example, an e-learning site will need a website builder that has LMS software support. On the other hand, an e-commerce site will have to go for a platform that allows an online store. Some of your subscription models may need drip content to ensure recurring revenue. If your chosen website builder fails to provide any of the necessary integrations, your business model falls apart even before you begin.
It is also a good idea to keep the pricing constraints in mind while choosing a website builder with membership feature. What may fit an enterprise-level company may not be feasible for small businesses. Ideally, you should look for a platform that offers your users a rich set of features with a comprehensive and integrated experience, all under one roof.
What do you need to create a Membership Website?
Membership website builders such as MemberSpace have made the act of creating gated pages and websites easier than ever. The real challenge lies in converting your existing customer base into paying members and creating content that will invite new members to sign up. Creating the best membership platform for your business requires you to focus on these key factors:
Identify and target your audience
If you're creating members-only pages for an established ecommerce business, you already have a customer base and need to focus on designing/presenting your products or services for a paid model. When creating a new members-only business from scratch, put some time into researching the current and recent trends, the competition, as well as the customers' needs and unmet demands. Your members-only content needs to be tailored to the age, spending ability, and requirements of the target customer segment.
High-value content and services
Your membership website's products or services need to be of high value in order to warrant paid member subscriptions. If, for instance, your product is online courses, you should look to ensure the course material is up-to-date, the curriculum description is accurate, and that the course has good accreditations. It's best to incorporate popular content delivery methods such as video, email, and downloadable PDFs so you can target customers that favor different learning styles.
Decide on the type of membership and charges
One of the biggest decisions to make when creating a membership website is the cost and duration of the membership. If you're offering a wide range of services, you may categorize them into different membership plans. If you stand to make money through sources such as displaying ads, affiliate marketing, Pay Per Click (PPC) advertising, you can also consider offering a free membership plan.
What features should a Membership Website Builder include?
When you're looking for the right membership website builder for creating your membership platform, make sure to look for these features: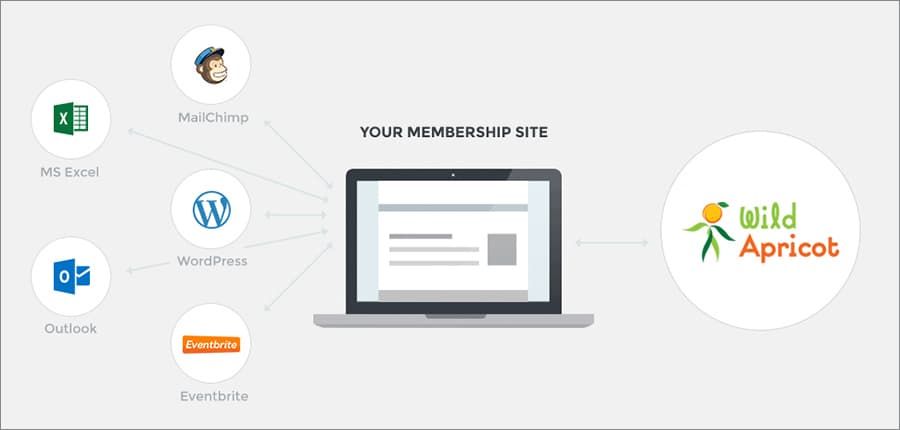 Efficient forum software
Make sure the forum software of your membership website builder enables the members to customize their profiles. The ability to customize aspects such as profile pictures and watch or reading lists empowers the members, enhancing their engagement and overall service experience.
The forum software should have a good text editor and allow private messaging between the members. Customizable comment signatures and achievement-based rewards are some of the most vaunted forum features of the day. Make sure your chosen membership website builder includes these.
Easy, secure membership payments
The website builder you choose should allow for seamless, secure recurring payment for the membership fee. It should allow the members to set up membership renewal via both manual and automatic means. If you're interested in offering a time-based trial membership, the website builder should allow the member to cancel or pay for his/her membership at the end of the trial period.
Your membership website builder should be able to work with multiple payment gateways, including all the popular payment channels such as credit card, debit card, net banking, PayPal, and digital wallets.
High-end membership features
Your pick of membership website builders should ideally allow for adding unlimited members as well as creating a large number of membership levels. A membership level determines the range of content or services included within a certain membership plan. If you offer a wide range of paid services or have plans for future expansion, look for a website builder that offers a large number of, or unlimited membership levels.
A dedicated members' welcome page, the ability to hide selected content, and automatic integration with your email list are some other essential features you should look for in a membership website builder.
Do Membership Sites make money?
Recent research has revealed that 70 percent of the world's business leaders consider membership or subscription business models to be the path to future business expansion and commercial success. In addition, a staggering 82 percent of the world's businesses are looking to adopt the membership model and utilize private websites to achieve greater financial output.
A membership website is a reliable means of creating a steady stream of revenue, typically with little start-up expenditure. It also involves a high margin of profit – if you launch your membership website with a monthly membership fee of $20, you can generate a monthly income of $1000 with just 50 members.
It's obvious that now is the most opportune time ever to start or switch to the membership-based business model. If you're an existing business, it's best to transition slowly, with the goal of converting no more than 50 percent of your existing customers into paid members over a reasonable time frame. You can begin by offering newer products and services to the paying members while maintaining the traditional setup for the existing customer base, let the growth of your paid membership numbers and the quality of service attract the rest to sign up in near future.