Civil society organizations, non-governmental organizations, and not for profit organizations rely heavily on the power of communication and collaboration to succeed in their aims and achieve their objectives. Non-profit organizations across the globe are fighting for some serious causes, right from empowerment of women in 3 rd world countries to saving artifacts of natural diversity. Internet, the grandest and most massive of all communication platforms, can be a superb vehicle of success for these organizations.
Non-profit setups, in particular, have a lot to benefit from having a website. Right from giving an easily accessible and globally relevant address to the effort, to web marketing capabilities that include acceptance of donations an enrollment of members – a dedicated website can be the difference of several years of efforts for a non-profit organization Let's understand a few of the most rollicking benefits of a website for your NGO.
A face for your non-profit setup
A website can make your organization look a lot more 'real' than otherwise. Considering the tight budgets upon which the marketing and promotional campaigns of non-profit organizations are managed, a website can be a free to use and permanent billboard that can convey a lot about your NGO. Your organization's vision, mission, short term and long term aims, staff bios, permanent address, local chapters, and of course, active campaigns can be communicated effortlessly and effectively through our website.
Build your team, pool of followers, army of participants, and more
A website can be the perfect launch-pad of your campaigns to raise awareness, increase member counts, build localized and distributed teams, enhance pools of active members, and more. The ease with which an enthusiast can become a member by filling out an online form is unmatched when compared to the efforts and man-hours put in for on-ground membership creation. Also, you can publish your member counter on your landing page, thus giving motivation cues to visitors.
Functionally empowered interaction with a global audience
Not only can you explain your objectives, efforts and plans more clearly using the unconstrained communication prowess of Internet, but can also share a lot of multimedia content with your readers and viewers for maximum impact. Functionally, your non-profit's website can be used to accept memberships, share certificates of donations, keep record of campaigns, share news updates, and even accept donations through PayPal or by integrating with other payment gateway service merchants.
This is just the tip of the iceberg; there are innumerable benefits of a good website for any kind of non-profit organization such as NGOs, shelter home efforts, old age homes, etc. If you are associated with any such non-profit social venture, it's natural for you to expect more information about building a website that's in sync with the expectations and requirements of a non-profit organization. Here is a guide through the two most prominent methods that you can choose between.
The quickest and surest way ahead is to pick a good website builder that's appropriate for creating a website expected to represent a non-profit organization. The good part – there are quite a few well-packaged website builders that come with good templates that do justice to the requirements of a non-profit organization's website. Moreover, they also bring visual editor based website creation along with functionally empowering widgets to the table.
The not-so-good part – these website builders are actually not developed to deliver upon the expectations of websites for shelter homes, old age homes, children and women empowerment efforts, and natural diversity saving drives. Hence discerning webmasters associated with professionally managed NGOs and all sorts of civil society organizations tend to be left wanting in several ways. This brings the discussion to a couple of special free website builder for nonprofits that actually beat the rest and stake claims to the attentions of people managing or associated with non-profit organizations. So, let's begin our journey to find the best nonprofit website builder.
Wix Free Website Builder for Non Profit
The first place as the best website builder for nonprofit organizations goes to Wix. With undoubtedly the best collection of website templates tailor made for non-profit, environmental, and social websites, Wix is the first choice for any webmaster working at a non-profit. These templates are professionally designed, and hence successfully give a credible, contemporary, and credible face to your brand. Also, these templates are mobile responsive, thus enabling your web content to be accessible from any mobile device. Wix, of course, is a lot more thanjust a pool of the best templates. The website building interface is among the easiest to use, offering true drag and drop website editing. Also, you can use the one-page and pre-populated page templates that help you completely design and finalize your website quickly.
Here's a quick look at other extremely important features offered by Wix for non-profit venture websites:
A whopping range of Wix widgets available from the Wix App Store allow users to enhance the functionality of the website in several ways – right from integrating emailing to creating and scheduling periodic newsletters.
Wix allows advanced blog management right from the website, thus allowing you to post content about the issues your non-profit organization is undertaking.
With strong SEO focusing features, you can quickly ensure that your non-profit website emerges on top of search queries made at the best search engines.
Adding high definition and bulky multimedia files is not a problem with Wix, and you can use on-page image slideshows and video playback widgets to showcase the content seamlessly.
With contact forms, schedulers, appointment recorders, and personalized messaging, you can develop your website into an online control room with a strong backend.
DoodleKit Free Non Profit Website Builder
Look no further than DoodleKit for what is probably the best dedicated website building solution fine-tuned in every sense for the needs of non-profit websites. Worry no more about being on a low budget that doesn't accommodate coding experts and designers to be paid! By registering at Grassroots.org, you can get a free Simple Plan subscription at DoodleKit, which essentially makes your non-profit organization's website free. Also, you can use the free hosting service provided by DoodleKit to make the website building affair more budget friendly. DoodleKit offers remarkably well designed templates for non-profit ventures. What's more, the template building wizard allows true differentiation by helping you create your very own unique website design template through DoodleKit.
Here are the other attention-worthy features presented by DoodleKit:
Use the massive library of ready to use fonts, borders, banners, and backgrounds, and use the inherent flexibility to tweak everything and hit upon an unmatched and truly unique website design for your non-profit venture.
You can build a sophisticated forum of members, offering advanced forum usage features, thus building a good online base of your non-profit organization.
With widgets for building forms, image slideshows, and other important web content blocks, you can add life and soul to your web pages and make your website functionally rich.
Manage a rollicking block, use the in-built SEO features, and create expressive image albums – all this and more with the tools and widgets that come with DoodleKit.
Using free WordPress themes for non-profits
WordPress is empowering more than 50% of the websites active on the WWW at this moment, and that includes hundreds, if not thousands, of websites representing efforts for saving forests in India, protecting Nigerian women from malnutrition, facilitating clean drinking water for children in Mexico, and more socially responsible efforts! With a free to use theme that's absolutely in sync with the personality and philosophy of your non-profit organization, you have pretty much everything needed to create a strong and high impact website that's reinforces your message, complements the brand image, and provides a functional web space that contributes towards the success of your venture.
Here are some of the most relevant features that can make WordPress one of the best nonprofit platform:
Accepting donations and generating certificates of receipt is possible with dedicate WordPress non-profit organization themes.
Social sharing is an important facet of online success of your campaigns, and WordPress themes for non-profits facilitate the same in the form of classy connectivity buttons and sidebars.
Specific aesthetics enhancement features for non-profit ventures include progress bars that visually explain the success and progress recorded by your efforts and campaigns.
With WordPress' inherent SEO features, you can ensure that your non-profit websites emerge in the top few search results made for relevant keywords on Google.
Here is a list of free WordPress themes that you can download and use for creating a website for your non-profit organization:
Free Charity WordPress Template – download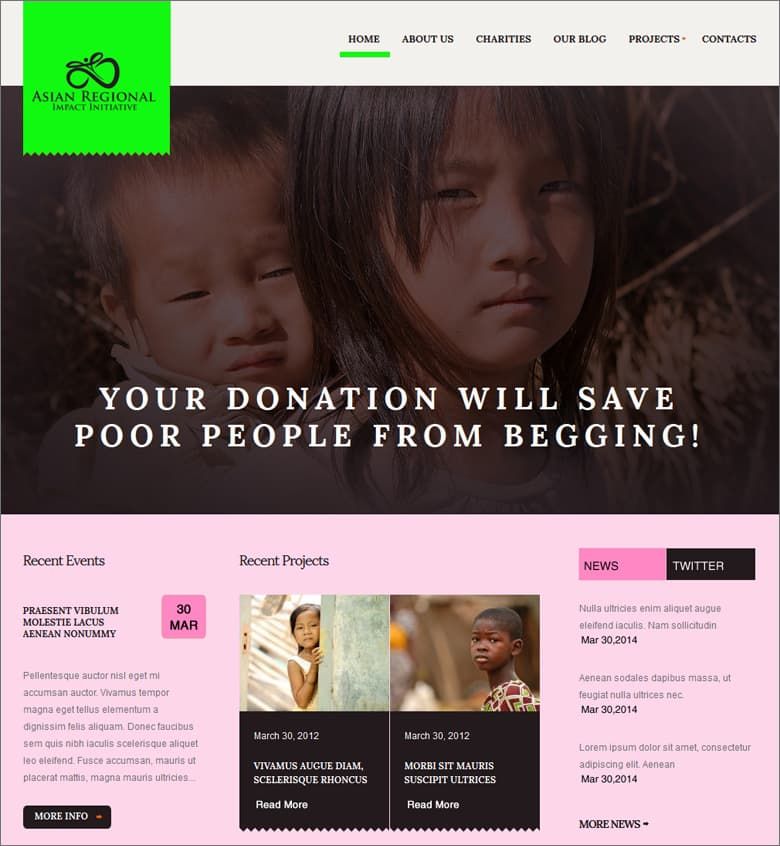 Free Charity WordPress Theme – download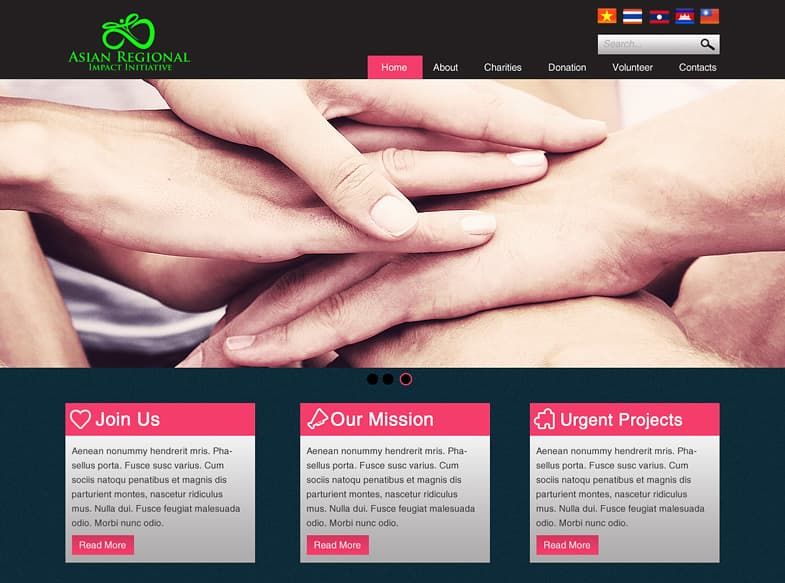 Also you can use one of premium WordPress themes for creation of a website for your non-profit organization:
Heal – Charity WordPress Theme – download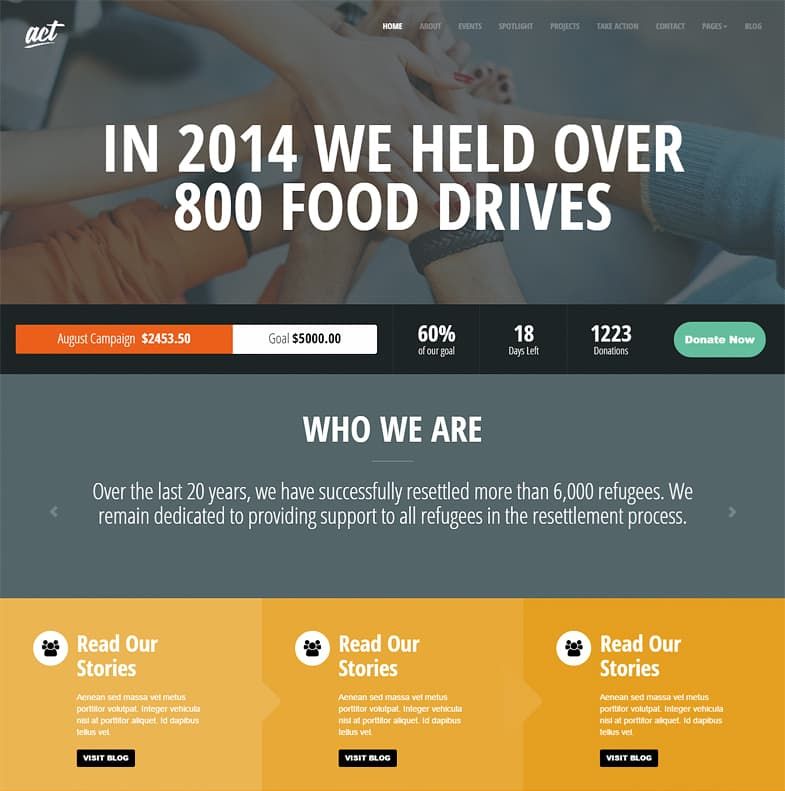 HelpingHand – Charity WordPress Theme – download
Act – Nonprofit WordPress Theme – download