The Best Website Builders for Nonprofits
WebBuildersGuide.com earns commission from some of the web builders and hosting providers listed on this website.
Learn more
When it comes to building a website for nonprofit organizations, the task becomes somewhat different when compared to developing a simple website. For standard commercial websites, you only need to find out the basics about the best website builders. And then you can choose the one that you like the most.
But websites for nonprofit organizations, particularly those of charitable organizations, serve a completely different purpose. And that's why they aren't built like usual business sites or blogs.
In this guide, we will start by discussing what contemporary websites for nonprofit organizations should look like. This will help us identify which options should these websites have. And then we will discuss website builders that can help you achieve all that at a reasonable cost.
By the end of the article, you will find a few recommendations from my side, which will help take your nonprofit organization's website to the next level.
The Importance of a Website for Nonprofit Organizations
No matter what kind of nonprofit organization you represent – charity organization, political organization, church, social club, consumer cooperative, or school – it'll be hard to overemphasize the importance of having a decent website. More so if you run or manage a charitable organization that directly relates to social activities and donations.
The key point is trust and the organization's reputation. You can visit the link below to see what Wikipedia tells us about the importance of trust for nonprofit organizations: "For a nonprofit that seeks to finance its operations through donations, public confidence is a factor in the amount of money that a nonprofit organization is able to raise. The more nonprofits focus on their mission, the more public confidence they will have. This will result in more money for the organization."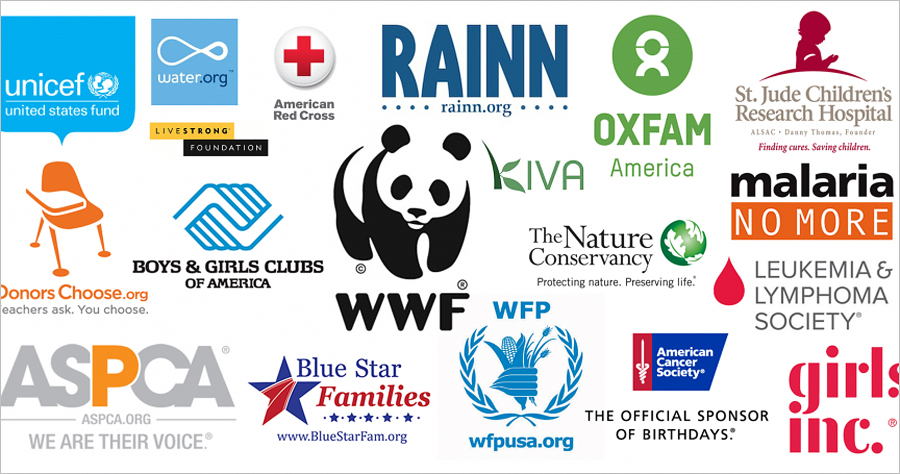 A website acts as a showcase and newsletter that reveals the objectives and mission of the organization to the public. However, that's not the end of what a nonprofit organization's website should look like or do. In the case of some non-commercial organizations, the website should make it possible for visitors to make a donation and, of course, contact the organization's representatives.
How Should a Contemporary Website for Non-Commercial Organizations Be?
Before talking about choosing the best website builder for nonprofit organizations, let's find out what features a good nonprofit site should have.
If you believe you have a deep understanding of the specific requirements of non-profit organization's websites, you can skip this section and directly proceed to the section that discusses the website builders suitable for the job.
For everybody else, we have the specific requirements of a nonprofit website laid out right here.
1. Nonprofit Website Design
All websites should have a characteristic design. And by glancing at your nonprofit website your users should be able to immediately understand what your website and organization are about.
This is extremely important since most Internet users are likely to quickly bounce away from your website if they feel that the work of your organization doesn't meet their expectations. They might also believe they have landed on the wrong site due to a mistake in the URL.
As it is already known, millennials and Generation Z tend to take rapid (often hasty) decisions based on first impressions. They hardly consider the details if the first impression isn't good enough. That's why you should pay more attention to the design of your nonprofit organization's website.
Conclusion: The website builder you choose must have quality nonprofit templates created by professional web designers.
2. Responsive Design
In addition to a beautiful and clean design, a website should also have an adaptive layout and be responsive. This means it must be properly displayed on any device, whether it is a PC with a widescreen monitor, a laptop, or a mobile phone.
You might be surprised, but most people visit websites right from their smartphones. So, you should take mobile responsive design and layout into account.
Conclusion: The website builder you pick must have responsive templates. Ideally, the website builder should also allow you to configure the mobile version of your website separately from the desktop version.
3. About Us and Our Mission Sections
Your website must have About Us and Our Mission sections. These sections tell your website, visitors, about your nonprofit organization. These pages on your website are perfect for placing videos too. With a video, you can quickly share the information with your target audience and also create a better impact on them.
Conclusion: The website builder should support video integrations on all the pages of your website.
4. News Section
Your website must have a News section where you can publish the details about the day-to-day activities and important milestones of your organization.
The presence of a News section on your website is important since it shows that your organization is active and is not just interested in collecting donations. This helps increase the reliability and image of your NPO in the community.
Conclusion: The website builder you use for your nonprofit organization's website should have a News section with the possibility to add different types of content, including text, photos, and videos. The website builder should also have an option to schedule the new updates on a specific date. This will ensure that the news is communicated to your site users at the appropriate times.
5. Photo and Video Galleries
Photo and video galleries on your website will be a big plus. Using these sections you will be able to publish photo reports and videos of past events. It's an effective way to raise the audience's confidence in your organization.
Conclusion: The right website builder for your needs should have photo and video galleries with the possibility of sorting photos/videos according to categories and dates.
6. Donation Option
If there is one thing that is the most important for any nonprofit website (especially charity sites), then it is the ability to accept donations directly from the website. Usually, buttons with different amounts are shown on the website which can be clicked on, to use a payment gateway to make donations. Of course, there should also be an option where philanthropists can themselves decide the amount of money they would like to donate to your organization.
Conclusion: A suitable website builder should have a donation option. The more ways of receiving payment the platform supports, the better it would be.
7. Integration with Social Networks
Your website should give visitors a simple and quick option to share any website content on social networks like Facebook, Twitter, and Instagram. If you have a strong Reddit community, Reddit social Integration should also be available.
Conclusion: The website builder you choose must have an option that allows quick sharing of website content to social media platforms.
8. Contact Section
Your website should definitely have a Contact page with phone numbers, email addresses, and other contact information. Having a contact form on the page that allows visitors to quickly share messages is also essential to make your visitors feel that you are available for conversation.
Conclusion: Your preferred website builder must have a message sending option through a website contact form.
Best Website Builders for Non-profit Organizations
There are plenty of website builders that I have analyzed and assessed. From all those options, the ones most suitable for nonprofit and charity organizations are discussed below.
Wix – the Best Website Builder for Nonprofits
Wix, perhaps, is the most appropriate website builder for creating non-profit websites. You'll soon see why.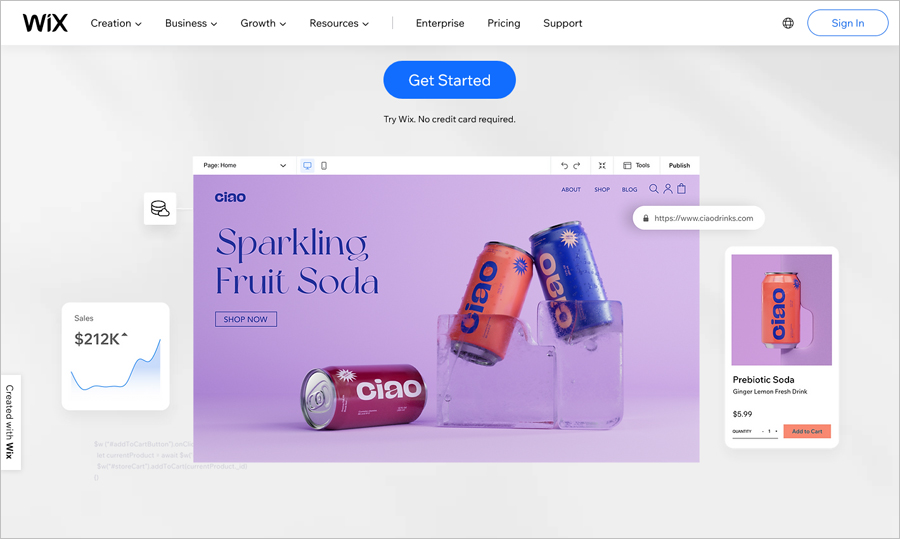 First of all, Wix has got the largest collection of free templates for nonprofits and charity organizations. Their collection is the widest among all online website builders. Plus, Wix also has a powerful yet simple-to-use drag-and-drop editor. The website builder also has some additional non-profits apps that help in making your website even better. There are membership options too, designed specifically to build non-profit websites with membership systems. And above all this, Wix is free. Even when you decide to scale to the premium plans, the cost won't scare you.
Now, let us study the advantages of Wix in detail.
A Large Selection of Nonprofit Templates
Wix has got the largest collection of quality (and free!) non-profit website templates. And they are fully responsive, which means they'll display perfectly on any device.
Check all non-profit Wix templates
Moreover, Wix has separate templates for creating websites for charity organizations.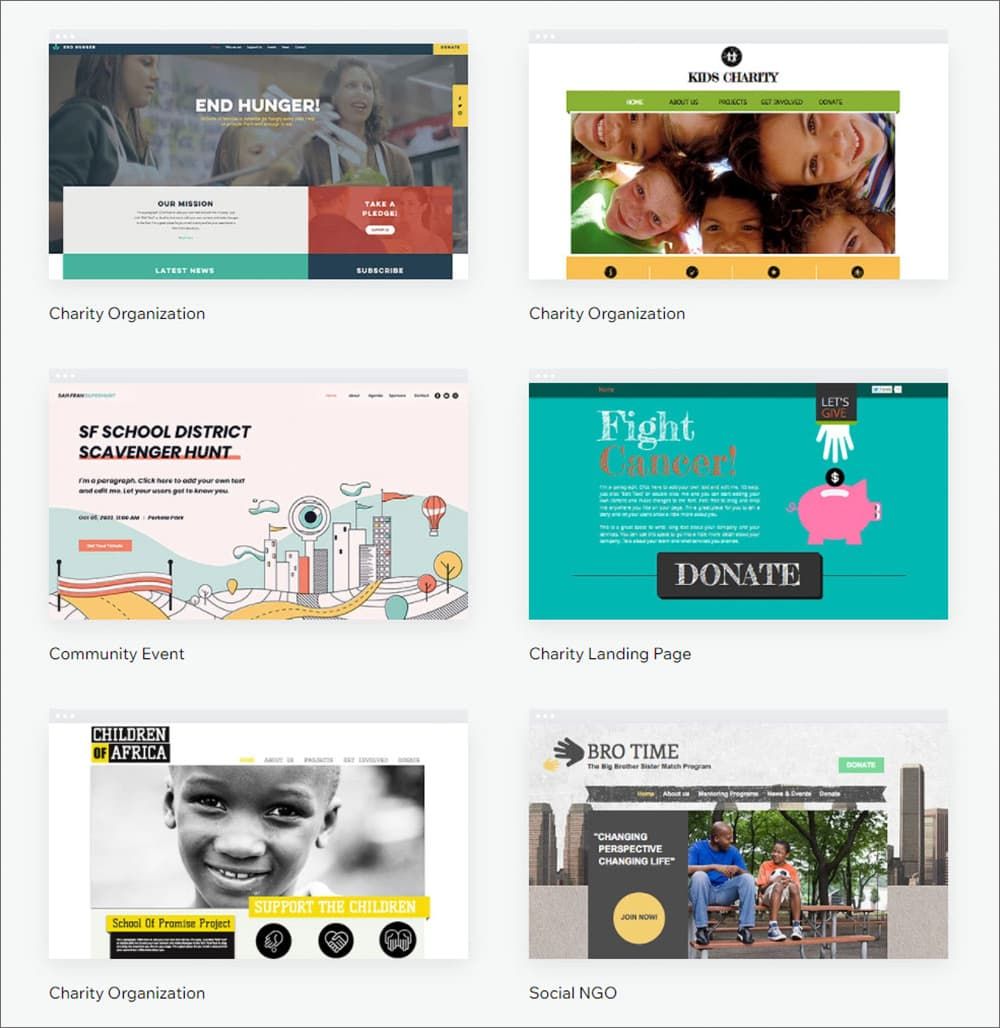 Check all charity Wix templates
Wix also has a religious website templates category. This category has nice solutions for non-profit religious organizations.
Check all religious Wix templates
Simple and User-friendly
Wix is designed in a way so as to ensure that every user (even beginners) can create a website independently. This means you would be able to build a website without having to put in several days or weeks of work and without anyone's additional help. It's very important to consider simplicity in a website builder because not all builders that claim to be simple are actually so.
The main advantage of using Wix (after its templates, of course) is an intuitive drag-and-drop editor. Simply stated, this is what will allow you to turn a basic template into a ready website filled with pages and content.
Wix's drag-and-drop editor is powerful and responsive and comes with lots of settings. It's the most advanced drag-and-drop editor among all those I've seen. And yet, it remains simple and user-friendly.
NOTE: Some website builders have even simpler drag-and-drop editors but that is achieved upon reducing functional capacities. Such platforms are those that never bothered to develop a cool visual editor. So they have just the basic capacities for template editing and that's why they're so simple. But that's not the case with Wix.
Wix Donation and Charity Apps
Another great advantage of Wix is the Wix App Market, where you can find additional apps and widgets for improving your website. Both free and premium options are available here.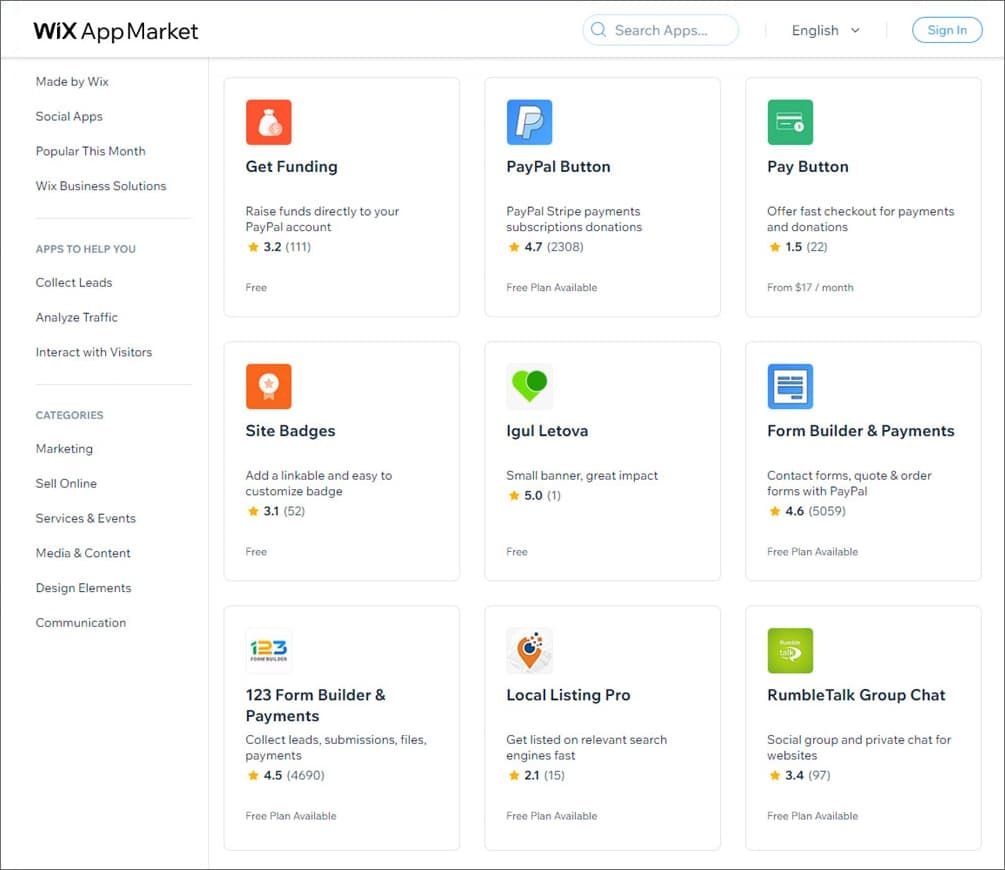 Wix Donation and Charity Apps
Some useful free apps for non-profit websites include:
PayPal Button – You can install this button on your website and accept PayPal donations (one-off or by subscription). It allows accepting donations in 25 different currencies.
Get Funding – If you install the Get Funding app on your website, you can get donations safely and reliably through credit cards or PayPal. You'll also have the option to collect donation statistics and share this data with your website's users.
Site Badges – This app lets you install badges on single products or pages. Using the badges, you can state, for example, that 50% of the money from sales will go to charity. This is a good way to attract user attention and increase sales.
If you need a more powerful solution for collecting donations, then Wix supports integration with Donorbox.
Donorbox is a comprehensive solution for donation collection through credit cards, bank transfers, PayPal, Google Pay, Apple Pay, and so on. Donorbox is not just a donation button. It also has configurable donation forms with many additional possibilities.
For example, you can not just accept regular payments, but also collect extra information about your donors. Later you can use this data to form closer relations with donors and ensure their continued cooperation.
Building Nonprofit Websites with Membership System
You can take your nonprofit organization's website to the next level using closed access areas for the members of your organization.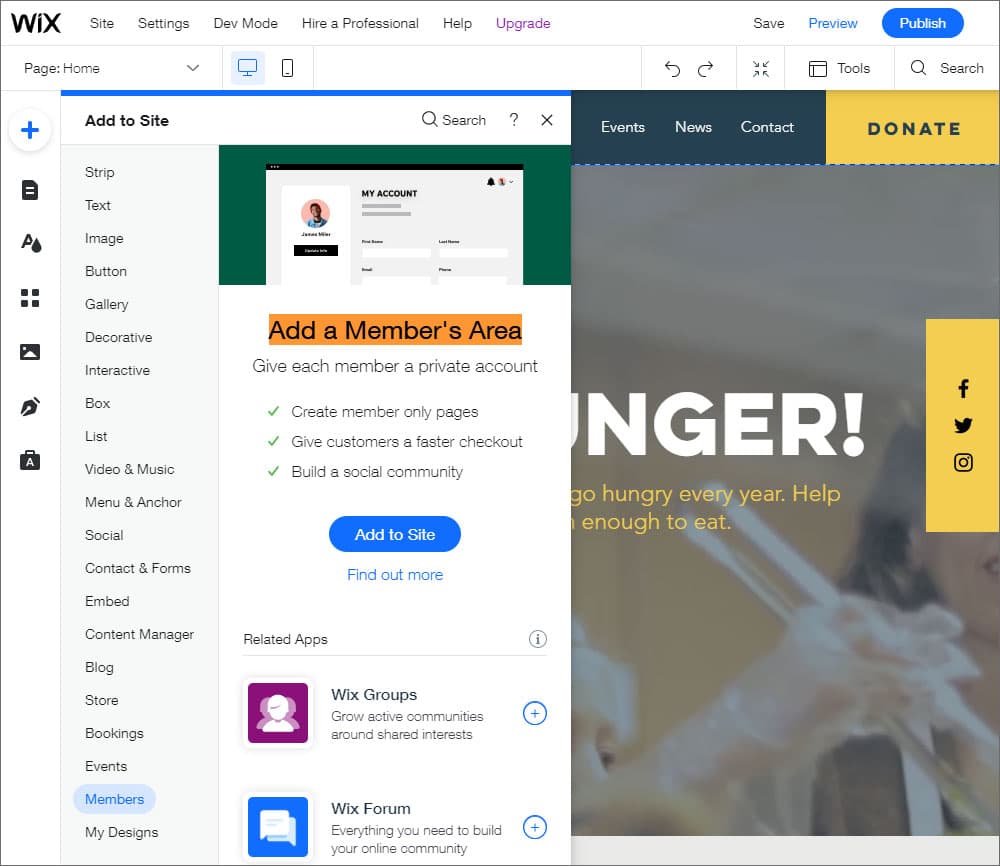 Wix membership system integration
Members can access certain private sections on the website and browse through the information addressed only to them. Non-member visitors on your website won't be able to access these sections.
This may also be a convenient option for your donors including large business owners and some corporations that donate to your organization. They can see how much donation they have made so far and the goals for which this money will be utilized in the members-only zone on your website.
Such a level of transparency will aid the reputation and trust-building efforts of your non-profit organization.
Wix can help you with this since it has a built-in membership system. With this, you'll be able to configure access to certain sections for all members or only selected members or paying customers.
Costs
Wix is a free website builder by default. But I don't recommend the free plan for creating non-profit websites. With the free plan, you'll have to make do with a free subdomain, for example, non-profit.wix.com. This won't contribute towards building people's confidence in your non-profit organization.
Upgrading from the free plan to one of the premium ones will allow you to use any desirable domain name and your website's address would look something like non-profit.com.
Advice: The best domain category for nonprofits and fundraising organizations is .ORG. As opposed to .COM (popular in the business field), .ORG domains imply that the website is run by an organization that has nothing to do with money-making.
Wix has several premium plans that you can choose from. The most affordable one is Combo, which costs $14 monthly (when paid annually). The Combo plan allows building a simple non-profit website with basic functionalities. Plus, you also get a free domain name for 1 year and a free SSL certificate.
Learn more about Wix plans on the official website.
Squarespace – Make a Nonprofit Site More Spectacular
Squarespace is a premium website builder that offers ample opportunities for creating websites for non-profit organizations. Just like Wix, it is one of the few website builders that have their own non-profit website templates.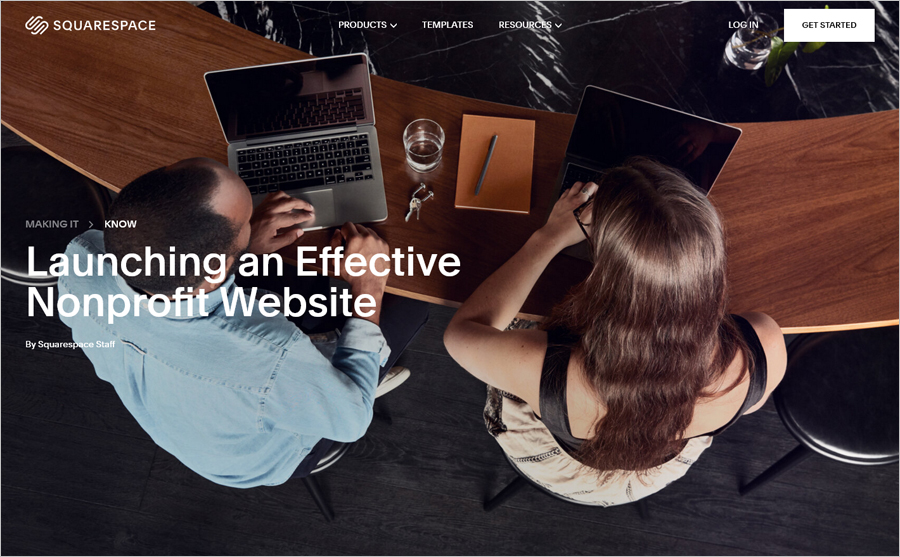 Originally, Squarespace positioned itself as a platform for launching online portfolios and websites for photographers, artists, and entertainers. But with constant and admittedly successful steps for development, Squarespace today allows building websites of all kinds. This also includes websites for nonprofit organizations.
Beautiful Nonprofit Templates
Squarespace has a collection of beautiful and user-friendly nonprofit templates. Surely it doesn't have as many templates as Wix, but the available options are spectacular and professional-looking in design and definitely deserve attention.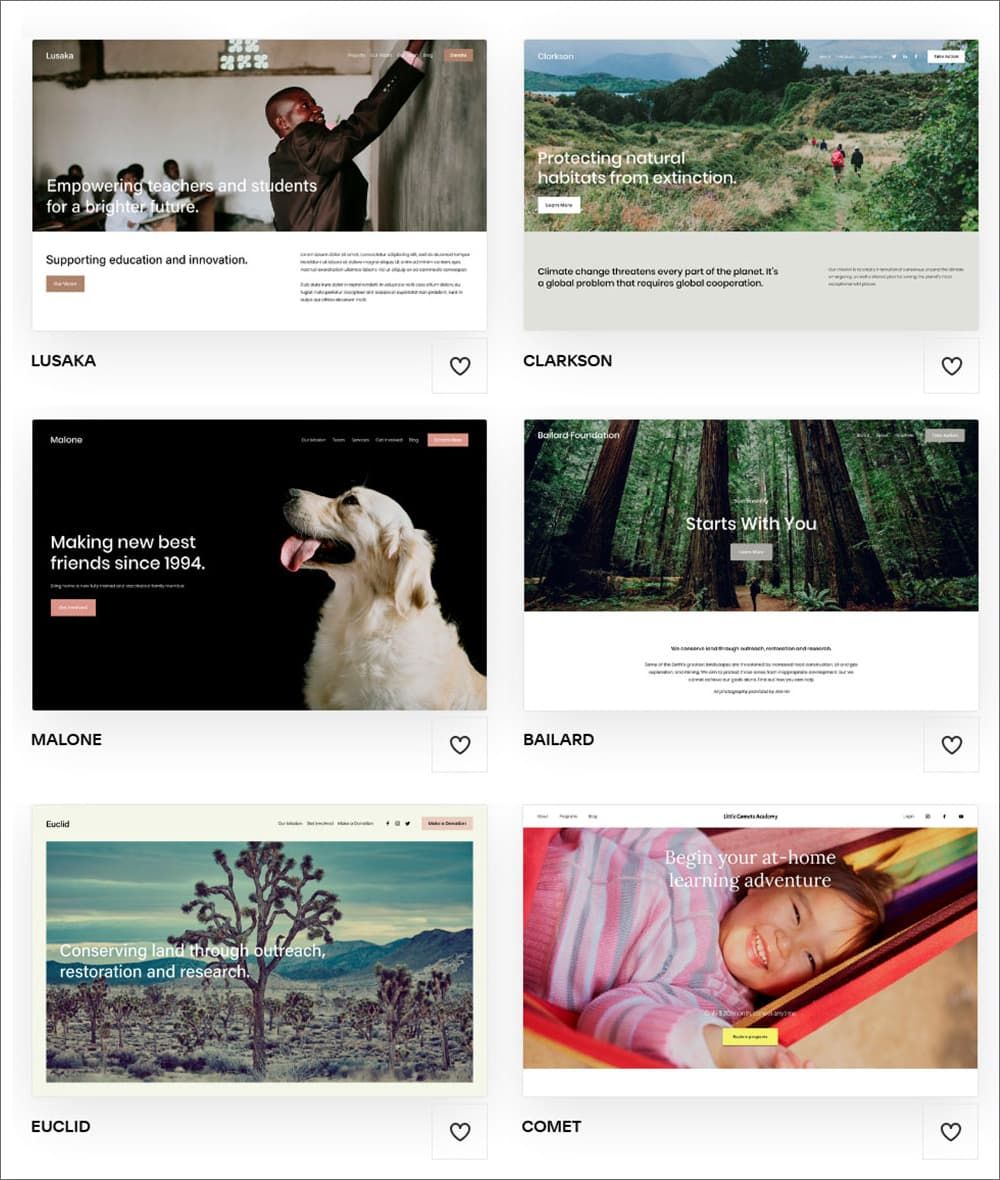 Check all non-profit Squarespace templates
The thing that I like most about Squarespace is its attitude towards website appearance. Beautiful, minimalistic templates have traditionally been Squarespace's strong point. These templates are stylish, have a minimalistic design, lay emphasis on even the smallest details, have carefully balanced design elements and harmoniously chosen colors. All this makes Squarespace a highly valued choice for those who consider the look of the website as an important factor.
Special Blocks with Donation Buttons
In addition to non-profit templates, Squarespace can help you collect donations via special donation blocks. These donation buttons can be edited the way you like. You can change the amount of donation, the button's color, and its design as well, along with the text on the button.
Information Collection forms
Squarespace also allows collecting data from donors and website visitors. You can collect the names, locations, company names, and contact details of your donors.
Plus, you can create an email list for your newsletter using Mailchimp integration. You can send emails concerning upcoming events, news about your organization, and even blogs published on your site.
Simple Drag-and-Drop Editor
A simple and intuitive drag-and-drop editor allows every user to master Squarespace easily, regardless of their previous website development experience.
Squarespace's drag-and-drop editor's interface isn't overloaded with details and is user-friendly.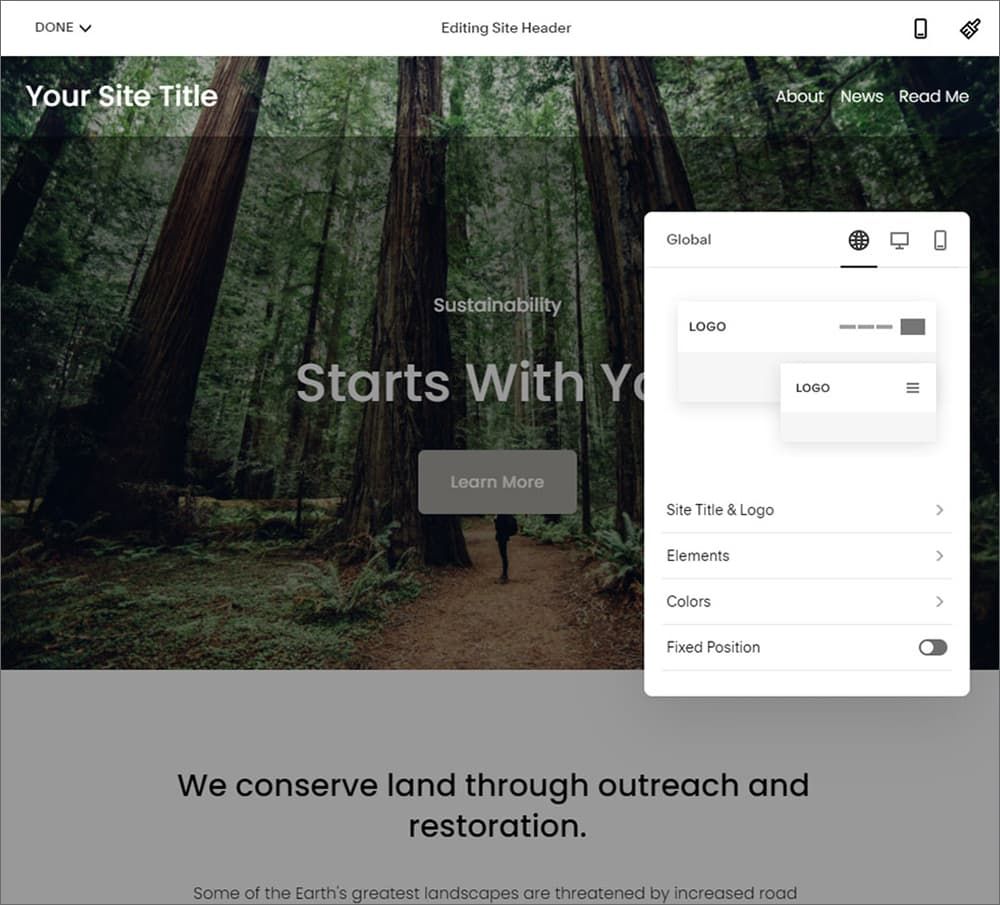 It's not as flexible as Wix's editor and has fewer template editing options. But there are enough options for customizing your website to give it the right look.
Costs
Squarespace doesn't have a free plan but allows you to try the services for free with a 14-days trial. After the trial, you can select one of the premium plans.
The most affordable one is the Personal plan that costs $12 monthly if paid for a year at once. With this plan, you get unlimited bandwidth and storage space, a free SSL certificate, and a free custom domain for 1 year. The plan has enough functionalities to build a small non-profit website with beautiful designs and the option to get donations.
Visit Squarespace pricing to learn more.
Shopify – for Nonprofit Websites with Ecommerce Requirements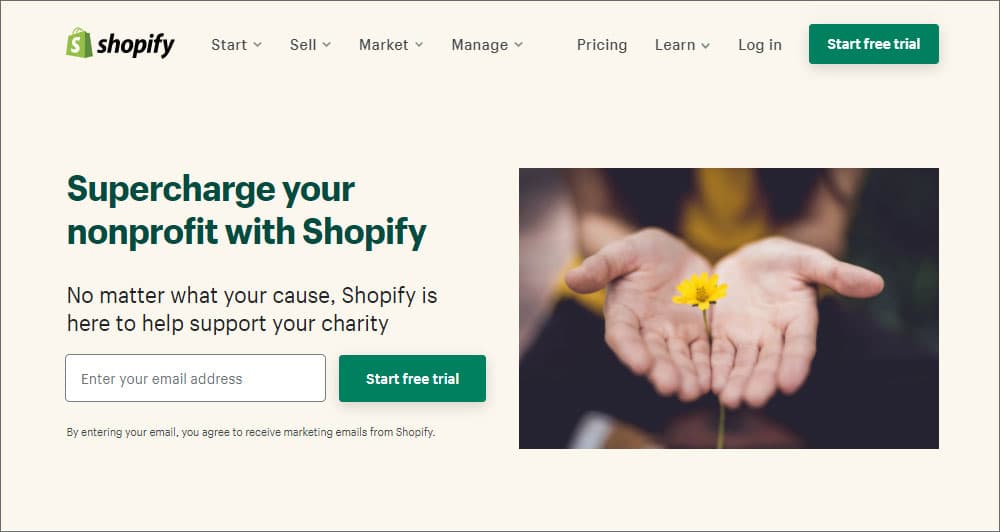 Shopify is a world-famous eCommerce platform for building online stores. But it also has a special section for launching websites for nonprofit and charitable organizations.
Most charitable organizations sell some products and a certain part of the proceeds from sales go to charity.
For example, one non-profit organization that I know very well sells wooden bracelets (made from dry, fallen branches). For every bracelet sold, the organization promises to plant a new tree. This not just helps get funds but also draws attention to forest conservation by taking actual efforts.
If your non-profit organization also plans to sell certain products, Shopify will be the ideal website builder for you.
It allows selling any type of goods, both physical and virtual. This website builder also provides a logistics facility and automated tax receipts and lets you access detailed analytics data about your customers and donors.
Special Prices for Nonprofit Organizations
Shopify doesn't have low-cost plans and is, in fact, one of the most expensive online website builders. However, realizing the specific needs of nonprofit organizations, Shopify offers some plans specifically for them. These include the NPO Lite and NPO Full plan.
The cost of these special plans is not stated on the website, as Shopify recommends that charitable and other non-profit organizations contact them for the prices and additional information.
Advanced Features for Online Sales
If you want to make hassle-free sales and also increase your buyer base, Shopify is exactly what you need. With Shopify, you can sell any physical or virtual goods (like charitable online postcards) around the world.
If you are interested in selling your physical products in the United States, Canada, or Australia, you can save even more money thanks to Shopify Shipping. Under this, Shopify delivers your goods at a lower cost (almost 25% of the original cost). This is possible as Shopify has special agreements with shipping carriers like USPS, DHL Express, Canada Post, and Sendle.
This is a stress-free, simple and money-saving solution for charitable organizations.
Regular Donation Subscriptions
Another valuable feature of Shopify is that it allows receiving donations via regular subscriptions. Your donors can set up a monthly or quarterly subscription and automate their donations. It is very convenient for both charitable foundations and donors.
Shopify Pay – Receive Donations Without a Fee
Most payment systems charge a commission on payment processing. But if you use Shopify, you don't have to pay any fees. Shopify doesn't charge any extra commissions. With Shopify Pay, you can accept donations and payments for purchase without having to pay any extra charges.
Shopify Apps for NPO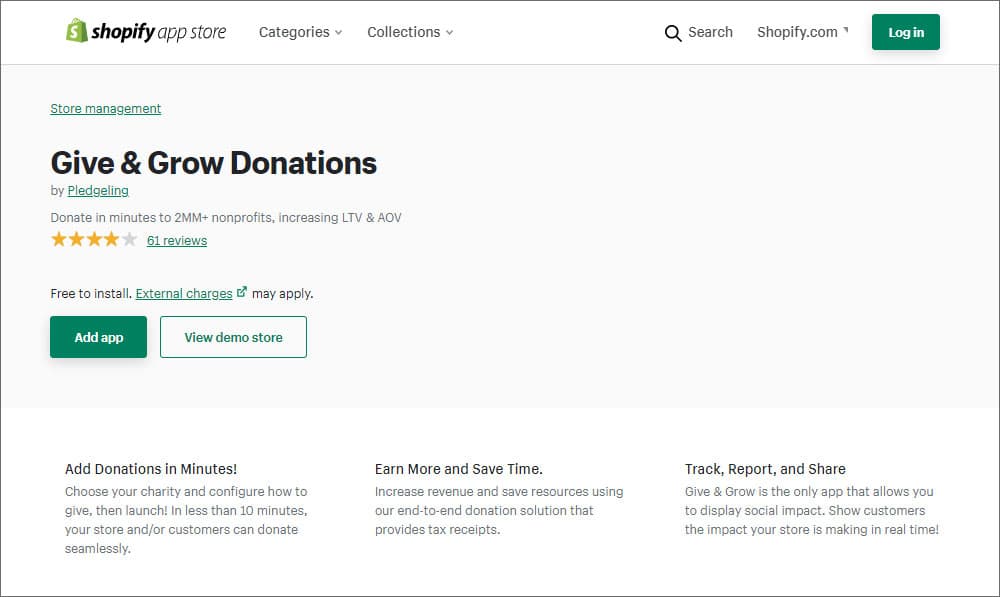 Special apps for nonprofit organizations
Like Wix, Shopify also has an App Store from where you can download the necessary apps for free. The Shopify app store also has some apps for websites for non-profit organizations. The most useful ones are:
Give&Grow Donations – It is an end-to-end donation solution that allows donors to see the social impact of their donations.
Easy Donation – It is a donation app that allows NPOs to collect donations directly at the checkout page. Using this app, at the time of purchase, the customer gets an option to make a small donation to your organization.
Change Commerce – This is a fully customizable end-to-end donation app that can increase customer loyalty and the AOV for charitable companies.
Moreover, Shopify easily integrates with DonorBox, which allows using multiple channels for getting donations for your non-profit organization.
Costs
As I already said, Shopify caters to the needs of nonprofit and charitable organizations by offering two plans specifically for them: NPO Lite and NPO Full Plan.
These plans are available at lower costs and have additional capacities, suitable for nonprofit organizations.
You can get more information about the cost of these by sending in a request on the official Shopify website.