30 Best Free eCommerce Website Templates and WP Themes for Online Stores
WebBuildersGuide.com earns commission from some of the web builders and hosting providers listed on this website.
Learn more
One of the simplest and most economical ways to get a free ecommerce website is to use ready-made free ecommerce solutions – free templates and themes with shopping cart. I have collected 30 best, in my opinion, free ecommerce website templates and themes, which are really 100% free, without hidden fees, the need to provide your bank card and other tricks.
In a previous similar review, I collected 50 Best Free Business Templates and WordPress Themes, but they allow you to build a website without the possibility of online sales. In this selection, the emphasis is on ecommerce business.
What You Should Know About Free Ecommerce Templates
There are three types of free templates for eCommerce websites:
Free HTML eCommerce Website Templates – looks like a static HTML/CSS page without using any CMS and eCommerce website builders.
Free CMS eCommerce Themes – ready-made solutions based on eCommerce CMS.
Free eCommerce Website Builder Templates – complete solutions based on eCommerce website builder platforms.
In fact, there are not many worthy and truly free ecommerce website builders: Strikingly, Freewebstore, Website.com, Sellfy, ECWID and Squareup. And that's all.
These website builders have a free plan for developing an online store. Of course there will be limits, but one way or another you will be able to get a 100% free online store. To do this, you will need to go through a free registration and choose one of the free ecommerce templates, on the basis of which you will build your online shop. Learn more about it in my review: Free Ecommerce Website Builders.
The second way is to use ecommerce CMS with open code. These are Magento, Joomla, WordPress Woocommerce, Prestashop, etc. Just like with free ecommerce builders, you choose a ready-made free ecommerce theme, for example, from my selection, and customize it for your business. Yes, you will definitely need web developer skills or freelance help.
Also, to use the CMS, you will additionally need to purchase web hosting, an SSL certificate and a domain name. Therefore, the development of an online store based on WordPress or Joomla themes can only be conditionally called free.
Choose and Download Free eCommerce Templates
Now let's move on to choosing free templates and themes for online stores. All 30 ecommerce templates in this collection are 100% free. If in the future one of them suddenly becomes paid or not available for use, please write to me in a comments on this post. I'll be very grateful for this.
Tyche – Free eCommerce WordPress Theme
View this free theme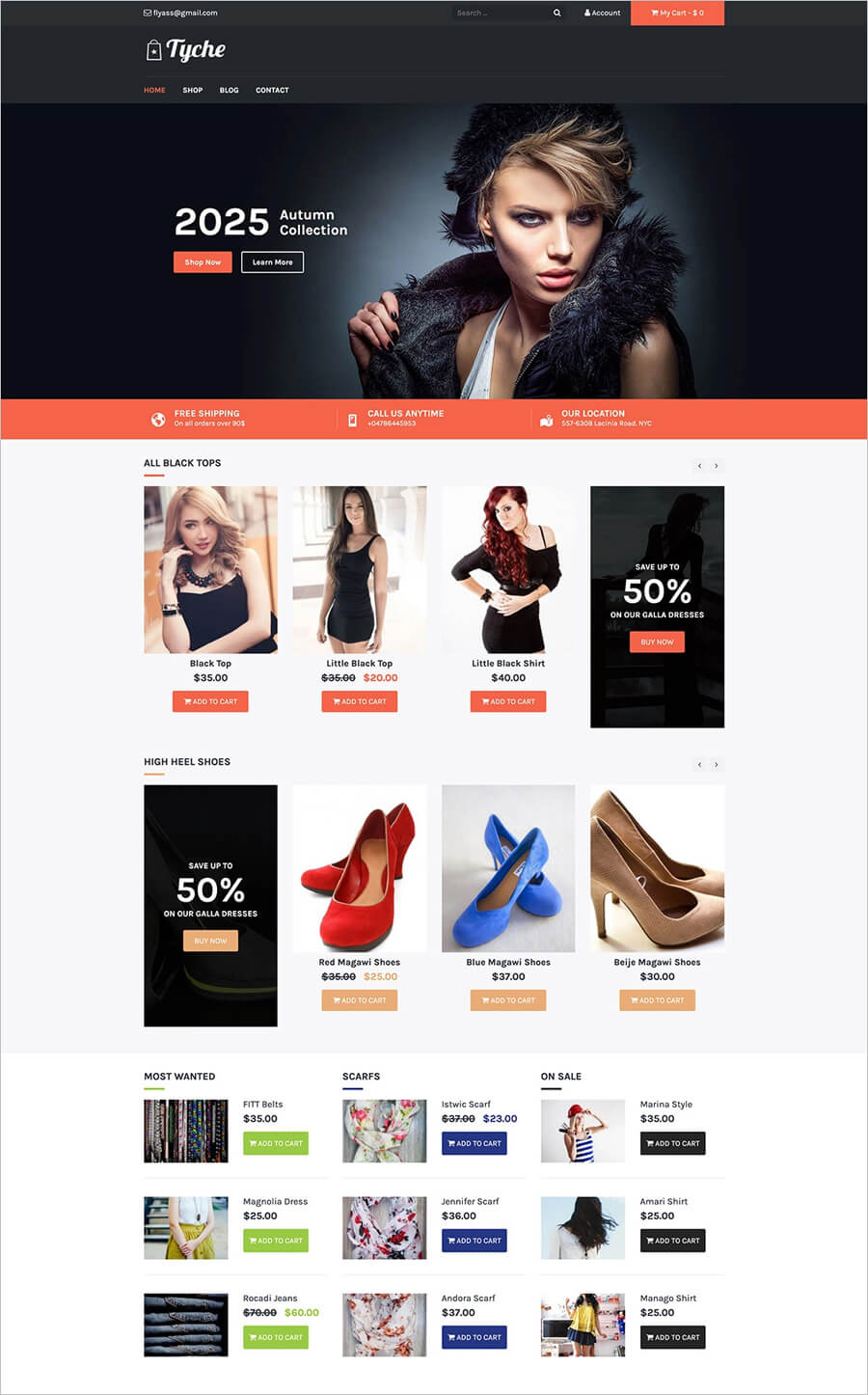 Modern free ecommerce WordPress theme for clothing store. It has a dark header on the main page and a content part on a light background.
Bakery – Free Cake Shop Html Template
View this free theme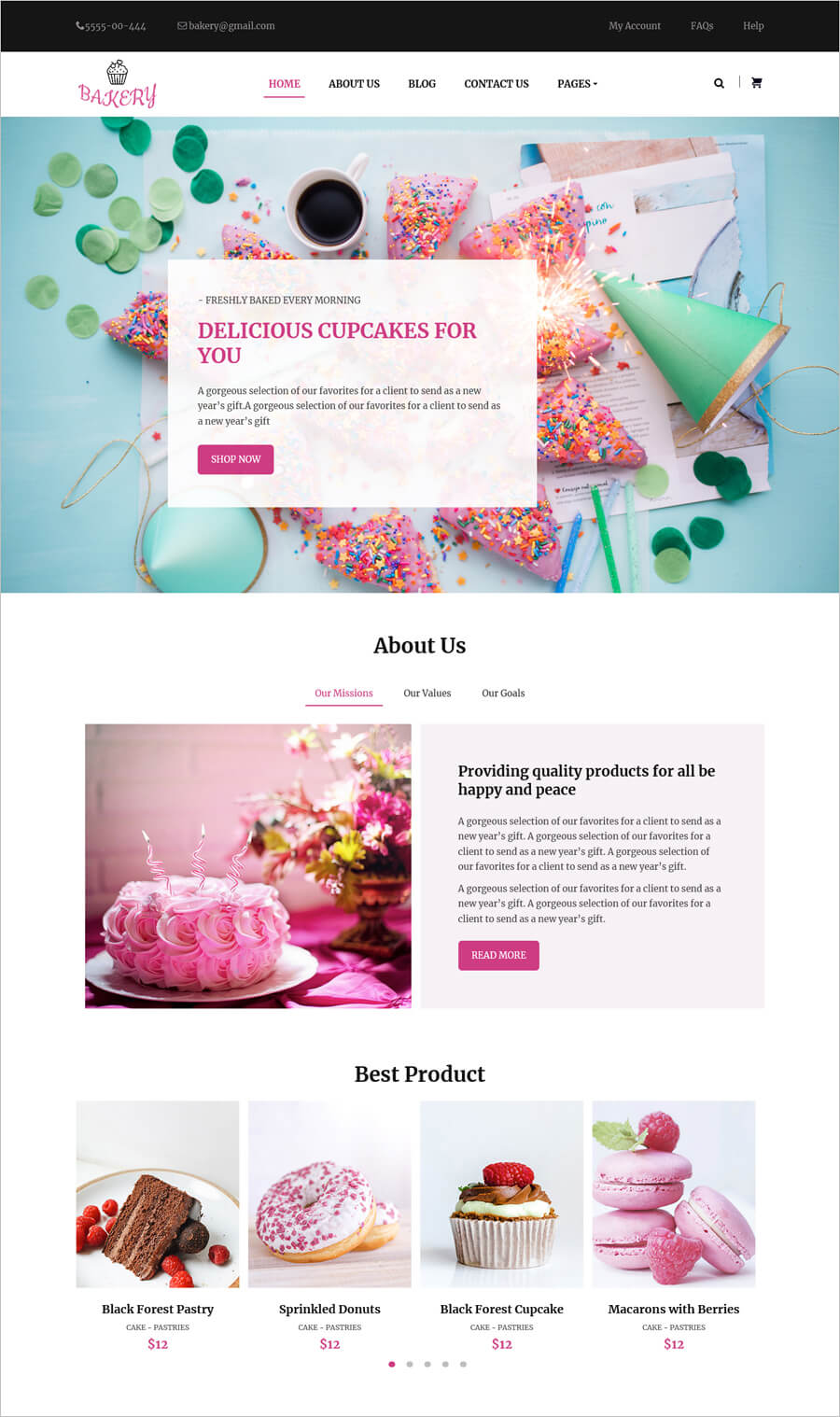 Bakery is a great free HTML template for a shop selling cakes, donuts and other sweets. Made in traditional bright, creamy pink colors and creates a sense of celebration.
Free HTML5 Bootstrap Template for Books Store
View this free theme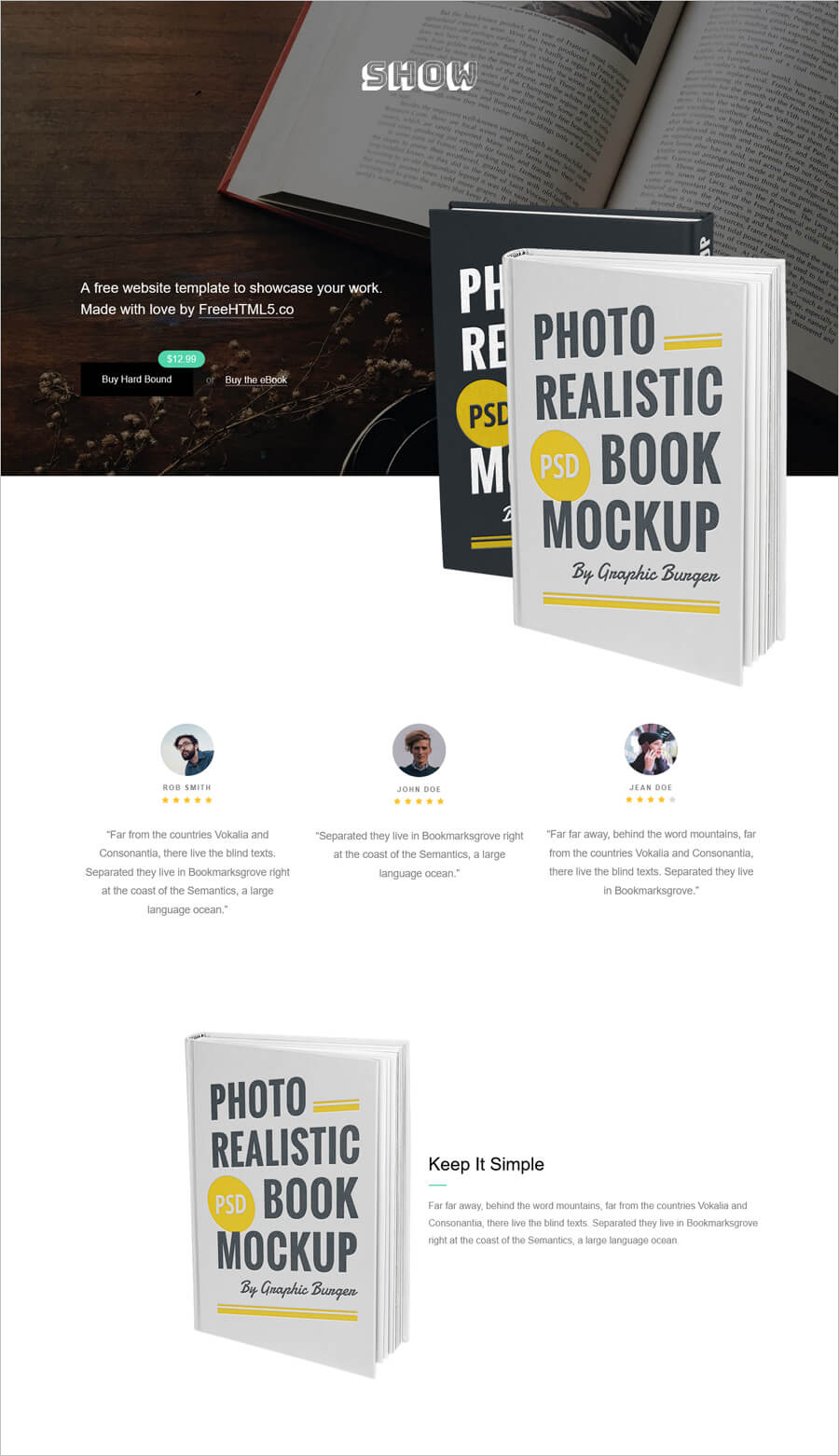 Free one page HTML5 bootstrap template for selling hard bound books and eBooks. Extremely simple and clean design won't distract visitors from the books sold in the online store.
Faster – Free eCommerce Multipurpose WP Theme
View this free theme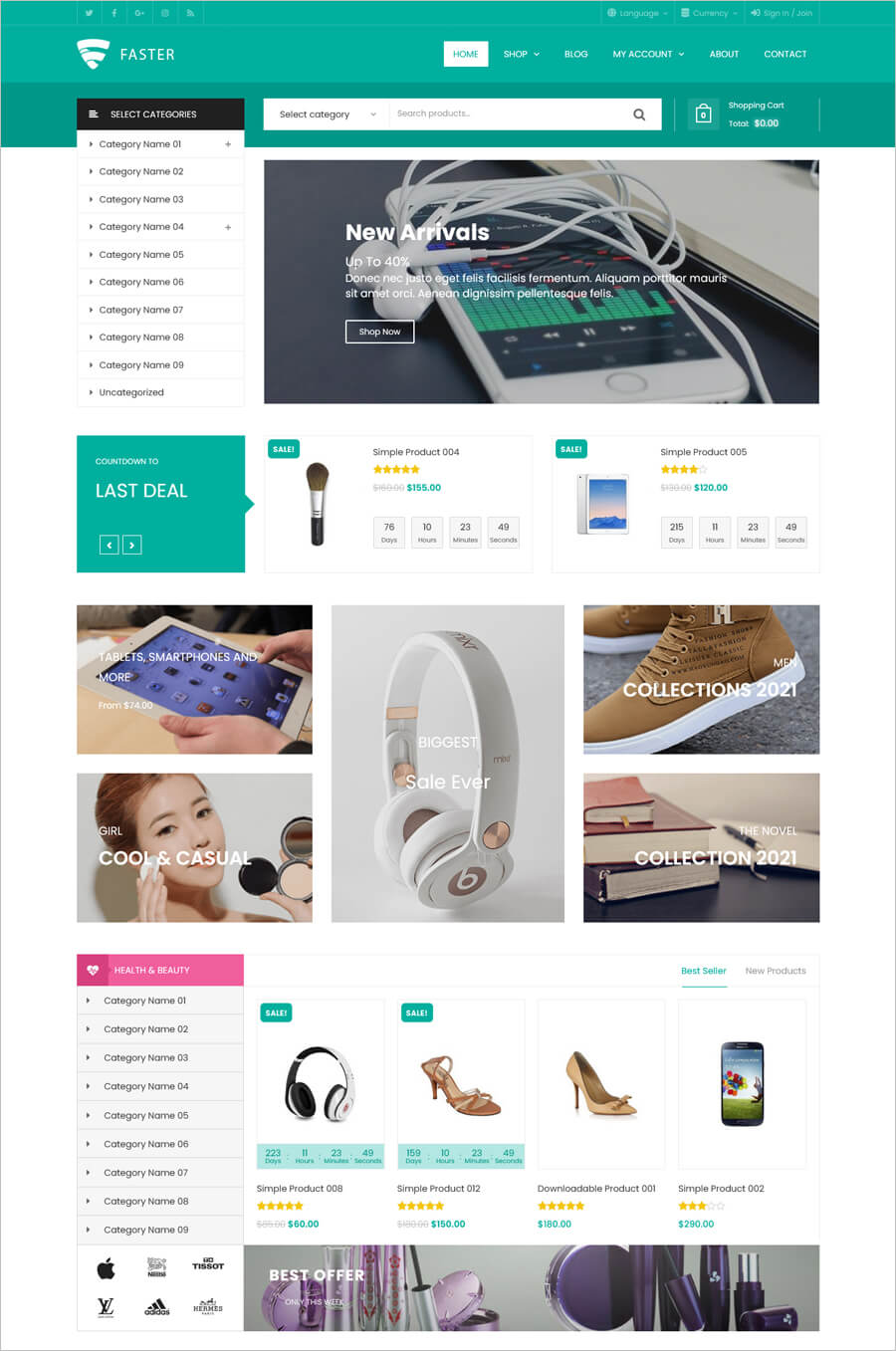 This multifunctional free ecommerce WordPress theme is suitable for creating almost any online store. It uses WooCommerce and Elementor drag and drop editor.
Sydney – Free Fashion eCommerce WordPress Theme
View this free theme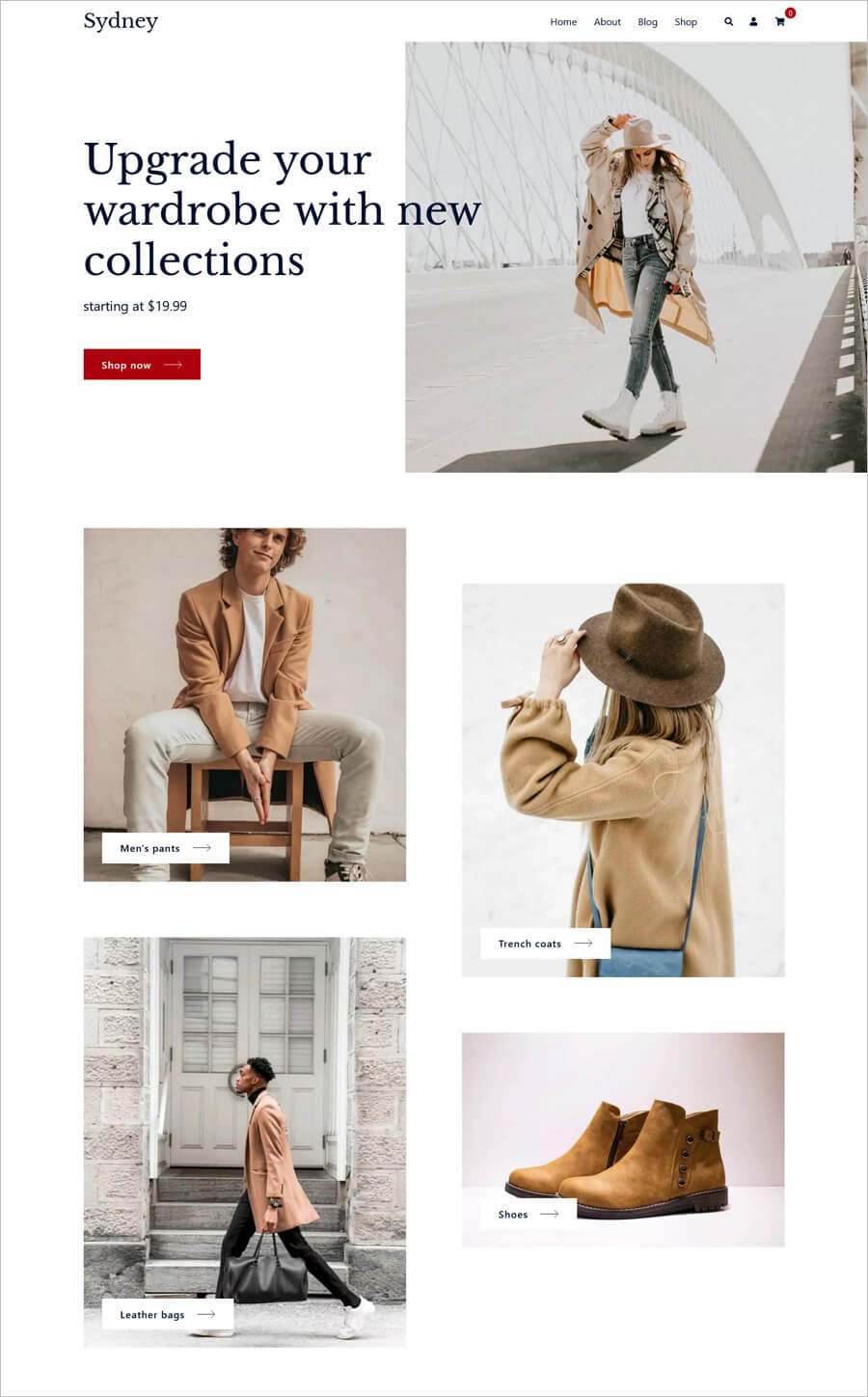 A modern Free eCommerce WordPress theme for running a fashion store. Clean and minimalist design, big eye-catching photos, and stylish buttons make this theme look like a high-end brand website.
Amado – Free HTML5 eСommerce Template
View this free theme
Amado is a free multi-page HTML5 online store template with rich functionality. Templates of this quality are usually sold as premium, but in this case, the developers of this template decided to make it absolutely free.
Afela – Free Clothing WordPress Theme
View this free theme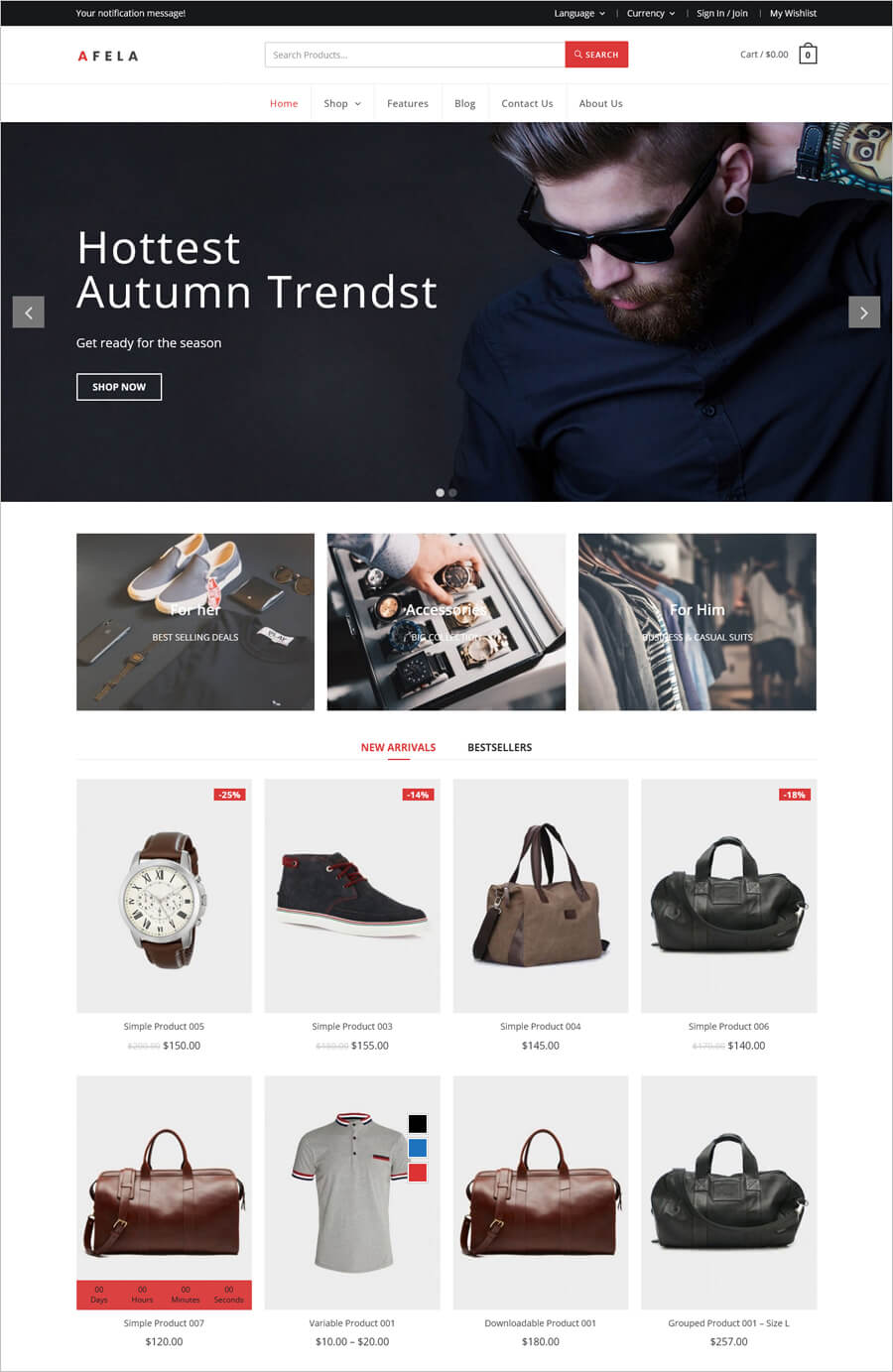 Great free WordPress Theme to run clothing of fashion online shop. The theme is distinguished by a sophisticated design, an effective moderately wide banner on the main page, convenient navigation and menu, well-chosen color scheme.
Free Ecommerce HTML5 Template with Parallax Effect
View this free theme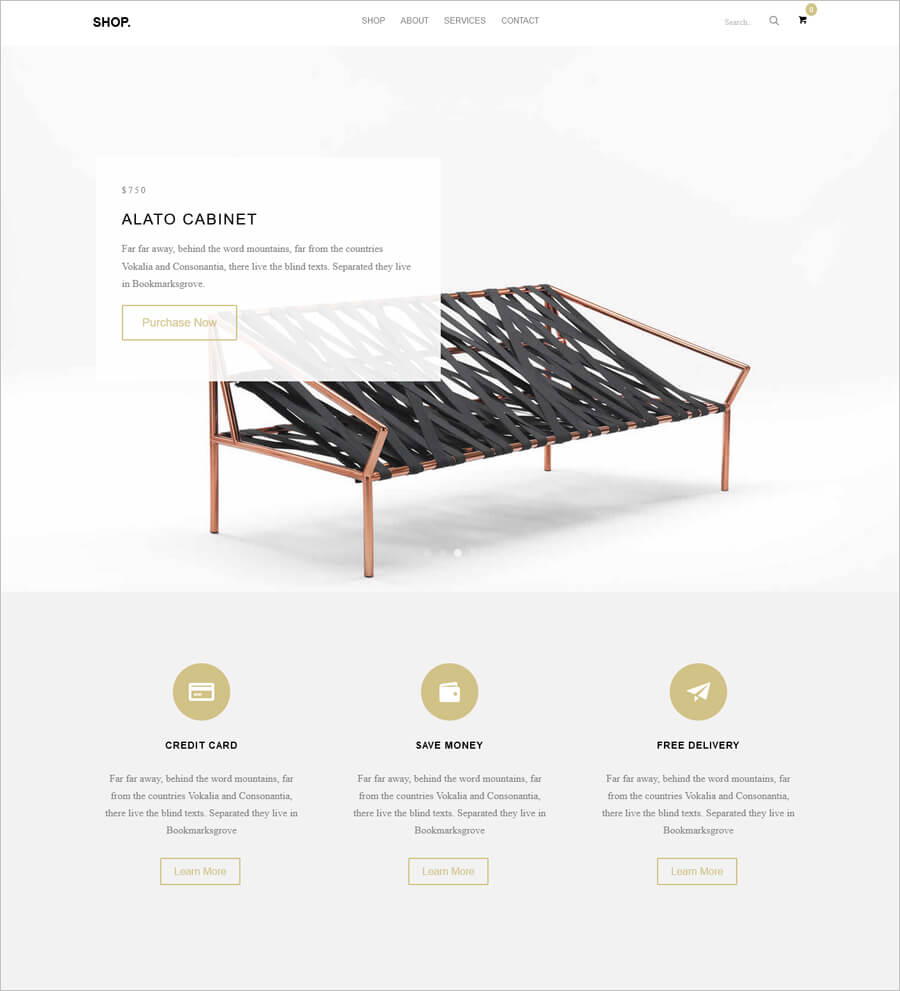 Ultra stylish, light HTML5 eCommerce template available for free download. A wide slider header banner with carousel allows you to launch a spectacular demonstration of your favorite products. By the way, this free template is suitable for selling almost any product – from clothing to furniture and jewelry.
JA Mixstore – Free eCommerce Joomla Template with Virtuemart
View this free theme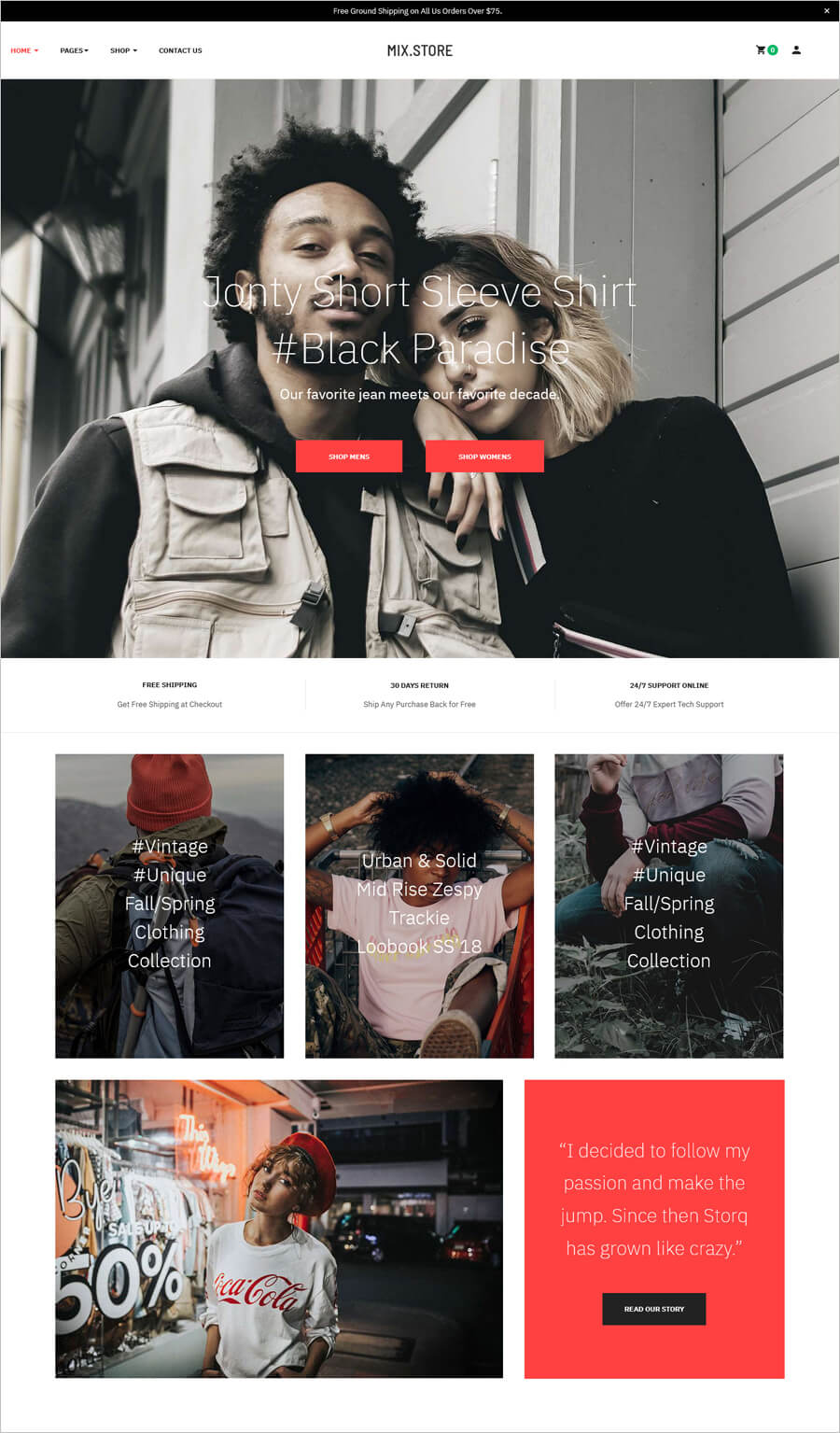 Another free ecommerce Joomla template worthy of attention. JA Mixstore template is made on Joomla CMS using with Virtuemart and J2Store. Suitable for free creation of an online store of various directions – accessories, fashion, clothing, furniture, jewelery.
T90 Fashion Free WordPress Theme
View this free theme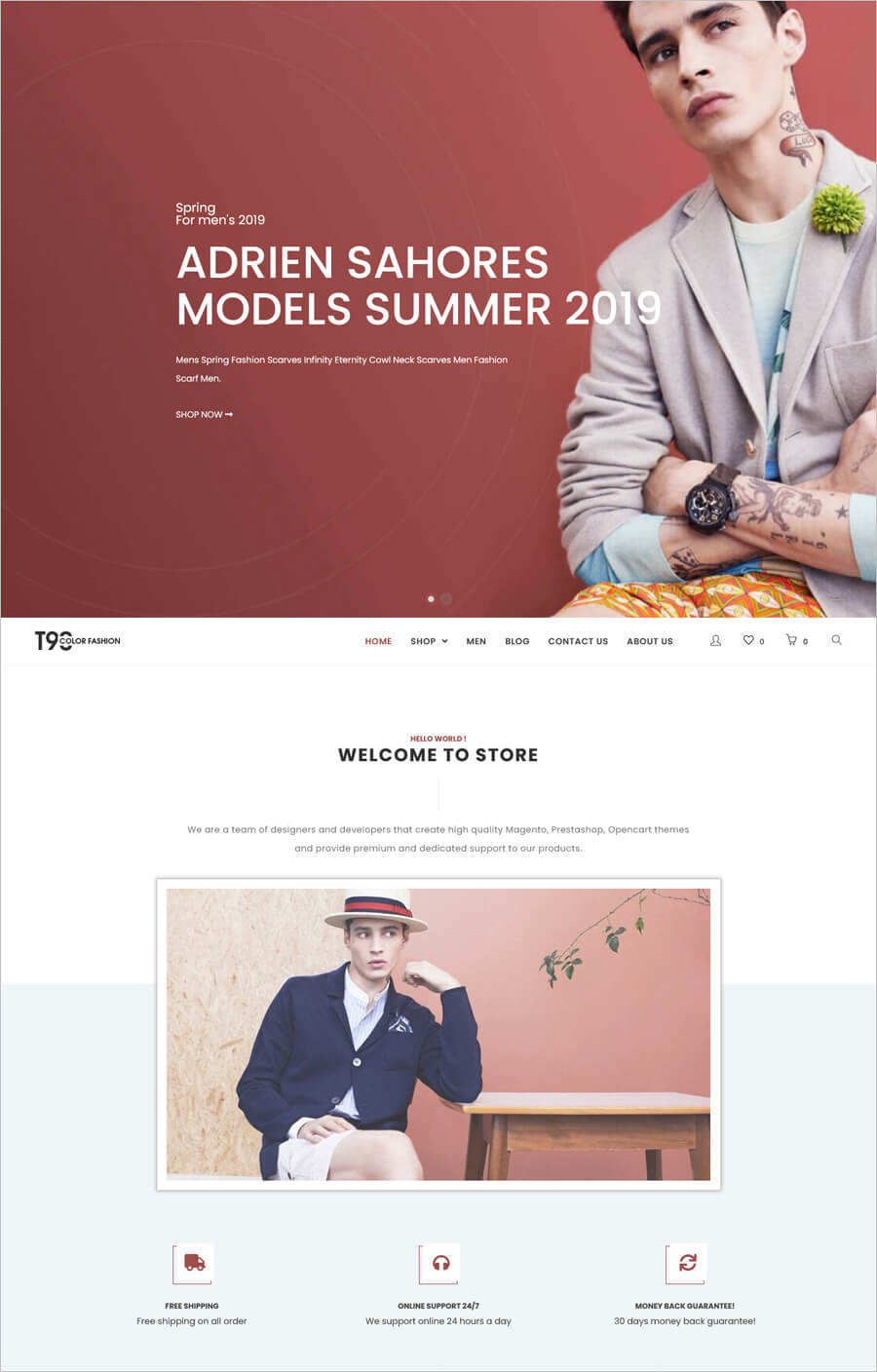 Most online stores, predictably, specialize in clothing and accessories. Therefore, most free ecommerce templates are dedicated to this particular area. T90 Fashion is no exception. This spectacular free ecommerce WordPress template is perfect for modern fashion brand.
Majestic – Free Bootstrap 5 HTML5 eCommerce Template
View this free theme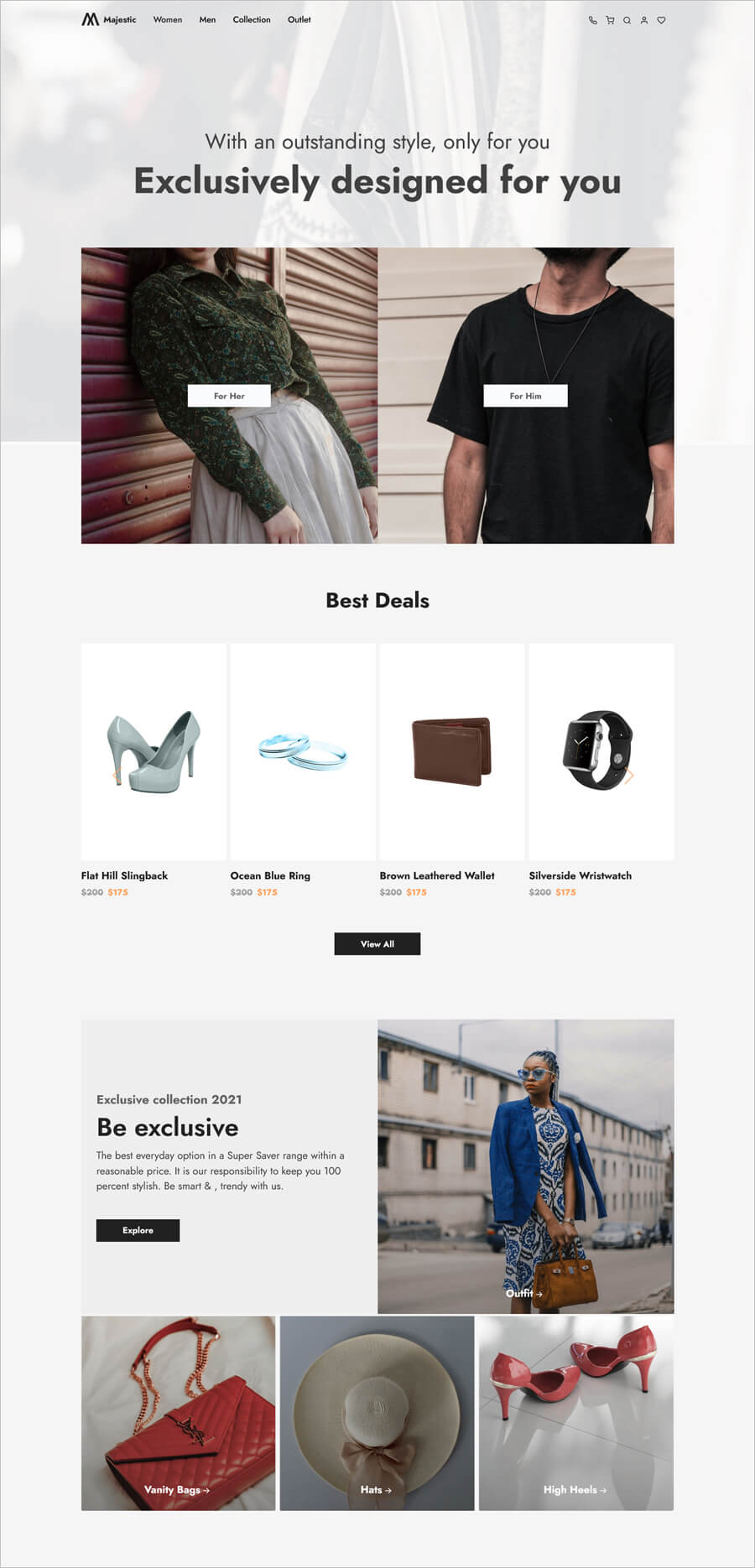 Majestic is another free Bootstrap 5 HTML5 eCommerce template for fashion and clothing store. The template has many functional options usually typical for premium templates – best seller section, products gallery, products carousel, outlet carousel, fixed top navigation bar and much more.
JA Playstore – Free eCommerce Joomla Template for Games Store
View this free theme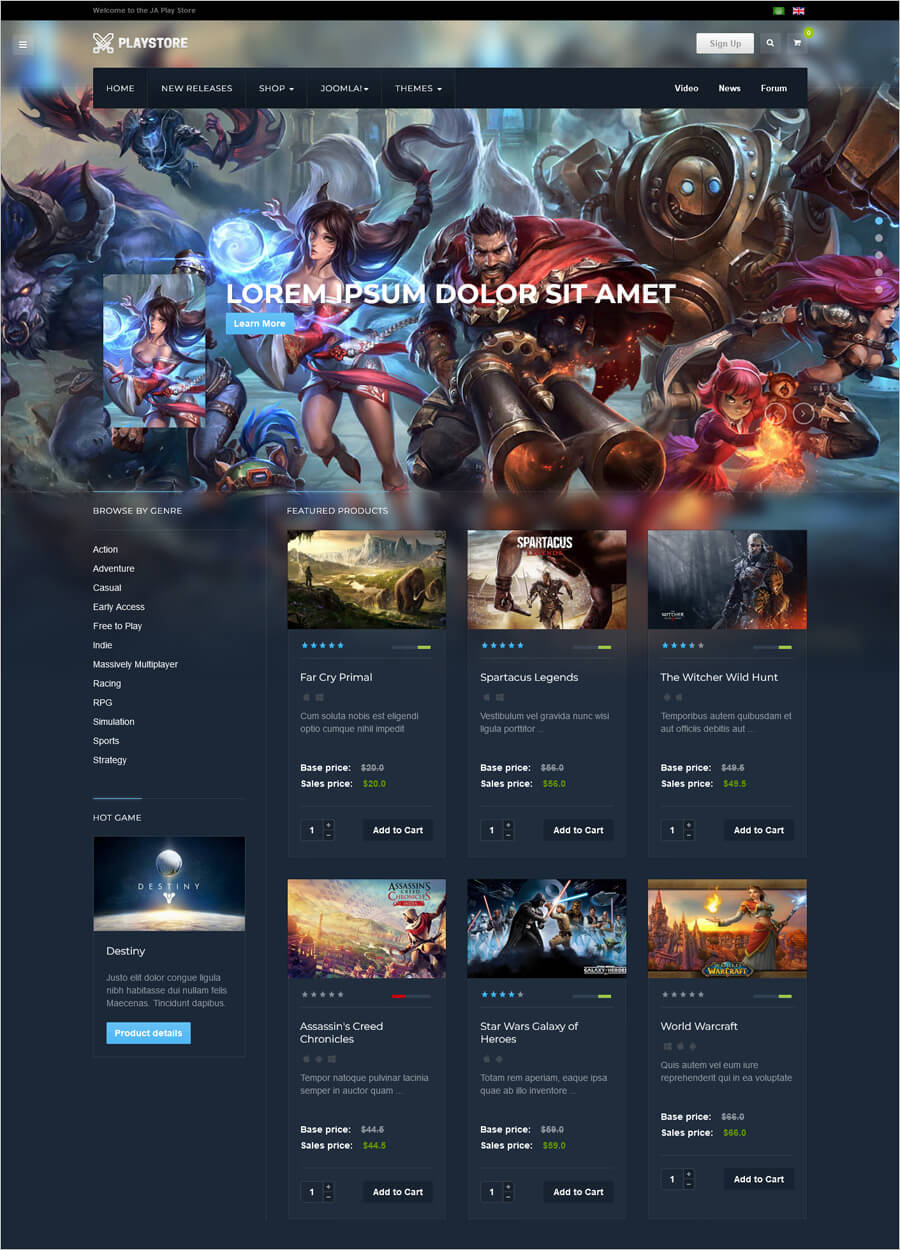 If you need a free games store, I recommend checking out this free eCommerce Joomla template. Made in dark colors, this free responsive template will be the perfect solution for launching an online store selling games and online gaming products. The template is based on a bundle – VirtueMart and Kunena.
Ecommerce Solution – Free WordPress eCommerce Theme
View this free theme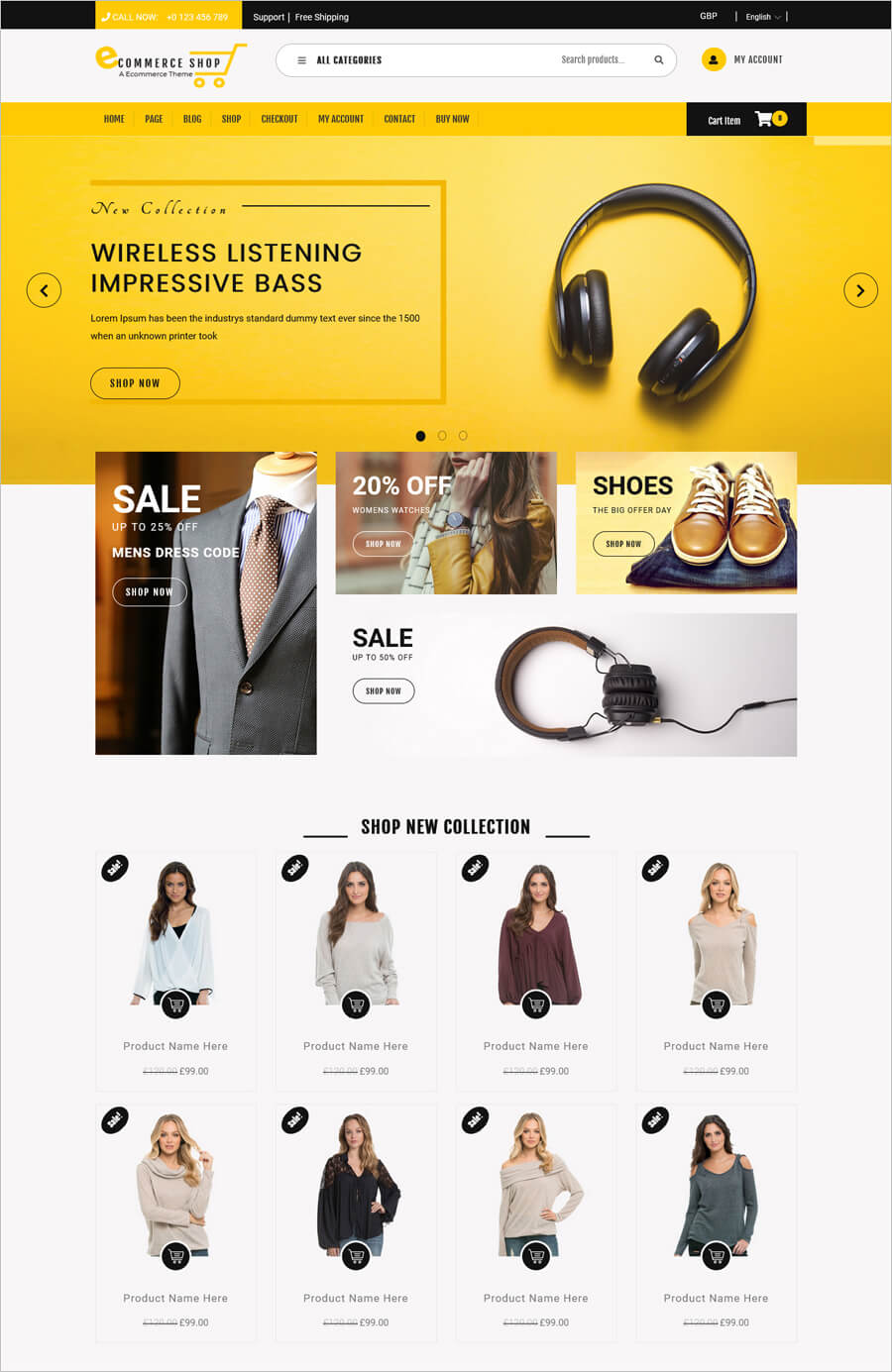 The most versatile ecommerce WordPress theme with over 1000 downloads for free. It's suitable for an online store, no matter what the subject. By default, it's sharpened for the sale of clothing and accessories. The theme is highlighted by a wide, bright yellow header with scrolling slides. You can change both the color of the header and the images and slide captions themselves. The theme is multilingual and supports: German, Spanish, French, Italian, Arabic, Russian, Turkish and Chinese.
Genius – Multipurpose Ecommerce Website Template
View this free theme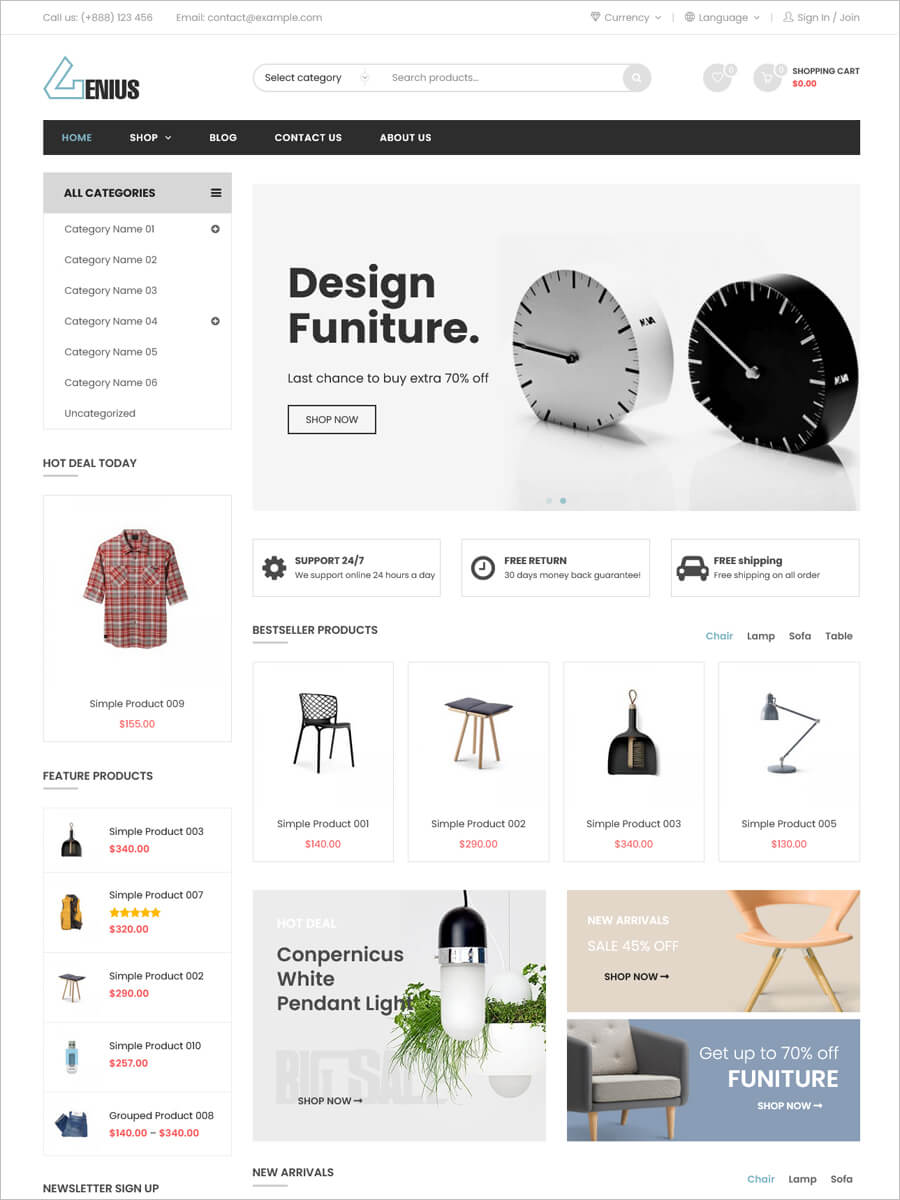 Genius Template is a free eCommerce multipurpose template based on the premium WooVina theme. This free template has a fully responsive and clean design with a classic website structure. Other benefits include compatibility with the Dokan Multi Vendor plugin, which allows you to synchronize your online store with popular trading platforms like eBay and Amazon.
FoodShop – Free eCommerce Website Template
View this free theme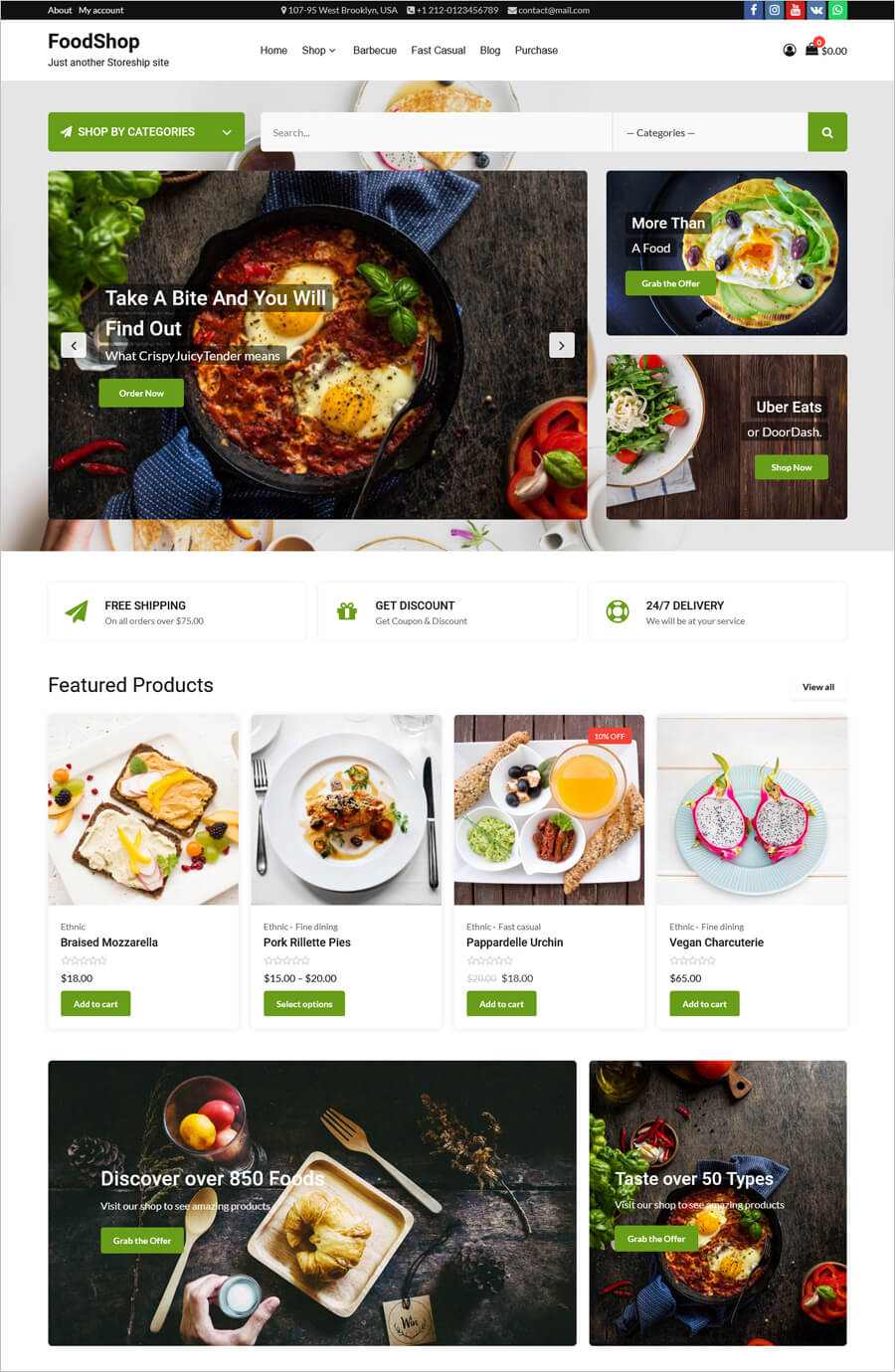 FoodShop – free fully responsive website template for online store development. The template is very easy to setup and customize with the Customizer. Instead of the classic editor, a more advanced editor is used – Gutenberg with advanced features. It's also worth noting the presence of cross browser support, integration with WooCommerce and SEO-friendly layout.
Cendo Free WP Theme for Furniture Store
View this free theme
Created specifically for the furniture online store, this free theme is built on a combination of WordPress, Elementor editor and WooCommerce. The theme has a light, easy-to-read design and is fully responsive for any device and browser.
Karma – Free Sneaker Store Website Template
View this free theme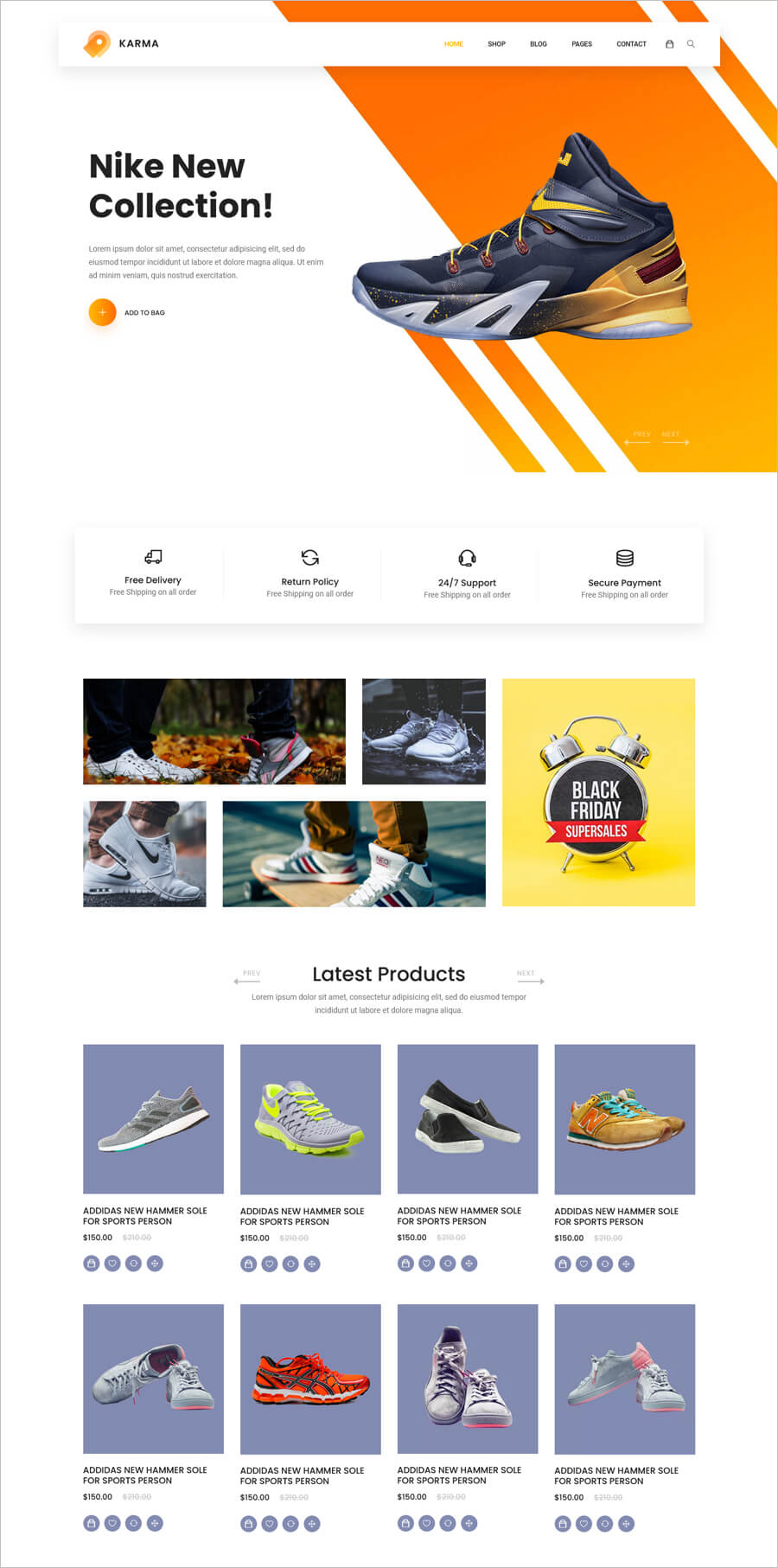 An excellent free template for an online store selling sneakers or any other footwear. In fact, this is a ready-made free shoes online store. Just download it for free, put it on your web host and fill it with descriptions of your products.
Pet Shop – Free eCommerce WP Template
View this free theme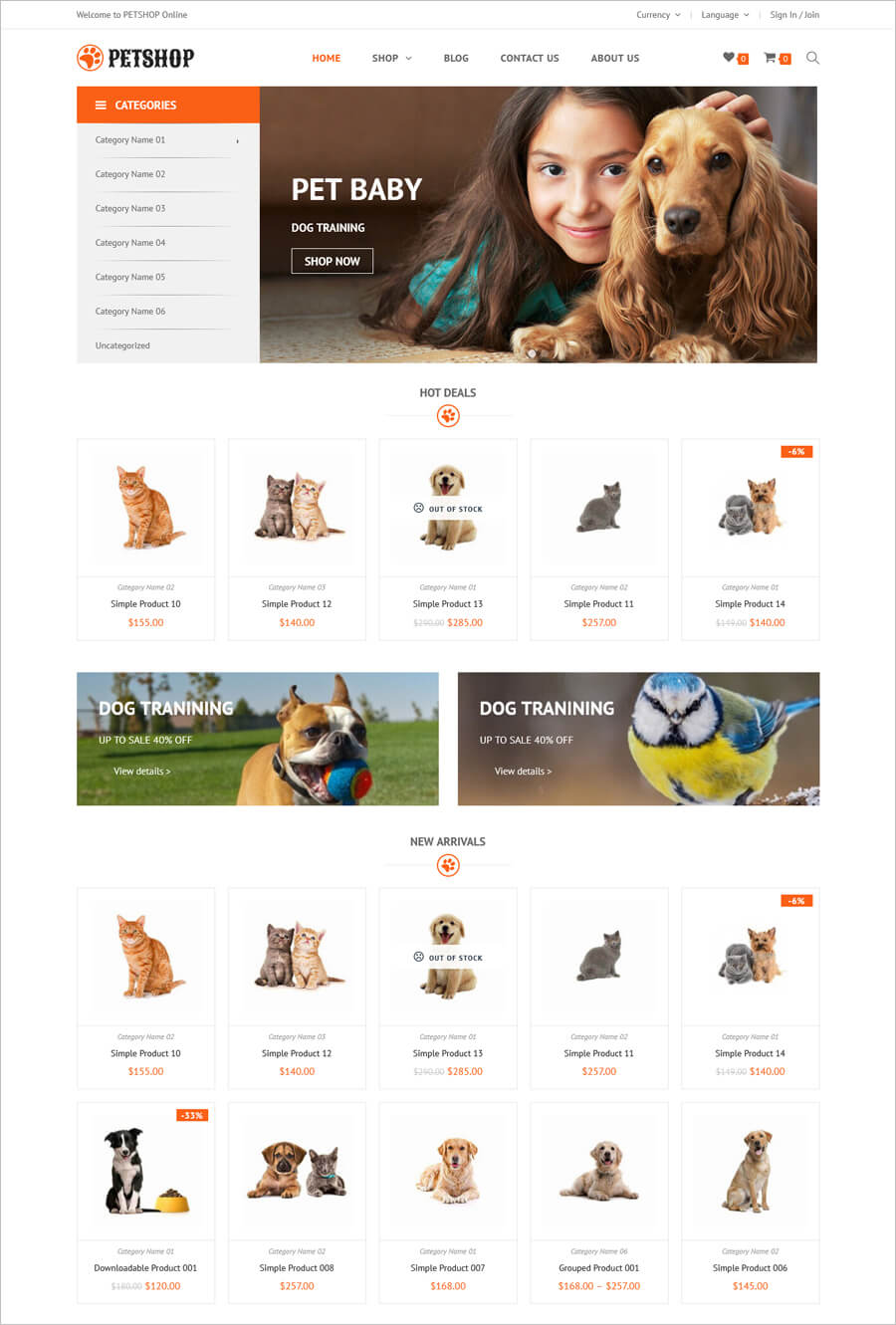 Pet Shop, as the name suggests, is a free eCommerce WordPress template specifically for launching an online pet store. The template has a classic structure and is based on: WordPress + WooCommerce + Elementor + WooVina theme.
LT Interior Store – Free Joomla Furniture Template
View this free theme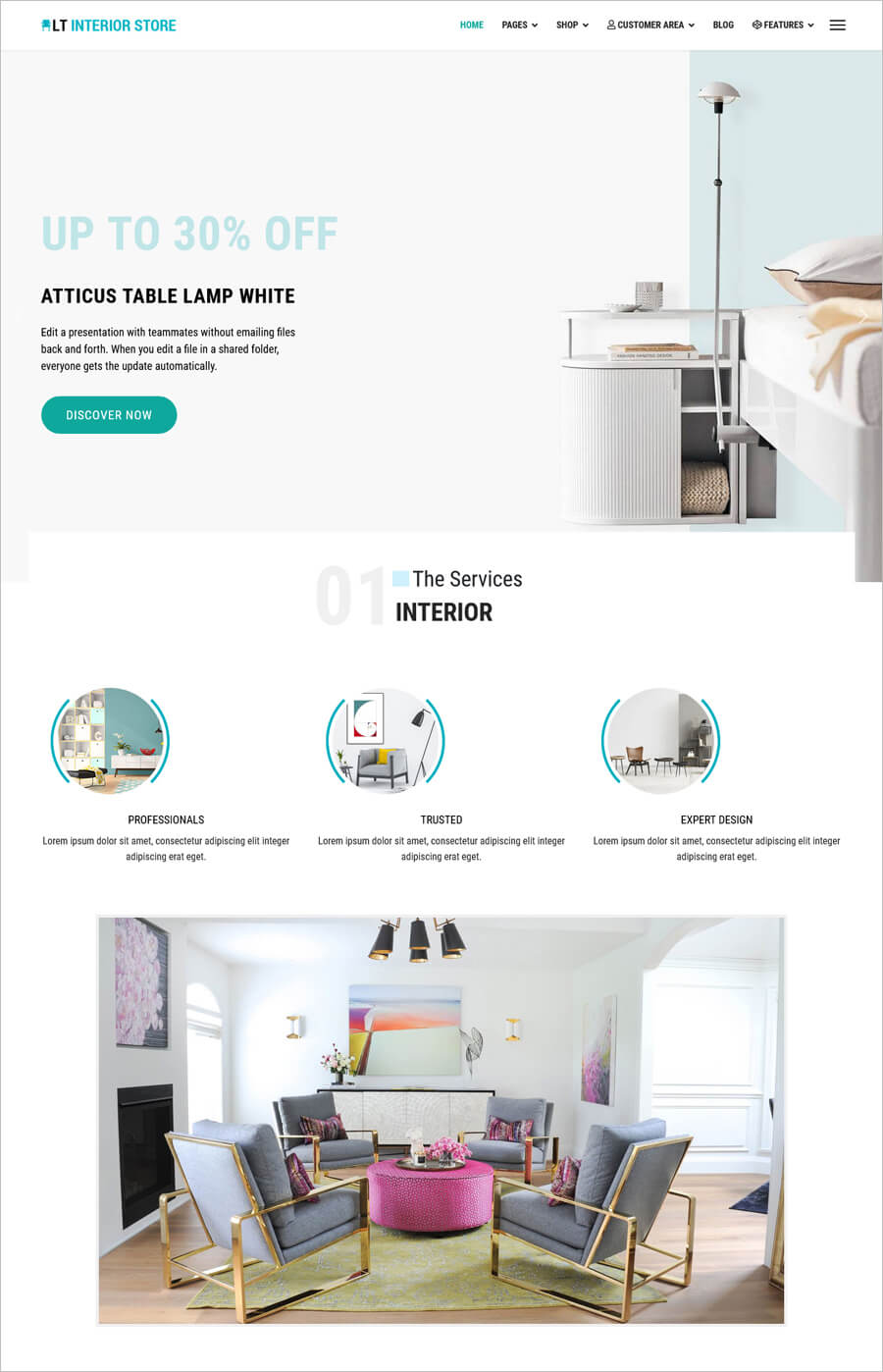 Functional free Joomla template for online stores selling furniture and interior items. Helix Ultimate Framework + SP Page Builder was involved in the development of this template.
Ap Cake – Free Responsive Prestashop Theme
View this free theme
Free eCommerce Prestashop template well suited for cake and food stores. The home page has a spectacular product slider that can be used to advertise selected products. Simply add product images, short descriptions, and a button to the buy page.
Alice Mart – Free eCommerce WordPress Theme
View this free theme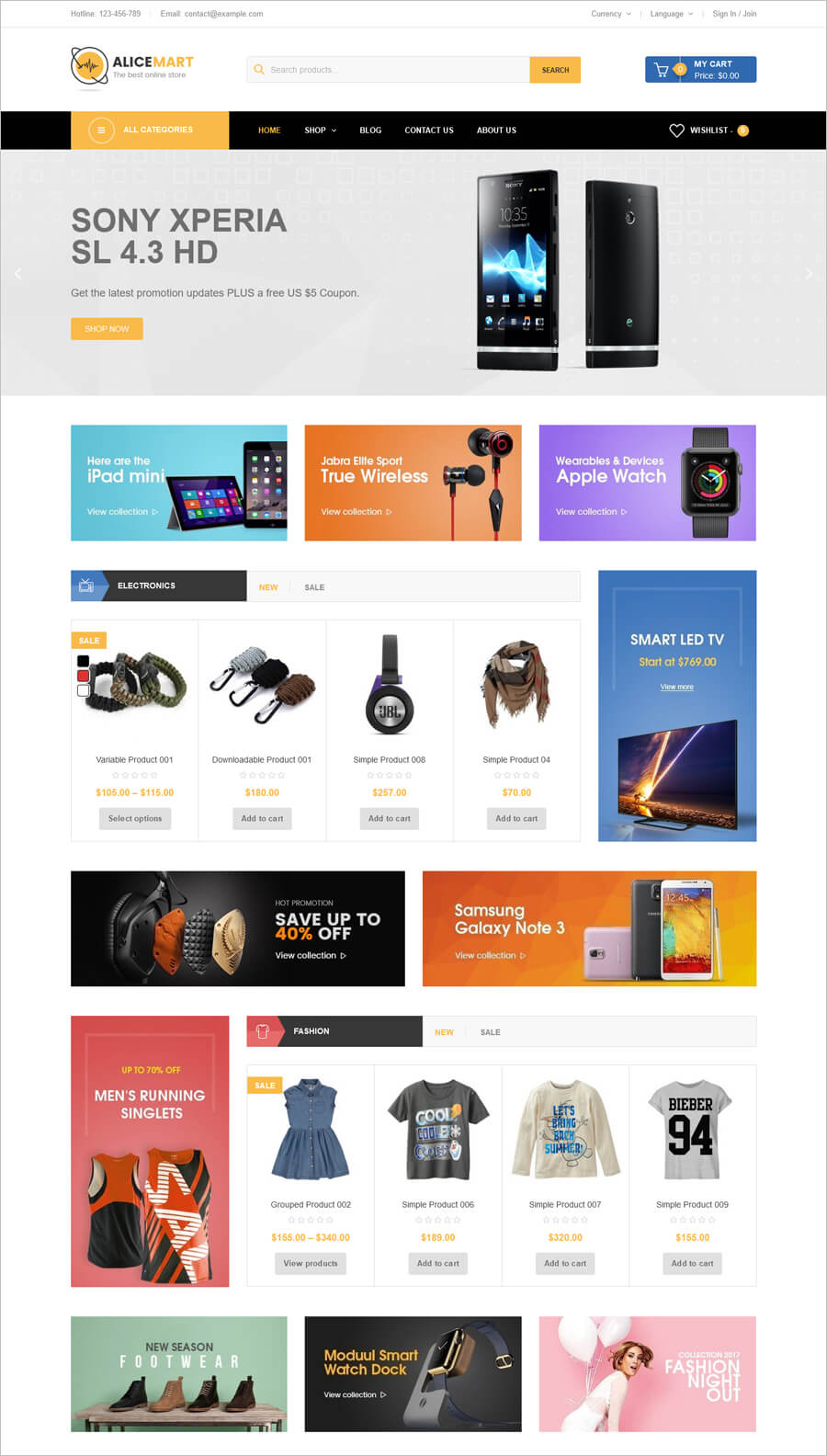 Another great free WordPress template with a block structure for launching online stores of any subject. This template features a lot of bright banners, which makes it look like Amazon.
LT Wine Shop – Free Wine Store Joomla Theme
View this free theme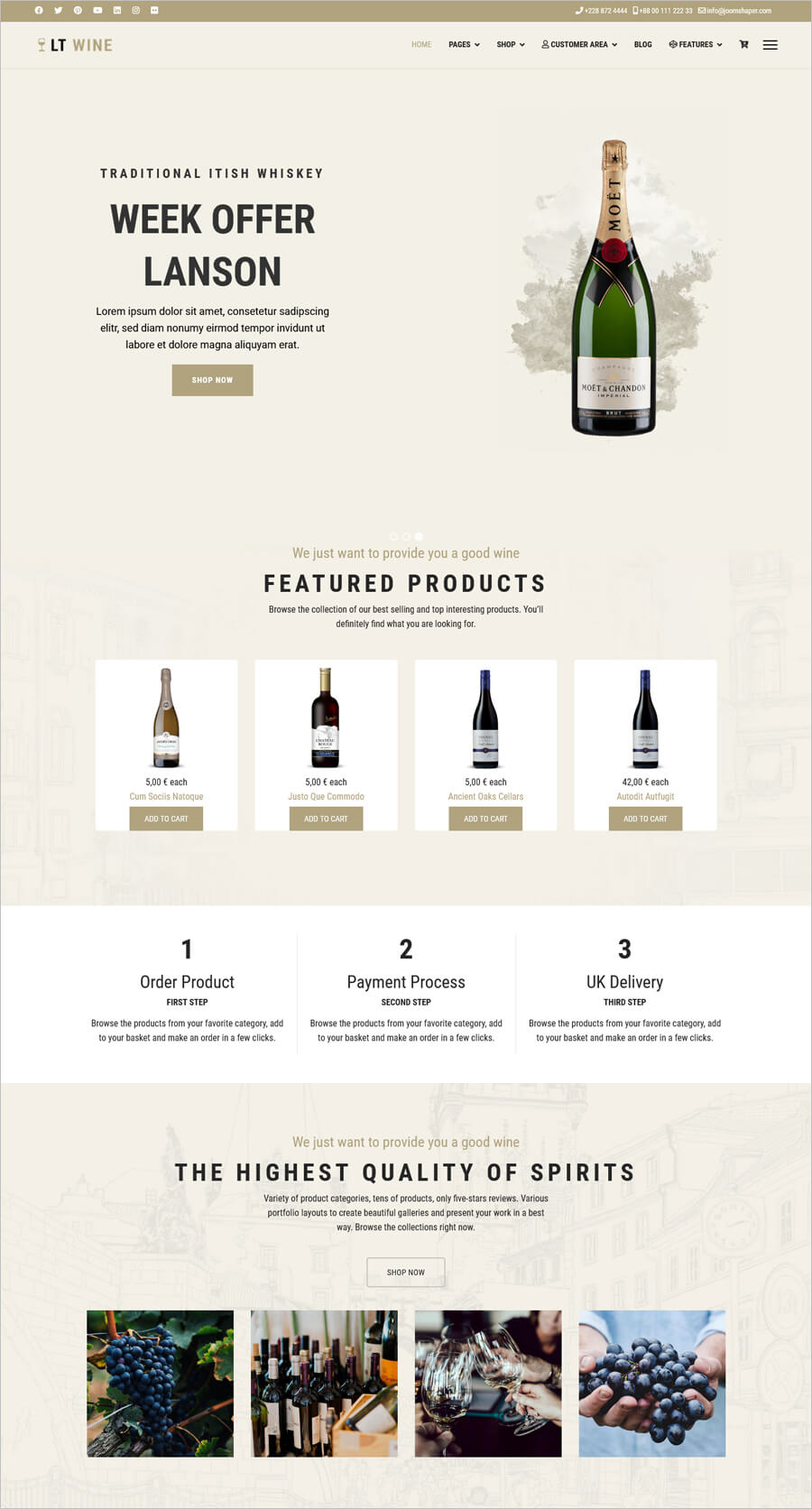 Perfect free bootstrap CSS Joomla theme for wine online store. It has a sophisticated vintage design, perfect for selling wines and collectible spirits. The template provides compress JS/CSS code and has an integrated SP Page Builder.
Electro – Free HTML5 eCommerce Template
View this free theme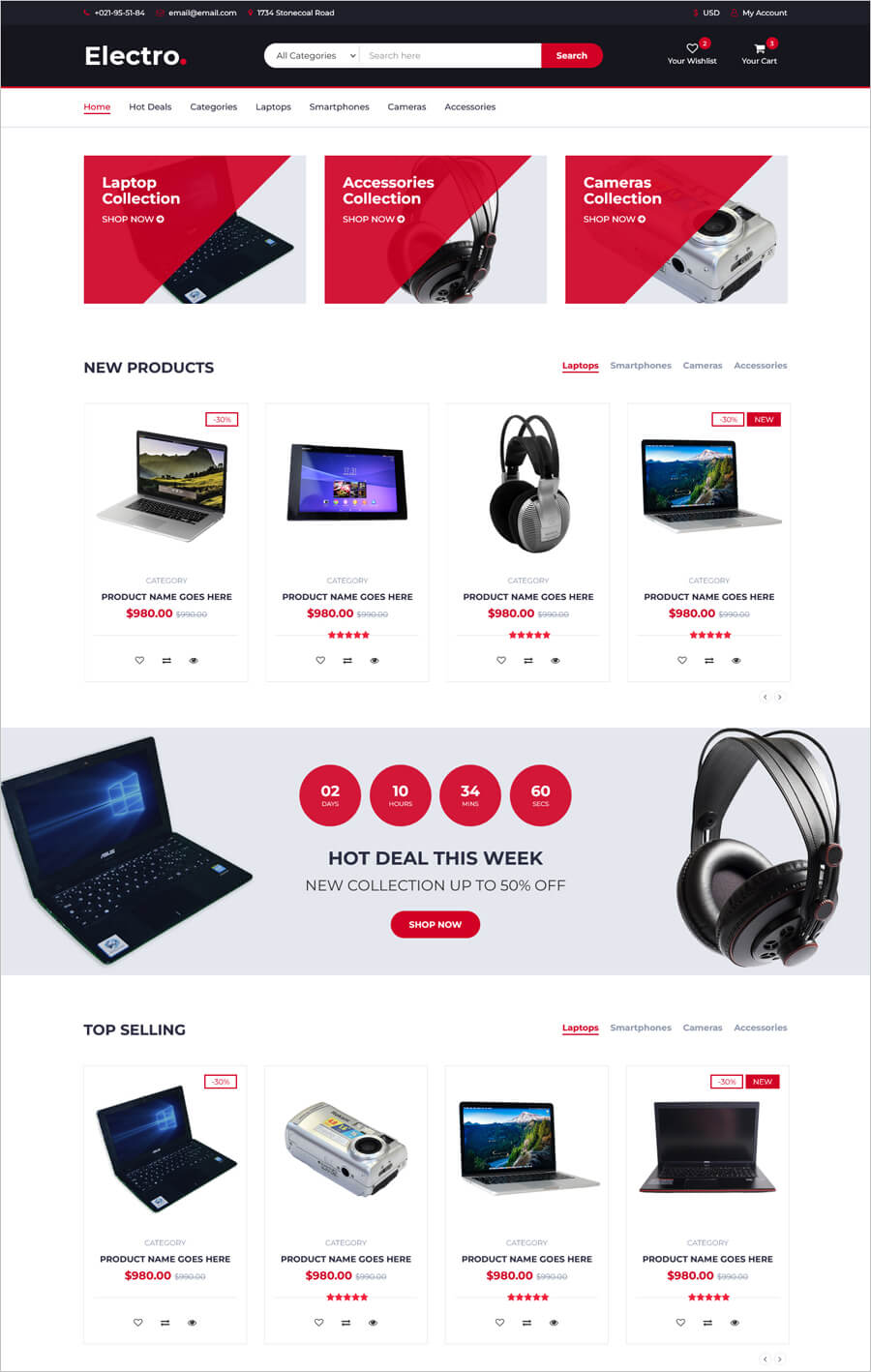 Electro is a free bootstrap HTML5 eCommerce template designed to launch a multi-page home appliances and electronics store. It has a simple, visually clear design and many useful eCommerce options: cart, slick slider, wishlist, sortable product gallery and others.
Beta Shop – Free WP Theme for Electrical Store
View this free theme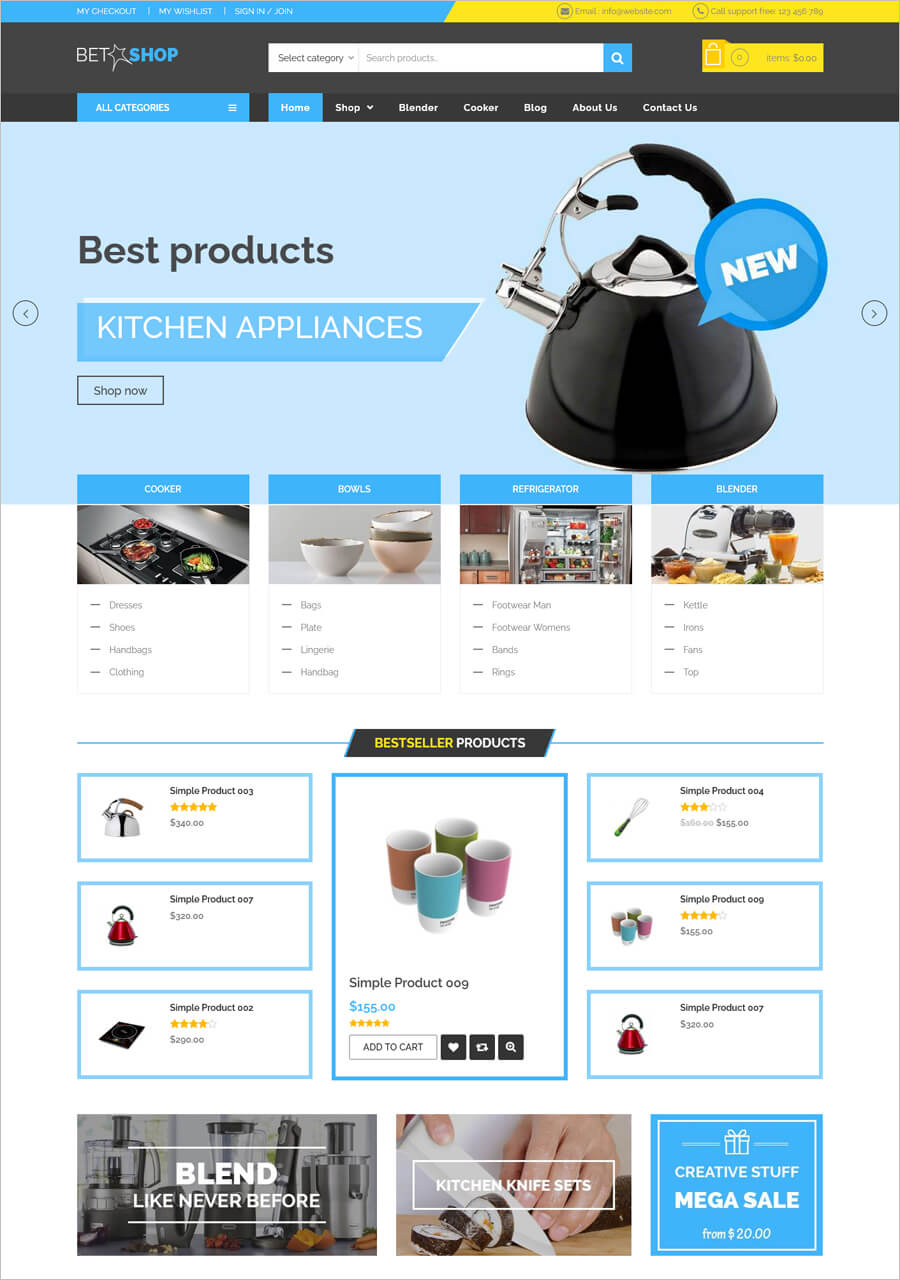 Beta Shop is a free WordPress theme designed to launch online stores of household appliances, electrical equipment, electronics and home goods. It has a somewhat unusual, as for an online store, design with a block structure and a slider in the header.
Furni Furniture Free eCommerce Template
View this free theme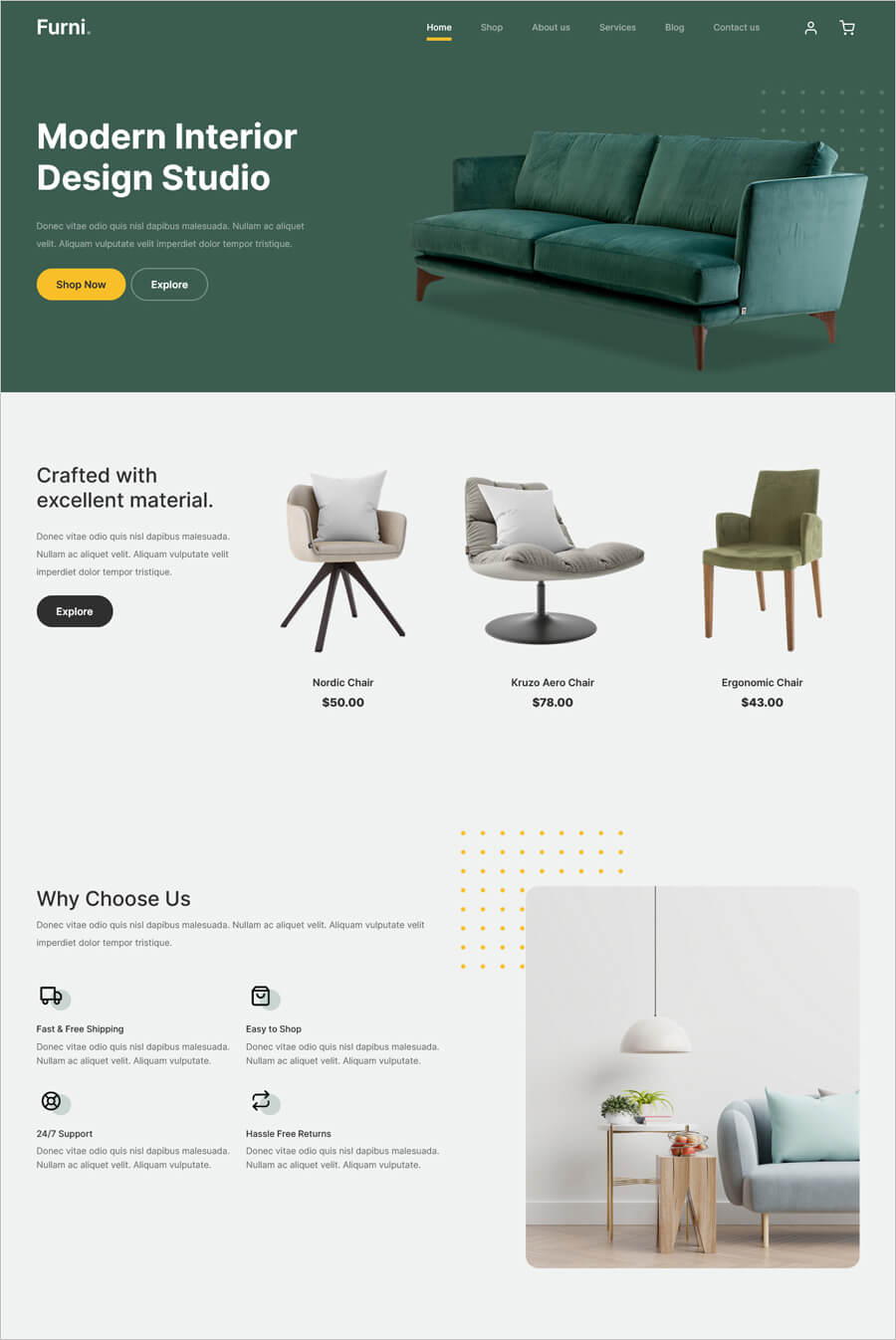 Furni – free Bootstrap 5 eCommerce template for furniture stores. Has a wide promo banner at the top of the home page to advertise new or featured products. The template is fully responsive and displays perfectly on any device.
LT Drones Free Joomla Template
View this free theme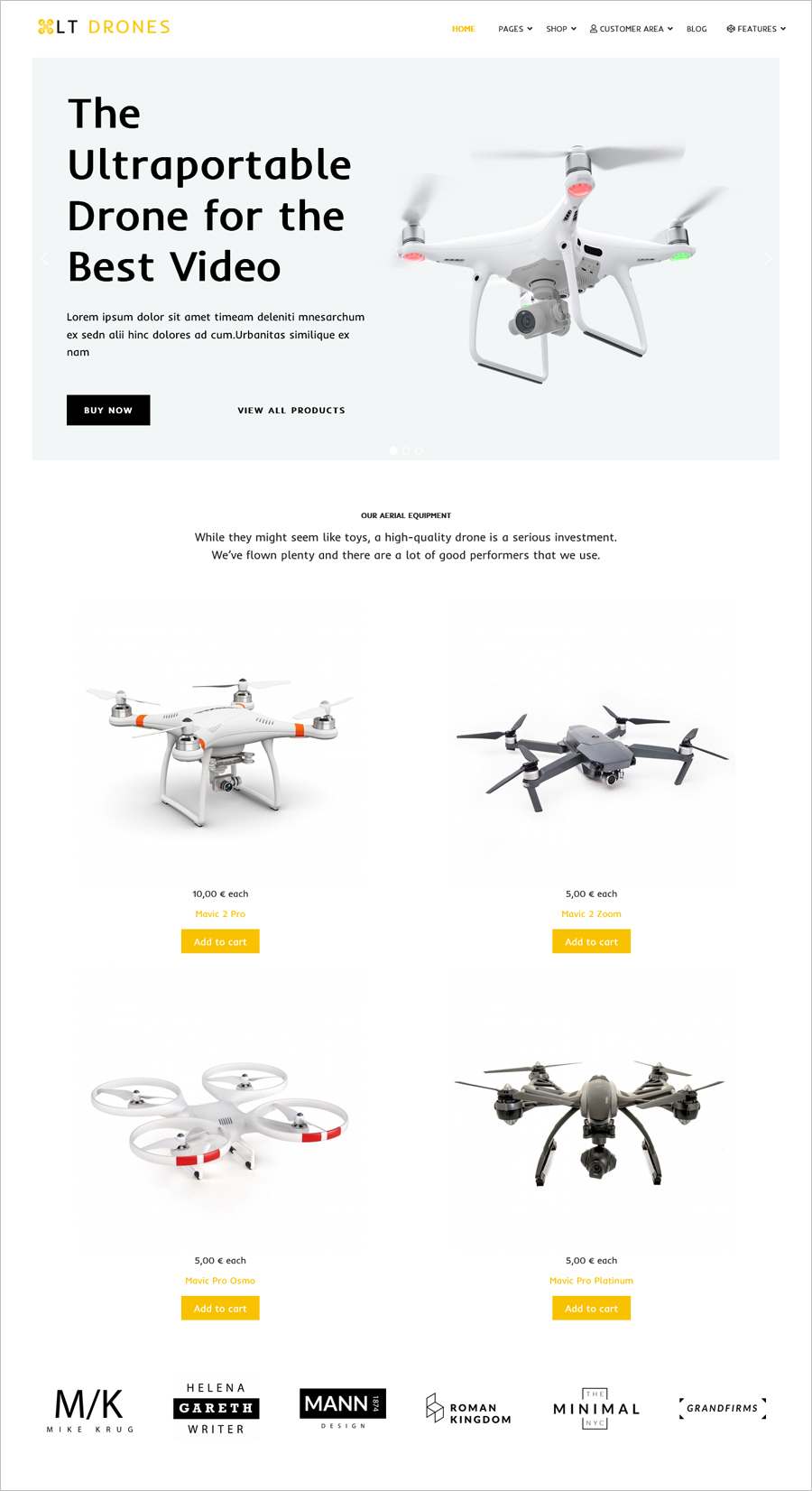 Stylish minimalistic free template for stores selling drones and similar equipment. This free template is compatible with Joomla! 3 and Joomla! 4.
Elite Fitness – Free eCommerce WP Template
View this free theme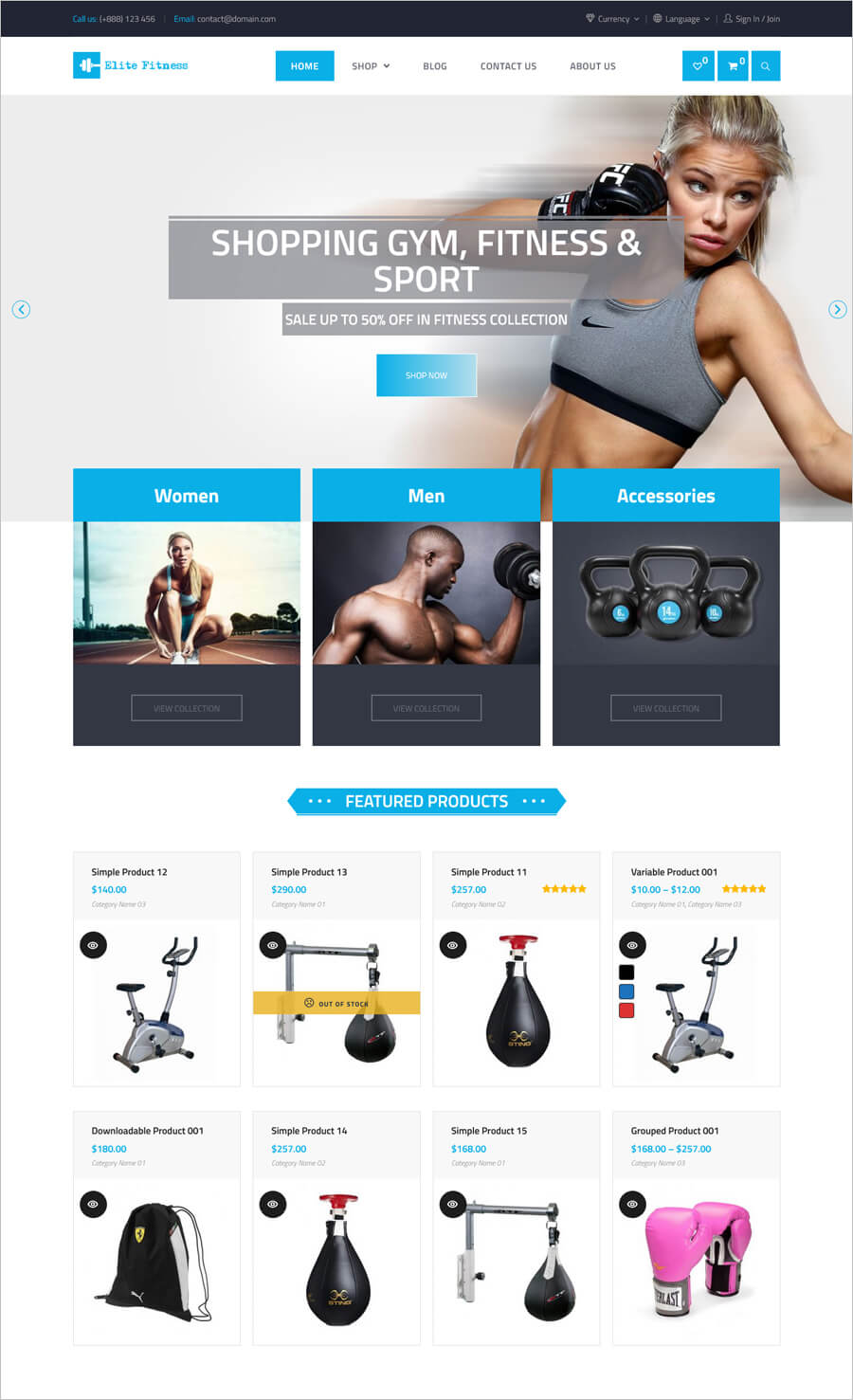 This free WordPress template is ideal for running online sports stores selling fitness equipment and sporting goods. It has a wide slider in the header and below it there are three separate blocks, each of which can be made a link to a specific category of products.
SuperShop – Free eCommerce Bootstrap Template
View this free theme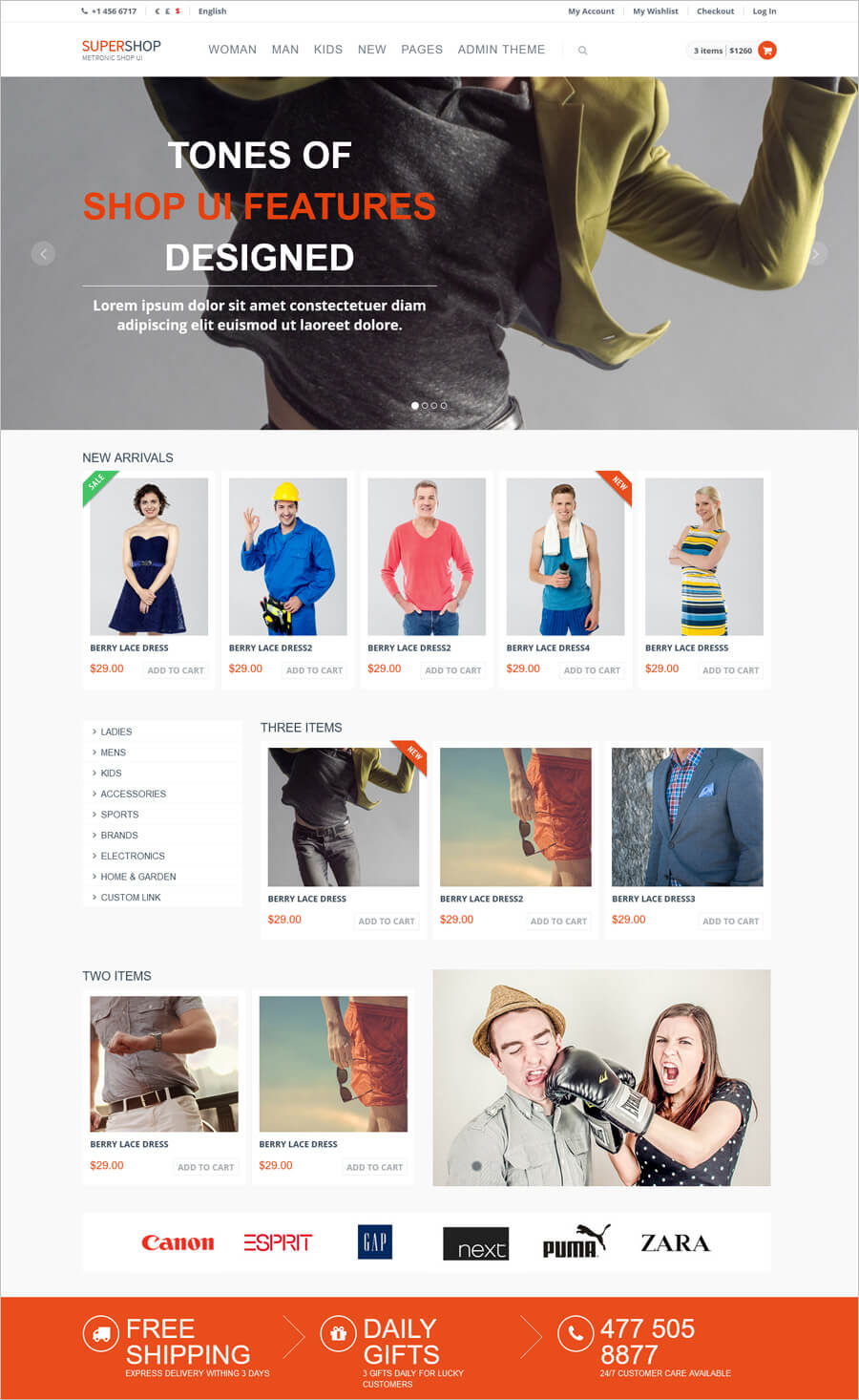 Free Bootstrap 3 frontend ecommerce template which is available for free use under All-in license. This versatile ecommerce template has many additional components and jQuery plugins.
Ekko Center – Free Toys and Game Template
View this free theme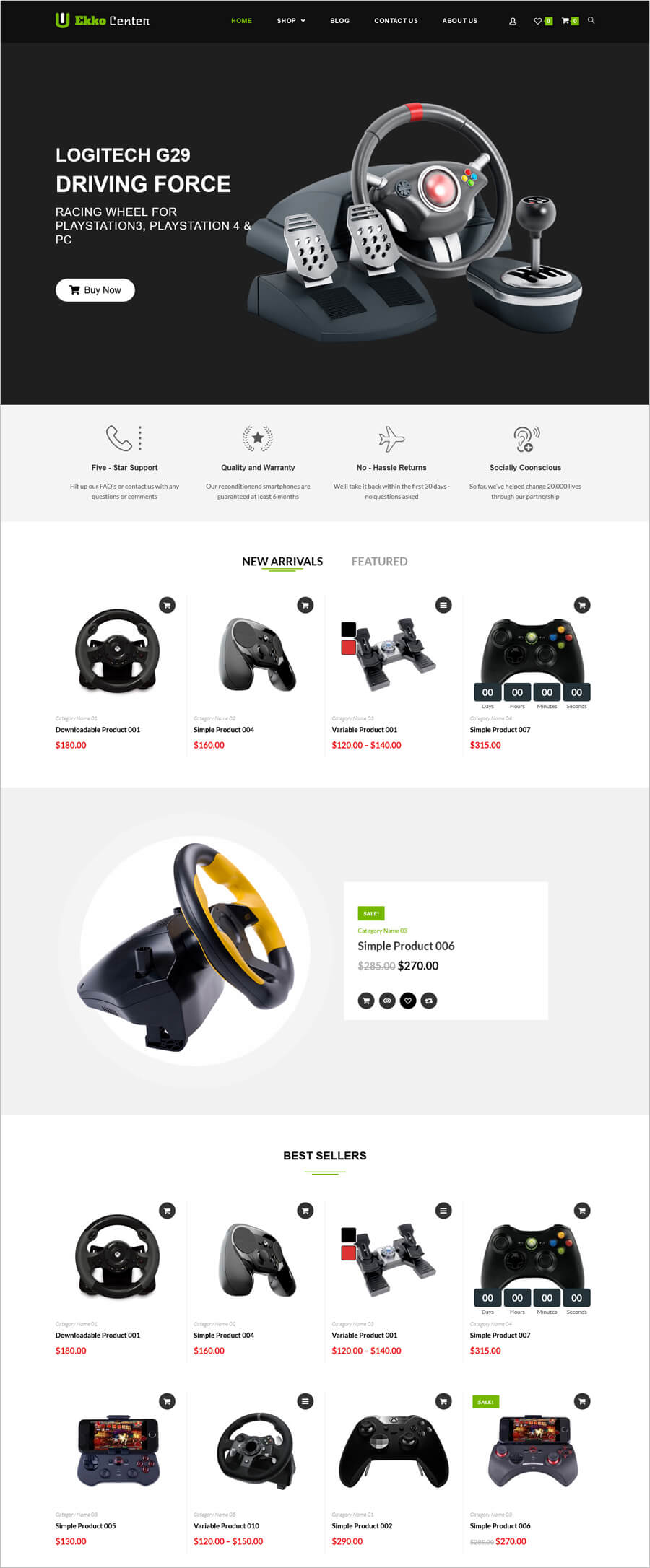 Free eCommerce WordPress template suitable for an online store selling toys, games, consoles and gaming equipment. The template has an excellent fully responsive design made in a minimal style.
LT xMas Gift – Free Present Store Joomla Theme
View this free theme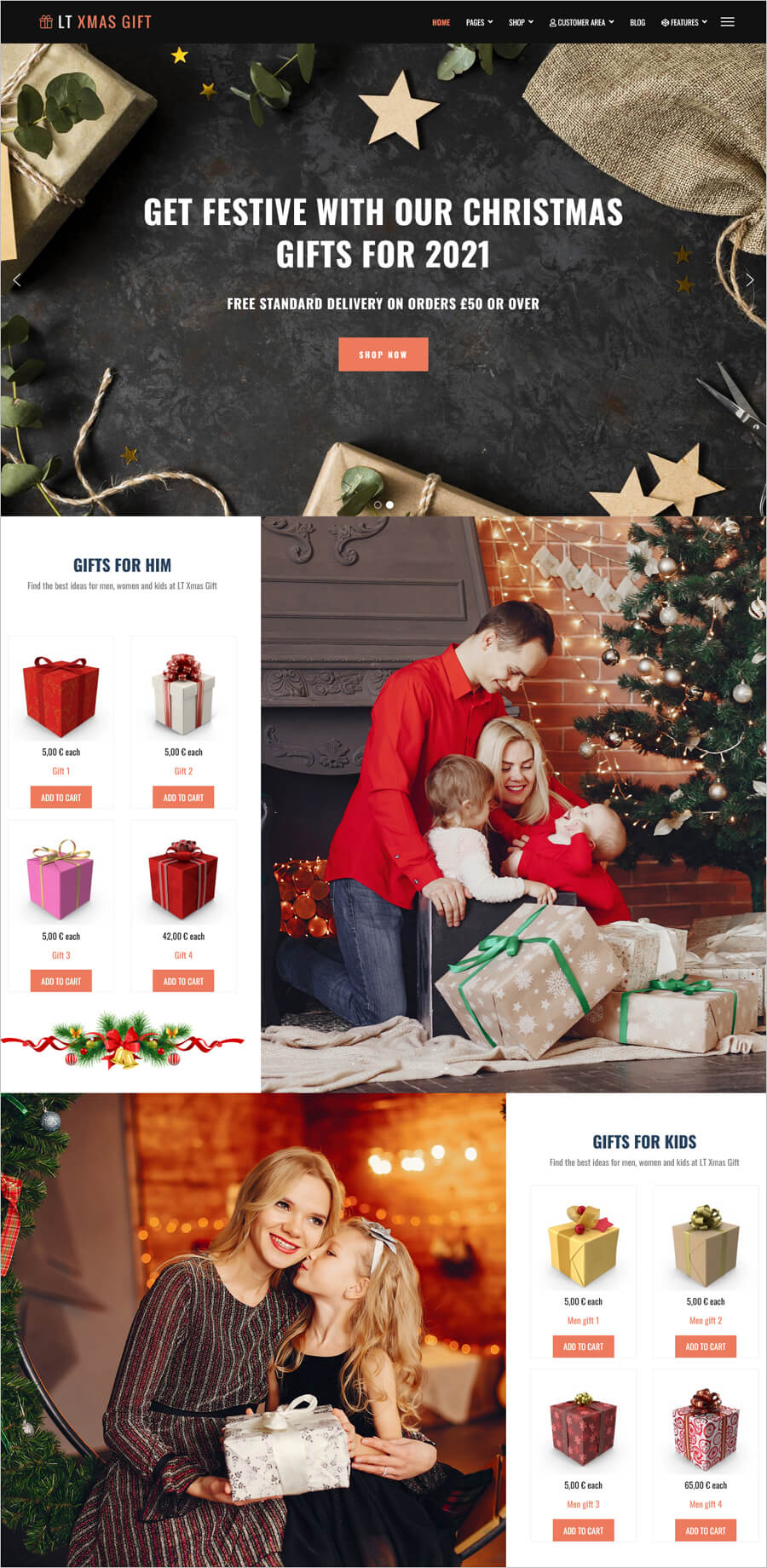 And we finish our selection of the best free eCommerce templates and themes with this festive free Joomla theme. This is the perfect free solution for an online gift shop. If you need to create gifts online store quickly and for free, pay attention to it.