10 Best Wedding Website Builders You'll Love
WebBuildersGuide.com earns commission from some of the web builders and hosting providers listed on this website.
Learn more
Join me as I break down the top 10 best wedding website builders that'll make your big day even more unforgettable. Read on for my personal takes and tips!
So, you're tying the knot, huh? That's awesome! And you want to get a wedding website up and running to spill all the juicy details – where it's happening, what people should wear, and of course, where you'll be showing off those stunning wedding pics afterward.
Alright, sit back, relax, and grab your go-to drink (yeah, alcohol's totally cool too 🙂 ). I'm gonna break it all down for you on how to set up the most epic wedding website ever, and trust me, it'll be a breeze.
How Good Are Wedding Website Builders?
Are they any good? Heck yes, they're a lifesaver!
Look, you're not building a site that'll last for decades. It's a one or maybe a two-year gig, tops. So, hiring some fancy-schmancy web design agency? Nah, that's overkill. You'll just end up using more time and money, which I'm sure you have better uses for right now (if not, just shoot me a message and I'll give you some tips! 🙂 )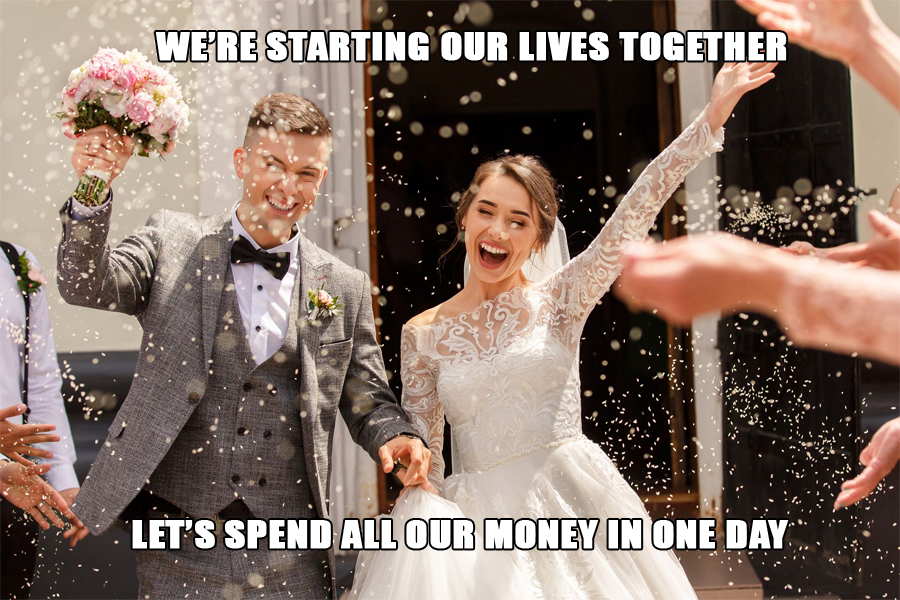 Instead, there are these super handy wedding website builders. Yeah, you heard right – you can DIY this bad boy. And before you panic, I know what you're thinking: "DIY? I've got a gazillion other things to plan!"
Don't sweat it. Wedding platforms I'm gonna tell you about will let you whip up a perfect wedding website in just one evening. Just check these cool wedding website examples. Some can even make it happen faster. I'll clue you in on the best ones. Cool? Cool.
Wix
Wix is a one of the best wedding website builders, if you're looking to set up a wedding website that's both stunning and user-friendly.
First off, the customization is next-level. We're talking drag-and-drop ease here. Want a photo gallery to showcase those engagement pics? Just drag it in. Need to add RSVP functionality so Aunt Karen can confirm she's bringing her famous potato salad? Click, click, done!
And let's not forget the templates – Wix has some jaw-dropping designs that are specifically crafted for weddings. Whether your vibe is rustic-chic, modern elegance, or even "vegas baby," they've got you covered. The best part? It's so simple to modify, you won't need a degree in computer science to make it look just how you want.
Check out the best of them:
Check all wedding Wix templates
Cost-wise, it's super reasonable. They've got a free version (yes, Wix is a free website builder) if you don't mind the Wix branding, but if you want to go all out, the paid plans offer a ton of extras like your own domain name and a zero-ads experience. And also here is the additional discount from me:

Lastly, for the tech-challenged among us (no judgment!), Wix has killer customer support. So, if you ever get stuck or need a little extra help (if not, just shoot me a message and I'll give you some tips!), they've got live chat and tons of FAQs.
Squarespace
So, Squarespace is another heavy-hitter in the wedding website game. This platform is like the interior designer of the website world – every template looks like it belongs in a glossy magazine.
Squarespace is fab for visual appeal, offering sleek, elegant designs that'll make even your engagement photos look like a Vogue spread. Plus, they've got these awesome customizable blocks for things like countdowns to the big day or interactive maps to help your guests find the venue. Super handy, right?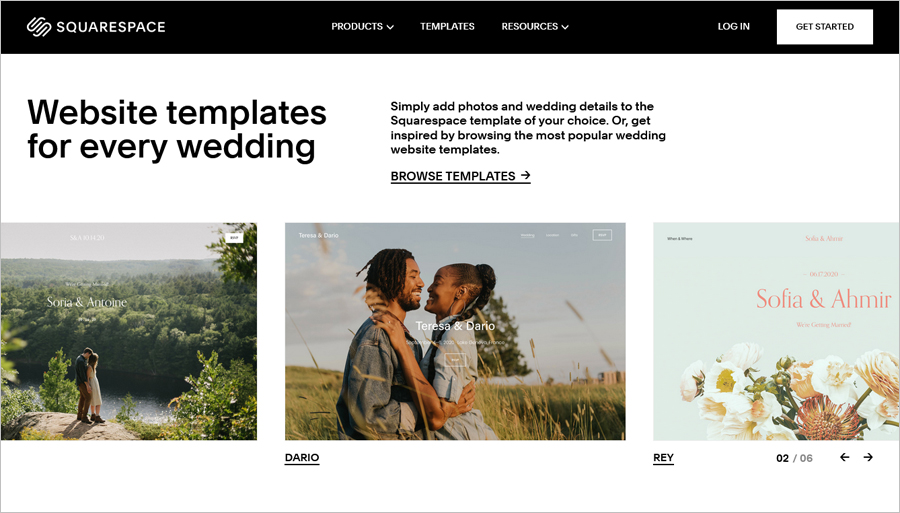 But the real clincher? Squarespace's blogging feature. If you want to keep your guests updated on the wedding journey – from the engagement to the cake tasting to the honeymoon – you can do it in style. Trust me, your followers will be refreshing their feeds for updates.
Price-wise, it's a bit on the higher end compared to others, but hey, you get what you pay for. And if you get stuck or just want to fine-tune your site to perfection, Squarespace's customer service is top-notch. If you decide to choose this builder this discount will make it more interesting:

So, if you're gunning for a wedding website that's as picture-perfect as your love story, Squarespace is where it's at!
Webflow
Let's talk Webflow, the unsung hero of wedding website builders. Now, if you're the kind of person who wants total control, like "I want to pick not just the song but the specific guitar chord" level of detail, Webflow is your jam.
Unlike other platforms, Webflow gives you complete creative freedom. No kidding – you can tweak animations, interactions, and even dive into the actual code if that's your thing. Want a 3D wedding invite that spins? Go for it. Dreaming of a virtual guestbook where people can leave video messages? Absolutely doable.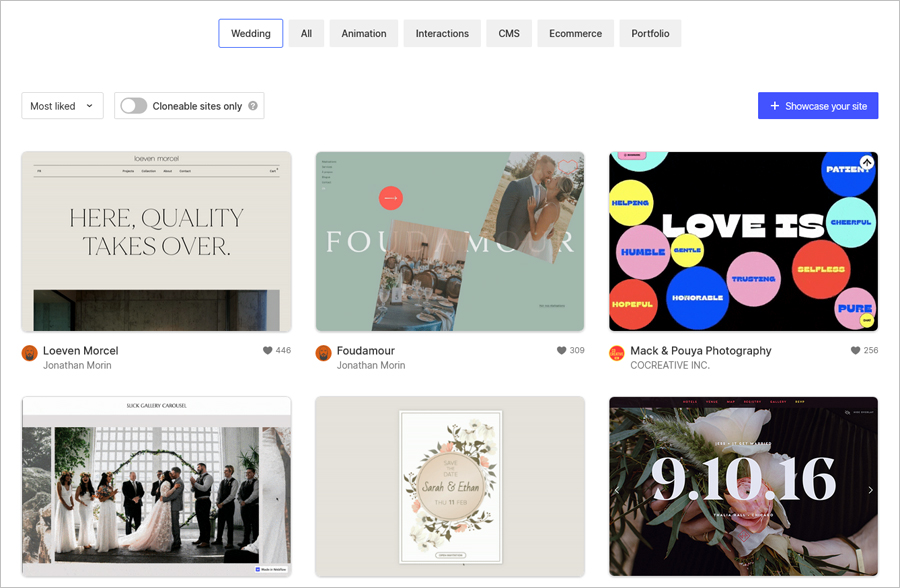 The catch? Well, there's a bit of a learning curve. But don't let that scare you off. They've got tutorials for days and a really supportive community. Plus, the results are totally worth it – a website that's 100% you.
Price-wise, Webflow is flexible. There's a free plan, but if you're looking for all the bells and whistles like custom domains and no Webflow branding, you'll want one of the paid plans.
So if you're up for rolling up your sleeves a bit and crafting a wedding website as unique as your love story, Webflow's the way to go!
The Knot
Time to spill the tea on The Knot, which is basically the fairy godmother of wedding planning, including websites. I mean, this platform is designed solely for weddings, so you know they've got the bells and whistles down to a T.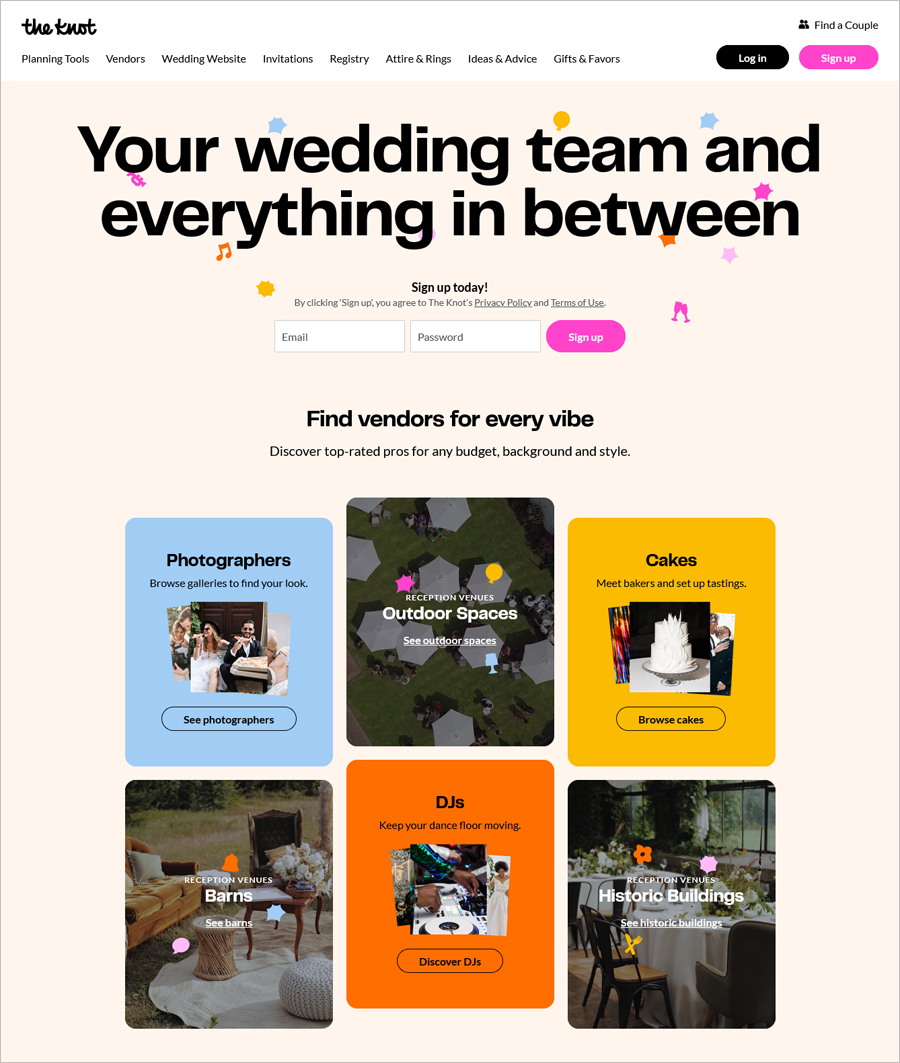 First up, the templates are just swoon-worthy. Whether you're planning a beachside elopement or a grand ballroom extravaganza, The Knot has a template that'll match your vibe perfectly. Oh, and you can sync your website with their all-in-one Wedding Planner app. So when you're knee-deep in seating charts and cake tastings, your website will be the least of your worries.
Here's something cool: you can integrate your registry directly. Yup, guests can check out your wish list right on the site – no bouncing around to third-party platforms. Handy, eh?
Price-wise, you'll love this: it's free. That's right, zero dollars. Sure, you can spring for the premium version if you want extra features, but the free plan offers so much already.
Long story short, if you're after a stress-free experience and a wedding website that's on point, The Knot's got your back!

Weebly
Next up on our wedding website tour – Weebly, your easy-breezy solution. If you're looking for a wedding website builder that's as easy as pie but still delivers a solid punch, Weebly could be your go-to.
First off, user-friendliness is the name of the game here. Weebly's drag-and-drop editor makes it a breeze to add photos, videos, and other elements. So if the mere thought of HTML gives you cold sweats, you're in safe hands. You could literally build your site during a Netflix binge; it's that simple.
The templates are clean and modern, not specifically designed for weddings, but versatile enough to make it work. Throw in some lovey-dovey pics and your color scheme, and boom – you've got yourself a wedding site that's all you.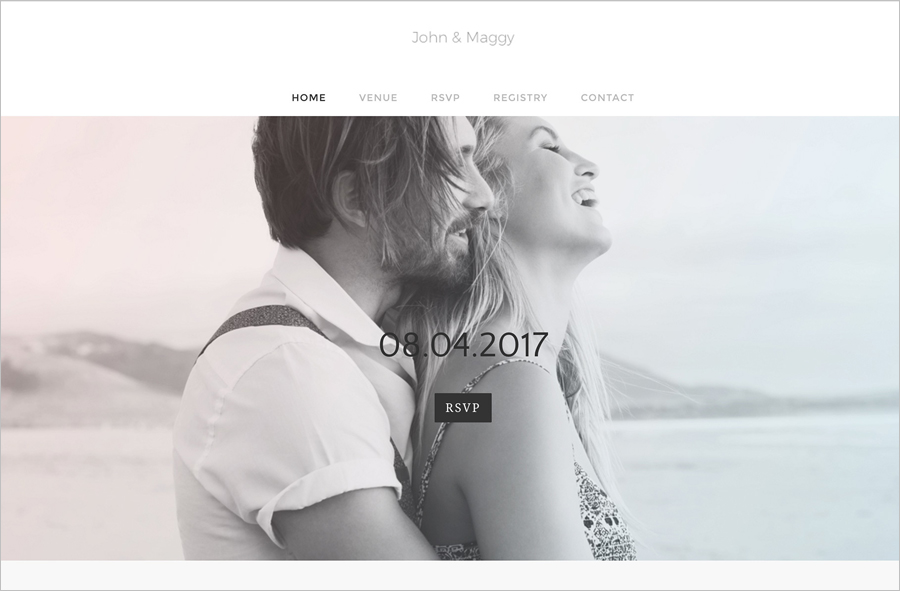 On the pricing front, Weebly has a free option that's pretty robust. But if you're dreaming of a custom domain and extra features like password protection, the paid plans are super reasonable.
One last thing – Weebly has an app that lets you update your site on the go. Super handy for those last-minute changes, like when Uncle Bob suddenly decides he's bringing a plus one.
In a nutshell, if you want a straightforward, no-fuss way to get your wedding website up and running, Weebly is a solid bet.

Webnode
Webnode, a hidden gem you might not have heard of, but definitely should consider.
The thing about Webnode is that it's like that versatile pair of shoes you can wear on multiple occasions – it's got something for everyone. Are you a tech newbie? No worries. Their editor is intuitive and fuss-free. Got some web design chops? You can customize to your heart's content.
Wedding templates? Check. They offer a decent range of designs, and while they may not scream "wedding," with a little creativity, you can certainly make them wedding-worthy. You can also set up a multilingual site in case you have family and friends spread out across the globe. Pretty nifty, huh?
Now, let's talk money. They offer a free plan, but if you want to remove ads and get a custom domain, you'll have to go for one of the paid plans. Nothing outrageous, though. The prices are pretty fair.
A cool bonus? Their customer support is pretty solid. So if you find yourself puzzled over how to upload that 20-minute montage of your love story, help is just a click away.
Bottom line: If you're after a lesser-known but solid option for your wedding website, give Webnode a look. It's like the indie film that unexpectedly steals your heart.

Alright, let's break it down, Wedding Website Builders 101!
What's a Wedding Website Builder, Anyway?
Picture this: your wedding website as the virtual party planner of your dreams! Seriously, it's the command center where all your wedding info lives and breathes. Your guests just need to pop in to get the 411 on your nuptials.
So, what's the magic wand behind this digital haven? That's where wedding website builders come in. These are the handy-dandy tools that help you whip up that stellar website. No tech degree or art school needed, my friend. It's all drag, drop, and let the wedding vibes roll!
Why You Totally Need One
Listen, we all know weddings are a once-in-a-lifetime gig (hopefully!). There's no do-over button, no "let's try that again next year," nada!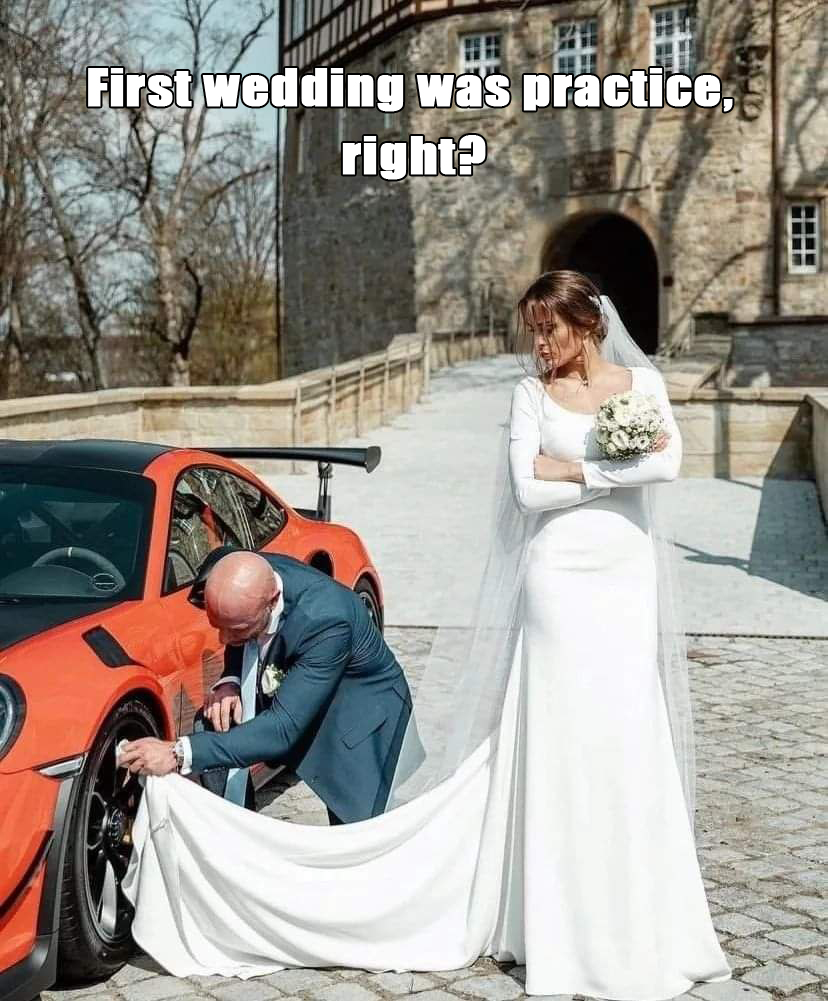 So, here's your crossroads moment. You can either dish out a chunk of your wedding budget on a fancy planner or go full-on DIY. Both are… meh. But hey, wedding website builders to the rescue! You'll save those benjamins you'd otherwise spend on a planner, and you won't turn into a frazzled mess.
Just set up the site, and voila! You have an instant FAQ section that keeps the "When is the wedding again?" and "What's the dress code?" calls at bay. Just tell your guests, "Check the website!" and enjoy some well-deserved peace and quiet.
So, in a nutshell: wedding website builders are the unsung heroes of wedding planning. They keep the info flowing, the guests knowing, and you from turning into a walking, talking wedding stress ball.
Organizing Your Wedding Website
Alright, let's talk about how to make that killer wedding website with as little drama as possible. It's like building a house, but with more champagne and fewer zoning laws.
Nail Down That Domain
First off, let's talk domain names. Think of this as the street address for your virtual wedding hall. You want it to be easy to spell, memorable, and no more complicated than your table seating plan. You can snag a domain from your website builder or third-party sites like GoDaddy. It's an extra expense, but hey, it's less awkward than forgetting Aunt Linda on the guest list.
Choose Your Template Wisely
You don't need to be a code wizard to get a good look going. Templates are the fashionable yet lazy path to making your website match your wedding theme. Is your vibe rustic chic or more urban modern? There's a template for that. So, go on, pick one that lets your wedding's personality shine.
The Nitty-Gritty Details
Okay, here's where you drop in the essentials – like where this shindig is going down, what time people should show up so they don't miss the "I dos," and any other deets that'll keep the day flowing. Maps? Absolutely. A brief love story for those distant relatives? Why not! Info about your squad? Go for it. This is your chance to introduce the cast of characters who'll be running the show.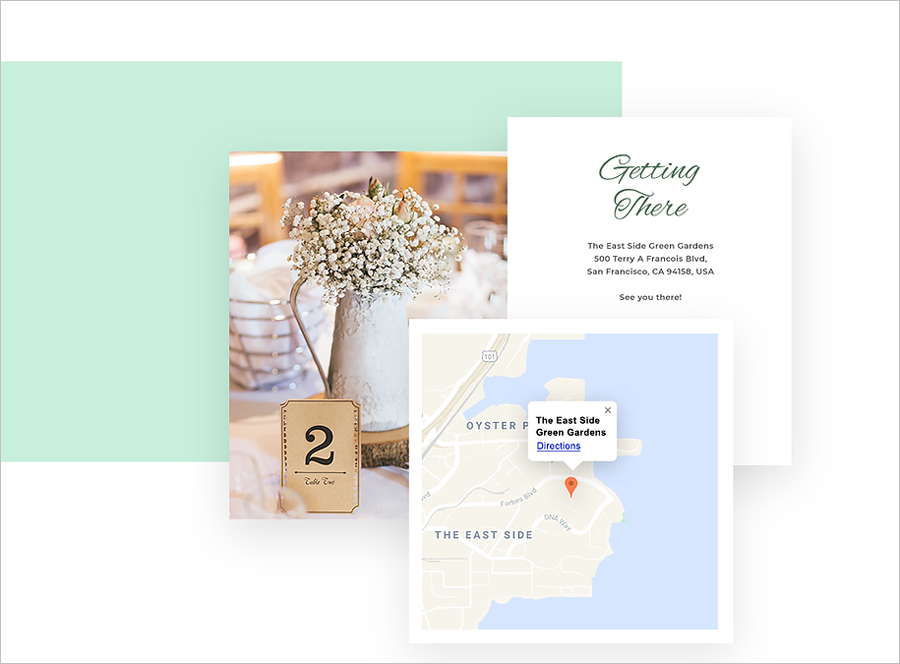 Keep it Real in the FAQ
Anticipate the flood of questions and beat everyone to the punch. From dress codes to plus-ones, an FAQ section will keep your phone from blowing up. Seriously, just point people to the website anytime someone asks if they can bring their pet iguana.
Lay Down the Law
Got some wedding day rules? Like a no-kids policy or a digital detox zone (a.k.a. no phones)? Lay it all out on your site. Trust me, it's less awkward than confronting Uncle Bob about his selfie stick at the ceremony.
RSVP? Yes, Please!
Automate those RSVPs to save yourself a migraine. Most builders have a feature that pings you whenever someone confirms or bails. And for your techno-challenged family members, you can still do old-school invites. No judgment.
Gift Registry Deets
Not to sound like a gold digger, but if you've got a registry, this is where you post it. This way, nobody ends up gifting you three toasters or a bizarre piece of art. Keep the info off the paper invites – that's just tacky.
Privacy Mode On!
Lastly, you don't want random wedding crashers, right? So, turn off that Google indexing and slap a password on your site. Share the login deets with your guests, and you're golden.
And that's it! Consider this your crash course in making a wedding website that's more fabulous than any centerpiece or bouquet toss could ever be.