Best Wedding Website Builder 2023
WebBuildersGuide.com earns commission from some of the web builders and hosting providers listed on this website.
Learn more
Wedding websites are the 21st-century revolution that shifted wedding planning online.
75% of the couples today create a wedding website to share their wedding details. And with a wedding website, 80% of the wedding planning is done online.
But before you can start giving out your wedding website URL, you need to find a wedding website builder.
You can either go for the regular website builders. Or you can find one from the latest crop of dedicated website builders for wedding websites.
And we are here to help you get straight to the one you need. To ensure you don't have to go through trials and errors, we reviewed the best wedding website builders.
Here is everything you need to know about the best website builders to find the right one for your special day.
Wix Wedding Website Builder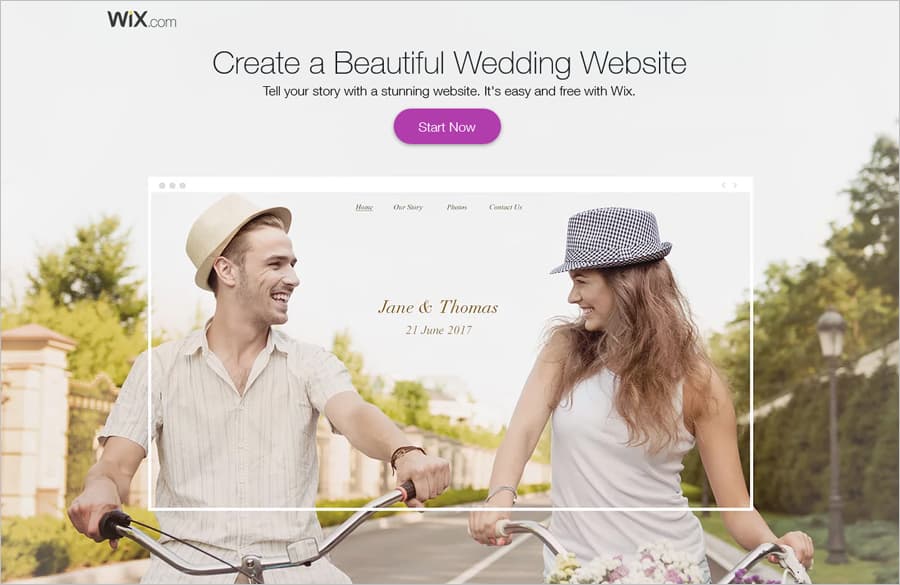 Wix is among the best website builders in the market. And it does qualify to be on the list of the best free wedding website builders.
It offers a streamlined website building experience. With its exceptional customization control, it stands out from the crowd. And it lets couples create wedding websites that will stand out from the crowd too.
NOTE:
To my surprise, Wix is used to create wedding websites almost as often as WordPress. Perhaps due to the large collection of wedding templates and the speed of launching a website. You can check out examples of beautiful wedding websites built with Wix (and other platforms) in my post: 18 Best Wedding Website Examples: How Can Look A Perfect Wedding Site.
Pros:
Wix has a free plan that is ideal for couples on a budget.
20+ wedding themes to choose from.
User-friendly editor with a minimal learning curve.
Wedding specific functionalities like sending out e-invites, RSVP, and social media integrations.
Google Maps widget to help your guests find their way to the venue
Contact forms and forums to help keep the communication going.
Cons:
The free plan comes with Wix branding and doesn't allow custom domains.
For added wedding-oriented functionality, you need to add and install separate apps.
You cannot switch from one template to another after your website is live. This leaves no space for afterthoughts.
Best For:
Wix is the perfect website builder for couples on a budget who want a simple, no-fuss wedding website.
Squarespace
Squarespace is the best website builder if you are looking for visually-appealing results. In the case of wedding websites, Squarespace brings to the table advanced design capabilities. And a lot of potential for customization.
But it stands at the higher end of the price spectrum at $12/month (includes one year of a free custom domain). You get a 14-day trial, though.
Pros:
Superbly designed templates for wedding websites.
Squarespace offers beyond ordinary levels of customization control. This will make sure that couples get the website that they desire, with no design-related compromises.
Easy integration with registries.
Integrates well with over 20 social media platforms
RSVP forms and honeymoon donations can be created with ease.
Cons:
No free plan. The premium plan is also on the higher end. It only comes with a 14-day trial. Some features like the eCommerce store functionality are of no use to couples. It can feel irritating to pay for functionalities you won't use.
Using Squarespace requires some tech skills. It is not the most user-friendly website builder.
Limited wedding-related functionalities.
Best For:
Squarespace is the best website builder for couples who have tech know-how or support. And for those who want the design and customization to be impeccable.
WeddingWire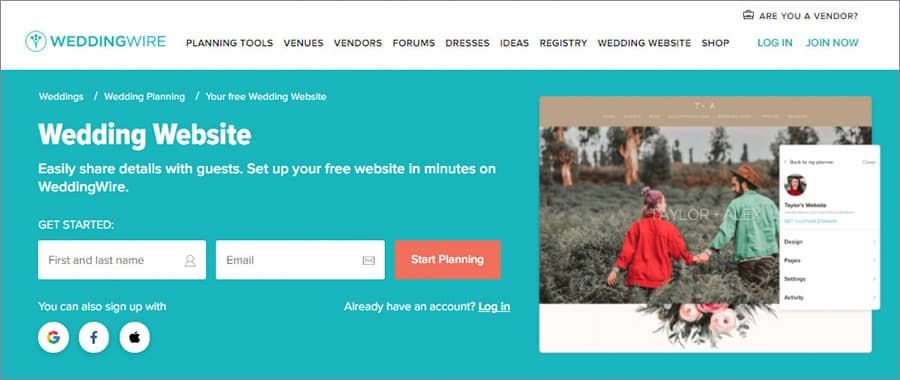 WeddingWire is among the early entrants in the wedding website builders list. Functional since 2007, it tries to ease wedding planning for couples with specific features and integrations.
Pros:
Easy integration with a wedding registry, vendor directories, and nearby hotels, making it easy for the hosts and the guests.
Checklist, budget planner, calendar, address collector, and seating charter tools that make wedding planning easy and quick.
You can create custom background photo templates.
Couples can password-protect their wedding website and hide certain pages from the site. You can also non-index the website from search engines.
Wedding Wire is free to use. You just need to pay $12.99 for a custom domain.
Cons:
The mobile app can only be used for wedding planning and not site-building
Limited design options and restricted customization control.
Not the most intuitive or user-friendly option of the lot.
Best For:
WeddingWire is the best pick for couples who want a free, no-frills wedding website. It comes with planning tools. And it is great for couples that don't need multiple designs or customization options.
The Knot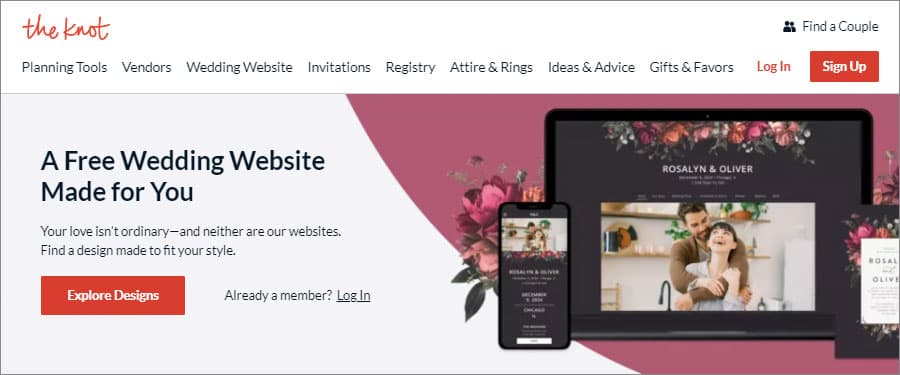 Founded in 1996, The Knot is the first-ever digital wedding planning brand. And it lets couples looking for an integrated solution to make a free wedding website. You can get a custom domain for $20.
The Knot is a one-stop solution that integrates all the products, services, vendors, and information you need to plan and organize the perfect wedding. The wedding website builder is also loaded and works in sync with several other of The Knot's offerings.
Pros:
Beautiful design templates (160+) with customization options that are hard to find in other free builders.
Integration with cash and wedding registries is easy.
Effective address collection and RSVP notifications in the app.
You can get matching printed materials at Minted and Wedding Paper Diva. It breaks the online-only boundaries.
Cons:
RSVPs aren't customizable.
There is no way you can use add-ons and apps that aren't a part of The Knot universe.
Best For:
The Knot is the best wedding planning and website building solution for couples looking for pocket-friendly, all-inclusive, and integrated solutions.
Joy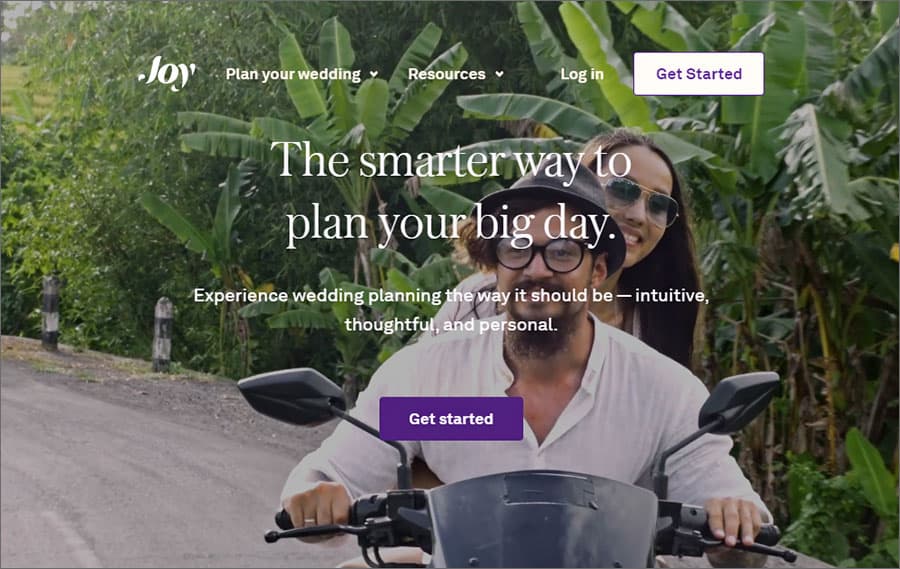 If you are looking for a personal wedding app for your guests, Joy is the platform that lets you do that. Over and above the fully functional and feature-packed website.
Plus, this lightweight option among the top wedding website builders is free. No up-sells. However, this also means you also cannot buy a custom domain.
Pros:
Broadcast announcements can be sent to guests.
Joy gives you the option to create a 'Moments' timeline. This timeline lets guests add photos and comments. And it can be streamed in the form of a slide show.
Digital save the dates, invitations, and RSVP. You can also integrate registries.
An app complements the website you create.
Free live support that is available 24/7.
Cons:
No custom domain option. The maximum that Joy does for you is to forward your Joy URL to a custom domain if you have purchased one.
Limited design and customization options.
Your guests will need an event code to log in to the app. And the app does not let you perform all the tasks, so you'll anyway have to fire up your laptop for completing the planning and website building.
Best For:
Joy is the best website builder for couples who want a free platform with premium-like functionalities. Though there is a lot that Joy lacks, it is great given that it is free.
Zola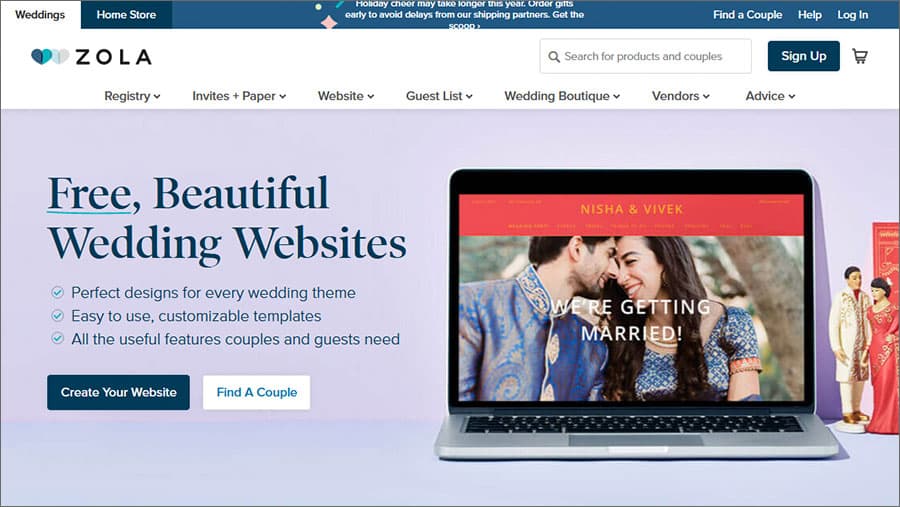 Zola started with just a high-end wedding registry and later evolved into a full-fledged wedding planning platform with a website, integrations, and invites.
And now, Zola is among the top builders that let you create wedding planning websites. It comes with several wedding-essential features, all available for free. You can also purchase a custom domain for $14.95.
Pros:
The guest list feature is robust and comes in handy.
Zola comes with tips and guidance, making it easy-to-use even for beginners.
Selective privacy options to limit certain events for only selected guests.
Zola also lets couples have the privilege of changing things anytime they want.
RSVP tracking with some extra features like song requests, food preferences, etc.
Cons:
Zola is basically a high-end wedding registry (not suitable for all couples). And if you chose not to use the in-house registry, things start to get limited. Like you have to add external gifts manually.
Customization options are limited, and not all the themes and templates come with matching invites.
Best For:
Zola is the perfect wedding website builder, registry, and wedding planning portal all rolled into one. But it is ideal only for the millennial couple and those going with the Zola wedding registry.
Weebly
Weebly is a robust website builder that is best known for creating eCommerce stores. But for couples looking for a wedding website builder, Weebly comes with a user-friendly interface and several customizable design options.
Weebly has a free plan that lets you access basic functionalities. The lowest premium plan comes at $5/month. Plus, you'll need to make an annual payment of $19.95 for a custom domain.
Pros:
Weebly's app center has 340+ add-on apps. These apps include countdown times, calendars, and photo galleries, among others. All these are useful additions to any wedding website.
Extremely intuitive interface with several customization options.
You can change templates even after you have started working on a design. All the content you have already added will be exported to the new template.
Weebly comes with a free plan and also has affordable premium upgrades.
Cons:
Though the app center has a lot of options, finding wedding-centric widgets and add-ons does get tough.
The themes and templates are basic, even after wide customization scope.
Best For:
Weebly is a great website builder. When it comes to wedding websites, it is a suitable pick for couples who need a plain vanilla website with minimum bells and whistles.
Webnode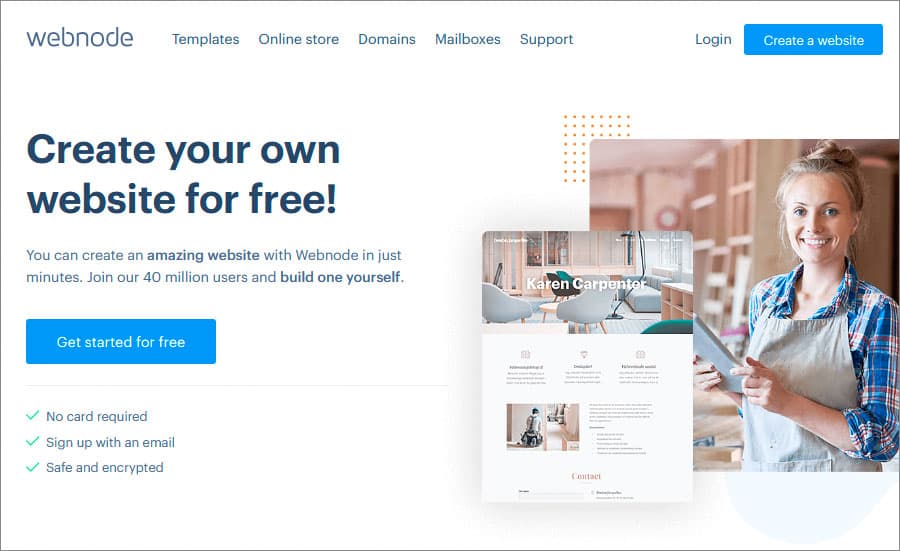 When you have an uncle from France, an aunt from Germany, and cousins from halfway across the world attending your wedding, you need a multilingual website. Even though they might know English, it doesn't hurt to give them a native language experience. Especially when creating multilingual websites is super simple with Webnode.
Being one of the popular website builders, Webnode offers decent enough functionalities to create wedding websites.
Pros:
A password protection option is available to keep certain segments of your website exclusive.
Webnode websites work well on mobile as well. This means your guests don't have to be in front of their desktop or laptop screens to access your site.
The option to create a multilingual website is useful for couples who have international guests.
Multiple wedding templates and customization options.
Cons:
There is no app store and, thus, no option for added apps or widgets.
Minimum functionalities. For example, the image gallery is not very advanced.
The free plan comes with ads.
Best For:
Webnode is the best option for couples who need their website to be multilingual. A multilingual website with limited customization and functionality is what you'll get with Webnode.
Riley & Grey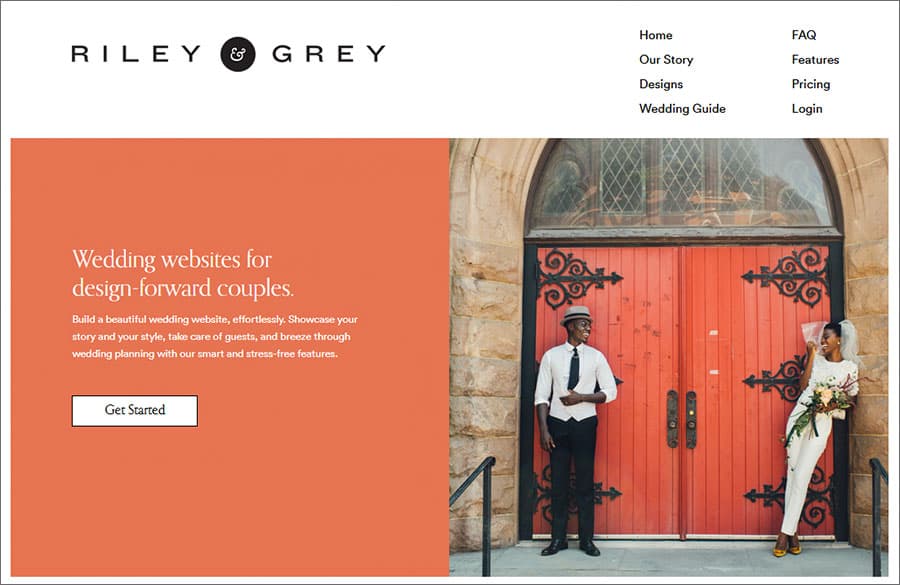 Riley & Grey is the best wedding website platform for couples who put emphasis on luxury design. With a gorgeous selection of wedding templates, this website builder comes with all the features you need.
It has trackable RSVP forms and editable paper stationery, which you can buy at an additional cost. The website builder costs $35 per month or $240 for one year.
Pros:
Basic customizable options are available to make the already stunning templates just as you want them to be.
Quick and effective support.
Step-by-step guidance is available. But, if you are confident enough, you can work independently as well.
Plugin options for uploading images and scheduling events
Cons:
A pricey option if you aren't very particular about the design and templates.
You can start creating a website without paying but cannot preview or publish it without signing up. This defeats the whole purpose of a no-signup start.
The Guestlist management tool is outdated, and the builder is tough to use.
Best For:
If you cannot and do not want to compromise on style and visuals, Riley & Grey is the website builder for you. However, be ready to pay a higher sum, and trade a little functionality for form.
In Simple Words About Wedding Website Builders
Wedding Website Builders – What is It?
The perfect wedding website solves problems that otherwise take the fun out of the pre-wedding festivities. The website becomes the hub for all the information you want to share with your guests.
Wedding website builders help create a personal website for your wedding. The right builder can help you plan, organize, stick to the timeline, and also enjoy your day to the fullest. And you don't need tech or design skills. Website builders make it easy to build a fun and functional wedding website.
You can go with regular builders. Or go with specialized wedding website builders. Some options include The Knot, Wedding Wire, and Riley & Gray.
Why Wedding Website Builders are Needed?
Your wedding isn't an annual gala. You don't have the next chance to make things better.
You have two options now. Either spend as much as 15% of your wedding budget on a wedding planner. Or try and do everything yourself.
Both options seem equally uninviting. That's when the best wedding website builders help. You save the expense of hiring a planner. And you don't have to micromanage everything on your own. Once your website is up and running, you just need to direct your guests to the site.
With the right wedding website builder, you can make sure your website has all the details your guests would want to know. This would save you from having to answer calls and messages every now and then.
How Wedding Website Builders are Organized?
Organizing multiple elements in wedding website builders isn't tough. But that's when you know what to do.
Here is a step-by-step walk-through to help you organize the elements in the wedding website builder.
1. Finalize a Domain Name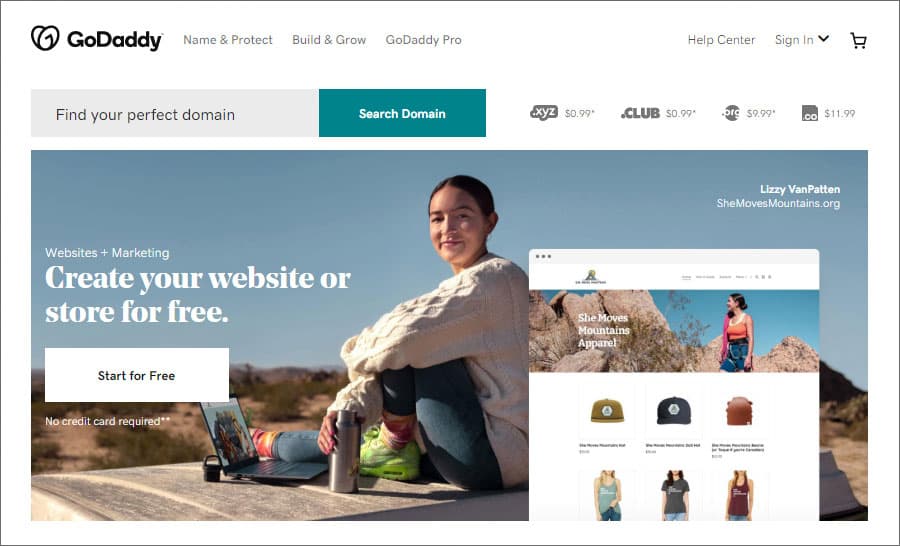 Choosing a domain name
Before anything else, finalize a customized domain name for your website. Make sure your website's domain name is simple, relevant, and catchy. You would have to pay a little extra for a custom domain, but that would be worth it. You can either buy a domain from your website builder. Or you can also third-party domain registrars like GoDaddy.
2. Finalize a Template
Website builders make it simple for you to make sure your wedding website is unique. Without the need for coding. And that's possible with templates. Pick a template that comes with good customization options. It should let you match the website theme with your wedding theme and set the tone for the wedding.
3. Add Essential Details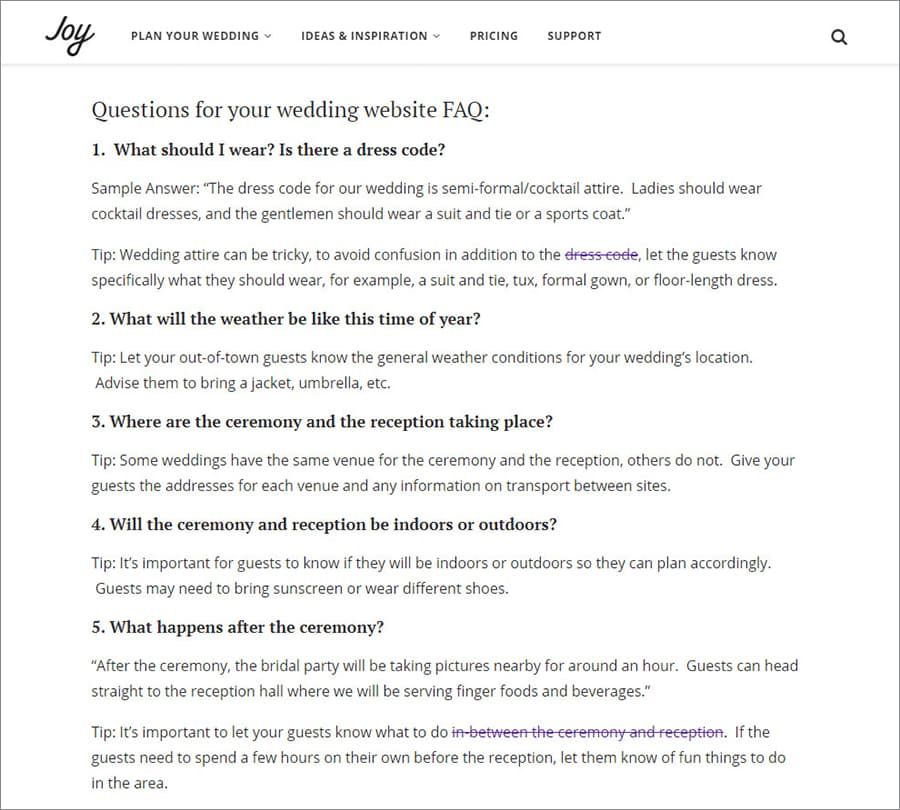 More details about your website builder
Wedding website builders let you create multiple pages of different elements. You should start by adding essential details first. Add the wedding venue address, date, time, and the minutiae for the day. You can also add maps to make it easier for your guests to find their way.
If you want, add information about yourself and your partner and your love story. Some couples also add information about the Best Man, Bridesmaids, parents, and siblings. This ensures everyone can know who's who.
Another section that you can add is the FAQ section. There are several questions that your relatives might have. And you can answer the most common ones in FAQs. Also, contact details in case your guests have more questions.
This will save the time you spend telling everyone the same things over and over again.
4. Add Tricky Details
Having a child-free wedding? Want your guests to completely unplug while attending the wedding? Your website is the perfect way to mention these details. Your guests will appreciate the advanced information. And you won't have to have these conversations in person.
5. Include RSVP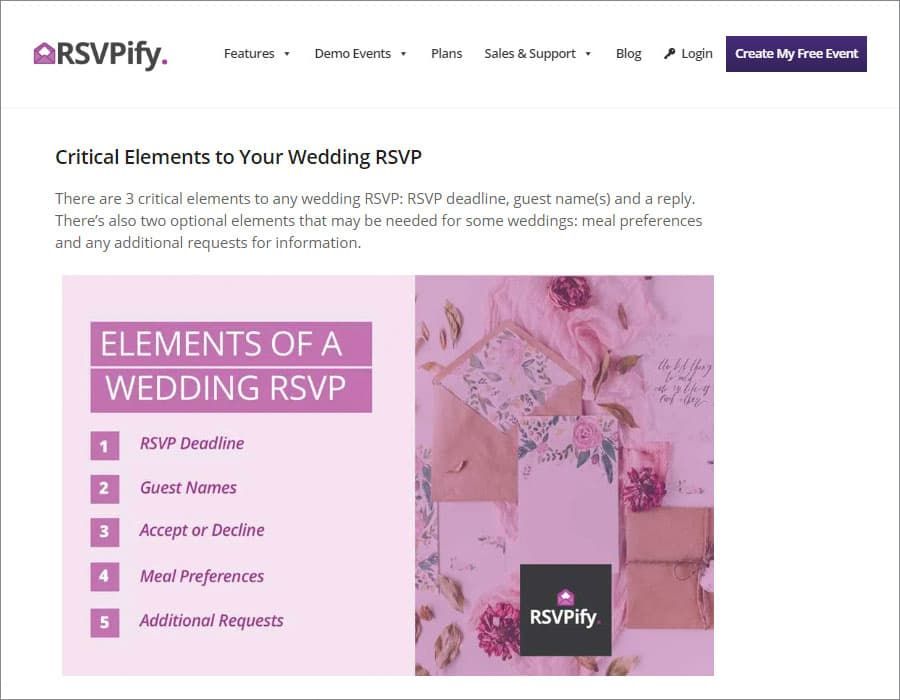 Critical elements in your wedding RSVP
Automated RSVPs can help avoid a lot of confusion and last-minute hassles. If you want to make sure you don't miss anyone's RSVP, you can have a dedicated RSVP section. This will give you real-time notifications about who's coming and who's not.
If you have many older relatives who wouldn't feel comfortable accessing your website for sending their RSVPs, you can skip the part altogether. Or use a mix of traditional and modern invitations.
6. Add Gift Registry Links
Whether you are accepting gifts or are collecting donations, you can list the places you have registered with on your website. This will help your guests know what you need. This also saves you from adding the details on the invite itself, as it is bad etiquette.
7. Make your Website Exclusive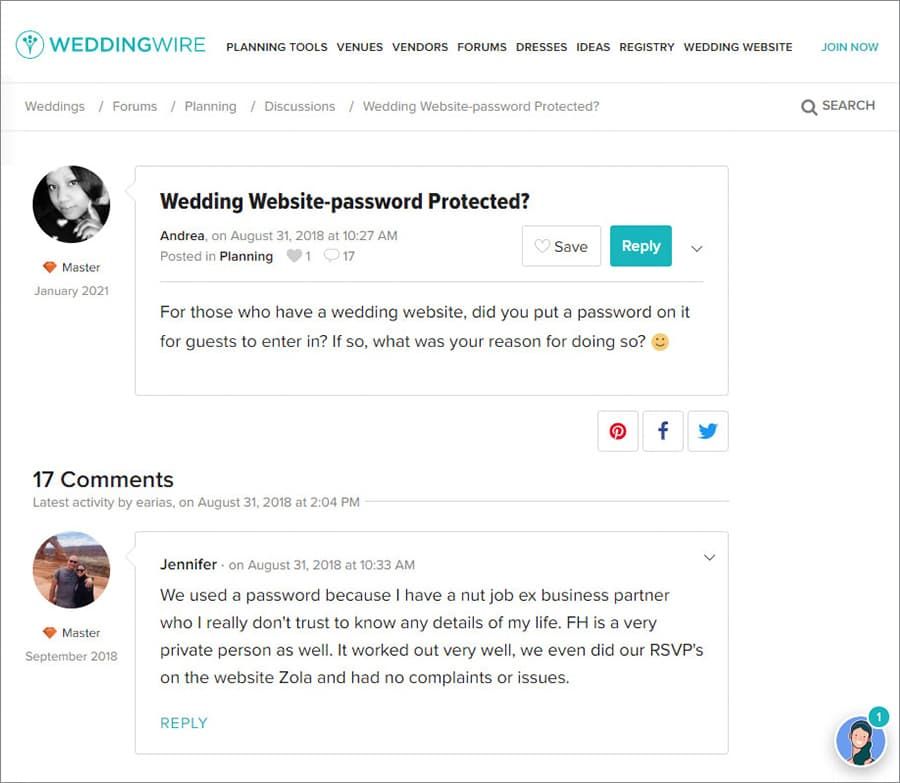 Some more exclusive details
Unwanted guests are always a no-no. And you don't want that happening at your wedding, right? Also, you won't want your wedding website to show up in Google search. Once you have added all the elements and your website is organized, make sure your website is non-indexed and doesn't show up in search. You can make your website password protected also. And then share the URL and password with your guests with the invites or save the dates.
What Functionalities Wedding Website Builders Have?
Wedding website creators come loaded with specific functionalities. These functionalities help you create a wedding website that is perfect for your wedding. Usually, wedding website builders have the following functionalities –
Real-time alerts and RSVP notifications
An option for everyone to upload photos and videos (sometimes with filters too)
Some website builders also have social media integrations. This ensures that all uploads with selected hashtags are shown together.
Social sharing options to share the photos and videos to social accounts.
Privacy options. You can create public, private, and semi-private sections. After all, not everyone is invited to all the functions.
To-do lists are also included in some builders. Your website doubles as a wedding planning tool as well. And a to-do helps you do just that.
What Factors are Important when Choosing a Wedding Website Builder?
Specialized top wedding website builders have a lot of features that are great for couples. But it is the basic builders that perform better in terms of customization and functionality. So, which way should you sway?
The factors that you should consider before finalizing a wedding website builder, and the questions that can help make a choice, are –
1. Scope for Customization
Do you want a highly customized website? Or are you comfortable with a website that is not 100% unique but functional nonetheless?
Decide on the level of customization options you need. In most cases, the more features you get, the better it is.
2. Availability of Elements
Do you need multiple pages? Or a single-page website will do?
Do you want to add specific elements like RSVP and wedding registry?
Do you need robust functionalities for sharing and managing photos and videos?
Do you need a blog-like section? (For more relevant information. You can include information like – things to do in the city and nearby babysitters or creches for child-free weddings. Parking information, dress code, or itinerary can also be listed.)
When you have a website builder that has all the functionalities you need, you can finalize that.
3. Privacy Settings
Just like your wedding, you don't want unwanted guests on your wedding website, isn't it? So, while selecting a website builder, make sure it has the required level of visibility control and privacy settings.
4. Ease of Use
Are you a coder? Are you a professional website builder? Do you have the time and patience to learn website building and then build your wedding website?
If you answered yes to any of these questions, you could pick any builder you want. If not, it is better to go with builders that offer ease of use and have a flatter learning curve.
Paid or free wedding website builder?
There are several website builders that let you create websites for free. Wix, WordPress, and The Knot are just a few to name. Some others only offer limited period trials. Like Squarespace, for example. Depending on how much you want to spend and what functionalities you need, you can go with free or paid plans.
It is possible to build a free wedding website with website builders that come with a free plan. You just might need to spend a little more time. And deal with things like the website builder's branding in the footer.
If the thought of limited functionality or branding irks you, it is better you go for a paid plan. Premium website builder plans increase customization options, remove branding, and offer complete control.
The choice ultimately depends on what you are willing to give up in favor of something else. Both free and paid builders come with multiple features. While free builders are, well, free, paid options do give you more options for customization. So, that's the choice that you need to make before you can decide between free and paid wedding website builders.