Best AI Website Builders to Launch AI Generated Websites – 2023
WebBuildersGuide.com earns commission from some of the web builders and hosting providers listed on this website.
Learn more
Against the backdrop of the rapid development of artificial intelligence (AI), developing websites with the help of AI does not seem like such a fantastic idea. Find out what AI website builder is the best and why.
At this point in 2023, we already know how well ChatGPT does searches, how Deepl creates and translates content, how cool Lensa AI draws, and many other AI powered services. Website Development also has its own breakthrough AI solutions – AI website builders.
Clearly, AI can do a better job of building a website than a human. Or is it still not? Let's figure it out. And at the same time, let's find out which AI based website builders really use artificial intelligence, and which ones are just hyping on a popular trend, but in reality they have nothing to do with AI.
How Does Artificial Intelligence Website Builder Work?
While creating a website in the usual way, by using the drag and drop editor, we select the appropriate template, edit it by adding the necessary pages and the necessary features, adjust the color scheme and fonts. But when AI based website builders take over the development of a website, everything is much simpler.
Firstly, you don't have to choose a template, instead you are asked to specify the type of website you want (small business, ecommerce, blog, etc.), business category, name of your company/website. The AI will then automatically parse your current website (if it exists) and generate a finished website according to your preferences.
The best AI website builders may additionally ask to specify a design you love, such as Wix ADI. Or to point to any existing website you like and AI will try to recreate a similar website according to the example. As 10Web AI builder suggests.
If you don't like something, you can always edit it yourself using the drag and drop editor. In any case, you will spend much less effort and time than if you didn't use AI at all.
NOTE: In fact, the possibilities of AI website creators don't end with website development. The more advanced ones can come up with your brand name, create a logo, and even write content for your website on their own. AI simply finds everything that can be found about you and your business in the public domain (usually social networks and your old website) and after analyzing this data, it will create new content and automatically fill the appropriate pages with it. For example – About us and Contacts.
5 Best AI Website Builders
There are some really smart website builders claiming to be the best AI website builder. I would single out these five, but the final choice is yours, as always.
Wix ADI – the best free AI website builder
Wix is one of the most loved (and most used) free website builders. And Wix ADI, short for Wix Artificial Design Intelligence, is its AI website creator.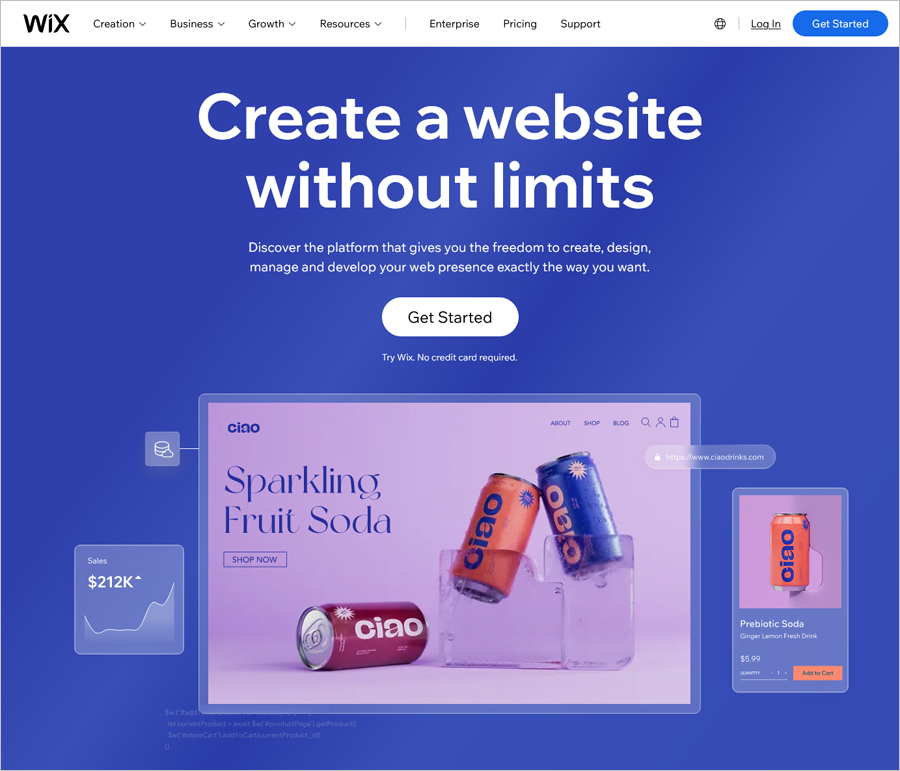 When you log in to your Wix account, you have to first select what kind of a website you need. Once that is done, you get an option to either go with the standard Wix DIY editor or Wix ADI.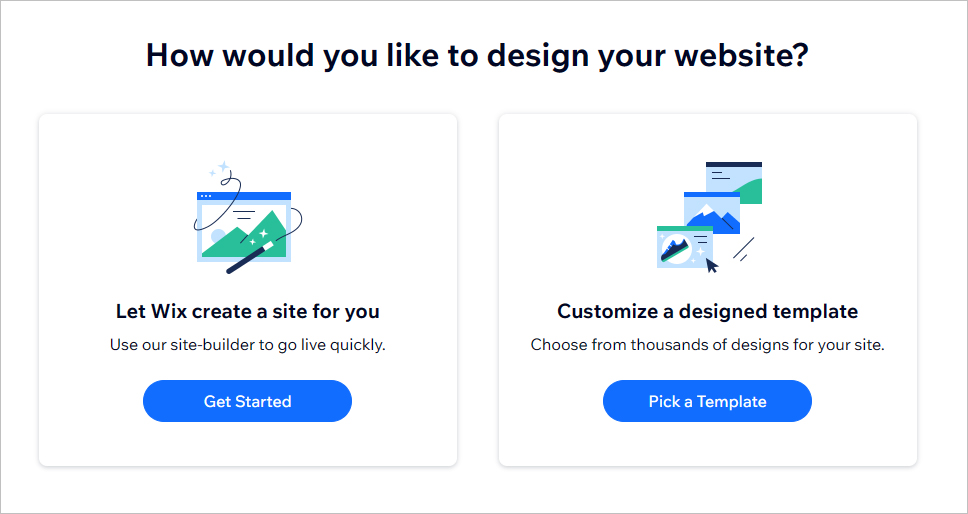 Wix ADI starts by asking users six questions. And based on the answers to these six questions, it creates a custom website. You can also skip some of the questions if you are not too sure about them. Within minutes a unique website is generated. And it is complete with design layout, images, elements, and even text.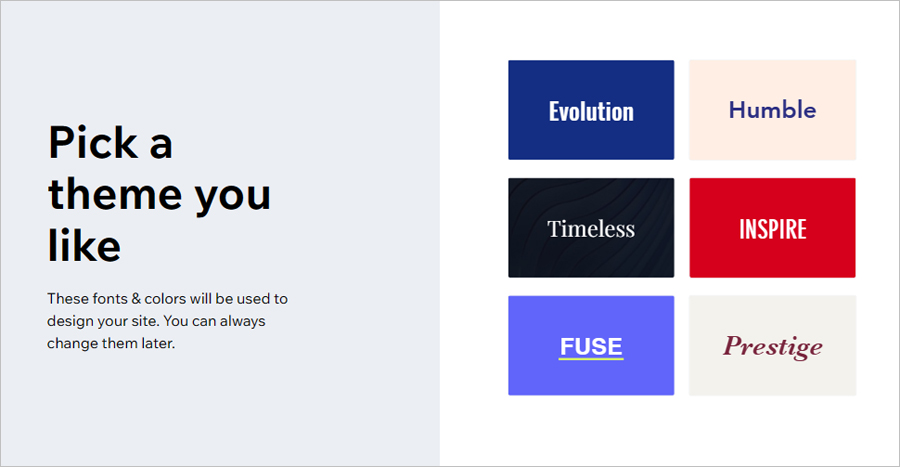 The AI scans the web and social media platforms to offer you relevant content to include on your website. Once the custom website is generated, you can see the What You See Is What You Get Editor (WYSIWYG) editor for further customizations. And you will surely need customization if you're going to build a membership websites or online stores.
And with just that, your custom AI-created website will be ready.
Pros of Wix ADI:
For those who are overwhelmed by the choice of templates available in Wix, Wix ADI gives you a breather with just six themes to choose from. However, these themes can later be customized, should you feel the need.
ADI lets you change the theme after the site is created. Such a feature was not available in the standard editor.
Wix ADI comes with a WYSIWYG editor that makes customizing the AI-generated website easy.
ADI creates a website including the apps and integration options selected during setup. But it also offers a few more apps that you can add later.
The ADI editor offers a standard SEO setup. And you can select the 'Get Found on Google' option to do more advanced settings.
Users get intuitive guide videos to get help in using the builder and knowing what to do next. And the ADI assistant is another handy tool that offers helpful pointers.
Users can also get help from the 'Help' section on the top right of the screen. The searchable database has solutions to all queries that you might have. On-call and support ticket options are also available.
Wix's paid plans offer hosting and domain name as well. With ADI, you get a free username (username.wixsite.com/yoursitename/). You can also buy generic domain names from Wix.
The ADI editor is also available in similar plans to the standard editor. The lowest plan starts at $11/month (quite cheap prices, don't you think?)
Cons of Wix ADI:
A limited number of themes.
Limited access to Wix apps.
Some sections that need additional content might get overlooked.
Jimdo Dolphin – the easiest and fastest AI website builder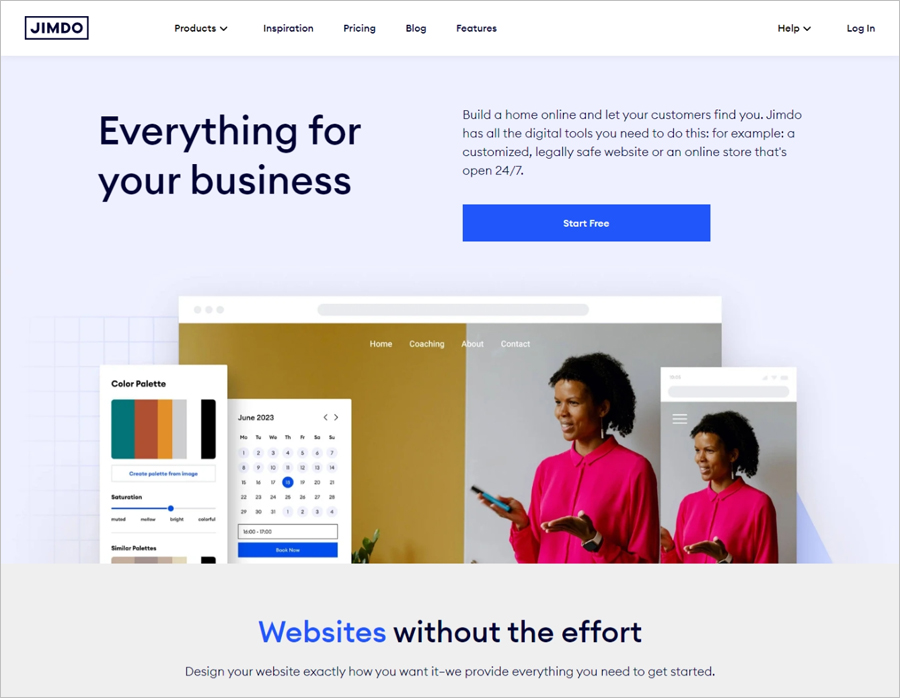 Jimdo is a popular website builder that offers both DIY and AI-based website building solutions. While Creator (the standard editor) is already a popular option, Dolphin, its AI-based solution, deserves praise too.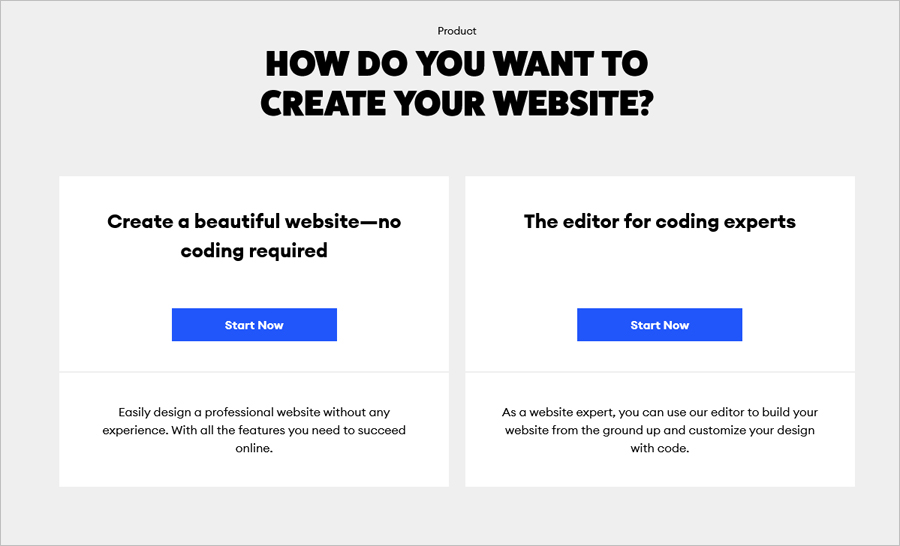 Dolphin promises to help users create a website in under three minutes. The drill is simple. You answer a series of questions about the type of website you need. The artificial intelligence website builder creates a structure based on the answers. Also, the setup wizard explores data associated with your Facebook and Google accounts.
NOTE: Don't be alarmed that Jimdo doesn't use "Dolphin" in the description of their AI website builder. For some unknown reason, they decided not to use that name on their website anymore, but it's still the same Jimdo Dolphin with artificial intelligence that was the first among AI website builders.
Pros of Jimdo Dolphin:
The first draft is actually ready in under three minutes, and Dolphin delivers exactly what it promises.
In most cases, the structure created by the AI creator is good to go. But if you need to make changes and customizations, you can use the intuitive and easy builder.
The virtual wizard searches Google for the most suitable images, and thus, you are not required to add a lot of media content from your end.
A few shortcomings that Jimdo Creator has have been fixed. This includes a central media storage option. And you only need to publish the changes when you want to go live.
The builder is available in multiple languages. And the websites that it can create can also be multilingual.
If you are looking to build a small online store, Dolphin can do that for you. It is easy to set up a shop, add products, and accept payments.
Analytics, basic SEO options, and contact forms are available.
A free plan is available for exploring the features. Premium plans start at $9/month and go up to $39/month.
The Support Center has solutions to all the basic issues that a beginner user might encounter. For more help and problem-solving, support is available via mail.
Cons of Jimdo Dolphin:
There is no option to add widgets or apps with Jimdo's Dolphin.
Website monetization options (like AdSense) are available only with Jimdo Creator.
The features are plenty, but the scope is limited, especially in SEO and online store options.
Leia – AI website builder with a voice control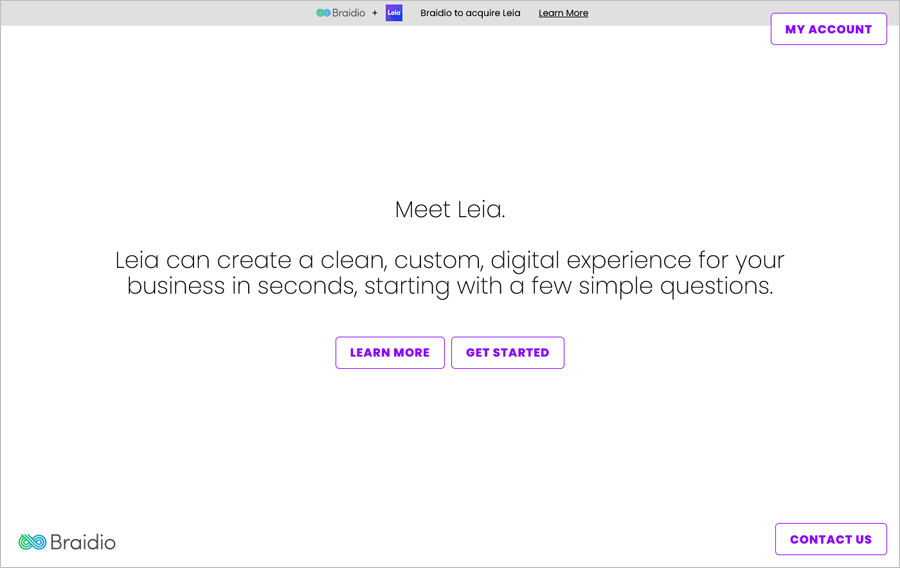 Leia is the perfect AI website maker for users who love Siri, Alexa, or any other AI-backed voice assistants. Users just have to use voice command and enter a few keywords. And that's all the input Leia needs to create a clean and customized website. Leia codes the website from scratch. And the result is a professional-looking scrolling website.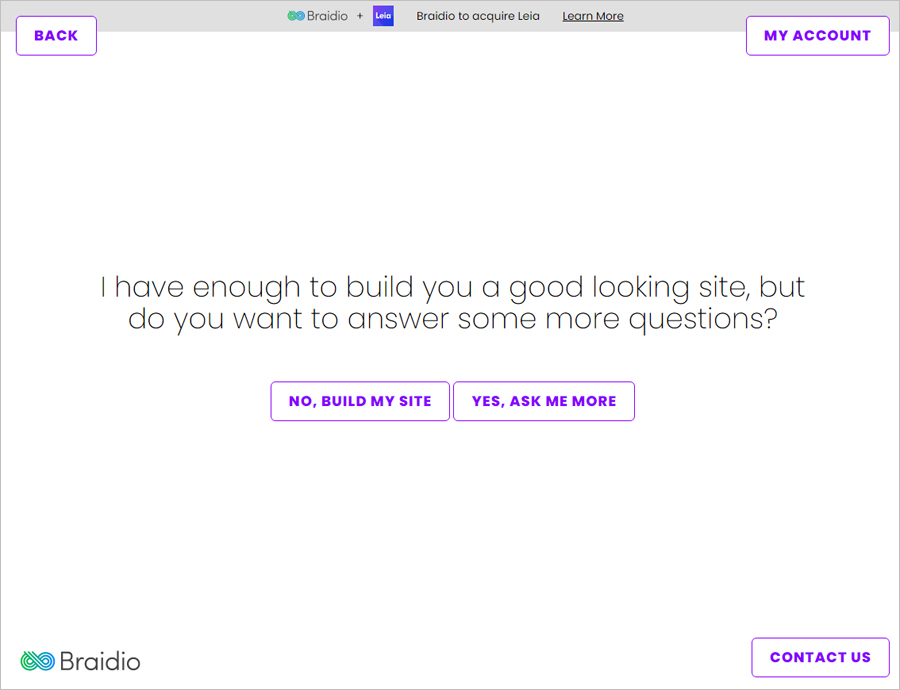 It works as a personal web designer. And yields beautiful results within 60 seconds. No technical knowledge or coding proficiency is needed. All you need to do is speak what you want to see done.
Pros of Leia:
Leia asks users to fill in multiple-choice questions based on the information that it has verbally received. This double-checks that the AI assistant has the right gist of what you said.
Websites created using Leia are stored and hosted on its server. This frees you from having to look for separate hosting plans.
SSL certificate is available for free with websites created using Leia.
After Leia creates a website, users can edit the domain name and the elements on the website to give it a more personalized touch. A WYSIWYG editor is available for that.
Additional features like SEO and newsletter management are in-built.
Users can also use Leia's online store builder option to set up their online shop.
Leia gives its users an option to import or export content as well.
Online customer support is available.
Users can also deploy the Leia apps for Android and Mac for website management.
There is a free plan available with limited functionalities. The lowest-paid plan starts at $4.17/month. Leia's Business plan is also available for $6.67/month.
Cons of Leia:
The free plan is nothing more than a trial option. Creating a functioning website is not possible with the free plan.
As compared to other alternatives, the customization options, and additional functionalities are limited.
10Web – will create a new website based on an example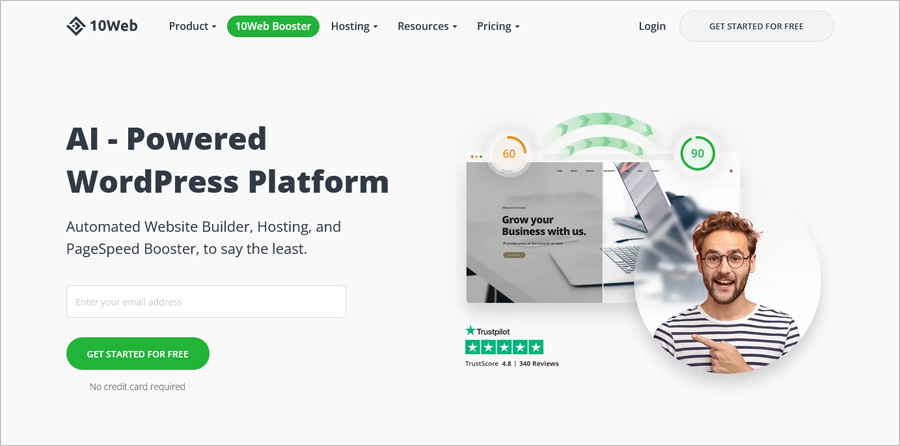 10Web AI Builder is a rather unusual AI website builder that doesn't look like the previous three on our list. The main purpose of 10Web AI Builder is not to create a website from scratch (although this is possible) but to recreate WordPress websites based on an example. It can be your own website or just any other website that you visually like.
In the first case, 10Web can be the perfect solution for quickly migrating your current website to WordPress. You simply enter its URL (up to 5 pages) and 10Web will generate a WordPress website where it will transfer all your content, including images, videos and even internal links. Everything about everything will take about 3 minutes. Impressive isn't it?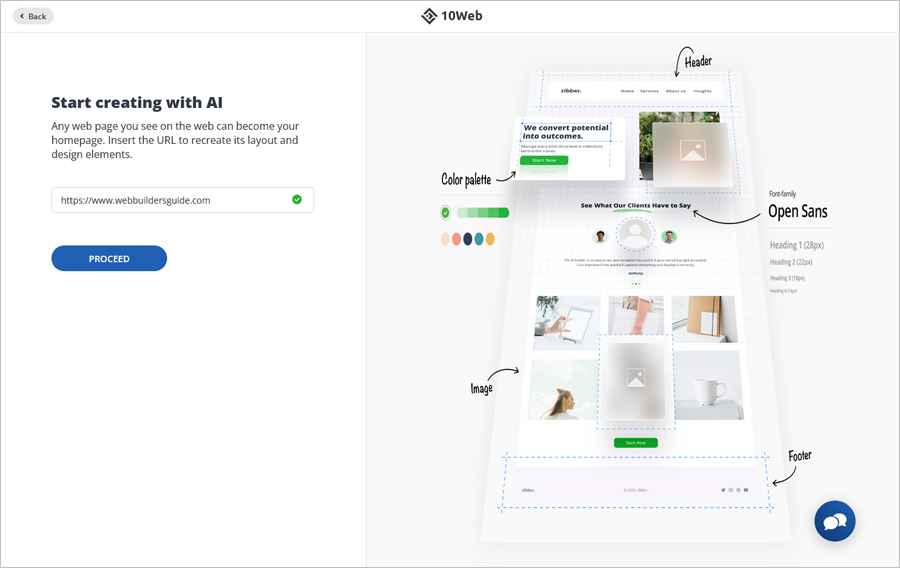 Of course, after moving content to a new website, some sections may need manual editing. This is usually about formatting and customizing a website in mobile view. But it doesn't cause too much difficulty since 10Web AI website builder has an Elementor drag-and-drop editor. It's one of the best drag-and-drop web builder that allows you to easily and quickly customize your website page.
You can also build an entirely new website with AI. In this case, 10Web will offer you several themes to choose from. And also a few standard questions about your business and company.

NOTE: I was pleasantly surprised to find out about the existence of such an AI online service that makes it as easy as possible to transfer any website to WordPress. And it became possible only thanks to the involvement of AI. As a professional web developer, I can say for sure that moving an existing website from one platform to another is never an easy task. And besides, it is time consuming. But now, thanks to 10Web AI website builder, it can be done in seconds for someone who has never dealt with HTML.
Pros of 10Web:
10Web is a one-of-a-kind AI website builder that allows you to recreate a website from a given example.
High speed website creation – up to 3 minutes. During this time, 10Web AI website builder will recreate your website along with all the content.
10Web AI website builder has its own optional drag-and-drop editor (based on Elementor). This will allow users, if necessary, to edit the website after it has been created by AI.
The high speed of the created websites is ensured through the use of the Google Cloud Platform, page caching system and image optimization.
10Web AI website builder automatically creates a backup copy of your website. You can always download a backup if something goes wrong with your website.
There is a library of additional widgets that you can use for free to improve your website.
Enhanced security of websites developed on 10Web is provided by a built-in scanner and malware removal system. Therefore, unlike ordinary WordPress sites, WordPress websites built on the 10Web platform do not have problems with hacks and malware.
Available plans. 10Web AI website builder has a basic plan – Personal for $10 per month (billed annually) to create one website. More powerful plan – Premium will allow you to create and maintain up to 3 websites, for $24 per month. The maximum Agency plan for $60 per month includes all available features + VIP support. And most importantly – it is designed for 10 websites. That's $6 for one website – a great deal for Web design studios.
Cons of 10Web:
Despite the powerful AI, the websites recreated by him require manual refinement. So it's necessary to pay attention to the formatting of content on the pages and the correct display in mobile.
All plans have a limit on visits. Including the maximum plan – Agency. For the number of visitors in excess of the plan, an additional fee is charged at the rate of – $2 per 10,000 visits.
The 10Web AI website builder will recreate a very similar website to the example you provided, but it will not be a 100% replica. So if your goal is to get a one-to-one website, 10Web is definitely not the solution for you.
B12- AI based web development agency
B12 is a modern website builder that promises agency-quality websites at DIY prices. Other than being AI-powered, B12 also has a team of real-life website designers at its backend. And that helps businesses quickly get started with their websites.
Once you have entered relevant business information, B12's AI platform, Orchestra, scrolls the Internet to find information from your other websites, social media channels and even considers brand mentions.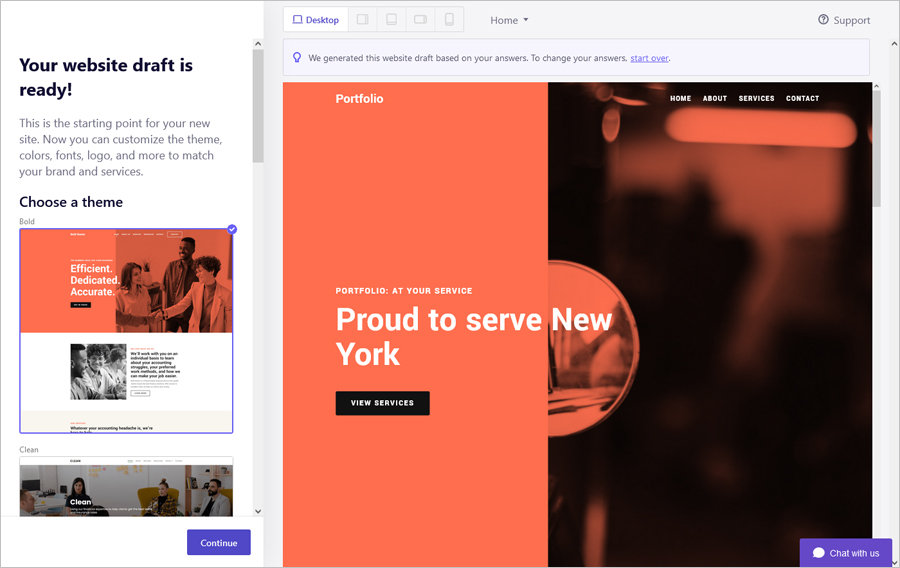 After considering these two sets of data, B12 creates a draft for your website. The design team at B12 then reviews this draft. They make sure your website is unique. And then, the first draft is shown to you for feedback. Depending on your feedback and suggestions, the B12 team completes your website within three to seven business days. And this use of a human element along with AI sets B12 apart from its competitors.
Pros of B12:
With B12, you can rely on AI's precision and the prowess of the expert team of designers to give you a functional website with great form.
The B12 team reviews your website every month and sends in suggestions. If you approve the suggestions, the team of designers will update the website for you.
You can also edit the website on your own if you are keen on going DIY.
B12 has import options that you can use to inculcate previously used assets on your new website.
You can use videos and high-resolution images on your B12 website. There are no media restrictions.
The AI and human intelligence behind B12 both take pride in SEO proficiency. And you can expect your website created using B12 to rank high in SERPs and get good traffic.
The websites created using B12 are all mobile responsive and will display perfectly across devices and screen sizes.
You can set up a blog on your B12 website as the blogging support is extended for WordPress, Medium, and RSS feed. Social media integration is also possible. Integration with Shopify and Ecwid is possible (to compensate for the lack of in-build eCommerce functionality).
B12 has an in-build copywriting team that can help you create content for your site.
B12 offers a free plan. And the lowest paid plan starts at $29/month and goes up to $249/month for the SEO Pro plan. Hosting is provided for free with all plans. And the paid plans come with a custom domain name. The lower plans come with email and chat support. But on-call support is only for the SEO plans that start at $99/month.
Cons of B12:
The templates and designs that B12 offers are crafted according to your brand, but there is not much variety to choose from.
While B12 scores high on SEO, the lack of in-build eCommerce functionality is disappointing.
Why Is AI So Important?
According to Fortune Business Insights, the global artificial intelligence market will reach $267 billion by 2027. (That's a little more than the GDP of Finland, to give you some perspective.) More than 90% of leading businesses have ongoing AI investments. 72% of businesses feel that AI is an advantage to the business. And website building is one of the fresh additions to the long list of spheres set to be revolutionized by AI.
A fresh crop of AI website builders gets cultivated each year. A lot of hype gets created around them. But most of them fall flat on their face. (We are looking at you, The Grid) However, some seem to deliver a lot (if not everything) of what they promise. So, will we have a smart website builder that will give web designers a run for their money in the near future? Or is this just a marketing gimmick that will blow up soon?
Before we find out AI's future in web development and design, let's start by understanding what exactly it is. We'll also discuss how it is used and how it is impacting the website building sphere. Plus, we'll discuss in detail the leading website builders with AI that are worth your time and money.
What is Artificial Intelligence?
When you ask Alexa to play your favorite song, you are interacting with the most used and well-developed artificial intelligence robot. Siri, Google Assistant, Cortana – all fall in the same category. AI is a broad branch of computer science. And it deals with building smart devices that have the capacity to perform tasks that require human-like intelligence.
The lack of emotion and consciousness is what makes it different from natural intelligence found in humans and animals. However, that is also set to change in the near future. Works on AI that has emotions are underway. And it just needs to be perfected.
AI and Website Design And Development
Today, customers look for more personalized, streamlined, and effortless experiences on the web. And that isn't possible with the traditional website development strategies. Even if it were to be possible, it is definitely not affordable. That's where AI comes into the picture.
Generally speaking, AI aids web designers and developers by easing and hastening tedious and long-drawn processes. What took hours or even days to complete can be accomplished with minutes. All with AI.
UX/UI is the sub-section of website development and design that has benefitted the most from AI. From making the search faster to making the customer experience more interactive and personalized, AI has contributed a lot to the website creation sphere. But the newest addition to the lot is AI website builders.
AI Website Builders – Gimmicks or The Future of Website Building?
An AI website builder aims to make life easier for developers and businesses alike. With the use of a vast database of knowledge and intelligent processing, these website builders help build websites in a fraction of time. And for a fraction of the cost.
AI website builders work like extremely efficient secretaries. You tell them what kind of a business you own and what kind of a website you want. Share simple details like your company name and address, logo, and the content you want on your website. And the artificial intelligence design builder will pull a few (a lot, actually) strings and give you a website that matches your needs. But how exactly does it happen?
Which brings us to…
How is AI Making the Website Building Process Better?
AI is contributing towards the betterment of the website building process in more ways than one. The most primary one is reducing the time and expertise required to create a functional website with good form.
While website builders, in general, let non-web designers and beginners get work done without trial and error, AI takes things a step forward. Busy business owners can use AI-powered website builders to create a website without having to start from scratch. Plus, personalizing the website for a better user experience also becomes easier. Also, AI website builders use web design best practices.
And it is not just limited to making the process of creating a website better. The process of keeping the website up and running is also significantly aided by AI. Even average technology users can carry out website maintenance and upkeep with AI website builders.
Theoretically speaking, AI has everything that it takes to make the website building process better, faster, cost-effective, and more streamlined. But the results are not always how you expect them to be. A lot of AI website builders are infamous for a subpar website and outdated designs. And a lot of other structural and functional issues also tend to creep in.
But worry not, we separated the wheat from the chaff for you. And above, you were able to find a detailed review report of the top five AI website builders that won't disappoint.