The Best Website Builders for Small Business (and not only)
WebBuildersGuide.com earns commission from some of the web builders and hosting providers listed on this website.
Learn more
In this exhaustive review I'll try to explain in simple terms the best website builders on the market today. You will find out what a website builder is, what features can they have, what is the best website builder for small business, ecommerce, blogs and other types of websites. Find out which website builder is better to use so that in the future you do not have to redo the website on another platform.
NOTE:
To write this article, I spent tens of hours testing website builders, comparing their capabilities, identifying pros and cons, and only then writing the review itself. Therefore, if you are puzzled by the question of choosing the right website builder for your business or for creating a personal website/blog, read this article to the end. I am sure that after reading it, you will be much better at understanding the topic and will save many hours of your time and possibly even money.
What is a website builder?
Website builder is software that allows you to design, edit and subsequently fill websites with content. Most modern website builders are online platforms that include a visual website design editor, hosting and domain name. Thebest ones have drag and drop editors, which makes it much easier to create website pages without having to react HTML/CSS code. Thus, a modern website builder is the easiest and most affordable way to create a website.

Top 10 Best Website Builders
Below I have collected and described the most powerful, convenient and functional website builders. Each of them has its own specialization – some are good for small business websites, others are only for ecommerce, others for blogs, etc.
WIX – Ideal for Small Business
Wix is probably the best universal website builder. And more than 62 million websites all over the world have been created using it. And that is the highest record for all online website builders, both in the free and premium segments. Despite its versatility, Wix's capabilities are fully revealed in the development of small business websites. For this, Wix has hundreds of all kinds of templates – for a wide variety of business categories. Thanks to this, Wix can be used to build great restaurants websites, websites for real estate agencies, travelbusinesses, hotels, beauty salons, law firms and many other small businesses. Well, why is it that people like Wix and use it? Let's find out.
Very Simple
Wix is easier and more user-friendly when compared to most other website builders. Very few website builders have the same intuitive interface as Wix does. Even without any knowledge of web development, you can successfully create a website using Wix. You don't need to know anything about web design, HTML layout, or programming.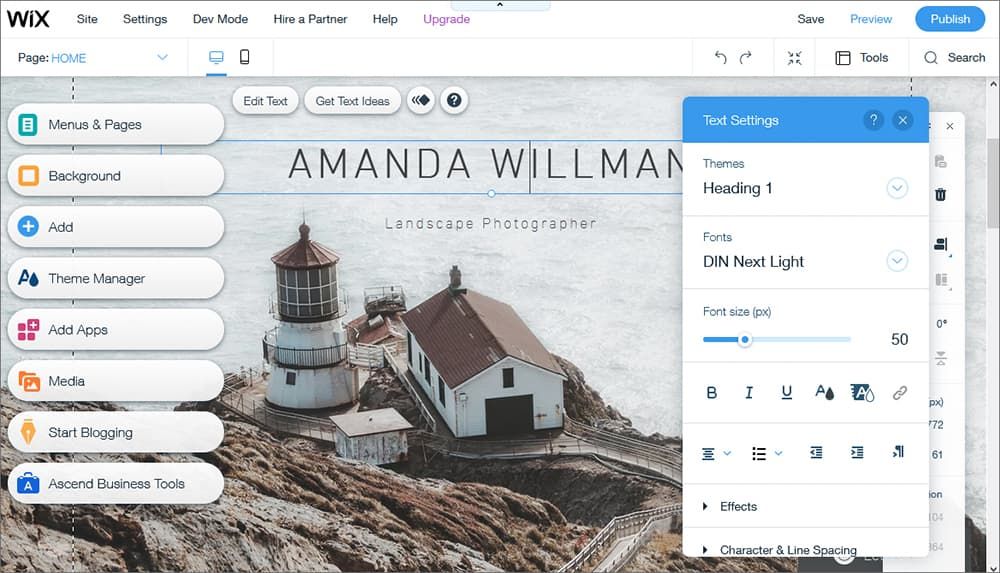 Wix drag&drop editor
Universal
Wix can be used to create many different kinds of websites. From simple blogs to comprehensive websites with forums, membership options, online stores, etc. – everything is possible with Wix.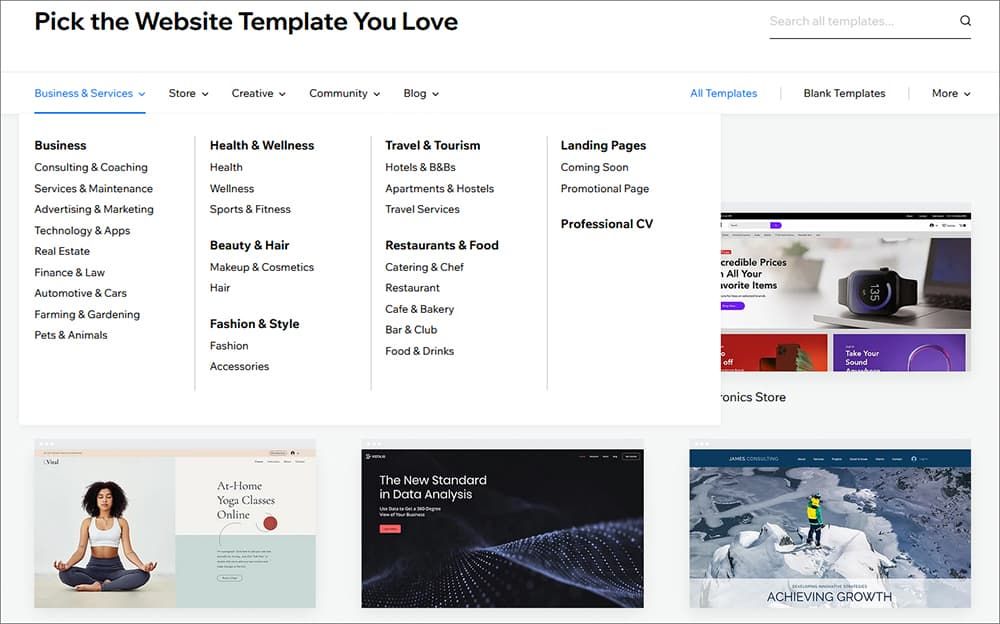 Wix website templates categories
Moreover, it has more template categories than other website builders. This means you can find the website templates for even some rare niches like driving schools, yoga instructors, farm produce delivery, and many others.

More than 700 Quality Templates Available
Wix is one of the leaders among website builders. And the claim is further substantiated by the fact that it has more than 700 template options. And these options cater to a wide range of color preferences and design tastes. Also, the template options that you get with Wix don't compromise on quality. All the templates are fully responsive and created by professional website designers.

Free
Wix's free plan comes with better functional capacities as compared to other platforms. Most builders limit their free plans to nominal features so that you can just try out the builder. But Wix offers a full-fledged, feature-loaded plan for free. Of course, the premium plans offer several more features. But for simple blogs and personal websites, Wix's free plan usually suffices.

AI Availability
Wix has recently started to use AI. And the use of AI makes website development even easier. If you choose the Wix Artificial Design Interface (ADI) mode, you can create a website by just answering simple questions about your site's purpose and your preferences (color scheme, style, font, and the like). AI will do the heavy-lifting for you. And your website will be ready within 10 to 20 minutes. This is a perfect option for beginners.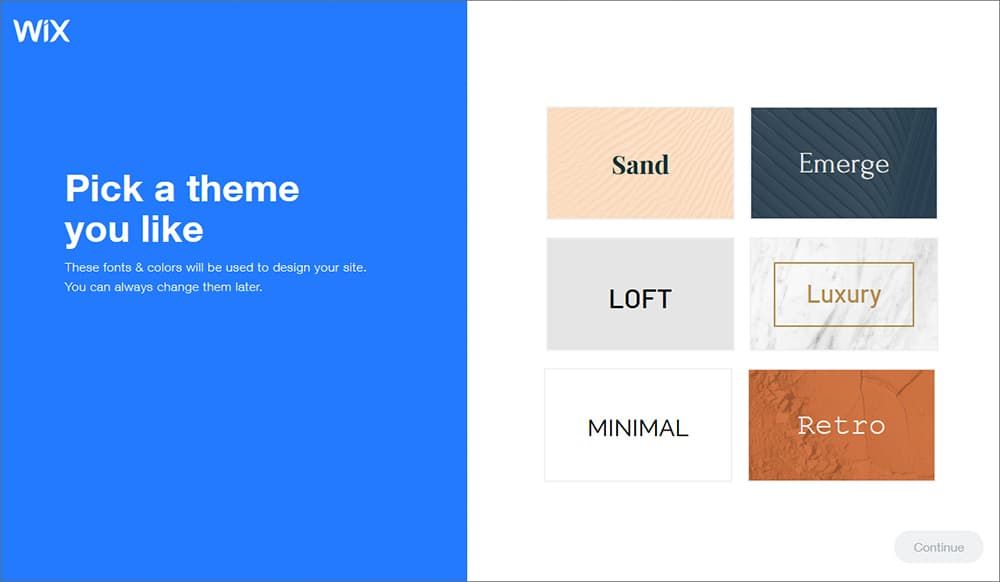 Wix ADI
More than 300 additional Apps
In addition to built-in functional capacities, Wix offersaccess to more than 300 different apps through the WixAppMarket. These specialized apps allow you to perform even more detailed website customization and open up new functional avenues. And the best part is that all these apps are available for free.

Embedding Codes and Custom Elements
For more experienced users, Wix allows embedding custom code, widgets, and custom elements to the websites. You can use the Velo by Wix option for this. And this is what significantly improves the standard Wix editor experience. While it doesn't give you the freedom to change the existing HTML code of the website, you can certainly add some more elements that you may need.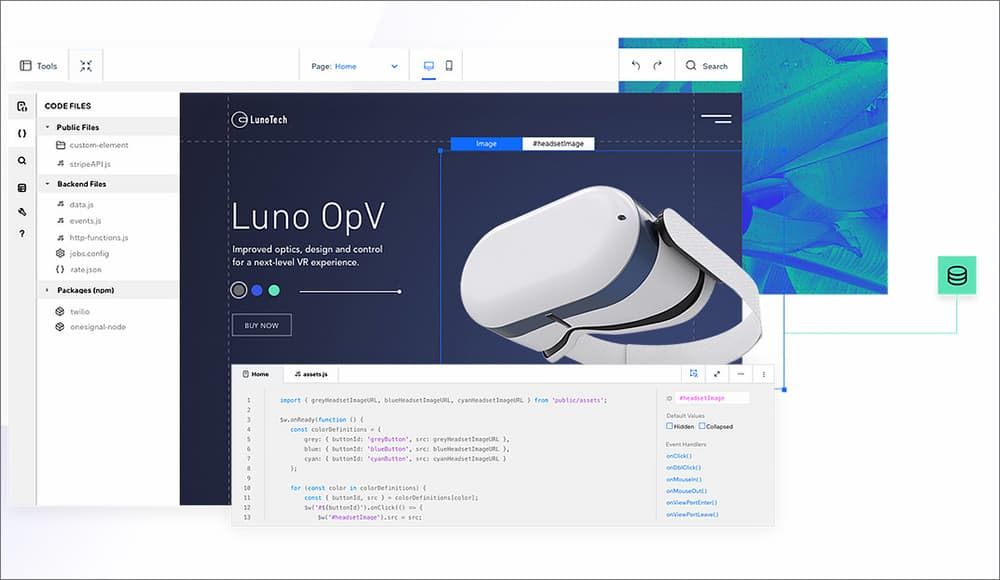 Wix Embedding Codes and Custom Elements
If you're a beginner webmaster, this feature won't matter much to you. But, for advanced users, it is a huge plus.

Security
All the websites created with Wix have SSL security certificates. It also applies to free Wix websites. Most free website builders don't offer an SSL certificate with the free plan. As opposed to WordPress and other CMS with open code, your Wix website won't need frequent system updates. That's why you needn't worry about security. Hackers won't get access to your website because you forgot to update it. No upgrades – no problems with website cracks.

Automatic Backups
In my opinion, Wix's automatic backup point creation is a perfect feature. It gives you an option to return to your website's previous version, that is, the one before your latest changes. It reminds me a bit of the "History" feature in Adobe Photoshop – just click on the latest save and go back.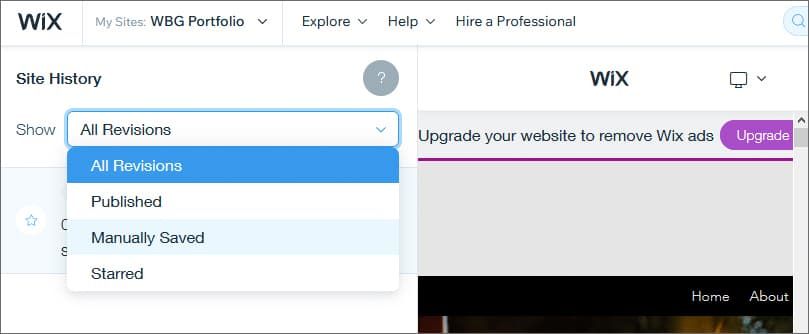 Wix revisions history
For whom will Wix be the best solution?
Those who have minimum knowledge of website development;
Those who want to develop a small website (up to 30 pages);
Those who want to create a free website;
Those who want to build a website for unusual and rare activity;
Those who want to set up small online stores;
Those who need a website for selling "virtual" products (photos, graphics, music, and so on).
How much does Wix cost?
Wix is a free website builder without any time restrictions on use. This means you can use a free Wix website for as long as you need. For more advanced functionalities, there are several paid plans that you can consider.
Shopify – Best for Online Stores
Shopify is the absolute leader among ecommercewebsite builders. A lot of website builders allow you to run online stores, but no one does it as professionally and thoughtfully as Shopify. And you'll soon realize why. Unlike most business website builders, Shopify doesn't try to be a universal solution. Instead, it specializes in helping users set up online stores.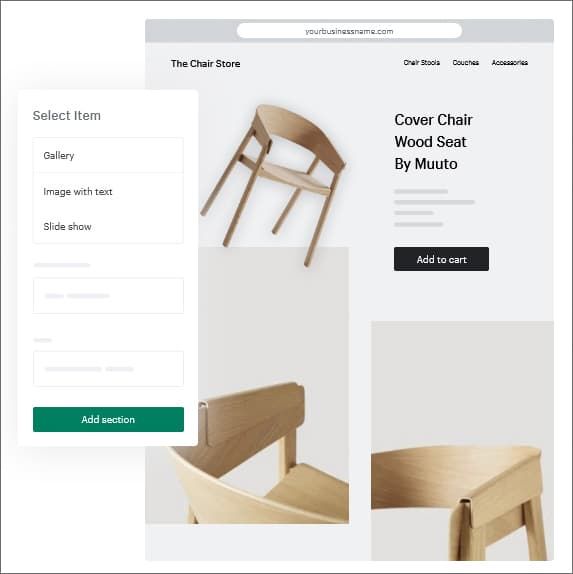 Sell with Shopify
And in time, Shopify has developed many functional options and extra capacities for online sales and dropshipping that it has left all its competitors way behind. However, in this process, it turned out to be more complicated to use. And, of course, more expensive. Although, this is not an issue given the sheer amount of capabilities it has. So, why is Shopify the leader among ecommerce platforms?
Highly specialized platform
Shopify isn't trying to please everyone. It just aims to become the best online sales and dropshipping solution. And this specialized focus resulted in lots of functional options and extra ecommerce apps. Plus, there are all sorts of free and premium ecommerce themes. All these were created with a great understanding of how ecommerce businesses operate.

More than 100 free themes and thousands of premium options
Shopify has both free and premium themes from third-party developers. For example, there are more than 1200 premium themes for Shopify sold on ThemeForest alone. Premium themes allow making your online store's design more unique. Thanks to so many options, you'll able to find appropriate themes even for selling products in rare niches.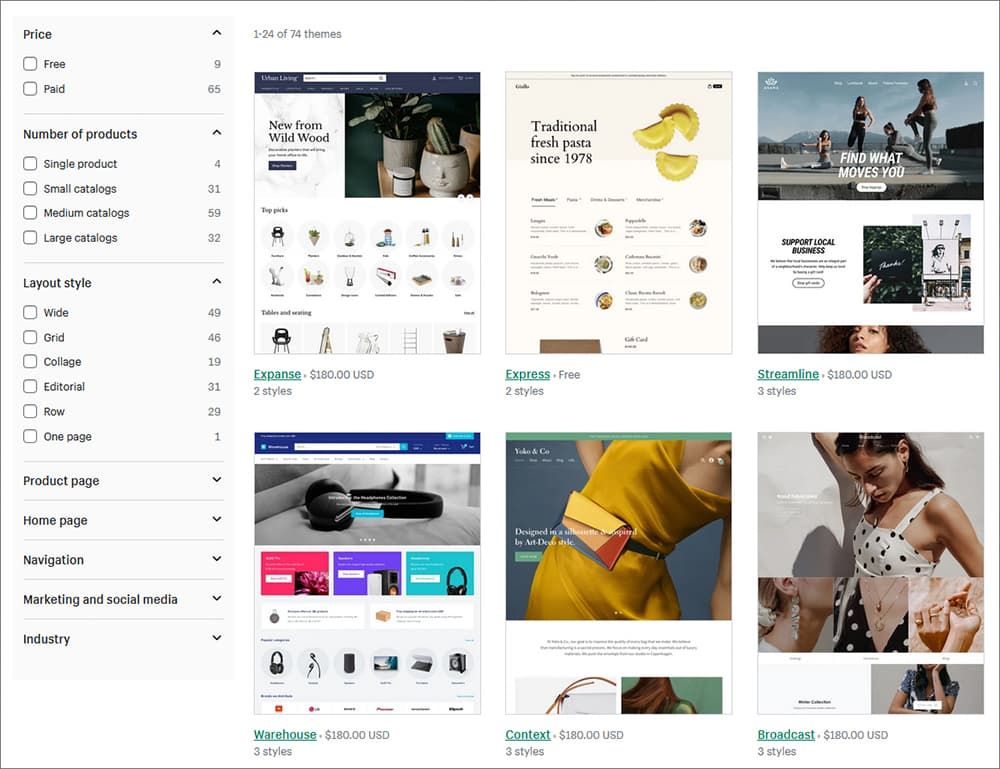 Shopify templates
Hundreds of useful apps and plugins
Shopify has lots of free and premium apps and plugins. These were created to significantly improve the functionality of Shopify online stores. I've highlighted this in red for a reason. And it is that these apps can provide an important competitive edge for your ecommerce business.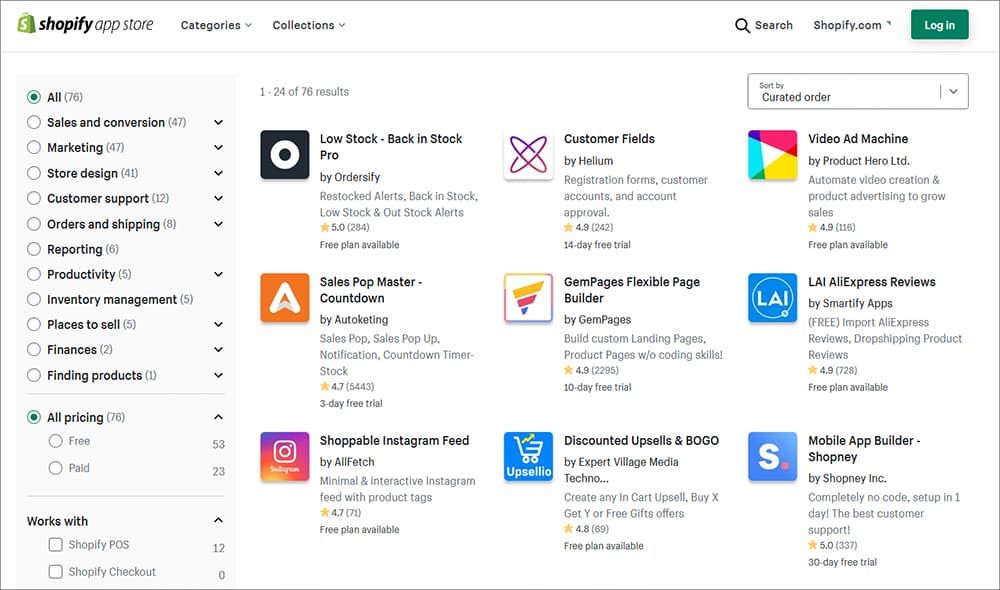 Shopify app store
Here are some examples of Shopify apps and plugins and what they do: Judge.me – You get automatic client mailing that requests to leave a comment about a purchased product. You can either send the request via email, push notifications, or SMS. You can quickly collect real client reviews on your e-store and increase conversion through this. Oberlo – It a great pick for dropshipping. This app interacts with your suppliers, and orders are serviced semi-automatically. Shipping tracks are automatically entered. And the shipment of the order by the supplier is automatically confirmed. ROI Hunter – It integrates with your Shopify site and sets up dynamic Google and Facebook ads. For Google ads, this plugin independently creates a product feed and remarketing tag. And for Facebook ads, the plugin creates a product catalog and Facebook remarketing pixel. Moreover, ROI Hunter can configure dynamic remarketing ads. It shows ads to visitors who expressed interest in your store but left without making a purchase. Ali Hunter– it automates the analysis of dropshipping products and stores on AliExpress. It aids in finding new products and also analyzing and tracking competitors' stores. This plugin can save you several hours.

Shopify Shipping
Shopify Shipping is a unique offer that helps save money on goods delivery within the USA. You can buy and print discounted shipping labels when filling an order. At the expense of Shopify and DHL's partnership arrangements, UPS and USPS, you can extend delivery discounts to your clients up to 75%.

Shopify Payments
With Shopify, you can use PayPal, Stripe, Square, and other payment intake solutions. But there is also a built-in solution – Shopify Payment with several advantages:
Financially beneficial
: With Shopify Payments, there are no extra Shopify fees.
User-friendly
: All the tools are accessible in a single Shopify account. You don't need to shift from the payment system account to your Shopify store account.
Shopify Fulfillment Network:
a possibility to use Shopify warehouses for goods storage and delivery to clients. It is similar to the Amazon Fulfillment service.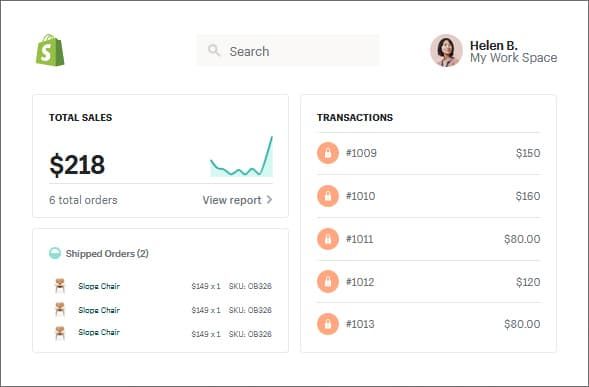 Shopify dashboard
Integration with trading platforms
Shopify has several options for integration with some popular marketplaces and trading platforms like Amazon, eBay, Facebook, Google Shopping, Instagram, and more. This allows store owners to sell goods on their site as well as on other popular trading platforms at the same time. This is a convenient feature and helps save a lot of time.
For whom will Shopify be the best solution?
For dropshipping salesmen who already sell their goods through Amazon, Instagram, and Facebook and now want to broaden their market by setting up their online store.
For those who wish to set up medium-sized or large online stores.
For quick ecommerce business startups within the USA.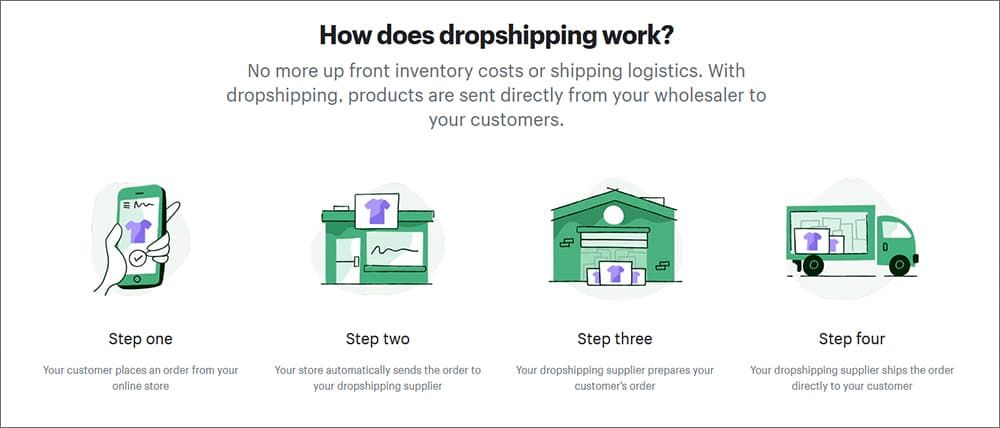 Shopify dropshipping
How much does Shopify cost?
Shopify doesn't have a free plan. But it offers a 14-day free trial (no card required). After this period, you'll get the option to switch to one of the premium plans. The plans are Basic Shopify ($29 per month), Shopify ($79 per month), and Advanced Shopify ($229 per month). More details about Shopify plans.
Squarespace – Perfect Website Builder for Photographers
Being a professional website designer, I personally like Squarespace. It is one of the few website builders that help you make beautiful and aesthetically flawless websites in a minimalistic style.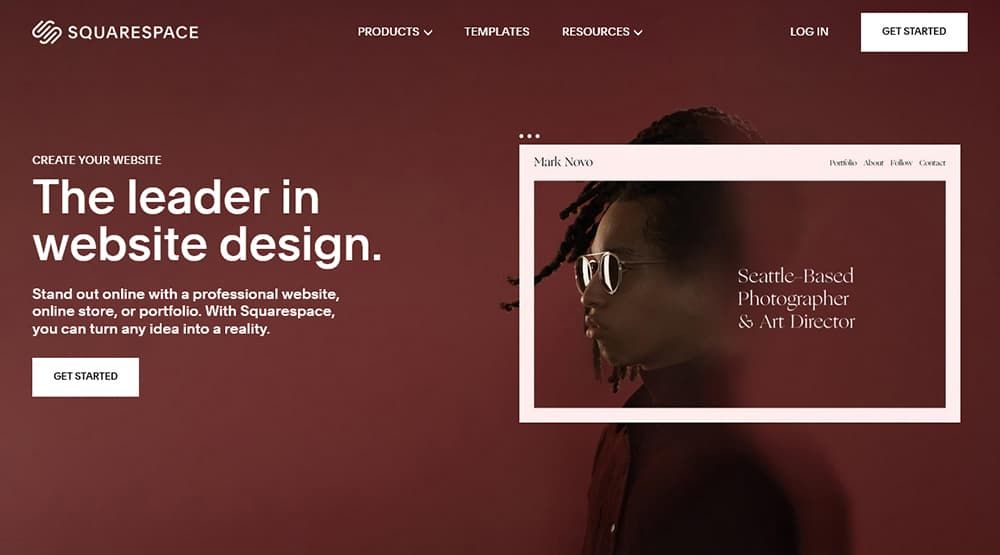 Squarespace
Squarespace was initially created as a website builder for photographers and artists to create great portfolio websites. This platform is for people and web developers with artistic taste, to summarize it briefly. The latest Squarespace 7.1 version comes with more functional capacities than ever before. But truth be told, most of them are far from perfect. Now let us understand Squarespace's peculiarities in detail.
Dreams Come True for Photographers and Artists
Betting on visual content demonstration, Squarespace can satisfy the tastes of even the most demanding photographers, designers, artists, and other creatives. Website visitors need to be shown photos, graphics, and videos from the best perspectives. And Squarespace is one of the best website builders for such purposes.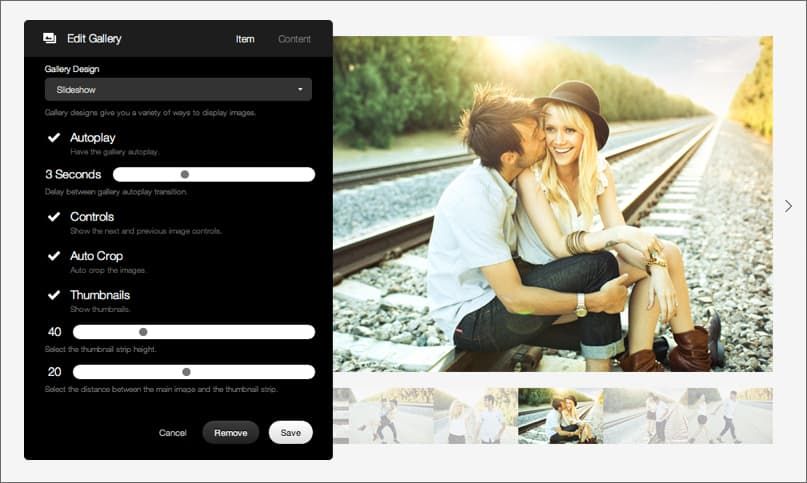 Squarespace editor
Moreover, you're can easily get sales with the help of visual content. For this, you'll need the Business tariff plan, though. (Check its price here.)

Excellent Template Design
Squarespace has the most beautiful website templates in the market. Of course, there aren't too many options (about 100 templates are available). And not all categories are available either. But the templates that are available are beautiful, of high quality, and fully responsive.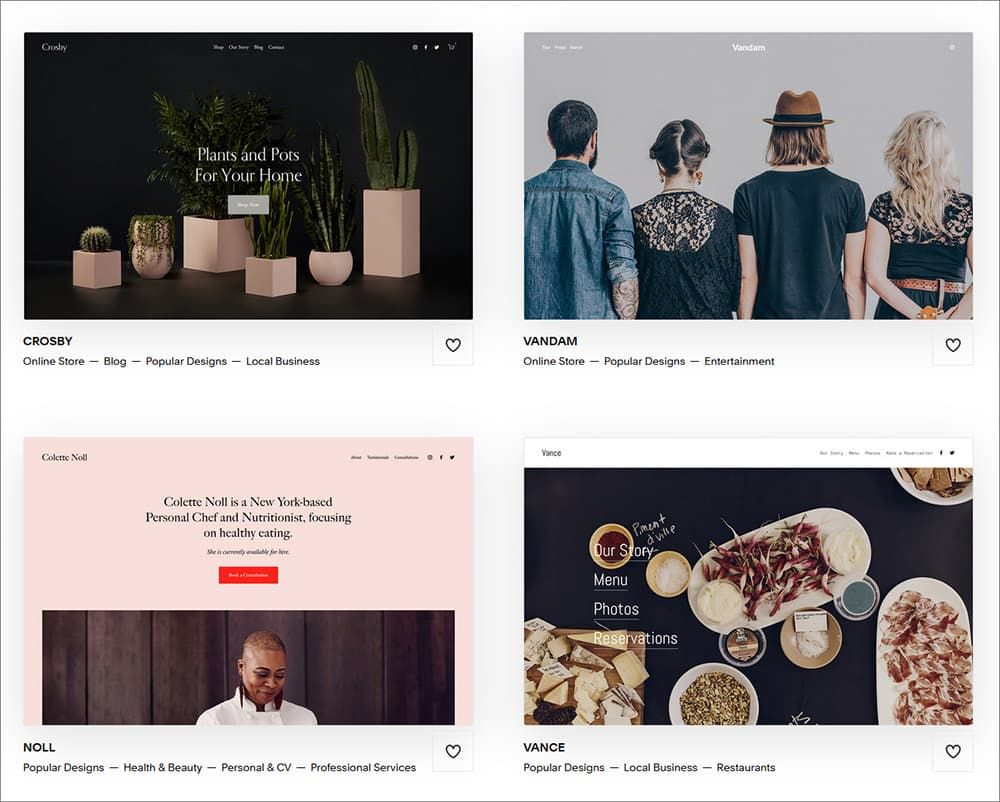 Squarespace website templates
NOTE:
Squarespace templates often use a minimalistic style, complemented with large beautiful images and big yet simple design elements. It's well-suited for small sites that aim at showcasing their photos or their products' photos in the best light. However, don't expect your Squarespace website to look spectacular if you, for example, are a lawyer and your site is focused on legal services.
Greater Opportunities for Blogging
Squarespace is perfect for creating a blog. It has a lot of valuable functions that include a simple way to edit posts, deferred publication planning, rich customization of the comments system, AMP support, RSS, tag adding, the possibility to add several authors for one post at a time, iTunes podcasting integration possibility and many more.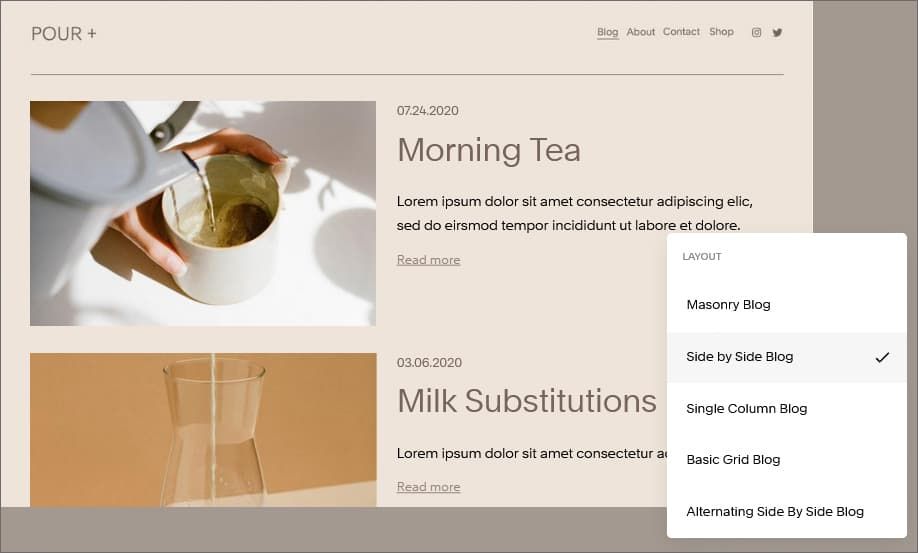 Squarespace blog option
Drag-and-Drop Editor
Squarespace has a built-in drag-and-drop editor for easy customization of your website. It allows you to change the design by simply dragging and dropping the required elements at the required place on a page.
NOTE:
Squarespace's drag-and-drop editor isn't bad. But my personal experience suggested that it is not so intuitive and requires some getting used to. Unlike other top website builders, Squarespace's drag-and-drop editor comes without a traditional dashboard on the left side of the screen. Instead, all the options appear after clicking on template design elements. That's why if you have already used technically advanced website builders like Wix or Weebly, then you'll need some extra time getting used to Squarespace's drag-and-drop editor.
Free SSL Certificate
There is no free plan in Squarespace, but the monthly plan charges that you pay include the cost of an SSL certificate, which is a great thing.

Squarespace Analytics Tools
Squarespace offers its own solutions for website visitor analytics through the built-in Squarespace Analytics App. Integration with Google Analytics is also possible in case you need more data.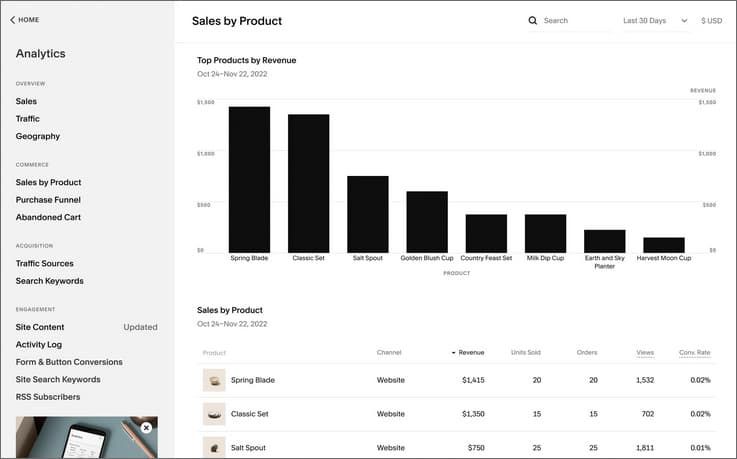 Squarespace analytics tools
Unlimited Bandwidth and Storage Space
Squarespace offers unlimited bandwidth and storage space for all plans starting from the most basic one. There is also no limit on the number of web pages your website can have.

For whom will Squarespace be the best solution?
For photographers, designers, artists, and anyone else who needs a stylish portfolio website;
For bloggers who are looking for an alternative to a WordPress blog;
For those who wish to build a small ecommerce website that sells designer things, handmade goods, posters, photos, or graphics;
For those looking forward to developing a personal website, like public figures, musicians, sportspersons, and show-biz stars.
How much does Squarespace cost?
Squarespace doesn't have a free plan (but there is aa 14-day trial) and it can hardly be called affordable. The lowest-prices Squarespace plan starts at $12 per month (paid annually) and is commensurate with the top competitors' plans. A more functional Business plan costs $18 per month. The Basic Commerce plan allows online sales without any transaction fees and will cost you $26 per month. Advanced Commerce, the most powerful plan, requires you to shell out $40 per month. It includes all the capacities that Squarespace has on offer for its clients. Check out a more detailed view of Squarespaceplans.
Webnode – Best for Multilingual Websites
Webnode is one of the oldest website builders (created in 2008) that is constantly developing and making its clients happy. And today, there are over 40 million websites all over the world that are powered by Webnode. Now I'll tell you exactly why people trust Webnode and what it's got better than its competitors. Though it has some cons, too, the strong pros make Webnode a value offering.
Beautiful and Responsive Templates
In 2016, Webnode rolled out an important update with its drag-and-drop editor and website templates. At the moment, it's got a collection of more than 200 beautiful and responsive templates. All of which are available for free.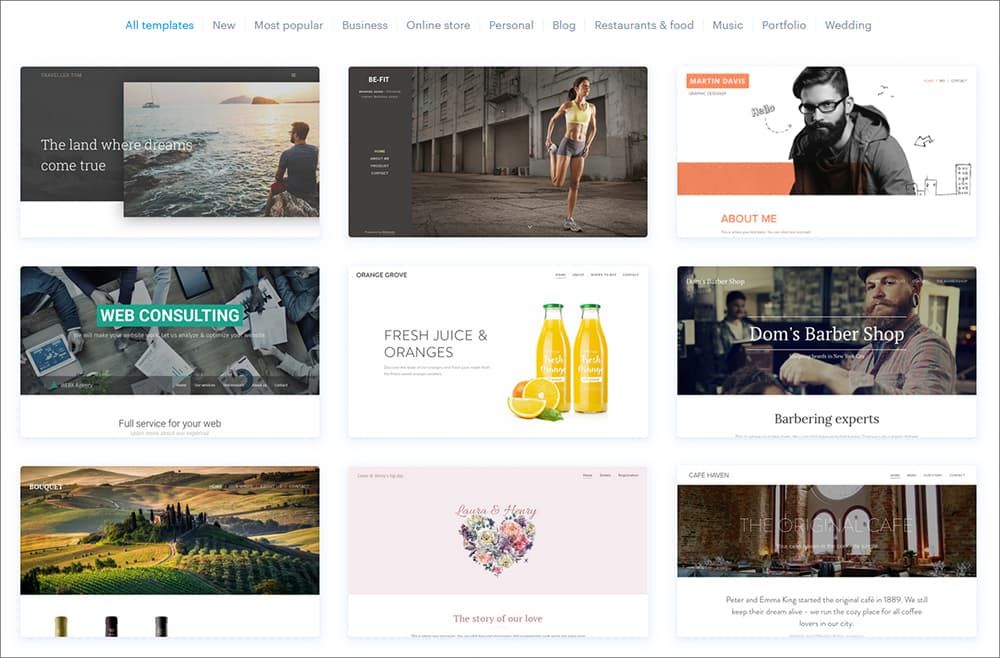 Webnode website templates
Easy-to-Use
Webnode is far from being a leader in functional capacities since it falls behind Wix and Weebly. Nevertheless, it is intuitive and user-friendly. Webnode is convenient even for beginner users.

Ideal for Multi-Language Websites
Webnode allows for multi-language website development as it supports 20 languages. That figure is higher than what any other website builder supports. And that's what makes Webnode the best website builder for launching multi-language websites.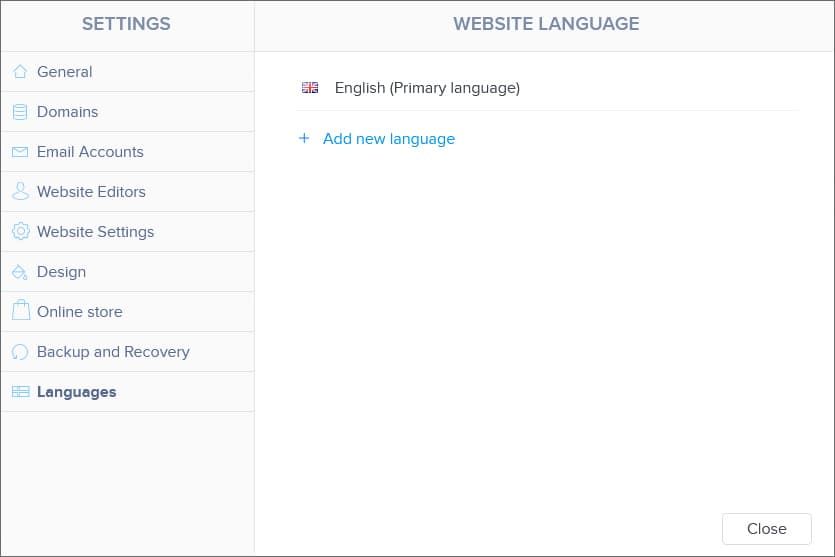 Option to choose any language
NOTE:
To create a multi-language website with unlimited language support, you need the Profi plan ($22.90 per month). With the Standard plan ($12.90 per month), your website would support only two languages.
No Limit On The Number Of Pages In The Free plan
Webnode is a free website builder. With the free plan, you can develop a fully functional website, get free hosting (100MB storage and 1GB bandwidth), and a free third-level domain name. Also, there is no limit on the number of pages that your website can have.

Free SSL Certificate for All Plans
Webnode takes responsibility for your website's security and offers free SSL certificates for all websites built using it. (Including those that have been developed for free.)

Website Backup and Recovery
Webnode allows creating backups and recovering previous versions of your website. This function will especially please beginner webmasters who can easily correct mistakes using this feature. Backup creation is possible in two ways – online and offline. With the offline option, you can save your website's backup directly on your computer. Find out how to do that here.

Adding HTML/CSS Code
Webnode makes it possible to easily add HTML/CSS code and extra widgets. You can add your HTML code to the header, footer, or anywhere else on your website.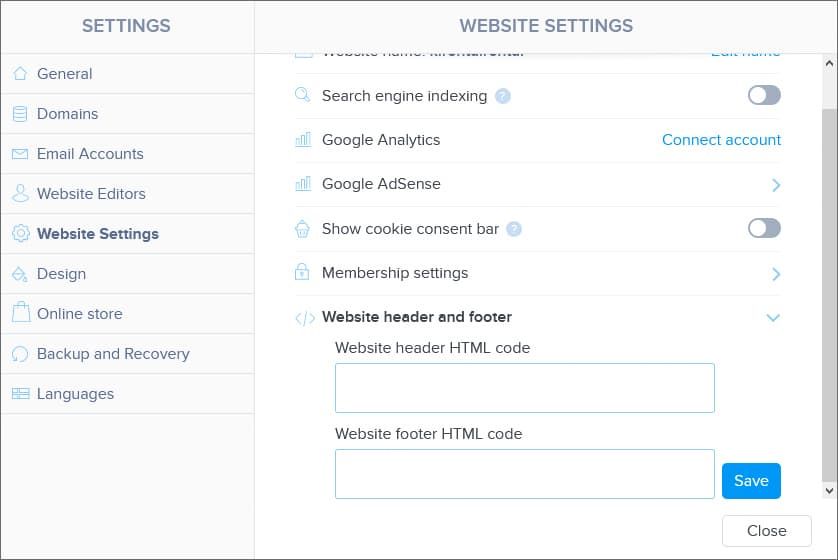 Option to add HTML/CSS code
Visit here to know how it can be done.

Affordable prices
Another great advantage of Webnode is its affordable premium plans. As compared to other top website builders, Webnode has the lowest prices. Like Wix, Webnode also has a simple Connect Domain plan that costs $3.90 per month (against $5 for the Wix plan). The most basic premium plan, Mini, costs $7.50 per month. A similar plan with Squarespace costs $12, and as for Wix, it's $14. However, note that, unlike competitors, Webnode's Mini plan doesn't remove Webnode ads from your website. The basic eCommerce plan (Standard) is available for only $12.90 per month. Wix's minimum ecommerce plan costs $23, and for the basic Squarespace eCommerce plan, you'd have to pay $26. Shopify's basic plan costs $29. The price advantage is obvious – you'll have to pay much less with Webnode.

For whom will Webnode be the best solution?
But I recommend using Webnode in the following cases:
For multi-language website creation. Webnode is the best solution in the market;
For beginner webmasters who want to develop a personal website;
For making small online stores, since the cost of starting up an online store is low with Webnode;
For creating small business sites (using the Mini or Standard plans).
How much does Webnode cost?
Webnode offers a free plan without any limits on use and four affordable premium plans. The most basic Limited plan costs $3.90 per month. It is the same as the free plan but with the possibility to use your domain name. Mini plan ($7.50) has got broader capacities but doesn't remove Webnode ads. Standard Plan costs $12.90 and has got even more options, not to mention the possibility to make online sales. The top Profi plan costs $22.90. It's got maximum capabilities and supports all 20 languages for multi-language website creation. Here are more details about Webnode's plans.
Weebly – Best Free Website Builder
Weebly was the first website builder I ever used. It's one of the oldest online website builders that began operation in 2007.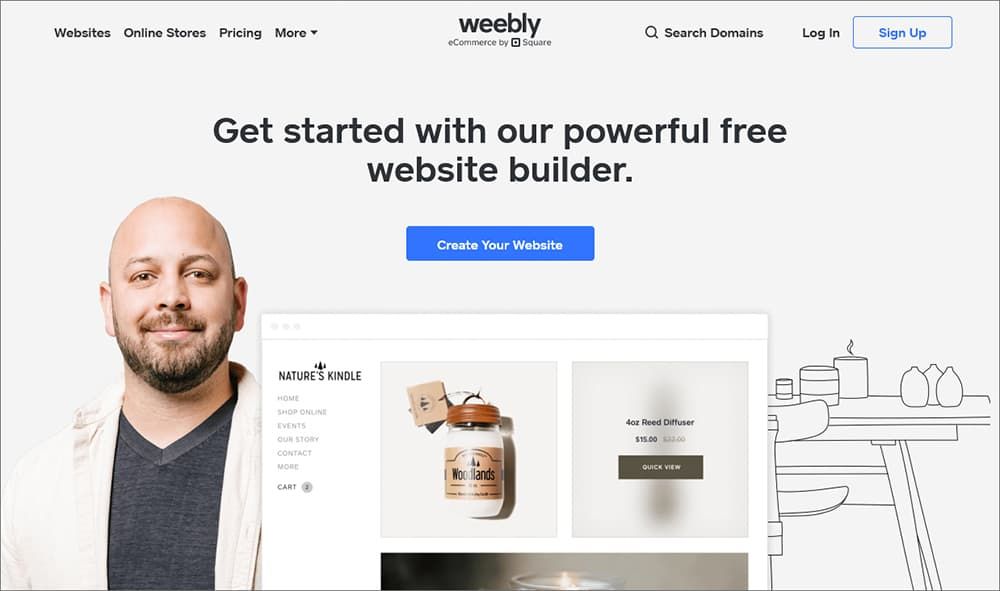 Weebly website builder
Being oneof the best free website builders, Weebly has lots of advantages, some of which you're unlikely to get with other website builders. What I like about this builder is that it's got a good balance (between functional capacities and simplicity of use) and has ample opportunities for creating larger sites. With regards to the latter, Weebly is second to none.
Easy To Use
Weebly is really easy to use. You'll have to spend the least possible amount of time and effort to master its interface. Weebly's drag-and-drop editor is extremely easy and intuitive, but I must say that it appeared to me not that flexible when compared to Wix.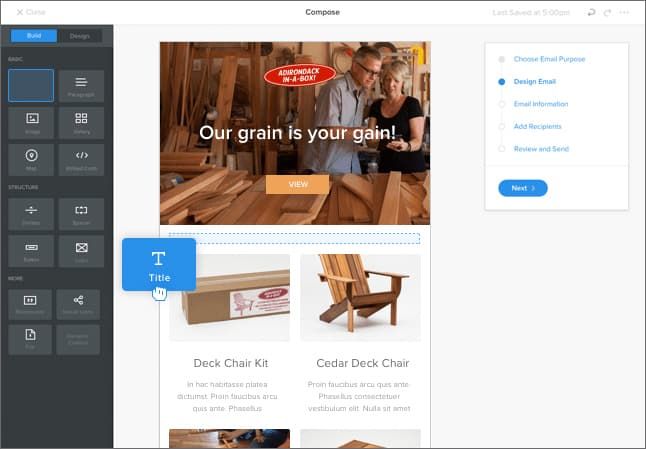 Weebly editor
I would have liked more capacities for changing templates and editing them. However, the ease and user-friendliness of this builder are still worth appreciating.

Perfect for Larger Websites
Most of the good website builders are aimed at small website development. They are limited in terms of pages, sections, categories, and subcategories. Moreover, managing larger projects using such platforms isn't as easy as you'd like. But all this isn't true for Weebly. Weebly, perhaps, is the best online website builder if you want to build a sizable informational website. It has a well-considered website architecture that is great for multi-page websites with a big enclosure of sections and subsections.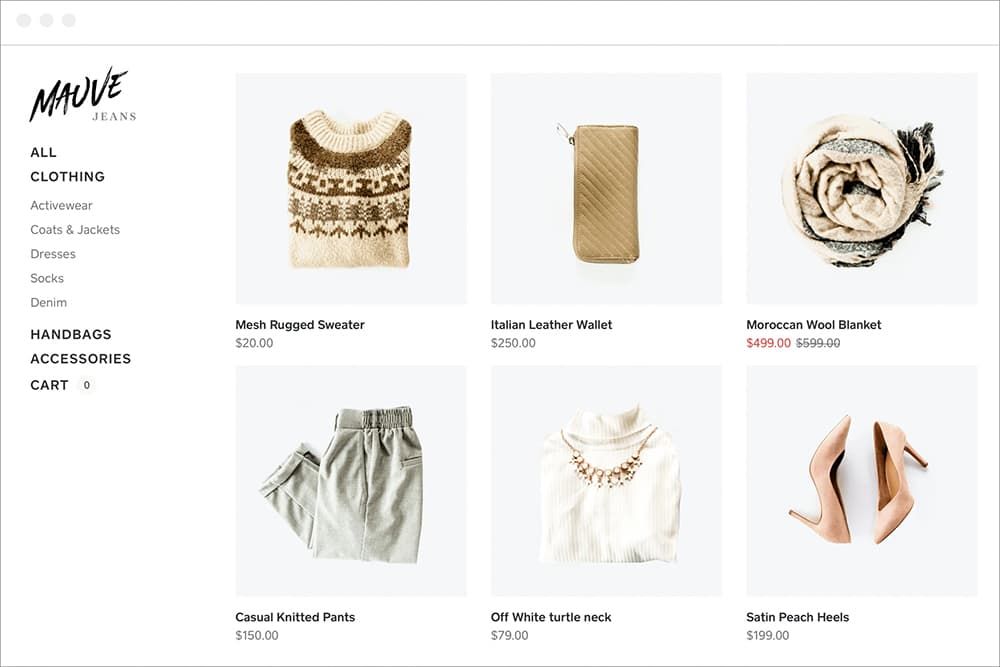 Website made on Weebly
Also, it is as easy to handle a larger website with Weebly as it is to handle a smaller one.

Unlimited Depth of Navigation
Weebly allows creating an unlimited enclosure of categories, sections, and navigation menus. That's what I felt lacking in Squarespace, where you can create categories for only first-level enclosures. Weebly automatically creates a drop-down menu for you in accordance with your multilevel website structure. It's really wonderful!

Membership Site Creation
Using Weebly, you can build membership sites with the possibility of showing certain content to only a certain group of users. It's possible to give them personal access passwords or let them independently register on the website to gain entry to the membership area.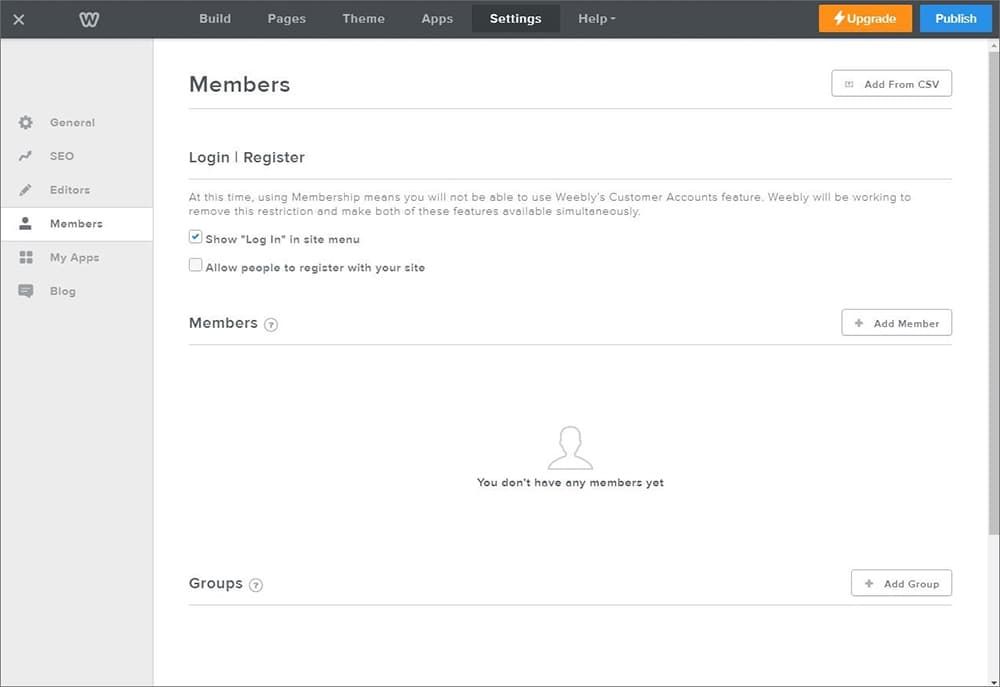 Weebly membership options
Learn more about Weebly membership features here.
NOTE:
Creating a membership website is possible with the Pro plan and plans above it. With the Pro plan, you can have up to 100 members. With the most expensive plans, the limit on the number of members gets lifted.
Adding and Editing The Website Code
It's been my long-held observation that experienced webmasters (especially web developers) consider Weebly to be the absolute leader among all online website builders. And that's not for nothing. The point is that Weebly, unlike most of its competitors, allows editing the HTML/CSS code of your website. It can be via the Embed Code element. And it is really comfortable to work with. You can edit the CSS code and see how your website has changed in the preview section. (Select the Auto Preview option in the settings.)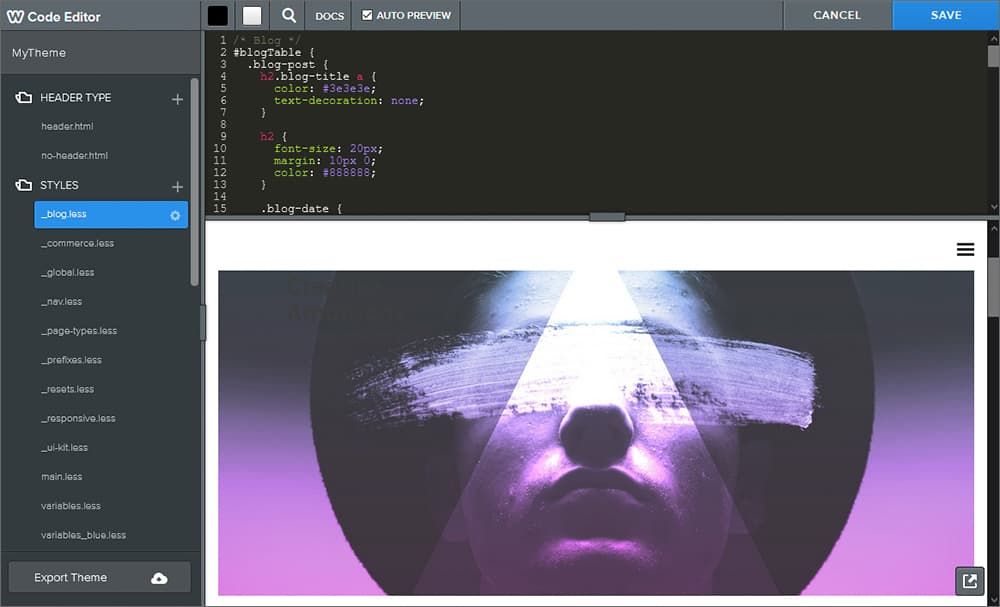 Weebly HTML/CSS editor
As a result, you can perform more accurate customization of your website as per your needs.
NOTE:
Be very careful while manually editing the HTML website code. Ensure that you don't accidentally make changes that may hurt your entire website's operation. Given that Weebly hasn't got an automatic website backup creation option (like Wix and Webnode), wrongly editing the code can create major problems for you. You'll have to contact Weebly support in order to restore your website. That's why you should edit the code only if you have the required skills and experience.
Apps and Widgets
Weebly has the Weebly App Center, where you'll find a great collection of apps, widgets, and tools to integrate with your Weebly websites. Judged based on the number of additional apps available, Weebly is the third-best platform (after Shopify and Wix).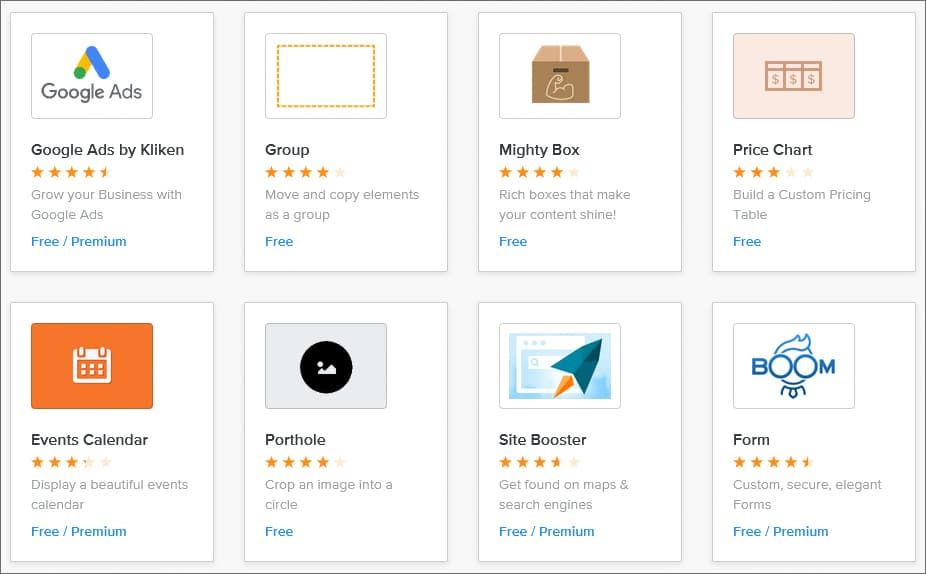 Weebly editor
Using apps and widgets allows making your website even better. For example, you can add complicated tables or text animations to attract your users' attention. What's remarkable about this is that the Weebly App Center can be accessed on all plans, including the free version.

For whom will Weebly be the best solution?
For creating bigger sites with a large number of pages and sections;
For creating free websites;
For beginner webmasters without any experience in site building;
For making business websites;
For webmasters with HTML layout and programming skills;
For making eCommerce stores.
How much does Weebly cost?
Weebly has one free and several premium plans. Note that Weebly has different plans for users from the USA and Europe. There are 3 premium plans for the USA: The Personal plan, available for $6 per month, allows adding your custom domain name. There is also a plan for $12 per month and the Performance plan for $26 per month. For European countries, there are 4 premium plans:
Connect (Similar to the personal plan, available for €6 per month);
Pro (Positioned as a plan for groups and organizations, available for €10 per month);
Business (For small businesses and online stores, available for €20 per month);
Business Plus (For larger eCommerce sellers, available for €30 per month).
Find out more details about Weebly's plans.
Jimdo – Good for Simple Small Business Sites
Jimdo belongs to the category of older website builders (it exists since 2007) that keep on evolving and getting better.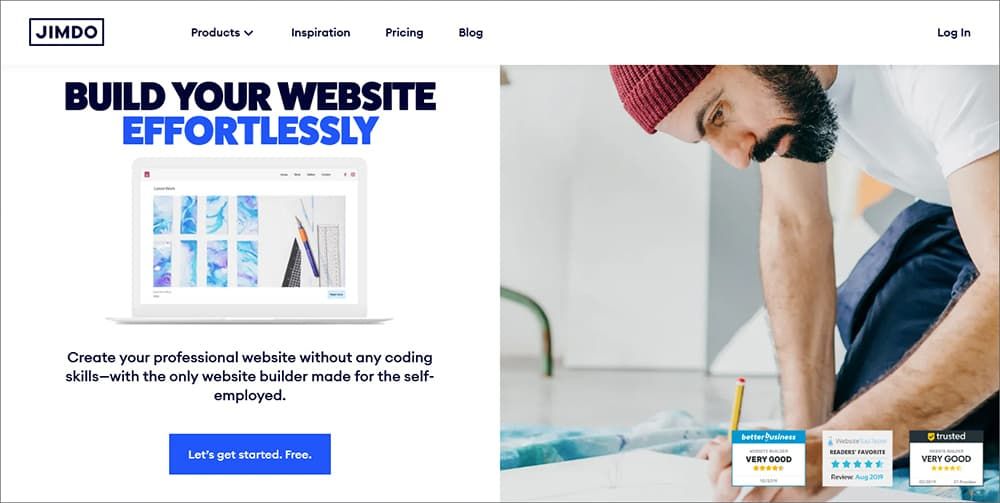 Jimdo website builder
In 2017, Jimdo released an artificial intelligence-powered version of its website builder – Jimdo Dolphin. Jimdo Dolphin is now one of the best AI website builders at a very affordable price. For the most part, it was Jimdo Dolphin's existence that made me put it on the best website builders list. Jimdo Creator, a version for more experienced users, appeared to me not functional enough. It contains more advanced settings than Jimdo Dolphin, but it's obviously a weaker variant than Wix, Weebly, and Squarespace. That's why when I'm talking about Jimdo, I mean Jimdo Dolphin.
Very Fast
Jimdo Dolphin is the fastest website builder among the ones that I have used. You can develop a simple but high-quality website in only 3 minutes. Literally, in just 3 minutes! If you spend about an hour on its final customization, you'll get a perfect simple website.

Very Simple
Jimdo's simplicity and user-friendliness are commendable. It was more comfortable and easier for me to edit a website using Jimdo Dolphin than using Wix ADI. The reason was that Jimdo allows editing websites in real-time. This means you can immediately see the results of your actions.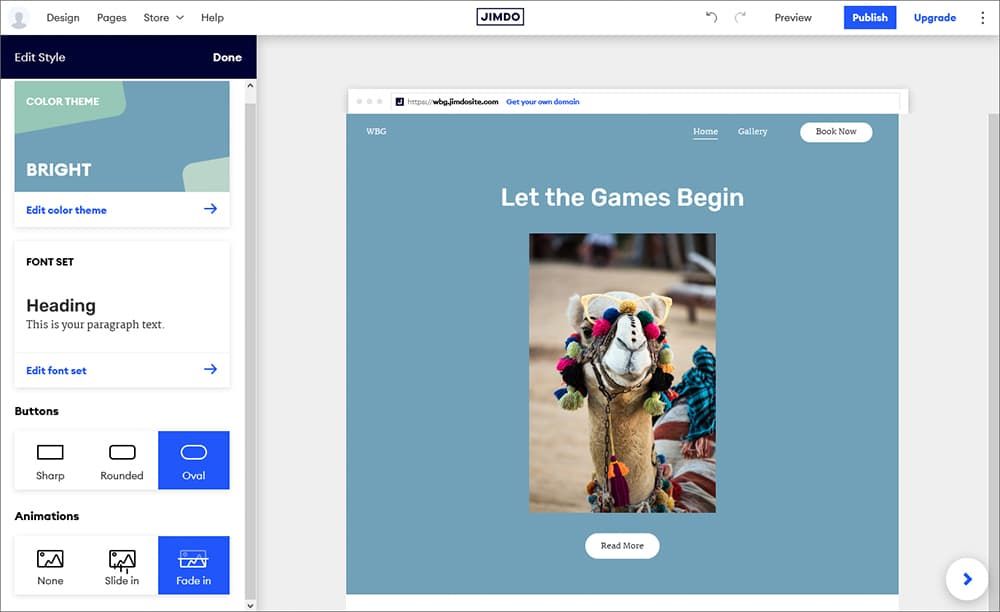 Jimdo editor
Free
Jimdo has a free plan – it's an undeniable pro, but in my opinion, its possibilities are very restricted. It's fair to say that there are some free website builders that have fewer restrictions and more functional options in their free plans.

Quality Website Templates
Jimdo offers beautiful and quality website templates. They look equally good on different devices like smartphones, older mobile phones, tablets, or PCs.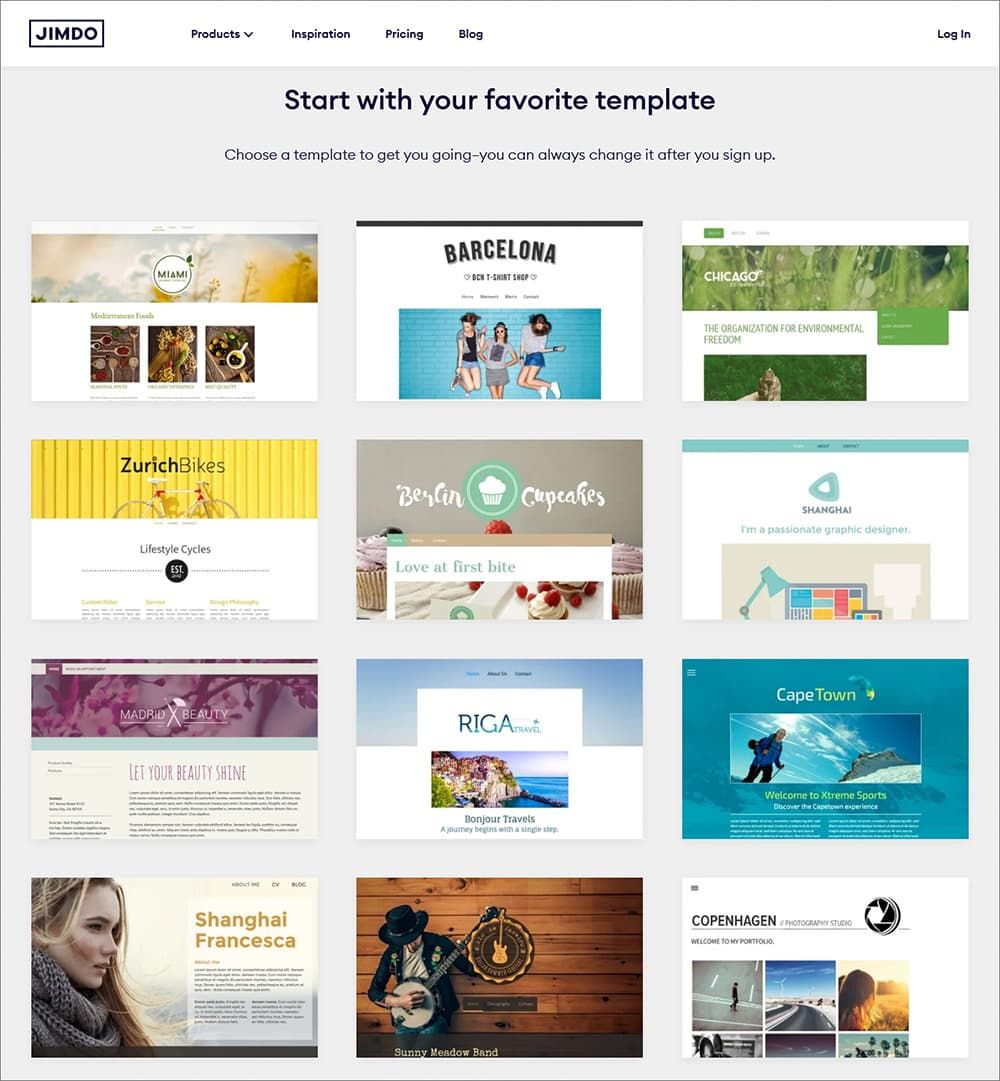 Jimdo website templates
NOTE:
Keep in mind that if you choose Jimdo Dolphin, you cannot switch to Jimdo Creator and vice versa. What is more, you should know that Jimdo doesn't support the possibility of HTML website code editing. Website editing is limited to what you can do using the visual Jimdo drag-and-drop editor.
For whom will Jimdo be the best solution?
For beginner webmasters with minimum skills;
For immediate website creation (when you need a website right now);
For developing simple websites for small businesses.
How much does Jimdo cost?
Jimdo offers 2 kinds of plans – for creating standard websites and for online stores. For standard websites:
Play – A free plan that is good for nothing but testing Jimdo;
Start – A basic premium plan without ads and with your custom domain for $6 per month;
Grow – Recommended for business websites (for $15 per month);
Unlimited – As obvious from the self-explanatory name, the plan has no restrictions. The cost of this plan isn't stated on the website.
For online stores:
Basic – Similar to the Start plan, but aimed at ecommerce (for $15 per month);
Business – For more advanced online stores (for $19 per month);
VIP – The top ecommerce plan, the price for which isn't mentioned on the website.
More details about Jimdo plans.
1&1 Ionos Website Builder – A Complete Solution
1&1Ionos is a well-known web hosting company based out of Germany. And it has its own universal website builder, which is not free, but is one of the cheapestwebsite builders – the basic plan starts at $ 1 per month. Like other reputed names in the domain, they offer not only hosting but also a website builder, and associated services, e.g. SSL certificates, email accounts, domain name registration, and WordPress hosting services.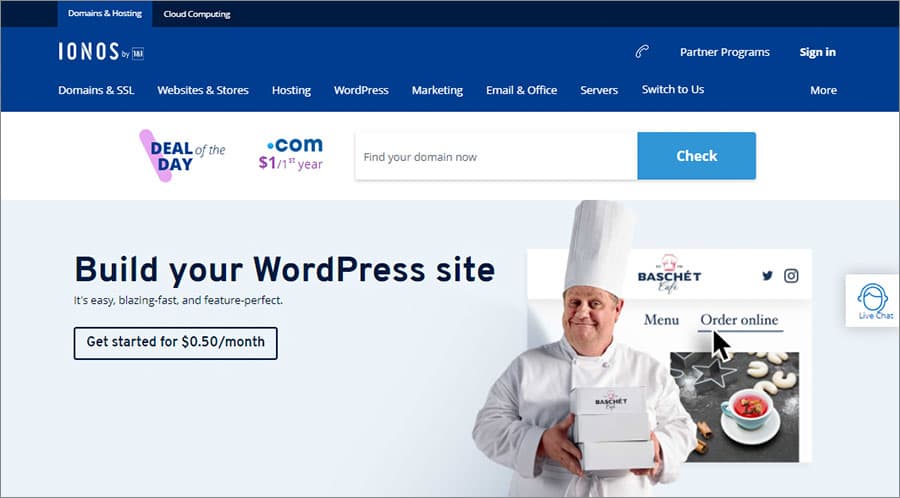 1&1 Ionos Website Builder – A Complete Guide
Wix and Weebly have made WYSIWYG editors popular. That's a mouthful and translates to "what you see is what you get". In simple English, a web editor that can be used with no knowledge of coding. IONOS provides a capable WYSIWYG editor that lets a newbie build a site in a few hours. Note that adding content to a site would take many days, if not weeks, but you can launch the website in a day.
Features of 1&1 Ionos
Highly affordable, with prices starting from a few dollars per year. Of course, that includes hosting and not domain registration or SSL.
1&1 Ionos offers all types of templates. Whether you want to start an online store or a photography portfolio site, there is something for everyone.
They have 12 million clients, 10 data centers across five countries, and 2000 employees. A highly dependable platform that assures maximum uptime.
One of the most reliable hosting services in the world. You would receive help 24×7 if something goes wrong from your personal consultant.
With geo-mirroring, data is always close to your location, reducing latency.
Pros and Cons of 1&1 Ionos
Pros:
The editor is straightforward and does not need a steep learning curve.
The left pane has tools that are intuitive, and changes are easy to make. A website editor that is perfect for absolute beginners who are looking to set up their first site with minimum fuss.
The template design facilitates SEO. Each page allows you to add page titles, descriptions, and SEO tags easily.
Easy to integrate payment options. Paypal, Stripe, and Square are supported.
Preview in three modes–desktop, tablet, and mobile. It is possible to perfectly configure the site for any device.
Quick loading speeds and no lag at all. The navigation is responsive and the e-store filters are well designed.
Cons:
Not enough templates. Those available are bland and cannot be personalized adequately. Most website builders offer at least several dozen templates to choose from.
No modification to HTML is possible. This severely restricts the user from adding elements. You can make alterations to the header, but nothing more.
How Should a Small Business Website Look Like?
A successful small business website has to look professional and be of the highest quality. Everything from its design to content optimization must be well performed. The user has to understand why the website is worth the attention from the first second the of his visit. If the company has a serious attitude to create a representative commercial site and does its best to ensure the visitors' convenience, it means that it appreciates customers and cares about its business development. The site should have a good hosting provider as well as an understandable and memorable domain name. The business owner should provide a full and trustworthy information about the company and its location. The overall content should be literate and unique. If you want clients to contact your company through the site, it makes sense to create a feedback form and provide an opportunity to leave comments on published materials. To maintain the interest of the audience to your business site, do not forget to regularly update the site content by adding new useful materials, relevant information or news. The small business site should always be customer-oriented. It will not only be a trading platform but also a place for interacting with the company's customers.

What Are the Advantages of Using Business Website Builders?
The main advantage of the website builder is the ability to work on your own without the necessity to hire developers or web designers. A set of instruments allows you to create websites of the same quality as those developed by private web studios or freelancers. This significantly reduces the cost for your small and medium-sized businesses. Such services are easy to use: in just a few minutes, you can create a pretty decent business card site due to pre-designed templates that users can choose and customize however they wish. There is just no need to write code or draw pictures. Downloading content is as easy as clicking the mouse. Whether it's text, audio or video file, everything can be downloaded online within seconds and change them at any time if necessary. Finally, most website builders provide hosting and domain services, which gives you a chance to craft and run the website from only 1 place.
How Website Builders Can Help With Small Business
Aside from saving your time and money, website builders provide several more tempting benefits for any eCommerce project: 1. Technical support on high-traffic days Website builders oriented for eCommerce projects will always have your back in times of heavy traffic days. During Black Fridays, Cyber Mondays and all the other occasions when the number of site visitors rises in times, the last thing they want to see is a 404 error page or get in the downtime hour. Similar situations lead to losing customers and respectively affect profits. With a good website builder, you can forget that such situations can actually exist. 2. Marketplace integrations 70% of online shoppers prefer Amazon over mom-and-pop websites, which proves the fact that eCommerce businesses should integrate their sales with Amazon, as well as other similar trustworthy platforms like Etsy, or eBay. However, tracking orders across multiple marketplaces is extremely difficult. To make the tracking process easier, some website building platforms (for example BigCommerce), provide this feature in their paid packages. 3. Modern payment options Paying with bitcoins is no longer something extraordinary, so when it comes to new payment options, online stores should stay tuned to the latest technologies. That's when website builders can come in handy. 4. Variety of unique tools Developing a large eCommerce project requires not only a standard drag-and-drop editor and some other basic features but rather more complicated and advanced options to make the buying process easier for any customer. Fortunately, giants like BigCommerce and Shopify offer a variety of tools for all kind of purposes, starting with managing sales and discounts to comparing products right on the website. Do you agree with our top 10 list? If you tested some better website builders for small business, please share this with one in the comments section.