How to Create a Forum? – Check Best Forum Software and Builders
WebBuildersGuide.com earns commission from some of the web builders and hosting providers listed on this website.
Learn more
Right from building an online community of likeminded people to dedicating a forum for customer queries clarifications, online forums can solve several problems in a quick, simple, and effective manner. Alongside with the best website builders the World Wide Web has some really special online forums catering to niches such as job exchange boards, college and university class discussion boards, customer support portal, and more.
As a webmaster managing a forum, you can leverage your content to attract the first few hundreds of members, and can then trust user generated content to take things on auto pilot. Once activated, a forum grows every day in terms of its content appeal, and of course, the member base. Monetizing a forum can be managed in several different ways. Also, you could make your forum double up as an online meeting place of subject matter experts, which can really make your reputation skyrocket.
Let's learn about some more special features, functions, capabilities, and applications of web forums, after which we will guide you with a list of some of the best, time tested, and proven effective free and premium online forum building software.
Online forums are like magnets for great content, and the best part is that you do not have to invest time or money in getting this content, as experts in various subject matters will automatically create and reply to threads on your forum. This makes the forum swell quickly, fast tracking your success and growth strategy's execution.
Sophisticated forums can double up as great sources of supplementary sales, as forum building software help you manage auctions, integrated payments, and fixed price sales easily through thread pages. At the least, you can redirect customers to sales pages through your forums.
Market analyses can be easily managed through a populous forum, as features like polls and surveys can be integrated with thread pages. This makes forums of great appeal for marketing consultancy services.
An online forum can be made to double up as a client support system, wherein customer queries are answered buy authorized personnel, as well as other customers. This proves to be a great boost to the marketing and customer support efforts of a firm.
Of course, managing online forums comes with some challenges also, such as effective moderation, differentiation in terms of interface and user experience, provision of advanced features without compromising security, etc. Though some best free website builders have opportunity to build forums with them – you should pay attention to specialized tools. Trust these best forum software to help you create, improve, and sustain your online forums, bypassing all these challenges.
PhpBB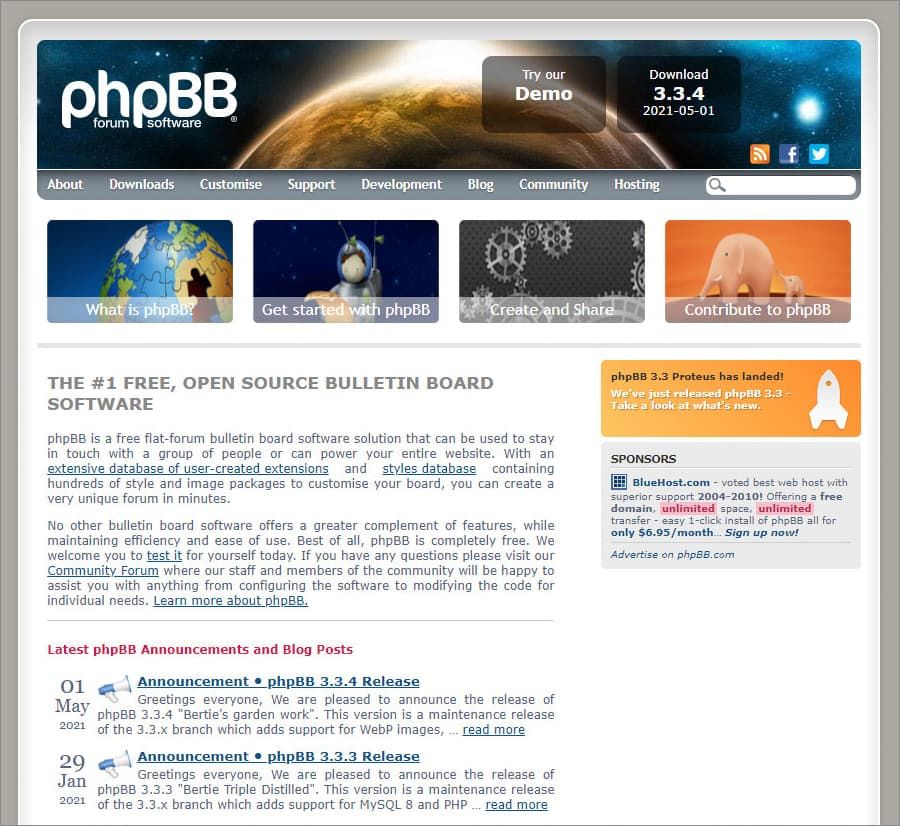 PhpBB is among the most widely used bulletin board software, being used by millions of forums across the virtual globe. Right from personalized forums helping geographically separated families and friend circles stay closely knit to specialized massive forums pertaining to niches such as internet marketing, online job exchanges, etc., phpBB is empowering millions of such web forums.
Discerning coders can easily write their custom codes and insert at proper places in the master code, all this without even having to seek permission from the parent body governing phpBB; this facilitates the creation of truly unique and customized forums. Dozens of modules and modifications are freely available, which can be plugged into the phpBB files to add more features to the software.
Also, revamping the look and feel of the forum board is simple enough with several style databases. PhpBB is a perfect blend of efficient forum management, smart customizations, and all this for free!
vBulletin 5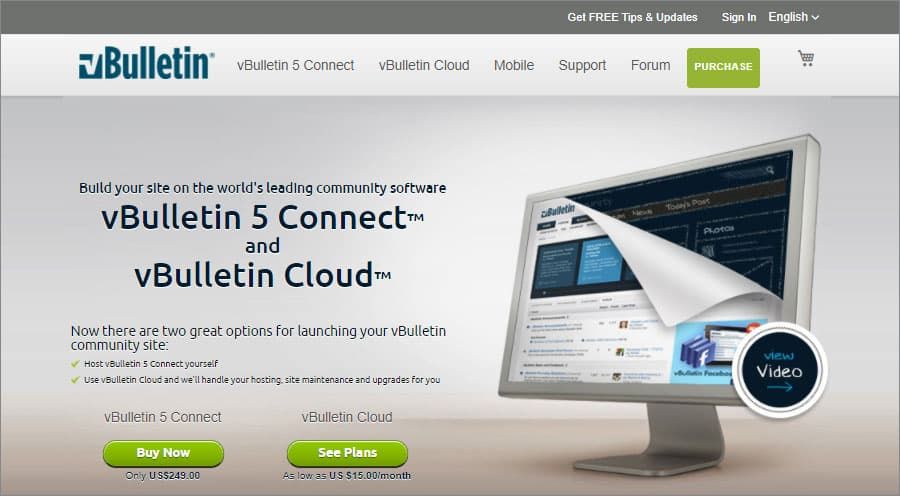 Developed by vBulletin Solutions Inc., vBulletin 5 is an Internet forum website builder. The software is great if you're looking to build a website using dependable community software. The vBulletin software package powers over 10,000 sites globally. vBulletin 5 in particular provides users with a easy to use engaging platform with a robust design, on a cloud based storage design.
This version comes with a newly developed UI that allows great social engagement. The new version of this site builder makes it easier for users to build their website, with customizable design templates. It is written in PHP and makes use of the MySQL database server.
vBulletin 5 is a great all in one package for those looking for an platform that allows for simple forum management, smart and easy customizations. It even features with mobile friendly version so you can build your website even when you are on the move.
MyBB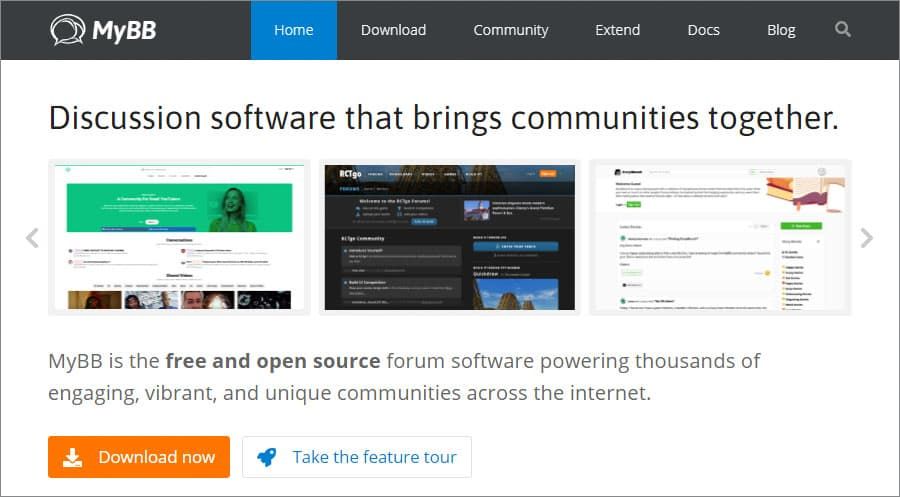 The MyBB forum builder software is a powerful, open source, intuitive and fully expandable software package that allows you to effortlessly build your own website, and is absolutely free. This forum builder comes loaded with all the high-end features that you would expect from a premium software bundle.
It supports everything including forums, threads, public posts, private messages, content and profile searches and everything you would expect from an efficient and engaging community website builder. MyBB also allows for extended functionality through the use of plugins and themes. This allows you to expand your community according to your preferences.
The software is so versatile that it even features a "Merge System", which allows you to switch from your old forum builder or any other popular forum software, with ease.
Simple Machines Forum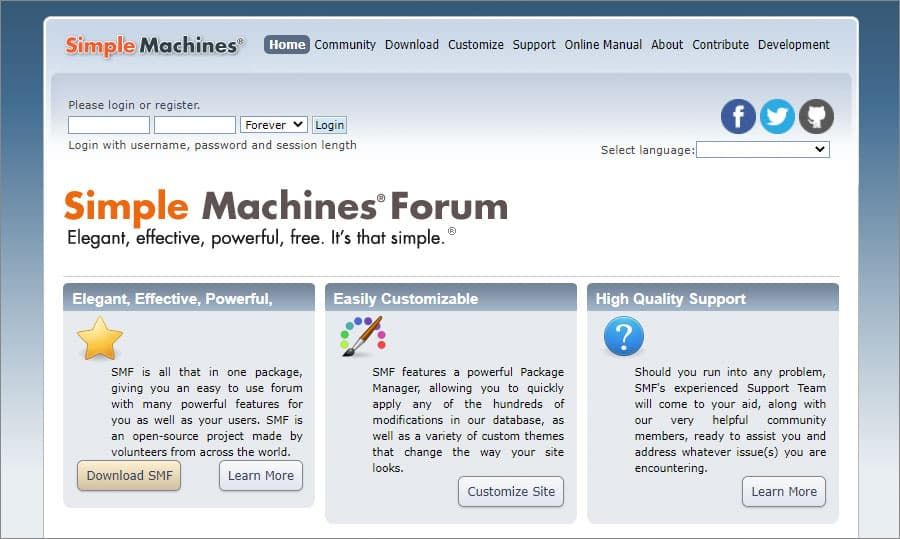 Simple Machines Forum is a professional-level, free, open-source forum site builder that is developed by hundreds of volunteers from communities across the world. It come preloaded with powerful custom made template engine that gives you complete control of the layout of your website or message board and it's unique Server Side Includes function allows your forum and your website interact with each other.
Simple Machines Forum is an all in one forum building software package that gives you an easy to use forum building platform that comes built-in with many powerful features for you as well as your site's users. Simple Machine Forum is a next generation forum building software that is written in the popular language PHP and uses a MySQL database.
Vanilla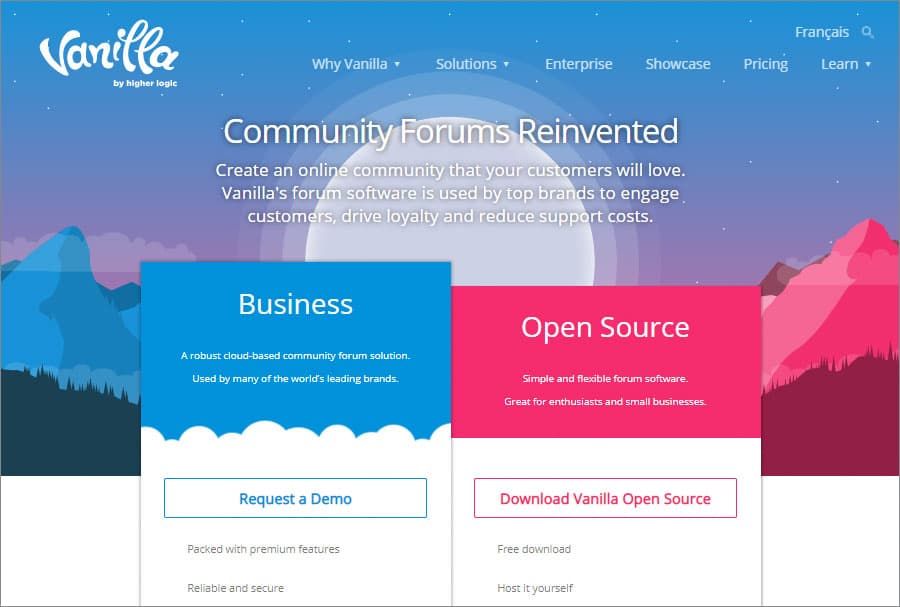 Vanilla is a cloud and open source-based community forum building software, which powers over 700 thousand sites, forums and threads. It is a highly flexible and integrative forum builder and is one of the most powerful community-developed software solutions in the world. Vanilla follows the design philosophy that all online communities should be spontaneous, engaging and should reflect the true values of your brand.
It is multi-faceted design that aims to provide you with all the features you could possibly need from a bulletin board based site, while at the same time, consuming the least resources from the server. The Vanilla site builder allows developers to create a customized community age that has and in-built rewards program for positive participation. It also has an auto-manage feature for content and even allows members to moderate the site.
PunBB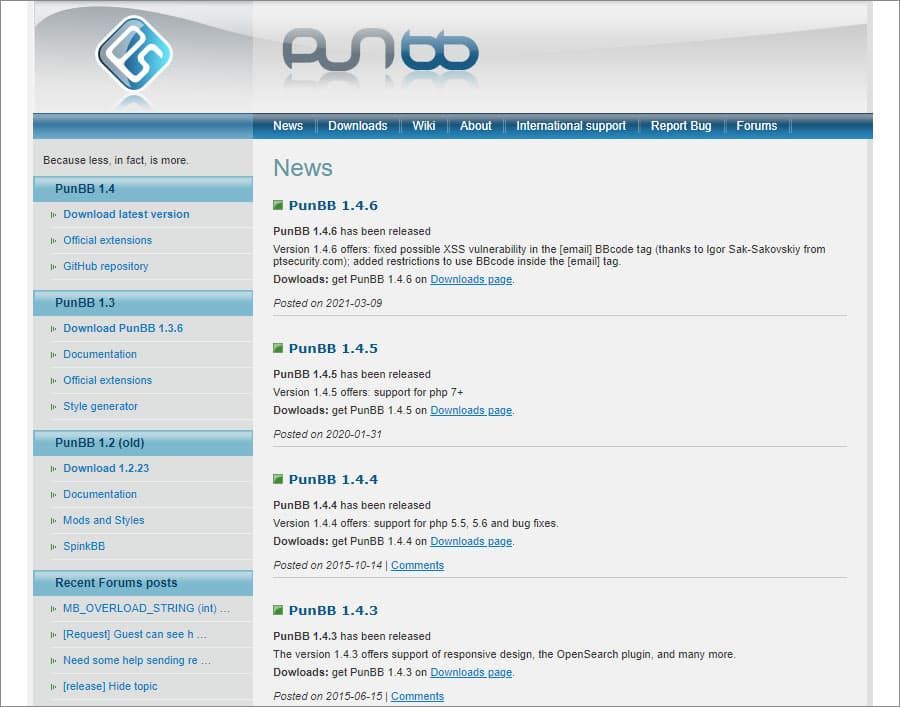 PunBB is an extremely fast and lightweight forum building software that was released under the GNU General Public License code. Its primary goal is to the fastest, most compact and graphic-intensive site building software, compared to any other discussion board software. It is also optimized to be faster and a more efficient forum board design template. The pages created using this software are XHTML-compliant.
PunBB is written in the widely used PHP language and requires hypertext pre-processing tools. The software also requires a cloud-based database to store the forum data, which is done using the support of MYSQL, SQP lite, and so on. And in the rare case that you run in to any problems, there is an experienced support team that is ready to assist you.
Invision Power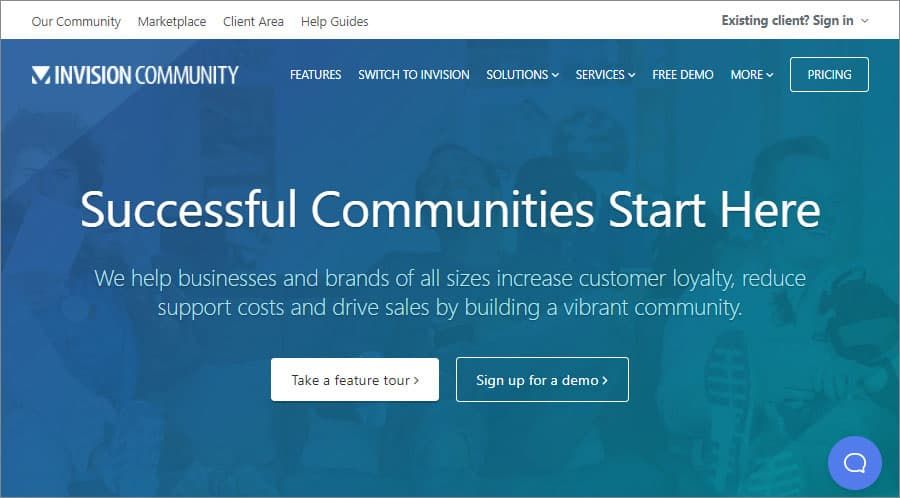 Invision Power is an open source forum building software package and allows you to setup your community website according to your needs. It is a highly flexible and integrated set of applications that provide a great platform for building web-based communities. Invision Power Services allows for almost every aspect to be enabled or disabled at will, along with many other configuration options.
It also allows developers to monetize their community with advertisement support. You can also sell products or subscriptions by adding IP Nexus. Invision power allows you to customize their software with your own combination of apps, hooks and images.
Search Engine Optimization is a unique in-built feature of Invison Powers and assists search engines in indexing your content, so that users can find it faster.
FluxBB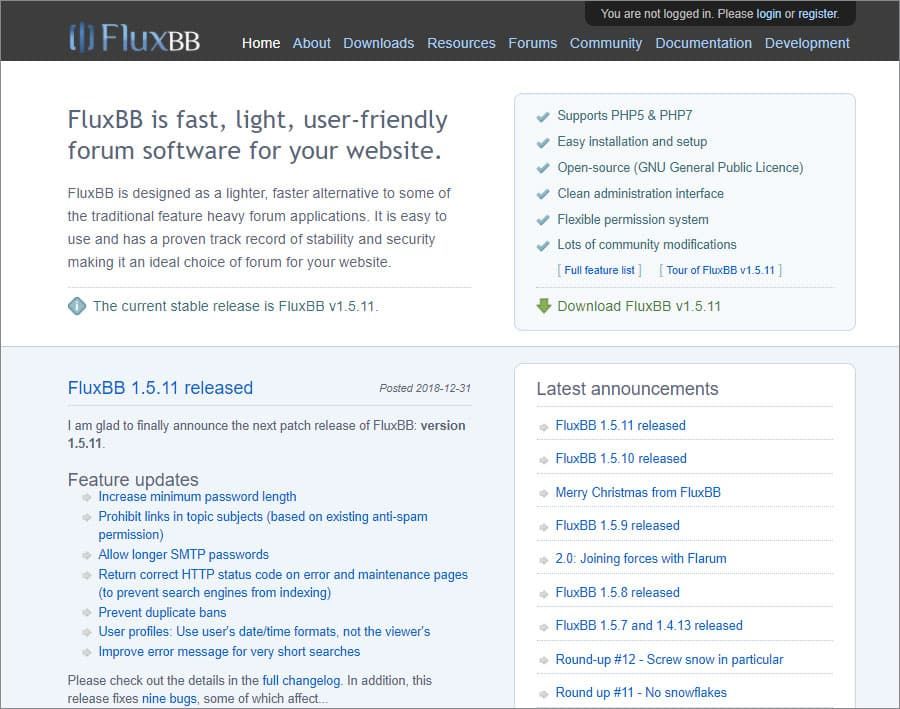 Boasting of super quick installation and set up along with a remarkable simple and clean user interface, FluxBB is a perfect speedy solution for those with pretty simple forum creation requirements. GNU General Public License gives you all the flexibility to tweak the backend, permission systems are flexible, community modifications are easily and freely available.
Prevention of all kinds of clickjacking attacks, enabling of direct action links to notification emails, streamlining of the forum building process, and improvements in the default styles have made FluxBB all the more powerful. Recently, anti-spam and security features of the platform have been ramped up, and smarter membership access privilege features have been added to the mix.
Use this free forum builder for effortless and quick forum website building.
Phorum
Phorum is among the oldest surviving forum creations software available today, so much so that the makers brand it as 'the original PSP and MySQL software'. Using Phorum, you can manage all kinds of web forum projects, right from message boards receiving 2,000 messages a day to networks of forums hosted on a single server.
Customization makes Phorum a really special forum building tool for webmasters, as they can include external authentication, message personalization, user profile experience customization, and more with the tweaks that the platform is able to accommodate. With the HTML coded templates, changing the front end of the website is as simple as 1-2-3, especially for discerning coding experts.
The package is available for free trial, after which you can go for the paid version that doesn't have an advertisements.