The Best Website Builders for Musicians
WebBuildersGuide.com earns commission from some of the web builders and hosting providers listed on this website.
Learn more
Internet is a vital part of how the music industry works today. Right from the way in which fans connect with their favorite artists and their works to the way in which budding artists spread the word about their creations, Internet is at the core of the relationship between musicians and their fans.
The usefulness of a website is as unquestionable for an established band as for an upcoming solo artist. Whether it is about sharing studio recordings of upcoming singles with your fans or seeking feedback about your releases – a website for musicians empowers you into maximizing your reach and doing more in less time in general. And by using best website builders you can easily create such a website. Here's a deeper look at how musicians leverage their websites for greater success in the competitive marketplace.
Reach out to those who are looking for you – More than being a practice that you just have to do because everybody who's successful in the music industry has a website, your web presence will enable you to quickly move up the popularity ladders as you will have a broadcast medium to share parts of your life with your fans.
Find out what people like – Especially for budding artists, it's important to know the notes that the target audiences like, for commercial success. With the help of Google analytics and other reports generated by the website platform, musicians can get dependable feedback about what's hot and what's not.
Intelligent marketing tools with a world of convenience – Marketing is as relevant for bands and DJs as it is for any product retailer. The music industry, even on local scales, is fiercely contested, and marketing can be the much needed advantage in these cases. With newsletter and other marketing tools at your disposal through your band's website, you can enjoy seamless marketing.
Sell your digital products and merchandise – A musician's website could prove to be a terrific revenue generation channel, and intelligently used, could even blossom into a full-fledged music oriented selling store. Established bands and DJs can sell their studio creations as well as branding merchandise with minimal hassles through their websites.
Social media and blogging leverage – Credibility and reputation are integral for your success as a musician, and your website is a top notch tool to establish both. A breathtaking website design populated with engaging content that can go viral are enough to speed track your career as a musician.
It is easy for you to assume that creating a website that can do the above mentioned for you will be a time consuming and expensive venture. However, the thought is as naïve as natural. What you need is an introduction to some of the established and specialized best website builders for musicians, DJs and bands, and all those who have anything to do with music. Clubbing together the most eye catchy designs with the most desirable features of immense worth to artists, these musicians website builders can be a source of competitive advantage to all those musicians out there. So, take a loot at the best website builders for musicians 2023.
Bandzoogle Band Website Platform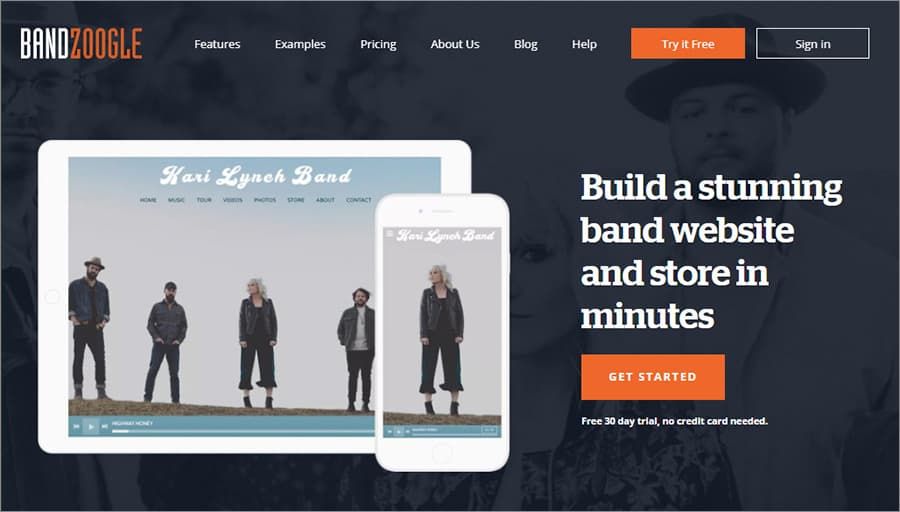 An odd name is not the only thing that's noticeable about this professional website builder for musicians. In fact, you will find it one of the best website builders for musicians that provides you two of the most sought after benefits you can ask from a website builder – ease of operations, and range of features.
With a website building interface that you can manage without knowing the first alphabets of HTML and CSS, powerful social sharing tools that let you reach out in the true sense of the phrase, and web store management features that help you sell your songs as downloads as well as well-packed CDs, and much more – that's what's lined up for you at Bandzoogle.
The 5 minutes route to a website – Hard as you might find to believe, your music website can be up and running in as little as 5 minutes with Bandzoogle's intuitive website builder. Without any CSS or HTML knowledge being required, and top class themes that make your website look thoroughly professional, Bandzoogle is an ideal website builder. Also, you will find easily available buttons to add features like music player, blog and forums on your website.
Sell in style – Whether you wish to offer digital downloads or want to sell band tees or other merchandise, your Bandzoogle website will stand up to the requirements. You will enjoy the flexible pricing options it offers you, and will also appreciate the fact that you can generate secure codes and use them innovatively to offer enjoyable purchasing experience for users. Also, selling aids such as international shipping rates calculator and out of stock notifications make your store management a breeze.
Apart from the ones mentioned above, some other cool benefits packed into Bandzoogle's services are:
Email blasts feature allows you to send out powerful marketing messages to a carefully built mailing list, along with providing you feedback on the effectiveness of the emails
Automating posts for your social networks is a wonderful benefit offered by Bandzoogle, and you can leverage it to inform your viewers and listeners about your upcoming concerts, performances and releases
Power packed reporting features give you much needed information about where your visitors come to your site from, which locations they are concentrated in, and what kind of music they prefer!
BandVista Band Website Builder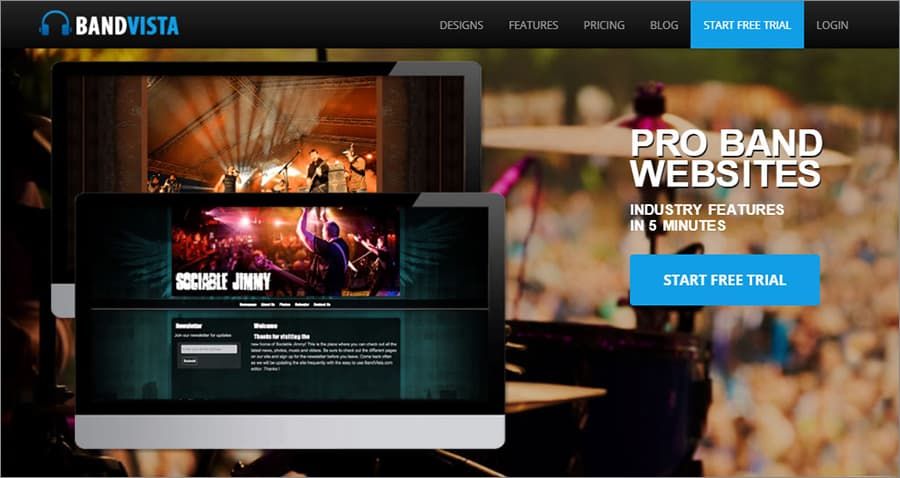 If a hassle free website building experience is what you want, look no further than BandVista, an acclaimed free musician website builder making it amazingly easy for musicians and DJs to build their ready to rock websites. You can get your website up and running within a few minutes, and that after you get to choose from hundreds of mind blowing templates tailor woven for the requirements of musicians.
Moreover, BandVista offers all industry standard features expected from a music website, such as the ability to leverage social sharing and online selling of digital and physical goods.
Point and click based website creation for appreciable results – With BandVista, you get the flexibility to decide everything about your web pages, right from their name to the layout of features and content on them. You can features such as calendar, text, HTML/text and so on, up to a maximum of 4 features per page, using which is very easy and quick. Other features include photo gallery, newsletter, hit counter and audio player.
Agile multimedia handling to help you create a vibrant website – BandVista surprises you with the depth of flexibility it offers in terms of the multimedia features of the website. Header image management features allow you to choose from multiple headers and let you crop images effortlessly. A site-wide audio player goes a long way in making the browsing experience of the visitors more enriched, with you having the option of adding multiple tracks to the player, allowing it to play them as users browse through the website.
That's not all; there are other attention grabbing benefits offered by BandVista
Social connections can easily be put to great use using the social sharing options incorporated in BandVista, thus enabling you to make superb use of your Facebook and Twitter profiles
Marketing oriented features such as Newsletter allow you to connect with audiences in different ways
You can even sell your songs and recordings as digital downloads using your BandVista website, and can also throw in some merchandise to add to the worth of the online store
You can integrate a blog into your website with a single click using the blogging feature of BandVista, something that makes your website all the more attractive for your fans
WIX Free Website Builder for Musicians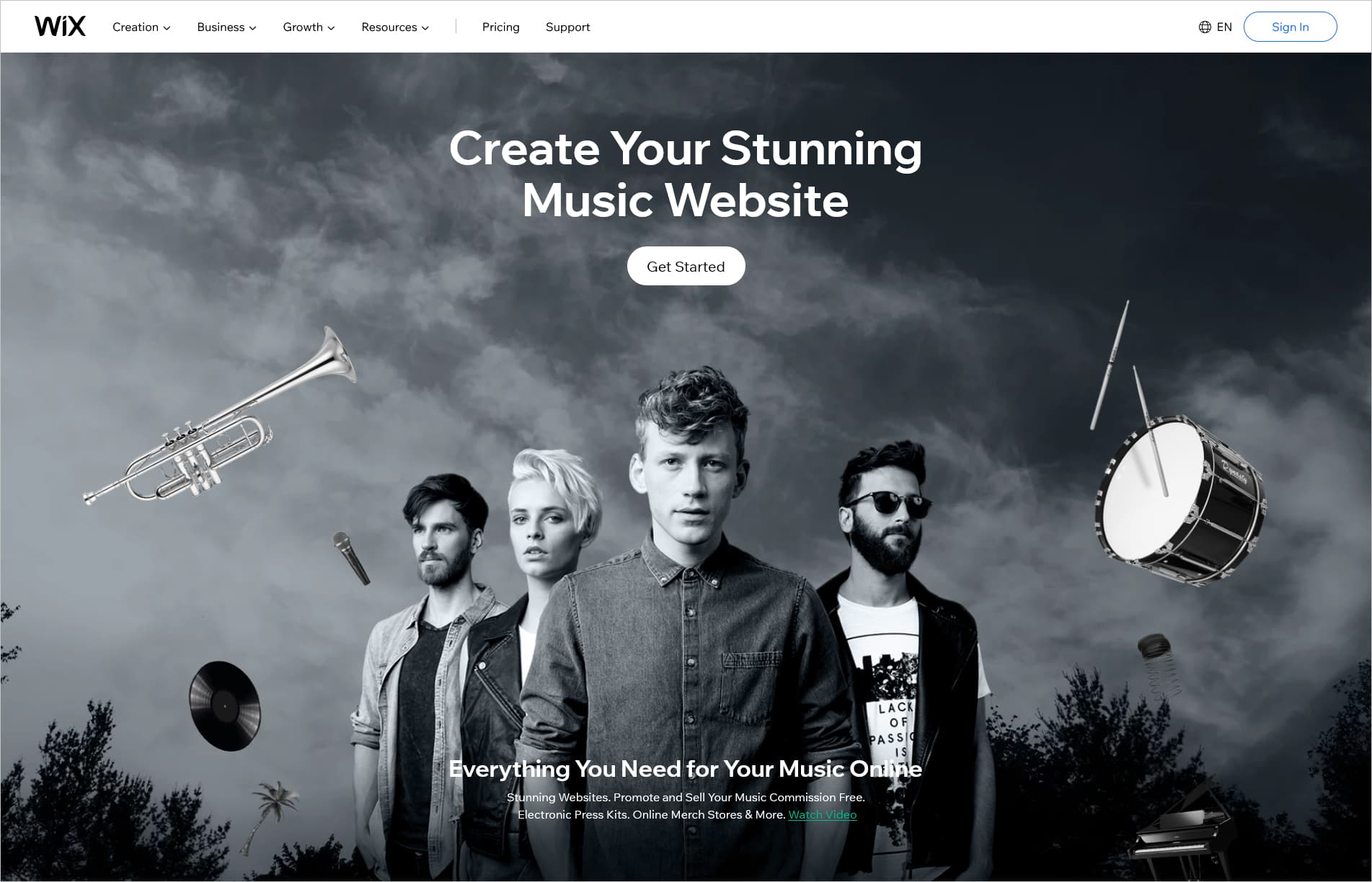 Just like a versatile musician can never go out of business, a versatile website builder never goes out of favors of its users and those who need such builders. Wix is one such website builder, and considering the breathtaking music website templates it offers to you for free, there is every reason to justify musicians choosing Wix over other more dedicated music oriented website builders.
Beginning with the professional looking templates on offer, continuing with the customization capabilities it packs into the interface, and going right down to the mobile optimized website featuresforums – Wix is a world of surprises and delights for any musician, DJ or singer looking to leverage a fine looking and power packed website for greater success.
Pure drag and drop for pure pleasure – Enjoy the breeziest website building experience possible with the drag and drop styled website editor. That you don't need any HTML or CSS knowledge is just one part of the story; Wix allows you to customize your web pages so that they look absolutely unique and unlike anything else. Free fonts, image editor with more than a dozen superb features, page transition effects to blow your visitors away, and page protection features to limit access – all this and more await you with Wix website builder.
The social impetus – As a musician, you need to be everywhere when people want to connect to you. With terrific social media and blogging features being offered by Wix, you have every reason to be excited about how you can make the most of your social connections. Right from on-page Facebook comments and Likes to addition of icons such as Pinterest and Twitter on the web pages, there is every social media tool you can desire, available with Wix. Also, blogging assumes a much powerful shape than what's enabled by other website builders, as you can add categorization tags to your posts, publish purely media based posts, and style your blog the way you want.
Among the other interesting features up Wix's sleeve are the following:
Enjoy power packed online selling with options such as integration of your online store with Facebook, inventory management, coupons generation and management, tax and shipping calculation, and what not
Use the Wix app market to enhance the functionalities of your website in the way you want, with some of the popular apps including Gift Cards, contact forms, Dropbox and flash elements
Upcoming singers and DJs looking to sow seeds of acclaim in local markets can use the SEO features of Wix to make themselves and their website more relevant, with popular features including an SEO Wizard and automatic site map generation
VIDEO Tutorial – How to build a free website on WIX? Step-by-step guide
ReverbNation Band Site Builder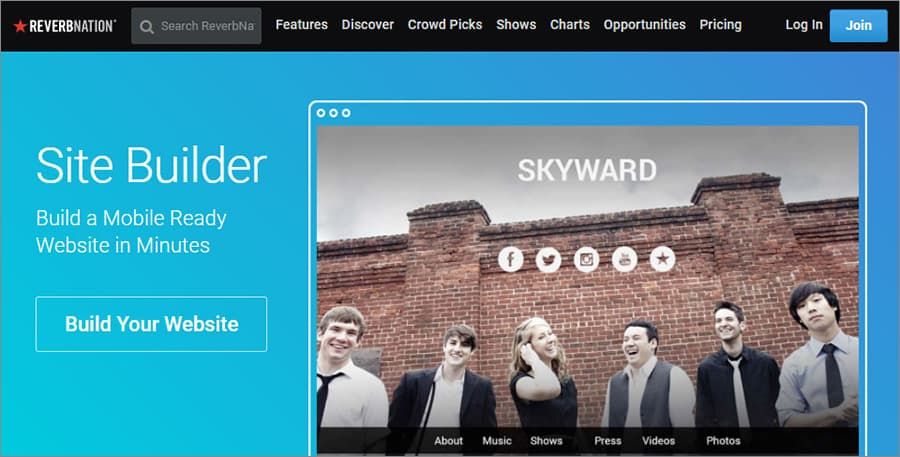 For immersing yourself in a completely music oriented website building experience, and particularly if you're planning to really skim the Internet for your success as a musician, then there's no reason for you to consider anything other than Reverbnation, the best website builder for music bands and community for DJs, bands and musicians. You get a free custom .com address, get your website automatically optimized for mobile device viewing, limitless multimedia sharing, and templates that will make you drool, all bundled into your Reverbnation website building package. The promotional features deserve a special mention, as they are powerful enough to make you a success in the music market.
Savor the flavors of commercial success – A Reverbnation empowered website is your boarding pass for a steamer that will sail you across channels of success. Consider, for instance, the Gig Finder feature, using which you can access thousands of listings of clubs and venues that hire artists like you. Then, think of the Distribution features, using which you can offer your recordings as digital downloads to fans, using any of the major stores online. Reverbnation's widgets will provide you all the necessary steam to be heard and seen around the social networks. Also, you can manage Press Kits better, thus improving your chances of being accessible to promoters and event managers looking to hire budding artists.
Be active, with steamy promotional tools at your disposal – Reverbnation is your big leap for success. Leverage Crowd Reviews to stamp your recordings with approval from the people who matter. Feature your music on websites such as Pandora, MTV, YouTube and FaceBook, and make use of powerful newsletters to keep yourself in the news with all your fans.
Want more reasons to join Reverbnation? Here are some irresistible ones:
Give a slice of your life to your fans, with the help of a dedicated app that lets then connect with your backstage moments and special pictures
Sell your promotional merchandise without any upfront fees using the Reverbnation channels
The mobile control room lets you stay updated and connected with admin panel for your website round the clock, on the move
Single click updates for all your social media presence, ensuring that you get more time for music without compromising on your social duties