Best Real Estate Website Builders with IDX
WebBuildersGuide.com earns commission from some of the web builders and hosting providers listed on this website.
Learn more
In the 21st century, buyers don't drive through the suburbia looking for appropriate real estate. The Internet is where they go. A majority of buyers find real estate on the web on Real Estate broker websites. And only after an online inspection, do they arrange physical meetings to take a closer and careful look at the property they are interested in. That makes the importance of a website pretty clear for real estate businessmen.
And if you are a Real Estate agent or represent a certain Real Estate company and need a modern real estate website with IDX and CRM integration, you have landed on the right page. In this guide, I'm going to walk you through the best real estate website builders and explain how a 'good' real estate platform differs from the ordinary ones.
And, of course, I'll ensure I pour in enough examples so that you get a practical idea of things.
The traditional way for real estate businesses to get their website developed
NOTE: Before I sat down for my search for the best real estate website builders, I had a little chat with my friend Alex, who is a Real Estate agent in London. And here is some insider information he shared with me about the traditional (and inefficient!) way of getting a real estate website development.
Most of the real estate website builders that you can find on the web are not actually website builders but web development companies that specialize in developing websites for real estate businesses.
If those companies would have been efficient or effective, it wouldn't have mattered. However, the problem arises from the fact that almost all of them are outdated and function more or less like they used to do in the 90s.
Here's how:
Mandatory apply request
These "real estate website builders" you'll find online follow the same pattern as regular web development companies, except that they now have websites where you can fill in their contact forms or get their email and phone details.
Most of them don't even disclose prices on the website. You're just given an option to contact them or request a callback.
"Manager will contact you and discuss your future website" – this is what one of these real estate website builder sites said.
The usual course of operation looks something like this:
Apply request – Get a phone call – Request a demo – Schedule the demo → Get stuck with an obsessive service
Extremely high prices
Alex tells me from experience that business managers are unlikely to tell you the price until they have complete details about your real estate business. Also, your location influences the price that is quoted for you. So if you get a website developed for your London-based business it would cost you way more than what it costs for someone from Chester. Unfair, but that's how it happens!
All this is for when you are availing turnkey solutions.
There are, however, some platforms that follow the SaaS pattern and use readymade templates. After you make the payment, you are given login details and you can create your website yourself. And of course, for pretty much similar functionality you pay more than the prices for regular website builders that aren't specifically targeted towards the real estate market.
For example, one of these SaaS real estate website builders I checked, comes in at a minimum cost of $129 per month. That's without IDX. For IDX integration, you'll have to dish out an extra $50 each month.
Another popular Real Estate platform has the following prices:
The lowest price that I found was $59.95/month for a website + CRM but without IDX. That's almost twice as much as the Wix Pro plan ($23/month) which comes with numerous other options, including online branding and a $300 ad voucher.
Outdated website designs
You could compromise with a lousy onboarding process and even justify the high prices, but what you absolutely cannot deal with is poor website design.
Most real estate website builders offer an outdated lot of website designs that would go nowhere with your contemporary business. That's why these website builders don't display templates or example websites.
In some cases, constant nagging and customer dissatisfaction have pushed these real estate website builders to offer "custom designs by professional designer" (no more than 2-3 variants, though!). But this costs plenty of extra money.
You have to make additional payments for IDX
Despite the fact that most of these real estate website builders position themselves as turnkey solution providers including IDX and CRM, you will inevitably have to pay extra money for IDX integration.
To give you some perspective about the cost, IDX integration for a WordPress website costs an average of $50.
Now, because WordPress comes in at a pocket-friendly price and doesn't limit itself to the real estate market and thus, the integration cost is more likely to fit your budget.
The same is true for most online website builders that can help you build a contemporary real estate website without being labelled as an industry-specific solution.
What is IDX Integration and What is it For?
IDX integration, or Internet Data Exchange, is a technology used in the real estate industry to facilitate the sharing of property listings between brokers and agents through their websites. IDX integration enables real estate professionals to display up-to-date, comprehensive property information from a Multiple Listing Service (MLS) on their websites, providing a seamless experience for home buyers and sellers.
IDX integration offers numerous benefits for both real estate professionals and their clients. For agents and brokers, IDX integration helps to attract potential clients by providing them with valuable and relevant property information directly on their website.
This not only saves time for both parties but also helps to establish the agent or broker as a reliable source of information in the market. For home buyers and sellers, IDX integration allows them to access and browse through a wide range of property listings, filter search results based on their preferences, and easily connect with real estate professionals to facilitate the home buying or selling process.
The Best Real Estate Website Builders
Now let's take a look at what is better to use in the end? What website builders will cost not much (or even free) and at the same time will allow you to create a really good real estate website?
Wix – The best free real estate site builder
Wix is one of the best small business website builders and the most popular website builder across the globe. More websites have been created via Wix than through any other online website builder.
And the case is the same even for the real estate niche. Wix allows building modern websites for real estate agents, firms or investors with great ease. You can also check out the examples of some of the websites created for realtors and real estate firms with the help of Wix.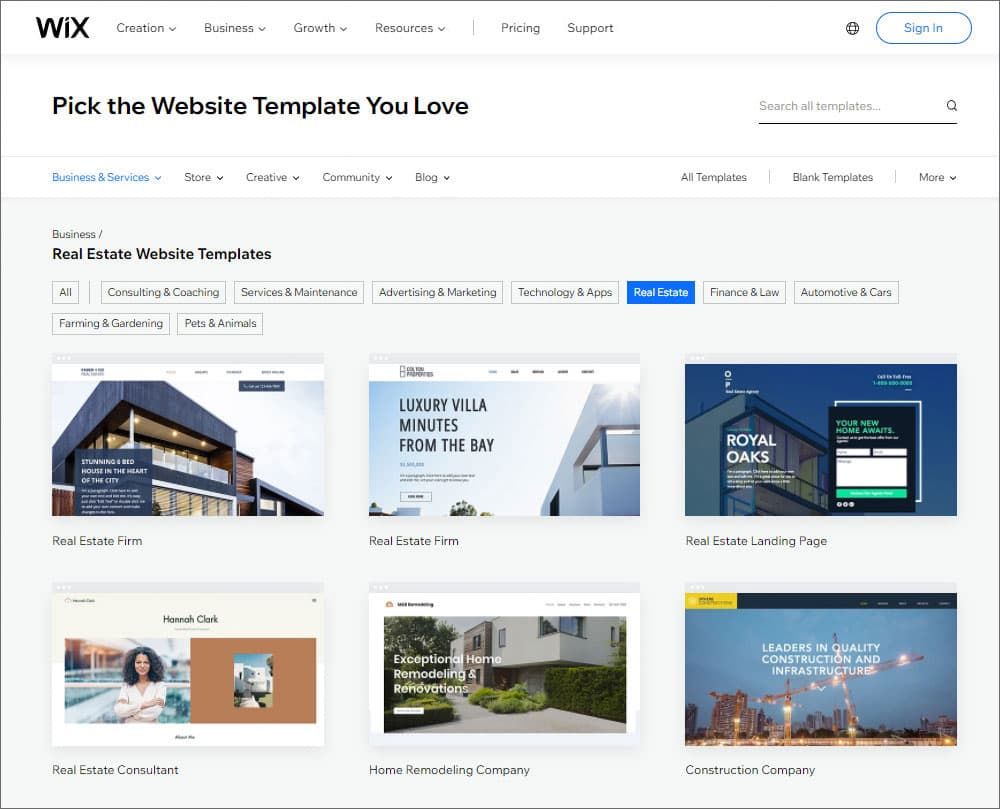 Wix – The best free real estate site builde
To begin with, Wix has a collection of perfectly responsive real estate templates that you can use absolutely for free. And it has a lot of specific options and features for real estate businesses, which we will discuss now.
Perfectly responsive real estate website templates
Wix offers you 21 free real estate website templates to choose from, These templates are divided into the following subcategories: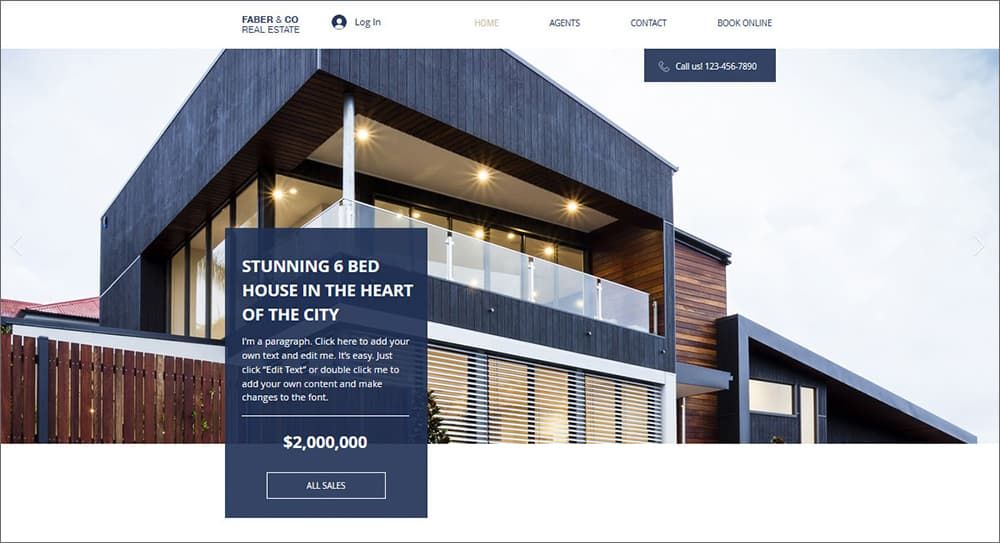 Real Estate Firms
These templates are for developing websites for real estate companies. They usually contain the following sections:
"Sale" – A real estate gallery with properties offered for sale with the possibility of arranging a viewing.
"Agents" – A section listing real estate agents that work with the company and their contact details.
"Contacts" – Phone numbers, emails, office addresses and a contact form to get in touch with the concerned managers.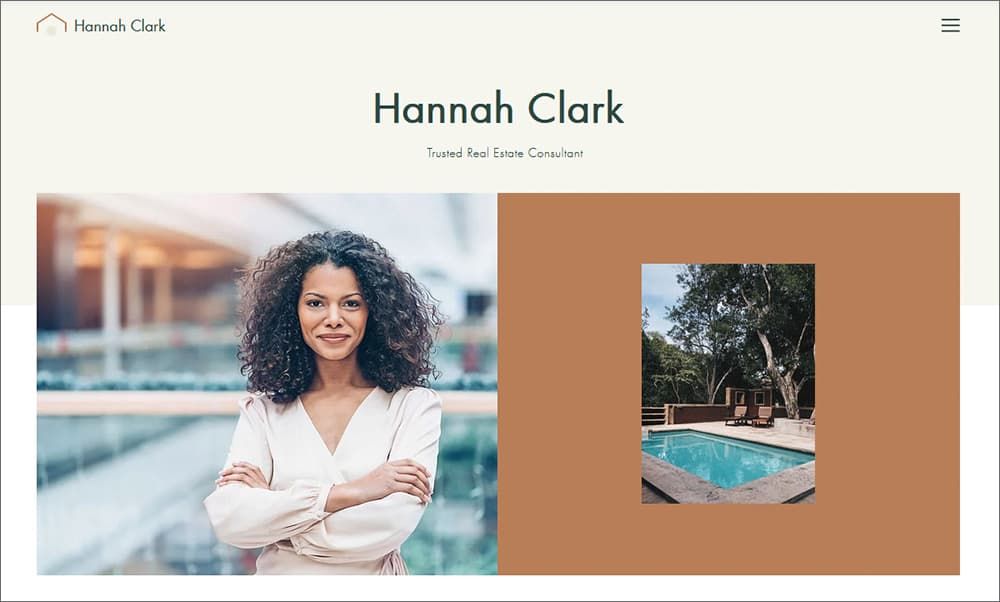 Real Estate Consultants
These templates are for developing websites for solo realtors and real estate consultants. There contain sections like:
"About" – A section containing information about the realtor or consultant.
"Services" – A description of the services offered and their prices.
"Contacts" – Phone numbers, emails, physical addresses, and a contact form.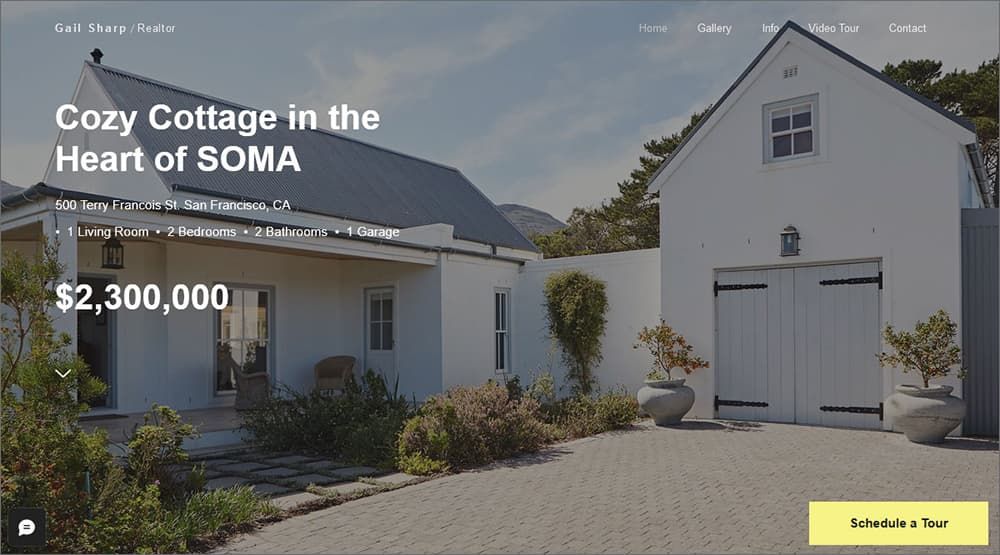 Real Estate Landing Page
Templates are also available for developing landing websites for the sale of real estate. These landing pages can be created for a few or all of the property listings you might have.
The section included in such templates are:
"Home page" – This page is a photo gallery with a brief description of the real estate sold. They usually specify the number of rooms, living space, address and price.
"Gallery" – There are more photos of real estate's exterior and interior.
"Info" – More information about real estate, planning, furniture in place and other important things.
"Video Tour" – Video is the best way to attract potential buyers. And these templates have a dedicated section for that.
"Contact" – Phone numbers, emails, and the contact form.
With all these feature-loaded templates, Wix allows getting a real estate website ready and running almost immediately.
And you don't even have to put in much effort, just add the name, text content and photos to appropriate segments on the website, and your real estate website will be ready to receive visitors.
Simplicity
Wix is an incredibly simple-to-use platform. It's designed in a manner such that even beginner users can independently create websites without anyone's help. The Wix visual editor's interface is intuitive and isn't overloaded with options. Lots of additional options can, however, be unfolded by clicking or hovering the mouse over the menu items. Moreover, there are tooltips popping at the right times, which makes using this website builder even simpler.
SEO-friendly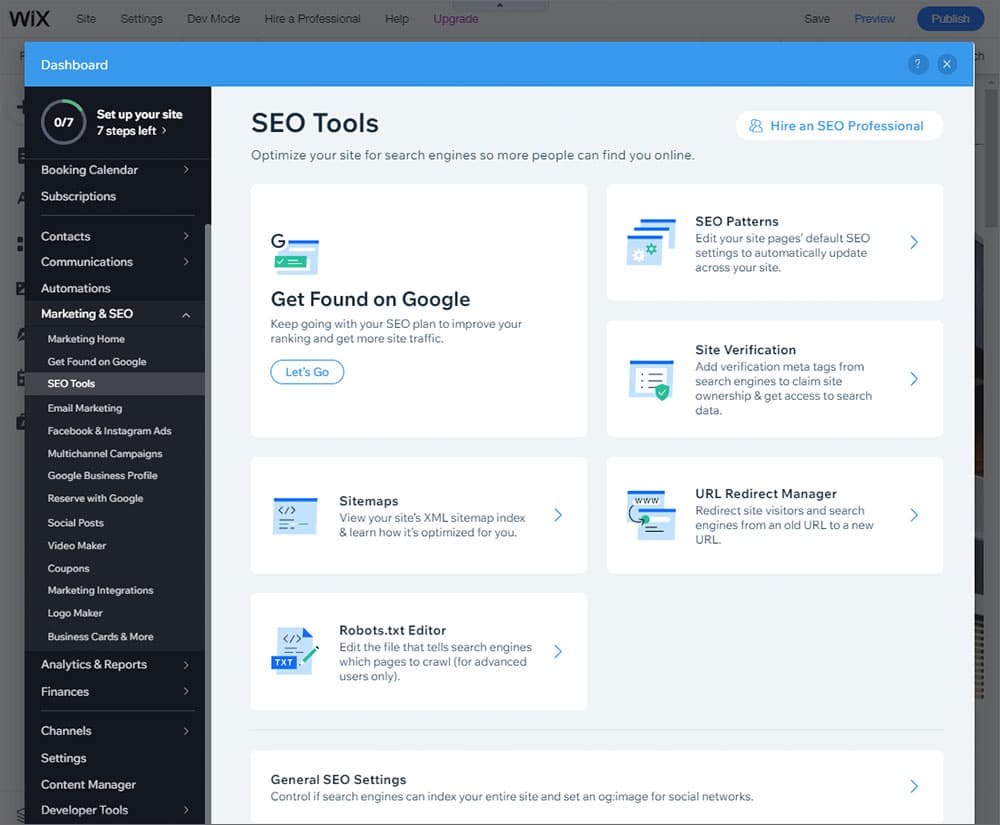 SEO-friendly
Wix is an SEO friendly website builder. Its team understands how important it is in our time to have SEO for promoting real estate websites among others. That's why all the websites created via Wix come with a responsive design, free SSL certificate, SEO-friendly URL structure, and allow creating and managing robot.txt, sitemap.xml, and many other things.
Thanks to the complete set of SEO options, Wix websites are perfectly indexed by search engines.
Wix IDX (MLS) integration
At the moment, Wix doesn't have a direct IDX (MLS) integration, but there's voting going on the Wix website, and it's possible that in the near future this option will be developed and added to the list of standard Wix options.
But that doesn't mean that there isn't any possibility to integrate IDX into the Wix real estate website right now. Here are two ways to do that:
1. The way recommended by Wix – Use Velo by Wix for integrating IDX from an external server. This will require some web and programming skills on your part.
2. Using additional IDX widgets (for example, IDX Broker). These instructions right here will explain everything you need to know about using the additional IDX widgets on Wix.
NOTE:
If you don't have programming skills, you can hire freelancers from Fiverr freelancers for IDX Broker integration into your Wix website.

For example, you can contact this freelancer. It would be a one-time job and the cost isn't very high – about $20–$60. As a result, you're likely to get a perfect real estate website + IDX at a very affordable price.
Additional Real Estate Apps
Wix has a large collection of apps that offer greater modernization, additional features, and better control, which ultimately improves the overall website experience. A lot of these apps are available specifically for real estate businesses. You can install these additional apps on your website and get greater functionality, form, and ease.
Here are some apps that will significantly improve your real estate website:
Real Estate – Allows creating and managing real estate listings on your website. This app supports external MLS database integration and allows translating listings into 20+ languages.
Virtual Tours – A perfect free app for creating 360° virtual tours for real estate on sale and adding them to your website. These virtual tours can prove really effective for attracting the attention of real estate buyers.
Simple Maps – Allows adding maps with pins for certain real estate locations to your real estate website. This lets your clients fully understand where the property actually is.
Calendar – A simple but effective event calendar app, this can be used for accepting applications for viewings of your real estate listings and arranging them by time. It will allow making your work with potential buyers comfortable and simpler.
Cost of building real estate website on Wix
Wix is a free website builder, but, of course, the free version comes with some restrictions.
The basic premium plan is called Combo and costs $14/month. You can build a simple real estate website without ads on it. Moreover, you also get a free domain name for a year, a great gift from Wix!
But I still recommend using a more powerful plan – Unlimited, which costs $18/month but opens up many more possibilities for business websites.
In addition to increasing Storage space from 3GB (for Combo plan) to 10GB, you'll get the possibility to install a Visitor Analytics app for a year for free. This allows more accurate monitoring of the attendance on your website, and also collects various useful statistics necessary for developing your business.
The Site Booster app (free for one year) and $300 ad vouchers (each $100 for Google Ads, Bing Ads and Local Listings) are also included in this plan. All this combined is much more than what you pay to get the Unlimited plan, even if you make the annual payment at once.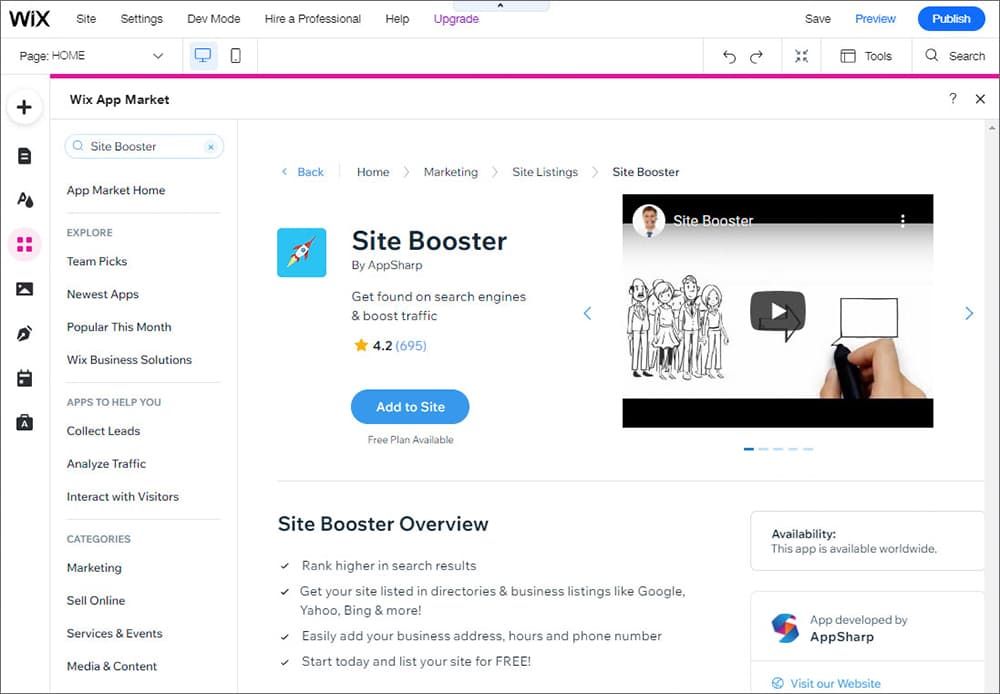 Site Booster App
You can also check out other Wix plans.
VIDEO Tutorial – How to build a free website on WIX? Step-by-step guide
Squarespace – with simple IDX (MLS) integration
Squarespace is a website builder which competes on an equal footing with Wix, Weebly, and Shopify. Undoubtedly, Squarespace has several advantages that make it a plausible choice against the other website builders.
One of those advantages is its collection of cool design templates. As a professional website designer myself, I can vouch for the fact that Squarespace's templates are one of the best when pitted against other builders – they are stylish, UI/UX friendly, and have well-considered details.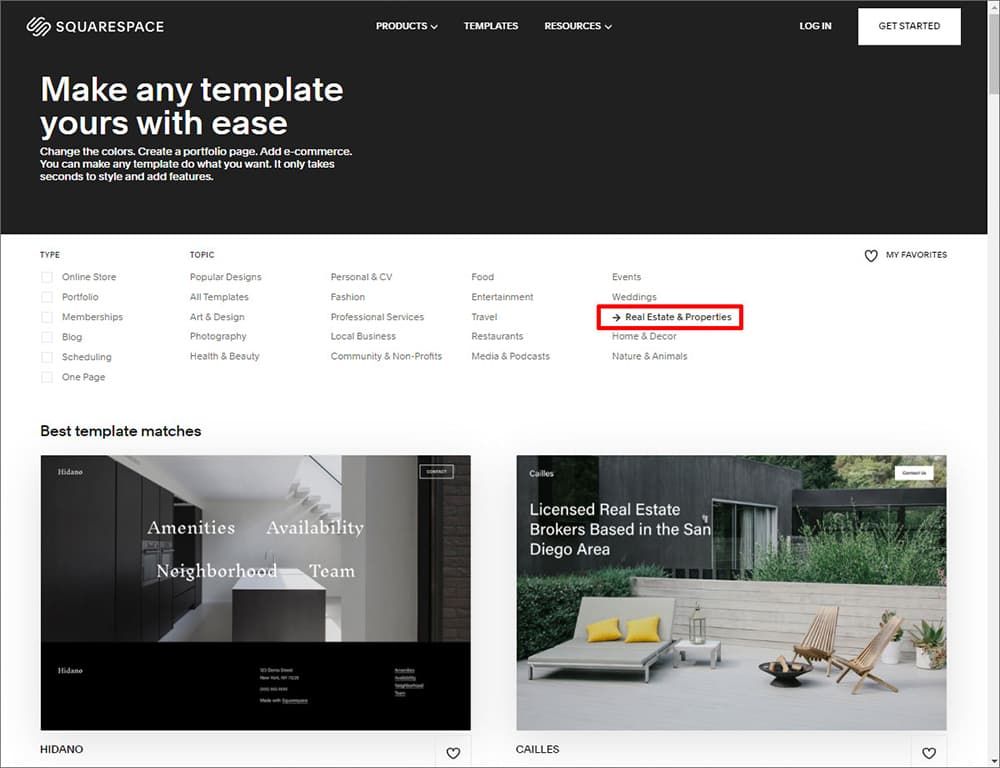 Squarespace – real estate templates
The second Squarespace advantage is especially important when it comes to building real estate websites. Squarespace offers an extremely simple option for IDX integration.
Now let's check out the real estate-specific features of Squarespace.
Adding MLS search to a website
Squarespace allows adding MLS search to a real estate website using a special code provided by IDX services. You just have to copy this code from your IDX service and paste it into the code block on your website. Here's a step-by-step Squarespace guide for doing that.
NOTE:
This simple and useful option isn't included in the standard Squarespace options. That's why you're unlikely to find support for it. In case of some troubles with MLS search inclusion, you'll have to handle it on your own. You can, of course, consult remote professionals that are experts at IDX addition and configuration from freelance portals, like this service provider on Fiverr. Moreover, you'll need to get on a business plan or higher to get access to the option of adding advanced code on your Squarespace site.
Perfect real estate templates
Squarespace has several perfect real estate website templates for you to choose from. The might not be as high as that of Wix's, but they are really good. And you can rest assured about one thing, these real estate templates have a minimalist design and will not distract users from the main thing – real estate. You get big photos, large and readable fonts, and a simple and user-friendly menu. Plus, no useless design elements which other website builders tend to love so much.
For example, take a look at this real estate template.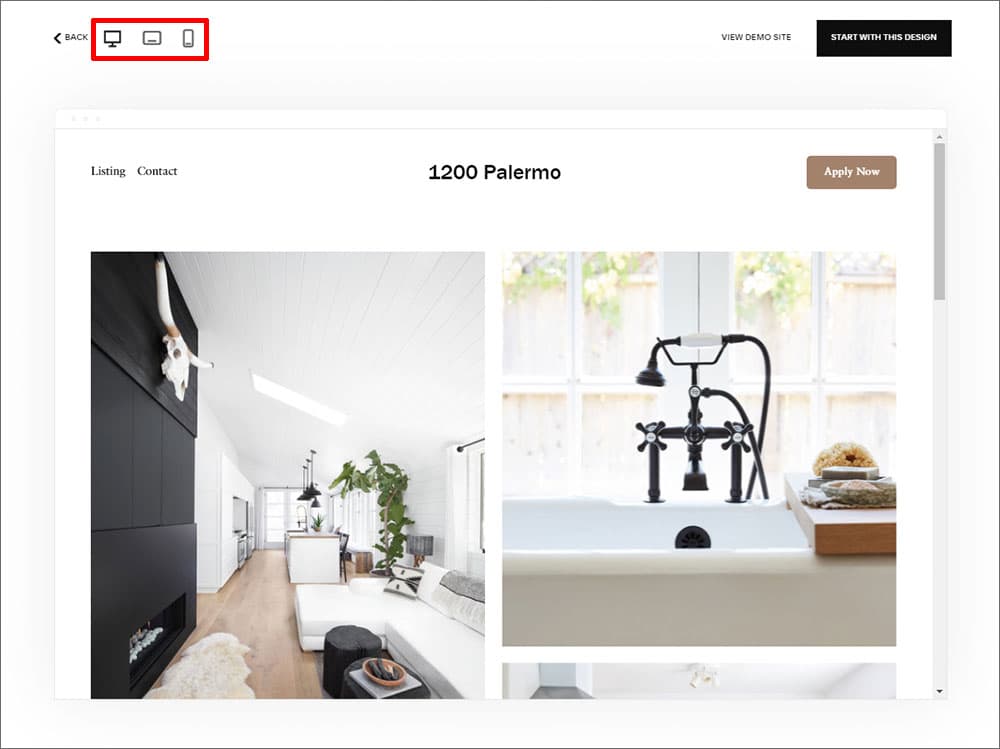 Perfect real estate templates
Even as a website designer myself, I am tempted to use this one and not bother designing one from scratch.
Also, pay attention to the device switch in the upper left corner. Using that toggle, you can check how your website is going to look on a PC, tablet, or smartphone screen.
Simple and user-friendly
As a top website builder, Squarespace has also taken care of simplicity of use. You wouldn't expect any less from the top players, right? It has an intuitive drag-and-drop interface and mastering it won't take too much time or effort.
Can you sign up and create a profile for yourself on Facebook? Then you'll be able to build your Squarespace website too. It's that simple.
NOTE: Despite the fact that I like Squarespace, I must admit that Wix's drag and drop editor seemed more flexible and user-friendly. There were some additional features that I missed in Squarespace's drag and drop editor. But it has got nothing to do with its simplicity of use – it's just my own observation.
Promotional pop-ups
When used right, promotional pop-ups can be a valuable feature for real estate websites. Thanks to Squarespace, you can now easily use pop-ups to advertise the real estate listings you want on the preferred pages.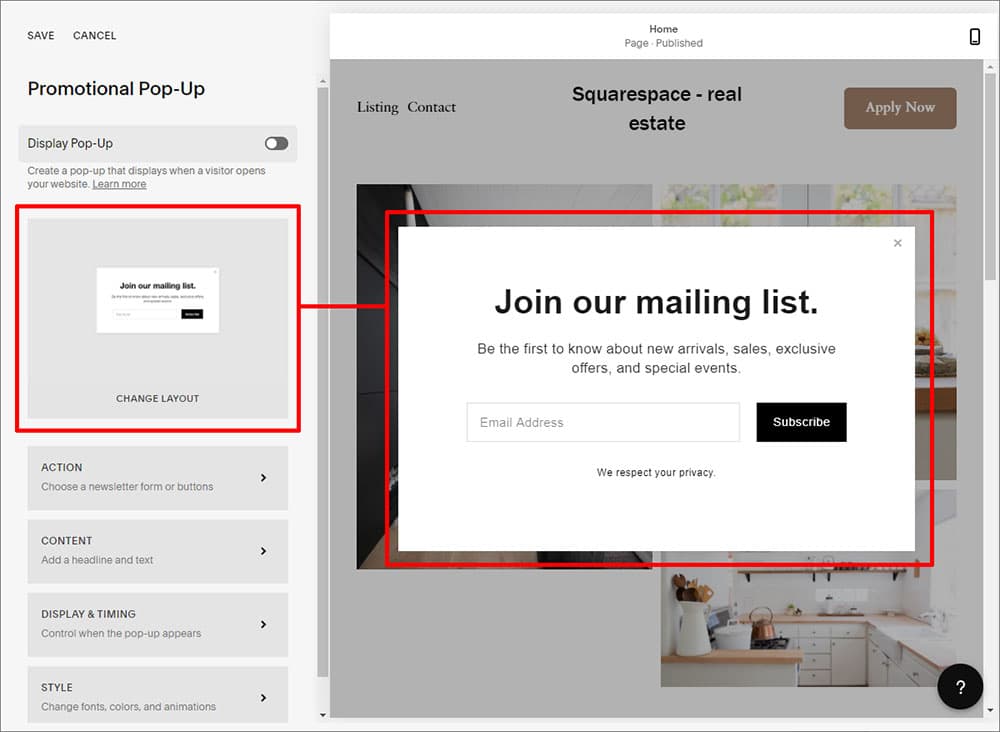 Promotional pop-ups
For example, if users are searching for houses by the ocean, a perfectly placed pop-up with a photo and description of a similar offer that you may have would create a great impact. This could be another house by the ocean with a better view or one available at a more affordable price.
In the same way, you can show options that have had a recent price drop. Generally speaking, it is a very effective tool for attracting a website visitor's attention. All that you'll need to do is to use your imagination, keep testing the options, and then count your money.
The cost of building a real estate website with Squarespace
Squarespace isn't a free website builder. Neither is it a low-priced one. But it is 100% worth what it costs.
The basic plan starts from $12 monthly (if you pay annually) or $16 (if you pay monthly).
For creating a worthy real estate website, though, I'd recommend buying the more expensive, Business plan. It comes in at $18 a month, when paid for annually, or $26 in monthly payments. The best advantage of this plan is that you'd be able to add your code-to-code blocks, which will allow integrating IDX (MLS) into your website.
Additionally, you'll get the option to customize the CSS and JavaScript. Now it might not look important to you right now, but in the future, when you have enough resources, it can open great opportunities for modernizing your real estate website.
Learn more about Squarespace's plans on the official website.
Jimdo – ideal for beginners
Jimdo is also one of the oldest website builders. Though it isn't as popular as its contemporaries, Jimdo really offers something special which can help you develop a great real estate website.
To begin with, Jimdo's operation principle differs from most website builders. You don't have to pick a certain template from a pool of options. You just have to answer a few simple questions and Jimdo, thanks to its built-in artificial intelligence (AI), builds a ready-to-use real estate website for you. Within a minute.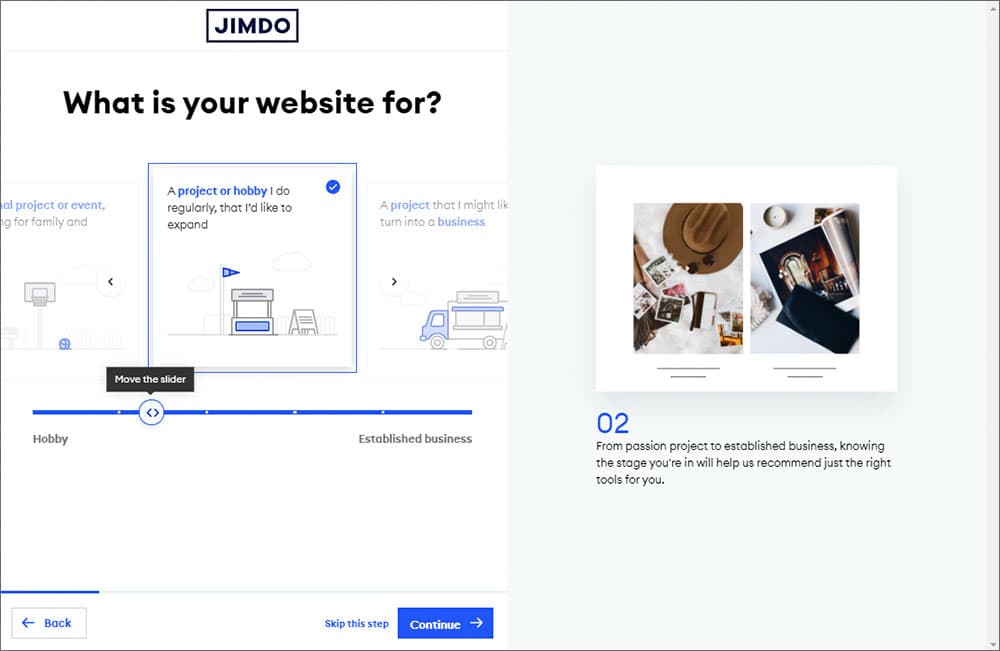 Jimdo – ideal for beginners
Jimdo Dolphin – that's what the AI editor is called – can not just build a website for you, but also populate it with content that it finds about your business on the Internet.
Sounds intriguing, isn't it? Let's learn what else it has on offer.
Artificial intelligence at its core
Jimdo Dolphin is one of the best AI website builders. And it definitely promises to make website building simple.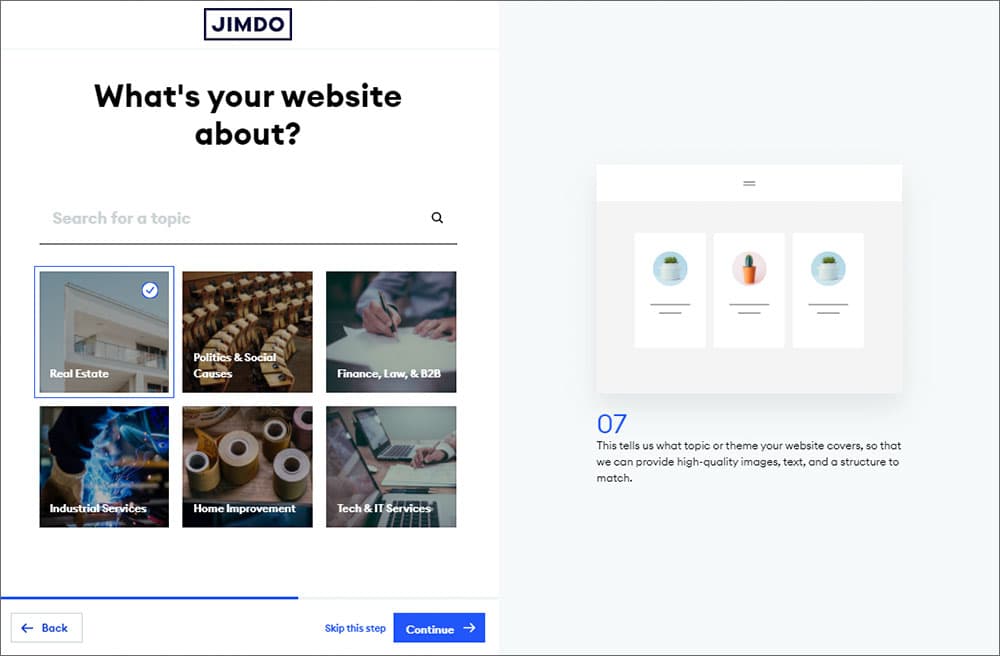 Artificial intelligence at its core
And the promise seems fair too. After all, to create a real estate website, all you have to do is answer a couple of questions. You choose the functional options, color scheme, website style, and fonts that you need. Then Jimdo does everything else for you and you get a website within 60 seconds.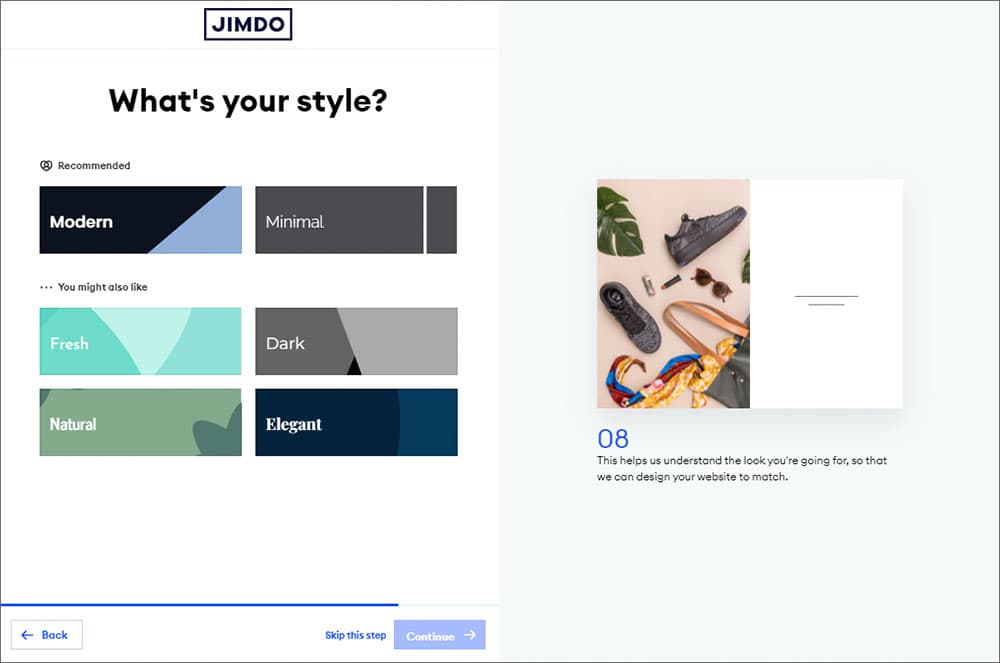 You choose color scheme
Of course, you do get the option to manually customize what Jimdo creates for you.
And, as I have already stated, Jimdo can fill your website with content, without any effort being required on your end. How's that possible? Jimdo fetches all the information about you and your real estate business from the web and adds it to the relevant pages.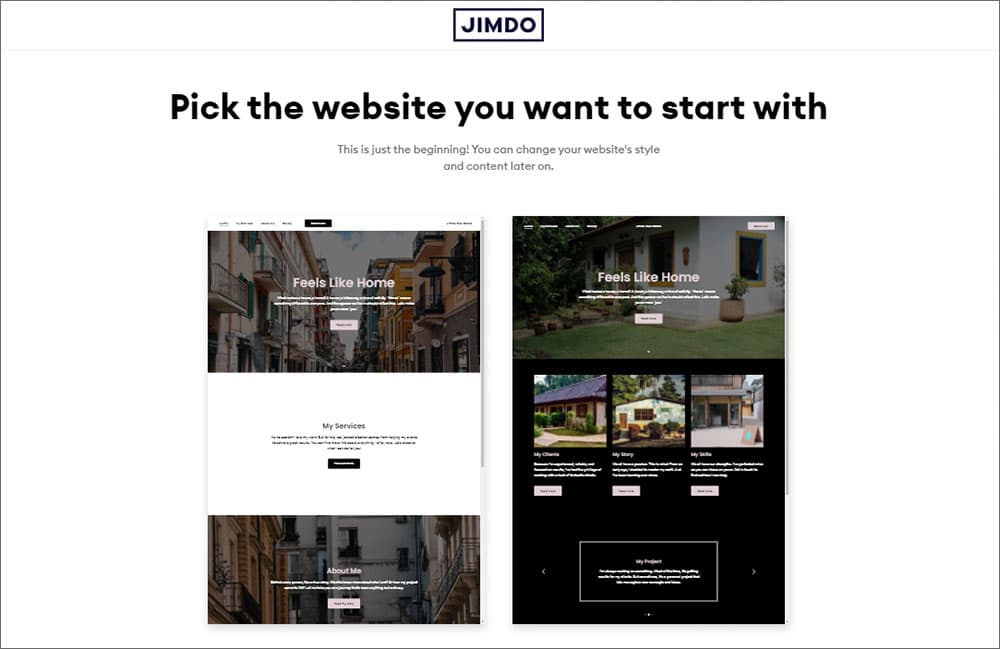 Artificial intelligence at its core
NOTE: I strongly recommend checking the content that Jimdo automatically fills on your website. Some content fragments might be placed in the wrong sections or could use a little editing. You might also not want all the photos available in the public domain being used on your website. So it is better that you check and change that before launching the website.
Four types of Real Estate Websites
Jimdo allows developing four different types of real estate websites depending on your preferences and business requirements.
Real Estate Agency Site – Start now
You can add real estate galleries, details about the conditions, a list of your agents, reviews of your former clients, and much more.
Real Estate Agent Site – Start now
If you're an independent real estate agent, with this one you can create a personal real estate website. The results are pretty similar to the website you'd create for an agency, aside from the fact that it would be an independent website, for just you.
Single Property Site – Start now
Attract more attention to your property for sale by creating a standalone website for its sale. Such websites can accommodate more detailed descriptions and more photos than any other page from your real estate agency portfolio.
Luxury Real Estate Site – Start now
With a greater focus on photos, more sophisticated designs, and classy color options, such websites have everything to show your luxury properties in a better light.
Simple integration with online booking options
Jimdo has a simple and intuitive online booking option. You just have to add the booking calendar to your real estate website and get requests from clients willing to look through the listed real estate. All at your own convenience.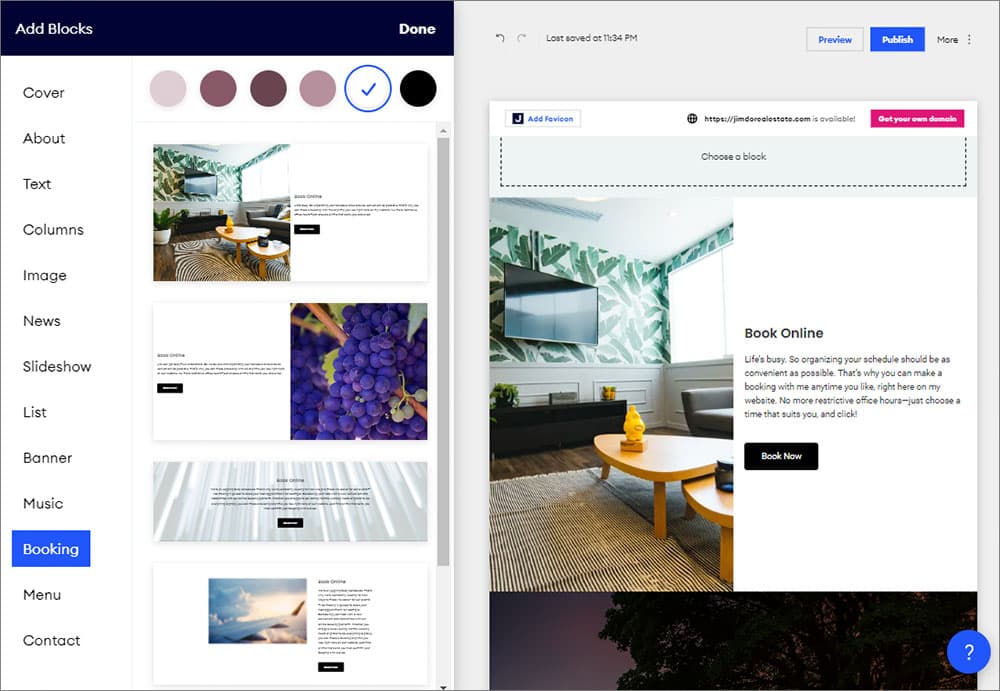 Simple integration with online booking options
Thanks to the online booking option, you won't have to deal with a constantly buzzing phone and clients calling to schedule visits.
Mark real estate locations on Google Maps
Another great way to minimize unnecessary phone calls is to specify not only the property's address but also pin its location on Google Maps. With that, your clients will be able to better understand the location and see if it is a suitable option for them or not.
NOTE: Integrating with Google Maps is a really simple and user-friendly task with Jimdo. However, not many builders support it as a built-in option. Jimdo offers it out-of-the-box, but with other builders, you might have to install a certain plugin or widget.
What about Jimdo IDX (MLS) integration?
One of the key downsides to using Jimdo is that it doesn't directly support IDX (MLS) integration. But there is a workaround that works just fine too. You can connect your Jimdo website to a third-party IDX service (for example, IDX Broker) and show MLS listings on your website.
Real estate website building at affordable costs
While you do have to have to rely on an external IDX service with Jimdo, the innovative AI editor does make up for it by freeing you from the burden of choosing a template. For those who want the job done with minimal effort, it is a great advantage.
Others who lean more towards the DIY approach should rather go with Wix or Squarespace.
NOTE:
If AI website builders interest you, then I recommend you also take a look at Wix ADI. It is an AI platform by Wix, which in my opinion, is more advanced than Jimdo Dolphin. Wix ADI has more functional options and also harnesses Wix's classic drag-and-drop editor, which makes it more flexible.
For those who decide to stick by Jimdo, its low prices are a cherry on the top. The most affordable Jimdo plan – Start – will cost you only $9 a month. And even in the basic plan, it lets you do more than the contemporary plans of competing website builders.
The most feature-loaded Jimdo plan (without an online store) – Grow – costs $15 a month and includes everything you'd need or want.
A free plan is also available, but I am not a big fan of that. It has got several limits and I'd say it is great only for testing waters. If you need a truly free real estate website, then consider Wix or Weebly. Their free plans have fewer restrictions and you can build a decent site on those plans.
Explore all of Jimdo's plans here.
Know What a Working Real Estate Website Needs to Look Like
What do successful real estate websites have in common? They cover the basics: intuitiveness, multi-device compatibility and good SEO. Then there are industry specifics: maps, advance search, excellent photo and video content.
Look up some of America's top real estate websites. They all have these obvious similarities:
1. They have a high-quality background image with high resolution and large pixels.
2. The background image instantly introduces the website and its key business focus; for instance, Zillow's home page immediately explains that the website focuses on anyone looking to move homes.

They all have a catchy, distinct and descriptive website tagline. The tagline is typically short, no longer than a couple of sentences.
The tagline can focus on different aspects — from the company's vision and approach towards the customers to its specialties. Some examples:
Trulia : Discover a place you'll love to live
3. The business' offerings: properties for sale, rent, cheap houses, mortgage assistance etc. are evident. They're either part of the homepage image or included above or under it. The site visitors don't have to scroll down or search for it.
4. The best property websites usually include a search bar within the background image. The placement is immaculate. It offers a necessary, useful service without impacting the image's visual appeal or obscuring key details.
5. The interface is never flashy or cluttered. The choice of fonts, font colors, images, the color scheme, animations and other visual elements is deliberate. The goal is clear – for the website to look attractive, but never unprofessional.
6. The company's contact and 'about us' information, terms and conditions and members' sign in button are easy to locate on the homepage.
7. Site visitors will find the information they seek at the expected locations on the homepage. The "sign in" button is situated at the right hand side of the navigation bar. The terms and conditions can be viewed at the bottom. No unnecessary surprises anywhere.