The Best Website Builder for Teachers and Students
WebBuildersGuide.com earns commission from some of the web builders and hosting providers listed on this website.
Learn more
The face of contemporary education is changing, and Internet is right at the core of this change. Students have access to all sorts of electronic devices with Internet connection. Not only do smartphones, tablets and computers with Internet connections connect them to an unlimited world of knowledge, but also make them smarter and quick learners. Teachers have a lot to learn and benefit from this fact.
There are so many ways in which teaching can be made more interesting, intriguing and content rich by leveraging the reach of Internet. Right from sharing additional resources for topics discussed in classes to posting assignments to students through a dedicated website for the classroom – there are so many ways in which an education website can be used that there's absolutely no reason for teachers, instructors and coaches to get cracking on their education website creation.
It's no secret for anybody that great website don't necessarily result from advanced HTML and CSS coding skills, but can be easily created through the use of website builders. However, you might also want to take note of the fact that there are website builders that are either dedicated for education websites or have some extremely relevant features that make them suitable for education website creation purposes.
We take you through a comprehensive ride through the most interesting features of some of a great website builders for teachers and students.
Weebly for Education
The honor of being one of the TIME's 50 Best Websites of the Year doesn't come without concrete reasons, and Weebly justifies its place in the coveted list with aplomb. Get ready to be amazed at how simple building your educational website can be, courtesy the intuitive drag and drop styled website builder for students put forth by Weebly. The number and range of resources dedicated for educational websites is impressive. The artillery includes the availability of ample multimedia features that can engage children, complete access control to limit the viewing and editing rights of students and their parents, integrated blogging that lets you broadcast news for parents, class homework and scores, and a whole lot more that makes your website administrative jobs less time consuming and more value adding.
Create publically available class websites – Whereas school and college teachers can use the Education Website service from Weebly to offer additional resources and reading content for their students, private tutors can also leverage their website to deliver remote assistance to students apart from enjoying the business benefits of the website. Creating the educational website is bound to be a breezy experience for teachers as they will hardly have to spend any time in coming up with a mesmerizing website based on one of the dozens of cool and appealing education website templates offered from Weebly. To add to that, the website builder itself is complete drag-and-drop styled, allowing teachers to create website rich in text, audios, image and videos, without wasting time and money.
Access control privileges – Using the educational website to provide and smart and interactive platform for teachers and students to interact as well as manage assignments becomes easier because of the access management facility provided by Weebly. Teachers can set all their students' accounts as private and hence use the website to have the students submit their project reports right into the website. Then, the teachers can go on to publish the best reports, thus making the whole assignment exercise more fun and rewarding for students.
Integrated blogging for fabulous learning experiences – The power of a blog built right into the educational website can be of great use for teachers as well as students. With Weebly's integrated blogging feature, you can post class assignments on your blog, and then activate value adding discussions once the submissions are made and results are shared using the same blog! Moderated comments let teachers control the online discussion among students. Creating a Weebly educational blog is as easy and as enjoyable as creating a website using the awesome editor.
You might also want to know about some additional features from Weebly's educational website builder; here they are:
Dozens of educational website templates give a professional look and feel to your website
There's no advertising from Weebly or any third party builder with the free website you create using Weebly's educational website builder
Teachers can leverage their CSS and HTML skills to create more differentiated websites using Weebly
Adding your own domain to the website or purchasing one from Weebly is simple
EduBlogs Free Blog Platform for Education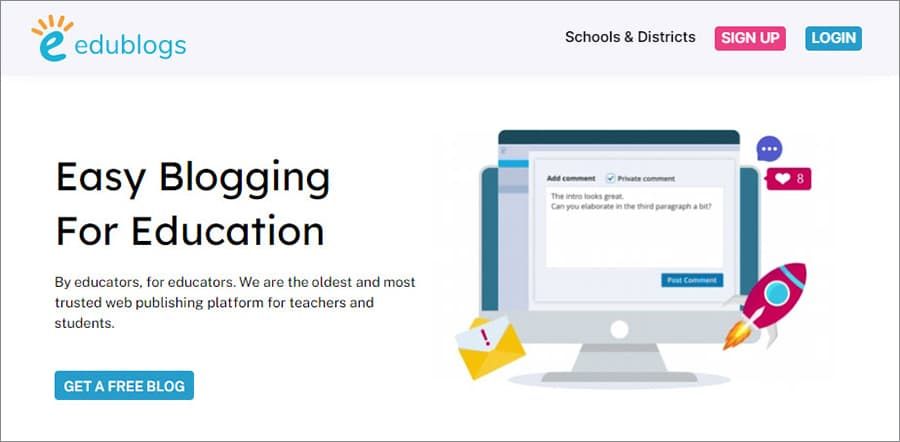 Whether you want to step to the next level of delivering knowledge based services by using an educational website or wish to use it for expanding the batch strength of your coaching services, EduBlogs is an all stuff shop that you can't afford ignoring. By letting you facilitate interactive and extensive discussion among sections of students, helping you move to a digital newsletter instead of a traditional paper newsletter, and making content more multimedia rich and hence more intriguing and effective – all these are just a few of the whopping benefits that an EduBlogs empowered educational website can endow upon you.
Dozens of premium themes that can nail a swanky educational website design for you – When we say dozens, we mean it with EduBlogs. The templates are too good to ignore and help you quickly create a suitably somber layout for an educational website. Moreover, the website builder lets you create unlimited posts and pages. The customization features are also expansive, and you can switch between themes apart from using custom backgrounds in your web pages. Of course, you can add the logo of your coaching institute or school and add more branding to the website.
Complete control over who sees what – You can't afford to seep even a sentence of inappropriate content to appear on your educational website. However, that should not come at the expense of lack of student participation. EduBlogs has the perfect blend of control and flexibility for you, and the access management features go a long way in achieving this. Whereas EduBlog filters ensure that all the content being posted is appropriate, you also have moderation controls that let you run through comments and student posts before they go live. Also, you can make specific pages, posts or the entire website private, thus restricting access. The Student Management feature lets you organize students' accounts into classes, thus helping you share relevant content with different student groups.
Visitors statistics and mobile blogging for informed and agile content management – Among the two most powerful features provided by EduBlogs in its educational website builder are visitor stats and mobile blogging. Whereas smart stats about the kinds of posts attracting the most attention from students, their parents and other visitors, the mobile apps that let you add new posts even if you are on the move. In this manner, EduBlogs comes up as a flexible as well as information oriented website builder.
EduBlogs backs its primary features with some additional ones that make the experience of creating a website using this website builder all the more rewarding:
You can easily share documents using your educational website courtesy the documents widget
Adding videos and voice content is easy, as EduBlogs provides you easy to use widgets for the same
EduBlogs offers several plugins and add-ons such as social media sharing support, forms and forms
The email support system from EduBlogs is pretty responsive, and can drive you through tight constraints pretty easily
Importing a massive number of student accounts can be easily done using import feature
You can add your own domain for the EduBlogs empowered website and provide a more personalized experience to visitors
Wix Free Website Creator for Education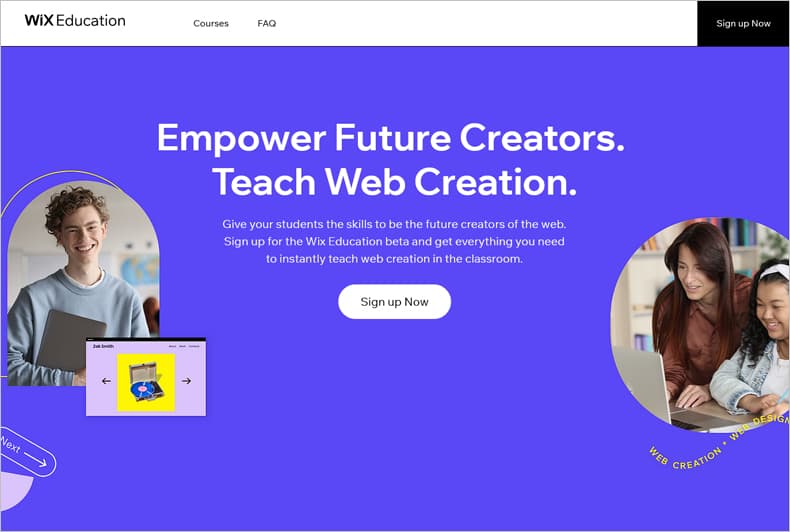 If the apprehensions of a website building exercise being strenuous in terms of the costs and time investment involved have been pulling you back, it's time to break free with Wix. You are bound to fall in love instantly with many of the education website specific templates that Wix has in place. The smart customization options add all the more flexibility to the website builder and help discerning teachers and other people create breathtakingly beautiful and unique websites for education. Inherent SEO features ensure visibility for your website, and the automatically mobile optimized website version makes your content delivery quicker. Here is a quick look at some swashbuckling features offered by this free website builder for teachers.
Create breathtaking websites without breaking sweat – You will find education website templates for schools, after-school coaching, driving schools, professional courses, and a lot more; this wide coverage of the education website needs bracket makes Wix a credible and popular free website builder. Moreover, you will find the drag and drop builder unbelievably easy to use with all its content elements that you can just pick and drop at the website screen. Single page and blank pages can also be added to your website so that the final outcome is just the way you want. With 1000s of free images and dozens of free fonts, Wix offers you a lot of resource benefits along with the ease of website building.
Blogging like never before – Managing a content rich blog is integral to the growth of any educational website, and that's another reason for Wix being the heart-winner that it is. Once you create your blog with Wix, it will appear as a separate page in your website, and will boast of attractive content elements such as featured galleries, tag clouds, lists and social feeds. What's more, all these elements are also customizable, thus ensuring that you get to use them in the best possible manner. Page protection feature provides massive benefits in terms of access management as you are able to decide as to which students see which section of the website.
Apps and widgets – Adding more features and functions to your Wix empowered website is a breeze with so many apps and widgets ready for your use. Right from integrating Gmail into your website to adding DropBox widget for making content backup easy, there are several cool and helpful features waiting in the app marketplace for Wix. Also, you can use contact forms to provide a structured channel for your students to get in touch with you. Apart from this, there is a Live Chat facility that you can leverage to indulge in one to one chatting with your students.
For a quick look into the other features that Wix has up its sleeve, read ahead:
Adding content such as news updates, event lists, syllabus sheets and FAQ pages is pretty easy with Wix as you have shortcuts for all these functions, that too accessible from a single panel
Importing contacts from all the queries raised to your website through the contact form is possible
In-built SEO features ensure that you don't have to invest any time in making your website more visible
VIDEO Tutorial – How to build a free website on WIX? Step-by-step guide