The Best Dating Website Builders and Platforms
WebBuildersGuide.com earns commission from some of the web builders and hosting providers listed on this website.
Learn more
A bit of love is enough to wipe away puddles of loneliness. There's ample evidence justifying this; everywhere you see around yourself, you see people either enjoying the company of their beloveds, special friends, or for that matter, partners for intimate moments! Dating is no more a sinful pleasure, and people don't mind being blatant about their searches for dates.
People look for dates everywhere – outside colleges, at cafes, in football games, and even online! Yes, online dating is alive, thriving, and kicking. The search for company, friendship and love leads people into looking for partners on social media websites. However, specialized dating oriented websites are where they'd always want to be, because such websites make the searching phase more fulfilling.
Here's more about how online dating websites can mean serious business for you, and how you can go about planning and executing your very own dating website (and you can create it with the help of the best webite builders) that can be really rewarding to your members in terms of helping them find partners to fill the gaps in their lives, and to you in terms of helping you enjoy enviable revenues from the same.
You need to invest decent amount of thought into the pre-development phase of your dating website's journey, that's because the business model and the website building tool you finalize account for the kind of success you enjoy later. Before we venture onto the realms of helping you analyze different methods of building up a dating website, we explain how you can monetize it. This also has a bearing on your choice of website building tool.
Paid memberships – Pretty obviously, you can go for a paid membership styled business model, although you'd need to make certain part of the user experience free for it to be a success. For instance, several successful dating websites make searching free, but users need to have a premium account to be able to get the contact details of the other person. If you plan to follow this course of action, make sure that the builder you choose offers you substantial features such as memberships, payment gateway integration, support mechanisms, etc.
Affiliate programs – Your dating website, if well populated with profiles, can be a great leverage for several businesses such as flower and gift shops, restaurants and apparel. You can target some affiliate programs from such businesses and steadily begin earning handsome affiliate incomes because of purchases made from those merchants because of your website.
Google AdSense – Never be naïve enough to forget the stable business model propounded by Google. You can smartly place advertisements and make your dating website a source of steady income for yourself. Choosing a builder that offers seamless Adsense integration is the way to go.
Before you get ultra-excited, it might be added here that creating a dating website is not an easy task. In order to make your dating website a success, you need to have functionalities like advance search options, payment gateway integration, profile creation, multimedia playback, instant messenger, match suggestions, memberships and much more.
That's where tools like free website builders, web scripts and themes come in handy. Now that you have a fair idea of how a dating website can be monetized, we take you straightaway through lessons regarding the different methods of creating such a website.
Dating Software and Scripts
Apart from best online website builders, you can go about creating your functionally rich dating portal by using a script or a software package that's specifically designed for creating such websites. You open up your consideration set by letting online dating website scripts impress you, and could well strike upon a great deal in the form of a cool script.
Some of the scripts are open-source, which ensures that you get access to resources like widgets and themes. Here, we help you understand how software and scripts can serve you by introducing you to the best ones from the market.
SkaDate Dating Software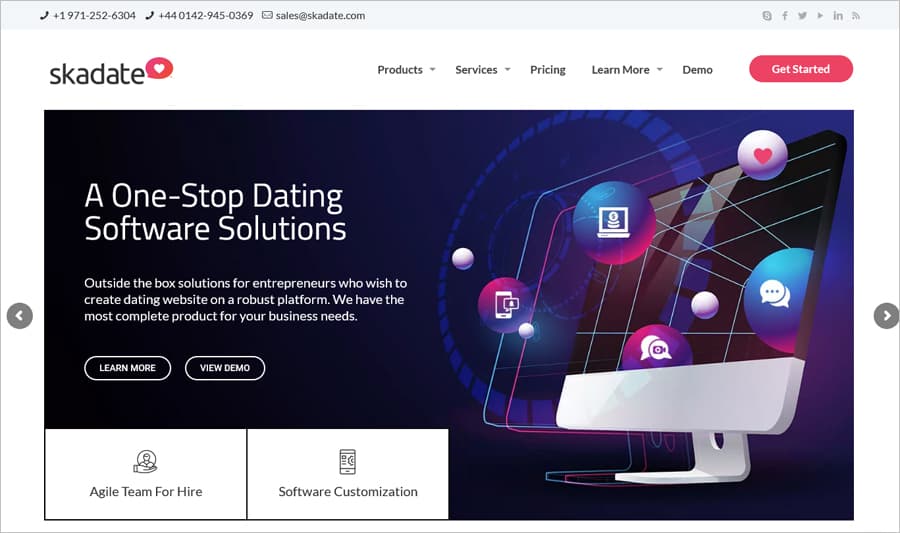 Positioned as a simple yet sophisticated website builder for dating portals, SkaDate is a top class solution for all your dating oriented ideas such as an out and out dating service website, chat based service, and what not. The website builder is without any tricky coding exercises for you, so you can enjoy your blog and web page creation experiences. Once your website is populated with profiles, finding the right one among them will be easy for users, because of the profile search settings.
The Speed Dating feature is a contemporary online dating method for adventurous users, and you can leverage text chat, video chat applications to provide the same to your website users. Completeness bar acts as a visual motivator for site members to add more information about themselves, and multiplayer games on the website provide ample incentives for them to stick with the website.
Watermarks can be easily added on to images, email implicit contact forms for effective communication, inventive smilies that make chatting fun, and flexibility of choice between free registration or invitation based registration for users – the world of options with this script is huge. You can monetize your website in multiple ways, including offering advertisements, affiliate programs, and others.
You can also offer secure usage to your visitors by using the several security relevant features such as criteria based IP blocking. SkaDate allows you to offer your content in multiple languages, making it a truly scalable and globally relevant online dating website creation script for you.
DateMill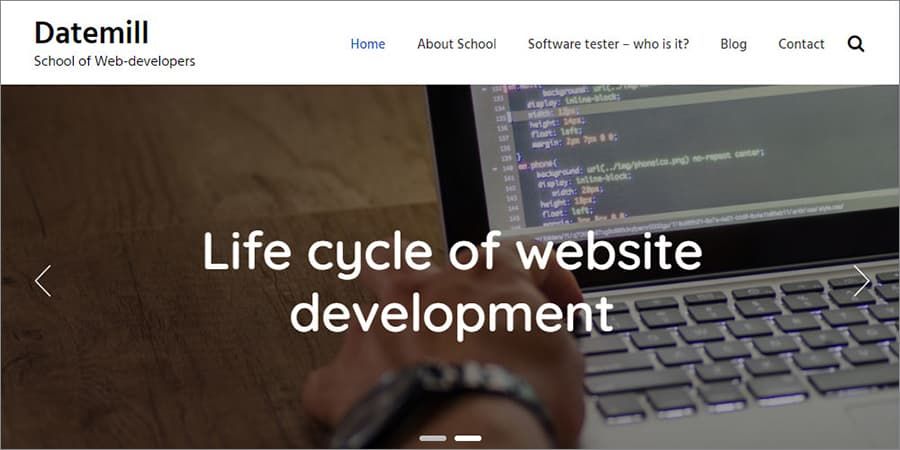 Whether you wish to have a social networking website for singles to patch up, a full-fledged dating website with potentially thousands of profiles, or a bold adult content website, DateMill will have your needs covered and provided for. This is an open source and unencrypted script that offers you advanced online dating website management features, along with the leverage of being able to tweak the code to achieve more from the your website.
The pool of general features is pretty impressive, encompassing image watermarking facility, support for adding captcha codes to forms, designing top class templates without meddling with the platform code, simple backing up of precious member profiles, cache based website access and CSS based design. User experience is top notch, and the functionalities here include unlimited photos addition, commenting on photos, saving of searches, preference based alerts from the website, advanced searching of profiles, easily manageable mailbox with labels, advanced site usage settings including privacy options, individual personal blogs with profiles, networking among limited number of members, and blocking of troublesome members.
Administrators can use the script in several ways to achieve their website goals; moreover, the range of features spreads far and wide, encompassing functionalities like multiple profile types, moderator profile creation and management, automatic approvals and rejections of profiles, bulk actions, payment gateway integration and a lot more.
Chameleon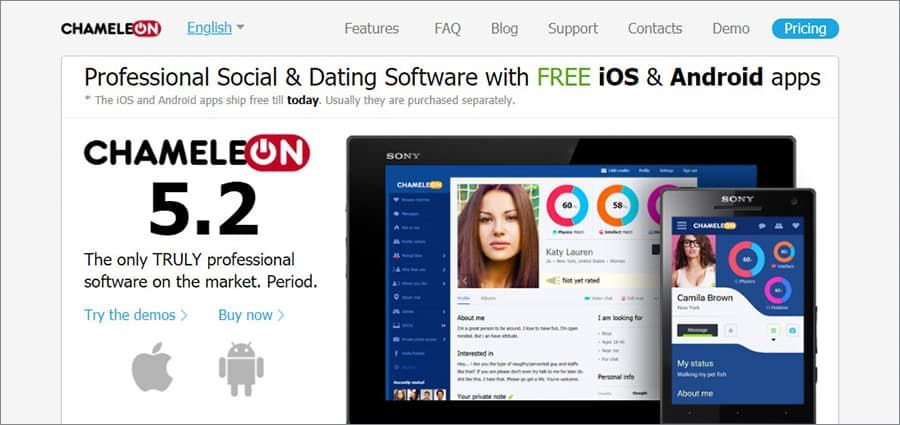 Strong admin features that can be conveniently used are hallmarks of a great online dating portal creation script, and Chameleon has it all to impress you. Admins can use the control panel to make site wide changes, configure settings, approve and ban users, keep a tab on the kind of content being uploaded, manage payments from the members of the website, and a world of other admin features.
The Smart Profile feature deserves a special mention here, as it allows users to create profiles they love themselves, which in turn is a huge retention factor for your website. Moreover, Chameleon empowers the user experience with some gripping games, which also helps retain members. The Chameleon script is unencrypted and open source, thus allowing you ample opportunity of tweaking your way to great functionalities.
Using your Chameleon empowered website will be easy as well as safe for your users, and the geo networking feature helps members find out the geography of other members. If you're looking to migrate on to Chameleon from another script, think no more as transporting to this script is easy. Integrated payment gateways help you flexibly monetize your website, and video chat facility adds another feather to the cap of amazing features.
Online Website Builders for Dating Sites
Website builders offer you the inimitable advantage of being single stop solutions for everything you want under one roof, sorting out all your concerns beginning from hosting to after implementation support. If you're in favor of opting for a fully convenient end to end solution, look no further than these terrific website builders.
WordPress Dating Website Themes
WordPress hardly needs any introduction; the CMS empowers every 1 out of 4 websites on the World Wide Web today, and the craze is spreading like wild fire with every passing upgrade to the swanky platform. Creating your website is a piece of cake with WordPress, as you will be able to use the WYSIWYG styled editor to create a website quickly.
Adding multimedia is as easy as a clap of a hand, and then you have plugins to add to the functionality of the website. However, you'd need to realize here that WordPress as a platform is not sufficient to help you create a top class dating website. You'll need to leverage some of the most amazing dating website themes to work in conjugation with WordPress for you to create a stunning online dating website.
We help you begin your search by telling you more about three of the most popular dating website themes for WordPress. These are premium themes, and you can have them licensed to you at pretty reasonable prices, which also makes this method dearer to those on a tight budget.
LoveStory Dating WordPress Theme – download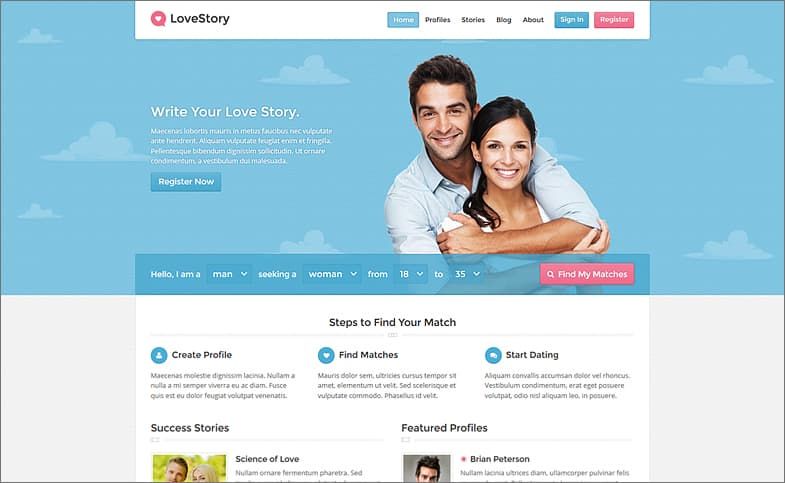 LoveStory could hardly have been named any better; the interface evokes the feeling of appreciation for beauty and desire for soft love, and you can leverage the same for success with your online dating service based on this theme. User experience design is terrific, and creation of extended profiles is visually motivated.
s Integrate WooCommerce plugin with this theme and begin inviting payment based memberships without any hassle at all. Providing different levels of access is easily achieved, and searching through user profiles based on criteria is also a breezy affair.
Dating WordPress Theme – download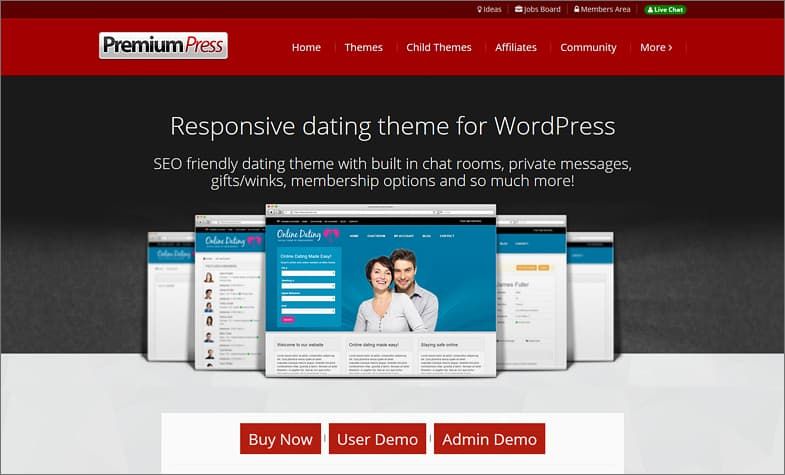 Another top notch dating website theme for WordPress, Dating Theme is the perfect amalgam of style and substance. Sending gifts and private messages, using in-built chat rooms, using status indicator for being online, and distance calculator to help users know each others' geographical location better – all these tools help enhance the user experience of your dating website's members.
You can monetize your website by using this theme as it allows you to implement a paid membership and ad revenue based business model. Moreover, this theme keeps users engaged with actionable inputs on how the site's doing. Child themes are included in the package and help you change the appearance of different pages.
Sweet Date Dating WordPress Theme – download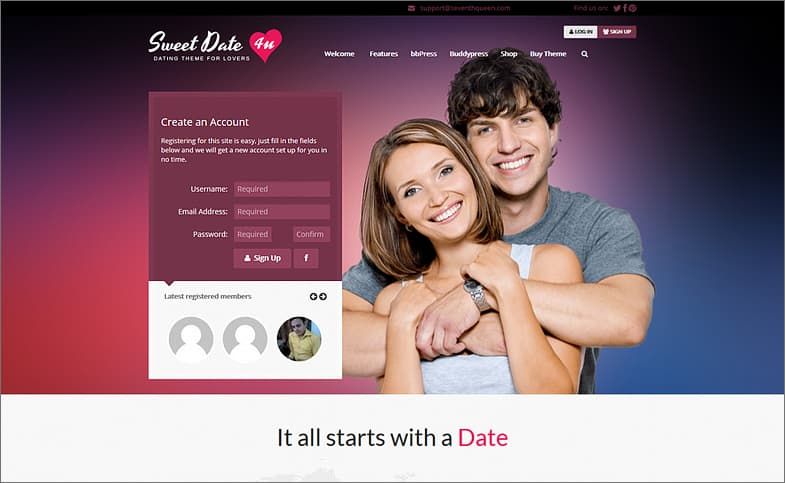 Your search for a fully responsive WordPress theme for your dating website ends with Sweet Date. Integrated payment gateways, level based membership controls, and the flexibility to the users of logging in using Facebook, all these features set the stage for what's to follow from this theme.
A unique matching system will keep your dating website's members engaged, and will also help them filter in on the most ideal match. Customized fields can be added to profile templates to make them more worthwhile. The profile page is swanky to say the least and brings together several essential elements of a great user experience.
If you need more themes we recommend to check Dating Website Templates and Themes.