10 Best Free Online Banner Makers (also Without Watermark and Login)
WebBuildersGuide.com earns commission from some of the web builders and hosting providers listed on this website.
Learn more

Planning to create a free banner for your next advertising campaign, YouTube or website? Alright, take note of these top 10 best-of-the-best free online banner makers. What's more, some of them don't even require you to login. And yes, many of them won't place a watermark on the banners you create. Indeed, we're talking about 100% free software.

Traditionally, creating banners required specialized software and graphic design skills, but the rise of online banner makers has simplified this process. These web-based tools offer a range of templates, design elements, and customization options, allowing even those with limited design experience to create professional-looking banners.
Online banner makers operate in a user-friendly environment. Users can select from a variety of pre-designed templates or start from scratch, adding text, images, and other design elements as they go. Many of these tools offer drag-and-drop functionality, making it easy to arrange elements on the canvas. Once the design is complete, users can download their banner in various formats, such as JPEG, PNG, or GIF, for use in their digital campaigns or websites.
Free Online Banner Makers Without Watermark
You may have noticed that many free online banner makers include a watermark on the banners you create. This is often a strategic decision by the service providers. The watermark serves a dual purpose: it acts as a form of branding for the tool itself and encourages users to upgrade to a paid version for watermark-free downloads. By offering free versions with watermarks, these companies can showcase their design capabilities and attract a wider user base, some of whom may eventually become paying customers.
In this review, you'll find free online banner makers without watermark.
How About Login?
Requiring users to log in before using many free online banner makers serves a dual purpose. Not only does it allow the service to collect valuable user data, but it also significantly enhances the user experience. Logging in actually enhances the user experience in several ways. For instance, when you're logged into your profile, all your created banners are saved, making it easier to revisit or modify them later. Your chosen templates and design elements are also stored, streamlining the design process for future banners. This personalized experience can make the banner creation process more efficient and tailored to your specific needs. If the banner maker allows you to create banners without the need to log in, this is indicated in its description.
Top 10 Free Online Banner Makers
Here is a list of the ten best online banner maker software that offer the ability to create banners for free. And yes, the order in which they appear on my list doesn't signify anything. The last free online banner maker could be better than the first one, and vice versa.
Piktochart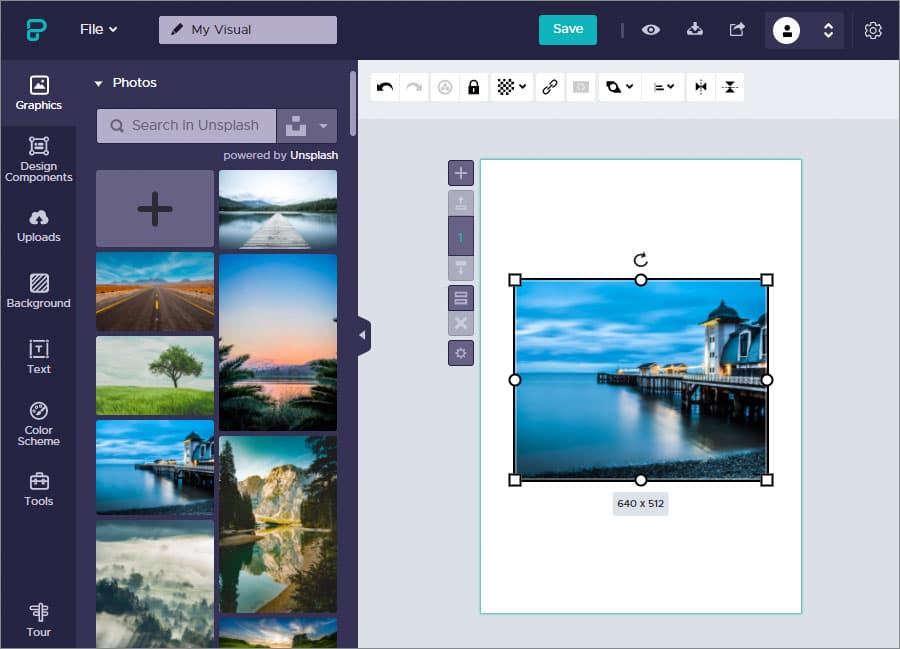 Piktochart is essentially an infographic design website. The website's interface and design allow anyone with an idea to create brilliant infographics. The reason Piktochart makes this list is the availability of many perks even with the free subscription. For example, you will have access to all the icons and images the website has to offer. You can create an unlimited number of designs and even download your designs for free.
The website offers over 600 professional templates that you can use for your designs. You can add your own touch to these templates by adding charts, animated icons, images and even videos. You can add your own colors and edit fonts and after you are satisfied with your work, download and upload for the world to see.
Fotor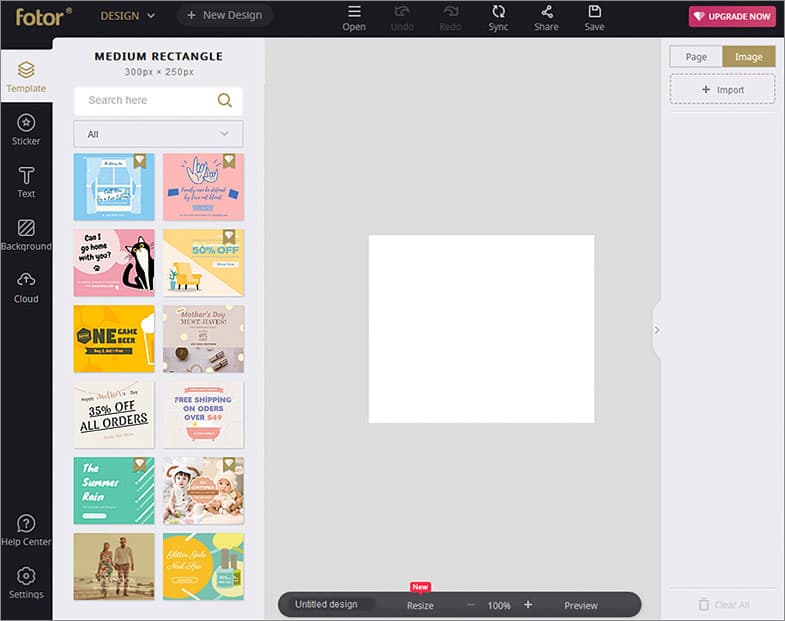 Fotor is an up and coming online banner designer. It is a design platform available for use even on the mobile platform. It also offers a unique tool called 'One-Tap Enhance'. This tool was designed to help fix any creative blocks that designers might have. With cloning options and a plethora of templates to choose from, Fotor is a go-to place for quick banner design options.
Its photo editing tools are similar to that of Photoshop. Think of it Fotor as the online version of Photoshop. You can easily adjust the color, size, light and other attributes in the design and make it look professional. You can also find HDR effects for advanced editing. Apart from this, you get access to hundreds of fonts, choose from a wide range of icons, clip arts all under different themes and styles, to create better designs. The website also offers tutorials to help you design better and make professional banners.
Canva
Canva is a versatile online design tool that simplifies the banner-making process, making it accessible for both novices and experts. With its intuitive drag-and-drop interface, you can effortlessly create visually stunning banners for any platform. Canva's standout feature is its 'Design Suggestions,' which offers real-time recommendations to enhance your creations.
The platform comes loaded with a vast selection of templates, graphics, and images, ensuring you never run out of creative options. Customization is a breeze, allowing you to adjust colors, fonts, and layouts to suit your specific needs. Canva also supports team collaboration, enabling multiple users to work on a project simultaneously. For those looking to up their design game, Canva provides a wealth of tutorials and design courses. With its user-friendly interface and extensive resources, Canva is your one-stop shop for all your banner design needs.
Postermywall
Easy and efficient, Postermywall is a great online tool to make quality banners. Apart from several templates to choose from, the design customization options are so easy to understand that you wouldn't mind creating your own designs from scratch. It also gives you the option of adding videos to designs and save them as GIFs. Other editing options include the addition of shadows and making the image background transparent. Unique fonts are available, to make editing fun.
FotoJet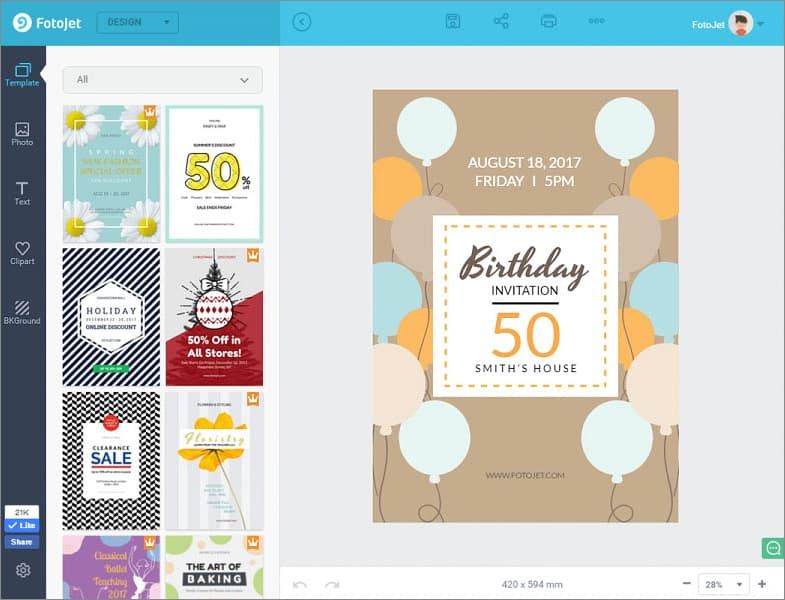 FotoJet is the ideal free banner maker for Facebook, YouTube, Twitter and many other platforms. The templates are topic oriented, meaning you have specific banners for your specific requests. The website has easy to use editing options that give its user complete control over their design projects. Making a banner here is a simple three-step process.
First, you choose a template. Second, you edit the template to your required needs by adding photos and customizing the banner freely. And third, you save your banner or share it online. FotoJet offers you over 700+ templates that you can make full use of. With an abundance of resources, you can be sure that you will always find what you're looking for.
My Banner Maker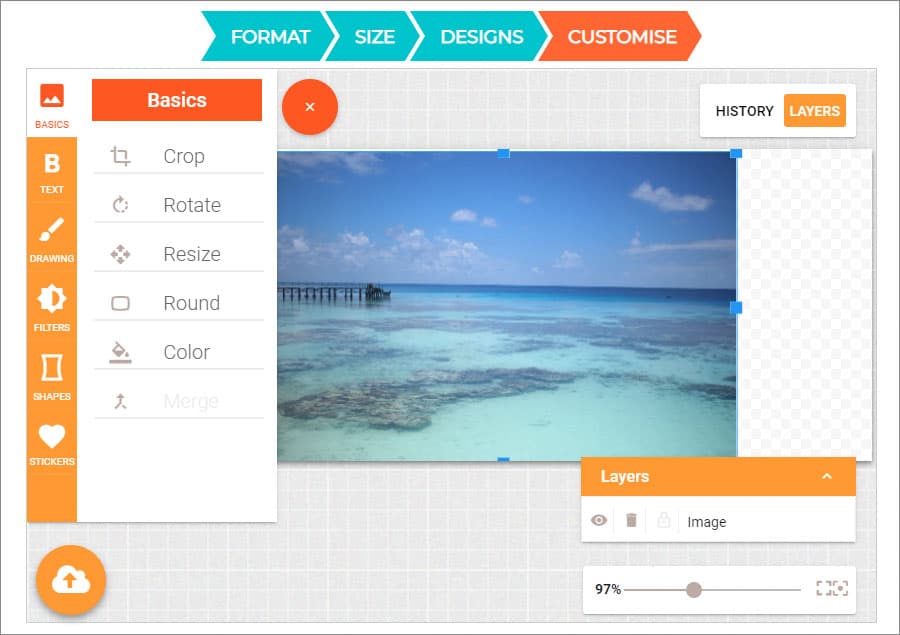 My Banner Maker is one of the best free banner makers out there, and useful for everyone. You can create banners for social media, for ads, and for games, among other things. The website is useful even if you don't have a particular idea in mind for your banner. It's plethora of templates and professionally designed photos will give you the perfect start. You can use their stock images or you could design your own banner based on a template.
Whatever you choose to do, My Banner Maker will support you. The editing options are good and this website ensures that the size of the banner is appropriate for the platform you picked. So, you will not have to struggle to get the size right. This makes My Banner Maker the go-to tool when you're hard pressed for time, and require well-designed banners in a jiffy.
Adobe Express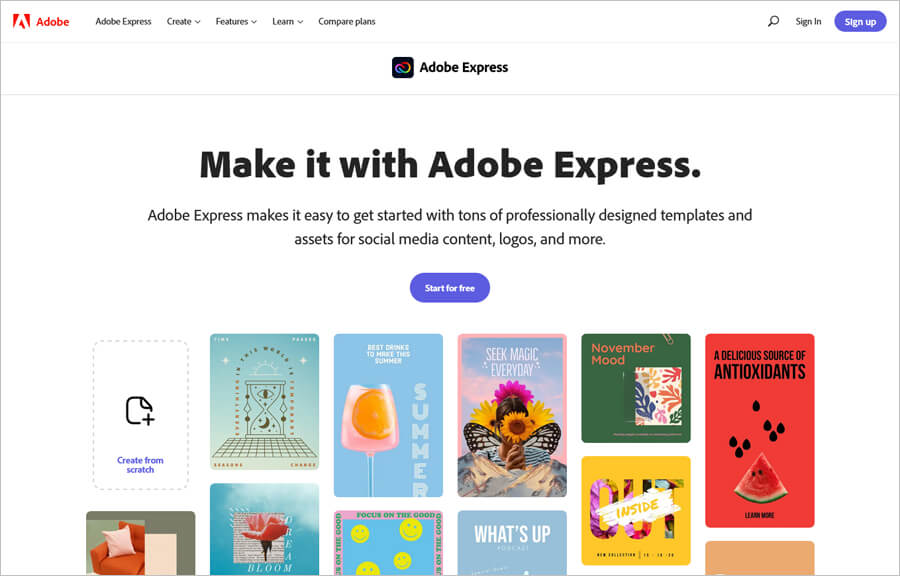 Adobe Express is a web-based apps suite that lets you create amazing banners. With this free banner maker, you can be sure that all your requirement will be met effortlessly. The suite offers a wide range of preset image sizes for almost all the popular banner formats. This will save you the effort of searching through the upload requirements of different sites where you might want to post your banner.
Adobe Express is very easy to use and ensures top quality designs. You can bring together unique text fonts and images of your choice to make professional banners. With AAdobe Express, you can create and customize your banners so that they look good on every platform you upload them on. For example, a banner ad and a Facebook banner are two different designs, and they need to look different. With Adobe Express, managing these nuances is a walk in the park.
BeFunky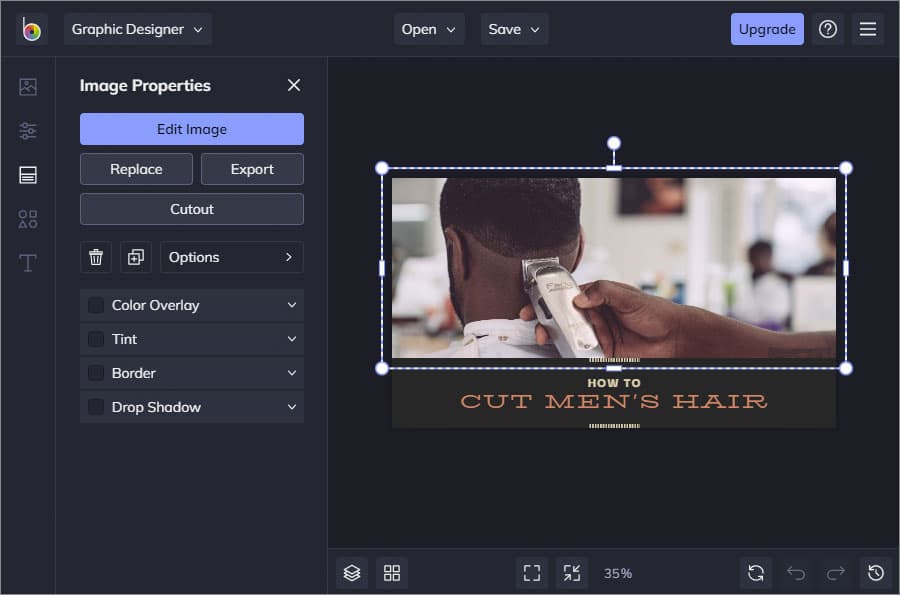 BeFunky is all about helping you gain recognition. You can create Facebook ads that draw the viewer to your website and also use the various banner formats to the best of their capacities. The banners coming out of these websites are highly compatible with Facebook's targeting options. Creating a banner is an extremely simple process with Befunky.
All you have to do is select one of their highly impressive banner templates. Once you have decided on an image, all you have to do is transfer it to BeFunky photo editor where you can customize it to your liking. Add text, apply filters, add shapes – you're done. Edit the font and color and preview your design. Your banner is ready to use.
Crello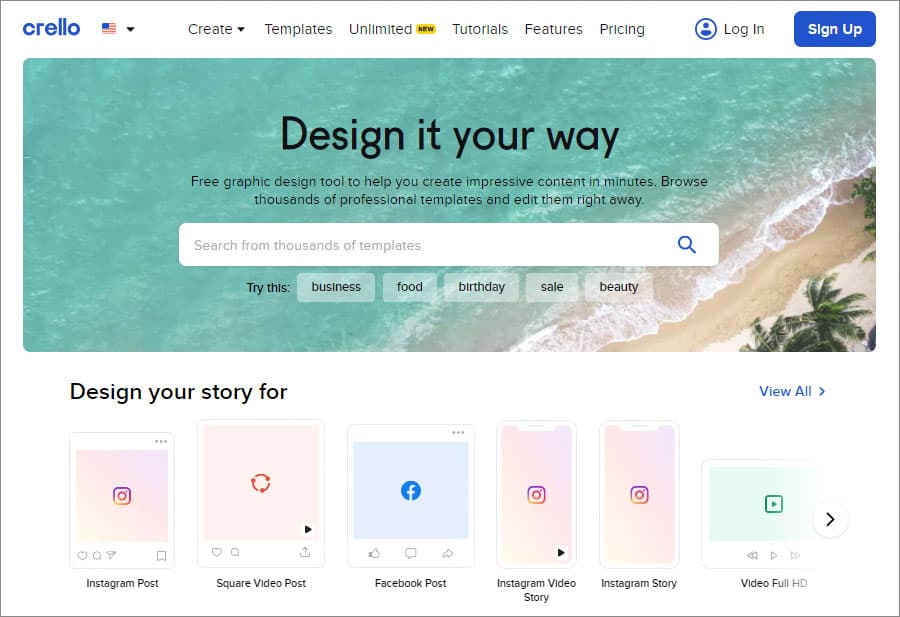 Crello is a free graphic design tool, perfect for web designers, marketers, and bloggers who need original, professionally-looking visual content. Here you'll find thousands of pre-designed customizable templates and can adjust any of them for your needs via Crello's intuitive, easy-to-use online editor.
What makes Crello different from other banner makers and visual element builders is that it gives you an option to create animated designs and use the premium content from their media library even if you sign up for a free account. (Video and audio files are also here.) Plus, you can upload your own illustrations to the editor and customize them via Crello for creating even more personalized banners for your website.
How Do I Make My Banners Stand Out?
Before you can go ahead creating a banner, there are certain things you need to keep in mind that will help you make an effective banner.
Research
This is the foremost step. Do your research. You need to know the trends in banner design. Consider your competitors' banner designs, the style and personality of the platform you're going to use the banner on, and your audience's preferences. When you have this information, you can create great banners.
Choose The Right Size
Size of banners may not seem like a big deal initially, but you'll soon understand its importance. The most commonly used banner size is the Leaderboard. Its size in pixels is 728x90px. This is just an example. Similarly, you will need to understand the banner size requirements of the platform where you're going to use it on. Take time to explore the different sizes and use them appropriately.
Include A Logo
To make your brand known and to create awareness, your brand's logo must shine on the banner.
Choose Colors Wisely
Colors add to the aesthetic beauty of the banner, if chosen intelligently. Bad choice of colors can completely destroy the banner's appeal. Add a nice calm color to keep people calm or add a strong color to create a sense of urgency. Whatever you decide, don't make your banner a rainbow of colors. Adopt a theme, and make sure your color choices complement the theme.
Keep Things Simple
The more complicated you make things, the harder it is going to be to get the point across. You need to remember that the people seeing your banner add will do so just for a few seconds. In that limited time, you need to get your thoughts across. So, keep the banner design simple and choose your words wisely.
Don't Customize Your Font Too Much
If you use italic fonts, or extremely thin fonts and bold uppercase fonts – all in one design, then it's unlikely that your banner will retain people's attention. It just looks cluttered and chaotic, if you use too many font styles. Instead, use good spacing and a single font for the entire banner.
Include a CTA
CTA? A Call to action button. This is very important. Everything you have done to design your banner would be meaningless if a call to action isn't present. You need to be able to direct your viewers to an action, and a call to action would do just that.
What is The Best Online Banner Maker?
The online tools we've covered in this guide will help you design banners quickly and effectively. High quality templates, along with a wide range of customization options – that's the perfect blend. All of these tools offer you this blend of features. Plus, you get to choose from a large number of layouts, appropriate for specific web platforms such as Facebook and YouTube cover pages, social media posts, website banners, etc. However, remember that these online tools can't be compared with dedicated web design software such as GIMP or Photoshop. That said, these tools will get the job done for you most of the times.