The 5 Best Free WordPress Alternatives for Beginners
WebBuildersGuide.com earns commission from some of the web builders and hosting providers listed on this website.
Learn more
Want to replace WordPress with something more reliable and easier to use? To your attention five the best free alternatives to WordPress with a description of the features and benefits over WordPress.
WordPress is one of the best tools webmasters use to create their websites. It is open-sourced and free to use. WordPress is a Content Management System (CMS) whereby you can create, manage and modify content without any or less prior technical knowledge. There are a lot of CMS and free website builders in the market today; however, WordPress CMS has a competitive edge over the others.
WordPress has a considerable fan base, and why wouldn't it?
Approximately 42,8% of all websites are created and designed on WordPress. It was designed for blogging, but many E-commerce plugins have also been introduced due to high competition in the E-commerce arena. This feature has made WordPress a viable option for those who want to create an outstanding online shopping experience for their users.
Why are webmasters interested in a WordPress alternative?
All is good about WordPress until a more advanced side is looked upon. WordPress has been criticized on behalf of its usability and the methodological coding. We dive into some of the weaknesses that WordPress is often associated with:
1. The main reason why WordPress is often a letdown is that it requires knowledge of HTML/CSS and basic knowledge of server administration. You must have a technical understanding if you are looking for a complex and flexible website.
2. To build a website through WordPress.org, you must buy hosting and domain separately.
NOTE:
You don't need to buy a separate web hosting and domain only if you use the online version of WordPress – WordPress.com. This is a classic shareware website builder where web hosting, SSL certificate, domain name are already included in the package offer. And besides, you can get 50% off using the 50% Off WordPress coupon code.
3. WordPress website maintenance is a hectic job; therefore, you must have the appropriate skills or will have to hire an agency to look after your website.
4. Websites often go down for hours or days due to technical reasons. A technical person will be able to restart or revive the website.
5. Your website is vulnerable in WordPress even if security plugins have been installed. If the website has a blog section with comments allowed, there is a probability that spammers and hackers will attack your website.
6. WordPress offers minimal SEO features, which seems unsatisfactory sometimes. Yet again, you will need a professional to research and target many keywords that will increase your ranking on Google.
7. Plugins seem to be an integral part of WordPress websites that need to be downloaded for additional features and management. These plugins need to be manually updated now and then, making it a frantic job.
NOTE:
In defense of WordPress, I must admit that all of the shortcomings listed can be eliminated with the right knowledge and skills. Yes, it will take you more time and possibly money compared to other alternatives, but these disadvantages are not critical. It all boils down to the question – do you need it? If not, keep reading and find out what you can replace WordPress with to make your life easier. If you decide to stay with WordPress, it will be useful for you to read the manual: How to Install a WordPress Theme on GoDaddy: A Step-by-Step Guide.
What are the Best Free Alternatives to WordPress?
Ok, with the possible problems of using WordPress, everything is clear. Now what to do next? It's simple; we need to list the free WordPress alternatives that can be used instead.
Below are the five alternatives that you need to know:
Webflow
One of the first free alternatives to WordPress is Webflow. Now you can search the web, and you will get to know that many designers who were previously building websites for clients on WordPress have switched to Webflow.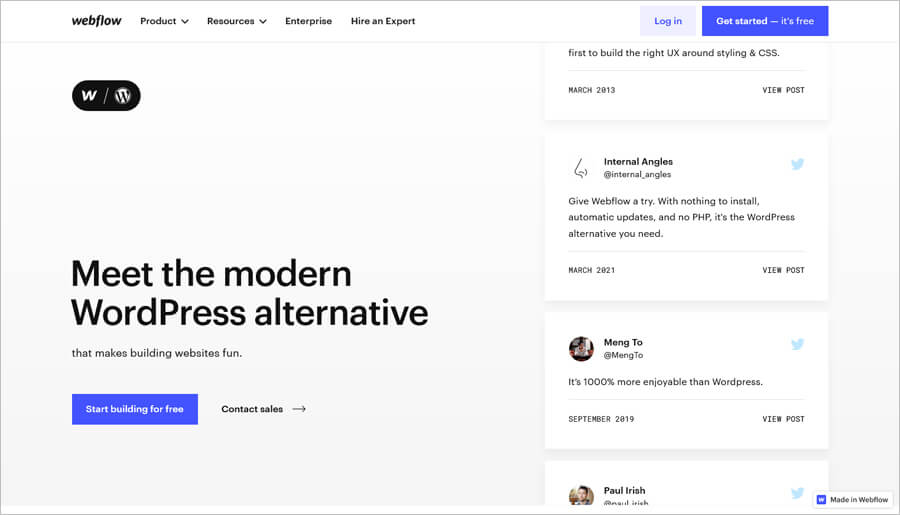 Webflow was created for designers and website creators who want to market their websites with a unique perspective. Although the current users of Webflow are lower in number than the users of WordPress, Webflow, with around 3.5 million users, shows promise for the future and is well growing compared to WordPress.
Webflow was created for designers and website creators who want to market their websites with a unique perspective. Although the current users of Webflow are lower in number than the users of WordPress, Webflow, with around 3.5 million users, shows promise for the future and is well growing compared to WordPress.
In comparison to WordPress, Webflow has many features that set a different vibe and are listed below:
Webflow is SaaS software that is self-hosted and is free for primary use.
One of the unique features of Webflow has its own CMS for dynamic websites.
You can add features to the website by embedding code if willing to take your website ahead of the competition.
In contrast to WordPress, in Webflow, you register for your account, and the AI system will gather your requirements, and voila, you are good to go.
People behind Webflow have achieved a great feat by using JavaScript and CSS and creating an interactions and animations tool that will help most of us design a complex-looking and animation-rich website without coding.
Webflow has a dedicated customer support system that helps you through the highs and lows of making a website.
Performance optimization of a Webflow website is better than a WordPress website.
There are no updates or plugin maintenance in Webflow, which reduces the risk of your site being hacked.
Wix
No offense to all the amateur website developers who want to design their websites but don't have the slightest clue on how to develop and website; Wix is just for you. Wix is one of the best free alternatives to WordPress, with millions of users worldwide. You probably would have heard of Wix due to the extensive advertising programs that promote Wix as the most accessible platform for producing websites. According to many users who do not have any technical knowledge related to website development, Wix has provided them with a platform to exhibit their business, their skills, and what they have to offer.
Wix is a cloud-based website development platform that lets you start just by making a free account and answering the survey given by the Wix Artificial Design Intelligence (ADI) system. This system provides many pre-developed templates you can use as a basic structure for your website. Wix is usually used for websites with design flexibility and portfolio-type websites. However, Wix is not recommended for more extensive and more-content oriented websites.
Wix, as a free WordPress alternative, has the following distinguishable features:
Wix ADI is a unique feature that asks you questions regarding your requirements and then suggests the best possible template options that you can use.
It has over 800 templates that are fully customizable and focus on various categories such as physical businesses, online stores, events and bookings, hoteling and services, etc.
Wix solves all technical and hosting issues as it is self-hosted and has outstanding customer support.
Wix has an App store that offers both paid and free features and customization options.
The In-built SEO features of Wix let you rank higher and create an enhanced online presence.
Check out Wix Review to learn more about Wix features.
Weebly
Weebly has been in the market for about 14 years, and since its inception, there have been many changes to the Weebly engine. One of the significant changes that recently took place is the acquisition of Weebly by a payment processing systems company, Square. This acquisition has led to a more significant expansion of Weebly into the E-commerce arena, making it a viable candidate for the competition against WordPress. E-commerce websites can be launched far quickly and are scalable on Weebly. The blogging, marketing, and integration features in Weebly are all in-built, making it a potent WordPress alternative.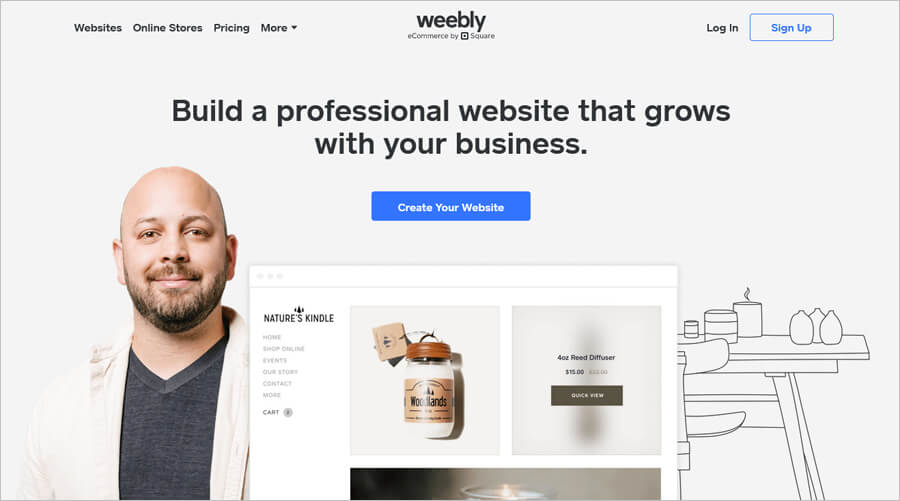 In technical terms, Weebly is not an open-source platform like a WordPress website builder. An open-sourced platform lets the User modify anything and everything that the user wants. However, in the case of Weebly, it lets you modify only certain features and functions on your website. Weebly has more than 55 theme-based templates that are easy to use and modify. If you are looking for an essential website that might not need significant changes in the existing theme, you can easily use the accessible version of Weebly. However, if you need modifications and can't compromise on a single text box, Weebly might not be there yet. Apart from usual customer support, there are updated free tutorials and how-to videos for beginners.
Weebly can be considered as a free alternative to WordPress website builder in the following ways:
With Weebly, you will not need to buy the domain and hosting separately as it is a self-hosted platform.
Another plus point of Weebly is its customer support; WordPress doesn't have any official support and depends mainly on its community; however, Weebly has a dedicated phone line, email address, and live chat.
We used WordPress and had to manually install plugin for SEO while Weebly has an in-built SEO feature for all the page titles, Meta descriptions, and custom URL's. Weebly also provides features such as instructions for Search engine, adding Google Analytics and Images alt attributes.
The Weebly drag-and-drop editor doesn't need any third-party installation, as in the case of WordPress, and is very simple to master.
Weebly has a dedicated App Center with hundreds of free apps to make your website smoother and user-friendly.
Weebly is easier to learn and use. If you know how to create a Facebook or even a Weebly account, you can easily create and design your website.
In Weebly Review, I went into detail about Weebly's advantages and disadvantages.
Webnode
Webnode is one of those WordPress competitors that are still in the growing phase. It doesn't have a lot of users, but those who have used Webnode are satisfied with the performance. Compared to WordPress, Webnode is a cloud-based website development platform created to cater to small businesses, small E-commerce stores, and personal portfolio websites. Webnode markets itself as an easy-to-learn platform that requires no coding knowledge.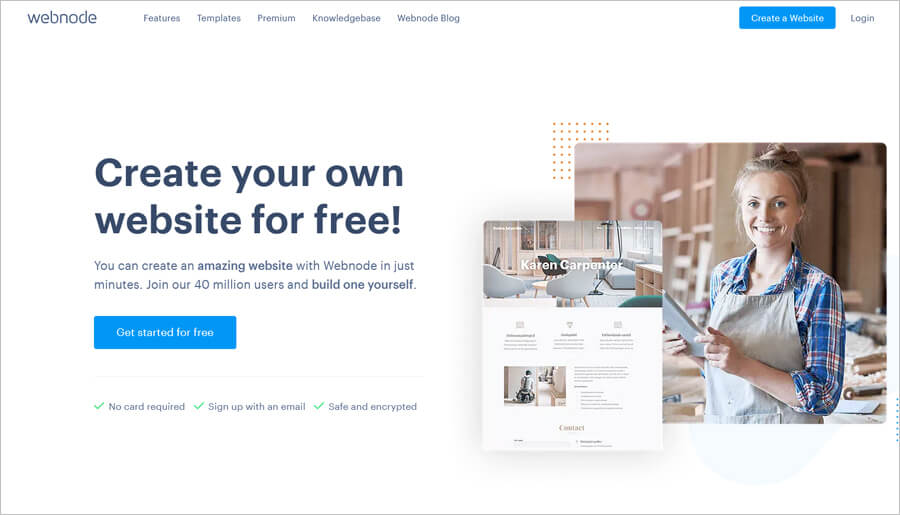 One of the most iconic features of Webnode is that you can produce a website in almost 24 different languages. This helps the users who want an international reach for their businesses or websites. The interface of Webnode is exceptionally user-friendly and is ideal for new users and beginners who lack the knowledge to code and make advanced modifications to their webpage. It has a simple dashboard and a drag-and-drop editor that lets you understand the flow of things and makes it easier for you to design a website.
Amongst many great features of Webnode, there are a few that stand out:
Webnode is easier to learn and can be your go-to option if you want all the tools to be accessible at hand.
Webnode has an in-built E-commerce solution with multiple currency options, payment options, and transaction and order management.
Webnode exclusively offers business email addresses and a range of SEO tools to optimize the site.
Webnode has a decent customer support system that lacks a WordPress website builder.
You can learn more about Webnode in Webnode Review.
Jimdo
Jimdo and WordPress are a world apart, in the literal sense. Jimdo, in comparison to open-source WordPress, is code-free DIY website creation software. If you are a person who doesn't have any prior coding knowledge or want to focus on your main business idea rather than focusing on the website, Jimdo may be created just for you. Effortlessness, affordability, accessibility, and the intuitive website design are some of the virtuous of our friend Jimdo. Jimdo has been used recently by newbies and professionals alike.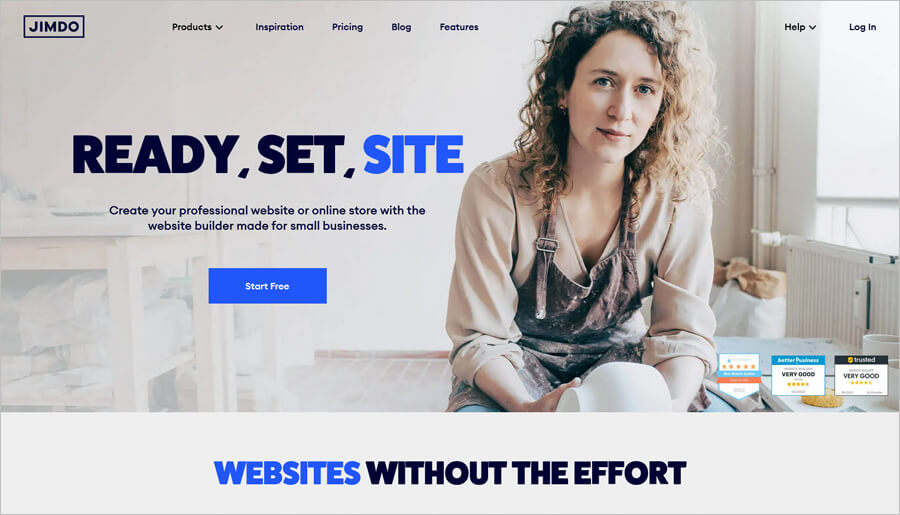 Jimdo is a free WordPress alternative that lets you begin with many different projects simultaneously, like promo sites, portfolios, landing pages, and online stores. If you happen to search the web for the comparison between WordPress and Jimdo, there will be many people who will suggest that the ease of use with Jimdo is considerably higher than WordPress. Many past users have suggested that if you do not have the budget for hiring a professional developer than Jimdo might be your preference. Jimdo has seen many improvements over the years and still doing so by integrating social media options, payment gateways, and Google Analytics.
Jimdo is set apart in the WordPress alternatives market by the following features:
One of the unique features of Jimdo is that the SSL certificate value it provides is above in comparison to WordPress website builder.
The basic version of Jimdo is free to use and provides ample opportunity to learn and scale your website.
Jimdo is ahead of the competition as it has mobile app especially for the creators or the coders who want to edit their website, manage orders for online store, publish content and check on the website statistics.
Jimdo allows beginners to launch a small to mid-sized E-commerce store with all the direct marketing and payment integrations required.
It's high-end Artificial Intelligence system that helps you design your website is the star of the show here, making it relatively easy for everyone to create a stunning website.
Jimdo doesn't have an App store yet, but it still gives you access to third-party widgets, including MailChimp, LinkedIn, Eventbrite ticketing, etc.