Top 10 Free Logo Makers and Generators
WebBuildersGuide.com earns commission from some of the web builders and hosting providers listed on this website.
Learn more
A logo is one of the most important elements of your brand. It is essentially a visual representation of everything that your brand or company, at large, stands for. Throughout the day you come across numerous logos, whether you're watching television,en route to work or simply when using your favourite products. With just a glance, your potential customer base can recognise you from your logo. A well-designed logo that conveys your mission and message aptly creates a certain amount of interest and curiosity in your audience.
Besides, it gives you a strong competitive advantage, especially if your product or service offering caters to a rather crowded market. One of the best ways to stand out is by having an enticing logo that is memorable and distinct.
How to make your own logo?
If you are just starting out with your business, you may not have the capital that is needed to design your brand with the finest designers in the industry. If you have an online presence or an e-commerce storefront, developing and maintaining a website is an added cost. Although essential, the costs do add up and therefore, your budget may not allow you to spend much on one of the most important aspects of your business – your brand identity.
In such a circumstance, you can certainly design a logo yourself even if you have the least impressive design skills. There are numerous free logo makers online that you can use to give your brand an identity. These logo makers provide free templates, which you can use to customise as per your business name and colours. They offer an incredible amount of flexibility. At the same time, it is essential to know that the logo you create using these software programs won't offer exclusivity and therefore, won't be unique to you.
However, as a starting point with minimal budget, these best online logo makers offer excellent opportunity to take your project off the ground.
Which are the best free logo makers for 2023:
Wix Logo Maker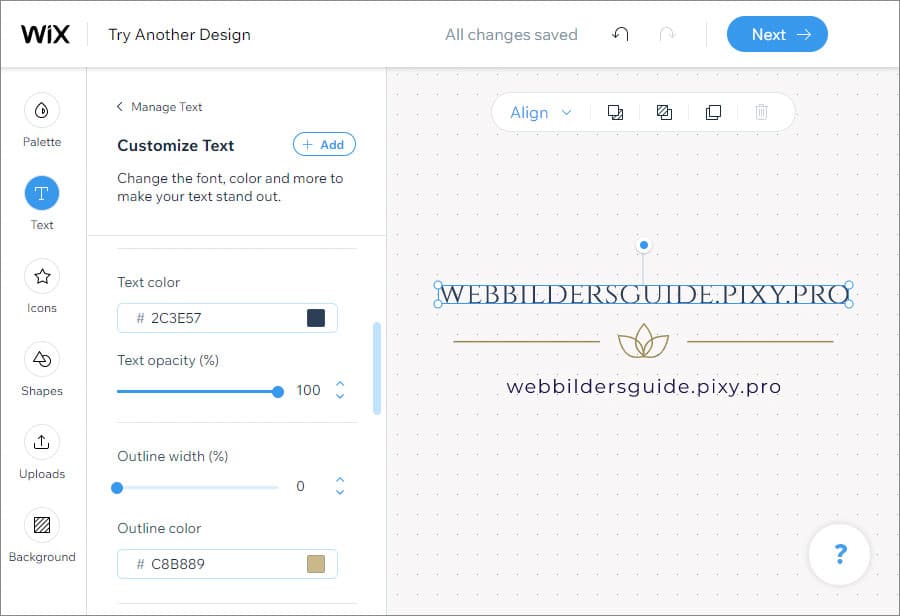 Wix is one of the most reliable website builder for professionals. It offers a complete branding solution and what makes this the best design software for logos is the fact that it creates a custom logo experience for each of its users for absolutely free of cost. This design is then also completely customisable, offering you absolute control over how you would prefer the logo to look like.
The whole process begins first with a set of questions, which you are required to answer to the best of your ability. This gives the algorithms within Wix an opportunity to understand what your brand stands for and the style that you are looking to go after. On answering the questions, you will be sent a logo design draft that is suited perfectly for your brand.
You do not have to settle for the design that was sent to you by Wix. If you feel that it needs a change in color or font, you can do this easily. Besides, the final logo that you design can also be used for commercial purposes.
Graphic Springs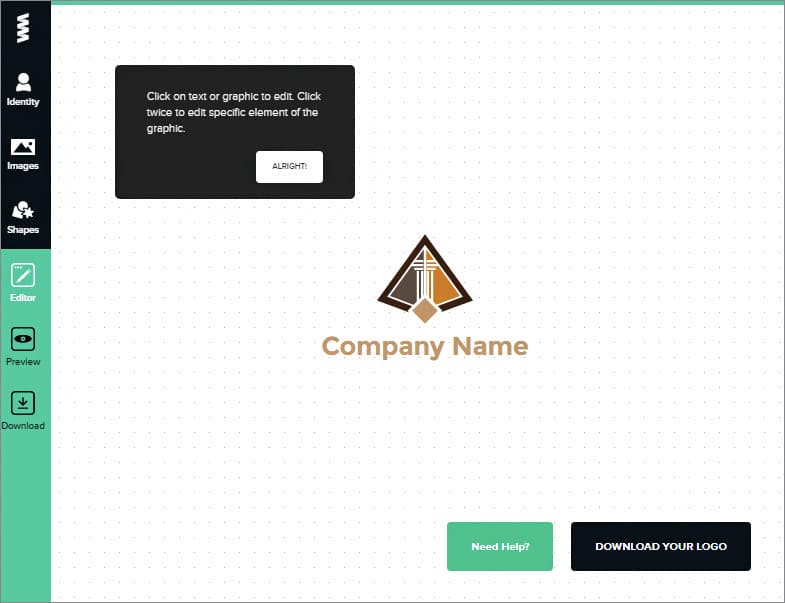 Graphic Springs free logo maker offers a straightforward and fuss free way to create your own logo in a matter of minutes. It essentially follows a three-step process to creating your own logo.
You first begin by typing in the name of your business. If your business has a tagline, you would also include this in the text box titled with the same name. The next step is selecting an image to accompany your logo. This section is further divided into several categories based on industries that your business may be in. Therefore, you can choose from food and drink, real estate, dating, computers, travel, technology and many more.
Once you've chosen the image, you can then finish this off with the final step of choosing a shape for your logo. There are options to fit your logo within badges or you could even use artistic swooshes and lines to accentuate your logo. Once you have skeleton of your logo ready, you can further customise this by double clicking on elements to activate their features. Here you can change colors, font and even the sizes of elements with ease. When you are happy with how your logo looks, you can preview and download it for use in your business.
Free Logo Design
Free Logo Design is one of the online logo designer software that is not only free to use but also offers a quick and easy way to design clean, minimalist logos within minutes. The process is extremely simple and requires you to type in the name of your company.
Once you do so, you will be presented with over thousands of templates, which you can choose based on the look and feel that you are going for. These templates are completely customizable and you can choose any color or font that you feel would best suit the personality of your brand.
Finally, when your logo is ready to be downloaded, you have two options; you could either download the free version, or pay a small fee to download the same logo in a much higher resolution, which you could use on a number of marketing collateral. Using this logo software is very easy thanks to its user interface, which has been designed to ensure that people with minimum or no design skills are also able to use this software with utmost ease.
Logomakr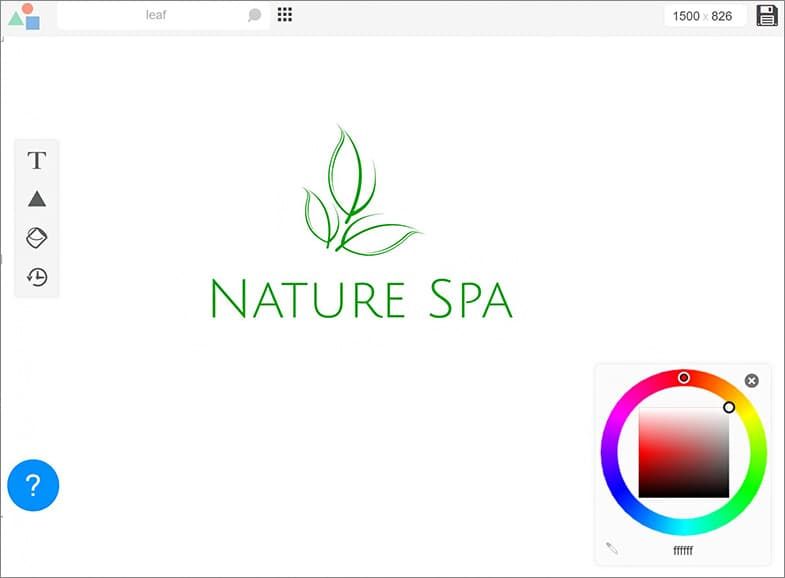 Whilst there are many programs that enable you to download a free logo maker, few have the ability to do so with relative ease like Logomakr. It is extremely easy to create your logo using this free software. The database of Logomakr has over 1 million graphics, which you can choose from. This forms the visual element of your logo.
You can then select the text that goes with the graphic. This software program gives you several options to edit the font of your logo. It offers a wide variety of fonts categorised neatly into different kinds like 3D, Pixel, Handwriting so you can filter only the fonts that suit the personality of your brand.
Logoaster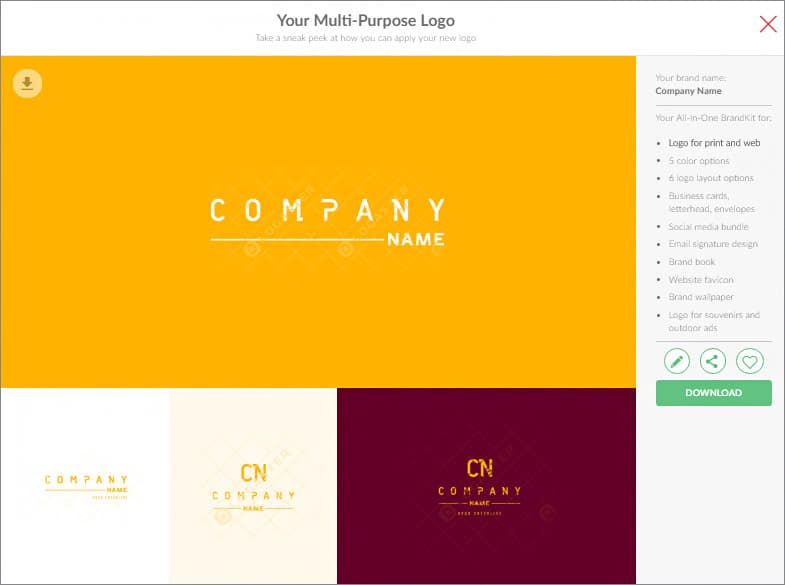 This free logo creator does all the hard work for you and simplifies the entire process of logo creation. All you need to do is enter the name of your company and tagline. You can also choose what industry your company functions in. Select a color scheme that you believe goes well with your overall branding and click the create button.
Within a few seconds, you are presented with numerous variations of your logo in different styles, colors and fonts. An exciting feature of Logoaster is the fact that it not only creates the logo for you, it also superimposes this logo on a myriad of marketing collateral like letterheads, business cards, stationery and the likes to give you a real time feel of how your logo would look in action. You also have the ability to edit these as you like before saving them to your computer for use in your business.
Ucraft Logo Maker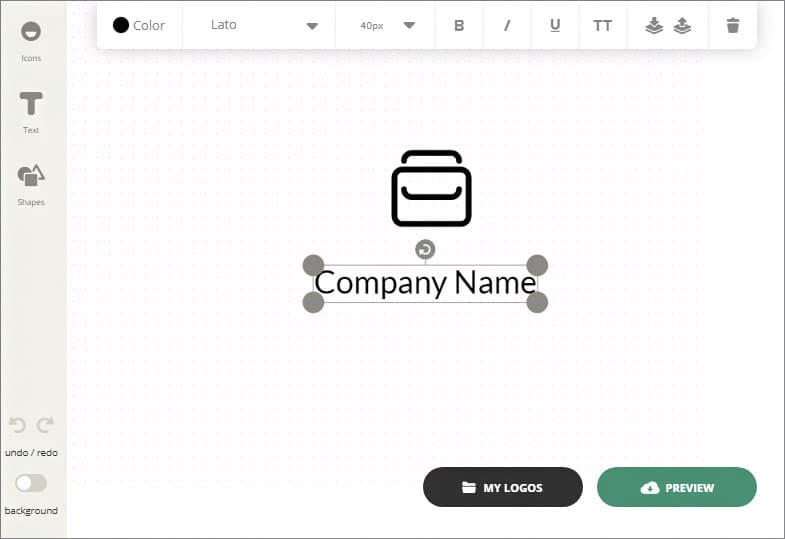 If you are looking for a fun and chic logo for your brand identity, Ucraft Logo Maker is an excellent tool. Their image database has a number of different high-resolution icons, which you can use to create a base for your logo. You can also add text and customise it for font size and style, choosing the one that best represents its personality. The resulting logo looks extremely professional and you don't need to have any prior design experience.
UCraft is a logo maker software that enables you to save the logo not only in the PNG format but also as an SVG file for a minimal additional fee. An SVG file essentially gives you the ability to scale your logo without losing quality. This makes it possible for you to have a high-quality logo on your website as well as your marketing collateral.
Logo Type Maker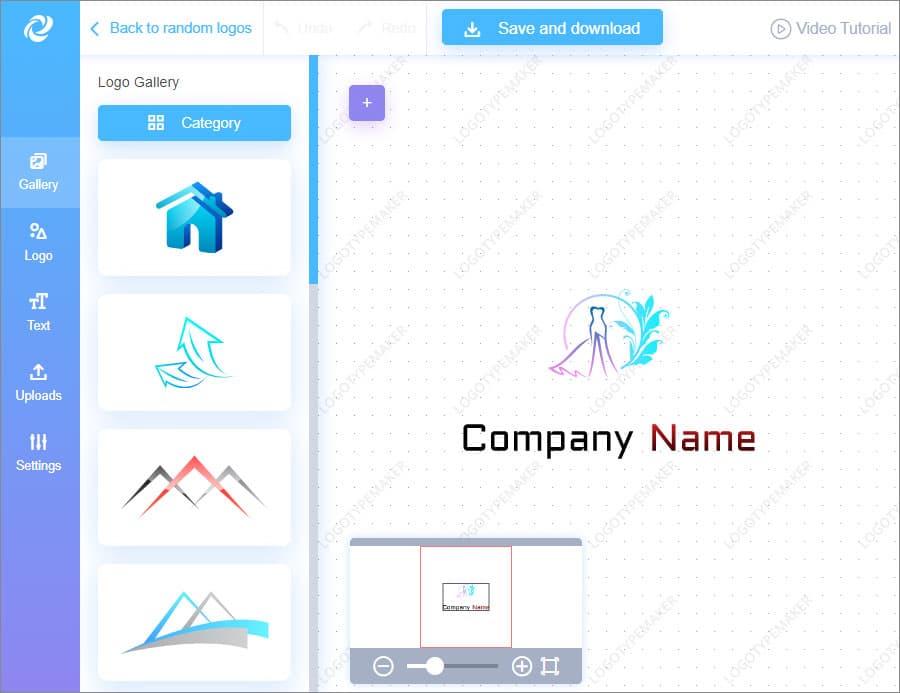 This freeware logo maker uses artificial intelligence to create a customised logo experience, which is ideal especially for small business owners and solo entrepreneurs with a limited budget. A distinguishing feature of this logos creator is the fact that you can upload your own artwork online and further customise it. This is especially useful if you are a photographer. If you've captured a beautiful image, which you believe would be the ideal background for your unique logo, you can upload it to the Logo Type Maker server and add your text, colors and effects as needed to create your very own distinct logo.
Online Logo Maker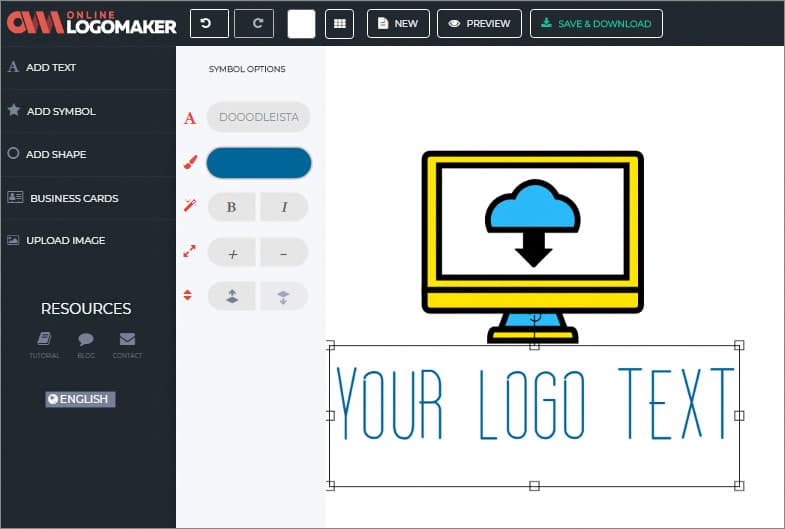 There's a possibility that you may create your logo but feel unsure of using it for your brand. You may need to revise it before deciding to download it. However, if you quit, you may lose the changes and may have to start all over again. With Online Logo Maker, you can fearlessly come back the next day with a fresh mind and re-work on your logo design.
This free software for design logo has the same features with unique templates and font choices as also the complete ability to customise it to your liking. However, what distinguishes it from the rest is the fact that you can save your design and come back at any stage to continue working on it without losing any changes.
DesignMantic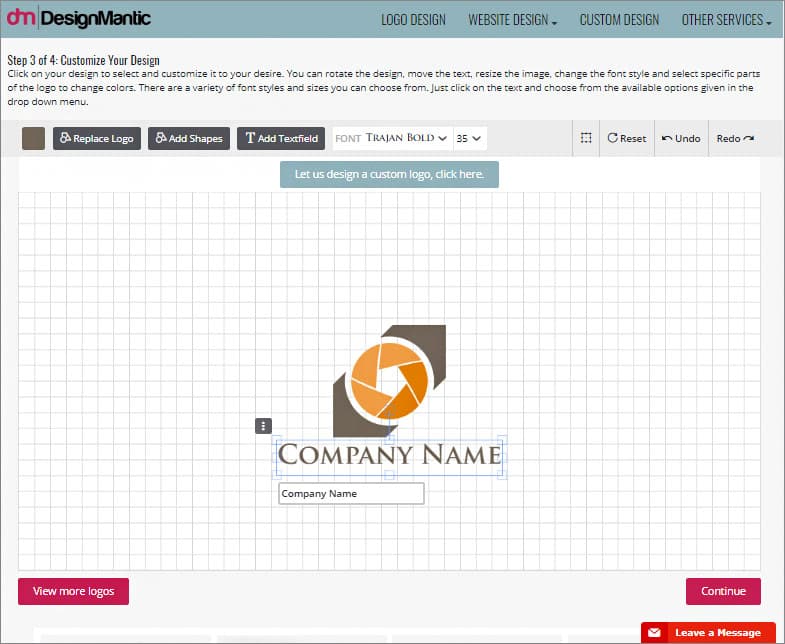 This free logo makers software gives you the opportunity to create a logo specific to your industry by enabling you to choose from a wide range of categories. Professional graphic designers have worked tirelessly to create a database of sophisticated templates, which you can choose as a base for your logo design. With the ability to customise the colors, fonts and size of all elements in your logo, you can be assured of brand recall when creating a logo using DesignMantic.
These logos go seamlessly on your website, corporate identity and even your email signature. Additionally, DesignMantic also offers a paid service where they can customise the logo for you based on your brand's personality and company mission and vision. However, if you are a small business owner, the free tool is the ideal fit to get your logo designed within minutes with no prior design experience required.
A logo is one of the most indispensable aspects of your business. If you wish to leave a mark on your customers' minds, you must ensure that your logo is professional and relatable. However, you need not break the bank investing in a designer that charges hundreds of dollars. All you need is one of these top 10 free tools to design your logo and you're good to go.