Best Directory Website Builders and Directory Software
WebBuildersGuide.com earns commission from some of the web builders and hosting providers listed on this website.
Learn more
All about creating web directories
Not many years back in time, capital used to drive businesses. Today, the virtues of innovation and knowledge are equally dependable as pillars to base new businesses on rather than anything else. Knowledge, in fact, is the key leverage that separates the successful from the struggling, and is the key to great success in business. Particularly in case of web based businesses, "information" can be considered as a prized commodity, something for which people are willing to shell out money. Consumers are always desperate to find out the best deals for products and services in their regions and on the other side, local businesses are always sweating it out to be more visible to local audiences.
This is where web directories come into the picture, bridging the gap between the two and connecting the two stakeholders. Web directories organize listings of businesses and services in particular geographies into multiple categories and provide a searchable database to users so that they can find the information they want. So, in effect, web directories act as a bridge between sellers and buyers, enabling them to get free access to each other. And the best website builders allow to create such directories also for free.
Of course, this is a very broad view of the business model of web directories. We intend to explain you just a little more about the viability of creating business directories, and why one can expect sustained revenues by offering a web directory service.
How can you make money by offering a web directory service?
Well, there are two primary ways in which one can monetize a business directory. Primarily, and pretty obviously, you can charge a fixed fee from interested businesses that want to be listed on your business directory. Depending upon the popularity of your web directory, you could make substantial money by charging businesses and listing creators in different ways, such as charging for listings to be activated for a certain time, charging them for placing their ads on more prominent positions, and so on. Secondly, once your web directory becomes popular and important for local businesses to be visible to prospective clients and customers, you could also offer banner advertisements on your directory website for prominent businesses to make an impression on the visitors of your directory.
Web directories – a sustainable revenue model for creative webpreneurs
The big question – will you be able to sustain revenues for the long term with your web directory website? The answer is a confident YES, because businesses in the geography you'll serve with the directory will always want to be present and listed on your directory. Secondly, local businesses always have the added incentive of getting high value backlinks in the form of their listing on your business directory, something that adds on to their SEO readiness.
Of course, building a directory website and then making it successful requires innovation, business acumen, knowledge of the markets you"re trying to serve, and marketing skills to get listings for the directory. However, before all this, you need a killer directory website that creates a salubrious impression in the first go and entices local businesses to get listed, apart from making it easy for you to manage all the listings, bill clients, and do all the administrative tasks that you need to perform well for the management of your web directory. Thankfully, you don"t have to be a web genius to get such a directory website in place. There are several routes that could lead you to a powerful web directory website, right from the best free website builder tools to directory building plugins that work in conjugation with Content Management Systems. We socialize you with all the effective methods of creating a web directory in the subsequent sections.
Using ready-made solutions for directories:
It hardly gets any easier than just having to use the best directory website builder to create your web directory, and that's what we explain in this section. Here are the two most popular and reliable directory builders for you.
Brilliant Directories – The Best Directory Website Builder
For all those of you who desire having a professional web directory without sweating one bit, Brilliant Directories surfaces as an ideal readymade directory making solution. Touted as the 'easiest directory builder' across the web, Brilliant Directory does a lot to match its claims with substance, as it clear from all the features that the service packs into its directory building cloud hosted solution.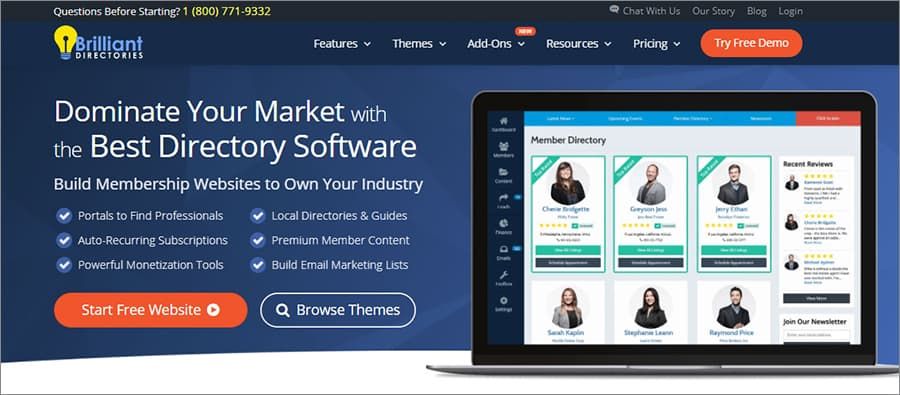 Installation and set-up are easy and matters of a few clicks, with no coding required on your part. Pre-made Privacy Policy, Terms of Usage, FAQ pages help you populate your directory website quickly, and tools for member management, multiple directories' management, marketing and creating directory pages make your post-installation phase hassle free. You can use the powerful and extensive billing and payment features to create as many membership packages as you want, apart from automating recurring payments and generating detailed accounting and financial reports.
Subscription upgradation and multiple subscriptions are also enabled for your users, as are easy refunding and billing history tracking tools. Pages are pre-filled with keywords, descriptions and Meta Titles, the directory structure is SEO oriented, social media sharing, user reviews and internal linking – all go a long way in enhancing the SEO readiness of your directory pages. Your members will love creating content rich listings that will help them in turn by giving them visibility online. Features that are helpful for members include a 'deals and promotions' engine, email newsletter, friends' invitation, badges for member websites, multiple categories and geo locations, and detailed profile building.
Edirectory
Making directories that can not only be easily populated but also quickly monetized becomes a breezy affair with eDirectory's premium directory building software for you, which comes to you in a Software as a Service (SaaS) as well as a licensing based format, depending upon what you prefer. You will be able to choose from 4 professional looking directory templates to build your web directory, and can then customize the looks and styled using your PHP knowledge. Whether you wish to create local search directories, buyer's guides, Yellow Pages website, restaurant guide, real estate directory, or any other variant of web directories, you will find eDirectory up for the challenge.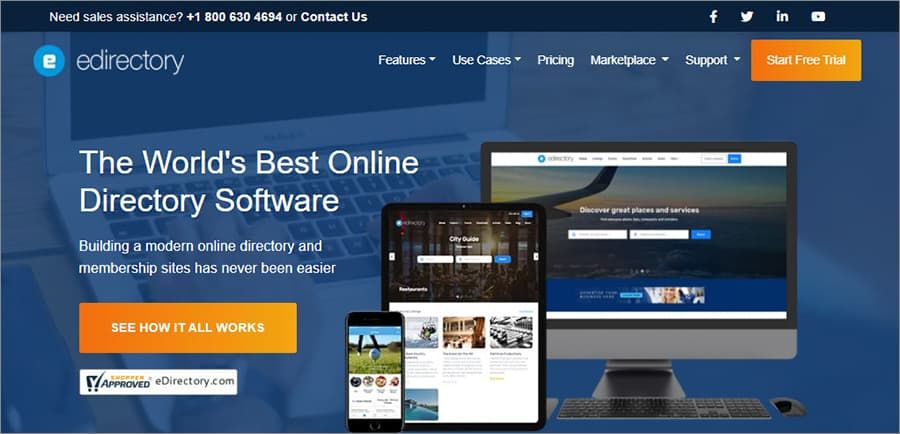 You will cherish the advanced reporting functionality of the service, along with the integrated payment processing. What's more, there's an SEO center that lets you optimize your directory for search engines, helping you save a lot of specialized SEO services. To top it all, you get a mobile optimized directory website without having to use any coding skills. Listings made on your directory will be content rich, boasting of descriptions, photos, maps, categories, business hours, keywords, and what not. The multi tab layout makes presentation of information easier. You'd also like to use the Field Editor that helps you customize the listing fields to match data with the aid of the Listing Template editor.
Using web directory scripts:
Web directory scripts are software packages that help you create your very own customized web directory, with minimal involvement of technical development languages. Not only to web directory scripts help you get off the blocks quickly, but also prove to be highly resourceful for you once your web directory is up and running. You might want to know about some of the most popular and widely used web directory scripts.
phpMyDirectory
Empowered with PHP and MySQL, phpMyDirectory is all one can need to create any kind of web directory. The wide range of options this script offers in terms of content richness of listings is simply awesome, including facilities such as adding multimedia to listing, reviews and ratings, vCard downloading, and reception of messages.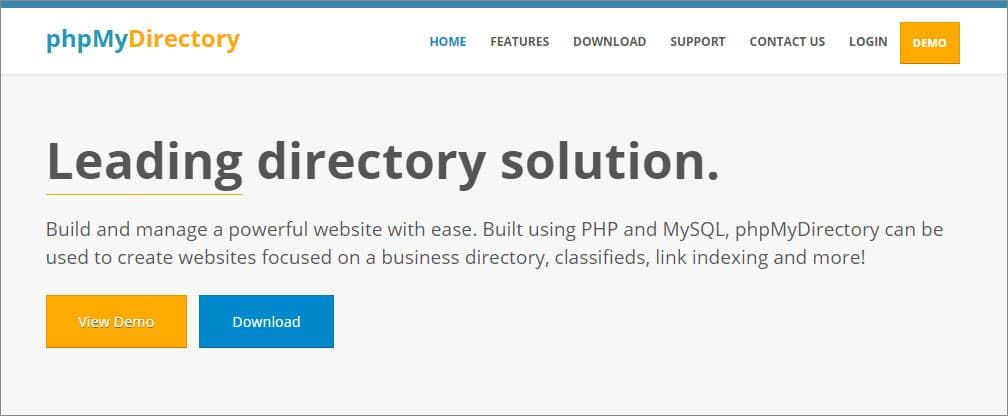 Unlimited number of categories can be created using this script, and your directory can scale up to the status of a review website courtesy the strong reviewing relevant options. The browsing and searching experience of your visitors will be top class, courtesy facilities such as Click to Call, sharing, downloading, and SMS exchanges. As an administrator, you will be able to manage your directory effortlessly because of the control panel that comes to you with user management tools such as user dashboards, user groups, editing and merging' email marketing functions like subscriber lists, email queue, email logs; content control with approvals and cancellations; and import – export tools.
Billing your customers can be easily managed with facilities lie multiple payment gateway integration, tax support, varied billing cycles, payment reminders and reports. Customizing the look and feel of your directory is also made easy because of the availability of several top notch templates that bring about a sense of neatness to otherwise content and text rich pages of your directory.
eSyndiCat
When you opt for a web directory script that promises to reduce the time you need to spend before you have a functional directory website, you don't want to be bogged down in the future, in terms of what all the script allows you to do. In this regard, eSyndiCat comes off with flying colors. Newbies as well as professionals will love using this script which offers a unique, simple and unbranded directory website.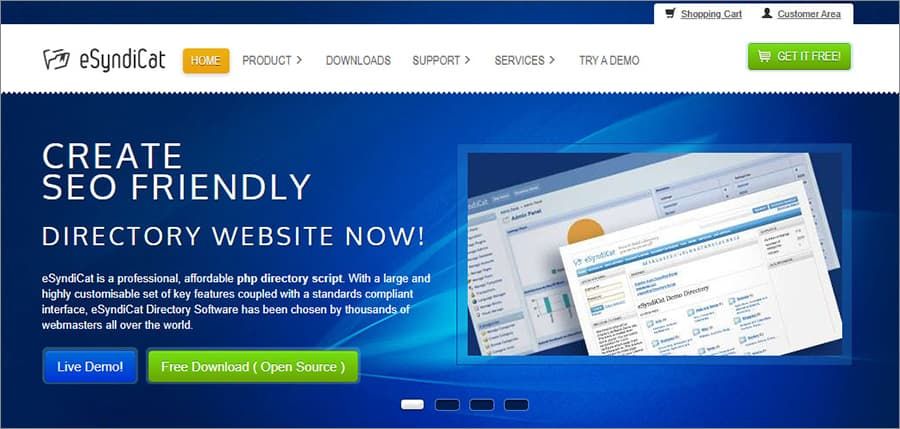 After you are through with the installation, you will find several eSyndiCat tools to help you populate the directly quickly. Coding freaks with PHP knowledge can play around with the source code and bring in design tweaks as per their desires. The drag and drop styled CMS is a differentiator for eSyndiCat and helps you play around with blocks, pages, posts and other content like never before. With several popular payment gateways integrated to the script, you can monetize your directory by charging for featured listings or preferential placement of banners.
Integrating Google AdSense with the directory pages is also easy. You also get several free and premium plugins to choose with eSyndiCat so that you are able to perform specific functions with the script. There are ample templates and layout options to help you create a website directory that looks unlike anything routine. Moreover, you can also add all sorts of fields and buttons to your listing template right from the control panel.
phpLinksDirectory
Particularly suited for the discerning users, phpLinksDirectory offers several smart and useful features that make it amazingly easy for directory owners to gather steam quickly and make it big in their geographies. The latest version of this script boasts of a powerful administrative panel that allows directory owners to manage their website quickly.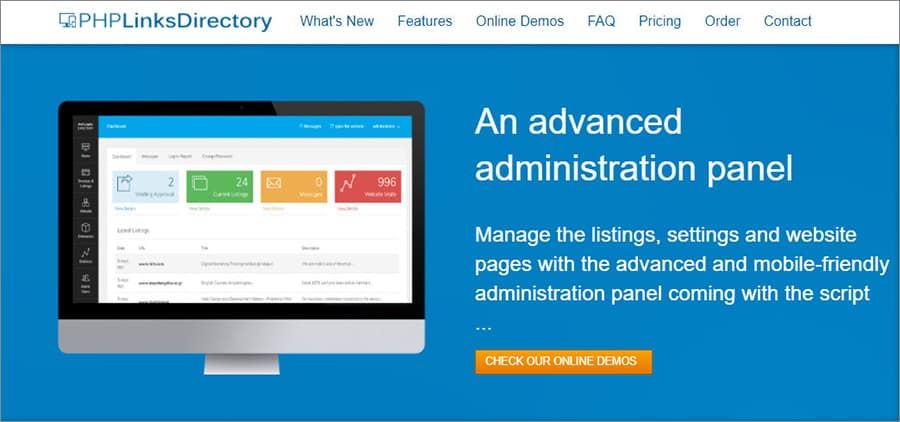 The script leverages AJAX to ensure that page don't have to reload when users navigate through different pages. Also, user experience has been strongly kept in mind while creating this script, as is evident from the Windows 8 styled tile icons to link to different pages. Also, these tiles make browsing on a mobile device easier for the directory users. This complements the fact that the script helps you create responsive directory websites that adjust automatically as per the screen size of the device they are viewed on.
Directory owners can offer differently priced packages to different users, based on several factors such as the type of the URL, featured URLs, time taken for approval, etc. Configuring the directory website is easy as well as effective with the phpLinksDirectory script, as the detailing of configurability is immense. Directory owners can define the number of results to be shown per page, use unlimited categories, etc. The website layout for your directory will be SEO centric, so that you feature right on the top of search engine result pages, which supports traffic maximization.
iDev Business Listings Directory Script
The quality and content richness of listings goes a long way in determining the popularity that the web directory is able to muster up. The iDev Business listings directory script gets its bearings right and helps you create a web directory website that comes up with swanky looking and content laden listings.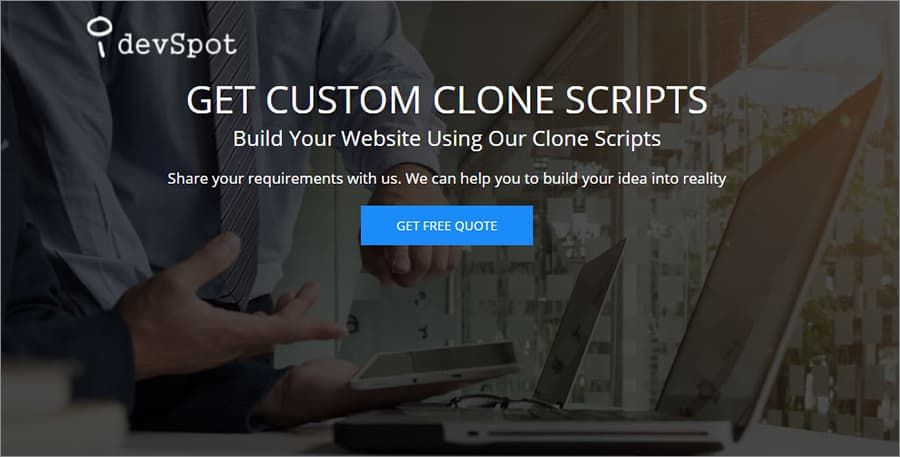 Attractive LightBox picture gallery, business hours details, contact forms, tracking of visits and views, share with a friend feature and external website link – all these can be added to the post. Also, your users can add Google Maps to indicate their business' precise location. Setting multiple categories is simple and unlimited sub categories can be specified. Listings can be offered in free or paid versions, with featured listings getting showcased on the home page of the directory. URLs are search engine optimized and with meta tags and page titles, thus adding to the SEO relevance of your directory for websites.
Billing your clients can be easily done, with integrated Paypal following it up. The strong admin panel of this script deserves a special mention as it allows directory owners to approve pending listings, customize the geographical relevance of the directory, view daily earning stats in terms of paid listing subscriptions, and configure welcome text. Also, discerning directory builders will be impressed with the availability of well deigned templates that can even be extensively customized.
Subrion Web Directory Software
Regarded as one of the best directory software, Subrion is the go-to package for all those of you who wish to create web directories but also wish to retain the flexibility of using the same script for directories catering to different niches. With differentiating features such as user defined data fields that let directory owners create listing templates of varied styled and categories, Subrion is a winning bet. You can use it to create web directories for general purposes, local businesses, hosting or even wedding!
Supporting your intentions of monetizing your web directory are features such as in-built payment gateway, discount coupons and invoicing, so that you can seek appropriate prices for featured or premium listings. Subrion can let you create complex nested structures of listings, helping you become really revered among users. If you wish to jump to or from Subrion from other scripts, there is the migration functionality to make your life easier. You can add meta descriptions and keywords for any website page on your directory. This complements other SEO relevant features of Surion.
Among the other prominent features are criteria based searching in categories and listings, creation of polls and ratings, having sponsored or featured listings, creating FAQ section, adding a newsletter and empowering listings with AJAX for faster browsing.
Using ready-made Directory WP themes:
WordPress has been and continues to be a very popular CMS for all webpreneurs out there. It's relevance for those desirous of creating professional looking web directories in multiple niches would do well to warm up to the idea of using a dedicated directory creation WordPress theme, some of which have been presented here.
For a successful implementation of a functional directory website it is extremely important not only to provide an actual comprehensive list with detailed information on each of the items, but also to offer directory users a handy and functional website with intuitive structure and catchy interface. And one of such directory WordPress theme is Knowhere Pro. There is no doubt after studying all features of this multi-purpose directory theme you will stop looking for other options. Its powerful functionality and simplicity will surprise even the most experienced web site owners.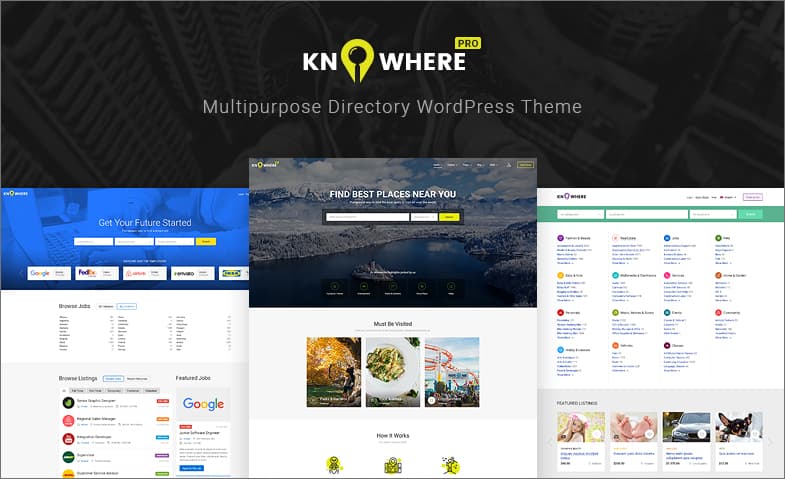 First of all, Knowhere Pro is designed for the most prevalent five directions: City portal and Travel Guide with restaurants and activities, Sell/Buy Property Directory for Realtors, Job Finder portal for Headhunters, Recruiters, and Hiring Managers, Classified Directory for Free and Paid ads. The theme comes with a well-known intuitive drag-and-drop frontend and backend page builder. So it makes it flexible and customizable. The website optimization will pass smoothly for you as Knowhere Pro is SEO ready. The most popular eCommerce and Flash Sale Pricing and Discount plugins will make a valuable contribution to your project. It is also necessary to mention an advanced map with perfectly easy search places and smart hours option. With the help of flexible Reviewer Plugin you are free to supply the blog posts with reviews and comparison tables. Of course, Knowhere Pro is mobile-friendly and you will really love the way it looks on all types of devices. The last but not the least Knowhere Pro directory WP theme comes with an excellent support that matters a lot for customers.
Vantage from AppThemes – download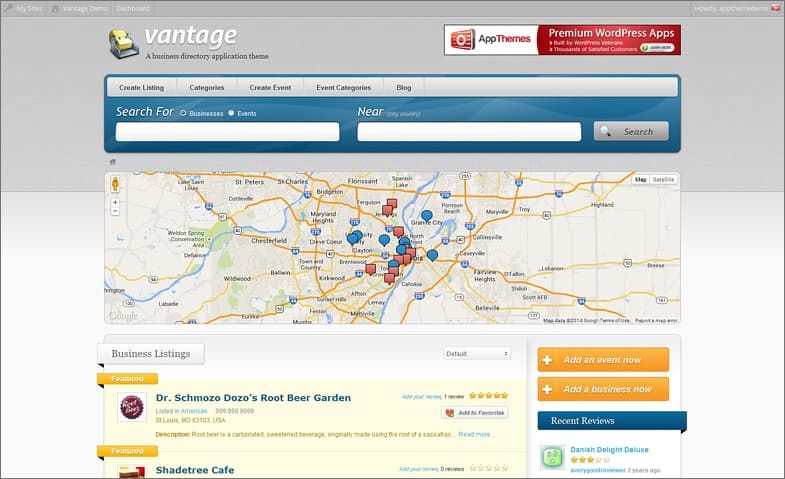 Vantage is great enough to baffle you with the capabilities that it endows WordPress with. Once you download Vantage and install it in WordPress, you can begin right away with your directory building. Listing pages come with detailed information fields which can be enhanced further using the form builder. Users can add ratings and reviews to business listings to make your directory more reliable and content rich. Monetizing your directory with Vantage is easy, as it allows you to bill your users for putting single listings or premium listings. Your users can search for information across page descriptions, titles, address books and even website URLs. Social media integration with Vantage is a piece of cake because of the specialized functionalities built into the theme. In order to make your directory quickly popular, you can use the Claim Listing strategy that's easily enabled by this theme.
Directory Portal WordPress Themes – download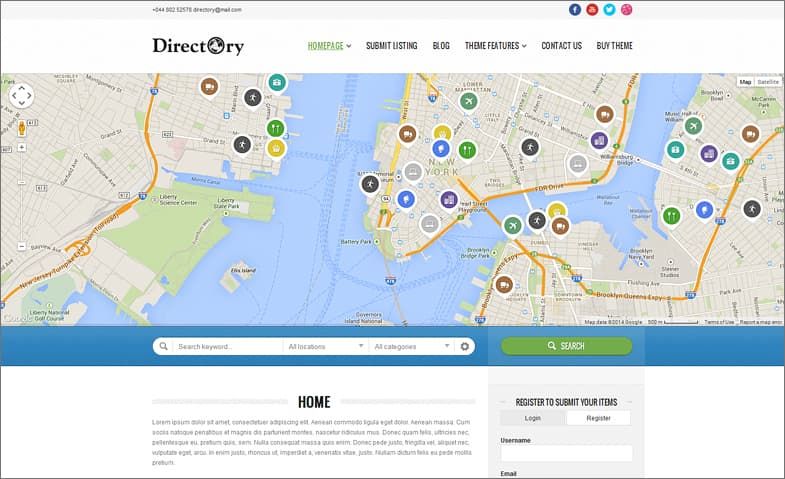 Looking for a specialized WordPress theme that helps you create a fully functional web directory? Look no further than Directory Portal WordPress Theme, which boasts of more than 7,000 satisfied users already, and comes with special features such as dedicated customer support and free updates. The admin panel of the theme is powerful and helps you manage your directory easily. With PayPal integration, you can easily accept payments for premium and featured listings. Adding AdSense into the directory is easy because of the availability of special integration features; you can even add banners to your directory space. Since the theme is responsive, your directory website will be wonderfully presentable even on mobile devices. Other important features include – Claim a listing, recurring payment processing, custom rating system, category and location based listings, featured items and multiple layout styles.
Directory Theme – download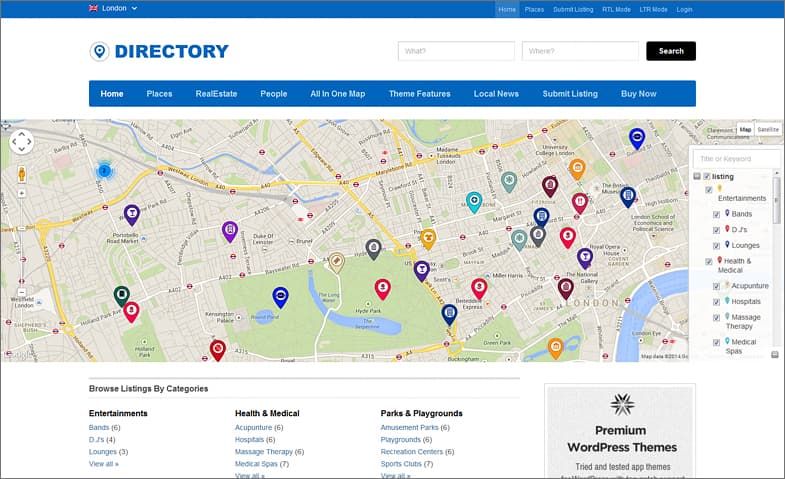 Creation is just a small part of the complete directory management experience that the Directory theme from the house of Templatic has to offer. Whereas the theme's front end is enough to please your users and entice them into creating their listings, the backend gives you wings in terms of managing operations of your web directory. You can create customized post types to ensure that your directory proves to be perfectly suitable for its niche. Charging for premium listings, creating all sorts of price packages, and setting up recurring payments – all are possible using the Directory theme. You can enjoy working with a truly global directory, aided with the pre-loaded 200 countries and 4000 states. Optional plugins are available to help you expand the functionality of your directory in relevance to the niche you cater to.
Directory Theme – download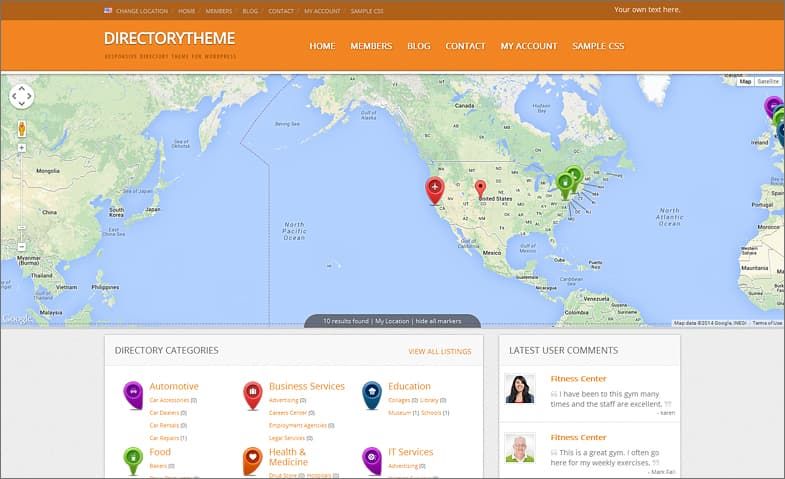 Directory theme from PremiumPress brings together some truly powerful and coveted features that make it a reliable theme for directory website creation. Geo location features of the Directory theme by PremiumPress make your directory a powerful search tool, as it shows distances between target and current locations of users. Searching on the basis of country, state, zip code or any other geo attribute, apart from the functionality of custom search fields, adds more worth to your directory, Membership packages can be customized as per your business model to maximize revenues. Also, different membership packages can have different added features. Billing your clients is easy, and recurring payments can also be set up. Joining users get access to their very own members' area; this is where they can play around with their profile, edit account details, and manage photos and listings.
Using of directory plugins for popular CMS:
You learnt about using WordPress themes to create directory websites in the previous section; it's time you also learnt about how plugins can transform WordPress and Joomla into a directory creator for you. Here are the top directory plugins for popular content management systems.
WordPress Business Directory Plugin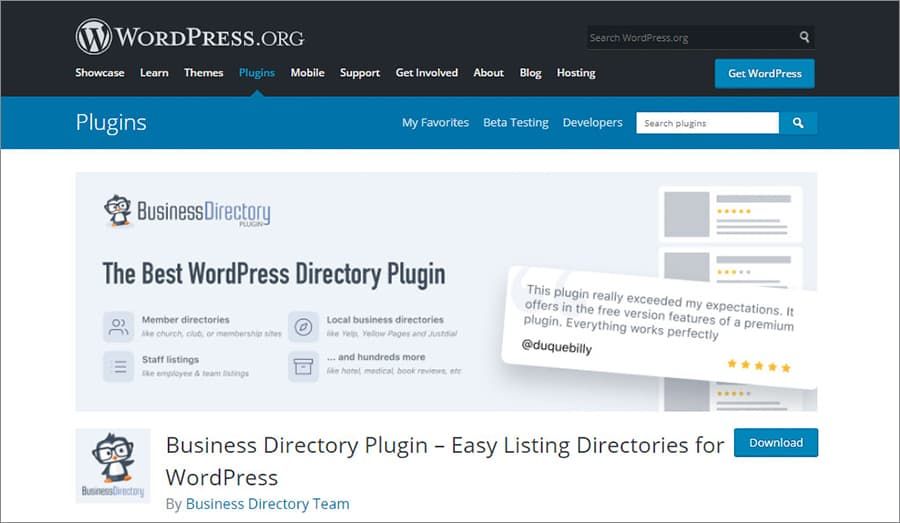 Business Directory plugin could hardly have been named any better, as it is best directory plugin you can hope to find for creating web directories. There's as much focus on helping you create your directories effortlessly as is on helping you monetize them by attracting, retaining and then up-selling to customers. You get fully customizable forms and extensively configurable search fields. Users are in for a delightful experience with your Business Directory plugin empowered web directory, as they can edit their listings without accessing the WP dashboard, can rate other businesses, enjoy a sorting bar for listings, and a lot more. Billing features include integrated payment gateway, upgrade based pricing, and recurring payment runs. With Yoast SEO features, your directory's SEO readiness is taken care of. If you're planning to make a switch to this plugin, you will love the CSV upload feature. Displaying location of businesses with detailed categories, details and maps is also easily managed.
WordPress Link Directory Plugin

The WordPress Link Directory plugin takes a simplistic take at web directory maintenance, landing directory owners with some light yet smart tools to help them maximize the worth of their directories. You can use this plugin to display the page ranks of the websites listed on a directory, and can even configure the plugin to show more details on every link. The admin can be notified whenever a new is submitted, which makes directory management easier. Parent and child category structure ensures that your directory users get the perfect results whenever they use your directory's search tool. The plugin is compatible with WordPress and blends well with any theme, without posing any operational hassles to users.
SobiPro – Joomla Plugin for Directories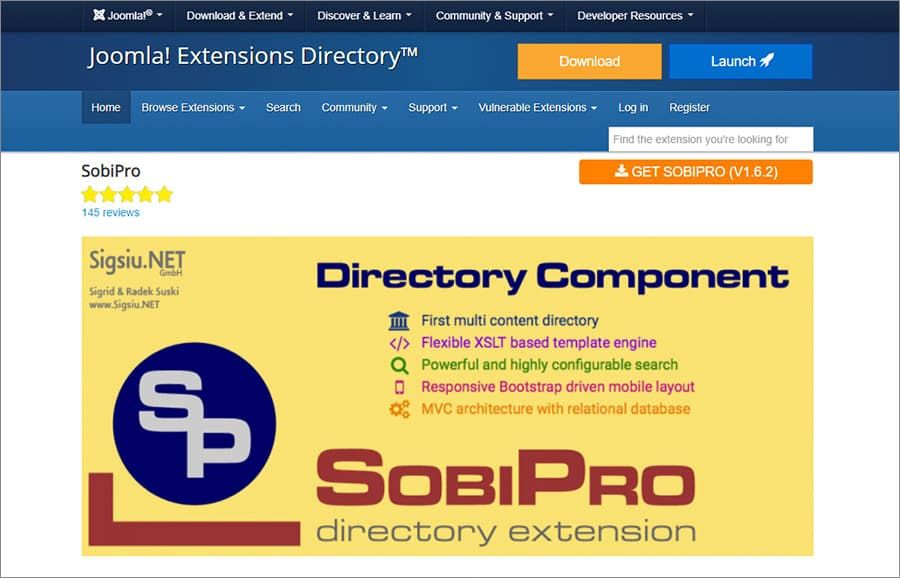 A thoroughly enriched directory for Joomla, SobiPro directory plugin comes to you with 10 core field types, with the flexibility of installing more types so that you can create pretty much any kind of directory. Additional SobiPro apps ensure that you are able to extend the functionality of the plugin as and when required. There are numerous module types that help you present the content of your directory in varied manners. Although the default SobiPro template doesn't necessitate the need of any customization, you can still have your way. By using different SobiPro templates, some of which could even be responsive, you could make your directory website responsive and hence leverage it all the more.
Mosets Tree – Joomla Plugin for Directories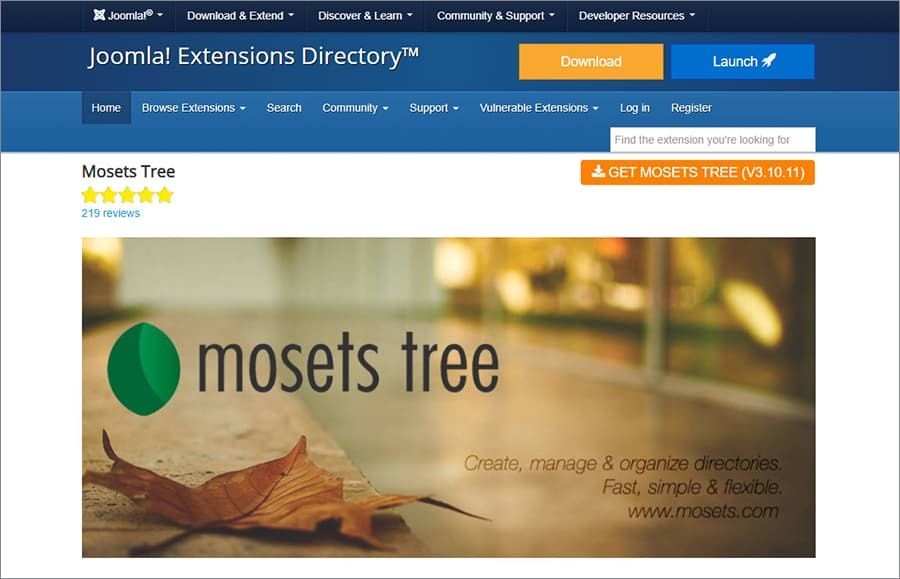 How about having a directory right inside your Joomla website? Surprised? Don't be; the Mosets Tress extension for Joomla makes it possible for you, and that too in style. A single installation of Mosets Tree enables you to manage multiple directories. You can use the Category Association functionality to link listings from one category to another, something that makes your directory look meatier to audiences. Extensive user profiles can be built, and you can control where the different modules will appear in the Mosets Tree pages. You will not need anything other than the Mosets Tree – Joomla Plugin for Directories in order to manage data that needs to be reflected in a directory like structure in your Joomla website.