Wix Promo Code – April 2023: 10% Off and 30% Off (annual billing)
WebBuildersGuide.com earns commission from some of the web builders and hosting providers listed on this website.
Learn more
How to get Wix promo code 10% Off and even 50% Off to buy Wix website builder? Use our 10% Off Wix.com Coupon Code – it really works and you can get honest 10% discount right now. This Wix promo code will suit for buying Wix Unlimited, Wix Ecommerce, Wix VIP for 1 year and longer.
Wix is widely known as the best free website builder and one of the top web platforms for launching small business websites. The problem is that Wix has far from the most affordable prices, and this is one reason why users look for ways to get a discount for Wix. The most obvious way is to use a working Wix promo code.
In this article, you will receive an up-to-date Wix coupon code, as well as learn how to get a much larger discount than what you can usually get using discount coupon codes.
Read on to find out how you can save up to 50% when paying for Wix.
Wix Promo Code 10% Off
To use Wix coupon code 10 Off just click on the coupon banner:
Click on the tab that opens and register on Wix.
NOTE: We do not guarantee that the coupon code will work if you use an already registered Wix account. In addition, when registering using our link, we will receive a small referral reward. And it's always nice ??
Then return to this page and copy the coupon code that appeared in place of the discount banner.
Paste it into the appropriate field before checkout and click the button: "Apply".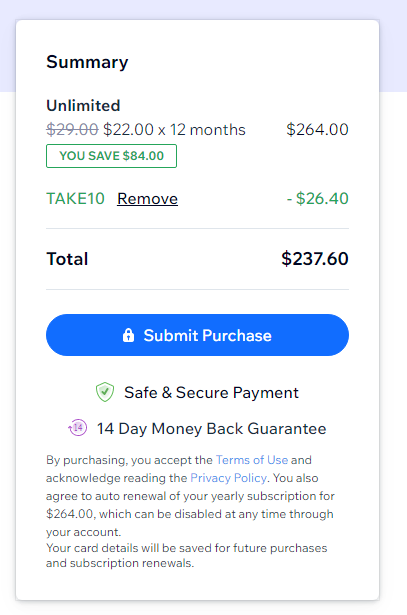 That's all. Discount received, and you just have to pay.
NOTE: Wix coupon code 10 Off is available for Wix plans: Wix Unlimited, Wix Ecommerce and Wix VIP. For the basic Wix Combo plan, there are no coupon codes.
Wix Coupon Code 50% Off
It must be admitted that Wix hasn't been running discount promotions often lately and also rarely releases new Wix promo codes. And unfortunately, there is no working Wix promo code 50% Off at the moment.
But there is still an opportunity to get a discount close to 50% from Wix.
The matter is that the prices on the Wix Plans page are specified not for a monthly payment, but for an annual one:

So, as you can see, there is no longer an option to choose a monthly payment on this page. But it is on the next page – Submit Purchase, where you enter the coupon code.
If you pay not monthly but immediately for a year, you will save from $8 to 30% depending on the chosen plan.
In addition, the 10% Off Wix coupon code, which is Wix's maximum at the moment, is cumulative with the annual fee discount!
Here is a table of maximum discounts for Wix, taking into account the use of the Wix promo code:
| | Combo plan | Unimited plan | Pro plan | VIP |
| --- | --- | --- | --- | --- |
| Price per month | $23 | $29 | $34 | $49 |
| Per month (annual) | $16 | $22 | $27 | $45 |
| Discount | 30% Off | 24% Off | 20% Off | 8% Off |
| + 10% Off promo code | doesn't work | 34% Off | 30% Off | 18% Off |
| Total per month | $16 | $19.8 | $24.3 | $40.5 |
As you can see, 30% Off is currently the maximum possible discount for Wix.
NOTE: It is noteworthy that buying Wix for 2 years at once – you get a smaller percentage of the discount than if you bought it annually. Therefore, I made the calculation for 1 year.
What are the more affordable Wix alternatives?
Even though Weebly's generally affordable prices, there are even cheaper website builders worth looking into. In addition, some of them also have discount coupon codes.
You can check these: