Top 10 Free Alternatives to Adobe Photoshop (same effective, but free)
WebBuildersGuide.com earns commission from some of the web builders and hosting providers listed on this website.
Learn more
In this review, you will learn about the 10 best free Adobe Photoshop alternatives (online and offline) that you can use instead of Photoshop without paying a cent.
When you think of Photo editing and manipulation, the first name that pops up is usually Adobe Photoshop. Photoshop has been a market leader for many years now, and although many competitors have entered the market, it remains the initial option for a designer. The uses and implications of Photoshop are limitless, but beginners and occasional users still face many problems.
NOTE:
the software discussed in this post are more suitable for photo editing, creating graphic images and various collages. You can also use them to create a website design (as in the usual Photoshop), but if your goal is to create a website, then it's better to use free website builders which are more adapted to such tasks.
The main concern is the price tag which may be affordable to specific large organizations and designing institutes. Still, the price is relatively high for a new learner and occasional user. Today the competition is too high that many free alternatives to Photoshop provide powerful and flexible platforms for the users. Some alternatives provide a free trial of a week and let you carry on with a particular payment amount. However, this article will discuss the best free alternatives to Photoshop.
Secondly, another concern for the users is the time it takes to learn or, even more so, master the software. Fully understanding the software's complexities and coping with the updates and introduction of newer tools by Creative Cloud has pressured the users to devote a lot of precious time.
Free Offline Photoshop Alternatives (for download)
The advantage of downloadable Adobe Photoshop alternatives is that you download the software once and use it without the need for an Internet connection. You can use these Photoshop alternatives on Mac, PC (Windows) or Android – it doesn't matter.
GIMP
GIMP, also primarily known as GNU Image Manipulation Program, is one of the best free Photoshop alternatives in many ways. If you need a budget-friendly platform and an advanced raster editor just like Photoshop, then GIMP is you're to go software. It has an interface very similar to Photoshop, and you can also customize or reposition the windows according to your requirements.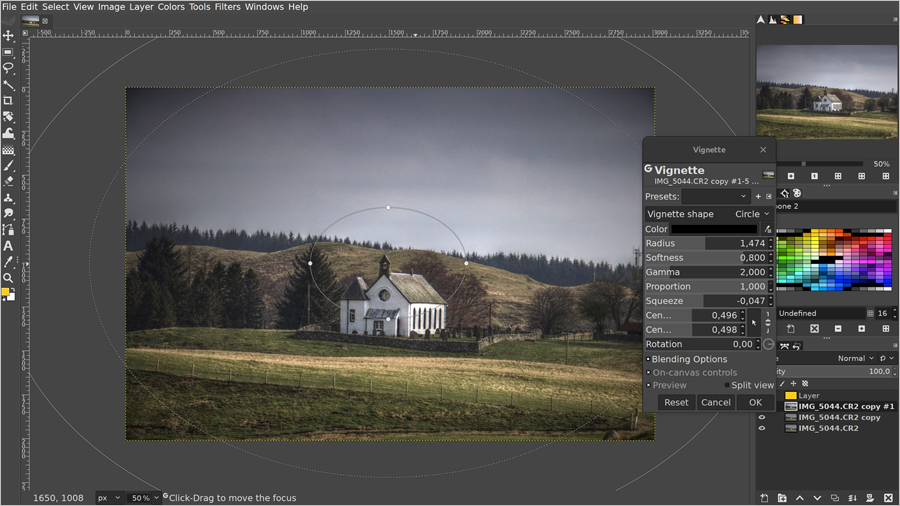 Image source: gimp.org
GIMP has many features like basic image editing, image retouching, batch image processing, image converter, and more, depending on what you want with your image. Furthermore, it is an open-source program available for Windows, Mac, and Linux so that anyone can use it.
Strengths:
Advanced features such as layers and filters are included
No ads or other subscription-only limitations
Add-ons and third-party plugins/scripts to edit RAW photos
History toolbar and Image slicing support are available
Weaknesses:
A steep learning curve for beginners
Brushes often have the same settings ignoring the variance needed
Almost no compatibility with PSD (Photoshop) files
Krita
Krita is a highly recommended software that uses a Photoshop alternative for image editing. It is best for users looking for a better platform to show their creativity. The user interface of Krita is very similar to Photoshop, which makes it a good Photoshop alternative for photographers, artists, graphic designers, etc. In addition to rulers and guides, Krita is equipped with built-in templates and an extensive library of effects and filters.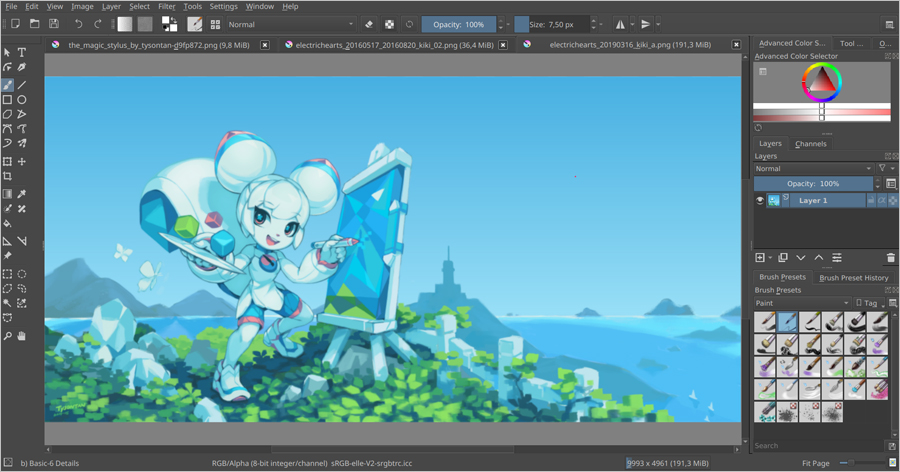 Image source: krita.org
The main advantage of Krita as an alternative to Photoshop is a vast library of unique pop-up color palettes that are used for coloring and shading etc. Krita's best feature, similar to Photoshop, is its ability to use imported brushes and textures, which can be found easily on the internet and online forums.
Strengths:
Similar look to Photoshop
The user interface is adjustable
Photoshop files are supported
Used for windows, Linux, and Mac
Pre-installed templates and brushes are available
Supported by drawing tablets
Weaknesses:
Slow processing of images
Not best for image editing
Not up-to-date versions are available
Photo POS Pro
Hands down the best and most similar software on the market today. Photo POS Pro is probably the most advanced and complete image editing suite which rivals adobe Photoshop. Photo POS Pro contains many features as Photoshop, from brushes to built-in plugins, which gives the user the best possible editing experience. The many tools of Photo POS Pro let you work your creativity, from image editing to even creating business cards. The Interface is simplistic, unlike other Photoshop alternatives mentioned in this list.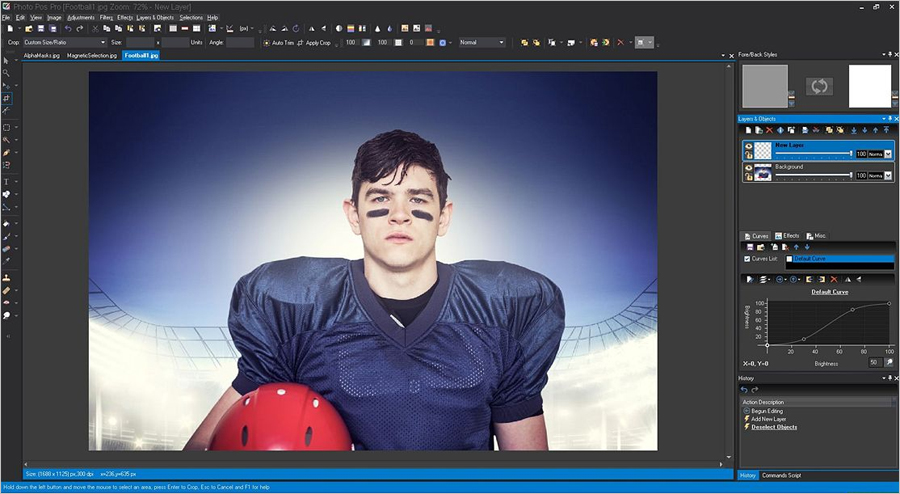 Image source: photopos.com
The best feature of Photo POS Pro is it lets you change the layout of the Interface between "Novice" to "Expert" as the user gets more professional and expert in using the software. Unlike some other Photoshop alternatives, Photo POS Pro can be used to create new documents and edit compelling images.
Strengths:
Novice (for beginners) and Expert (for pros) layout
Supports RAW file formats
Layers and Masks features
Photoshop similar interface
Weaknesses:
Expert layout challenging to understand
The size of the export file is limited
Need to purchase full features
InkScape
If you are a freelance designer, a small business, or even a photographer who needs to edit and enhance images, InkScape can help you in many situations. Inkscape is an open-source web-based drawing program that works on vector images. If you wonder that vector images are often used in Adobe illustrator rather than Adobe Photoshop, this is the case. However, Inkscape has many features for enhancing images and making basic adjustments, making this platform one of the free alternatives to Photoshop.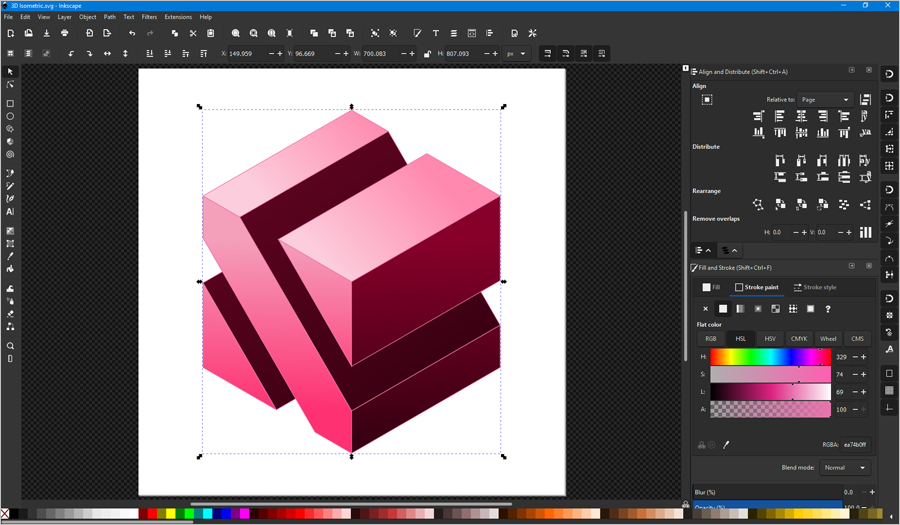 Image source: inkscape.org
While reviewing and comparing InkScape to Adobe Photoshop, many people have suggested that InkScape is easier to set up. Still, it is not meant for larger business setups with large images to use.
Strengths:
Best for simple vector illustrations such as infographics, cartoons and charts
User-friendly interface with easy to understand tools
Great potential for creative drawings and designing cartoon characters for free
Weaknesses:
One must go through documentation and tutorials before properly using Inkscape
May lag or crash when working with large files
Photo Scape X
If you are searching for editing images taken from your smartphone, PhotoScape X can be your friend. Created by MOOII Tech, a Korean-based company, PhotoScape can do just anything Photoshop can. From performing batch edits, executing screen captures, and designing animated GIFs to enhancing images, PhotoScape provides tons of options for free.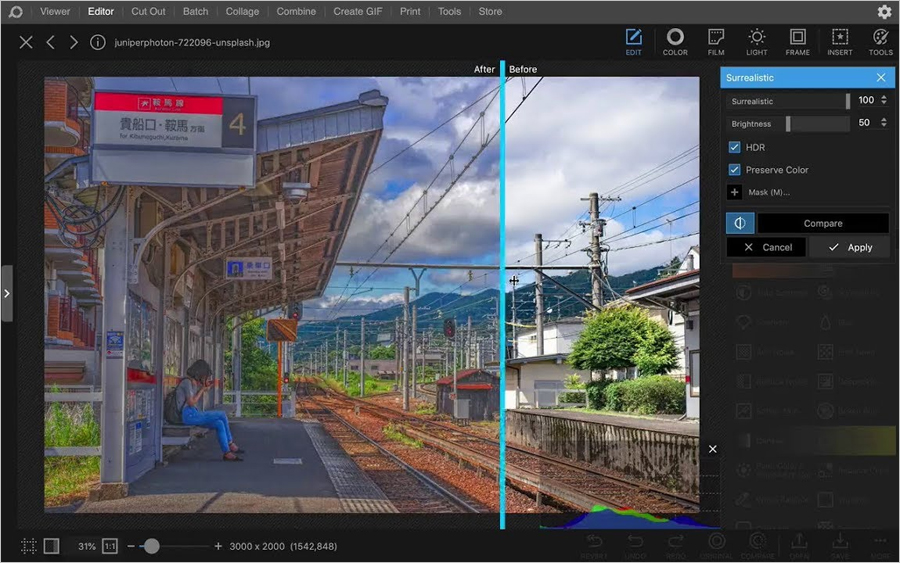 Image source: x.photoscape.org
If you are searching for editing images taken from your smartphone, PhotoScape X can be your friend. Created by MOOII Tech, a Korean-based company, PhotoScape can do just anything Photoshop can. From performing batch edits, executing screen captures, and designing animated GIFs to enhancing images, PhotoScape provides tons of options for free.
Strengths:
Best for beginners as it offers an easy-to-use editing toolkit and has a smooth interface
All tools are available for free
It has an unparalleled converter of RAW images to JPEG and other formats
Weaknesses:
The tools get muddled, so it becomes hard to find the right tool at the right time
Adding graphics and texts to the image can sometimes prove hectic
Raw Therapee
RawTherapee is a free Photoshop alternative and a cross-platform raw photo processing system. It is designed for developing raw files from a broad range of digital cameras. Deep photo color correction, high dynamic range (HDR) tone mapping, histogram matching, and other helpful pictures are the winning attributes of RawTherapee. Lightroom's rival software with versions for Windows, Mac, and Linux allows you to work with RAW files non-destructive way.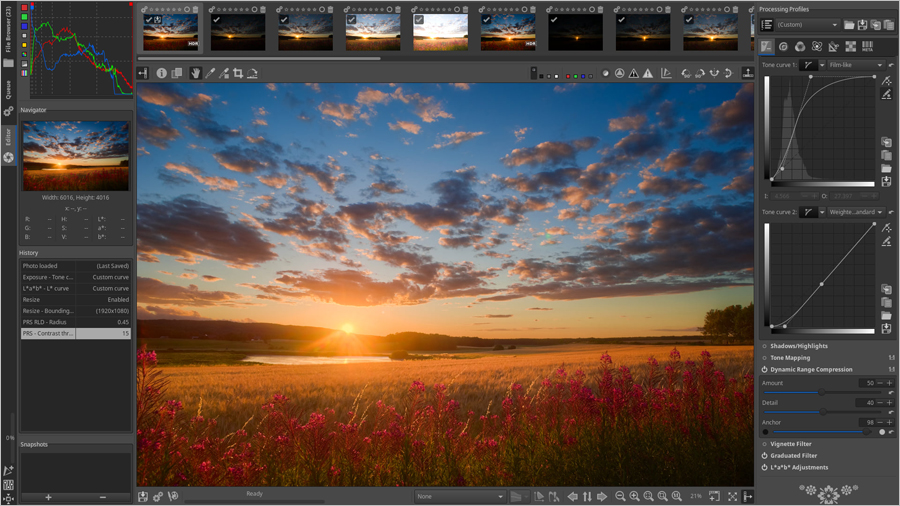 Image source: rawtherapee.com
RawTherapee is not incredibly user-friendly. If you're a technical mindset and are mature enough in digital illustrations, you could benefit from fine control of individual settings.
Strengths:
A critical component is open-source, i.e. it can drive with different versions such as Windows Mac and Linux
Well-designed catalog, another defining feature of RawTherapee, includes pre-processing and pattern noise
It excels in color correction. The advanced instruments for color correction are more profound, which offers you endless possibilities
Weaknesses:
The Interface is not user-friendly because the download includes a manual for the software, but the manual is not most accessible to a stratagem
It has a few professional RawTherapee tutorials
Free Online Photoshop Alternatives
Online Photoshop alternatives, on the other hand, do not require installation, but an Internet connection is required. You just go to the software site, register for free and can immediately start using it. Or even without a registration.
Pixlr Editor
Although no other software can compete with Adobe Photoshop, Pixlr Editor is a good Photoshop alternative available in the market for free. Pixlr Editor is a browser-based software that gives you many development tools similar to Photoshop like a blur, sharpens, curves, and much more.. It is the best software for someone who wants to edit images without spending money quickly.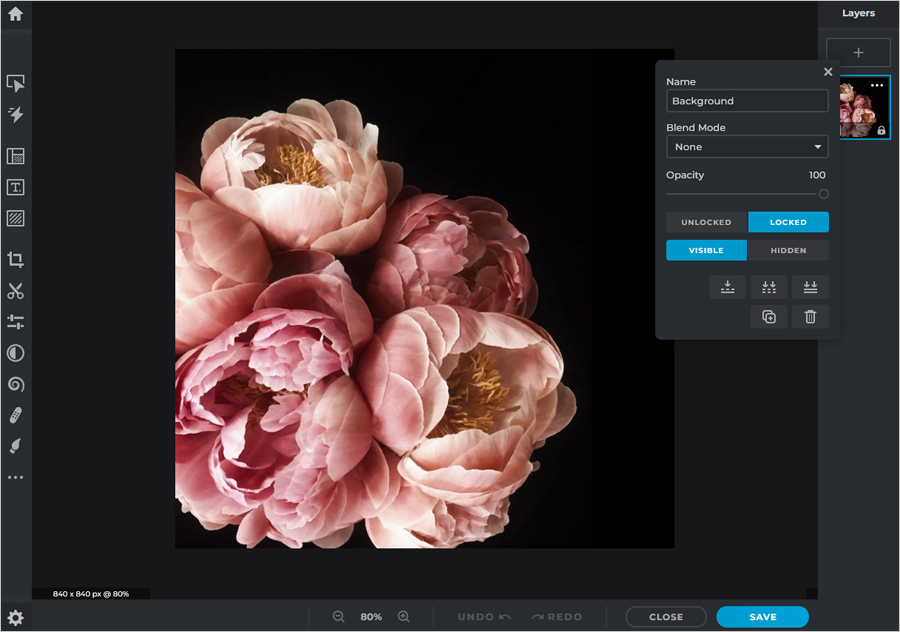 With a modern interface with light and dark color schemes, Pixlr Editor is based on HTML5, making it the best Photoshop alternative. These features make the Pixlr editor so tempting for beginner photographers and professionals looking for a quick edit. At first glance, Pixlr has a similar interface as Photoshop but being browser-based software, it has its limits.
Strengths:
It is a Browser-based platform
Opens images from desktop and URLs
History toolbar and Image slicing support are available
Auto-fix tool to prevent over edits
All the essential tools like Photoshop
Weaknesses:
Internet connection is needed
Some tools are still in the Beta phase
New fonts are not easy to install
File compatibility is limited
Photopea
Like Pixlr Editor, Photopea is another browser-based image and graphic editing software that is a great alternative to Photoshop available on the market. Its user interface is very much like Photoshop, which is excellent for beginners or users who do not want to wait for Photoshop to load. Like Pixlr Editor, Photopea is compatible with all platforms. The best part of using photopeak is the workflow and designing capabilities which are very much like Photoshop. This makes it easier for users who use Photoshop daily.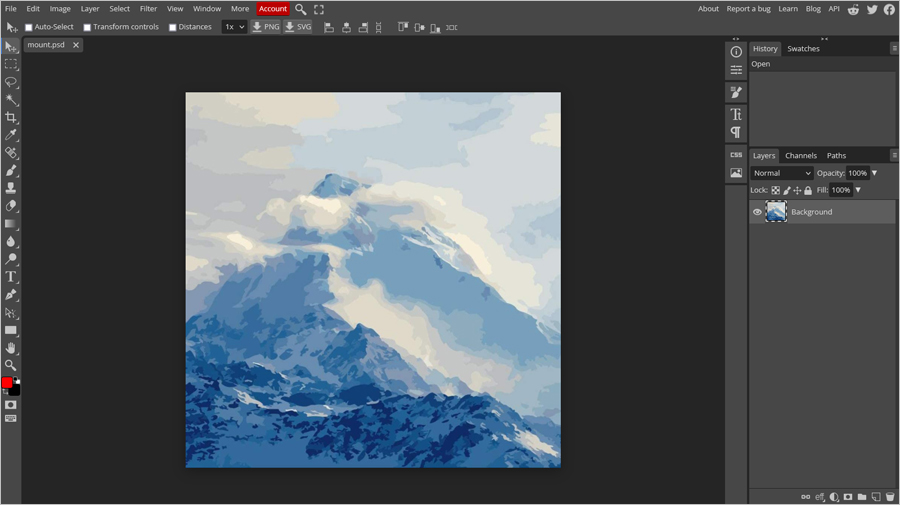 The advantage of using Photopea is that it supports many file formats like PSD, CDR, and XD etc. and can export work in JPEG, PNG, and PSD file formats. Photopea contains many similar tools found in PS like a pen, brush, blend modes, and templates, making it the best free Photoshop alternative.
Strengths:
Exports in PSD as well as JPG or PNG
Supported by chrome, edge, Firefox, etc. browsers
Weaknesses:
Internet connection is needed
New fonts are not easy to install
File compatibility is limited
Easy Free Photoshop Alternatives
The next two tools are easy to use. One of them is online and the other one is offline. Both are simple enough for beginners to handle.
Sumopaint
Sumopaint is a Photoshop freeware alternative that has proven to be a feasible option for mediocre-level editing features for free. Sumopaint has a unique feature that makes it stand out from the rest of the market: it is cloud-based, which means that you will not be prompted to download or install anything.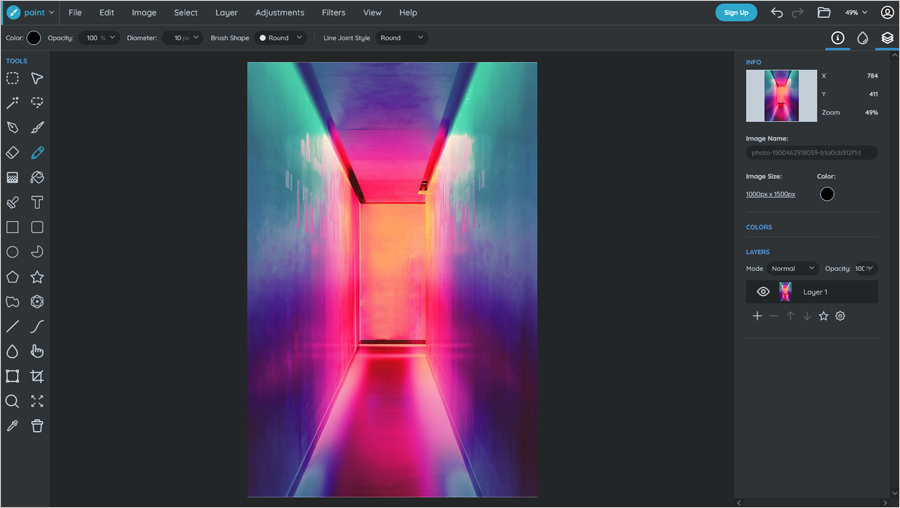 Sumopaint is a good Photoshop alternative as the layers, tools, and brushes are just like Photoshop and can save any file. The best feature of Sumopaint is that it has an exclusive option for working offline. The tools are easy to use, and a complete detail alongside each tool makes it relatively easy for beginners to use. The powerful tools and features allow even complex editing and manipulation to be executed.
Strengths:
Any operating system supports it
It is cloud-based and can be used by any device anywhere
A simple and user-friendly interface is easy to learn for beginners as well
Sumopaint has a substantial online community in case a user needs any help
Complex functionality like gradients, symmetry tools, layer blending, clone stamping, etc
Weaknesses:
Requires Flash and has on-page ads that might be irritating
It doesn't have a pen tool, RAW image filtering, and ruler/guides
Paint.Net
Developed initially as a competitor to Microsoft Paint, Paint.Net has become one of the best free alternatives to Photoshop. The Interface of Paint.Net looks like a more advanced version of Microsoft paint, but it includes tools like blending modes and curves, making it very easy to use the software. Although it cannot compete with the level of editing of Photoshop, the essential editing tools like rulers, guides, and layers make it worthy software to include in this list.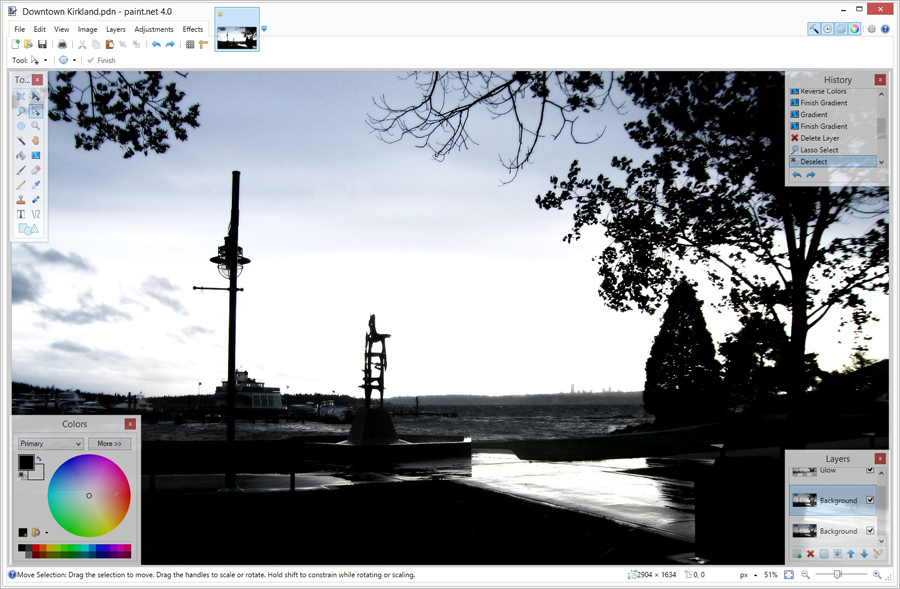 Image source: getpaint.net
Unlike other Photoshop alternatives, Paint.Net has the feature of a tabbed document interface, which means you can open multiple documents at once and, like Photoshop and layers can be used in other documents as well.
Strengths:
Easy and simple Interface
Supports multiple file formats
100s of plugins for support
Weaknesses:
Photoshop files are not supported
Plugins not supported on Interface
No advanced tools like patch tool
No RAW image compatibility