The Best Website Builders for Photographers
WebBuildersGuide.com earns commission from some of the web builders and hosting providers listed on this website.
Learn more
For all those who have traveled the hard miles to get that perfect shot, have woken at the hour when party animals sleep to get the perfect shade of natural light falling on the dew clad tulips of their gardens, and have skipped weekend hangouts in order to save for just that one extra lens to add to their photography artillery, a dedicated portfolio website that showcases the best outputs of their cameras is just the leverage they need to become popular.
Thankfully, there are at least a few website builders that have enough spices to make photographers drool. These website builders make website creation as easy as a walk in the park, and also keep the interests of photographers in mind.
NOTE:
Check out these 20 Portfolio Website Examples for Photographers as a result of using modern portfolio website development platforms. These portfolio websites are built on Squarespace, Wix, Weebly, WordPress, Webnode, and more. A good selection for your inspiration.
Here's a quick look at some features that you'd not want to miss out on when you select a website builder for creating your portfolio website.
Ability to deliver visually rich content – Images are the life and blood of your portfolio website, and you can work wonders with a website builder that's inherently supportive for high quality content and multiple image formats.
Contemporary and catchy templates – There are two direct benefits to be had from such templates. Firstly, they give the much needed attention seeking X factor to your website upfront. Secondly, these templates make it much easier for you to create your website, and save you a lot of time.
Digital goods selling store – Integrated web store templates and shopping carts, with helpful features to enable the sale of digital products such as collections of images help you translate your hobby and passion into a source of income.
We now take a look at five of the best website builders for photographers 2022.
Wix Free Creator for Photographers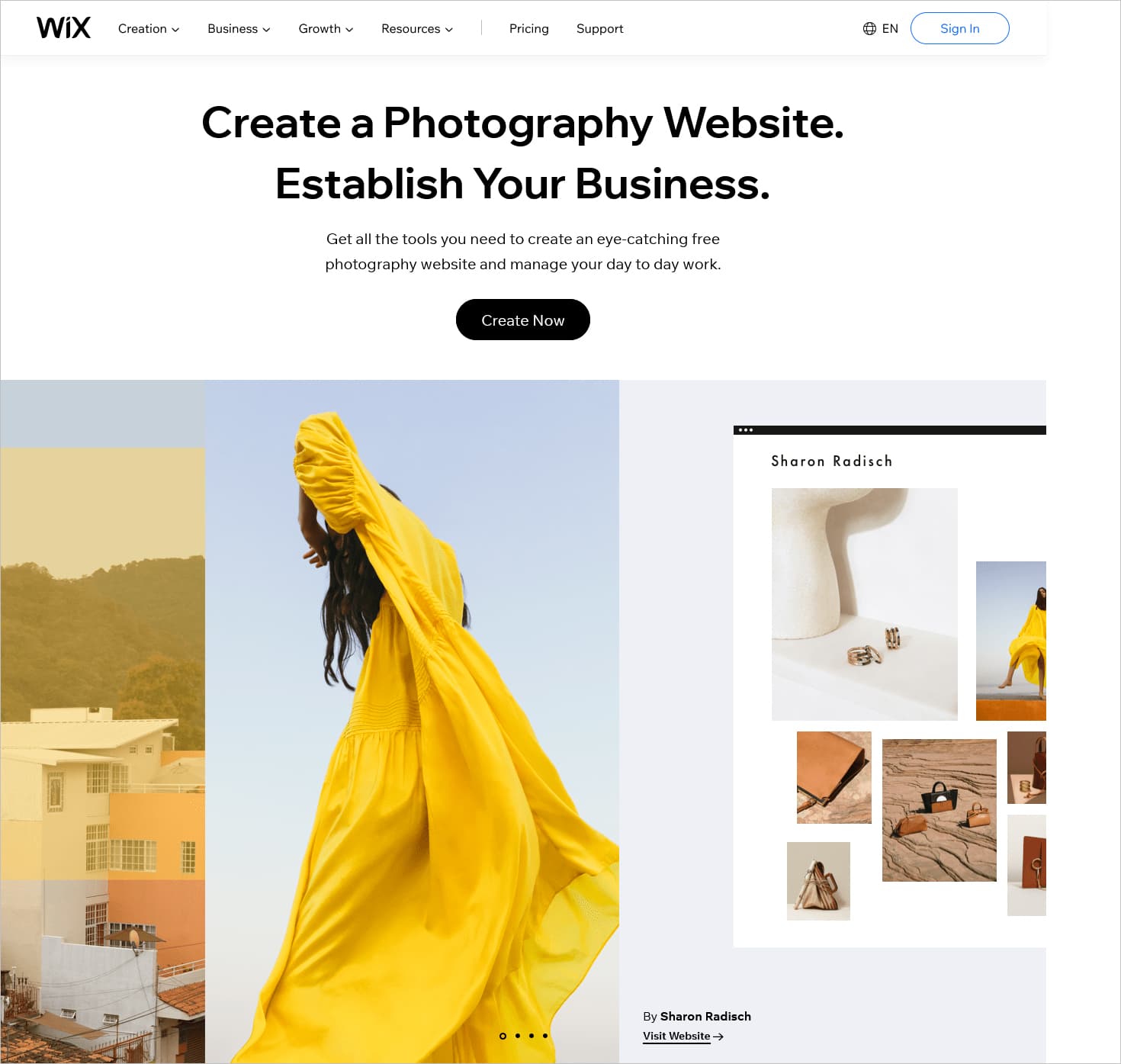 Wix excels at offering you a wholesome bunch of features that let you create and scale up a fully functional online setup. The massive catalog of interesting features also has some gems up its sleeve that make Wix the best free website builder for photographers and people with similar interests. Beginning with contemporary designs, continuing through enhanced ecommerce features, and sealing it with apps availability and powerful social media tools, Wix is definitely a power packed photography portfolio website builder.
Easily customizable website – Your photography portfolio has to be unique, and the platform you use to build it must allow ample customization for that to happen. With Wix, you can change texts, pictures, layouts, backgrounds, and a whole lot more to make your website look just the way you want it to.
Dozens of HTML5 templates for photography websites – Creating the first impression well is imperative for any photography website, and that's guaranteed with the contemporary styled templates on offer at Wix. Moreover, all these are HTML5 empowered and responsive to ensure that your visitors get the same browsing experience on mobile devices.
Integrated online selling store to help you monetize your hobby and skill – With advanced web store features adding to the customizable web store templates, you have a complete monetizing solution with Wix. Also, multiple payment methods and flexible product catalog maintenance features make your selling an enjoyable and hassle free experience.
Other benefits of going with Wix:
Reliable free hosting with CDN cloud technology from the stables of Wix
Automatically mobile optimized version of your website
Google focused website for better search result page ranking
A dedicated support team that sails you through tricky situations easily
VIDEO Tutorial – How to build a free website on WIX? Step-by-step guide
Weebly Free Builder for Photographers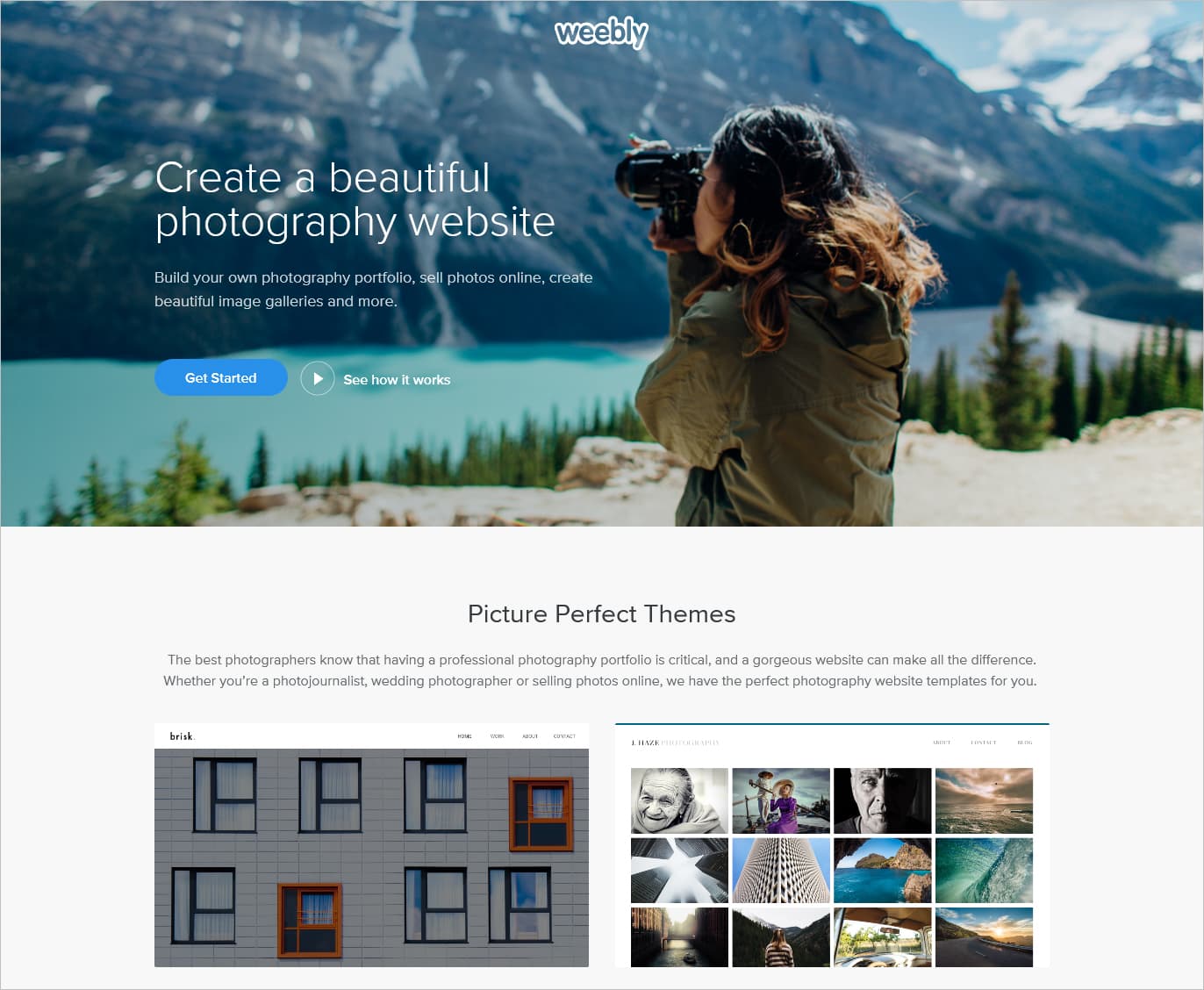 Built around the central themes of simplicity and intuitiveness, the Weebly website builder is a renowned name in the market. It is a decent pick in terms of features relevant for photography websites. Creating a website with Weebly is a matter of minutes, courtesy the drag and drop builder. First time experimenters will particularly like the Weebly interface as they set out to create their portfolio websites. Here's a more detailed analysis.
High quality slideshows and filters – You can be certain that your photos will stand out as you use Weebly's top notch slideshow settings and filters. Also, you can add videos and enjoy playback in crystal clear HD format with Weebly's editor. These features allow you to make websites rich in visually delightful content.
Templates to help you jumpstart – You will find a decent collection of templates that will help you create your photography portfolio website quickly. However, you might want to consider purchasing a premium template, considering that the templates offered by Weebly for free are rather bland in comparison to the free offerings doled out by its competitors.
Other delightful features:
Social media is thoroughly leverages to increase the popularity of your website, with Google+, Twitter and Facebook links apart from a lot mor
You can integrate a blog right into the website in order to strike engaging conversations with your audiences
Let the full site search option help your visitors find the content they want easily
With in-built SEO options, your website will be right up there at the top of search result page rankings
Built in site analytics will help you find the kind of content attracting the most attention from visitors so that you know where to focus
ZenFolio Photography Web Builder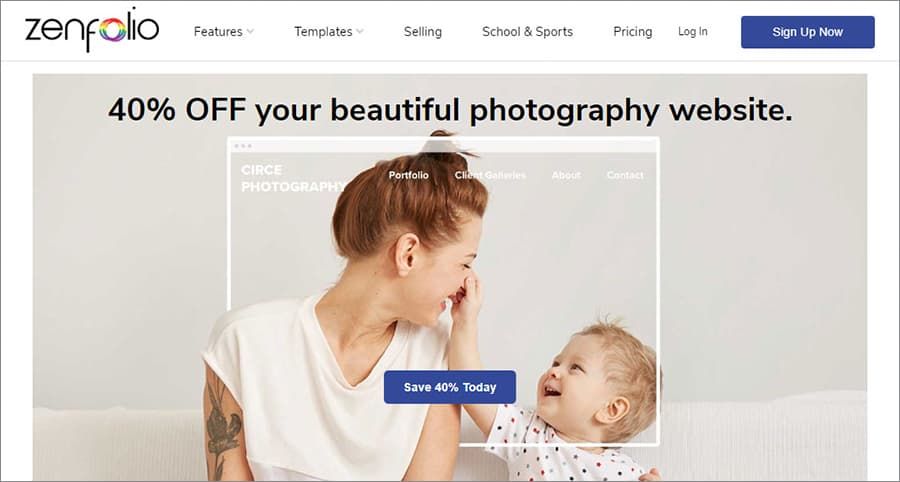 ZenFolio lays maximum emphasis on helping you quickly create photo blogs and websites that exude elegance by cheap prices. Not only can you easily upload unlimited photos and videos, but also you can conveniently sell your digital content through the functionally strong shopping cart and print labs' integration.
A visual pleasure for your clients – Being a photography focused website builder ZenFolio creates visually stunning pages. Your photos always remain the center of attention, and the dim-the-lights feature is something that you would like to try out. The pages are responsive, which means that the content and images get adjusted automatically for high visual impact.
Automatically optimized for mobile viewing – All your web pages created using ZenFolio get automatically optimized for viewing on mobile phones.
Secure storage – All uploaded data are stored in geo distributed data centers, and you have round the clock available back up for the data. Videos, however, are converted into the H.264 format for back up. Moreover, you have watermark feature that can be used to add another layer of protection for your images.
Breezy management of content – Features like virtual galleries wherein you can specify links of your images rather than making copied of the actual data, searchable descriptions that make searching for files easier, batch level changes that save you a lot of time in doing your administrative duties, and a lot more – the effectiveness of the image and video files management features provided by the ZenFolio website builder is unsurpassed.
Other terrific features offered by ZenFolio:
Customizable URLs that let you link your content effectively for reference through emails and other media
Embed codes allow you to embed your photographs and video content into other websites including Facebook
No storage or traffic limits to weigh you down
Create unlimited galleries using your uploaded images
All image and video file formats supported
Slideshow features that allow you use features like hide/show, looping, speed, transitions, background music, and a lot more