Cheapest Website Builders with Domain and Hosting 2022
WebBuildersGuide.com earns commission from some of the web builders and hosting providers listed on this website.
Learn more
Selecting one of the cheapest website builders is the most reasonable and affordable way to create a website. However, not all website builders have low prices for their plans. And in this review, I'm not going to stop by just telling you about the cheapest builders. I also did some research to check how good their capacities are. This will help you find out which cheap website builders are worth your money and which are not. Along with solid reasons about why it is so.
I had been putting off writing this piece for a long time. I believed price is an important factor when choosing a website builder but definitely not the main one. But recently, I received the following email:
"Hi Lesley. My name is Mary and I'm your reader. I would like to know – what is the cheapest website builder you can recommend? I don't have a big budget, but the possibilities of the free plan are not enough for me. Therefore, using an inexpensive but at the same time powerful website builder would be the best solution for me. Thanks for sharing."
And I decided to not answer Mary personally, but with a comprehensive guide on my website. I've just sent the link to Mary.
Today, I'll tell you about the best website builders and at the same time budget-friendly. And share some thrifty ways of saving money during website development. (Read on to know what things you should or shouldn't economize on. And how to get extra discount for website builders.)
From this review you will find out:
How to find the cheapest website builders and compare their capacities for creating various types of websites.
How to find more accessible alternatives to popular website builders.
How to find out how website builders are the most financially accessible way to build a website.
Factors that you can economize on while using website builders. (Like payment methods, coupon codes, promotions, and so on.)
What's the best course of action for website development? (My own observations and recommendations.)
Keep on reading. This article is definitely going to help you save money while developing a website.
Why not Free Website Builders?
When you're interested in saving money, using free website builders is certainly the best way. It won't cost you anything.
But then your website's form and functionality are going to be far from what you desired.
Moreover, most website builders' free plans contain banner ads. They also won't allow you to use your own domain name.
That's why if you want to get a low-cost but still contemporary and user-friendly website with your own domain, you'll have to forget about free website creators.
Cheapest Website Builder Plans
Going for free website builder plans means that your website isn't going to have the domain name you want. To counter that, some website builders offer low-priced plans. Their only advantage is that you can connect your custom domain name to your website on these plans.
Generally, it's the only difference between a low-priced and a free plan. And that's what makes the former a more suitable yet the cheapest option out there.
Here are the three tables comparing the cheapest website builders that allow custom domain names.
NOTE: Most website builders have different pricing policies for various regions. Depending on your location, prices will be shown in USD (if you're from the USA), GBP (if you're from the UK), and EUR (for European users). That's why I thought that it'd be more convenient to analyze prices using not one but three tables.
As you can see, the cheapest tariff plans start from $46.8, £34.8, or €36 per year. It's the lowest price that you need to pay for a premium website builder.
In fact, there aren't too many website builders offering plans for less than $100 per year. WebNode, WordPress.com, Weebly, Strikingly, and Wix are the only ones that do. (For those who live in the UK or EU).
ALERT: Actually, I've seen other website builders with even lower prices. But they were mere threepenny website builders. (There was almost no information about them). And I prefer web development using a software solution that's in good standing and has been in existence for at least five years.
I am absolutely against using just any website builder based only on its rock-bottom price. Remember that you develop a website, not for just one year. The platform you choose should be reliable and worth your trust in the long run.
I don't think you'll be too pleased if your website creator suddenly ceased to exist. Or if your experience keeps going from bad to worse. Or if your website is down too often.
The website builders that I have selected are reliable and time-tested online tools. You can freely use any of them.
Comparison of the three most affordable
Now let's compare the three cheapest website builders from these tables. And then we will find out what features they have and what's included in their most affordable plans:
Webnode vs Weebly vs Strikingly
Plan Name
Limited
Personal
Limited
Monthly Cost
n/a
$9
$12
Annually Cost

$46.8

$72
$96
Connect a Custom Domain

Yes

Yes

Yes

Free SSL Certificate

Yes

Yes

Yes

Free Domain Name
Not included
Not included

Yes (Yearly)

Remove builder ads?

No

No

No

SEO options

Yes

Yes

Yes

Bandwidtd
1 GB

Unlimited

50 GB
Space Storage
100 MB
500 MB

1 GB per site

Number of Pages

Unlimited

Unlimited

Single page

Google analytics integration

Yes

Yes

Yes

Backup and recovery

No

No

No

Design Customization
3

5

2
Easy of Use

4

4

4

Embed HTML/CSS code

No

Yes

No

Multilingual Options

No

No

No

Membership Options

No

No

No

Ecommerce Options

No

No

Yes (only 5 products)

Support

FAQ – Yes

Email – Yes

Chat – No

Telehone – No

FAQ – Yes

Email – Yes

Chat – Yes

Telehone – No

FAQ – Yes

Email – Yes

Chat – Yes

Telehone – No
Which of these cheap builders is the best?
First of all, don't expect too much. We are choosing from the cheapest platforms in the world here.
But, know that they aren't too bad either. They are good enough for a small personal website or a website for a non-profit organization.
WebNode (Limited plan) – $46.8 per year
WebNode is currently the cheapest premium website builder. It's a proven Swiss website builder and also one of the oldest tools. It has been around since 2008. This website builder is perfect for Windows, for Mac and for any other platform.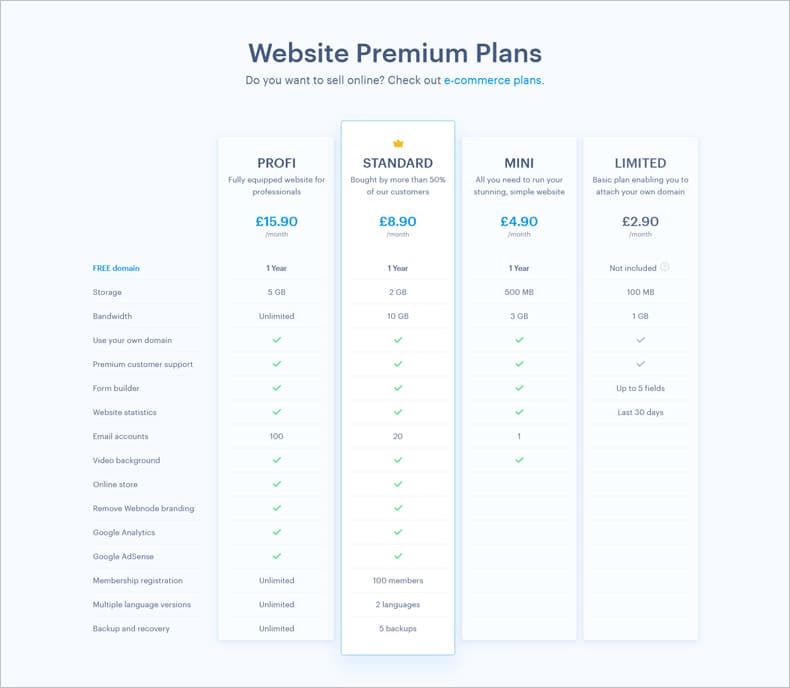 Webnode Premium Plans
Its extremely affordable plan – Limited – will cost you only $46.8. And for just that much money, you'll get hosting with 1GB bandwidth and 100MB storage space. This will be enough for you to run a small site with moderate traffic.
Main WebNode advantages:
Simple and user-friendly drag and drop editor
Easy-to-use even for beginners
A large selection of quality responsive themes
Ample of opportunities for creating multi-language websites.
Moreover, the Limited plan will allow you to use your own domain name.
Unfortunately, the domain name isn't a freebie that you get with the plan. You'll have to shell out $90 per year for that and go with the Mini plan.
NOTE: WebNode allows you to get an even lower price if you buy the subscription for 2, 5, or 10 years. The discount can go up to 50%. Sounds exciting and lucrative, right? But I would still advise you to test WebNode Limited plan thoroughly before deciding to buy it for the long term. Once you know that the Limited plan works fine for you, it is obvious that with the extra discount of up to 50%, Webnode will be the best and cheapest solution for you.
Weebly is the oldest online builder with wide. You can create almost website – from simple personal blogs to multipage portals and large online stores. Few website builders even come close to Weebly in terms of functionality.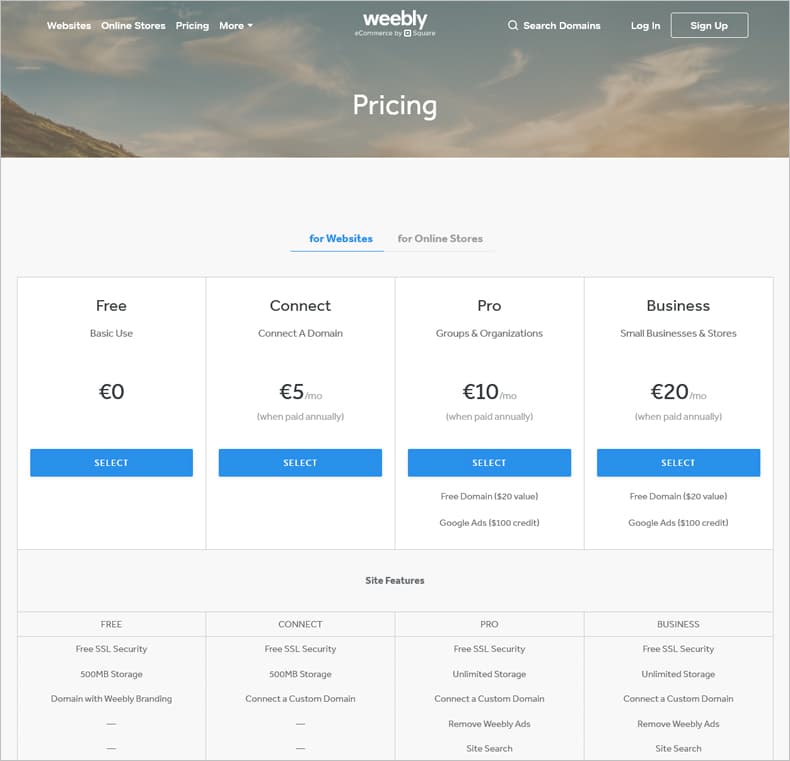 Weebly Pricing
The most affordable Weebly plan comes at $9 per month. That is if you pay $72 for a whole year at once. That's a 33% saving on what you'd pay if you make monthly payments – that's not something you'd have complaints with, right?
Though it is priced slightly higher than Webnode, Weebly makes up for it with its richer component parts.
What does Weebly offer in its cheapest plan?
Powerful and user-friendly drag and drop editor. (It is among the best ones in the market.)
Plus, Weebly is simple to use. Not as intuitive as Wix, but simple enough even for beginner webmasters to handle. And as a bonus you will get some SEO options – it's an offering seldom seen in basic plans.
Strikingly (Limited plan) – $96 per year
Strikingly is a website builder that takes a fresh look at website development. It positions itself as a website creator for single-page sites. And creating websites that consist of only one large page is a perfect solution for several situations. Small business websites, landing pages, online portfolios, personal websites, and one-page online stores.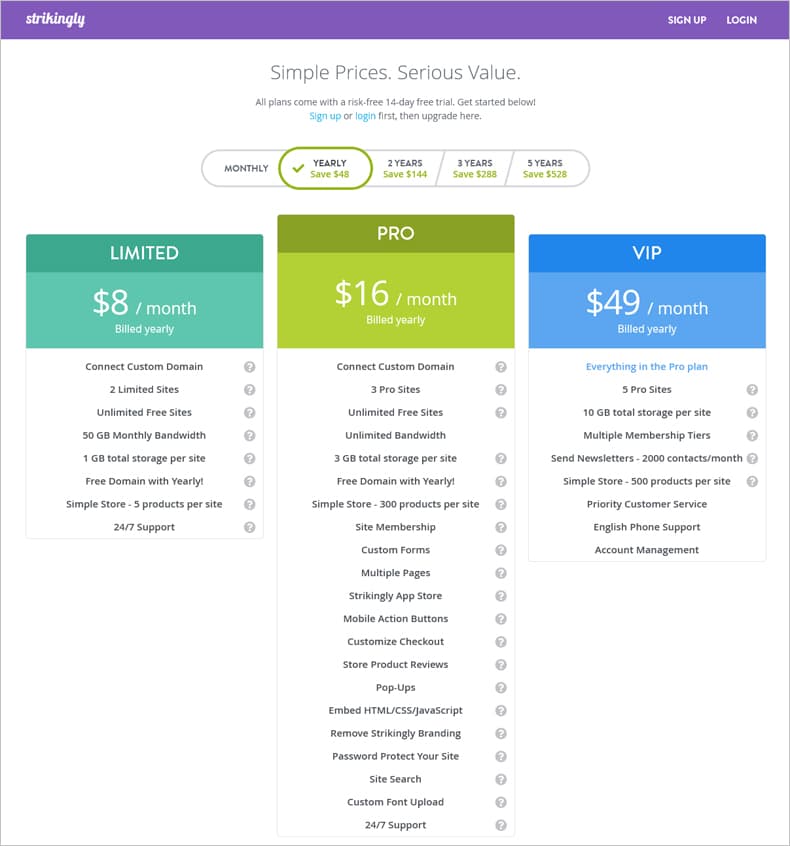 Strikingly Prices
The cheapest Strikingly plan is Limited, which costs $12 a month. Or $96 yearly (which is 33% cheaper) if you pay upfront for the entire year.
Want to save even more? Get 41.6% off if you pay for two years straight. This makes Strikingly one of the best-priced website builders.
Moreover, the Strikingly Limited plan will allow you to get not one but two premium websites. And yes, you'll get 1GB storage space for each one.
This plan also includes ecommerce options with the possibility of selling up to five products without any Strikingly commission. It's not bad for less than $100 per year.
What is good about Strikingly?
Free domain if you buy the Limited plan for a year
Possibility to quickly change website templates for existing websites
Possibility to sell through the site
Responsive technical support in chat and email
However, Strikingly is clearly inferior to its competitors regarding template selection and the possibility of their customization. However, it's not hard to use, has a user-friendly interface, and allows creating two one-page websites. This may sound irresistible to some users.
Wix (Connect Domain plan) – £36 for the UK and €54 for the EU
If you live in the UK or EU, pay attention to Wix's low-cost Connect Domain plan. In fact, it's the same Wix Free plan but with the possibility of connecting to a custom domain name.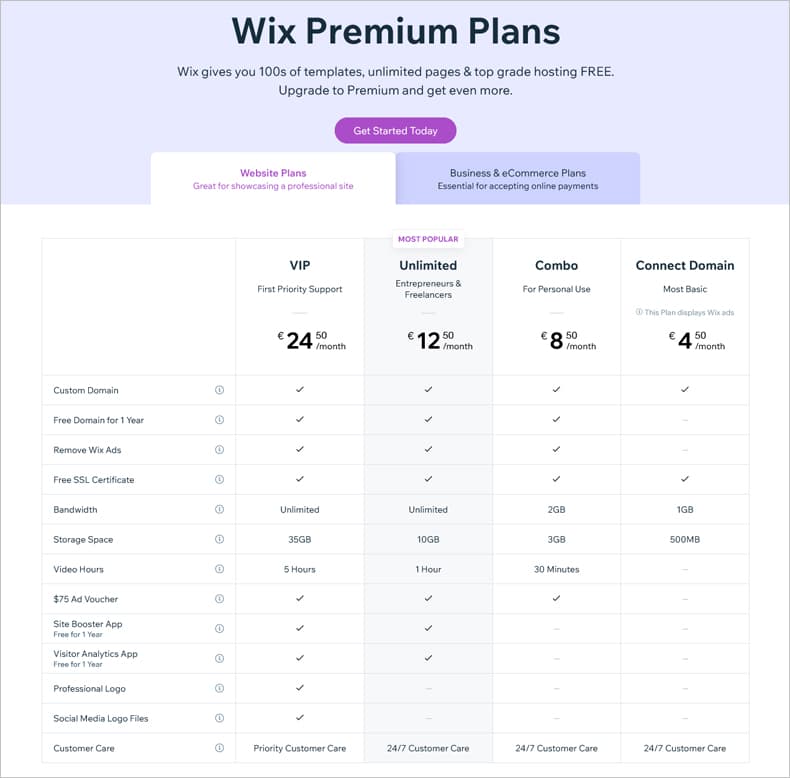 Wix Premium Plans
There aren't many great opportunities in this plan, but it's really cheap – £36 or €54. That's a very low price for such a powerful website builder like Wix. And I'd like to remind you that Wix is the best website builder (according to numerous media) and the world's most popular online website builder.
What does Wix offer for this money?
Powerful and very user-friendly drag and drop editor (one of the best ones)
More than 800 free and premium themes to select
Storage Space (500MB) and Bandwidth (1GB) limitations do rain down a bit on Wix Connect Plan's attractiveness. But if you decide to switch to more powerful Combo and Unlimited plans in the future, you'll understand why 180 million users in the world prefer this very website builder.
Thus, buying the basic Wix plan will open fine opportunities in the future. When you are ready for more than just the basics – Wix will display all its advantages to the fullest.
Universality, simplicity of use, ample functional opportunities, incredibly user-friendly drag and drop editor, a great selection of themes compared to other online website builders – that's summing up Wix without singing verses in its praise.
Cheapest Website Builders Without Ads
The main downside of the lowest-priced website builder plans is website builder advertising.
Usually, it is in the form of a banner or link with the website builder's name located on the header or footer of the website.
Most website builders use ads to compensate for the low cost of their most affordable plans. That's a tradeoff that you have to make.
Don't want to have the website builder's ad on your website? Check out some website builder options without ads. We will also analyze the cheapest option and what we'll be getting for this money.
The Most Affordable Website Nuilder Plans
Bookmark – $143.88 /per year (or $100.7 with the 30% off coupon code)
All these three website builders offer the opportunity to add your own domain name and ensure freedom from web builder ads.
Let's compare them in more detail:
Jimdo vs Ucraft vs Bookmark
Plan Name
Start
Pro Website
Professional
Montdly Cost
n/a
n/a
$14.99
Annually Cost

$108

$120
$143.88
Connect a Custom Domain

Yes

Yes

Yes

Free SSL Certificate

Yes

Yes

Yes

Free Domain Name

Yes (Yearly)

Yes (Yearly)

Yes (Yearly)

Remove builder ads?

Yes

Yes

Yes

SEO options

Yes

Yes

Yes

Bandwidtd
10 GB

Unlimited

Unlimited

Space Storage
5 GB

Unlimited

Unlimited

Number of Pages

up 10 pages

Unlimited

Unlimited

Google analytics integration

Yes

Yes

Yes

Backup and recovery

No

No

No

Design Customization

3

3

3

Easy of Use

5

4

5

Embed HTML/CSS code

Yes

Yes

Yes

Multilingual Options

No

Yes

Yes

Membership Options

No

Yes

No

Ecommerce Options

No

Yes

No

Support

FAQ – Yes

Email – Yes

Chat – No

Telehone – No

FAQ – Yes

Email – Yes

Chat – Yes

Telehone – No

FAQ – Yes

Email – Yes

Chat – Yes

Telehone – No
Jimdo (Start plan) – $108 per year
Jimdo is one of the cheapest website builders without ads. After releasing its AI Jimdo Dolphin platform, Jimdo became incredibly easy to use. Jimdo Dolphin uses artificial intelligence even for the simplest website building tasks. And it requires minimum human participation. In acse you would like to make someting more complicated, for example, to build a photography website – such help will surely come in handy.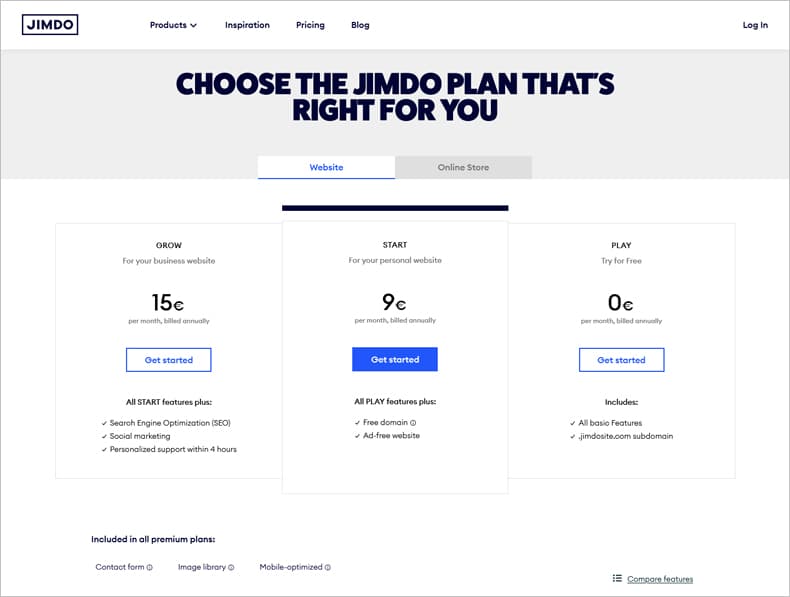 Jimdo Pricing
NOTE:
If you're interested in using AI for your website development, take a look at Wix ADI. It's an excellent contemporary solution designed in order to make website development much easier. In fact, you just have to answer a few questions about your preferences (favorite colors, website style, theme, and so on), and AI is going to build your website independently and fill it with content. It will be a real catch for inexperienced users. Also be sure to check out more AI website builders for a smarter choice.
In addition to its simplicity of use, Jimdo also comes with a free domain name for one year. Plus, it gives access to SEO options, allows installing Google Analytics, and, most importantly, opens up the possibility to add HTML code to your website. With that, you'll be able to install third-party widgets, additional scripts, buttons, and other graphical elements. While these options are commonly offered in more expensive premium plans, Jimdo doesn't shy away from giving it all in the basic plan.
Now, if we talk about Jimdo's cons, we have web design editing restrictions and a limit of 10 pages (for the Start plan).
So, Jimdo is a really good and thrifty solution, but only for some small websites that require no more than ten pages.
Ucraft is a universally free website builder. (To be honest, it is very difficult to actually create a free website with it.)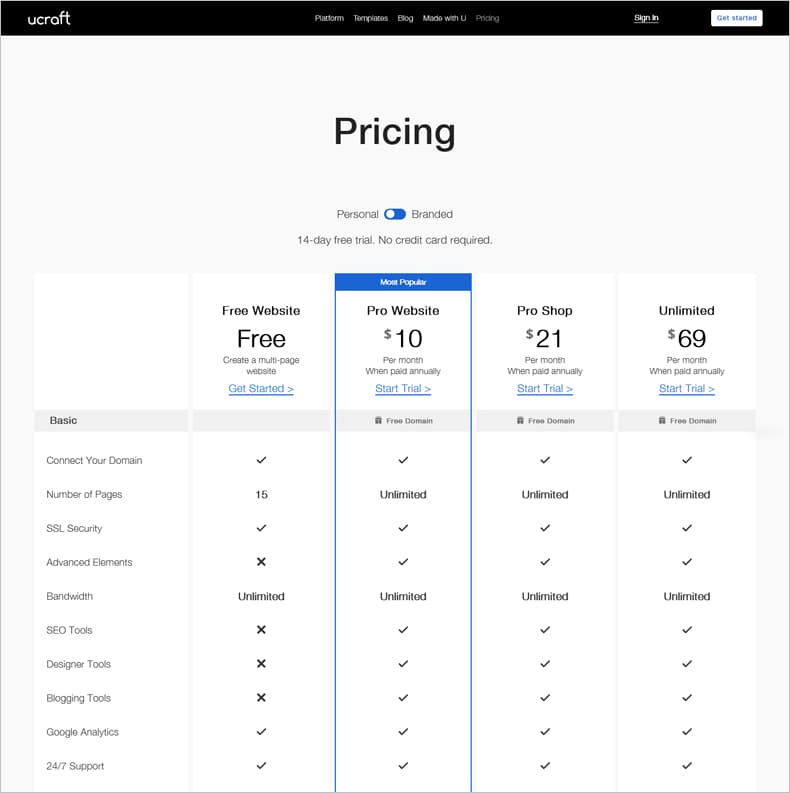 Ucraft Pricing
However, it's got a really decent basic plan – Pro Website. It costs $12 more than Jimdo but has got much greater opportunities.
Firstly, the Ucraft Pro Website plan hasn't got any restrictions regarding the number of pages that you can have on your website. That's good news. Plus, there are no space storage or bandwidth restrictions – everything is unlimited, which is even better news.
And the praises have just begun. This basic plan allows adding your own HTML code, creating multilingual websites, membership websites, and even small online stores. Yes, all of this is available in the extremely low-priced Ucraft Pro plan.
For $120 per annum, this website creator offers broadly similar functional options to other website builders, like mobile optimized websites, for at least twice the price.
Moreover, Ucraft has dependable technical support. It's available through both email and chat. Ucraft chat managers tend to answer quickly and have a good understanding, which makes their responses helpful when you need them. It's another proof of Ucraft's usefulness.
However, there are two disadvantages – the inability to take website backups and unsatisfactory drag and drop editor. I won't say it is a bad builder, but it's less functional than more familiar options like Wix and Squarespace drag and drop editors. It's got fewer settings and requires a little getting used to.
Bookmark is a contemporary AI-powered website builder characterized by simplicity of use and low tariff costs. Its operational principle is similar to Wix ADI and Jimdo Dolphin.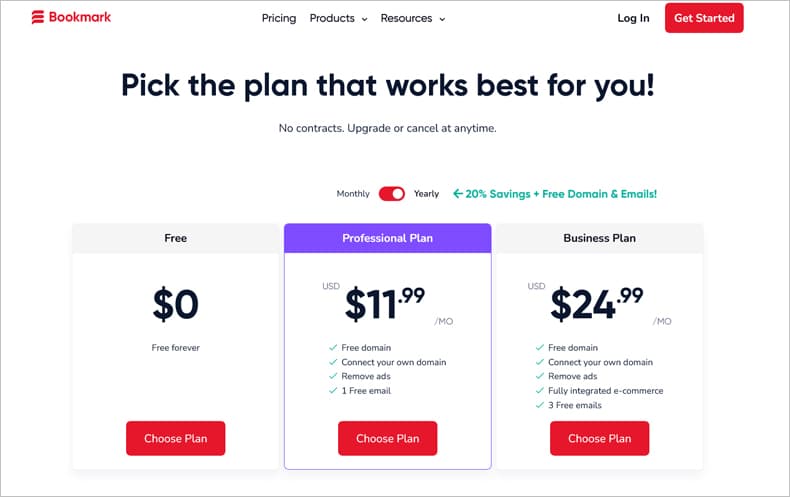 Bookmark pricing
With AI (which is the basis of the platform), however, you'd have to part ways from the familiar selection of website templates that are open to edits.
The most affordable premium Bookmark plan costs $14.99 a month, which is not so cheap compared to competitors. But if you pay for a year straight, the cost comes down by 20%. Moreover, you can use our 30% off coupon code for additional savings. That way, you'll save 50% by paying $100 for one year.
What will you get for your money?
Unlimited pages, space storage, and bandwidth
Bookmark uses Amazon Web Hosting that guarantees website operation speed
Possibility to add HTML code
Possibility to create multilingual websites.
In general, the Bookmark Professional plan is powerful and feature-loaded. But without ecommerce.
As for its drawbacks, there is a lack of a website template gallery and poor technical support.
They have both email and chat options for technical support. But in the latter case, you're more likely to have to wait for hours on end to get an answer to your questions.