20+ Wix Portfolio Examples: Graphic Designers, Photographers, Illustrators and Models Portfolio
WebBuildersGuide.com earns commission from some of the web builders and hosting providers listed on this website.
Learn more
Wix website builder is one of the best website builders for building an online portfolio. This is the second most popular platform (after Squarespace) for representatives of creative professions – photographers, graphic, web and 3D designers, illustrators, models, artists, etc.
Wix stands out from other portfolio website builders by having the largest collection of free portfolio templates. This way every photographer or designer will be able to find the perfect template for their portfolio website.
NOTE:
Read the Wix review and Squarespace review where I talked about all the benefits of these great website buildes. Including for the development of portfolio websites.
Now let's move on to the live Wix portfolio examples:
Run Wild Design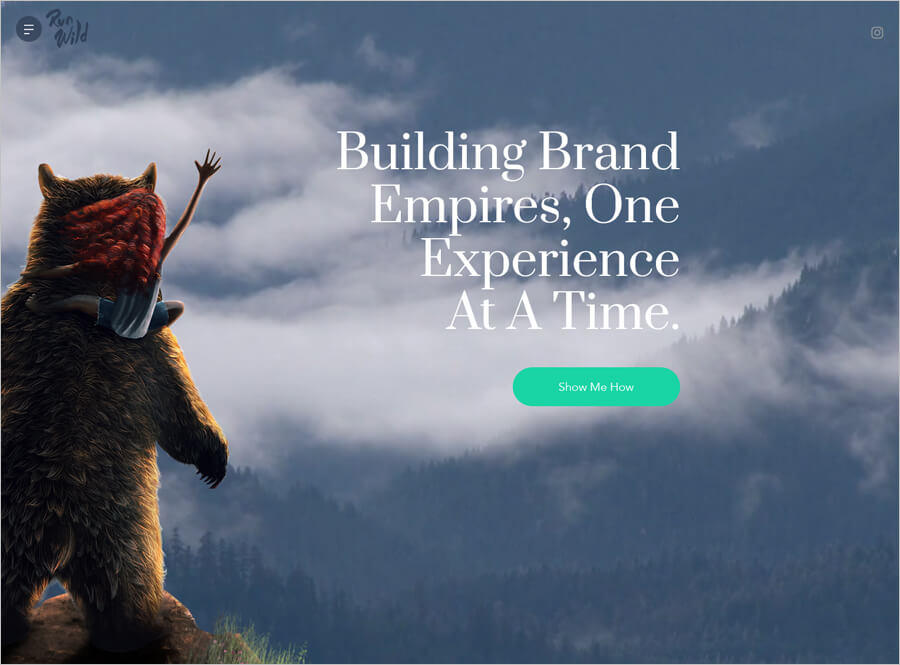 Check this portfolio example
Run Wild Design is a beautiful creative portfolio that immediately catches visitors' attention. This website is balanced with intricate design and consistency. This website has used more text to build trust.
The designer has wisely displayed all of his work on the home page. He offers multiple services, including web design, illustration, and gaming.
Hannah Jacobs Animation Portfolio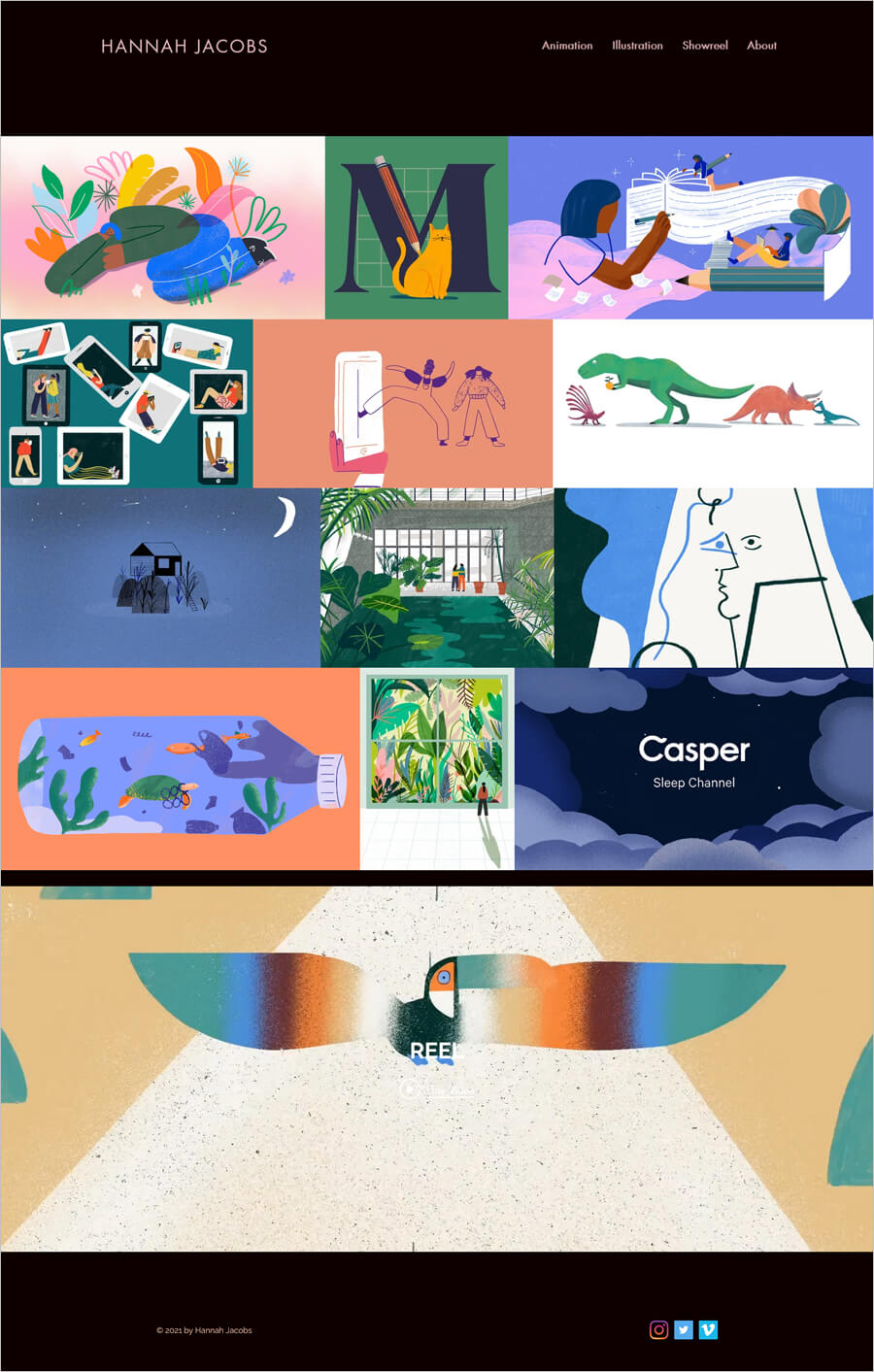 Check this portfolio example
Hannah Jacobs is an illustrator and animator who has worked with many reputable films. She has created a balanced composition in her portfolio website using minimum words and full illustrations.
The website's color scheme is impeccable as it consists of perfect maroon shades that go well with black.
Karen J Revis Artist Portfolio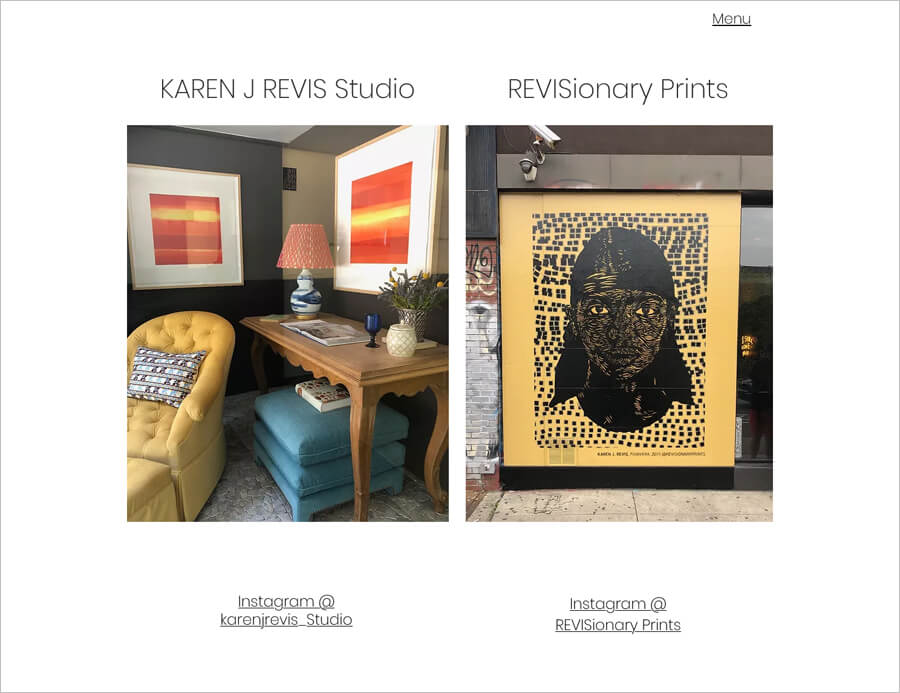 Check this portfolio example
Karen J Revis, an artist based in New York City, presented his portfolio yet stunningly. His portfolio emphasized his work by showing off his skills and creativity.
He puts his best work right on the landing page so he can attract visitors and makes a great impression on them.
Lena Steinkuehler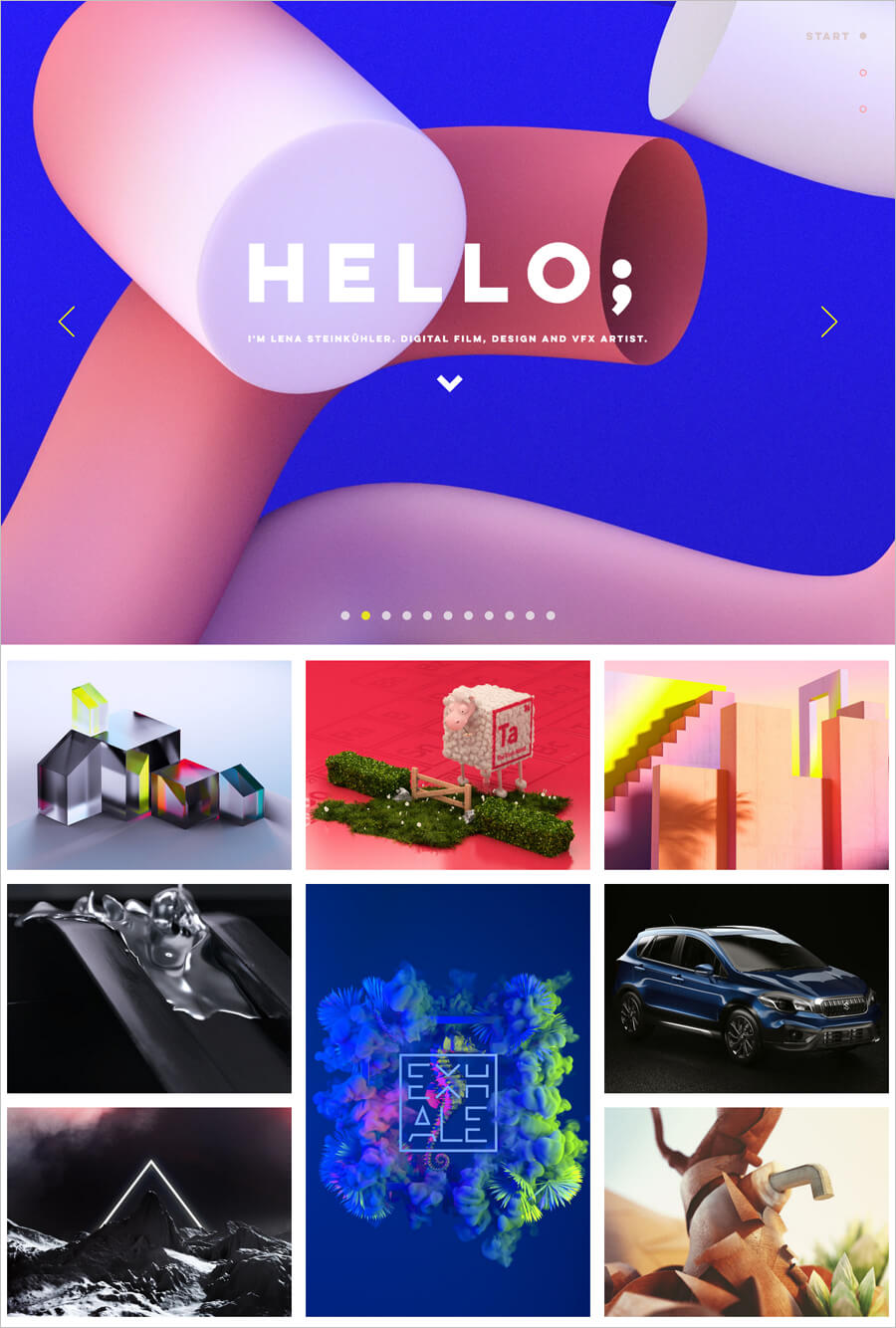 Check this portfolio example
Lena Steinkuehler is another website you can draw inspiration from. High-quality visuals upon entering the website compel the visitors to explore more about her page.
Her website is solely based on the home page, which makes it more appealing. The color scheme of the website is outstanding. It makes it both vibrant and aesthetic.
Linda Franzosi Design Portfolio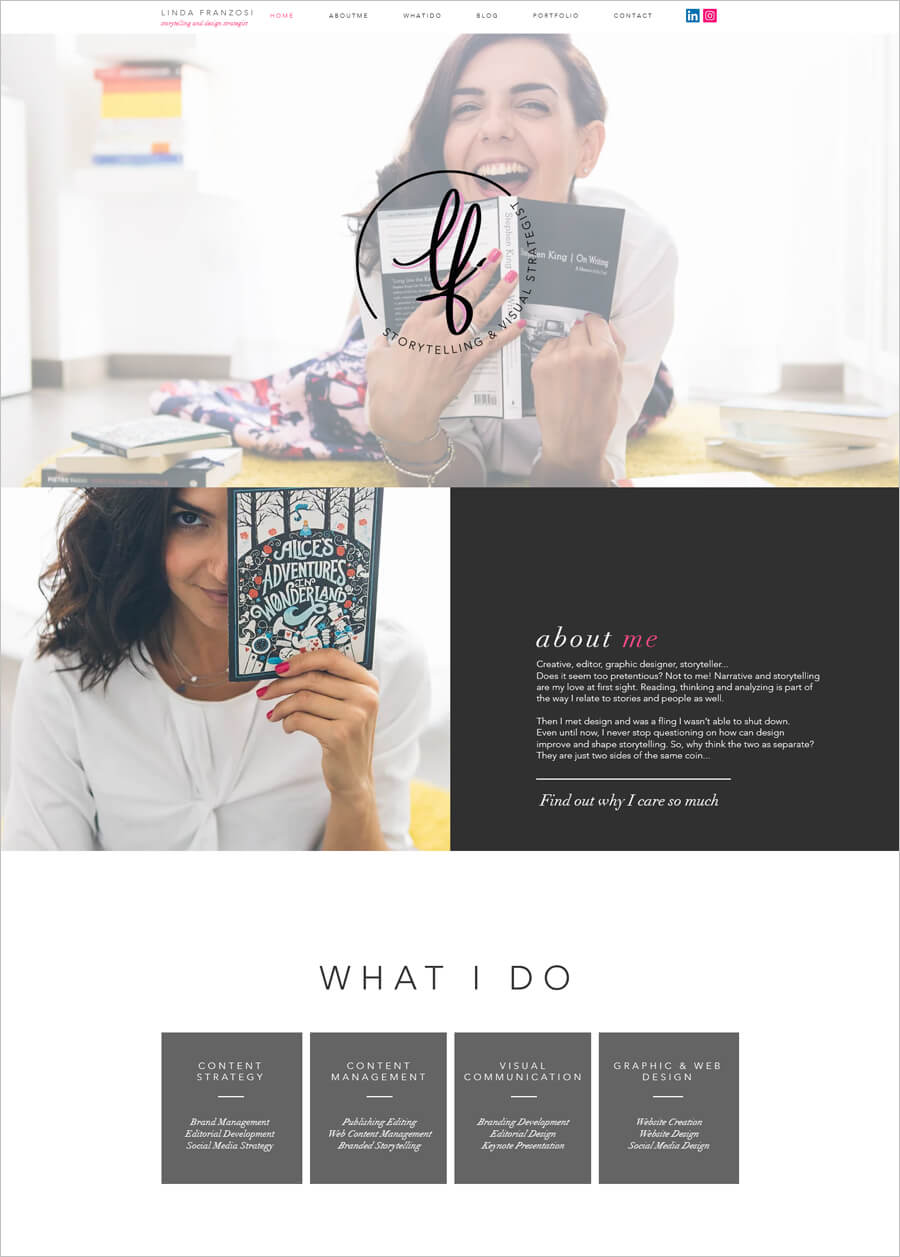 Check this portfolio example
In Linda Franzosi Portfolio, you will witness multiple design features that enhance the beauty of the website. She has used her photo as the background of her portfolio.
Her home page immediately captures visitors' attention as it looks professional and playful simultaneously. Her portfolio showcases her skills in a friendly manner.
Andrea Miranda Salas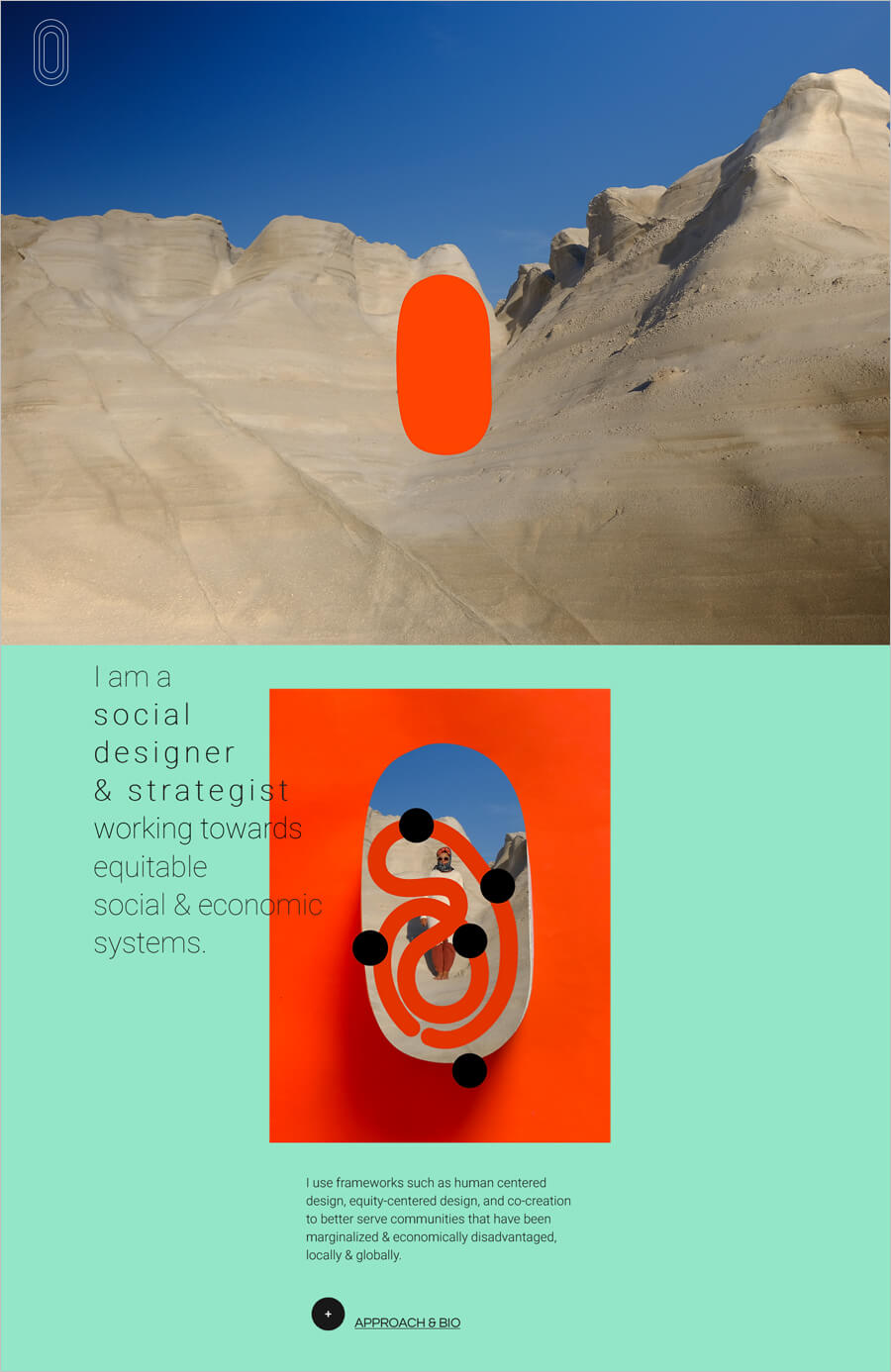 Check this portfolio example
Andrea Miranda Salas is a social designer strategist who has made his portfolio filled with several unique elements. You'll notice a short introduction on the side of his website.
Opting for a simple site structure and multiple colors have made the website more impressive. The color scheme of the website is what makes the portfolio stand out.
Wendy Ju UIUX Design Portfolio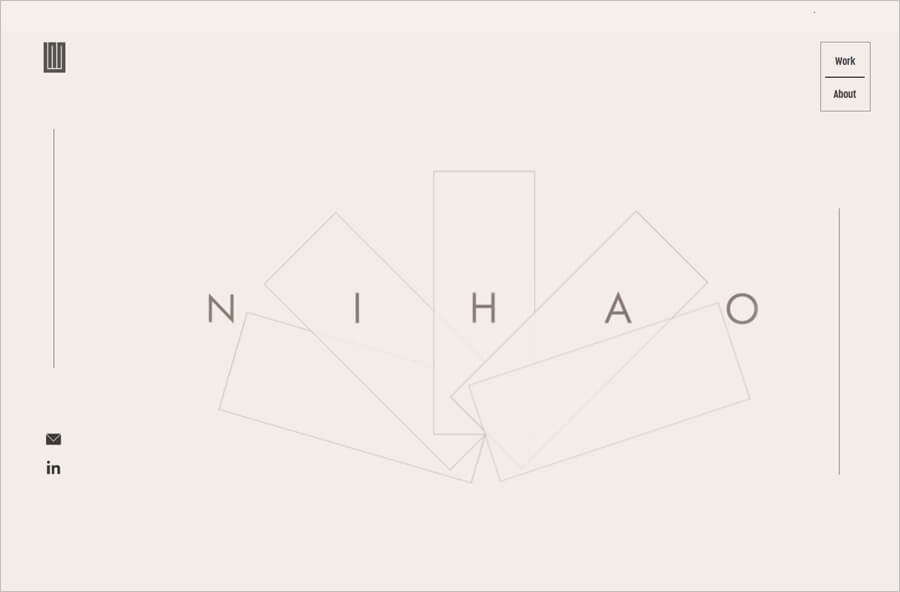 Check this portfolio example
Wendy Ju's design portfolio is one of the best Wix portfolio examples. The neutral base color is what makes the website elegant and relaxing. Without using luxurious features, Wendy Ju has made her portfolio eye-catching and easy to scan.
Her website's minimalistic design makes the visitor immediately grabs her attention.
Louise Hourcade Portfolio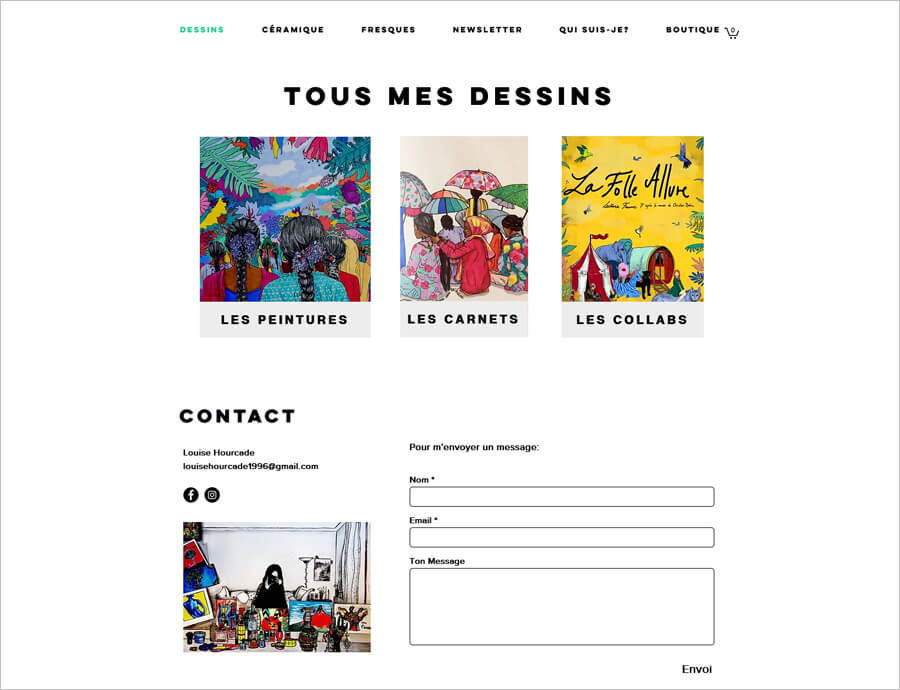 Check this portfolio example
Louise Hourcade has used unique styles to make her portfolio stand out. By entering the website, a full-width imaginative artwork welcomes you, instantly allowing visitors to appreciate her skills.
She has wonderfully created an aesthetic and creative atmosphere on her website. Watching her artistic skills is a joy as she has made everything colorful and lively.
Veronica Solomon Interior Design Portfolio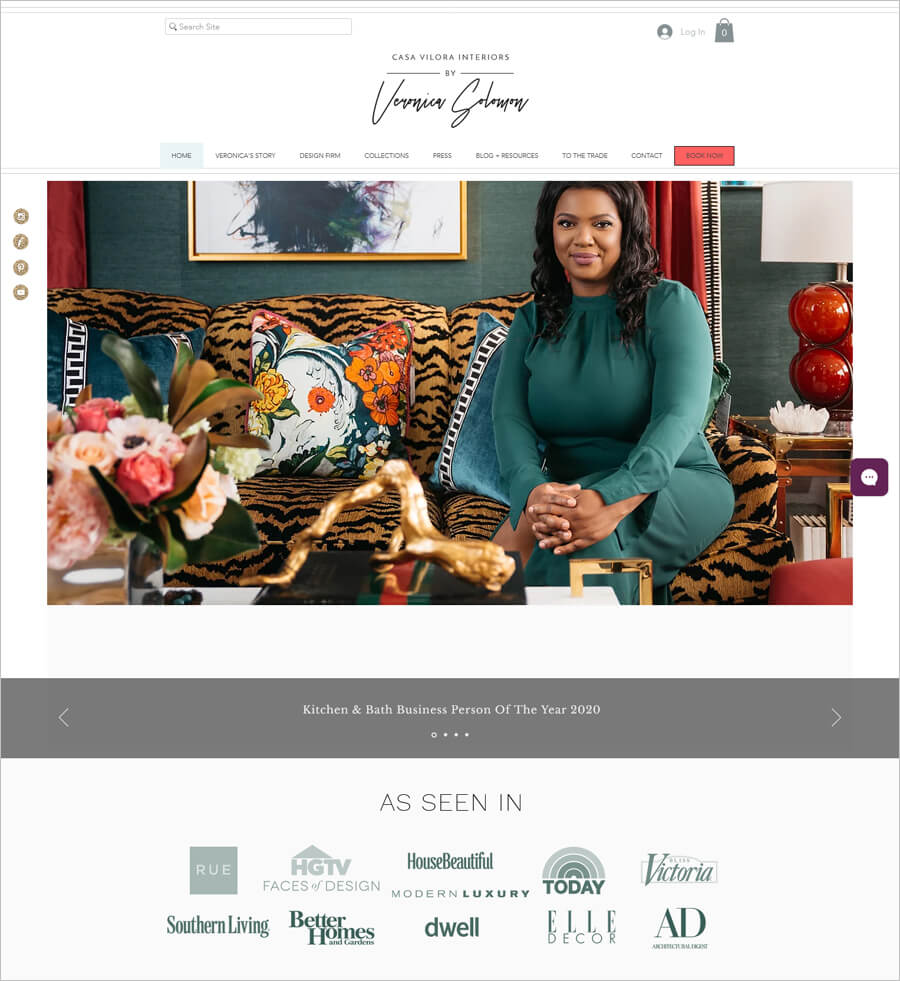 Check this portfolio example
If you are looking for a portfolio website based on interior design, look at this one. Veronica Solomon is an incredible designer. Her portfolio not only displays her designing skills but also speaks about her personality and planning ability.
What makes her portfolio unique is the brilliant display of her work and usage of words.
Rafael Varona Portfolio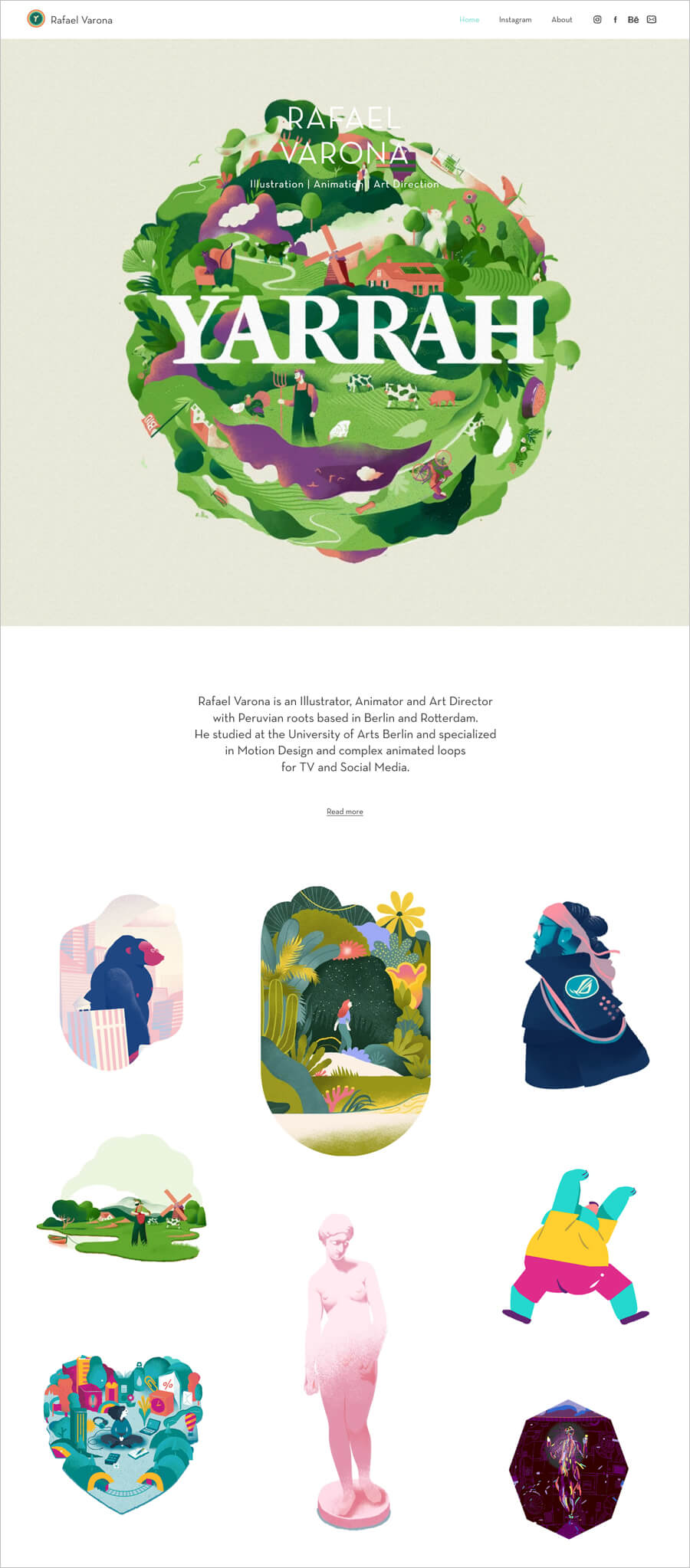 Check this portfolio example
Rafael Varona Portfolio falls under one of the best Wix illustrator portfolios as it pays close attention to design. Beautiful animation greets upon entering the website and sets the tone for the rest of the website.
It looks highly professional and colorful at the same time. As you scroll down the website, you will find a short and precise introduction of Rafael.
Sonja van Duelmen Art Portfolio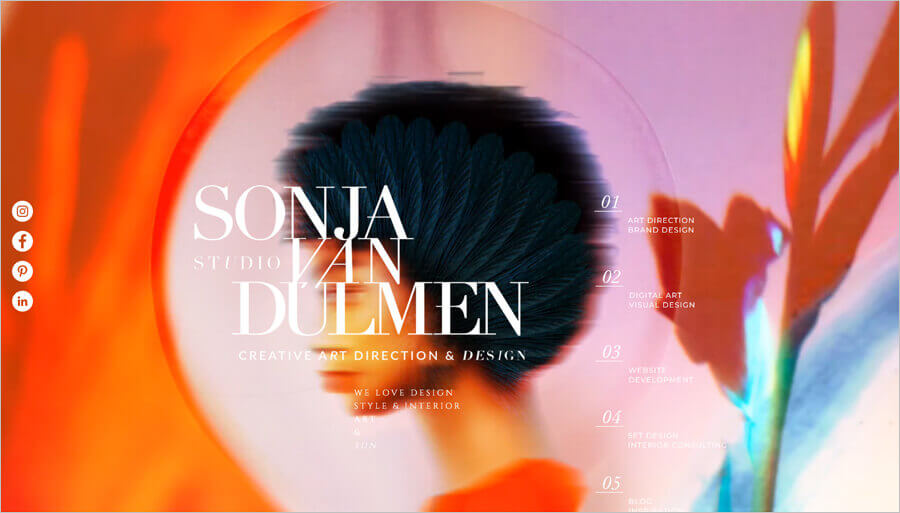 Check this portfolio example
Sonja Van Duelmen's website is a great inspiration for all artists, illustrators, and web designers. When you open the website, you'll find that the artist has put her blurry and incomparable artwork on the homepage as a background.
Her portfolio website is a beautiful example of using visuals to drive visitor engagement.
Annie's Little Valley Sugar Arts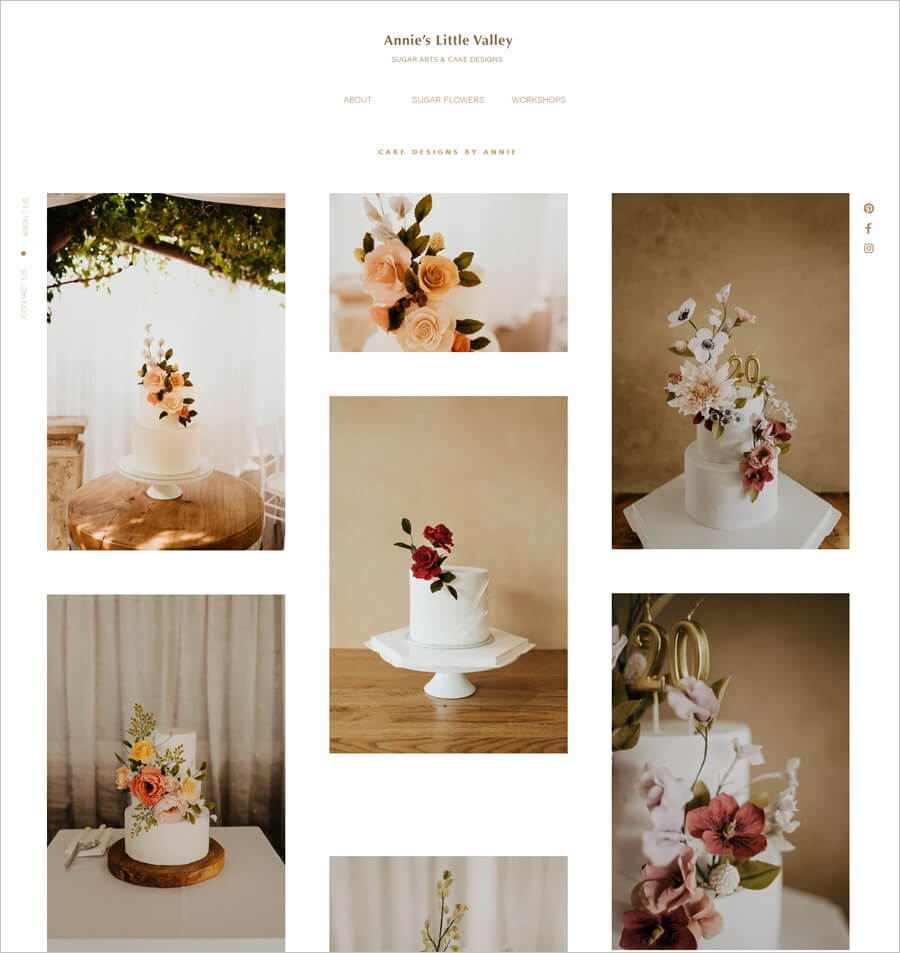 Check this portfolio example
Annie's Little Valley portfolio gives a fresh florescent experience to its visitors. Annie has showcased her skills by displaying her breathtaking floral designs.
The color scheme of the website is engaging. Additionally, cohesive and soft shades on the homepage craft an elegant look. The elements start to reveal as you scroll down the website.
Mariela Mezquita Portfolio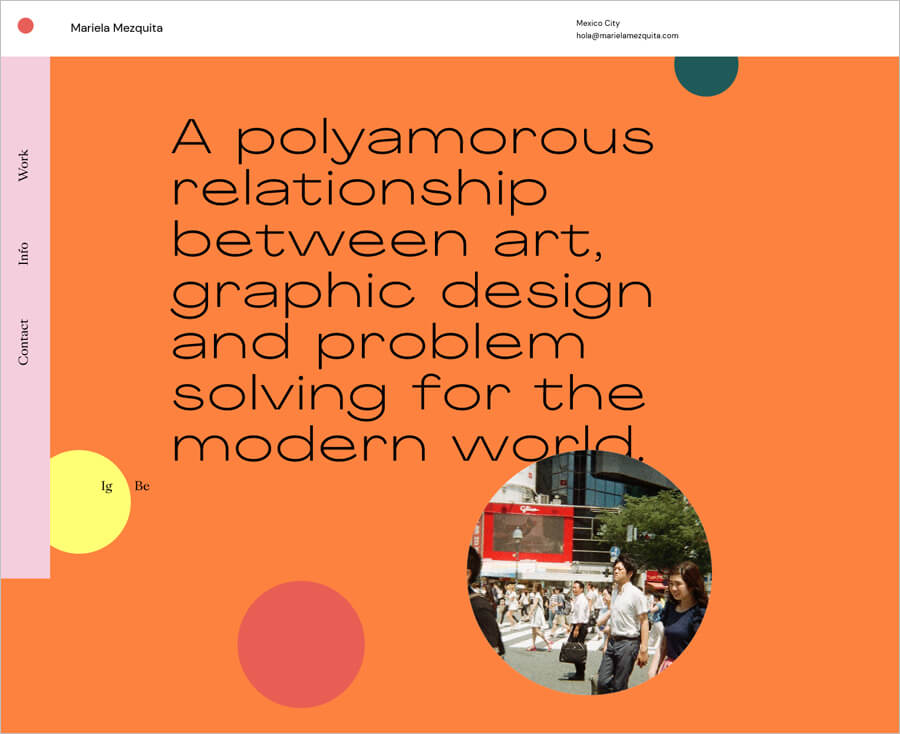 Check this portfolio example
Mariela Mezquita's website portfolio is noteworthy because of its appealing illustrations and layout. The landing page's unique feature, such as images appearing when a cursor is pointed on the grid, makes the illustrator's portfolio eye-catching.
Instead of using the menu horizontally at the top of the website, Mariela has beautifully incorporated it vertically at the side of the home page.
Irina Pandeva Art Portfolio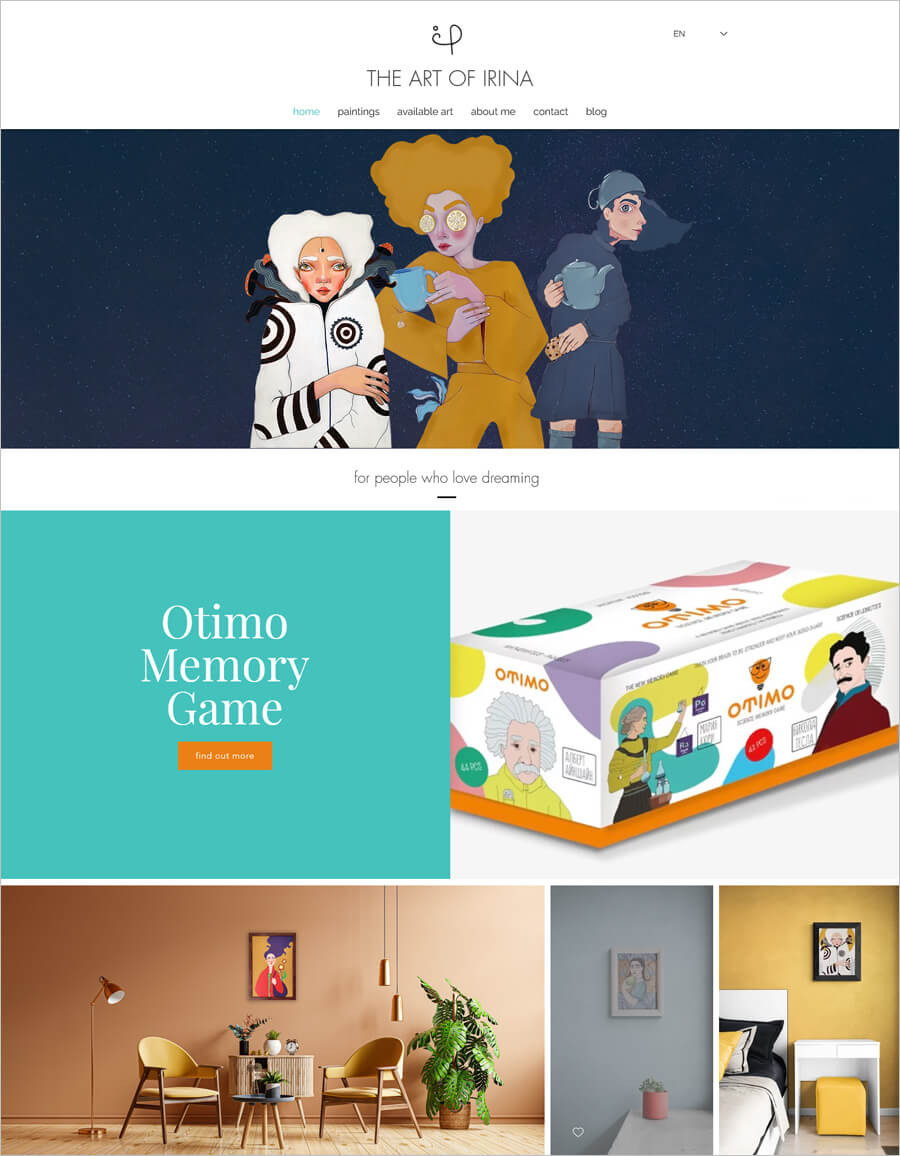 Check this portfolio example
Irina Pandeva Art portfolio is a fantastic website that welcomes visitors to the bedazzling artistic world. Opening Irina's portfolio, you will see that Irina has wisely displayed her painting on her website's home page, showing her incredible talent.
The font chosen for the website is well-selected and easy to read. Additionally, her exciting artwork will immediately impress you and convince you to explore more.
Adam Grant Author Website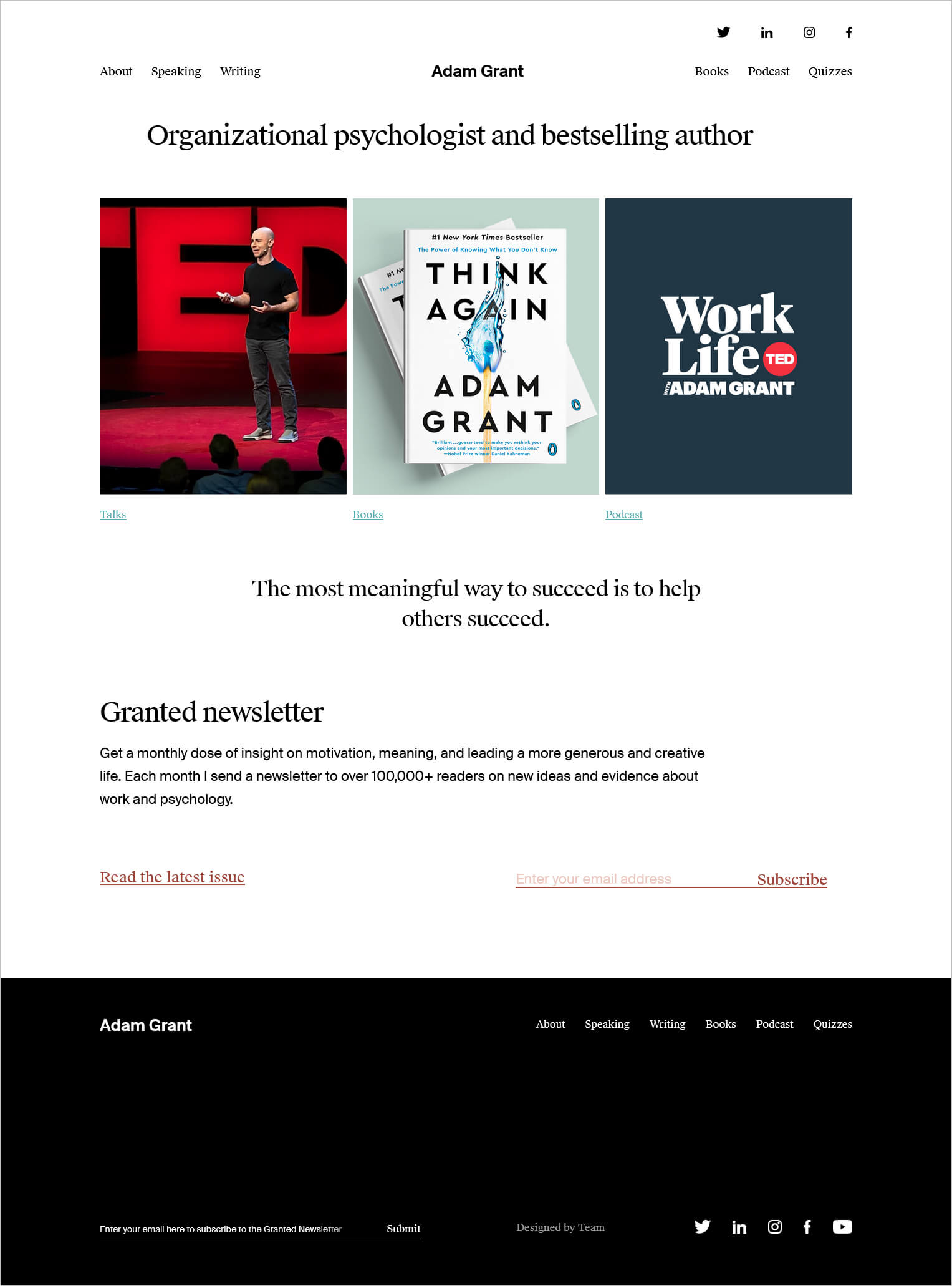 Check this portfolio example
For all the writers who want to make an online presence, the Adam Grant portfolio website is the best option.
The website is not fancy but appealing and structured. Adam's minimalistic and subtle approach expresses a lot about his style and personality. Display of his work on the home page instantly builds his credibility among visitors.
Alia Bright Paper Artist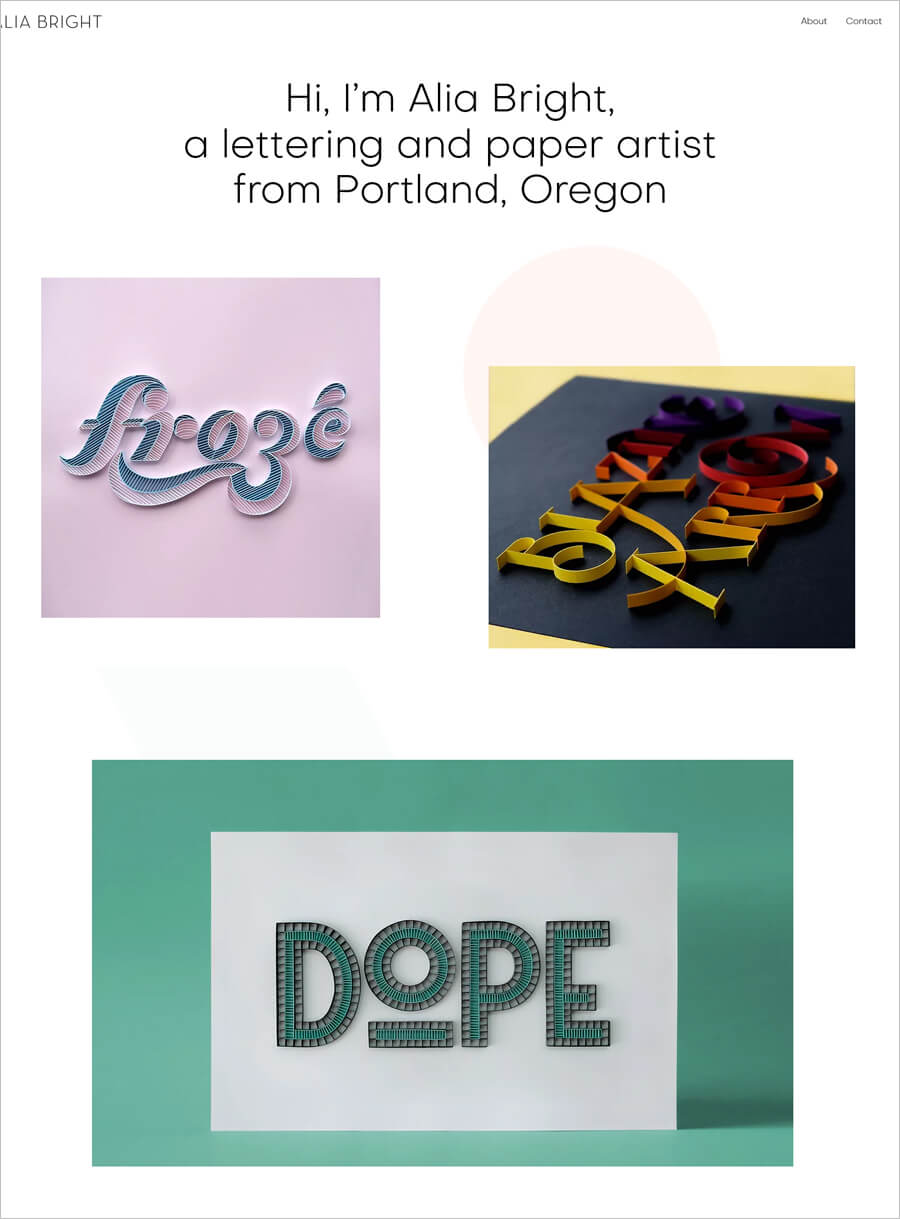 Check this portfolio example
Alia Bright's website serves as an excellent example of a creative portfolio. Her website is a complete collection of her work and in-depth creativity. It immediately captures the attention of visitors.
By opening the website, you will acknowledge the layout of the portfolio as she has used exclusive design for the homepage and wonderfully played with the colors.
Roee Ben Yehuda Portfolio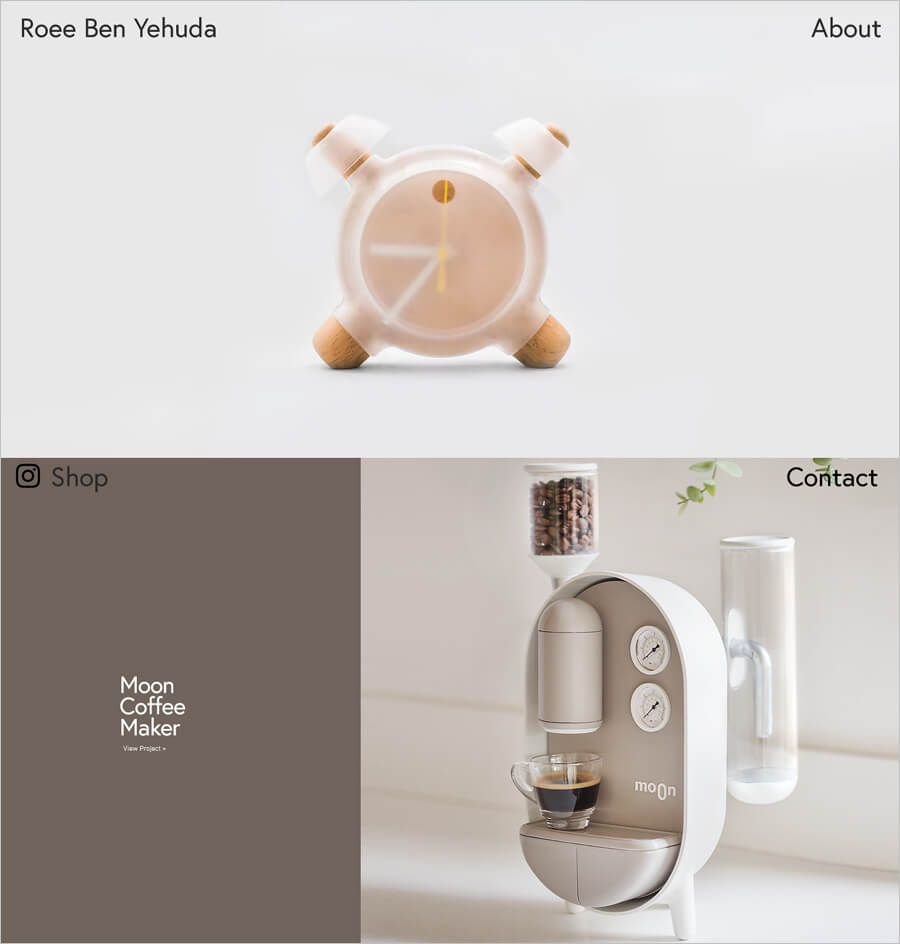 Check this portfolio example
Roe Ben Yehuda is one of the mind-blowing Wix portfolio website examples. Big and colorful illustrations on the homepage speak for the designer itself. These impressive animations will leave you astonished.
This online portfolio creates a truly unique atmosphere. When you scroll down the website, you will be amazed by the unconventional layout of images.
Carla Grace Art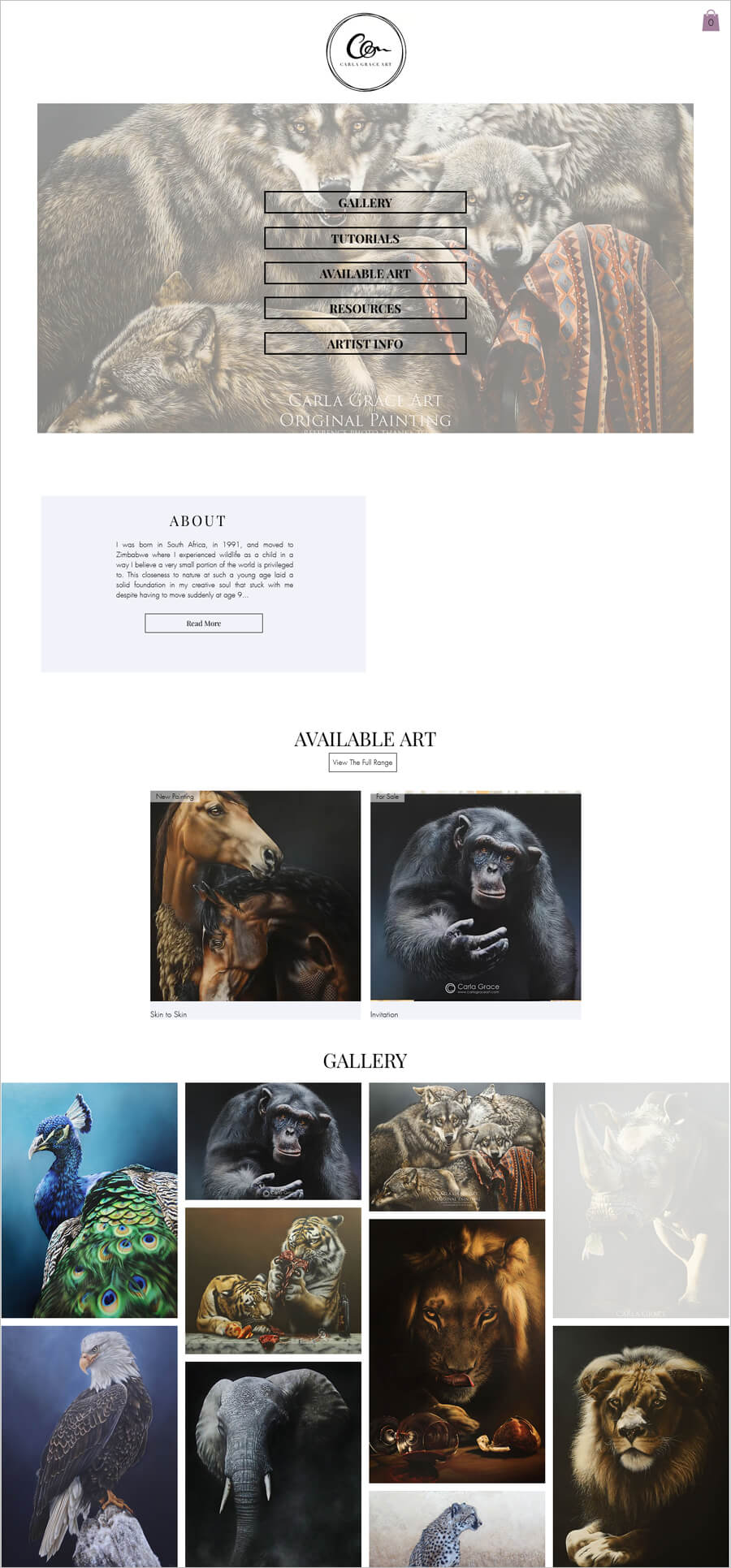 Check this portfolio example
Carla Grace's Art portfolio website is a great inspiration for all new artists. Her website is full of creativity and showcases her incredible talent.
The base color of the website is white, which adds a touch of simplicity to it. As you scroll down her creative portfolio, high-quality visuals of animals leave you with a breathtaking experience and prove her credibility.
Oli Dillon Freelance Portfolio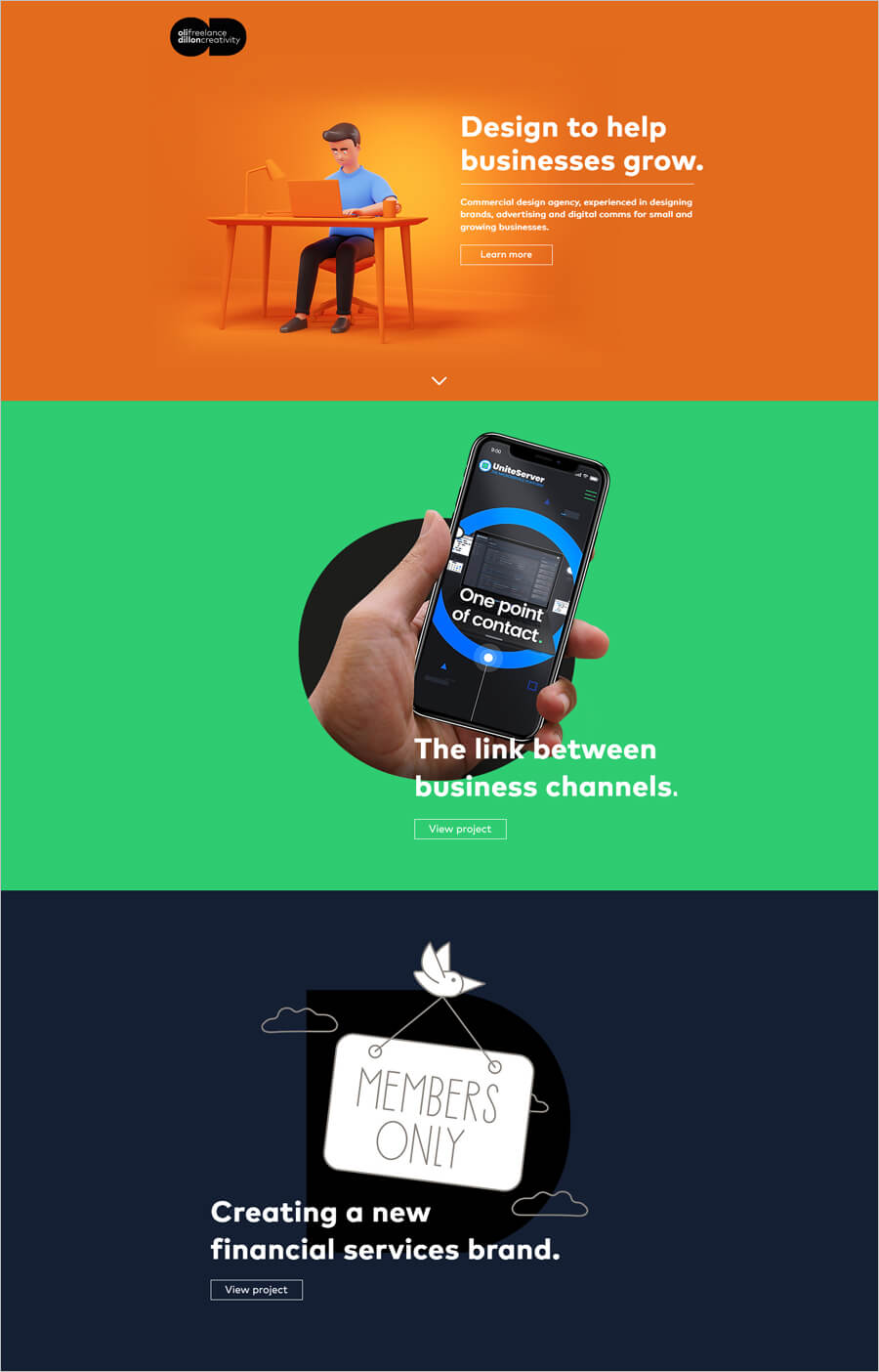 Check this portfolio example
Oli Dillon's Freelance portfolio is an example of a well-organized modern portfolio website. The color scheme used in this portfolio design is extraordinary and creates a sense of a serene atmosphere.
Using multiple colors with limited text makes the portfolio more appealing and eye-catching. The portfolio design represents the designer's unique style that attracts visitors to avail of her services.
Ellen Von Wiegand Art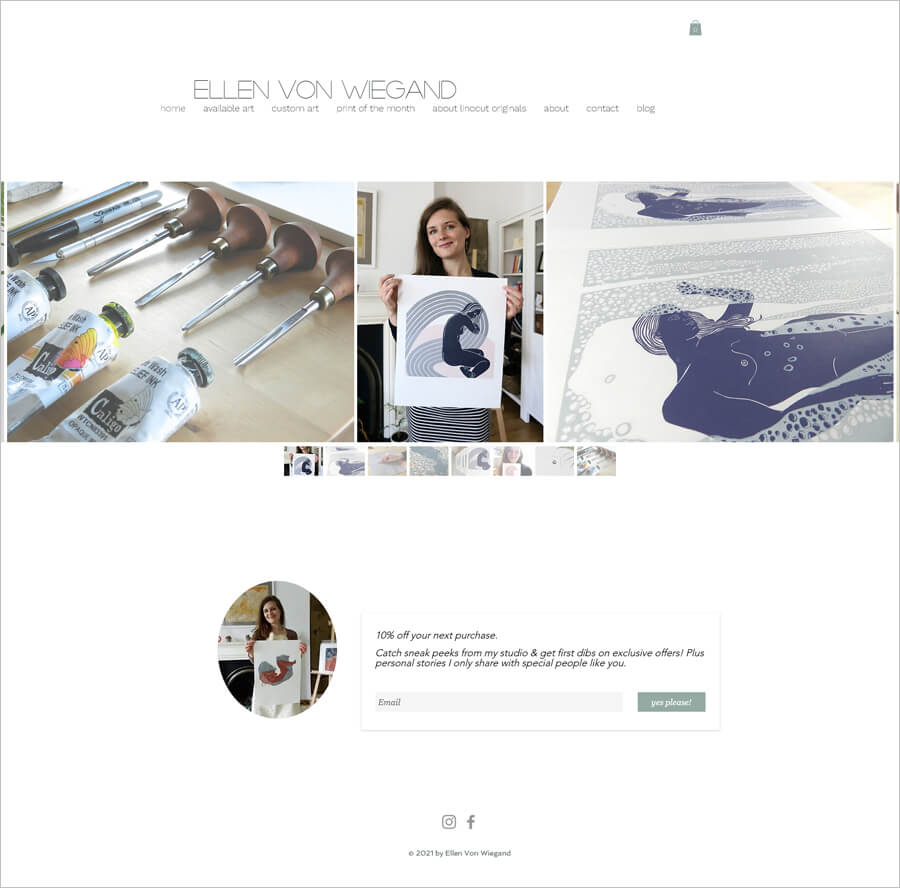 Check this portfolio example
Ellen Von Wiegand is an artist of exceptional talent. She has showcased her skills on the homepage of her portfolio. It's easy to understand the website at first glance as it's uncomplicated and focused only on her work.
You can take inspiration from this portfolio website if you idealize a minimalistic approach in your portfolio.
Asya Lisina Art Portfolio
Check this portfolio example
In Asya Lisina's portfolio, you will experience magnificent and unique illustrations on her homepage. These powerful, subtle animations make the portfolio look more professional and playful.
Her exceptional artwork expresses her style and creates a favorable impression on visitors. Her illustrator portfolio is full of surprises and reveals her skills effectively. You can take inspiration from her website to make a good portfolio.
French Knot Studios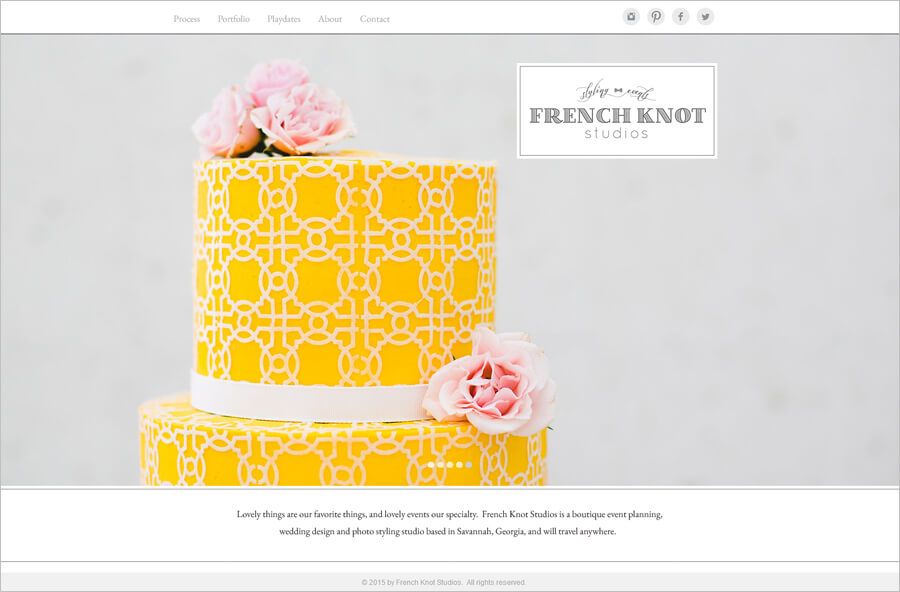 Check this portfolio example
There are many exceptional things about this portfolio website by Audrey Wagner king. The moment you open the portfolio design, it welcomes you with a fresh and impressive appearance.
Constantly changing colorful pictures and beautiful styling attract visitors and compel them to hire the services. Her creative portfolio emphasized his work more by keeping text to a minimum.
L'Appartement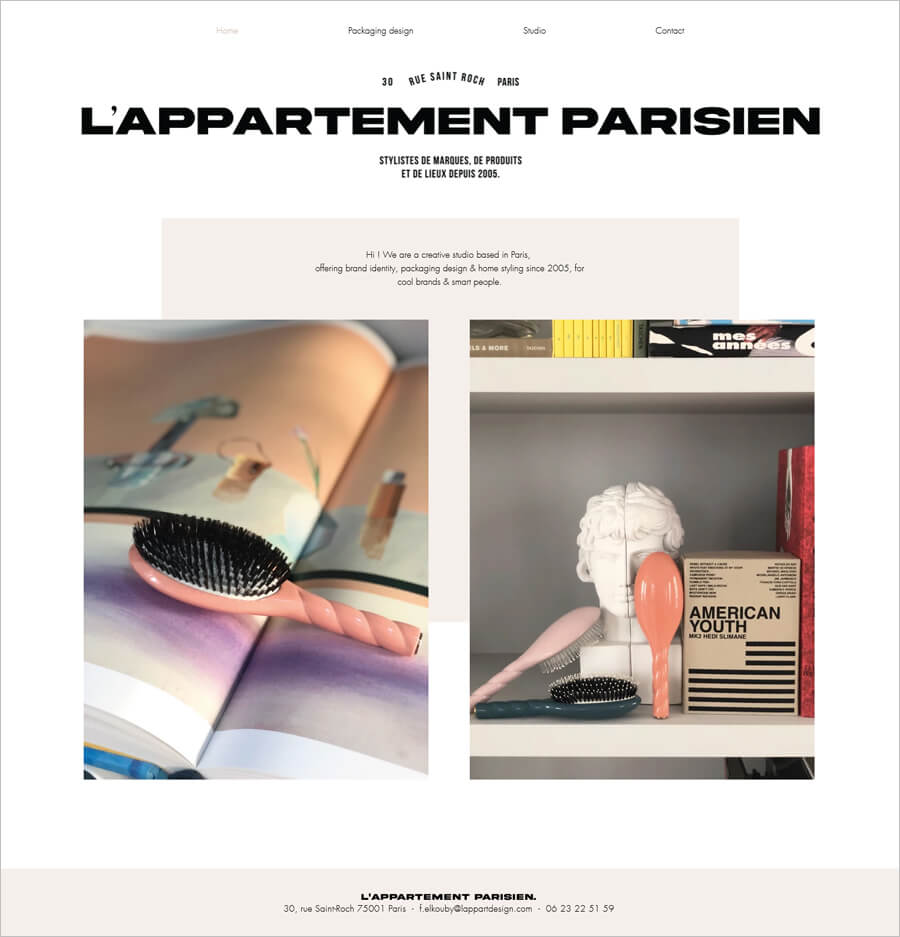 Check this portfolio example
L'Appartement website portfolio is an excellent expression of creativity and wonderfully demonstrates the designer's skills. By entering the website, you will witness the sophisticated simplicity as the whole page is designed with only two colors – white and slight grey.
Rather than exhibiting all of his work, the designer prefers minimalism and showcases his best home styling and packaging design.
Check out the other 20 Portfolio Website Examples for Photographers, Designers and Artists. They are developed by different website builders, not limited to any one of them.