Best Medical Website Builders for Clinics and Doctors
WebBuildersGuide.com earns commission from some of the web builders and hosting providers listed on this website.
Learn more
Did you know that every 20th search query in Google relates to medicine and healthcare? With the pandemic still lurking around, I'm sure that in the present 2023 year the figure would be even higher.
After all, whether it is for finding DIY cures, self-diagnosis based on symptoms, or for seeking the right care, people do visit a lot of health and medical-related websites to find the information that they need.
Physicians themselves also often visit websites to collect useful medical information. These can be not only large medical portals such as WebMD and Health.com, but also author's blogs of doctors and scientists from the field of healthcare.
The second-largest group of Google search queries is performed to find a suitable doctor, therapist, or health clinic and to make an appointment.
What is remarkable, people looking for a doctor or clinic to make an appointment do such searches three times more often than those who are just interested in learning more about health issues. This means that people scrutinize hospitals and private doctors' websites before making their choice.
That's why it's obvious that a well-thought-out medical website with professional design and convincing content would win half the battle of customer acquisition for you.
So let's see what are the best medical website builders that you can use to build the perfect healthcare website. Moreover, we're going to compare their prices and the functionalities offered.
How do good medical website builders differ from ordinary ones?
Before reviewing the best medical website builders, I'd like to tell you more about the criteria behind their selection. It will help you understand why these platforms found a place in this list and not the others.
When we talk about using website builders, including those for developing medical and healthcare websites, you need to understand that they are all SaaS platforms.
This means that every month you'll have to pay a small fee that includes hosting, domain name, technical support, and, of course, website development.
With that small fee, you can perform website development on your own with the help of a visual drag-and-drop editor. This makes the process of website building extremely simple even for newbies. You can learn more about drag and drop editors here.
A medical website builder that doesn't have a contemporary drag-and-drop editor is going to be difficult to use. You might even have to know HTML and CSS basics to begin working with such a platform. Or you might have very limited configuration and website customization options available to you which translates to simplicity but at the cost of design liberty.
You may think that you don't need a design liberty for your medical website. But you are most likely a doctor or a clinic manager and cannot understand website design as professional web developers understand this.
And here's what I'll tell you from the position of a professional website developer with experience since 2005. Your visitors will very well understand the difference between a cheap website with an outdated design layout (designed 8 – 15 years ago) and your competitor's website with a fresh website design and an excellent usability.
As a result, the credibility of you as a doctor or your clinic may be undermined because your website does not inspire confidence. A visitor can think like this:
– If they have such a weak and buggy website that doesn't look good on mobile, how good are they at healing? Will they be more considerate of my health than of their website?
In most cases, the answer will not be positive for you.
Thus, the first criterion that should be considered while selecting a medical website builder is that it should have a simple yet powerful drag-and-drop editor.
The second important criterion to consider includes contemporary website templates related to the medical and healthcare niche. The available templates must not only be visually appealing but also have the necessary features and customization options. Moreover, the templates must be responsive. Unless your website displays perfectly on any kind of device like mobile phones or tablets, you won't be able to reach all your audience.
Take a look at these two examples of medical website templates. Both of them are adapted for mobile devices and are considered responsive. But is this true?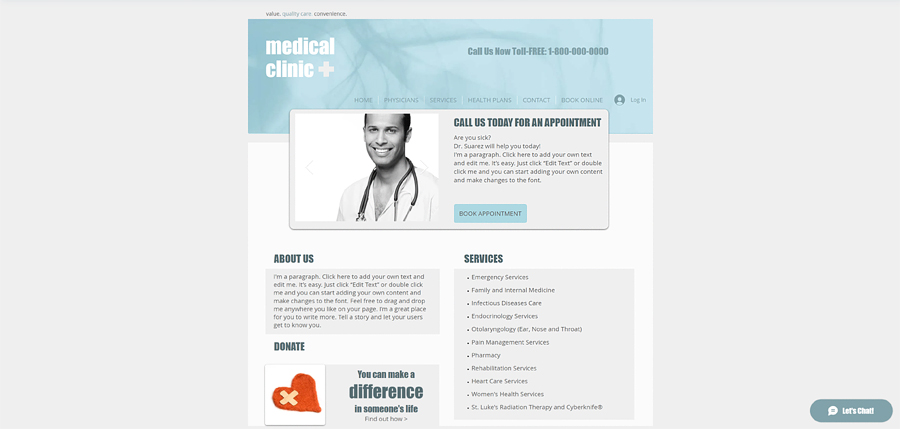 This website template for medical clinic was created in 2014. I specifically made a screenshot from a screen of my widescreen monitor, which is used by many users.
A medical clinic that chooses this template will also get: a dull and boring design, unreadable fonts, a barely noticeable menu (which I found far from at first) and an inconvenient structure.
And here is an example of other medical template created a couple of years ago: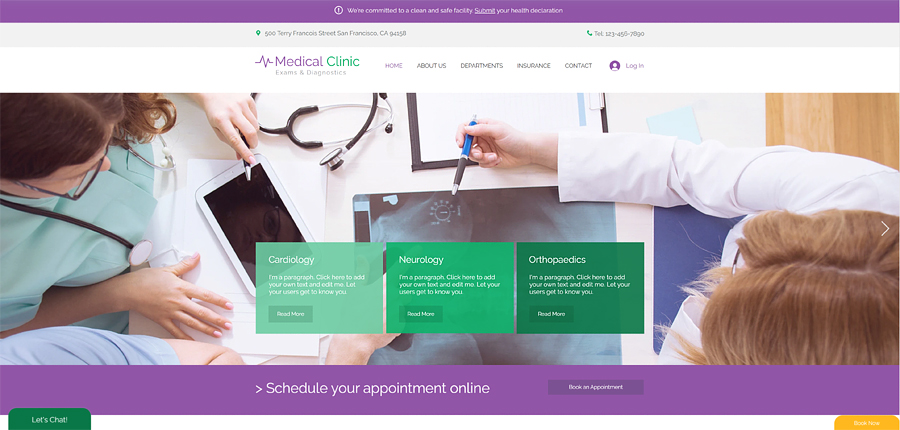 As you can see, it is well adapted to widescreen (and not only) monitors. In general, it looks modern and more attractive due to the well-thought-out color scheme.
The logo of the clinic and three green blocks immediately catch your eye – links to the three main medical areas in which a clinic specializes. This is very convenient because a visitor will immediately go to the department he's interested in, which will increase the conversion.
By the way, the phone number in the header is much more noticeable than in the first version. Even though that a smaller font is used here. And this means that there will be more calls from potential customers. Another plus to conversion.
For medical and health websites, conversion is of paramount importance because it determines how many visitors to your clinic's website decide to become its patients.
The third criterion for consideration is search engine friendliness. Your website builder must ensure that Google and other search engines perfectly index the website. I t must be SEO-friendly and have all the necessary SEO and marketing options for promoting your website on the web.
What do we usually get in medical website builders?
While we do seek a lot in an ideal website builder, most specialized website builders for therapists, hospitals, and clinics don't come with much to boast of.
They hardly have drag-and-drop editors and make it unlikely for you to be able to build a contemporary website on your own. Moreover, most medical websites only have a small selection of medical templates. And unfortunately, these templates, very often, have an obsolete design.
That also means most of these templates are not responsive. To ensure mobile access to your website, you'd have to develop a mobile version of your site separately. As it was done about ten years ago.
However, if you want a contemporary website that doesn't look like it was built in the early 2000s you cannot settle with these outdated options.
The Best Medical Website Builders
Enough of the problem, let me now introduce you to some contemporary website builders that are well-equipped with everything you need to build a modern medical website. Please note that some of them are in the Top Best Website Builders for 2023 outside of any category.
These website builders are decidedly the best platforms for creating any kind of medical website. Whether you want a website for a therapist, a dentist, or a large medical organization or hospital, these site builders help. Moreover, these website builders also let you launch a medical blog or forum with their broad spectrum of features.
WIX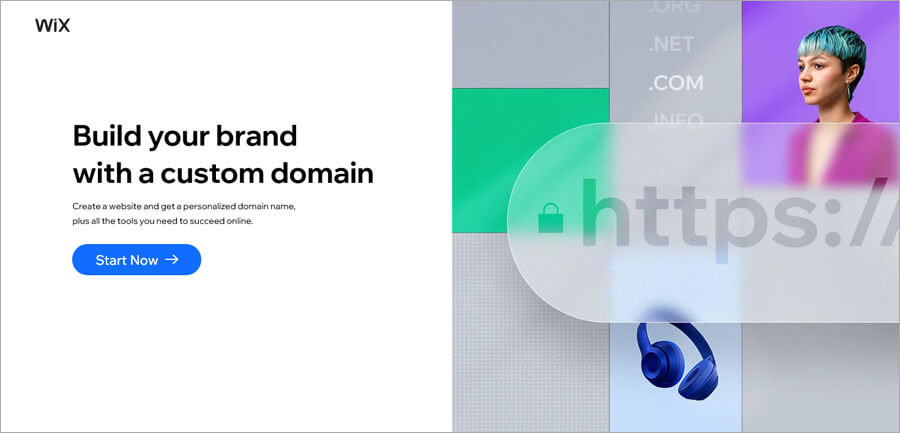 WIX free website builder
Wix, as the most popular free website builder, occupies the top spot among online website builders. And it is one of the most appropriate website builders for developing medical websites.
Wix has the largest share of websites built using a site builder platform, second only to WordPress (the CMS, not the online builder).
Now let's see what Wix can offer in terms of a medical or healthcare website development. We'll also be shedding light on how much it will cost.
Professional Medical and Health Templates
One of the greatest advantages of Wix is that it has a lot of quality and professionally designed website templates. These templates are available for a wide variety of niches including the medical and healthcare niche.
What's better is that Wix's web designers didn't try to create universal medical templates. Instead, they created options for the following sub-niches:
Website for Home Healthcare Company
There are options for some even rare niches like:
Website for Medical Testing Center
Alternative Therapist Website
Sports Psychologist Website
Individually, there is also a perfect template for Health Communities that you can use.
All these website templates look great (that's not surprising for Wix) and are responsive. This means they will display perfectly on any device whether it is a desktop, mobile, or tablet. The same is true for operating systems too as you can create a website for Mac, Windows, or Android without any trouble.
So, thanks to the availability of modern medical templates, Wix allows you to run professional-looking medical sites without having to significantly change the templates. In simple terms – you just need to change the name of the website, texts and, possibly, the image in the header and the website of your clinic is ready to be launched.
Easy Drag and Drop Editor
Wix has one of the best drag and drop editors in its class. It is powerful and incredibly flexible in customization at the same time. You can manage the placement of the block and design elements with a per-pixel accuracy. This lets you build a website that looks nothing like everyday templates and exactly like you want it to look.
NOTE: Most website builders have got drag-and-drop editors that allows changing block order (above – below), replacing titles, images, and color scheme modification. However, with Wix, you can change the whole template completely or even create one from scratch. It all depends on your desire and imagination.
Despite multiple settings, the Wix drag and drop editor is simple to use. All management options are located within the reach of one or two clicks. The editor's interface is logical and intuitive and you are likely to quickly get used to it.
SEO features
Another plus of using Wix for website development is that search engines perfectly index websites built on the platform. Plus, it has various SEO options that ensure better reach and rankings.
SEO is of key importance for any medical business since people find doctors and clinics through queries on Google, Yahoo, and other search engines.
And if your clinic's website won't have at least basic search engine optimization, then it's unlikely to get rankings or search traffic. That's why it's important to choose an SEO-friendly website builder.
Find more details by taking a look at WIX's SEO advantages.
How much does Medical Website on Wix cost?
It might sound surprising, but Wix is free to use.
Of course, the Free plan has certain limitations. The most substantial one is that you won't be able to use a custom domain name. Moreover, you'd also have to deal with the Wix button at the top of your website.
My recommendation for medical website aspirants is that you should test the free Wix options for a week or two. Once you are satisfied, switch to one of the Premium plans.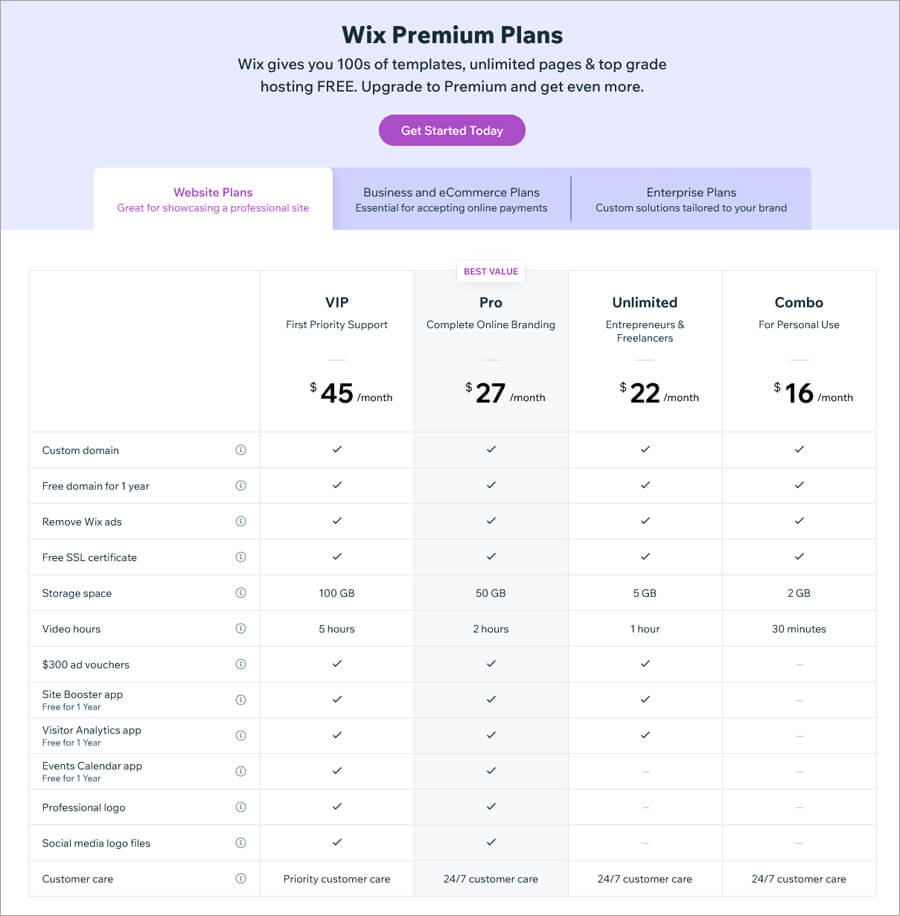 WIX Premium Plans
Combo – $14 per month
This is the basic plan that will be good for personal therapists' or doctor's websites. However, it won't suffice for creating a clinic's or hospital's website.
With the Combo plan, your website won't have Wix ads (Wix button), and you'll also get a free SSL certificate and a free domain name for 1 year as a gift.
Unlimited – $18 per month
The Unlimited plan has got the best ratio of price and quality. And perhaps it is the most profitable Wix plan.
This plan is good for building larger websites since its Storage Space limit is increased to 10 GB (against 3 GB in Combo). This means that your website can house more articles, photos, and videos.
You'll also get a one-time $300 gift for running ads ( $100 each for Google Ads, Bing Ads, and Local Listings.) Moreover, they'll give you free annual access to premium apps – Site Booster and Visitor Analytics.
NOTE: Though you have to pay $216 yearly for using the Unlimited plan, you get more than what you pay. The Wix gift for ads vouchers, the domain name, and extra premium widgets cover up the costs you incur, thus, making your website practically free for the first year.
Pro – $23 per month
It's a more advanced Wix plan that comes with a Storage Space of 20 GB. The main difference between the Unlimited and the Pro plan is the feature to create a professional logo for your medical office or clinic in the latter.
You also get all commercial rights for your logo and its source code in different formats and more than 40 sizes.
VIP – $39 per month
VIP is the highest-paid, non-eCommerce Wix plan that comes with 35 GB of Storage Space. With VIP, you get everything available in the Pro plan plus 24/7 priority customer care.
This means that you can connect with the Wix support team via phone, without having to wait in queue for a staff member's attention.
Though Wix is extremely user-friendly and you won't need custom support often. But for medical businesses, in particular, the website must be operational 24/7 even on holidays and weekends and constant support can make that happen.
Webflow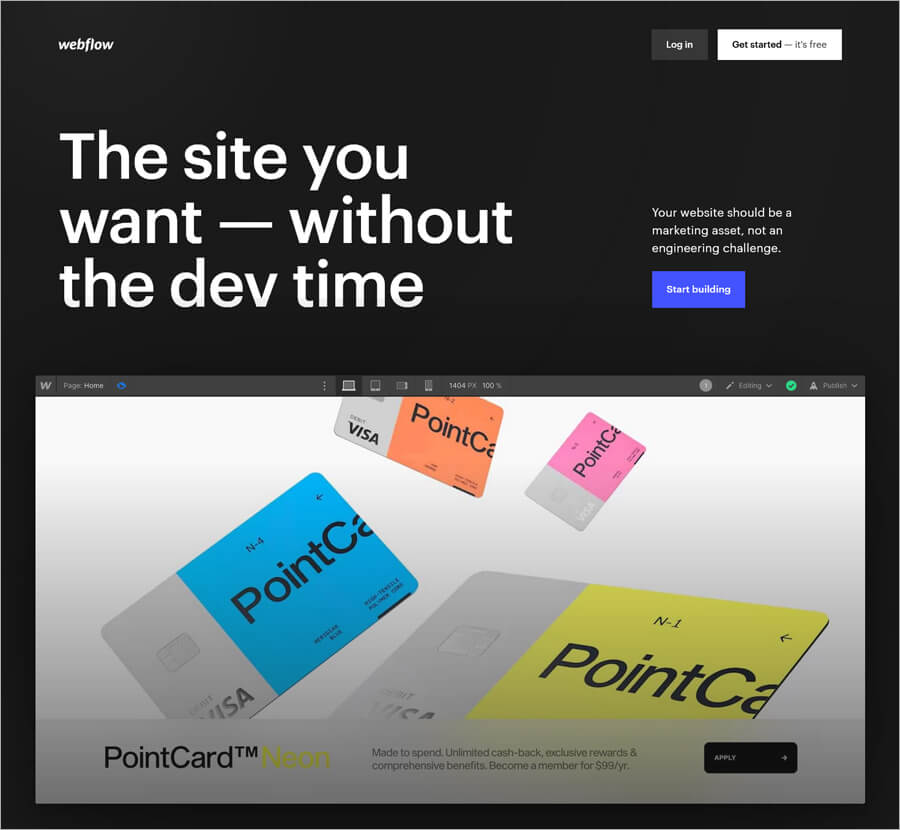 Webflow website builder
Webflow is another great free website builder that I recommend for developing medical websites.
Webflow was initially created as web development software for web designers who needed a reliable and simple platform for launching websites. To ensure that, Webflow provided users with a built-in drag and drop editor and allowed creating websites without having to perform layouts and manual HTML code edition.
To some extent, creating websites through Webflow resembles the WordPress experience. But it is more simplified and user-friendly.
Wondering how Webflow would be interesting for doctors and clinics? Let's check out.
Free and Paid Medical Website Templates
Webflow is in the second spot among website builders in terms of the number of medical and healthcare templates. You might notice that most Webflow templates are premium. But the good part is that the cost varies from $49 to $79, which is the average range when compared with WordPress and Shopify.
And as a web designer, I must admit that Webflow medical templates are of high quality and unique in design. These templates are created in different styles and color schemes.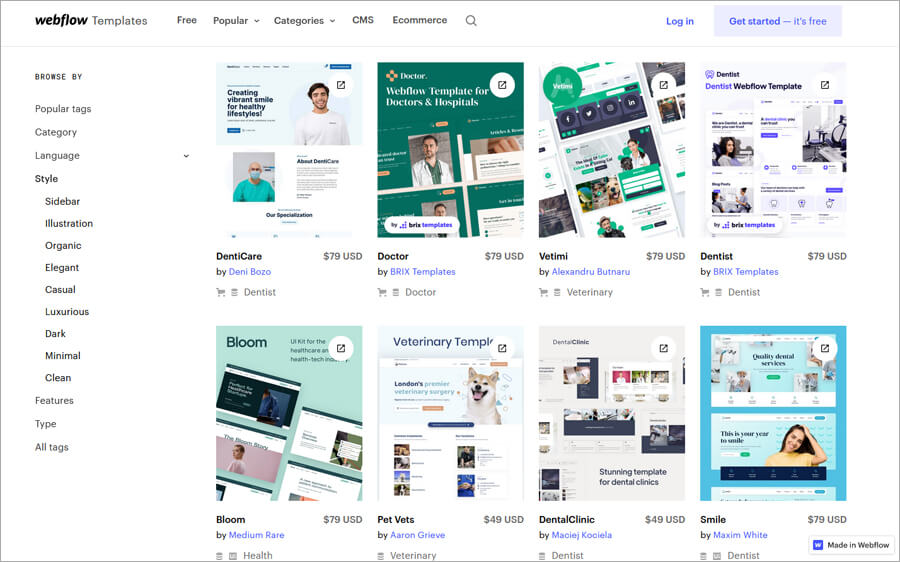 Webflow website templates
NOTE: Some website builders that have large template collections are characterized by the monotony of web templates designs. They usually have the same core web design, with meager changes in the location of the elements and the color scheme. That's not the case with Webflow. Webflow's templates are unique in terms of design.
The one thing I like the most about Webflow medical templates is that they are ready to use. Just choose a template, rename it as per your will, change the text, and you are ready with a medical website.
Here are some examples of ready-to-use templates for developing a medical website for doctors:
For dentists:
For Veterinary Websites:
For Health Websites:
Free SSL and Automatic Backups
One of the best medical website builders (not just for the medical niche), Webflow has great security features too.
All Webflow websites get free SSL certificates – With every plan, even the free one.
Furthermore, Webflow also has an automatic backup system. Thanks to that, Webflow users can restore the website to their last saved point.
The feature may come in handy especially if a mistake or hack attack distorts your website. You can always rely upon the Webflow backup system and save your money and save yourself from the panic.
Ecommerce Features for Medical Websites
In addition to creating informational medical websites and blogs, Webflow allows the creation of feature-loaded online stores too. It may be either in the form of an online pharmacy or a store connected to a clinic's website, where the patients can buy necessary medicines and equipment, without having to visit the clinic.
Apart from the sale of physical products, Webflow also lets you sell digital goods. For example, you can sell online medical consultations with payment directly on the website, or even online medical literature.
The most noticeable eCommerce advantages of Webflow include:
A wide choice of payment methods including Stripe, PayPal, Apple Pay.
Automatic sales tax calculation.
Online store's integration with Facebook and Instagram.
How Much Does A Medical Website on Webflow cost?
Like Wix, Webflow is a free website builder. Of course, the free plan is going to have some restrictions, but it is enough to test the waters.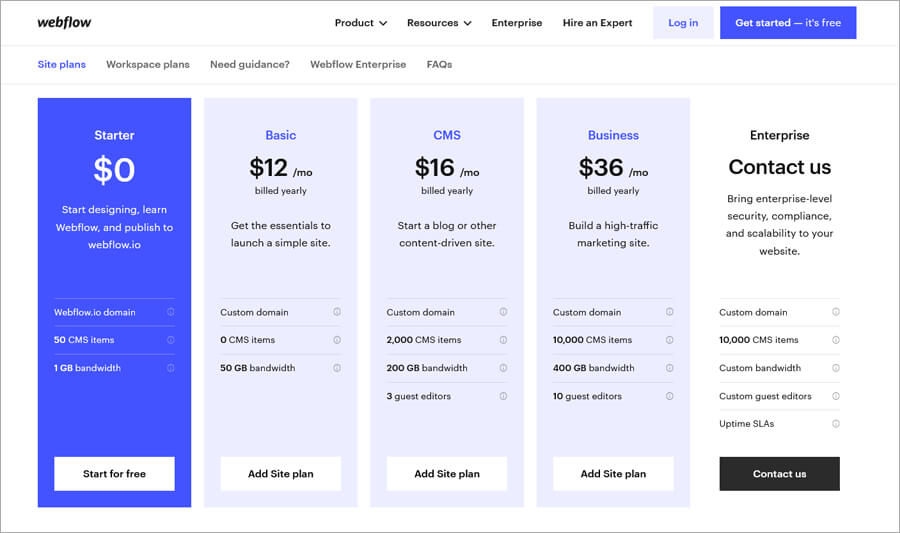 Webflow site plans
Further, you get to choose from the following premium plans:
Basic – $12 per month
This is the basic premium plan that will be enough for creating a simple personal website for medical professionals.
With the website, you get a custom domain name, a free SSL certificate, and 50GB bandwidth per month.
CMS – $16 per month
The CMS plan is good for creating websites for clinics and hospitals. To begin with, you get 4 times the bandwidth (200 GB) compared to the Basic plan. Plus, 2000 CMS items.
Secondly, this plan lets you appoint up to 3 guest editors. These can be your staff members who will fill the website with new content and keep the old content updated.
NOTE: the CMS plan is the most appropriate option for small medical websites. With just a difference of $2/month as compared to the basic plan, you can many times more features.
Business – $36 per month
This is the most advanced non-eCommerce Webflow plan. The business plan is ideal for developing a large medical portal or a website for a significant medical institution.
Your website can have great traffic (bandwidth – 400GB), 10000 CMS items, and up to 10 guest editors.
Ecommerce Plans – from $29 per month
For creating online stores Webflow has got three separate eCommerce plans.
The key difference is that there is a transaction of 2% in the basic eCommerce plan, Standard, which comes at $29 per month. The more powerful Plus and Advanced plans don't have this transaction fee and cost $74 and $212 per month respectively.
You can learn more details about the possibilities and prices of Webflow eCommerce plans on the official website .
Webnode
Webnode website builder
Webnode is a popular free website builder that has got tons of unique advantages.
One of the key advantages is the possibility to develop websites that support up to 20 languages. This is ideal if you want to create a large multilingual website for your medical practice.
However, Webnode is not as flexible or user-friendly as other website builders like Wix, for example. It's also far from being the leader in terms of the number of templates available for the medical niche. However, it is a great pick at its price point.
Let's see how.
Fully responsive medical templates
Webnode might lag behind Wix and Webflow in terms of the number of medical templates. But you can at least rest assured that the available templates are made by professional web designers and are fully responsive.
This means that your website will look perfect on any device.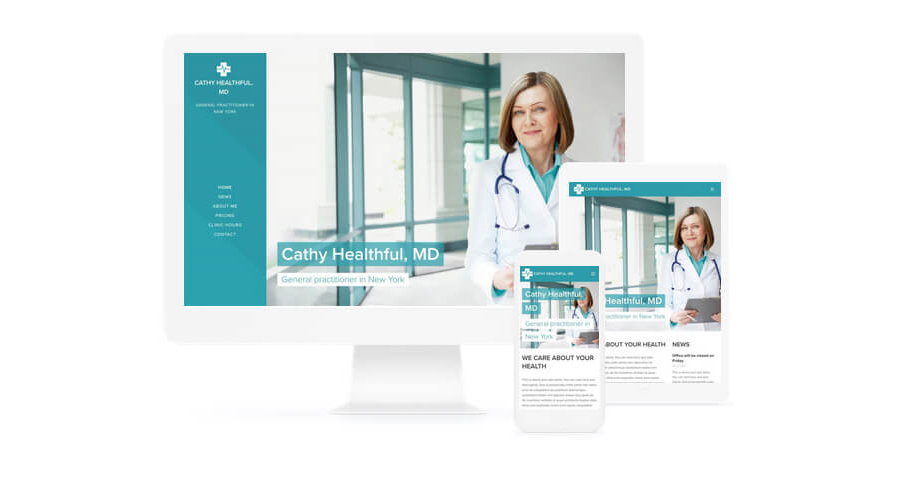 Webnode health website templates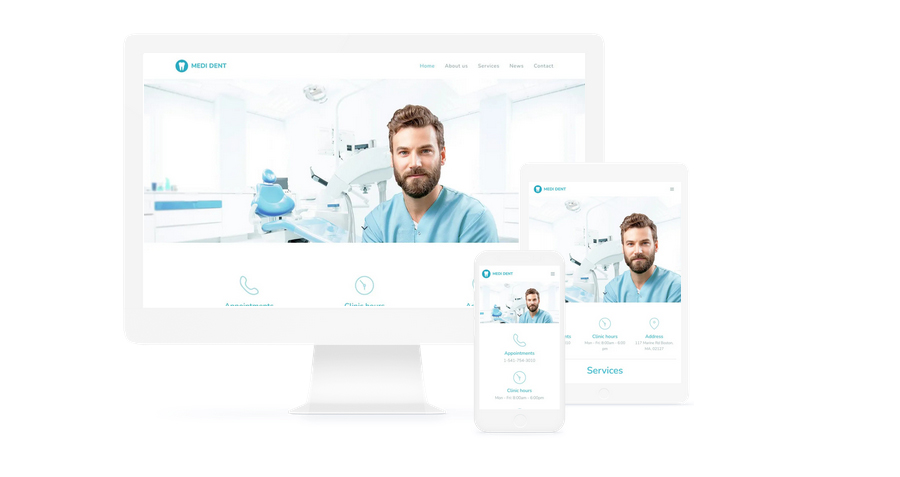 Webnode dentist website templates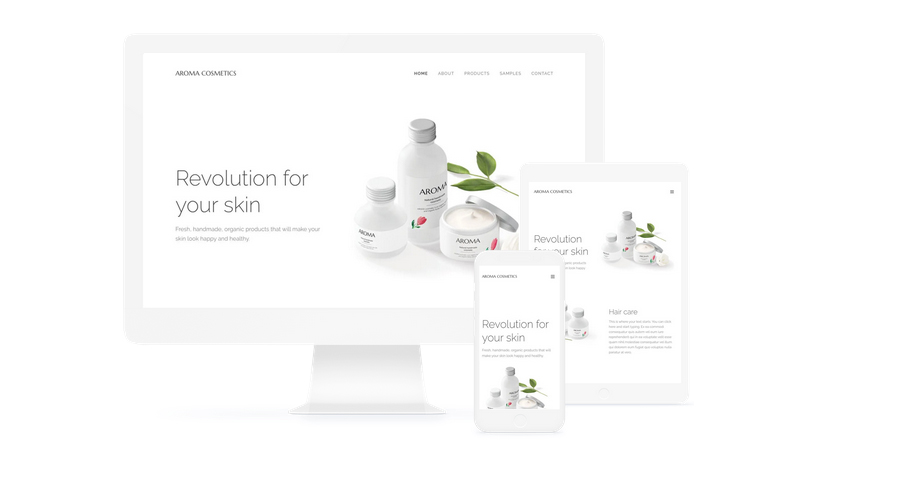 Webnode cosmetic website templates
In fact, you can use any Webnode template for creating a medical website. All the templates are easy to customize as you can change titles, images, color schemes, and even the size of every design element. That's why it isn't necessary to have a template that is specifically for the medical niche.
Creating multilingual websites for clinics
Most website builders allow creating websites that support additional language versions. But Webnode's well-considered and detailed multilingual features are unmatched.
If your practice sees patients from all over the world, then supporting languages other than English is mandatory. And Webnode allows the creation of medical websites that support 20+ languages. This is more than in any other online website builder.
Lower prices
What makes Webnode so popular is its attractive pricing. The basic Webnode plan which lets you use your domain name costs only $3.90/month.
Here is a comparison chart of Wix, Webflow, and Webnode's pricing:
| | | | |
| --- | --- | --- | --- |
| Connect a custom domain | Combo – $16/month | – | Limited – $3.90/month |
| Basic plan with no ads | Unlimited – $22/month | Basic – $12/month | Mini – $7.50/month |
| Most popular plan | PRO – $27/month | CMS – $16/month | Standard – $12.90/month |
| Plan with all features | VIP – $45/month | Business – $36/month | Profi – $22.90/month |
How Much Does Medical Website on Webnode cost?
The free Webnode plan is nothing as compared to the free version of Wix. But the premium Webnode plans are much lighter on the pocket than Wix's. And your monetary savings become more evident over longer periods ( 1 year and more).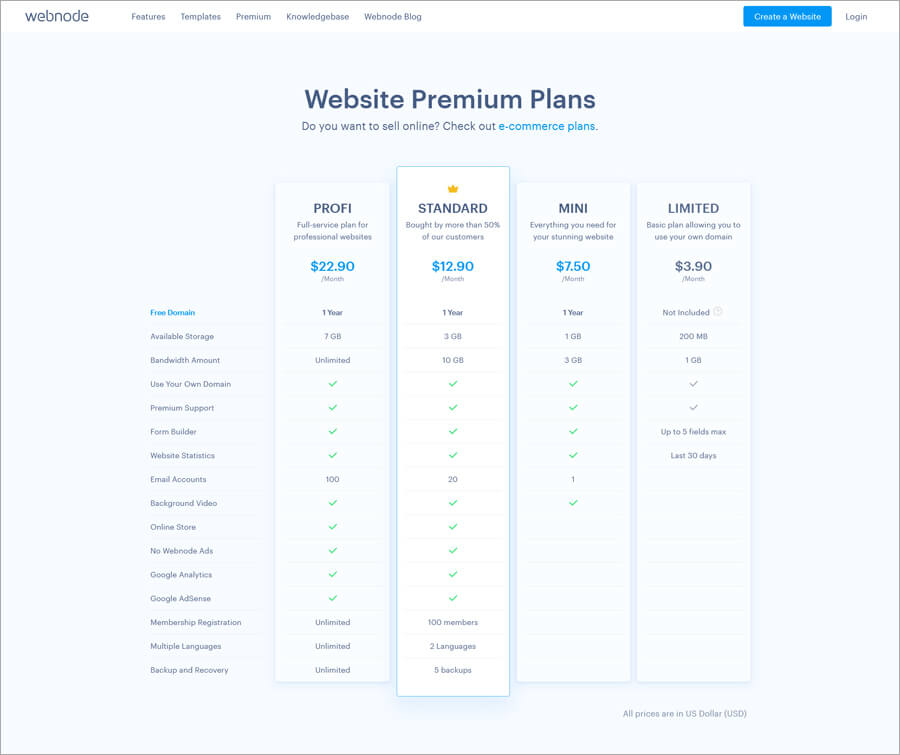 Webnode pricing
The plans include:
Limited – $3.90 per month
This is the basic Webnode plan that allows connecting your own domain name. It includes 200 MB of Storage Space and 1 GB Bandwidth. This plan is good for compact websites for private practitioners.
Mini – $7.50 per month
The Mini plan is ideal for websites with more traffic as it offers 1 GB of Storage Space and 3 GB of Bandwidth. In addition, you also get a free domain for 1 year and access to website statistics and the form builder.
Standard – $12.90 per month
It's a more profitable plan in terms of price-quality ratio. With this plan, you can launch a large website for a clinic or hospital and support thousands of visitors every month. You 3 GB Storage Space and 10 GB Bandwidth and 20 email accounts. There is also the possibility to connect Google Analytics and Google AdSense and the opportunity to sell through the website or create websites with membership registration for up to 100 members, and more.
Profi – $22.90 per month
This is the most powerful Webnode plan. The Profi plan can be used for developing a large medical portal or an online pharmacy.
You get 7 GB storage, 100 email account, and unlimited bandwidth.
You can learn more details about the plans on the official Webnode website .

Squarespace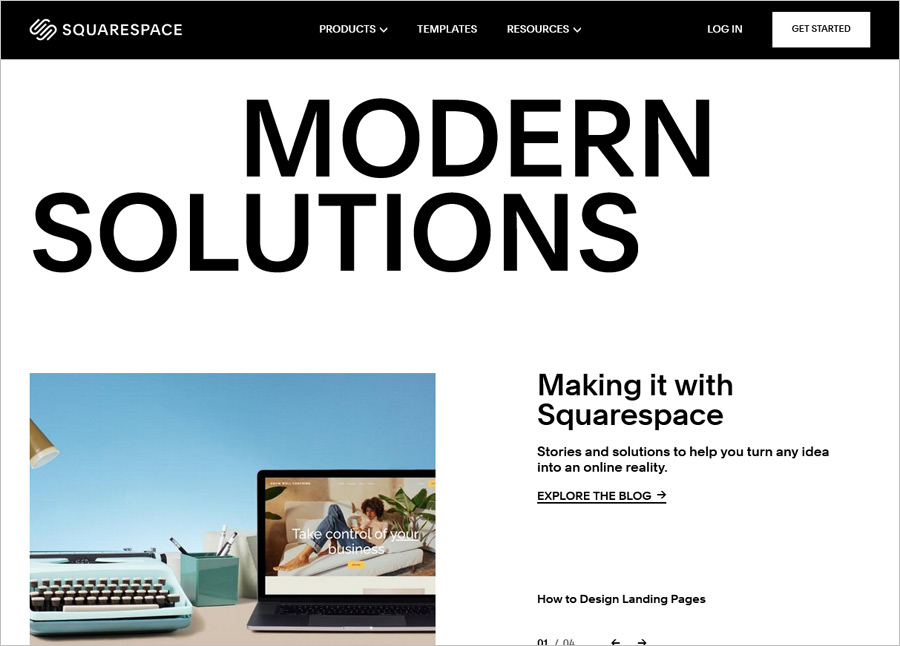 Squarespace website builder
Squarespace is another top website builder well-suited for creating medical websites. If you're in the healthcare industry and loking for a website that combines sleek design with user-friendly features, pay your attention to Squarespace. This platform is a dream come true for anyone who wants a site that's not just functional but also drop-dead gorgeous.
Now, let's check the specific features that make Squarespace an excellent choice for medical websites.
Beautiful Website Templates
Squarespace doesn't have a specific category for health and medicine, but it offers a variety of templates that can be customized for medical and healthcare websites. These templates are designed to be visually appealing and user-friendly, making it easier for patients to navigate and find the information they need. They aren't just proffessional looking but also responsive, ensuring a seamless experience across different devices and operating systems.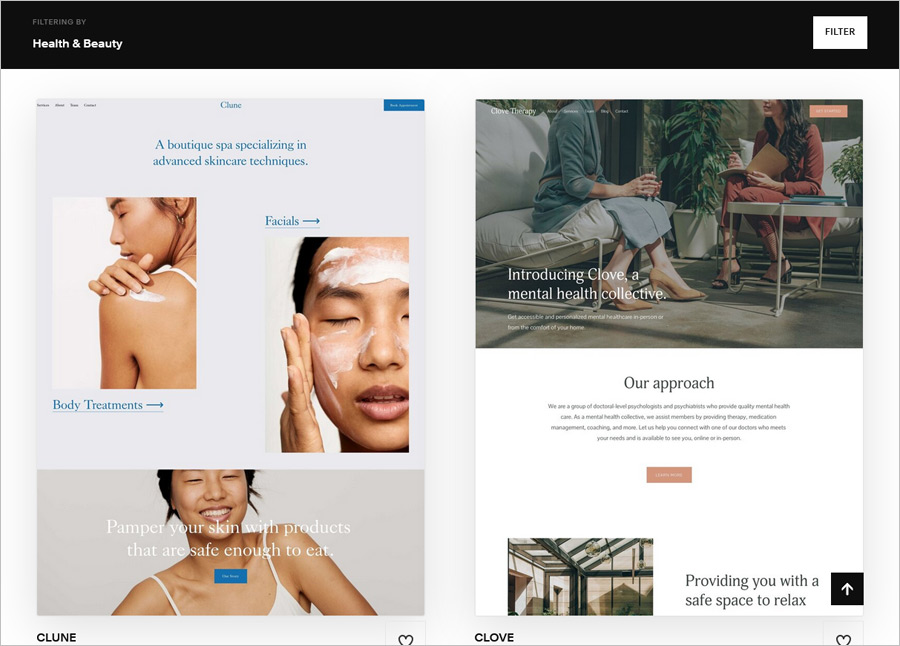 Squarespace website templates – Health & Beauty
User-Friendly Design and Customization
Squarespace offers a user-friendly design interface that is both powerful and easy to navigate. The drag-and-drop editor allows you to place elements with precision, offering a high degree of customization. This is particularly useful for medical professionals who may not have extensive technical skills but still want a unique and professional-looking website.
Robust Security Features
Security is a top priority for medical websites, and Squarespace doesn't disappoint. All Squarespace websites come with free SSL certificates, providing an extra layer of security. This is crucial for medical websites that handle sensitive patient information.
SEO Capabilities
Squarespace offers a range of SEO features to help your medical website rank well in search engines. This is vital for medical practices, as patients often use search engines to find healthcare providers. Squarespace's SEO features are easy to use and can be customized to fit the specific needs of a medical website.
Ecommerce Options
Squarespace also offers robust e-commerce capabilities, allowing medical practices to sell products or services online. This could range from selling medical supplies to offering online consultations. Payment options are diverse, including Stripe, PayPal, and Apple Pay, providing convenience for your patients or clients.
Cost of a Medical Website on Squarespace
Squarespace offers a free trial period, allowing you to test the platform before committing. After that, you can choose from several premium plans:
Personal – $12 per month
This basic plan is suitable for individual medical practitioners who need a simple online presence. It includes a free custom domain and unlimited bandwidth and storage.
Business – $18 per month
This plan is more suited for small to medium-sized medical practices. It offers advanced analytics and allows you to have unlimited contributors.
Commerce – $26 per month
This plan is ideal if you're looking to add an online store to your medical website. It offers zero transaction fees and powerful e-commerce analytics.
Advanced Commerce – $40 per month
This is the most comprehensive plan, suitable for large medical practices or those needing advanced e-commerce capabilities. It offers abandoned cart recovery, advanced shipping, and a range of other high-end features.

You can read more details about the plans on the official Webnode website .