The Best Beauty & Hair Salon Website Builders
WebBuildersGuide.com earns commission from some of the web builders and hosting providers listed on this website.
Learn more
Salons can grow to be really popular businesses, even if you are geographically limited. There are several factors that spell sustainability for salon services. If you own such a business and have lately expanded in terms of opening up new service stores, it is time you also expanded into the virtual world.
That's because the most successful salon services are already leveraging virtual presence for attracting customers from competitors and retaining them. Some of the best website builders can offer you plenty opportunities. There are several measurable benefits that virtual presence can endow upon salon services, and some of them are listed here.
Having a professional looking website gives your service a likeable personality as you immediately differentiate yourself from the low end and run of the mill services
You can leverage your website to help clients book appointments, which is as good as making a giant leap in terms of using your facilities to the maximum
Having a website with ecommerce capabilities allows you to bundle products with services, which clients can even buy without visiting your store
Your promotional campaigns become more effective when there's a broadcast medium that you can rely upon, and that's what your website is for you
Already excited? We've just covered a few of the advantages that your business can enjoy when it has the backing of a sophisticated and functional website that does a lot more than just publishing information. The big question that's all set to disturb your mind now is – how do I budget time and money for the onerous task of having a sophisticated website? The answer – you don't have to! Building a cool and competent website doesn't have to be a drain in terms of money and time, and that's because there are terrific free website builders that do the job for you.
Website builders for salons can help managers and owners of these businesses to scale up and extract the maximum out their business models. Presenting you professional looking templates that are ideal for salon websites, helping you get through the web page creation phase quickly, allowing you to add pre-loaded and custom media, and toping everything up with specialized tools like appointment schedulers, website builders for salons are smart choices for you when you want to go ahead and seek virtual presence.
We tell you more about 5 best website builders that can help you take your salon service to the next level.
Wix Free Web Builder for Beauty Salon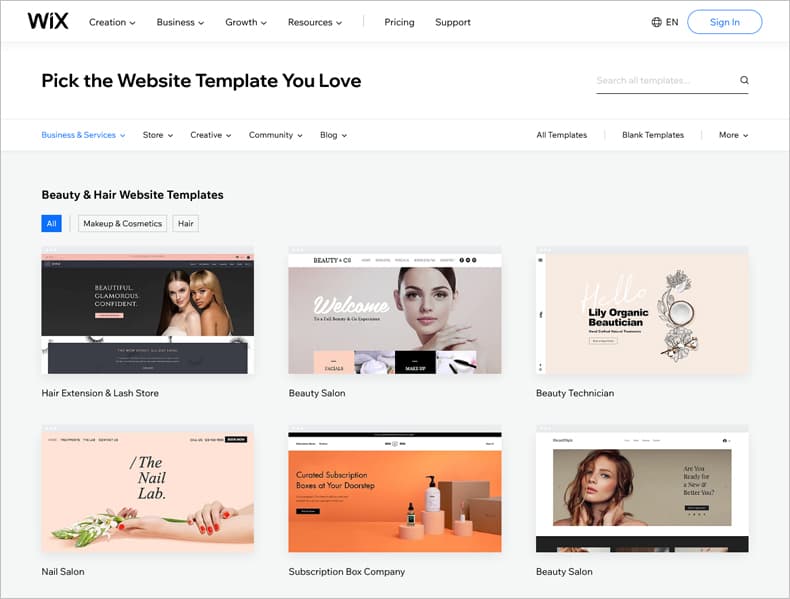 If you've ever tried to browse online in search for the best beauty salon website builder, you would not be surprised to see Wix featuring here. In fact, the one point that makes Wix an ideal website builder is that it spreads its scope far and wide, without failing to include specialist tools to help different styles of businesses. For salons, Wix offers some breathtakingly awesome templates that can attract eyeballs, dependable and easily manageable SEO options for the online visibility of your website, and strong ecommerce functionalities for those salons that also offer niche or self branded products. Here's why your business would do well to entrust Wix with the responsibility of taking you online.
Styles that make visitors take notice – A website that intends to promote a spa or a salon can't afford taking it easy with the design. Attributes such as luxury, relaxation and health can be well communicated through colors and layouts, and that's what Wix helps you do. The readymade templates for salon services are terrific, and then you have the amazing customization flexibility to build upon them and transform them into something absolutely amazing, all this without touching a line of code. Blank templates, thousands of free images, and one pagers to help you build pages of any kind – these are just a few of all the design tools that Wix offers you for a fulfilling website building experience.
Sophisticated social media features – Wix gives social media integration a lot of importance and ensures that users find all sorts of customizability and control in working with their social networks. You can conveniently add social media buttons along your posts and images, and can even allow visitors to follow and share your pages just with a few clocks. Pinterest, Google+ and other social networks are also integrated along with Facebook and Twitter, thus making your social media connections fully useful.
Apps to make your marketing endeavors fruitful – Your salon website needs to do a lot more than just share your business' details with visitors. Thankfully, Wix has you covered in this regard, as it lets you integrate apps and tools for added functionalities, such as contact forms to generate leads for your business, a website scheduler that lets you manage appointments for spa visits, email marketing tools that enable you to keep your business in the thick of things, and other tools such as polls, live chatting and flash elements.
Here's more from the Wix cache to help you evaluate its suitability as a website builder for your salon website:
Adding a blog to your website can help bring in more traffic, and Wix makes it a breezy affair for you with its seamlessly integrated blogging enabled with a cool tagging system and media posting functionalities
Free text styles, images, page protection, image editor – all allow you to experiment with the looks and outlook of your web pages
Jimdo Free Web Maker for Beauty Salon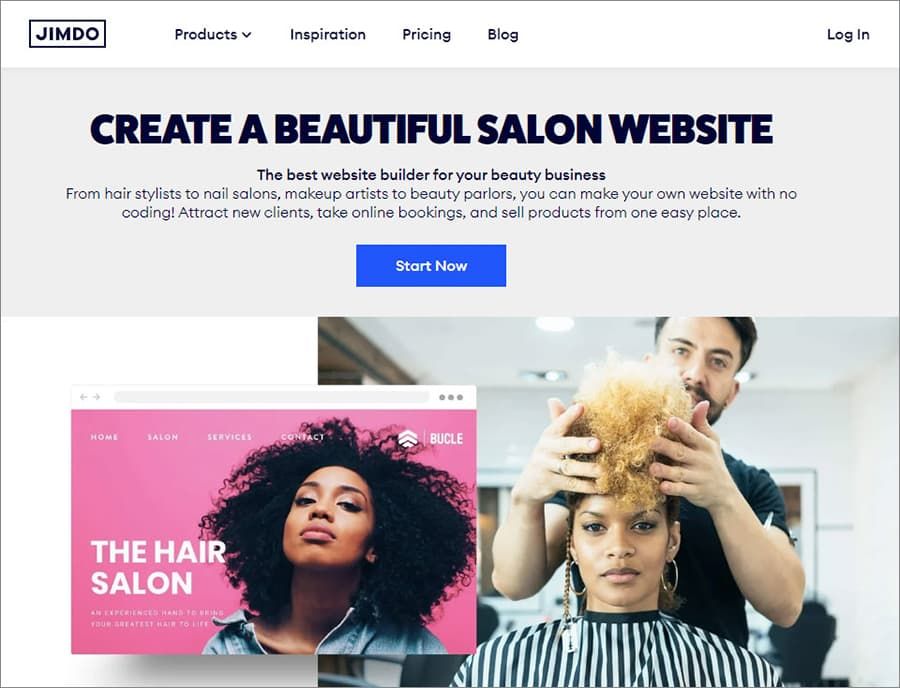 Want to have a website that unleashes a visually delightful experience for your visitors? How about a website that smartly sells hair sprays, deodorants, massage oils and all useful stuff that a spa or a salon needs to showcase? Well, with Jimdo, you can enjoy all these benefits in the form of a professional looking and functionally rich website. Jimdo tools let you password protect certain areas of your website, give you the SEO advantage, and help you market your business better with tools like newsletters. Apart from all this, you also get a mobile ready website with the desktop version, which ensures that your visitors and prospects are able to find you from anywhere. This is just the beginning of all that Jimdo empowers you with, and here's a closer look to features which make Jimdo the best beauty salon website builder.
A designing experience that leaves you spellbound – Nothing matches the blend of design customization and ease of usage, and that's precisely what Jimdo serves you, ensuring that you are able to create a website that looks like the one you've been dreaming about for several weeks now, without requiring even a single line of coding from your side. Design the header, pick up the images you love from the Jimdo gallery, upload your own images, add titles and fonts, and you have an awesome website to serve to visitors.
Mobile presence without any additional effort – The world is browsing on mobiles and tablets, and it's time you went the same way. Jimdo provides you an automatically optimized website version ideally suited for mobile viewing. What's more, the store checkout process is easy to manage on the mobile phone as on the desktop version of the website. The mobile website will be seamlessly with other apps, thus enhancing the browsing experience of users.
Amazing on page SEO for success with search engines – Building organic traffic is imperative for the success of your salon website, and that's why you must opt for a website builder that lays focus on SEO. Jimdo offers you comprehensive SEO options so that you can configure your website to be loved by search engines, resulting in more traffic for your website and more revenues for your business. You can use the on page SEO tools without being an SEO expert. Page titles, descriptions, meta tags, keywords, image alt tags – you can work with all without wasting your time and money with an SEO consultant.
Excited to know more about the Jimdo advantage? Here are more features to ponder over:
Set up a newsletter and send to users right from your web pages, this included with a sign up box for engaging visitors
With informative reports and analyses results, you will be able to identify content areas attracting most traffic and will hence be able to continually improve your website
Set up a VIP area on your website to provide preferential access to certain users using the page protection feature
Jimdo's support system is popular for providing seamless website building experience for users
DoodleKit Free Website Creator for Beauty Salon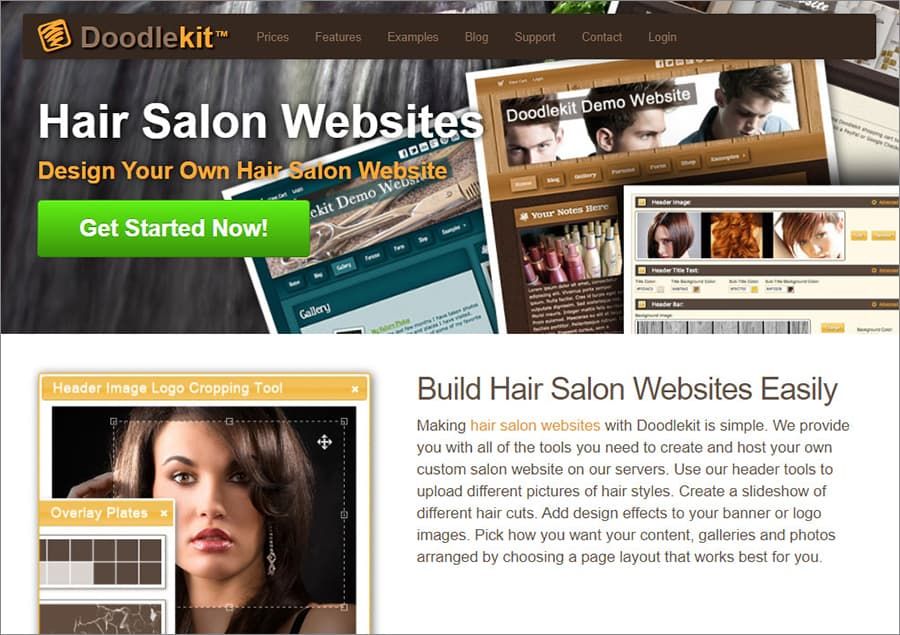 For salon owners with a vision, a simple website builder is of no use. It is for such businessmen that DoodleKit comes across as a sophisticated website builder with awesome design functionalities. Taking care of all that you can want from a website – right from the hosting to the management of marketing campaigns, DoodleKit has it all neatly organized for you. The template catalog of DoodleKit is constantly improving, and you will find some heart-winning templates on offer when you begin your website building exercise with this builder. Moreover, the template builder lets you change colors, transparencies, and shapes so that your website looks just like you want it to. Here's more on all the designing aids and other features packed in the DoodleKit website builder.
All the designing you want – You will never be left wanting for control of any design element with DoodleKit. The template library is filled with an ever growing selection of top class templates ideally suited for salon websites, the template builder lets you customize all design elements, and template sharing enables you to share your customized templates with others. In this manner, you will get a website that looks just the way you want. The best part – all this happens without the use of any coding skills.
Tools to empower your website with amazing functionalities – With DoodleKit, you can leverage several integrated tools for maximizing the utility of your website. For instance, blogging tools help you to create, schedule and submit posts, with interlinking enabled among blog posts, thus helping traffic generation. Then, you can create customized form that can help you in data collection and surveying activities. What's more, you can create a forum to activate interaction between your website's users, with easily manageable admin tools.
Make your website rich with multimedia – A visually delightful website is the first step towards converting visitors into prospects and then prospects into clients. With DoodleKit, you can easily endow visual appeal to your website using the album creation and slideshow tools. Slideshow headers can be made using the uploaded images, custom logos can be uploaded, adding transparencies and aligning images is breezy – so you have a fulfilling website building experience at hands.
The catalog of tools provided by DoodleKit doesn't end here; here are others:
Lots of fonts and icons for you to choose, ensuring that you are able to make your content gripping in more ways than one
Background tools to help you customize how the backdrop to your website looks
Analytics tools keep you informed about the areas of your website attracting maximum traffic, and you can even know as to from where the maximum traffic arrives at your website
IONOS Website Maker for Beauty Salon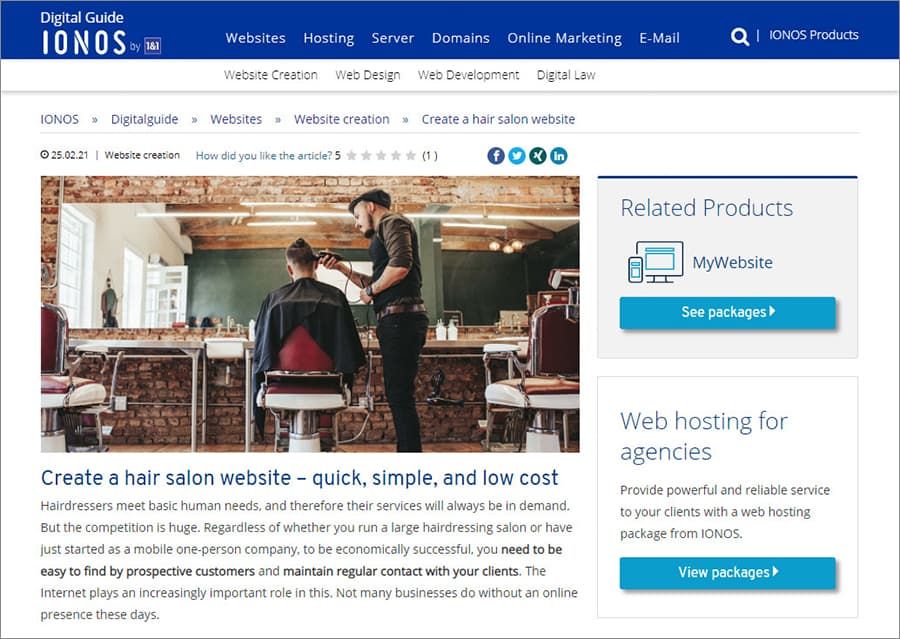 1&1 comes to you as a comprehensive website building solution that's made all the more powerful with the availability of several web apps. Simplicity and speed are built right into how this website builder is made. So, you will have a website up and running for your salon or spa business without any time being wasted. It comes to you in multiple avatars and several designs, allowing you ample room of making suitable choices. Salon market relevant pre made content makes 1&1 all the more special for you as a website builder. We're sure you'd want to know more about this hair salon website builder. Here's a quick look at some of the most attention seeking features.
The number of Likes or Shares your Facebook page has is not just a mathematical figure, but an indicator of how much exposure you have online – 1&1 takes a comprehensive stand on social media integration and provides you all icons and buttons that can make it easy for visitors to follow updates from your side. Your marketing campaigns are bound to yield better results with appropriate social media leverage on your website. Not only this, but 1&1's social media tools will help you retain a lot of visitors, to the extent that their social networks will also begin to recognize you, which will further lead to more traffic and more revenues.
Web apps are a powerful way to get in touch with your customers without requiring them to come to your service premises – and 1&1 offers you a fair mix of cool and useful web apps that can help you serve your clients better. Right from adding content from online selling websites such as eBay and Exwid to aiding communication with a Skype app, everything is easily manageable with 1&1. What's more, you can even use contact forms to gather information from visitors, which can help you fine tune your service offering to suit what clients want. Moreover, chat forums and online guest-books can be added to your website.
A thoroughly fulfilling website building exercise – There are literally hundreds of web designs out there for you, all ready to be customized in more ways than one, so that you have a tailor made and classy website at the end of the website building exercise. Moreover, you can change the styling of your website with just a few clicks, without affecting the content in any way, thus helping you experiment your way to the best website style. The options of colors for a website are immense, and you can choose some swanky shades to give a colorful personality to your website.
There's more to 1&1 than what's been told above, and here is a presentation of some of the more useful features:
All you need to create a mobile optimized website using 1&1 is a click, and you will be connected with your clientele across all smartphones and tablets
Want to sell some products? Let 1&1's terrific ecommerce facilities help you out
SEO features packed into the 1&1 interface make it easier for you to scale your website up to the top of search engines
Marketing tools ensure that you are able to build upon the swanky design and help your salon business in tangible ways