The Best Restaurant Website Builders with Online Ordering
WebBuildersGuide.com earns commission from some of the web builders and hosting providers listed on this website.
Learn more
Internet is much like air; it has pervaded every sphere of our life. Right from finding a job for the breadwinner of the family to finding a restaurant that serves the best breads in the neighborhood – Internet is the 'go to guy' for all kinds of needs we have these days. Naturally, the latter of the two examples shared above has necessitated restaurants to think about how they are present online.
This directly transforms into a mad rush in the restaurant industry of heading online in the form of a content rich and impressive website that can help the business get more customers! Thankfully, you have enough help at hand if you wish to build a website for your restaurant.
With website builders that are dedicated to creation of websites for cafes, restaurants, pizzerias and bars, people in the food business have enough motivation to go ahead and create a great website to add to their restaurants' marketing firepower. With smart food menus that can be easily updated in seconds, vibrant images from the kitchen and of the prepared food stuffs, event calendars, reservation systems and online food ordering systems, restaurant websites have a lot to do apart from giving out the information that customers are looking for.
We take a look at some of the most power packed website builders than can of great use to restaurant and café owners who are on the lookout of an easy ride to the virtual world of Internet. So, let's deep into the artcile and check the best website builders for restaurants.
RestaurantEngine Free Website Builder for Restaurant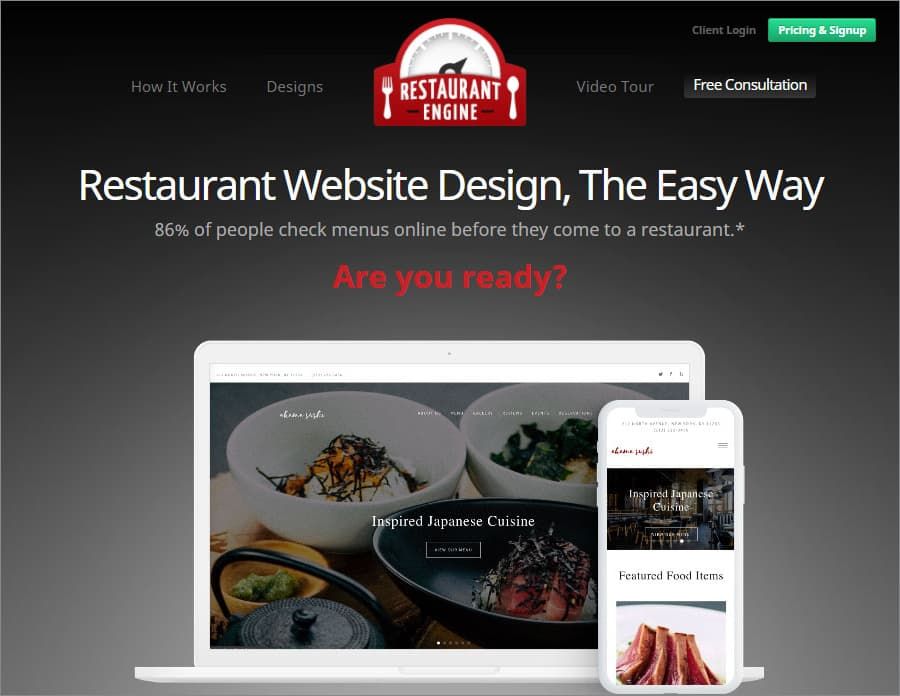 Here's one of the best free website builders that lays special emphasis on helping restaurants transform the World Wide Web into a full-fledged selling channel. You'll find most of the features on offer with RestaurantEngine targeting revenue generation or your restaurant, and that makes it the best restaurant website builders with online ordering.
Impressive templates for all kinds of restaurants – Whether you have a seaside bar or a prime location fine dining outlet, you will find a killer theme ready to be used as a base for your restaurant's website right in the template catalog of RestaurantEngine. All these themes are absolutely free to use, and can also be customized to suit the branding of your restaurant.
Convenient content management – Empowered by WordPress, RestaurantEngine will give you easy to use tools and features that help you update and add content to the website within seconds, this making website administration a hassle free job for you.
Added revenue enabled by online ordering system – With integrated OpenDining services, you can easily expand the reach of your restaurant by delivering online orders. This makes RestaurantEngine more of a revenue enhancement machine for you than just a website builder. You can receive orders via SMS, emails, phone and can accept credit card payments using this feature.
You might also want to consider the following features and benefits that RestaurantEngine offers to its users:
Customers can even put in advanced orders, which also helps you match supply and demand
Reporting with Excel sheets, so that you can focus on weak areas
Coupons that you can float through social networks, guaranteed to increase weakness during off peak hours
SEO tools that help you feature at the top of search result pages in search engines
Wix Free Website Creator for Restaurant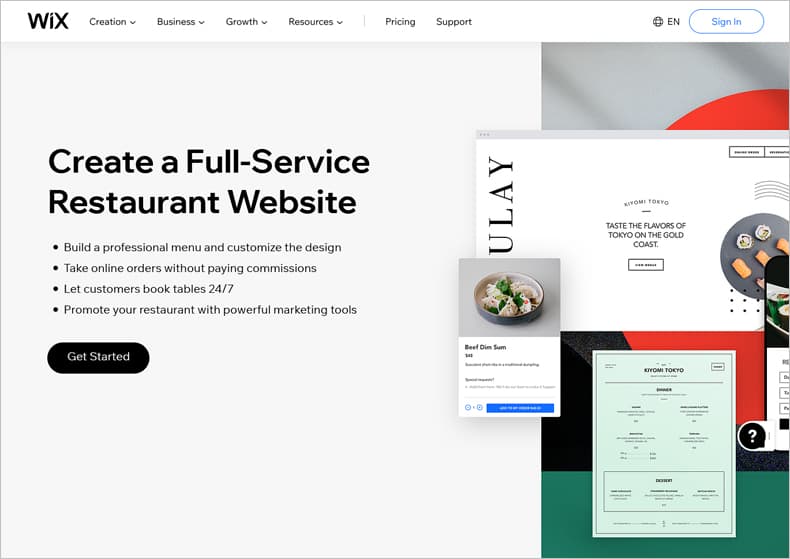 Wix has been empowering thousands of websites globally, and a good percentage of these are restaurant and café websites. With its inherently strong service mechanism, an intuitive drag and drop style website builder, and heart winning templates, Wix has enough up its sleeve to prove to be one of the best website builders for restaurant.
SEO friendly websites that feature high on search results pages – Local searches about food joints and eateries can be a great source of more business for you if your restaurant's website features up there. With Wix's free to use SEO tools, you can elevate the visibility of your restaurant website to a great extent.
Mobile optimized website that lets your customers connect with you on the move – You can multiply your restaurant's business manifolds by making a website available on mobile devices. With Wix restaurant website builder, you get mobile and tablet optimized websites that look great on all sorts of devices.
Stunning templates that make your restaurant look like a food lover's paradise – Visual that stimulate the taste juices of viewers are imperative for restaurant websites, and that's what you get with the stunning restaurant and cafe website templates offered by Wix.
More from this superb website builder:
24 X 7 support to ensure that you never get stuck with your website's content management and administrative tasks
Unlimited bandwidth, so that the weekend rush of traffic doesn't leave the website swamped off its feet
Reliable and stable hosting that keeps your website up for access for every second of the day, irrespective of the peak hours
Online selling enabled, so help you sell specialty stuff such as customized gifts and mugs
VIDEO Tutorial – How to build a free website on WIX? Step-by-step guide
Jimdo Free Builder for Restaurant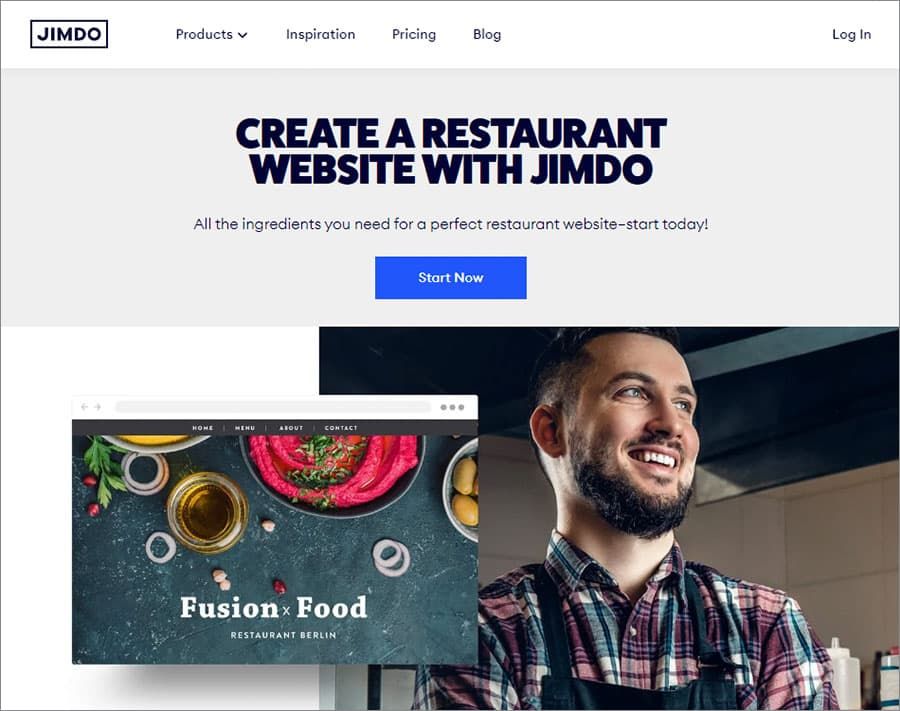 If you've been shirking from beginning work on your restaurant's website, here's an offer you'd find hard to refuse. Jimdo just requires a few photographs of your restaurant along with the venue and menu details to give you a fully functional and rocking cafe and restaurant website that you can safely rely on to be your face in the virtual world.
Professional looking templates, advanced SEO features to skyrocket your website's popularity, and probably the easiest drag and drop styled website builder you could ever ask for – all these are just the beginning of the interesting benefits that Jimdo offers to those looking for the best restaurant website builder.
Ready to roll restaurant templates with superb customization features – Jimdo offers you website templates that look like premium ones but are actually offered free of charge, so that you get a head start over your competitors' websites. Moreover, you can leverage the super easy drag and drop website builder and the customization options to create a rich and expressive website.
Create visually impressive website with advanced image gallery features – Changing the order of images by dragging and dropping them, click to add galleries, batch upload of images, automatic image optimization and resizing, and a killer slideshow viewer – all these are some really useful image management features that add life to your website.
Capture first time customers with advanced SEO tools – When people from other towns are in areas having your restaurants, you can depend on Jimdo's in-built SEO features to showcase your website in the top search results for eating places. Because of this, you are able to capture the business of first time customers in the form of hungry souls looking for an eating place with your restaurant nearby.
Sell online apart from enhancing your offline sales – From customized coffee mugs to cookies that make the bakers envious, you can sell your restaurant business related goodies online, using the ecommerce functionality of the Jimdo website builder.
More from the stables of Jimdo to fast track the success of your restaurant website:
A blog where you can share engaging content to impress visitors
File downloads and guestbook feature to keep a list of clients
Widgets that can help you perform specialized website functions
Let's Eat Free Website Builder for Restaurant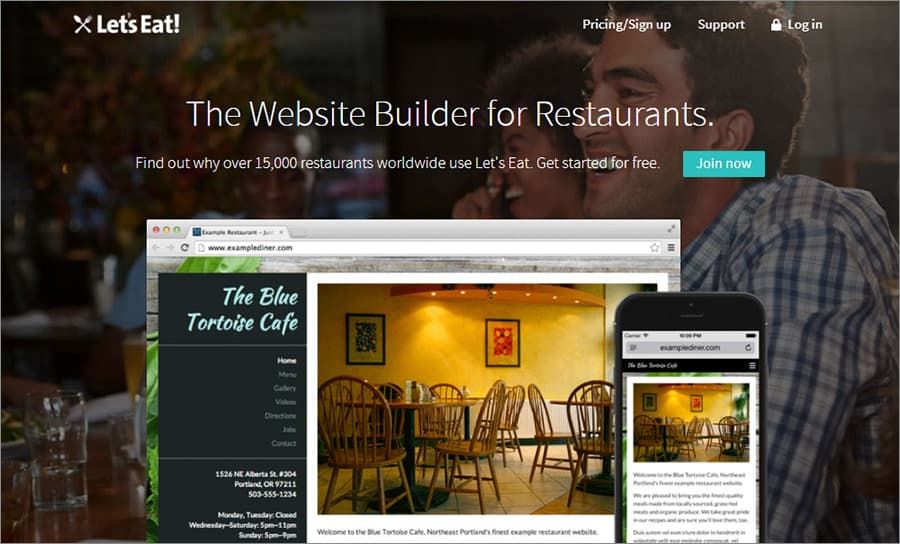 A free restaurant website builder that gets things done quickly and creates a professional looking website for restaurant owners to broadcast themselves to customers, Let's Eat has been a favorite with cafe and restaurant owners for long now. Over 10,000 restaurants have trusted this builder for creating their restaurants' websites.
Easy admin panel that doesn't require you to spend hours every day on website management, easy menu management, mobile ready website, and easy marketing tools such as event calendars – all make Let's Eat a website builder of repute.
Zero coding, zero hassles, and minimal time investment – Let's Eat markets itself as a solution for busy restaurant owners, and backs the talk with the features. The builder is easy to use, and just requires you to key in the required restaurant details to get things moving. You can then alter the design and align it to suit what's best for your restaurant.
Online menu with advanced features – You can easily create and update an online menu, promote house special dishes, and add new dishes as they hit the kitchen using the menu management feature of Let's Eat. Moreover, the mobile optimized version of your website created using Let's Eat connects customers and food seekers to your menu on the move.
Online photo gallery to give a visual delight to audiences – Let's Eat allows you to use vibrant photo gallery wherein you can put your restaurant and staff's images. This makes the website fun to browse and a lively representation of your business.
More killer features that make Let's Eat a top rated restaurant website builder:
Integrated online coupons help you market your restaurant well and modulate demand effortlessly
Reporting with Excel sheets, so that you can focus on weak areas
Coupons that you can float through social networks, guaranteed to increase weakness during off peak hours
SEO tools that help you feature at the top of search result pages in search engines