50% Off WordPress Coupon Code 2023
WebBuildersGuide.com earns commission from some of the web builders and hosting providers listed on this website.
Learn more
Do you want to get the maximum discount for WordPress? Then you are in the right place. Use this WordPress.com coupon code for a maximum discount of 50%Off.
This 50%Off WordPress coupon code is valid for Personal, Premium and Business plans.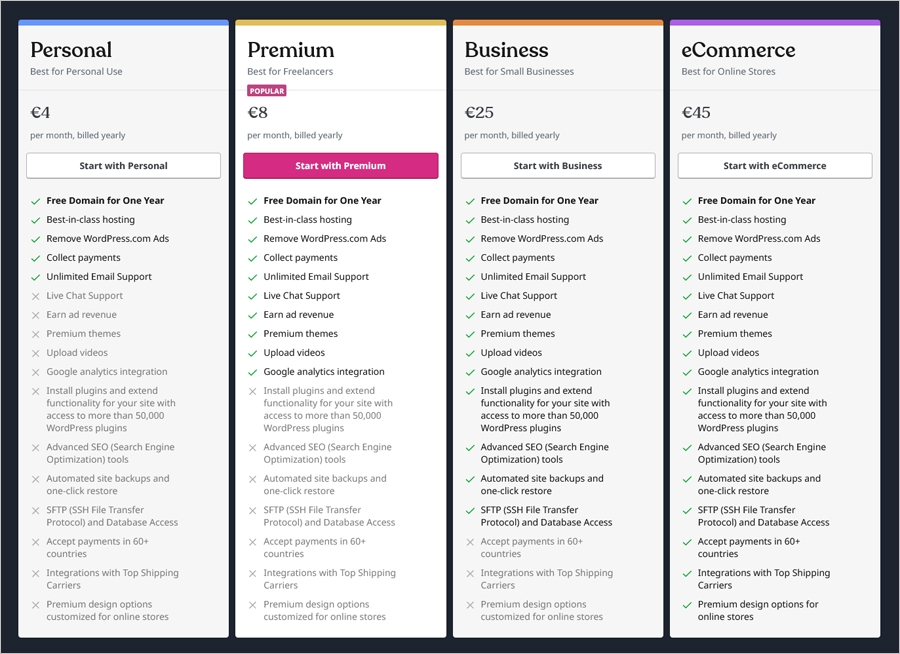 How to get 50% Off coupon code for WordPress?
To get and activate the WP coupon code – just follow the instructions:
1. Create a new WordPress account by following this link.
2. Click on the coupon code banner and copy the appeared WordPress coupon code:
3. Paste it into the field – I have coupon code – when paying on WordPress.com and get your discount.
Why WordPress coupon code might not work?
1. You have not copied the entire coupon code – double-check that it is completely identical to the one indicated on the banner.
2. You have not registered in WordPress using the link provided. Just do it again.
NOTE: Some of the coupon codes we receive from our partners are personalized. This means that they only work for our affiliate users. To do this, the coupon code is linked to a specific link through which we can track the conversion and receive a commission.
3. The coupon code is already outdated and not relevant. If you have checked the first 2 points and everything is OK, just write a comment on this page – we will double-check the coupon code again.
What are some great discounted WordPress alternatives?
Undoubtedly WordPress is one of the best free website builder software. A huge number of free WordPress themes, wide functionality, even more various additional WordPress plugins and much more make it so.
In addition, in all WordPress.com plans, the user receives a free domain name for one year as a one-time gift.
WordPress premium plans are priced better than most website builders. And thanks to our 50%Off WordPress promo code, they become even more profitable.
But despite the many advantages of WordPress, there are another cheap website builders that have their own advantages, and some of them are not inherent in WordPress.com
Additionally, you can also use the 10% off Wix promo code and 30% Squarespace promo code available to WebBuildersGuide readers.
WordPress.com is a good website builder, but not the best. Check out 5 best free WordPress alternatives to see what other free options there are besides WordPress for beginners.