Best Website Builder Software for Mac in 2023
WebBuildersGuide.com earns commission from some of the web builders and hosting providers listed on this website.
Learn more
Ever sat in front of your Mac, eager to craft a masterpiece website, but didn't know where to start? Well, you're not alone. You see, creating a captivating online presence can feel like assembling an intricate puzzle. Every piece must fit perfectly: design elements flowing seamlessly and functionality humming like a well-tuned engine. But when that last puzzle piece clicks into place – it's magic!
I remember the good old days of iWeb – Apple's own solution for us Mac lovers. Alas! Those were simpler times before it bid us adieu. So, what now?
Fear not! This journey takes you through today's top-notch website builders designed specifically with your beloved Mac in mind. We'll investigate the pros and cons to help you choose wisely. And who knows? By the end of this voyage, we might discover something extraordinary or experience a journey like no other.
What is the Best Website Builder for Mac?
If you're a Mac user, you might remember iWeb, Apple's proprietary website builder. It was easy to use and designed specifically for Mac users.
But then, in 2011, Apple decided to discontinue it. The question that begs asking now is: Why did iWeb cease to exist?
The answer lies primarily in two areas: technology advancement and evolving user needs. When iWeb was launched back in 2006 as part of the iLife suite, it met the demands of its time well enough. However, with web development becoming more sophisticated over time – think mobile responsiveness and advanced SEO capabilities – unfortunately for us fans of simplicity, iWeb couldn't keep up.
In addition to technological limitations like these, there were other challenges too. Users began seeking more features such as ecommerce functionality or blogging tools – which were not part of what this little software could offer at its best times.
The Replacements
Since we've said our goodbyes to iWeb years ago now comes another important query. What are some top-notch website builders that can be an excellent fit for my dear old pal named 'Mac'?
Wix: This platform gives your creativity free rein with its drag-and-drop editor feature.
Squarespace: Known for its elegant templates and excellent ecommerce features, it's a go-to choice for small businesses.
Pixpa: Perfect if you're in the creative industry. It provides easy tools to build portfolio websites with integrated ecommerce.
And don't forget about offline website builders. They let you work without an internet connection, making your job more flexible.
Best Online Website Builders for Mac
If you own a Mac and are in need of creating a website, the good news is there are many online tools specifically tailored to your needs. There are numerous online tools designed just for your needs. These platforms provide a user-friendly approach to crafting and releasing websites without any programming knowledge.
These builders let users choose from pre-made templates or start from scratch with drag-and-drop features. You can easily add images, videos, text blocks, and other elements to create professional-looking sites.
Online website builders, unlike offline ones, allow real-time collaboration and updates anytime, anywhere as long as there's internet access.
The Rise of Online Builders
In the past decade or so, we've seen a rise in online site creators because they provide ease-of-use along with flexibility. They cater not only to professionals but also beginners who want their own digital space on the web.
Whether it's for personal blogs or ecommerce stores, these platforms have proven effective at giving users full control over their site design while eliminating technical roadblocks like HTML/CSS coding that could discourage many from creating their dream website.
Making A Choice: What To Look For?
User-friendliness is crucial if you're new at this game – look out for straightforward navigation options within the platform's interface.
The quality of available designs will affect how appealing your finished product looks – does it fit well with your brand image?
A variety of customization possibilities lets you give unique touches making sure no two websites look identical.
Additional factors to consider are SEO capabilities, the builder's customer support quality, and whether it allows for mobile-responsive designs. A good online website builder should offer all these features and more.
Remember Your Budget
Lastly, don't forget your budget while picking an online site builder. Some platforms might be free but could fall short in some aspects or have ads that may disrupt your work.
NOTE: If you're a Mac user wanting to build a website, many online tools are made just for you. These platforms let you design and publish websites without coding skills. Choose from templates or start from scratch with easy drag-and-drop features. Make sure the platform is user-friendly, offers high-quality designs, customization options, SEO capabilities, quality customer support and mobile-responsive designs.
So we found out why online Mac website builder software is better than offline. Let's now find out which ones are the best and why.
The easiest way to do this is to put together the best website builder software for Mac in a comparison table. It's much more visible that way. Below will be a description of each software.
Mac Website Builders Comparison
Plan Name *
Combo
Personal
Basic
Limited
Basic
Personal
Basic
Monthly Cost
$16
$23
$6

$4.90

$39
$13
$18
Annually Cost
$192
$192
$72

$58.80

$348
$120
$168
Custom Domain

Yes

Yes

Yes

Yes

Yes

Yes

Yes

Free SSL Certificate

Yes

Yes

Yes

Yes

Yes

Yes

Yes

Free Domain Name

Yes (for 1 year)

Yes (for 1 year)

Not included
Not included
Not included
Not included
Not included
Remove builder ads?

Yes

Yes

Yes

No

Yes

No

Yes

Free plan **

Yes

No

No

Yes

No

Yes

Yes

Bandwidth
2 GB

Unlimited

Unlimited

200 MB

Unlimited

100 GB
50 GB
Space Storage
3 GB

20 GB

Not included
1 GB

Unlimited

10 GB

Unlimited

Number of Pages
5

Unlimited

Unlimited

Unlimited

Unlimited

Unlimited

Unlimited

Google analytics

Yes

Yes

Yes

No

Yes

Yes

No

Design Customization
5
5
5
4
5
4
5
Easy of Use

5

5

5

5

5

5

5

Embed HTML/CSS code

Yes

Yes

Yes

Yes

Yes

Yes

Yes

Ecommerce Options ***

No

No

No

No

No

No

No

Support

FAQ – Yes

Email – Yes

Chat – No

Telehone – Yes

FAQ – Yes

Email – Yes

Chat – Yes

Telehone – No

FAQ – Yes

Email – Yes

Chat – Yes

Telehone – No

FAQ – Yes

Email – Yes

Chat – No

Telehone – No

FAQ – Yes

Email – Yes

Chat – No

Telehone – No

FAQ – Yes

Email – Yes

Chat – Yes

Telehone – Yes

FAQ – Yes

Email – No

Chat – No

Telehone – No
* In this table, I have reviewed the capabilities of the basic plan (the cheapest).
** If you are interested in the free features of these website builders then check out the review: Best Free Website Builder Software.
*** If you are building an ecommerce website then check: The Best Ecommerce Website Builders for Online Store.
NOTE:
Don't be surprised that all five website builders got 5 points on Easy of Use. Not all website builders can boast of ease of use and intuitive interface. But here I purposefully selected five website builders that are as simple and convenient as possible even for beginners. But if you check out my other review of 10 Best Small Business Website Builders, for example, you'll see that not all website builders score that high on ease of use.
Wix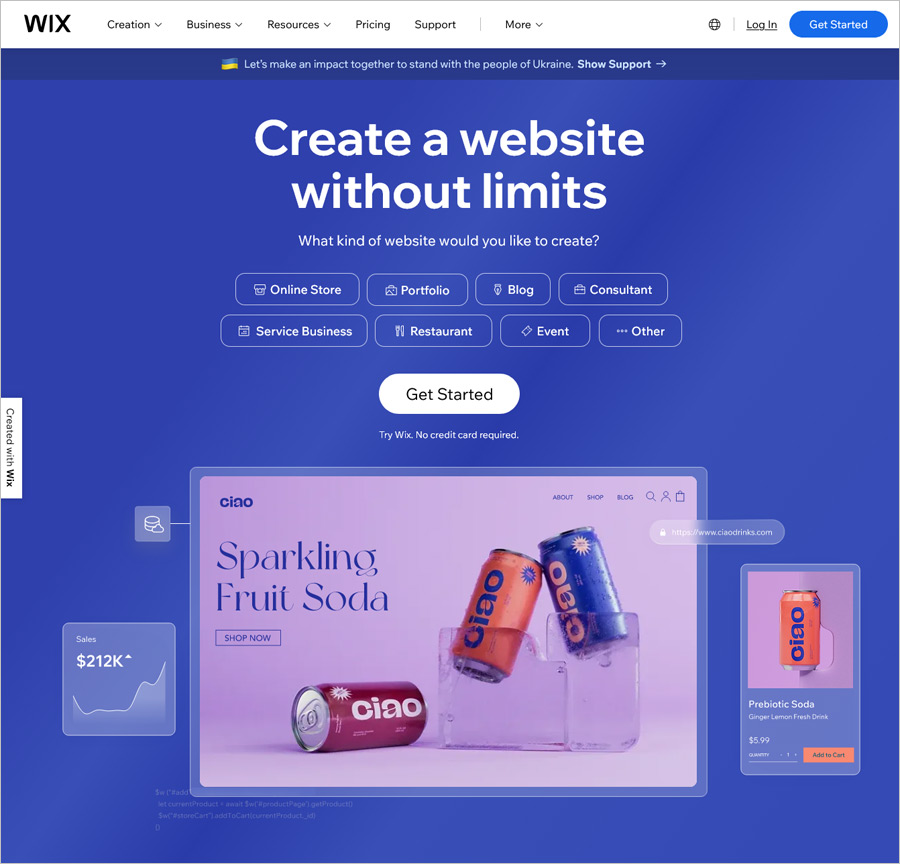 As a leading choice for Mac users, Wix shines with its intuitive drag-and-drop editor. It's the ideal selection for those just beginning to explore website building.
The strength of Wix lies in its versatility. Whether it's an online store or personal blog, this platform has got you covered. And here's the kicker: there are over 500 professionally designed templates to choose from.
Advantages of Using Wix
You might ask why use Wix? Well, besides being user-friendly and flexible, one big advantage is their range of features right at your fingertips. The toolset includes everything from SEO tools that help improve visibility on search engines like Google to integrated analytics that provide valuable insights about visitor behavior.
Furthermore, what sets Wix apart is their ADI (Artificial Design Intelligence) feature. With ADI taking care of design aesthetics based on your preferences and industry type – it almost feels like having a professional designer by your side.
An impressive array of third-party apps can be easily added through the WIX App Market.
Their customer support system deserves applause too, comprehensive guides along with phone/email support ensure all questions get answered promptly.
A bonus point goes out for providing free hosting with every package – reducing costs significantly when launching a site.
Limited Drawbacks Worth Mentioning
No product is without flaws and Wix is no exception. But let's keep it real – the drawbacks are minimal in comparison to its benefits.
Firstly, once a template has been chosen, there's no turning back – you can't switch templates mid-way through your site design process. While this might sound restrictive at first, remember that each template is customizable so you still have plenty of creative freedom.
Next, you should know their free plan offers limited bandwidth and storage. Plus, your site will display branded ads. To get more features and kick those limits to the curb, consider upgrading.
NOTE: Wix is a top pick for Mac users, offering an easy-to-use drag-and-drop editor and over 500 professional templates. It's perfect whether you're starting an online store or personal blog. With its extensive feature set – including SEO tools, integrated analytics, and the unique ADI function – it makes website creation a breeze. To top it all off, Wix provides robust customer support that's always ready to help when you need it.
Squarespace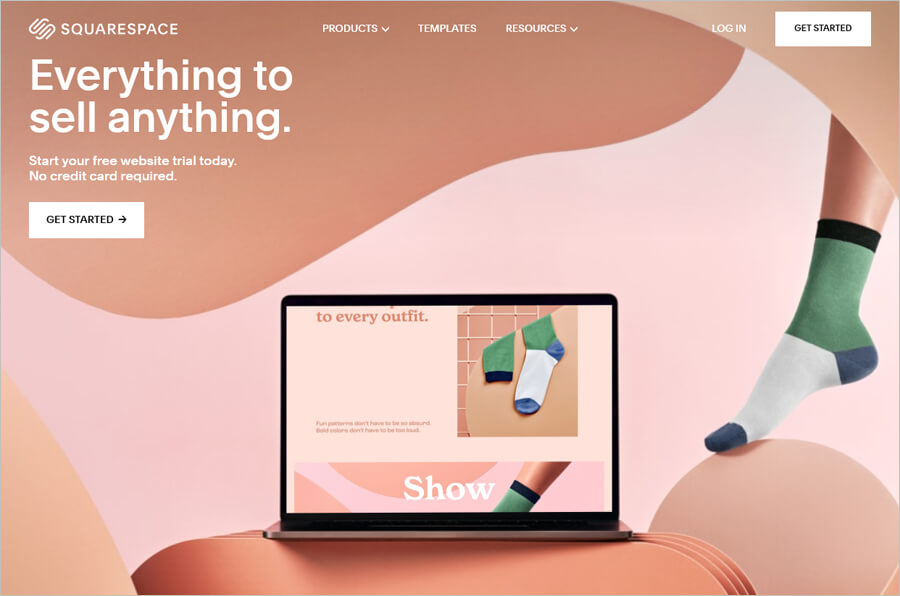 For those seeking a balance between ease of use and robust features, Squarespace is an ideal choice. Its user-friendly interface and vast selection of high-quality design templates make Squarespace a favorite among website builders.
One aspect where Squarespace shines is in its stunning, professional-looking themes. With over 100 designs to choose from, you can easily create websites that look as if they were designed by pros – even if it's your first time building one.
User-Friendly Interface
Squarespace prides itself on having an intuitive drag-and-drop editor which makes designing websites easy peasy. No need to grapple with complex coding or tech jargon here. Instead, let your creativity flow as you arrange elements exactly how you want them on your site.
The fact that this builder offers real-time editing means no more guessing games about how changes will affect the overall look. What you see while editing is what visitors will see when browsing your site – a feature beginners and seasoned builders alike find invaluable.
Ecommerce Capabilities
Dreaming of setting up an online store? You're in luck. Squarespace has robust ecommerce capabilities that allow entrepreneurs to sell products directly through their sites. It provides secure payment gateways like PayPal and Stripe integration right out of the box.
Plus, inventory management becomes less stressful thanks to tools such as order tracking and customer emailing services integrated into this versatile platform. Managing inventory has never been easier.
Blogging Tools
Squarespace isn't just for ecommerce, it's also a fantastic platform for bloggers. With tools like rich text editing, multiple author functionality, and built-in SEO features, this website builder lets you share your thoughts with the world in style.
The ability to schedule posts ahead of time is another bonus that keeps content creators coming back. It means less stress about publishing on time and more focus on creating engaging content.
A Few Drawbacks
However, no product is without its faults. Squarespace's primary downside is the cost – it can sometimes be on the pricier side.
NOTE: Squarespace is a great choice if you need an easy-to-use website builder with strong features. It offers stunning templates, a user-friendly drag-and-drop editor, and real-time editing. Plus, it's equipped for ecommerce with secure payment options and inventory management tools. And bloggers will appreciate the rich text editing and SEO tools. But remember, all these impressive benefits are part of the package deal that Squarespace brings to your table.
Pixpa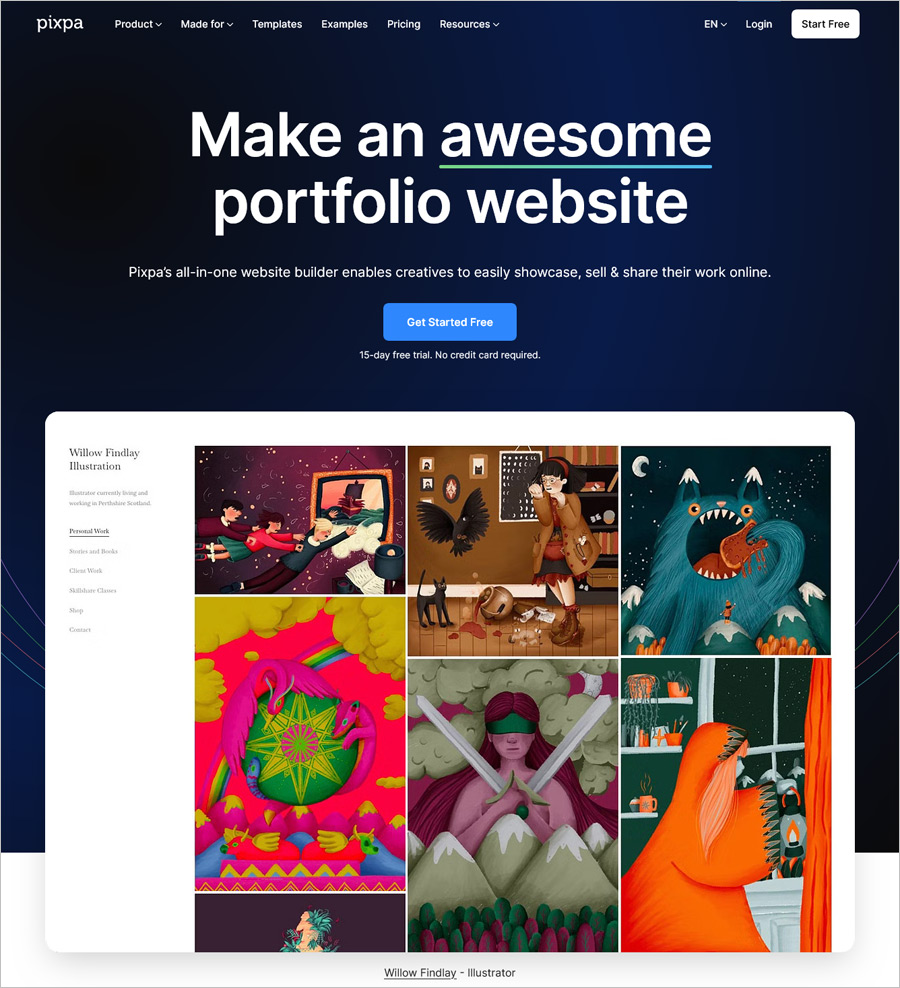 When it comes to website builders tailored for creatives, Pixpa shines like a diamond. Known for its intuitive interface and flexible customization options, Pixpa makes creating professional websites fun and straightforward.
But why do so many photographers, artists, designers choose Pixpa? One of the reasons Pixpa is chosen by many photographers, artists and designers is that it provides a comprehensive suite of services. That means you can create an impressive online portfolio, sell your work directly through the site's integrated ecommerce capabilities and even manage client proofing – all without needing any coding skills.
User-friendly Design Interface
The first thing users notice about Pixpa is how easy-to-use it is. Its drag-and-drop editor lets you play around with elements on your page until they're exactly where you want them. Plus, helpful guides from their knowledge base takes care of any questions you might have along the way.
Ecommerce Capabilities
Selling art or products online shouldn't be complicated – and with Pixpa's built-in ecommerce features, it isn't. From setting up shop to managing orders – everything becomes simpler.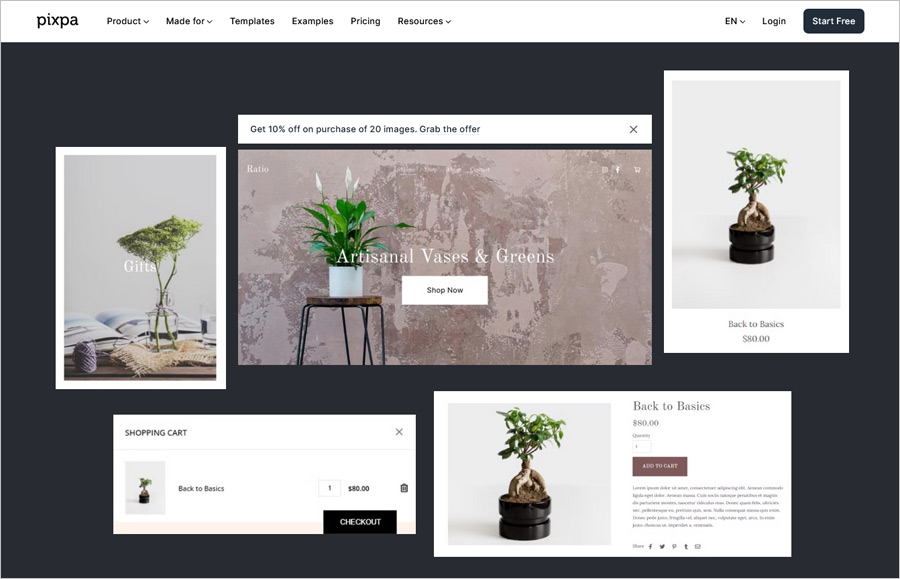 Affordable Pricing Plans
You'd think something as powerful as this would come at a hefty price tag but surprise – Pixpa's pricing plans are budget-friendly. You can give it a go with no cost for 15 days before you make your decision.
But, like everything in life, Pixpa isn't perfect. No free plan is available beyond the trial period, so additional costs may be incurred for more extensive needs. Plus, if your needs are more extensive and require advanced features such as large storage or premium themes—you might need to shell out more cash for those higher-tier plans.
Customer Support
If things get tough while building your site on Pixpa, don't worry – they've got stellar customer support ready to help at any time with live chat and email options.
NOTE: Pixpa is a top choice for creatives like photographers and artists because it makes website building fun and easy. Its intuitive interface, drag-and-drop editor, all-in-one platform services including ecommerce capabilities, and affordable pricing plans make it an excellent option. But remember, there's no free plan beyond the trial period, and more advanced features may cost extra.
Webnode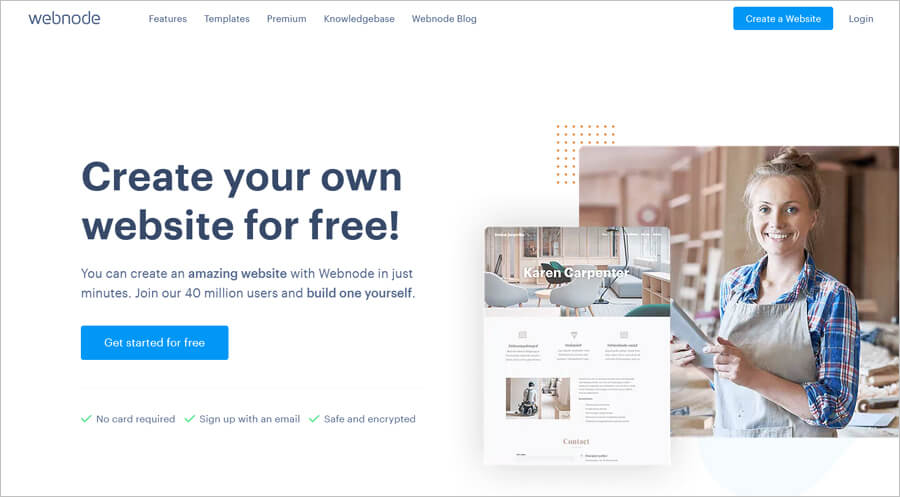 If you're on the hunt for a website builder that is both easy to use and robust, look no further than Webnode. It's a great pick, particularly if you're aiming to construct sites in a jiffy.
The Strengths of Webnode
One key advantage of Webnode lies in its simplicity. You don't need any coding knowledge to start creating beautiful websites. The drag-and-drop interface makes it straightforward and intuitive.
A unique feature is its multilingual capabilities. With support for over 20 languages, Webnode lets you reach a global audience easily.
You'll also appreciate their responsive customer service team. They are always ready to help with any issues or questions about building your site.
Ecommerce Capabilities
Built-in ecommerce features make WebNode an ideal platform for those who plan to sell products online, with secure shopping experiences enabled by SSL encryption. This means if selling products online is part of your plan, then WebNode has got you covered.
Your customers will get secure shopping experiences as well thanks to SSL encryption which ensures all transactions are safe and private.
Inbuilt SEO Tools
To make sure people can find your site easily through search engines like Google, they have integrated SEO tools right into their dashboard too.
Potential Drawbacks
Certainly there's room for improvement – one drawback some users note is the limited customization options. While Webnode offers many templates, you may find yourself wanting more control over the design elements.
Also, unlike some other website builders such as Wix, it doesn't offer free domain registration for its premium plans. You'll need to budget for that separately.
Wrapping up, if quick setup and simplicity tickle your fancy but shelling out a bit more for your domain doesn't faze you, then this is the way to go.
Shopify
If you're seeking a robust website builder for your Mac, look no further than Shopify. Renowned for its ecommerce capabilities, Shopify is an ace up the sleeve of online sellers.
This platform offers users powerful tools to build their dream web store. It's like being given keys to a fully stocked tool shed but with instructions on how each gadget works.
A Host of Advantages
First off, it doesn't matter if you're selling handmade crafts or dropshipping tech gadgets, Shopify lets you tailor your site accordingly. This flexibility is akin to having different shoes for every outfit – one size does not fit all here.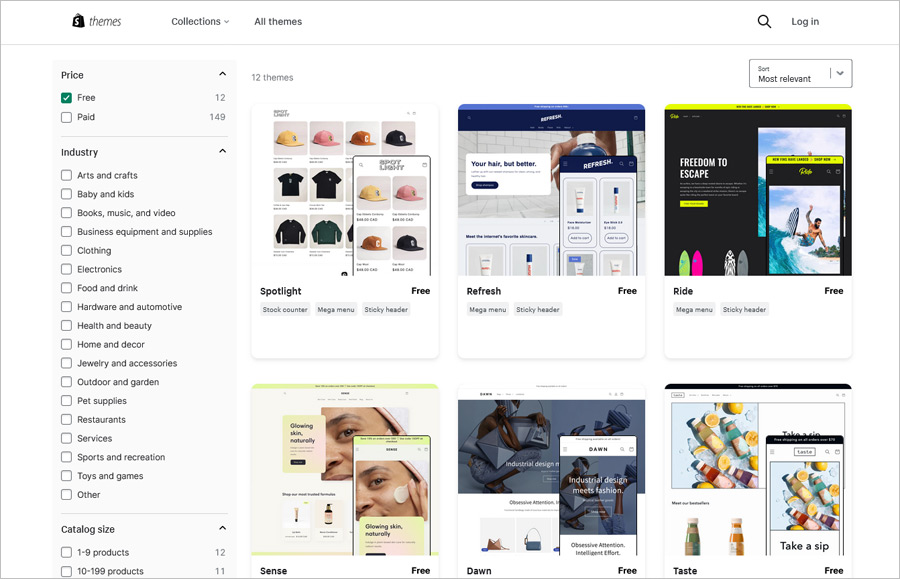 Beyond this adaptability though, Shopify provides high-quality themes that make sure your site looks sleek and professional from day one. It's like walking into a ready-to-move-in house – furnished and decorated just right.
The real cherry on top? Its outstanding inventory management system which helps track stock levels effortlessly. Picture it as having an automated personal assistant who never takes breaks.
Ecommerce Powerhouse
Remember, while many builders can help create websites, few are tailored specifically towards ecommerce like Shopify is. With its integrated payment gateway support from PayPal and Stripe among others (see full list here) makes transactions seamless – much like sipping coffee at your favorite cafe where they know exactly how you take it.
With its support for multiple sales channels, Shopify allows you to reach a broad customer base. So, if you're fishing for customers, Shopify casts a wide net.
The Few Drawbacks
But just like every rose has its thorns, Shopify isn't perfect. While it's great for ecommerce sites, businesses not focused on online sales might find it less useful.
NOTE: Shopify is a top-notch website builder for Mac, especially for ecommerce. It's like having keys to a tool shed with instructions on how each gadget works. From tailored site designs and professional themes to an outstanding inventory management system, Shopify has you covered. But remember, it's best suited for online sales-focused businesses.
Weebly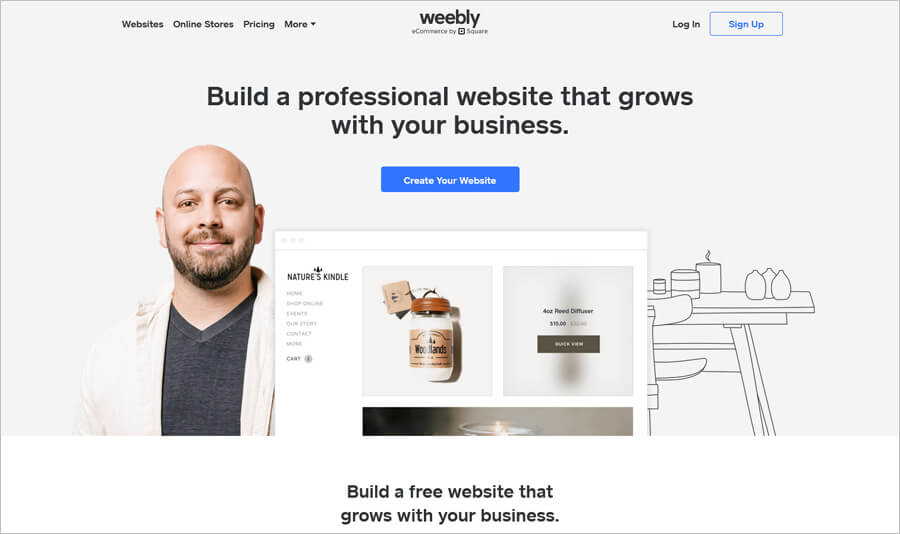 If you're a Mac user and are looking for an easy-to-use website builder, Weebly is one of the top choices. Weebly is renowned for its user-friendly drag-and-drop interface, enabling individuals to craft websites that look professional without requiring any programming experience.
Weebly stands out with its extensive template library. You get access to hundreds of customizable designs that cater to various industries from blogs to ecommerce stores. This means there's likely something perfect waiting just for your project.
One great thing about Weebly is how it makes managing SEO tasks a breeze. With built-in tools like meta description editor and URL customization, you can easily optimize your site for search engines – which could lead more visitors to your digital doorstep.
Ease-of-Use
Beginners will love how simple it is to create a website on Weebly. The platform provides pre-designed layouts where all you have to do is replace placeholder text with your own content, add images or videos as needed and voila. Your website comes alive.
You also get handy tutorials that guide you through every step if ever things seem tricky – showing Weebly's commitment towards making web design accessible even if tech isn't really your cup of tea.
eCommerce Capabilities
Weebly's eCommerce capabilities are quite impressive too. They let users manage their online store effortlessly thanks largely due in part by features such as inventory tracking, tax calculator & integrated shipping labels creation tool amongst others.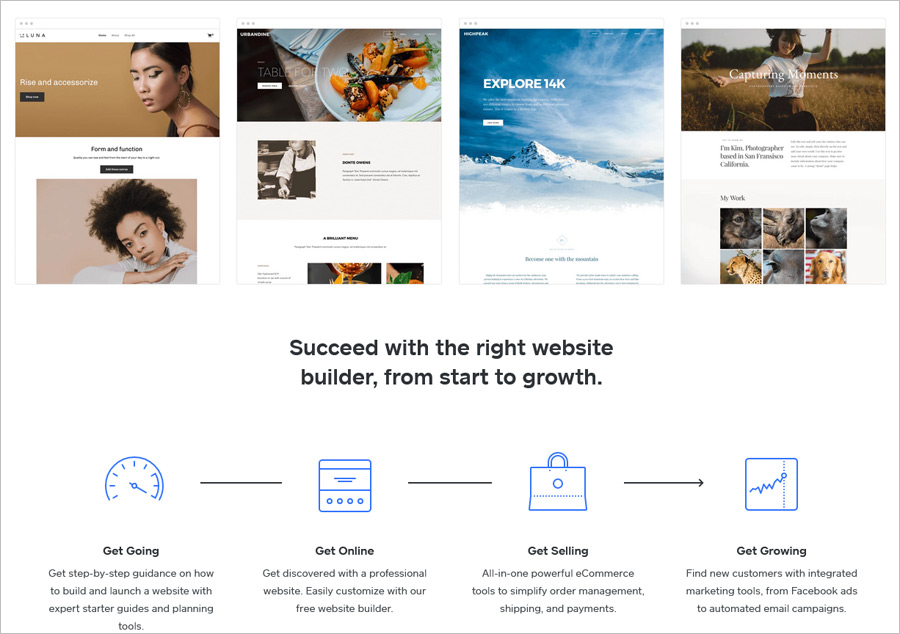 Payment processing is also smooth, with support for major gateways like PayPal and Stripe. It's simple to get going with selling items or services on your website without any stress.
Limitations
While Weebly does a lot right, it isn't perfect. The free plan offers limited features compared to its paid counterparts which might be an issue if you're on a tight budget but want more control over your website's look and functionality.
Additionally, even though the platform offers a vast array of design templates.
NOTE: Mac users in search of an easy-to-use website builder will find Weebly a top choice. Its drag-and-drop interface, extensive template library and SEO tools make building professional-looking websites simple, even for beginners. While it has impressive eCommerce capabilities, be aware that its free plan offers limited features compared to paid options.
Webflow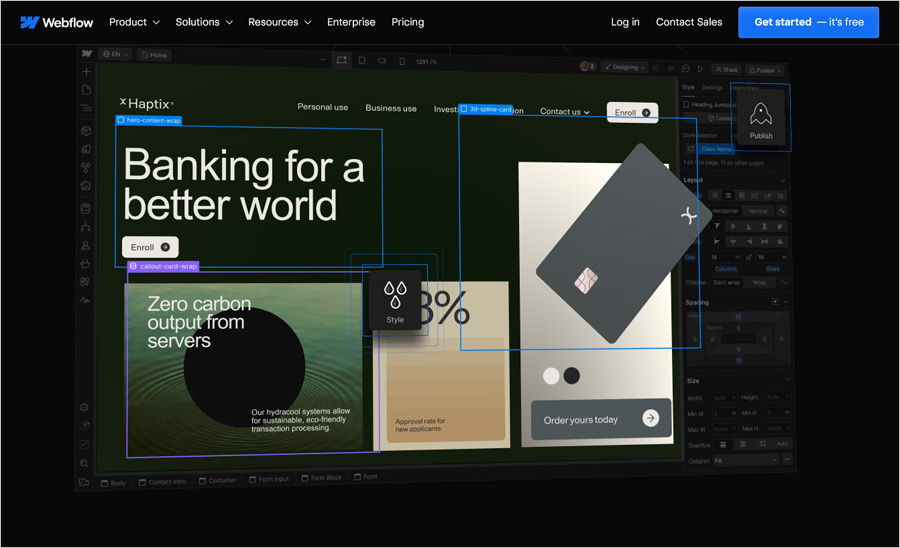 Webflow is a powerful website creator that stands out from the rest, yet it has some peculiarities.
This tool offers you more control over your site design than most of its peers do. It lets you create websites with intricate animations and interactions without writing any code. Imagine being able to give life to your ideas just like a professional web developer would.
A big plus for Webflow is its CMS capabilities. If managing content gives you headaches, this feature will be your aspirin. The built-in CMS makes it easy for non-techies to add or change text, images, or videos on their sites without having to dig into the HTML/CSS stuff.
Their designer platform allows an extreme level of customization which can be quite liberating once mastered.
You have total creative freedom due to access directly at the CSS box model through visual controls – say goodbye traditional constraints imposed by template-based platforms.
The option of integrating with third-party apps such as MailChimp and Google Analytics can prove beneficial if digital marketing is part of your game plan.
Ease-of-use: A double-edged sword?
In contrast though, WebFlow's power may feel overwhelming initially especially if you're new to building websites because there's so much going on at once.
To tackle this challenge effectively requires some patience and dedication in learning how things work here.
On the brighter side, they offer an extensive library of tutorial videos. These tutorials can assist you in becoming proficient with the platform. Remember: Practice makes perfect.
Pricing: Not for penny pinchers?
But if your budget is a bit tight, you might find that WebFlow isn't the top pick for you.
Best Offline Website Builders for Mac
These tools let you build and design websites without needing an internet connection, offering flexibility and convenience.
RapidWeaver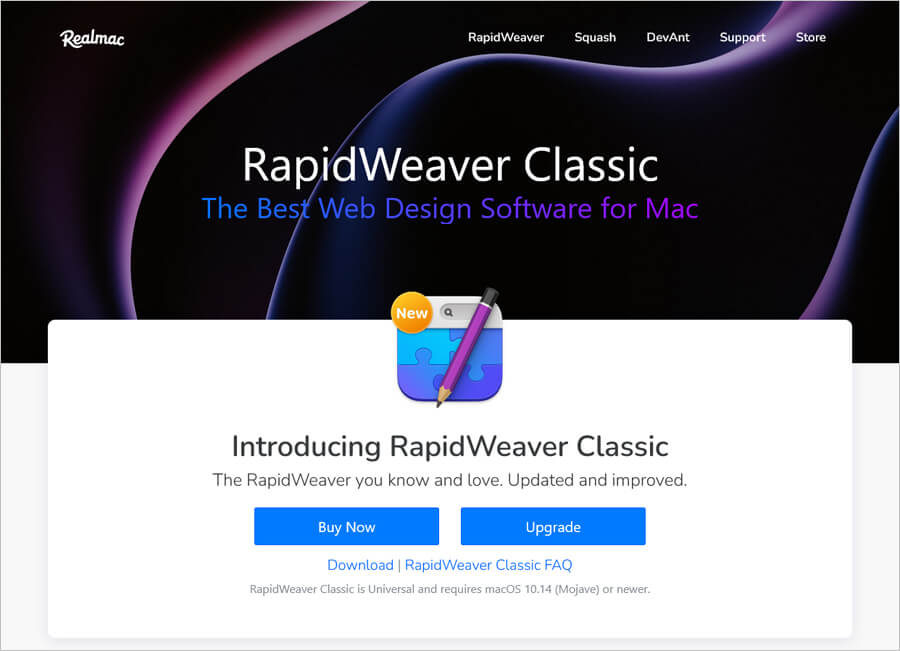 RapidWeaver is like the Swiss Army knife of offline site building on a Mac. It's got everything: robust features, easy-to-use interface, and extensive customization options.
You don't need to have knowledge of coding for using RapidWeaver, though if you do possess such skills it will provide more opportunities for customizing the website. But here's the kicker – its lack of cloud functionality may not suit everyone's workflow style.
EverWeb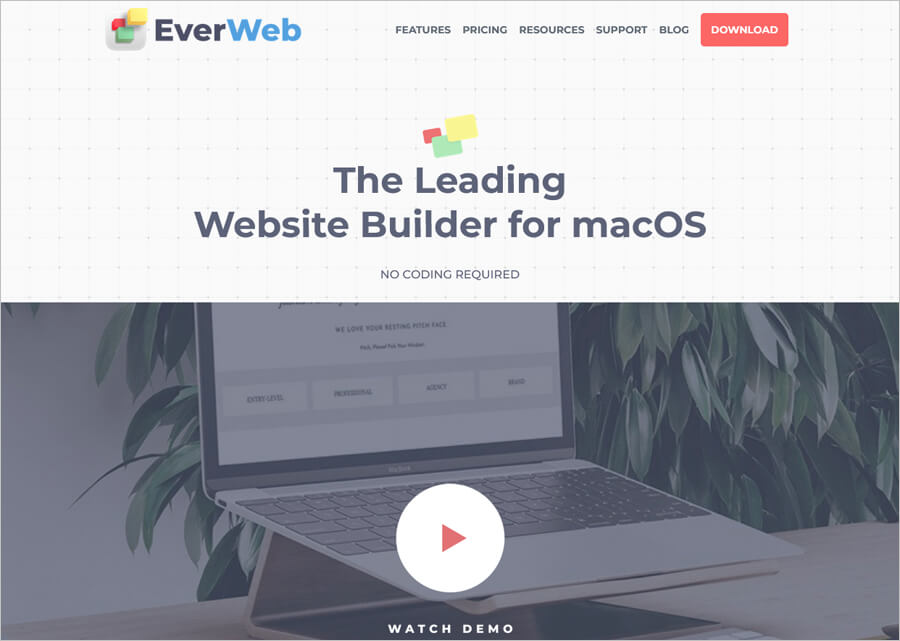 Aiming for simplicity? EverWeb's your best bet. This software helps make creating websites as intuitive as dragging-and-dropping elements where you want them.
EverWeb stands out with its unique SEO Power Up feature that helps optimize sites right from the get-go. Yet there's a snag – some users have found EverWeb's interface less modern compared to competitors' offerings.
Sandvox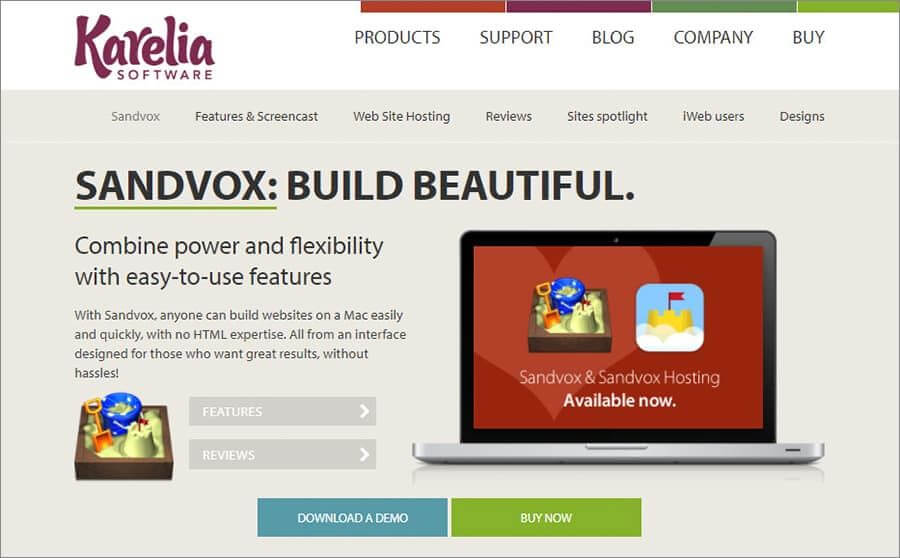 Sandvox takes 'easy' to another level by focusing on providing simple yet powerful tools that allow anyone – even total beginners – to create professional-looking sites in no time flat.
The real charm lies in Sandvox's 'Code Injection' feature, which lets you add snippets of HTML, JavaScript or CSS to your site. But be warned – its design templates can feel a bit limited and dated compared to others.
Each of these offline website builders for Mac shines in its own way. They all let you create stunning websites without an internet connection. But don't forget, each one has unique features that make it stand out.
FAQs in Relation to Website Builder for Mac
Can you build websites on Mac?
Absolutely, with the right tools like Wix or Squarespace, building websites on a Mac is smooth and simple.
What's the best web design software for Mac?
Several options shine but Wix and Squarespace are top picks due to their ease of use and rich feature sets.
How do I create a free website on my Mac?
You can use platforms like Weebly or Webnode. They offer intuitive drag-and-drop builders that let you create sites without paying a dime.
Is Wix good for Mac?
Certainly. It offers an easy-to-use interface, numerous templates, and robust features making it great for designing sites on your Mac.
Creating a stunning website on your Mac doesn't have to be a brain teaser. Not when you possess the apt implements.
We explored online builders like Wix, Squarespace, Pixpa, and others that offer impressive features with little learning curve. Each has its strengths – some are design wizards while others shine in ecommerce or blogging.
Then we switched gears to offline options such as RapidWeaver and EverWeb for those who prefer working without an internet connection. These alternatives also give robust solutions for crafting remarkable websites on Mac.
All these platforms have risen up to fill the void left by iWeb. Therefore, when seeking a website builder for Mac that suits your needs best, it is important to consider the options available.