Best Mobile Website Builder for Android and iOC
WebBuildersGuide.com earns commission from some of the web builders and hosting providers listed on this website.
Learn more
Before we begin talking about choosing an appropriate mobile website builder among the best website builders, I'm going to make a small digression. (A jog down the memory lane, to be honest.)
I first learned about mobile websites about 15 years ago. Back then I was an SEO and the main web designer at a small website design agency. Back in those days, online website builders weren't a 'thing'. And working with WordPress was considered 'bad' in the professional web development circles.
The first orders for mobile website development were seen as clients' whims. What is more, those mobile websites didn't look like the contemporary ones. In fact, they were single mobile website versions, and users were able to switch between mobile and desktop versions through a link in the header.
Most people at that time had standard mobile phones (like Siemens, Sony Ericsson, Nokia, and Motorola). Those devices couldn't be used for browsing websites. People could surf the Internet only if they had a smartphone. And actually, we only develop websites for smartphone users.
A lot has changed since then. Smartphones have become commonplace, everyone has one in their pockets today. And smartphones are frequently used for browsing websites and social networks. According to data from Statista, the share of global website traffic coming from mobile devices is 54.8%. This means that on average every second user visits websites from their mobile devices.
Moreover, in some niches, the share of global website traffic from mobile devices is over 70%. And if your website isn't optimized for mobile traffic or lacks at being mobile-friendly, you lose at least 50% of your traffic.
Now let's turn to an important question: What solutions should you use for creating mobile websites?
Before that…
Why Is It Better To Develop Mobile Websites On Desktop Software?
There are hundreds (!) of mobile website builder software that allow developing a website exclusively from a mobile phone. No matter what you prefer – Android or iOS – you can run the software on your smartphone and immediately start creating your website.
But I don't advise doing that. Here's why
When you develop your website on a mobile app you only get access to reduced capacities as compared to when you use the same website builder from your laptop or PC.
The reason behind this is the fact that even the most contemporary and advanced website builders can't deliver all their functional capacities on the interface of a small phone screen. Consequently, it becomes extremely difficult to use a mobile website builder. And eventually, no one really benefits from those.
Also, while you can develop a website from your phone, don't expect to be able to choose a template or change the blocks or reorder the elements on your website.
Another important point of consideration is that the preview modes can only help you see how your website looks on a mobile screen. You won't be able to see how it looks on the desktop.
To give you some perspective, you won't be able to do this:

Switch to Mobile
This is how Wix's visual editor interface looks on a desktop. By clicking on the desktop or mobile option (as shown in the image above), you can immediately (while developing) check how your website is going to look on both PC/laptops and mobile phones. You can switch between the previews for the two versions in real-time.
But if you decide to build your website using the Wix mobile interface, you won't get this feature.
What About Using Website Builder Apps On Mobile?
Using a website builder app on your mobile is close enough to developing a website from a mobile browser. You get fewer opportunities than you'd get with the desktop counterpart.
I have compared the Wix, Weebly, and Squarespace mobile apps with their basic online versions for desktops. And let me tell you that the mobile apps were nowhere near as convenient as the desktop versions.
That's why even if you are an avid mobile amateur, I recommend that you develop a website using your PC or Mac. And after designing and developing the basic structure of your website, you can manage it and fill it with content exclusively from your mobile phone.
What Are The Criteria That I Used For Choosing Mobile Website Builders?
Okay, now let us turn directly to the question you are itching to ask: Choosing the best mobile website builder.
There are some specific nuances to the process and it's better to learn them before beginning mobile website development.
What features must a good mobile website builder have?
1. Mobile Responsive Templates
Most popular website builders have beautiful templates. But not all of them are responsive. Some of them can be outdated and not have an adaptive web design. Developing responsive layouts using such templates is not possible. So the first thing you need to look for is mobile responsive templates.
2. Powerful But User-friendly Drag-and-Drop Editor
A drag-and-drop editor is, perhaps, the most important part of any website builder. This is also true for a mobile website builder. Thanks to a drag-and-drop editor, you can easily edit and customize your website without having to manually edit the HTML/CSS code.
Also, the simplicity and user-friendliness or otherwise of the website builder depend on whether or not its drag-and-drop editor is well thought out. The best website builders are those that have powerful yet intuitive drag-and-drop builders that minimize web development hassles for beginners.
3. Apps That Work Well On Mobile Interfaces
Most of the top website builders have additional Mobile App libraries. These apps and widgets can make your website even better by letting you add special options that website builders don't have by default. For example, an online ticket reservation system or the option to receive charitable donations directly from the website.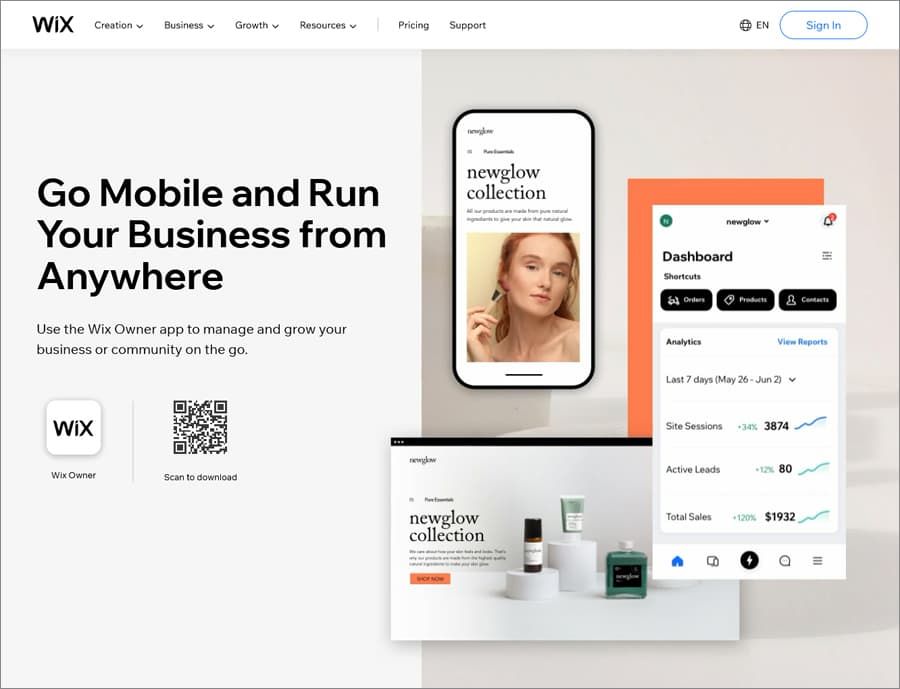 Additional mobile apps
But not all such apps operate perfectly on mobile interfaces. The reason for this is that most of these apps are created by third-party developers and not the internal teams of these platforms. But some website builders, such as Wix and Shopify, have a stricter quality control towards apps acceptance. So you are more likely to get mobile-friendly apps with these platforms.
4. Mobile Ecommerce Options
Mobile ecommerce sales in the USA in 2022 made up over 53% of the total ecommerce sales. However, most ecommerce stores don't support sales through mobile browsers. And those that do, make multiple mistakes along the way.
And if we talk about ecommerce website builders, then too, not all of them allow building really user-friendly mobile ecommerce websites. Moreover, some websites are so complicated for mobile users that they just bounce off the site and turn to competitors.
Top 5 Mobile Website Builders
I have tried out and worked with several website builders. But today I'd be talking about and highlighting the features of the most mobile-friendly ones. The website builders discussed below allow building mobile responsive websites that will look the same on Android or iOS, or any other mobile device.
Wix – The Universal Mobile Website Builder
To state it briefly, Wix is really good. It's the most popular free website builder in the market today. And it comes with the largest template selection, a built-in drag-and-drop editor, and its own App Market. To top it all, using the basic versions of these features is free forever.
Want to know what exactly makes Wix so popular and so good? Read on.
The Largest Selection Of Responsive Templates
Wix has the largest template selection among all website builders. It has more than 500 free templates. And all of them are fully mobile responsive.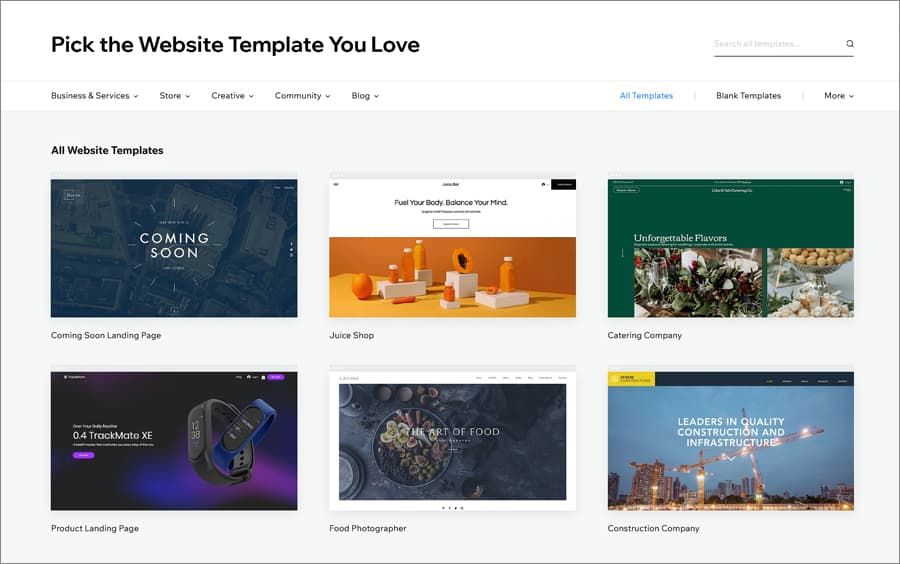 Collection of responsive templates
So you don't even have to edit the design, since the templates are anyway going to be perfectly displayed on mobile browsers on Android or iOS devices.
Perfect Mobile Editor
Wix has a built-in smart mobile editor that, according to them, is as effective as its desktop version. Wix automatically creates a mobile version of your website and you don't even have to lift a finger for that.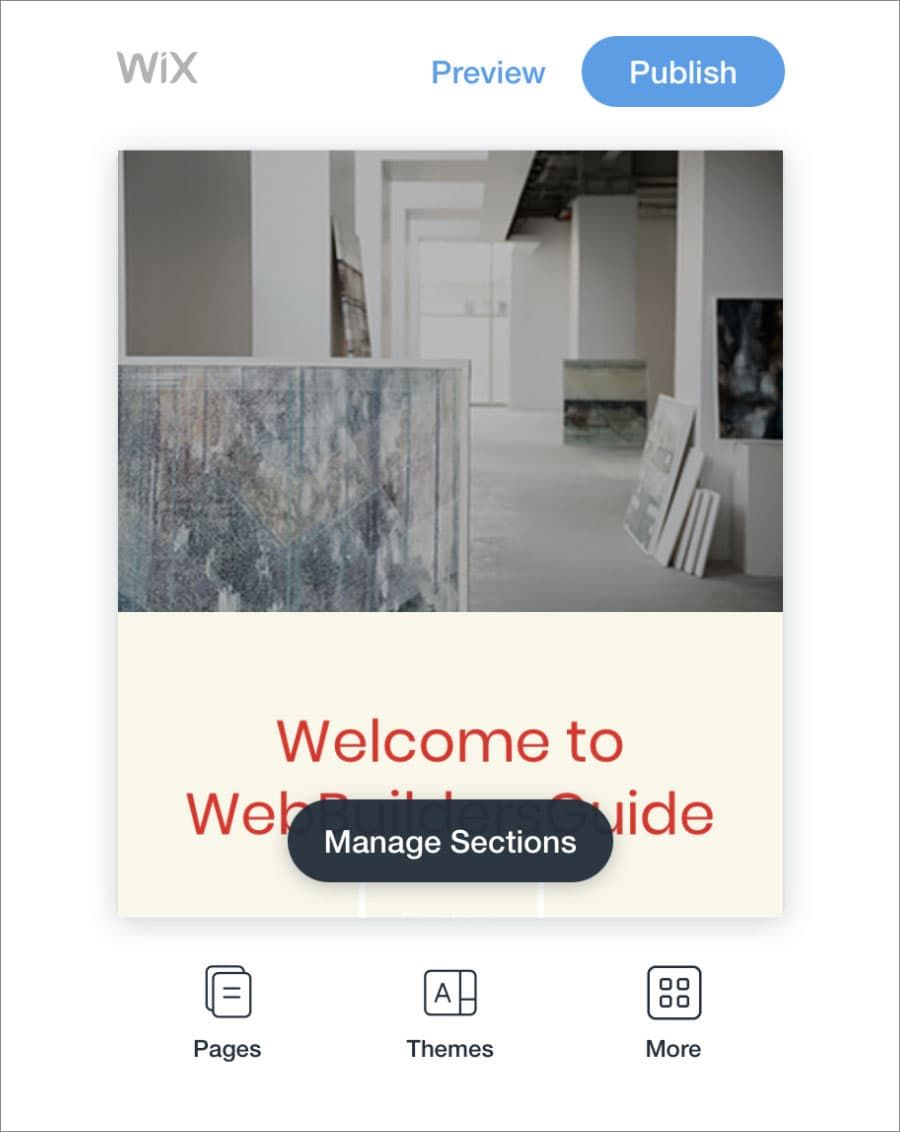 WIX mobile editor
Another great aspect of Wix is the fact that you can configure the mobile version of your website separately from the desktop one. This means that your website can look differently on PC and smartphones. It is especially convenient when you don't want to overload your website with extra information in the mobile view (in contrast to the basic desktop version).
NOTE: Despite Wix having such capacities, I would advise against making mobile website content completely different from its desktop version. This may cause negative SEO effects. This is due to Mobile-First Indexing where Google primarily indexes a mobile website version and then later turns to the desktop version. Having more content on the desktop version might be incorrectly interpreted by Google. This may lead to a loss of website positions in the Google search engine results. If your website has different desktop and mobile URLs, then you won't have to deal with such a problem, since these pages will be ranked on Google separately.
Any Type Of Content
Just like desktop versions, Wix allows uploading any type of content to the mobile version too. You can add videos, PDF presentations, plain text content, or images in different formats (like JPEG, PNG, WebP, or GIF), and all these items will be accessible for viewing in mobile mode.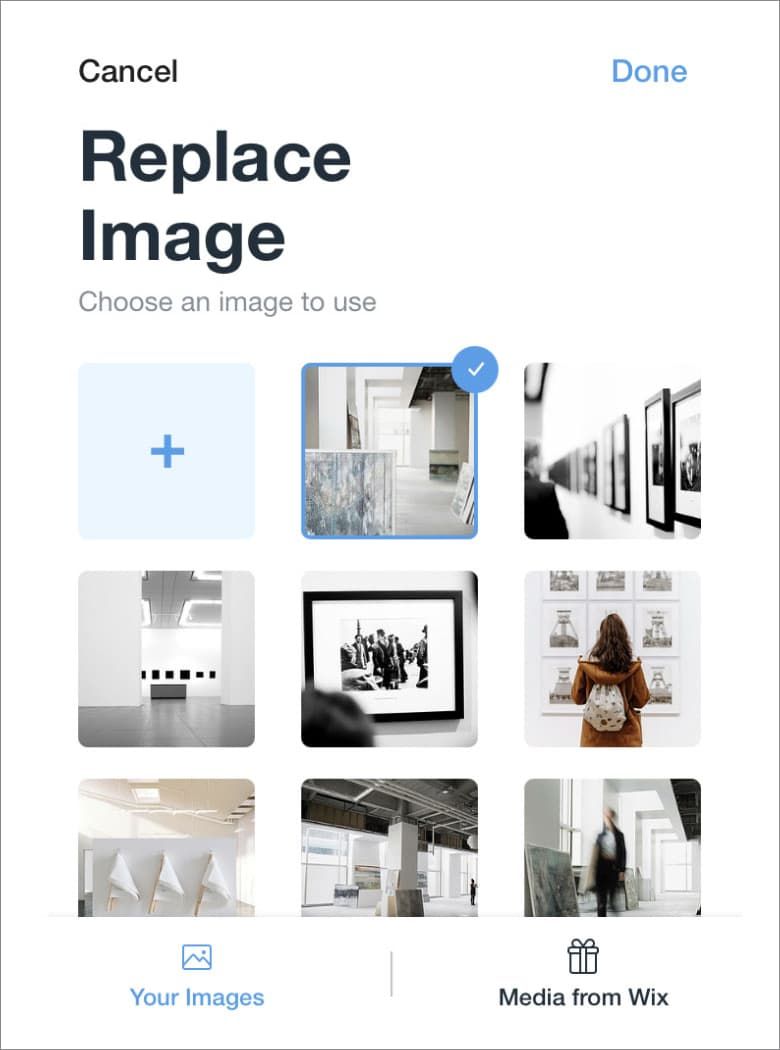 Add image
Mobile Apps in the Wix App Market
Unlike the overwhelming majority of website builders, Wix has its own collection of additional apps and widgets in the Wix App Market. These apps help in adding complementary and sometimes specific options for Wix websites.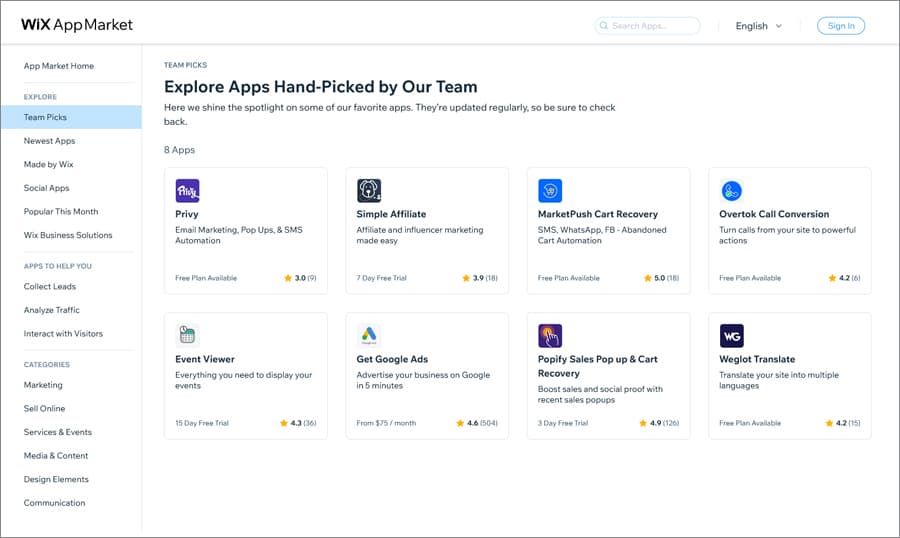 Mobile Apps in the Wix App Market
Some Wix apps are specifically designed and developed for improving mobile websites. Some of them include:
My Mobile App – Based on your Wix website, this free app will automatically create an app for Apple App Store and Google Play.
Poptin: Smart Popups & Forms – This app allows creating popups and forms with advanced settings that will work perfectly both on desktop and mobile websites.
Pricer Ninja – It is a free app that allows the creation of flexible, customizable, and responsive pricing tables for mobile websites.
Wix is a free Mobile Website Builder
In addition to all the above features, Wix is a free website builder. Of course, its free capacities are diluted as compared to the features you get when using the Wix premium plans, but it will be enough to launch a simple mobile website for beginners.
NOTE: The Wix free plan includes a Wix ad on your website and there will be some limitations on using a domain name. Your free mobile site will also have restrictions on Bandwidth (1GB) and Storage Space (500MB). As for the rest, you'll have access to all Wix templates and customization capacities (like premium plans).
Webflow – Dynamic Creator for Crafting Mobile Websites
Webflow is a professional website builder renowned for its extensive customization options and powerful design tools. Ideal for creatives, perfectionists, and those detail-oriented individuals, Webflow puts you in the driver's seat to craft stunning websites.
Unmatched Design Freedom
Webflow's standout feature is its advanced visual editor. Unlike many other website builders, Webflow allows you to create complex layouts with precise control over every element. The platform introduces concepts from web development like HTML and CSS into a visual interface, allowing users to create and manipulate elements in a highly customizable way.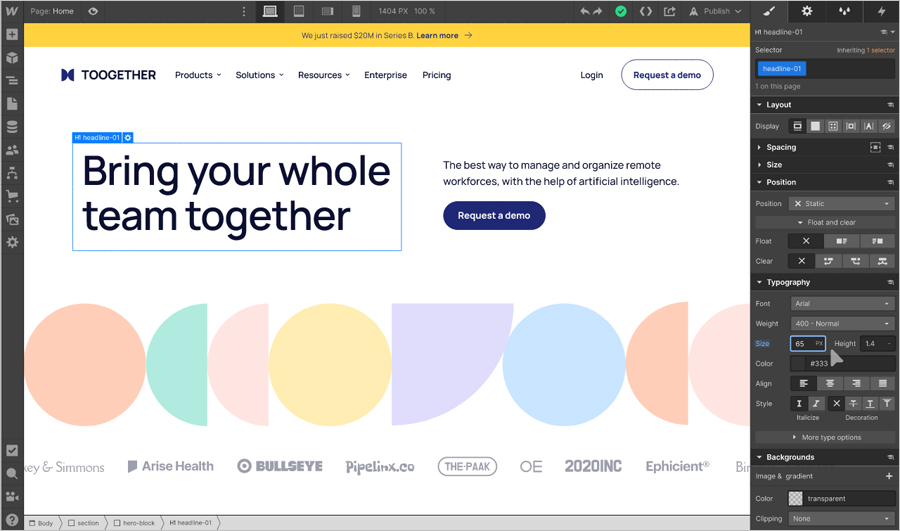 Webflow drag and drop editor
High-Level Customizability for Mobile
One of Webflow's distinguishing features is its high-level customizability, even for mobile designs. You can precisely control the layout, sizing, and positioning of elements on the mobile version of your site. This provides a level of detail and precision that's rarely seen in other website builders, ensuring your mobile site is as refined and engaging as its desktop counterpart.
Powerful E-commerce Capabilities
Webflow is not just for portfolios or business websites—it's also a robust platform for online stores. It offers a range of e-commerce features that let you manage products, customize shopping carts, and even set up automatic tax calculations.
If you're a small to medium-sized e-commerce brand, Webflow provides you with the same level of design capabilities without any transaction fees. Its ecommerce capabilities are fully responsive, ensuring your online store looks great and works seamlessly on mobile devices.
SEO for Mobile
Webflow offers robust SEO tools that are fully functional for mobile websites. You can optimize your site for search engines by editing meta titles, descriptions, and URLs, creating 301 redirects, and generating sitemaps. All these features make your mobile site more discoverable and help it rank better in search engine results.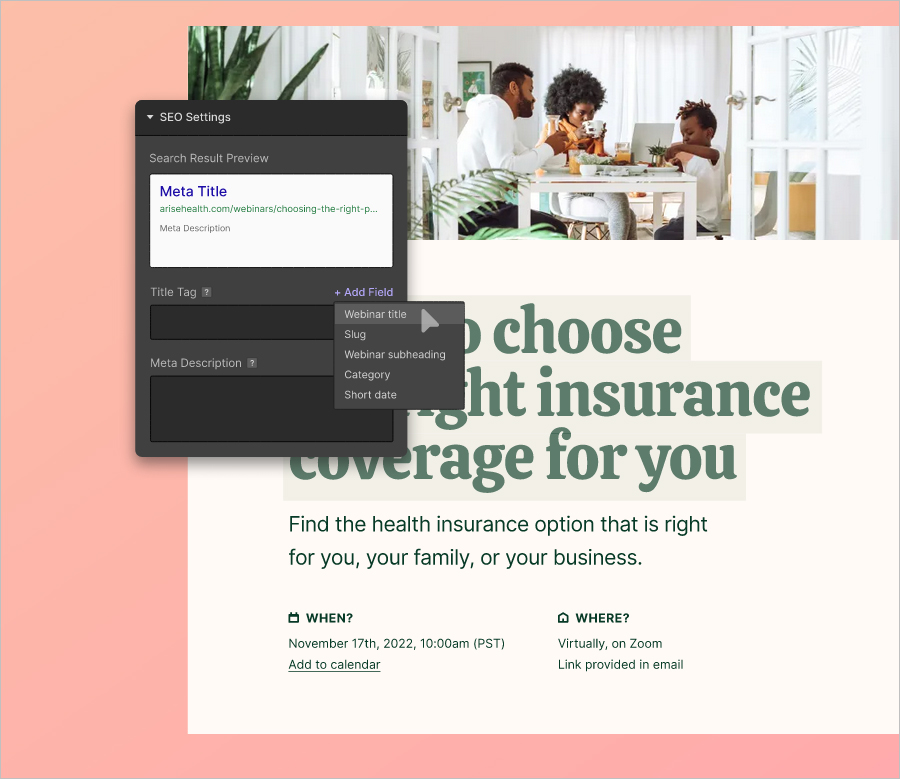 Webflow SEO settings
Comprehensive Integration
Webflow's integration capabilities are extensive. It works with major services like Gmail, HubSpot, Mailchimp, SoundCloud, and Zapier, among others. Though setup requires a bit of effort, the potential for a fully integrated website makes it worthwhile.
Security and Support
Webflow takes security seriously. All Webflow sites come with a free SSL certificate and DDoS protection. Unlimited site backups mean your work is always safe. It's important to note, however, that customer support is not available 24/7, so it's best suited for those who can work within their support hours.
Webflow Plans
Webflow offers a range of plans to cater to different needs. From free plans that let you explore its features, to professional plans with more advanced capabilities, there's a pricing tier for everyone. For those who need it, custom enterprise site plans are also available.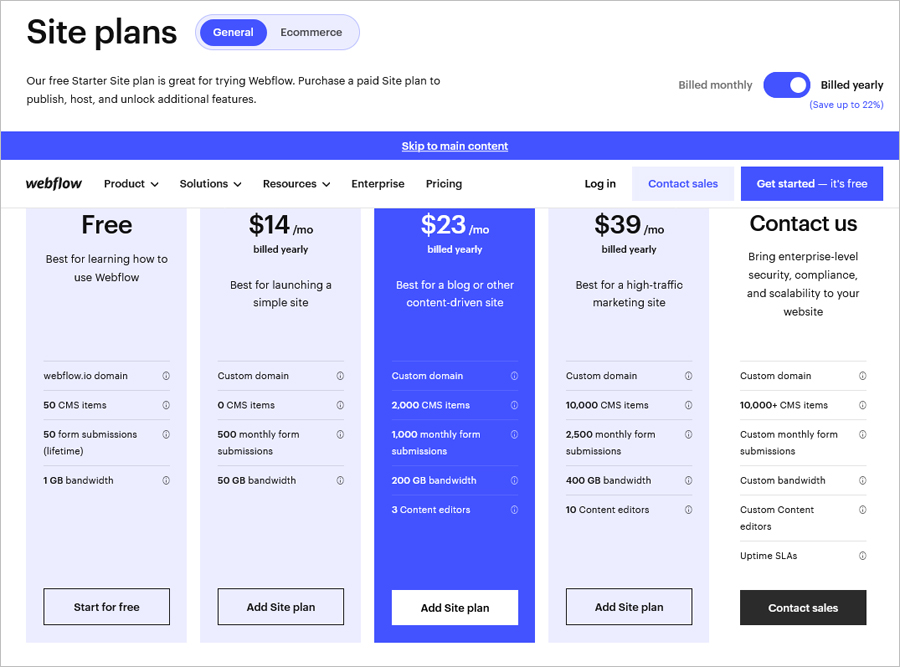 Webflow SEO settings
In essence, Webflow is a comprehensive and powerful website builder that offers a high degree of control and customization. It's a fantastic option for those who want to dive deep into the design of their website and create something truly unique.
Weebly – Perfect for Small Businesses
Like Wix, Weebly is one of the oldest website builders and it also allows building perfect mobile websites.
After a payment giant Square bought Weebly in 2018, a lot of changes have been done in order to fine-tune this platform for business use and making ecommerce sales. And Weebly has indeed succeeded in these areas.
But what about creating mobile websites? Keep reading to find out.
Weebly Drag-and-Drop Mobile Editor
Thanks to a built-in drag-and-drop mobile editor, Weebly allows creating websites directly from your touchscreen smartphone, irrespective of whether it is iPhone or Android-based. You can also develop your website using the Weebly Mobile App. But as I have already mentioned, it is good only for developing quick and simple mobile websites.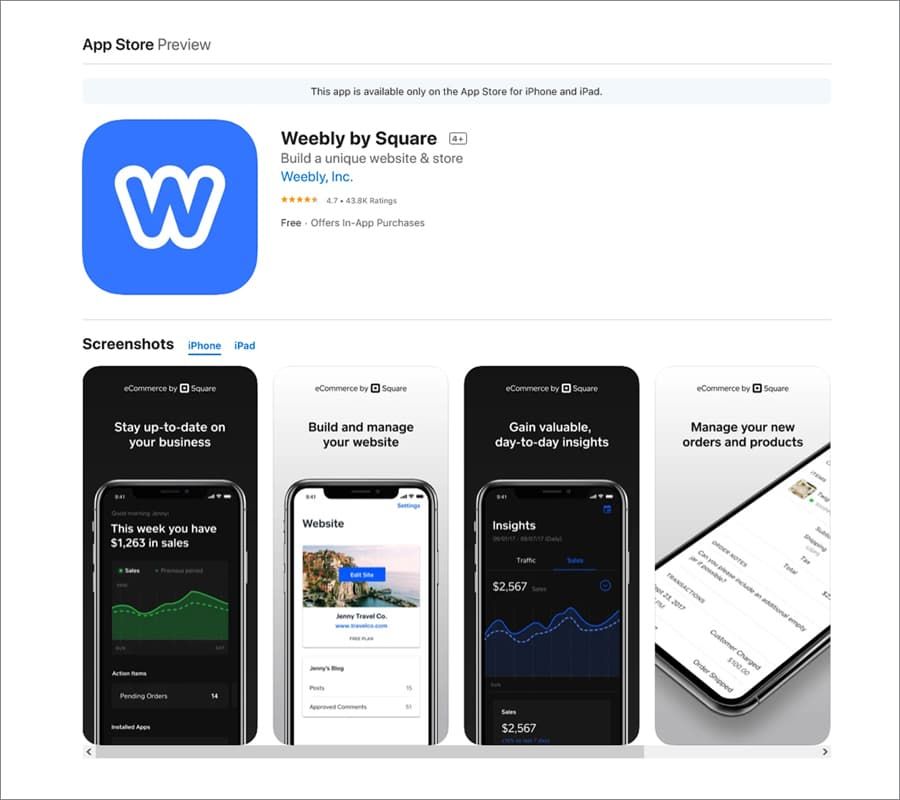 Weebly Drag-and-Drop Mobile Editor
If you are aiming to develop a feature-rich business website, then I recommend using the Weebly drag-and-drop editor on your desktop.
Mobile Responsive Themes
Weebly has tons of professional-looking themes, and all of them are responsive. As for the size of the theme collection, it is smaller than that of Wix but the quality is at par.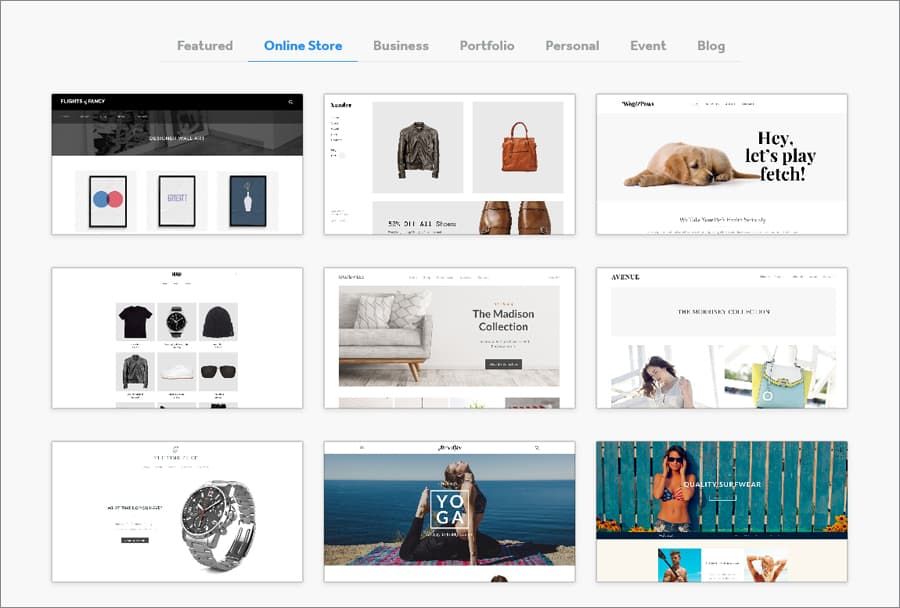 Weebly mobile responsive themes
While creating a website Weebly will automatically create a mobile version as well. But you won't be able to edit the mobile version's content separately (like you could in Wix).
Simplicity of Use
Weebly is really simple to use. You won't need to look at instructional videos or study tutorials beforehand. You can create a Weebly mobile website while you are stuck in a traffic jam in your car or on the subway and have nothing but your phone with you.
NOTE: Weebly's simplicity can partly be explained by the fact that it has fewer functional options as compared to Wix. In comparison to Wix, Weebly's drag-and-drop editor falls a tad bit short on flexibility. And I must admit that Wix's mobile templates have more customization capacities than Weebly.
Weebly App Center
Weebly, as it befits any top mobile website builder, has a large collection of additional apps for website improvement available in the Weebly App Center. And the good news here is that most of them are free.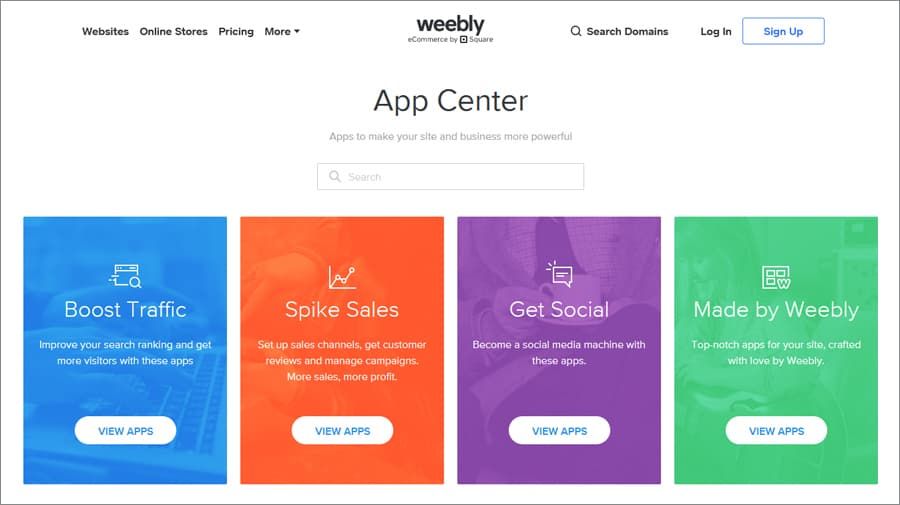 Weebly App Center
And of course, there are certain apps for improving the functionalities of mobile websites. Here are a few of them:
Weebly Is A Free Mobile Website Builder
Weebly has got a basic plan that is entirely free – without any hidden payments or tricks to get access to your credit card (it's sometimes true for dishonest SaaS services).
Notably, you will also receive SEO options and subsidiary SEO guidance for your Weebly website for free.
The lowest Weebly premium plan starts at $6 per month and will allow you to use your own domain name. You can check the cost of other Weebly plans on the official website.
Squarespace – Mobile Websites for Photographers
While Wix and Weebly are similar in their purposes, Squarespace is markedly different. Squarespace shines in all its glory when you need to develop a contemporary website for photographers, artists, musicians, and other creative professionals.
This doesn't mean you can't use Squarespace for creating a common business website though. However, there are more suitable website builders for such a purpose. As for showcasing photos, graphics, musical compositions, and any other artworks – Squarespace is just perfect.
Is Squarespace mobile-friendly? Of course, it is. Check it out for yourself:
Marvelous Mobile-Friendly Themes
Above anything else, I like Squarespace for its marvelous themes. They have got plenty of detailed and beautiful designs. Being a designer myself, I understand their value. And in my opinion, they offer the most beautiful themes among all website builders.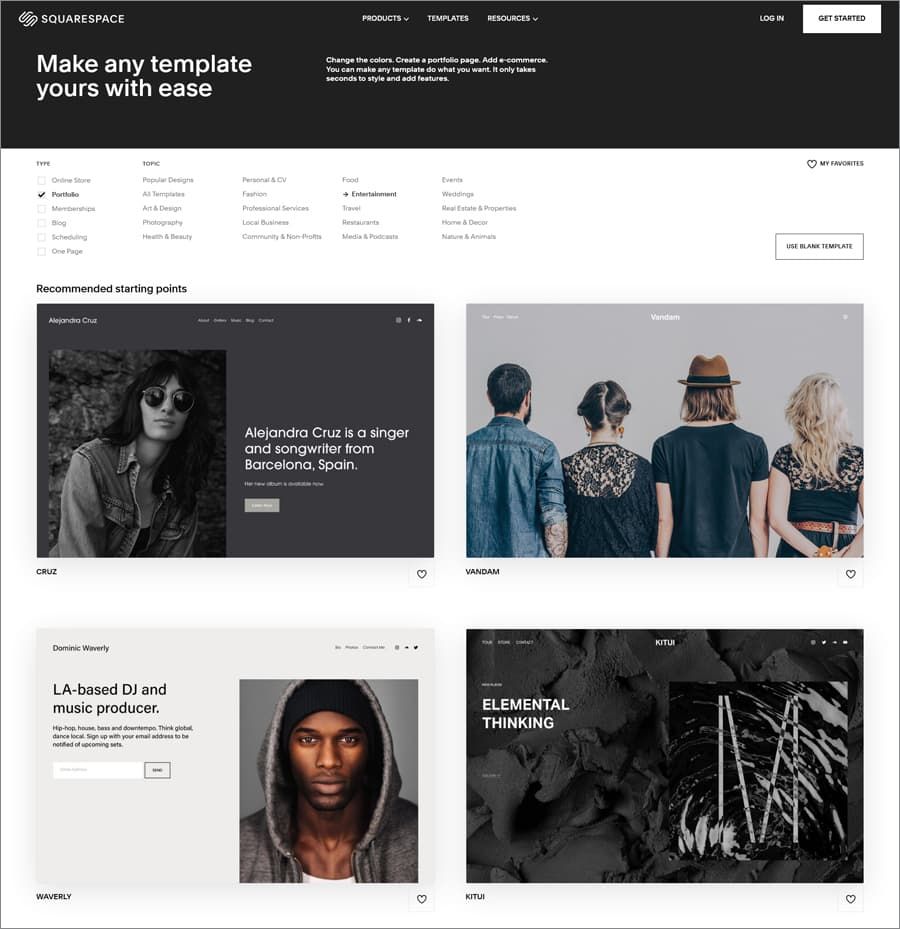 Squarespace mobile-friendly themes
Moreover, all Squarespace themes have an adaptive web design. They automatically adjust to any browser, whether it is a PC browser or your smartphone. Also, no matter what OS you use – iPhone or Android phone – your Squarespace website will always be perfectly displayed.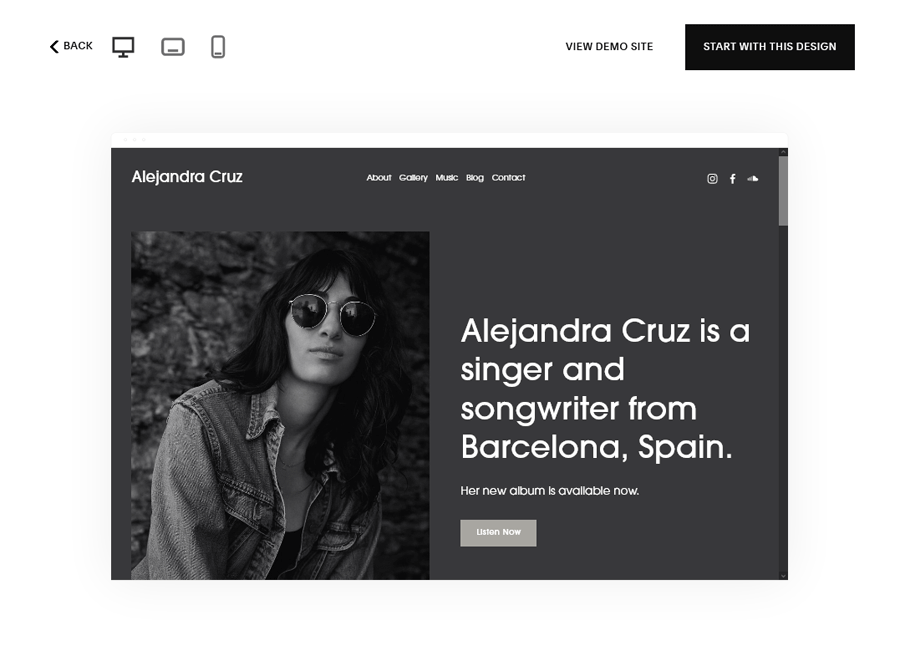 Responsive themes
NOTE: Despite having a positive attitude towards Squarespace, I must admit that Squarespace doesn't allow you to configure the mobile version of your website separately. To be honest, Squarespace developers have sweated over making their full-sized websites automatically adapt to any screen size. And it must be acknowledged that it works well. But if you want to change something in the mobile website version, you don't have an option for that. An alternative way is to make minor adjustments in the Squarespace Style Editor. Also, those having better design skills will be able to better configure Squarespace for mobile devices.
Displaying High-Resolution Photos On Mobile Websites
It is very important for photographers and artists to have high-resolution photos on their websites. Squarespace allows uploading high-resolution images to websites and viewing them both via desktop and mobile devices.
It's a pretty rare thing among website builders since the image size and quality usually tend to worsen when using mobile browsers.
Ample ECommerce Possibilities
Squarespace is one of the best website builders for creating small online stores. In addition to the fact that the store would look perfect, there is no limit to how many goods you can upload to your online store.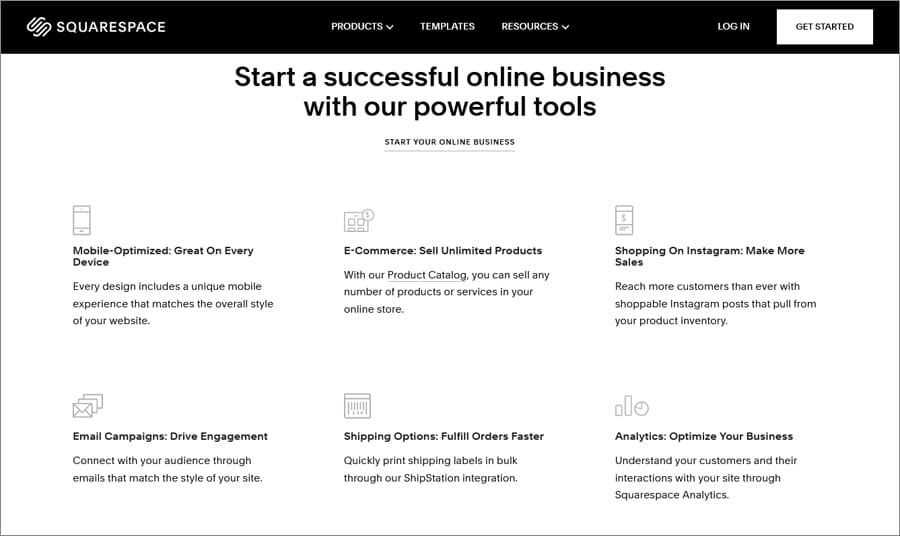 Ecommerce options of Squarespace
Plus, you don't have to pay transaction fees and you get lots of additional ecommerce options too. All this, put together is enough to explain why Squarespace is so popular.
NOTE: It is important to know that Squarespace doesn't allow any additional app installations. It has no App Store (like the Wix App Market or Weebly App Center). You must rely solely on the existing built-in tools. This is one of the main reasons why I've placed Squarespace at the third position on this list.
Allows Managing Multiple Websites
Squarespace is well suited for managing multiple websites. You can edit and manage several websites at the same time using one Squarespace user account. It's an indispensable option for businesses with multiple online stores or web design agencies with a lot of client projects.
Squarespace Isn't Free But Comes At An Affordable Cost
Unlike Wix and Weebly, Squarespace doesn't have a free plan. But you do get to try it out for free with the 14-day trial.
Squarespace premium plans also have decent enough prices. The Personal plan will cost you $144 a year or $16 if you pay monthly. It is the basic Squarespace plan, but its capacities are greater than the starting plans of most other website builders.
For example, you'll get unlimited bandwidth and storage, free custom domain, free SSL certificate, and SEO tools. It's good enough for a basic plan, right? You can get more pricing details on the official Squarespace website.
Shopify – The Best Option For Building Mobile Ecommerce Sites
Shopify is one of the most popular website builders in the world. This is true even with the fact that it isn't free, and its premium plans are one of the most expensive among website builders.
That's because Shopify is an incredibly powerful ecommerce platform with a huge number of options for creating and managing online stores. This also includes some options for electronic commerce through mobile devices. And Shopify has succeeded in the sphere like no other online website builder.
Let's find out more thoroughly why Shopify is in high demand, despite its high costs.
More Than Just An Ecommerce Website Builder
For a long time, Shopify has gone beyond a common website builder, whose only purpose is website development. It is a feature-loaded business platform that allows not just creating online stores but also managing the whole ecommerce business using a single Shopify App.
In addition to that, with Shopify, you also get powerful marketing tools, options for accepting payments through Shopify Payments, goods delivery via Shopify Shipping, and integration with Amazon, eBay, Instagram, and Facebook.
Actually, you get a ready ecommerce business on a single platform. Moreover, you can manage your business from anywhere in the world with just your mobile phone. And it really works as well as it promises.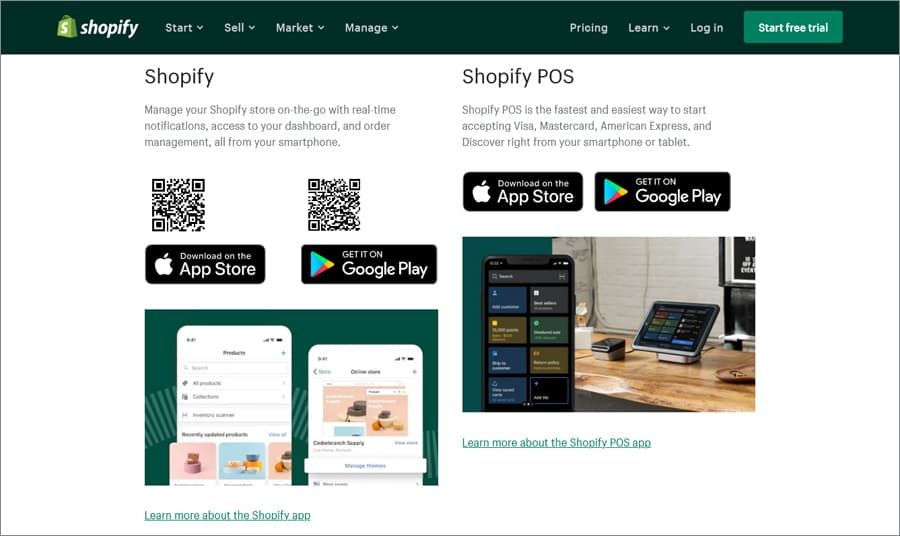 Ecommerce options of Squarespace
NOTE: A quick word about Shopify Shipping. Shopify Shipping makes it cheaper to deliver goods across the USA by banking on Shopify's partnership arrangements with USPS and DHL. The savings on delivery can amount to up to 88% in some cases. That's why if your clients are from the USA, then using Shopify can be particularly beneficial for your business.
The Shopify App Allows Convenient Management Of Purchase Orders, Products, And Their Delivery
Shopify has a single mobile app that makes it easy to manage your entire ecommerce business directly from your iPhone, Android smartphone, or any other mobile device.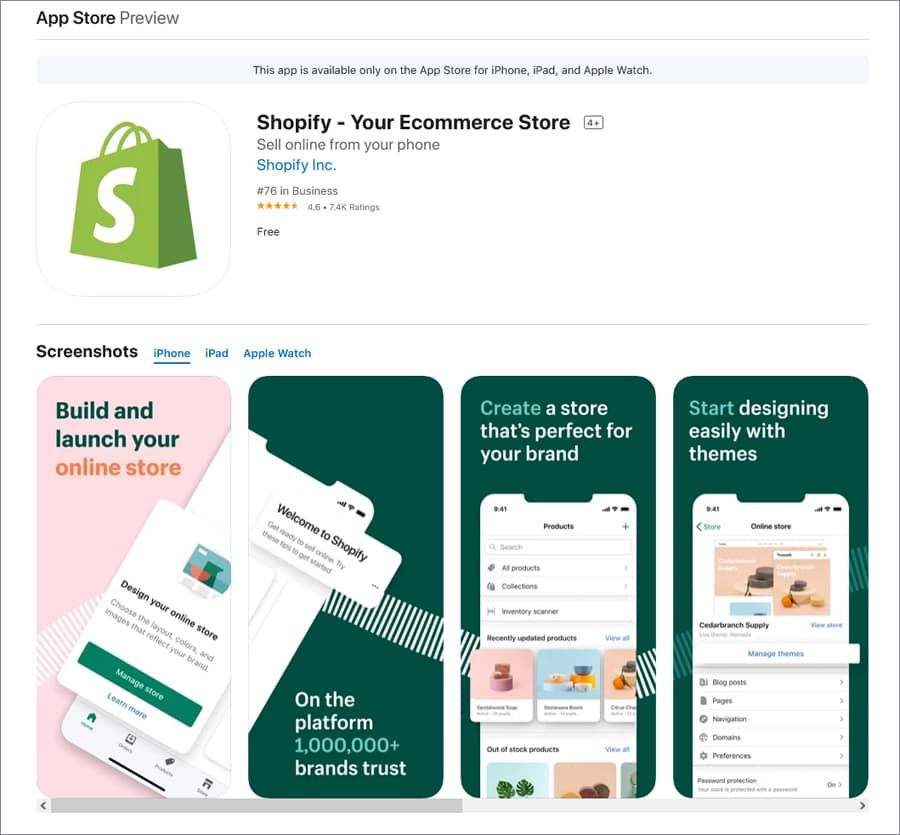 Shopify mobile app
The Shopify App allows you to add new products to your online store from your phone, delete the unnecessary ones, edit the product descriptions, and add or delete the product photos.
And that's not all. You can also approve purchase orders, arrange refunds, control delivery, monitor attendance, conversions, and sales for any period of time, and even manage your staff. Yes, all this is possible with just a single app on your mobile phone.
Excellent Mobile-Friendly Shopify Themes
Shopify has a number of free mobile themes. More than 100 actually. And it isn't surprising, given that Wix has got more than 500 themes.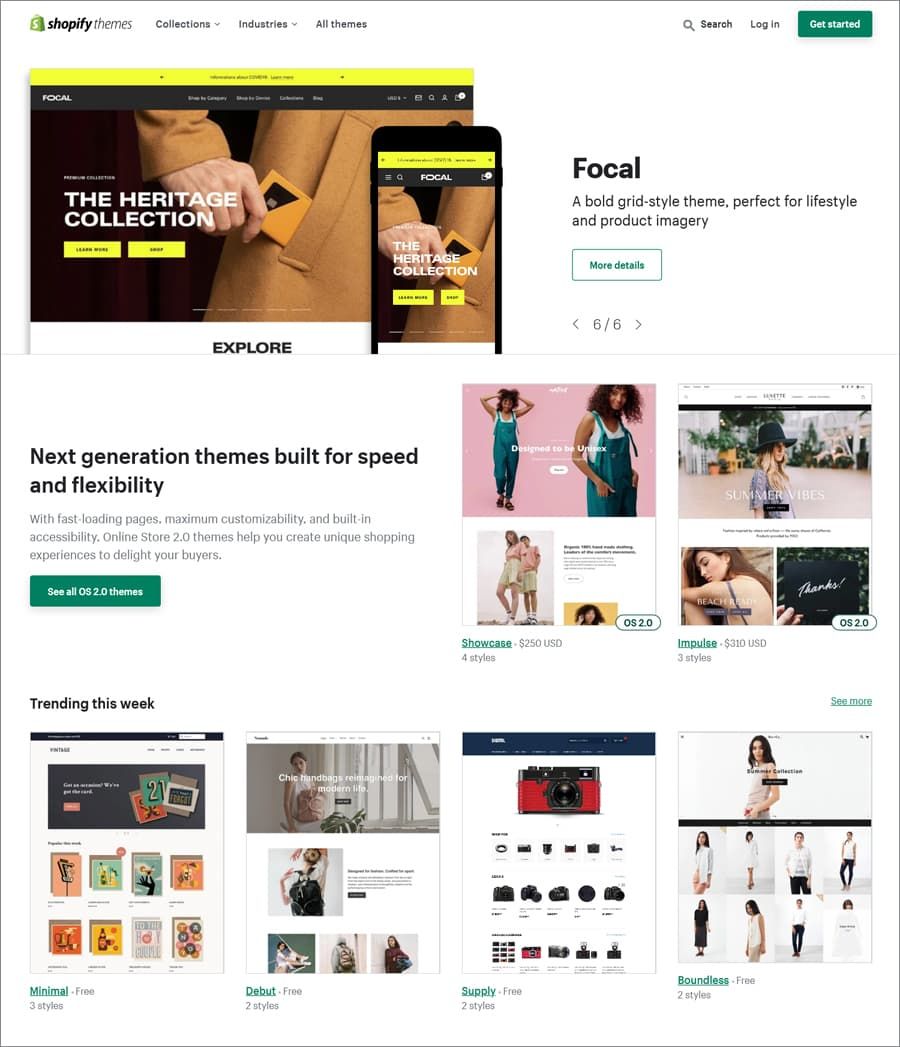 Mobile-Friendly Shopify Themes
But what about premium mobile themes? Third-party developers create premium responsive mobile themes for Shopify that can be bought individually. More than 1300 such premium themes are sold on ThemeForest, the largest Shopify themes library on the web.
These themes not only have a mobile-optimized layout but also have several other advantages in comparison to the free ones, including:
Flexibility (they consist of flexible content blocks)
Multiple headers and footers
Multiple headers for mobile version
Support for video content
And the main advantage of premium themes is that they are used less frequently than free ones. That's why if you go with a premium theme, your website is likely to have a more unique design, which is an important factor in many niches.
Upgrade Your Mobile Site Using Additional Apps
Like other top website builders, Shopify has its own library of additional plugins and apps – the Shopify App Store. There are both premium and free apps that can be used for adding more functionalities to your Shopify site.
The most spectacular options for mobile sites include:
How Much Will It Cost To Launch A Mobile Website On Shopify?
It's not difficult to guess that such a powerful platform like Shopify won't have a free plan. The most affordable Basic Shopify plan costs $29/month and will be good for creating a simple, small ecommerce website.
NOTE: I must admit that there are more affordable solutions for creating a small online store. For example, it's possible to create a marvelous responsive online store on Squarespace for $20/month, and in so doing, you'll get more functional capacities than with the Basic Shopify plan.
But Shopify is the best option when it comes to creating large online stores with an assortment of goods in numerous categories. For this, Shopify has a more powerful plan, which is priced at $79/month. And trust me, the cost is nothing in comparison to the advantages that your online business will get thanks to Shopify.
People who make millions of dollars from online sales have long realized Shopify's advantages and the benefit it gives in the long term.
Jimdo – The Simplest Mobile Website Builder App
Jimdo isn't my favorite tool, since this builder is inferior to Wix, Weebly, and Squarespace in terms of possibilities.
But Jimdo has one of the easiest website apps – the Jimdo Creator. It's so simple to use that, I guess, my dog could have built a website on it (if he weren't blind because of old age!).
And yes, it's free. Here are the links to download Jimdo Creator for Android and iPhone.
What else is remarkable in Jimdo for creating mobile websites? Take a look.
Jimdo Mobile Website Templates
All Jimdo website templates are responsive. They adapt to any screen size automatically and you don't need to take any extra steps for that.
In fact, the website you are going to build on Jimdo will also be displayed on mobile devices by default. There's nothing new in that, just a good-to-have feature.
Like Wix, you can switch between desktop and mobile versions while you are building your website. It's a very user-friendly solution that will allow you to see how your website will look on mobile phones even before you launch it.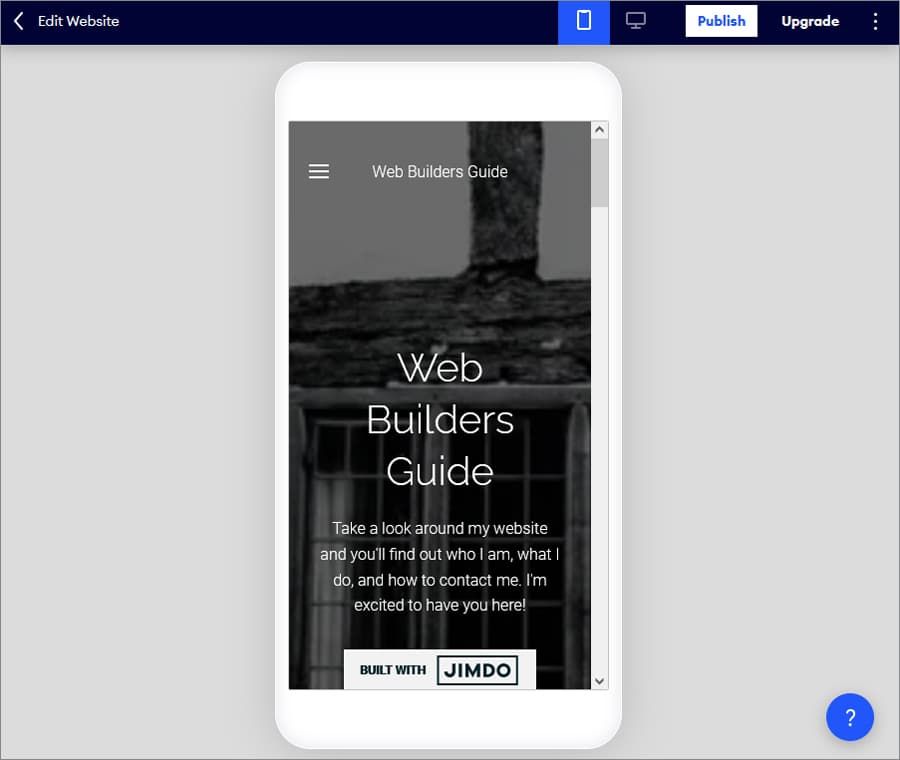 Jimdo Mobile Website Templates
It Is Very Simple
Obviously, Jimdo understands that it will be hard to compete with other builders, so it bets on offering maximum simplicity and user-friendliness. Just like Jimdo Creator App, the desktop drag-and-drop editor is also simple. This is also because it uses AI (We'll talk about this later!)
While using Jimdo, I couldn't help but feel like I was dealing with a lite version of Wix. The similarity was striking but there were fewer customization opportunities, settings, and templates. Also, the flexibility of the drag-and-drop editor was low.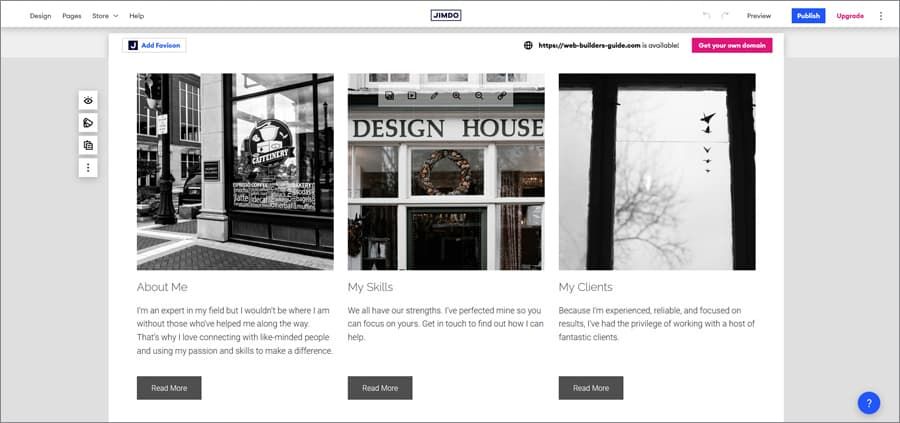 Easy-to-use Jimdo editor
But that's why Jimdo turned out to be even simpler than Wix (though Wix is one of the leaders in the simplicity of use).
Taking into account my experience in website development (not just with website builders), I was not satisfied with Jimdo Creator. It is only my subjective opinion, though.
The hundreds of positive user reviews on Google Play and the App Store are the best confirmation of the fact that non-designers and business people do need such simple solutions. This is true even if they get simplicity at the expense of functional capacities.
Jimdo user reviews
Jimdo Dolphin – Build A Website In Three Minutes
Jimdo turned out to be one of the first website builders that created a website builder with AI – Jimdo Dolphin. It is a smarter Jimdo version aimed at virtual website development without the user's participation. Users only have to enter the data about the website they want, answer some questions, and choose the style and design, and color schemes. After that, Jimdo Dolphin will give you a ready website. And all this requires only a few minutes.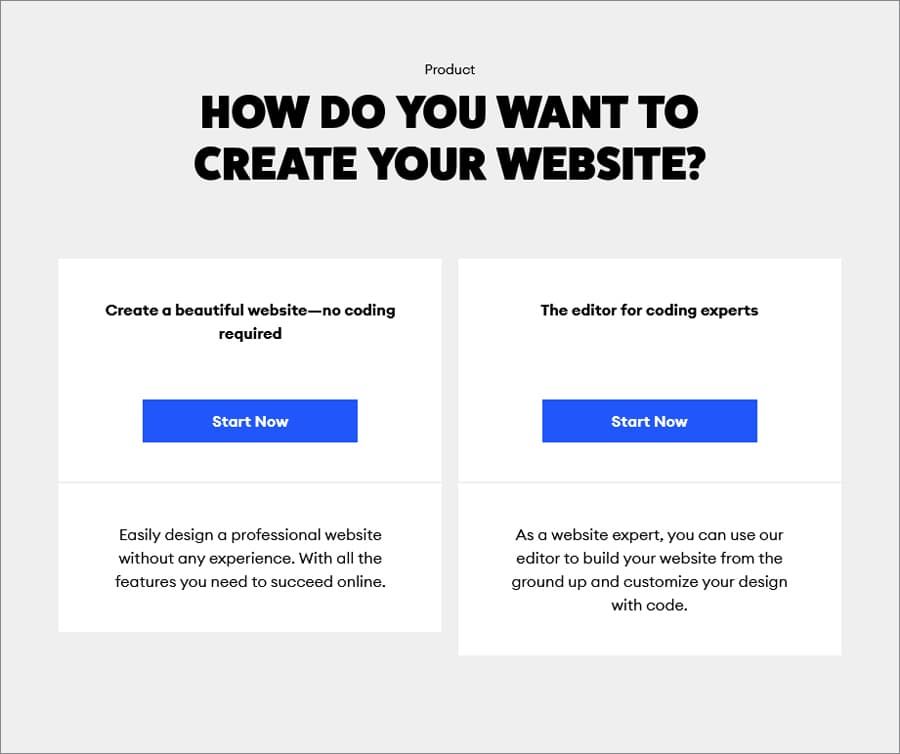 Jimdo Dolphin
Like Jimdo Creator, Jimdo Dolphin is fully responsive for mobile devices. The website will look perfect not only on PC screens but also on tablets and smartphones.
Another Jimdo Dolphin advantage is that it can automatically fill the website with content. Of course, AI won't do your job and write articles for your blog, but it can find some information about you or your company, and let's say, fill the About Us page.
The same is true for searching appropriate images for your website – just leave it to AI. If you won't like something, you can always edit it afterward.
Jimdo Is A Free Mobile Website Builder
Jimdo is a free website builder by default, without any limits on usage. Of course, you won't get to use your own domain name, but it will be enough to develop a small website, that is available for users on desktop and mobile browsers.
Another Jimdo pro is that it has got very low premium plan prices. For example, the "Start" plan will cost you only $9/month. It will solve the problem of Jimdo ads and allow you to choose a custom domain. But you can only add up to 10 pages.
If you need more pages, then you can go with the "Grow" plan for $15. It allows up to 50 pages for one website. Moreover, you'll get much more bandwidth (20GB) and storage (15GB). This will be enough for making a medium-sized business website.
What is remarkable is that all Jimdo plans (including the free one) are mobile-optimized. And that's why I've placed Jimdo on this review.