The Best Ecommerce Website Builders for Online Store
WebBuildersGuide.com earns commission from some of the web builders and hosting providers listed on this website.
Learn more
The virtual world of business is alive, thriving, and kicking like never before, and each passing day is witnessing several passionate, confident, and adventurous small and medium sized business jump on to the eCommerce bandwagon. Among the major forces that are responsible for this are top website builders for ecommerce that let users create ready to roll and fully functional web stores.
How does an eCommerce website differ from a general website?
Mostly, the points of differences between general and eCommerce specific websites arise from the resource requirements of the latter. Here are some of the most remarkable differences between any general website, and an eCommerce website:
Importing data – eCommerce websites invariably need the facility of importing data in certain formats from pre-existing files.
More bandwidth – If not unlimited, an eCommerce website indeed solicits higher bandwidth windows than what you'd normally have with any general websites. This is because you just can't afford letting the website go down when prospects are looking for making purchases on your store!
Shopping cart – Pretty obvious; a shopping cart is what enables the checkout process in the web store, and uses other tools such as integrated payment gateways to allow visitors to make purchases. This is the life and soul of the web store.
Strong and extensive customer support mechanisms – Just a contact us page is never enough with a web store; what you need is a bucket of customer support tools such as live chat, toll free telephonic support, and email ticketing system.
Extensive marketing functionalities – In order to really make your business grow, you need the leverage of tools like newsletters, coupons management, online campaign management, etc.
NOTE:
For a better understanding of modern online stores, check out these 20 eCommerce website examples. Here is a collection of different live online stores built on different ecommerce website builders and CMS.
Issues to consider before going shopping for an ecommerce website builder
Any amount of forward planning and research that you can put in before deciding upon the ecommerce website builder is worth the effort, and is bound to save you from dozens of hassles at a later stage. There is no single size that fits all requirements, and you must know your own business and its future requirements well before you take the leap into online selling. Ask yourself, have you considered these integral issues before choosing the best ecommerce website builder?
What are you planning to sell? – The answer to this question can help you narrow down on a very few ecommerce website builders, filtering out those that would prove to be inapt for the kind of selling you need to do. For instance, if you are just going to sell digital products such as musical pieces and eBooks, you might want to go for a no frills and simple builder. On the other hand, if you will be selling physical goods, you would have to go for a solution that comes with inventory management functionality, tax calculations, stock keeping, etc.
What degree of customization flexibility does the website builder offer? – Right from needing to change the look of the website regularly to altering the functionalities of the platform, your web store management could land you with several requirements. You will really find it tough to be forced into submitting to the limited customization flexibility of a platform if you don't anticipate such requirements beforehand.
Are there any data import requirements? – Having to do a lot of manual data entry right at the initial phase of your web store development is not the best beginning. So, if you have a lot of digital data that would need to be imported into the best ecommerce website builder, ensure that you check out the options before taking the leap.
What kind of reporting you expect from your eCommerce platform? – Unless you are just experimenting with web based selling, you would really want to have some rich reports coming your way every week or at the end of every month. Does the website builder you are opting for provide such reports? If not, how do you plan to devise online marketing strategies in the future? This gives rise to another question – what kind of web campaign management tools are built into the platform?
Is there a theme store available? – Differentiation is the key, unless you are selling specialized goods and services that speak for themselves. So, you would certainly need to look different from businesses using same ecommerce website builders. If there are extensive design customization options available, then you might manage to lend your own touch into the outlook of your web store. Also, if there is a dedicated theme store with the website builder, you will get the option of choosing from some premium designs that can make your visitors stop and buy something.
What are the other factors that you need to be aware of? – Well, this is not it. There is so much more that you need to be vigilant and smart about before you opt for a particular ecommerce website builder. Here are some quick pointers:
The kind and frequency of updates provided by the service
Availability of 24×7 support
The complexity of the checkout process
Ease of using the admin dashboard
TOP Ecommerce Website Builders:
Shopify ecommerce website builder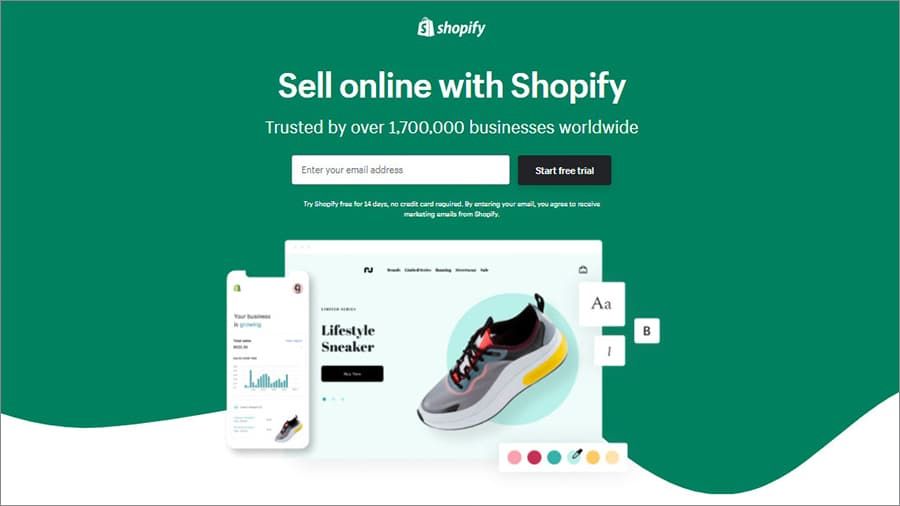 Handling payments directly, providing cutting edge shipping and mobile commerce functionalities, enabling easier web marketing, and plugging in a whole lot more to help you sell more and sell better, Shopify is right up there with the best website builders for ecommerce. Here's more on some of the most remarkable features from Shopify.
Fewer abandoned orders – The abandoned checkout recovery feature deserves a special mention here. Reports claim that one third of online orders never see the light at the other end of the purchase process. With this feature, you can send emails to prospects who don't complete their orders. That's a sure shot way of getting more sales from your web store.
Complex shipping calculations made easy – Right from having all sorts of shipping calculation tools to automatic feed of shipping prices from major carriers, the shipping functionality of Shopify's eCommerce solution is a winner all the way.
Made for international selling – If you intend to go global in your web store selling, you have a lot to be pleased about Shopify. Here's a quick look:
A number of local currencies to pick from, subsequent to which major country and state taxes are automatically calculated.
More than 50 languages for the website checkout
Support for more than 70 payment gateways, including credit cards from across the globe
Mobile Commerce enabled – Serving you on-the-go sales statistics including inputs on most searched items, and letting you update the store as you move, the mobile commerce shopping cart multiplies the potential of your web store many times.
Dynamic services that are growing with times – Shopify's dedication to providing scalable and dynamic ecommerce solutions to growing businesses is well exhibited in the launch of its new product – Shopify Plus, its ecommerce solution for large businesses. With a dedicated project manager, increased API calls, preferential access to beta versions, and separate accounts manager, the Shopify Plus offering has a lot in store to gather the attention of the big boys of business. Find out more about Shopify from the detailed Shopify review.
VIDEO Tutorial – How to create a professional online store by using Shopify?
Wix ecommerce website builder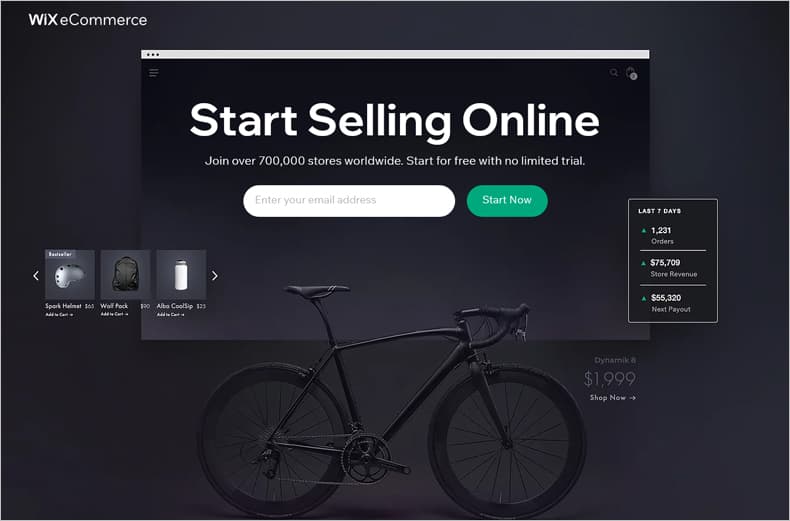 We've already featured WIX as on of the perfect free website builder. Also Wix offers you the facility of integrating a web store right into your website, and that too with some pretty impressive functionality added into the mix.
Ample payment methods – PayPal and Skrill are two of the most commonly used payment methods these days, and Wix allows your customers to pay using these as well as many more payment methods.
Hassle free tax and shipping charge calculation – You don't have to worry about manually intervening in every sale to define the taxes and shipping charges. Wix's smart systems let you define tax rules and shipping charges within a very short time.
Experiment with your products – Right from creating product collections to defining products based on varying attributes such as colors, sizes etc, Wix lets you do web store management easily.
Agile inventory management – You can manage and update your inventory without having to enter the editor; just use your Account page.
Unlimited styling – If you are looking for a differentiated outlook for your web store, depend on Wix's massive number of customization options to add on to the attractive web store templates.
Coupons – You can easily plug in coupons into your selling to attract visitors and convert them into customers.
Let buyers shop on the move – Your desktop web store automatically gets optimized for mobile viewing, and this increases your selling potential.
BigCommerce Website Builder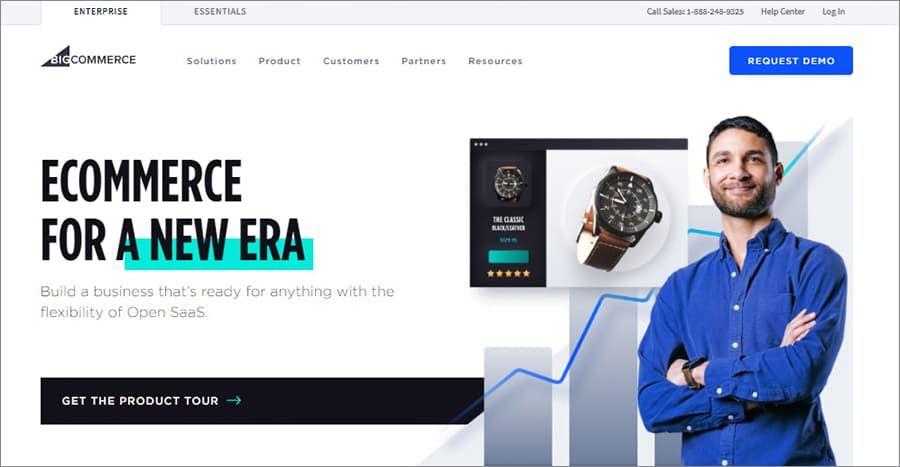 BigCommerce is one of the best ecommerce website builders, offering lots of customization options and pre-made store templates to users. Extensive reporting, in-house credit card payment processing, point-of-sale system, and marketing features are just a few of the specialties broughtby BigCommerce to your virtual selling space. Serve customers better with well thought out functionalities provided by BigCommerce. Here are some of the best ones.
A toolbox that can take you places – Though all the best ecommerce website builders come with loads of tools, BigCommerce scores more on including relevant and practical ones into its offering. Tools such as coupons creation, campaign management, integrated email newsletters, social sharing etc. are bound to impress you. In addition, there are advanced shipping and tax calculators, 60+ secure payment gateways, product reviews and product wish lists tools, plus returns handling mechanisms – all making it a complete and powerful selling platform. If you can digest more, there's an app store that lets you find specialized tools for selling and marketing functions.
Exposure unlimited! – BigCommerce wind hands down in terms of helping you reach out to audiences. You can set up a synced up Facebook store, and then synchronize your BigCommerce store with all popular social selling platforms like eBay, ShopZilla, BizRate, Google Shopping, PriceGrabber, etc. This way, your store's visibility improves manifolds, which is something that can land you with more business.
More killer quotient – There is still more to be explored; and the following features provide for a quick tour through BigCommerce.
Limitless customizations for your products and flexible product and inventory management
Powerful SEO functions to catapult your web store into higher echelons of Google's search result pages
Customizable CSS and HTML, to make sure that your web store looks the way you want it
Abandoned cart saver to give you better chances of converting prospects into customers
Mobile optimized store for more selling to customers who prefer shopping on the move
Volusion Web Store Builder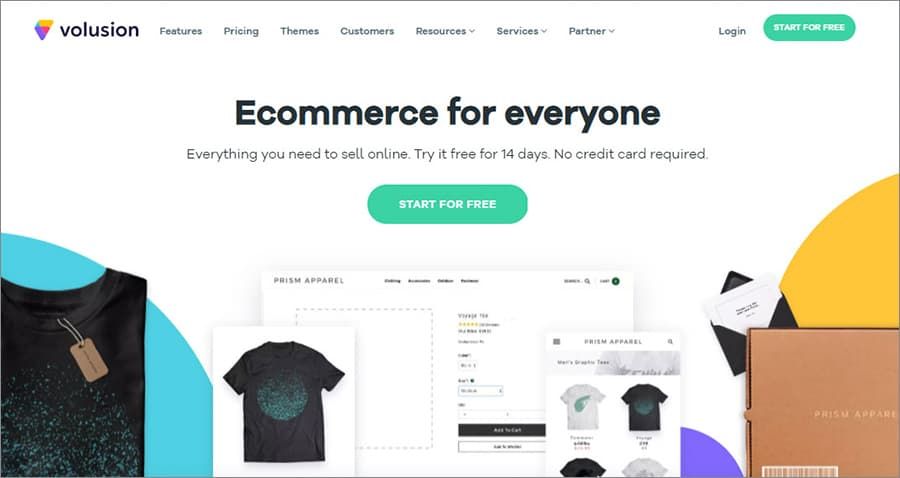 Who has the time to learn the technicalities of ecommerce platforms, with competitors breathing down their necks? No wonders, businessmen re always hunting for superb web store builders. Volusion is ideal for busy entrepreneurs, helping them to quickly activate their online stores without any technical knowhow. Here's more on how Volusion is a decent bet for any businessmen looking to create a web store.
Blissfully Easy To Use – Just sign up, select any of the amazing themes, and add your products. Volusion comes to you with more than 350 sophisticated ecommerce templates relevant for a whole range of niches. These include free, as well as premium templates, many of which are mobile responsive as well.
Enjoy the power of bolt-ons with Voluson App Store – Though Volusion is considered among the more sophisticated ecommerce website builders, it also offers a pretty resourceful app store, having dozens of smart add-ons for your web stores. Developed by dedicated ecommerce tool developers, these apps help you integrate your store's operations with external systems such as accounting software and mail clients, and also help you manage important activities such as promotional campaigns, CRM, newsletter campaigns, etc in a more efficient manner.
SEO Capabilities to Empower Your Store – Volusion sets itself apart from several other ecommerce web store platforms because of its user friendly SEO and marketing functionalities. All plans offer varying degrees of SEO capabilities. You can create snippet displays for your store's products, which helps draw in more shoppers from search engines by showcasing information such as star ratings, stock availability, and pricing directly on the search engine result page.
Sell More With Volusion's Marketing Capabilities – Volusion lets you sell via social media, by helping you manage your Facebook store from the integrated dashboard. Then, you can easily generate and submit your store's sitemap. Also, you can leverage shopping feed capabilities of Volusion to list your products on Google Shopping, etc. With the premium plan, you also get the facility to integrate your eBay and Amazon e-shops to your hosted web store on Volusion.
There you have it; Volusion is a fully loaded ecommerce store builder, with plans that suit all kinds of user requirements, and features that help entrepreneurs and businessmen sell easily, quickly, and more importantly, sell more:
Volusions offers its ecommerce store building platform in the form of 4 different plans, called, Mini, Plus, Pro, and Premium. You can take the free 14 day trial to get hands on experience of the website builder.
As you move towards the higher end of the pricing spectrum with these plans, you get more bandwidth, the ability to add more products, and of course, access to all the premium features.
Also, the Pro and Premium plans come to you with new-age features such as Customer Loyalty Plan, and Deal Of The Day, both of which help drive sales and enhance customer lifetime value.
With dedicated apps, it's always easy to scale up your store for any of the critical aspects of selling digitally in a seamless manner.
Volusion offers a decent range of mobile – ready templates, that you can leverage to get yourself a web store from where you can sell effortlessly to shoppers on the move.
You need not worry about core aspects of web store creation, such as hosting, as Volusion handles it all for you.
WebNode Online Store Builder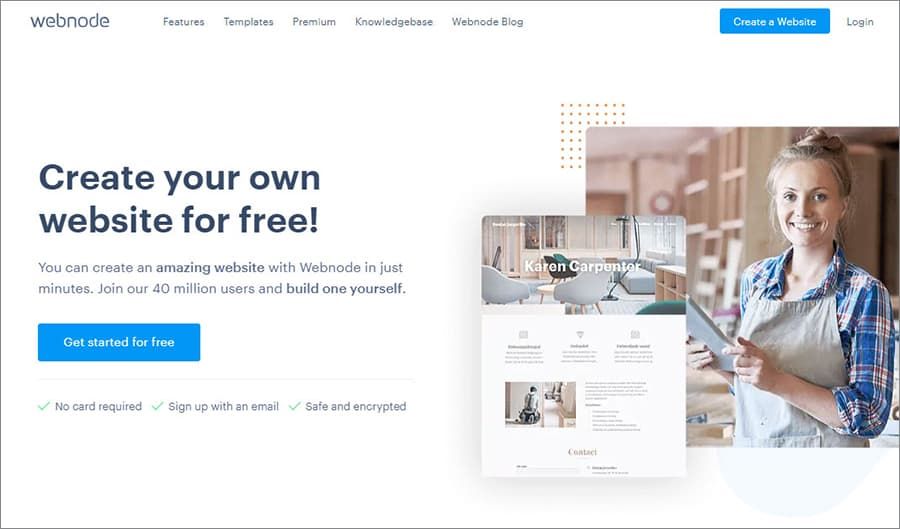 Webnode is an open-source e-commerce solution that's been around for over 7 years now. Over 20 million users worldwide have used Webnode to build personal, and business websites. Alongside with cheap prices the platform offers users all sorts of customizations and a drag and drop live editor to help you create a unique website easily. Thanks to the intuitive interface, anyone can create robust e-stores in a few simple clicks without having to write a line of code, unless you want to.
Easy Ecommerce Functionalities – With WebNode, growing start-ups can really kick-off their business on a global scale. Choose a store template to add your products, upload images, and you're ready. There are over 18 e-commerce tools that let you insert multiple product catalogs, add the popular payment gateways, change currency and integrate shopping carts. You can even feature reviews, customer ratings, and testimonials on the homepage of the store to attract more leads. The built-in SEO tools allow you to set your store up for enhanced web visibility. Tweak the HTML source code, edit the CSS – do everything you want to make your e-store unique.
Store Customisation – Webnode is the ultimate e-commerce customization solution that lets you add and manage multiple product catalogs with a single account. The drag and drop interface is equipped with analytics tools for tracking and effectively channelizing traffic. The templates are all optimized for mobile devices. Here, you can create stores in a few clicks, manage all your orders straight from the dashboard, and generate performance reports using Google Analytics tool. Also, connect with the big-shots like Amazon and eBay and link your products to price comparison portals- it improves the credibility of your website. The latest launch by Webnode is the eShop store building tool that allows people to set up their business and start selling stuff in a day.
Weebly ecommerce website builder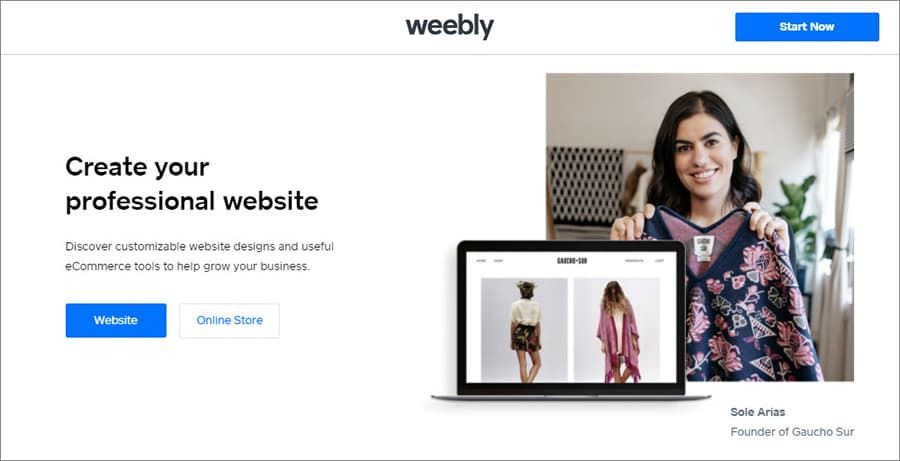 A recent overhaul, concluded November 2013, has transformed Weebly from an experimental platform to something that's well and truly a complete web store development platform. Purely in terms of ease of usage and sufficiency of tools that help a small and medium sized business get up and running, Weebly's ecommerce solution deserves a place in any top 5 list. With more than 30,000 web stores already having been set using Weebly, there are enough testimonials that can convince those looking for an agile ecommerce website builder.
Vibrant storefront to showcase gripping products – Weebly lets you create a storefront for your website that can go a long way in impressing visitors with the first sight. You can easily add categories and products to feature on the home page of the store.
Customize your products – If your product lines have decent product depth, then Weebly's web store builder is perfectly suited to you as it makes product customization easy.
Flexible shipping and tax rates – It is pretty easy to configure your webs store to calculate shipping prices and taxes based upon the location of the customer.
More features up Weebly's sleeve. Here's a quick look at more useful features that you get through Weebly:
Enabling you to sell digital content as product; a secure link is emailed to customers post the purchase
Sell all the while, courtesy efficient mobile version of the store
Manage inventory easily and update stock availability to reflect right on the product pages
Filtered search option for customers to make store browsing more convenient and quicker for them
Create coupons of all sorts and make shopping more exciting for customers
Import data into or out of the store in CSV format
SSL and PCI compliant web stores
Jimdo ecommerce website builder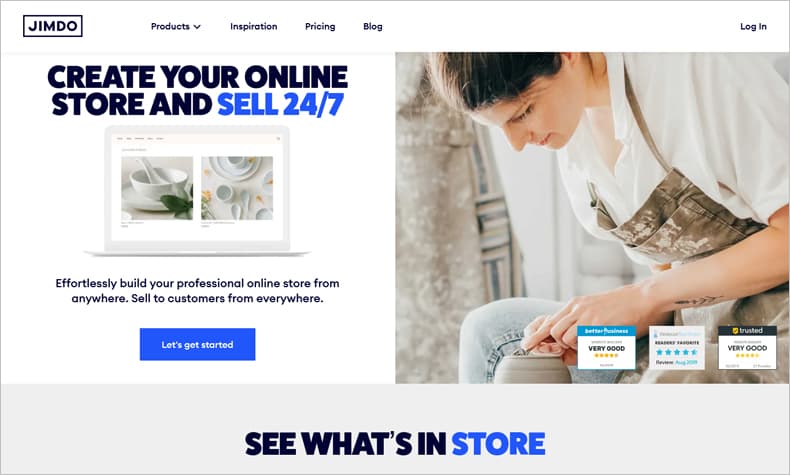 With a focus on providing the power of ecommerce right into the hands of small business owners, Jimdo's ecommerce website builder gets many things right, and is also one of the more affordable solutions for those looking to hit the global markets. Here's a run through the best of Jimdo's features.
Useful templates with sufficient layers of customizable objects – Creating a unique looking web store is not difficult with Jimdo, as you can easily add design elements over the template and give the shape and feel you want to your ecommerce website.
Active community forum – Jimdo boasts of a thriving community forum that can help you sail past any swirling waters easily; this is something that you might miss in any other the best ecommerce website builder.
Integrated payment gateways – PayPal and other payment gateways can be integrated into the shopping cart, and this lets you sell easily on a global level.
Marketing tools to sell well – When you are up and running with your store design, you can begin to experiment with the marketing tools provided by Jimdo, such as the coupons and discount codes system. You can add coupons of various kinds to selective products and make products more attractive for customers. Also, you can create item variations easily, which adds product width to your store.
Intuitive control panel for inventory management and administrative tasks – You can easily manage your online store using the control panel, and can also take actions on incomplete and abandoned orders.