Squarespace Review – why customers love it?
WebBuildersGuide.com earns commission from some of the web builders and hosting providers listed on this website.
Learn more
Squarespace has been a leading website builder platform for professionals and beginners for years. The premium design options and customization options make Squarespace the highest-rated site-builder in town. While the builder platform might take a while to get used to, you will receive a treat of spectacular templates, endless customization and premium features at the end of the wait.
Squarespace is the website builder for creative professionals. Currently, Squarespace is powering the business sites of Hollywood celebs, studio designers, fashion designers, and makeup artists. More than 2.7% of all active websites use Squarespace. Squarespace poses a fierce competition to Shopify and Joomla in terms of market position.
NOTE:
You can use the Squarespace promo code to get a 10% off discount on any of the Squarespace Prime plans. Since you can only use the coupon code once, I recommend paying for the annual subscription right away. This way you will get the maximum benefit.
What Is Squarespace?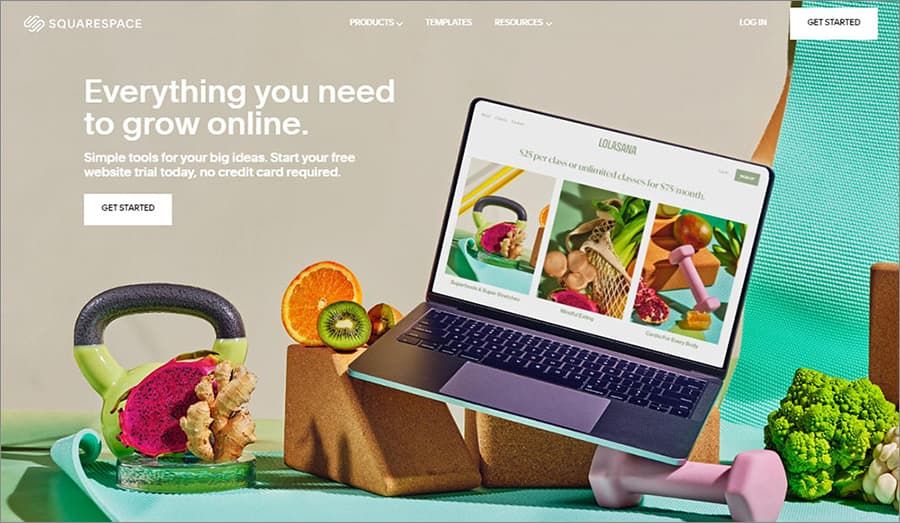 Squarespace review
Since 2004, the easy-to-use, highly visual and no-code website builder has been leading the website builder market. The user-friendly content management system (CMS) makes the site builder accessible for website designers of varying levels of expertise.
This website building platform eliminates the need for expensive packages that require extensive knowledge of CSS and HTML for creating the basics of a site. With Squarespace, a designer needs little more than the templates and the style editor to create completely functional websites.
Its highly visual, click-to-edit interface allows the website designer to tweak with element placement, layout and designs by clicking on the individual elements of the template. For example, you can click on the background to change its color and pattern, or click on a piece of content to change its font color, size, and type. Editing is a dream with Squarespace's beginner-friendly user interface (UI).
Who Should Use Squarespace?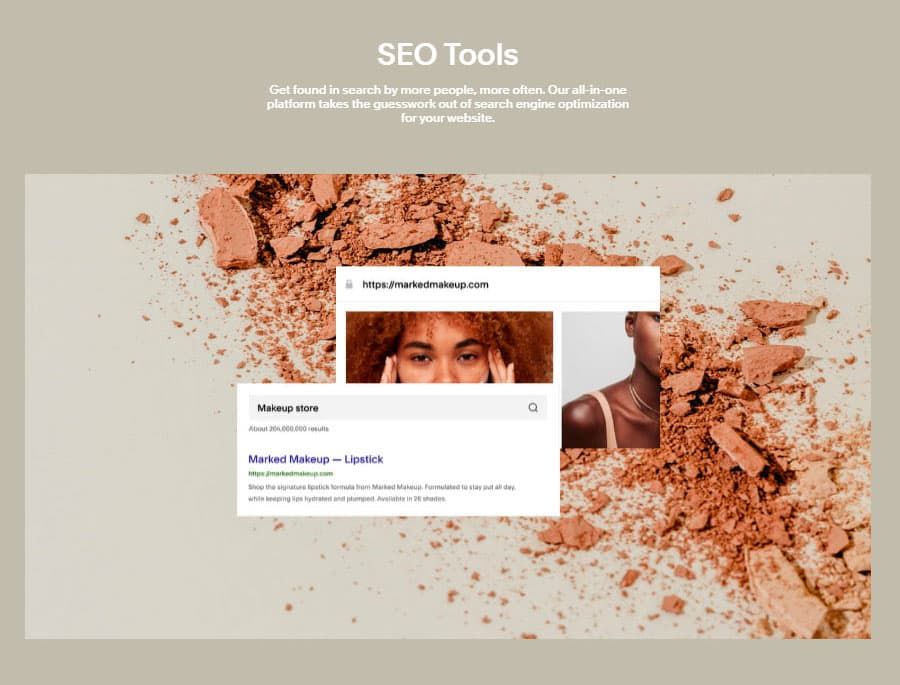 Target audience of Squarespace
Interestingly, Squarespace isn't for someone who wants to build his or her site from the grounds up. It has one of the largest collections of ready-to-use templates for fast creating, editing and deployment. Squarespace is for the fast-builder, who wants to get his/her site up and running in a couple of hours with a minimal number of edits.
The leader in website design comes with the full array of portfolio options, blogging tools, SEO tools, analytics, apps and tools, and mobile editing. It is a one-in-all website design platform that will be especially good for building websites for photographers, designers, artists and any site where the purpose is to display images and photos.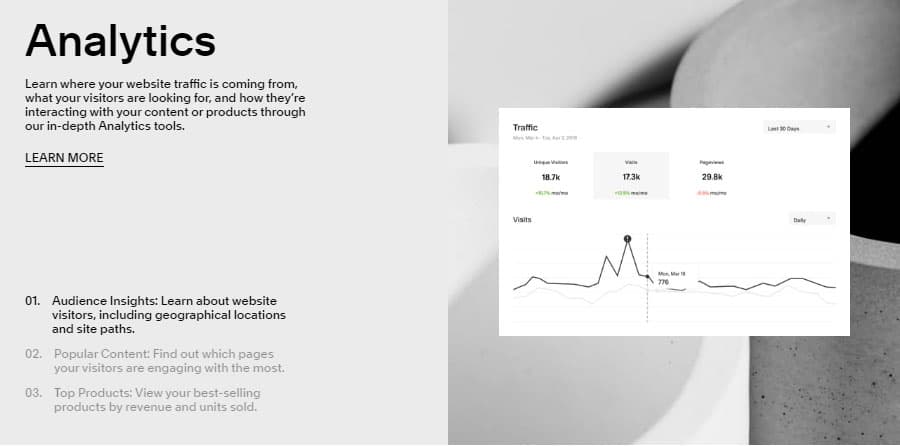 Squarespace Analytics
Squarespace comes with the complete collection of marketing tools, email marketing options, advanced site analytics, promotional banners, ads, and pop-ups, social media marketing integration, customizable shipping options, additional discounts, abandoned cart recovery options, smart and integrated accounting, eCommerce analytics, and more.
What are the differences between Squarespace 7.0 and 7.1?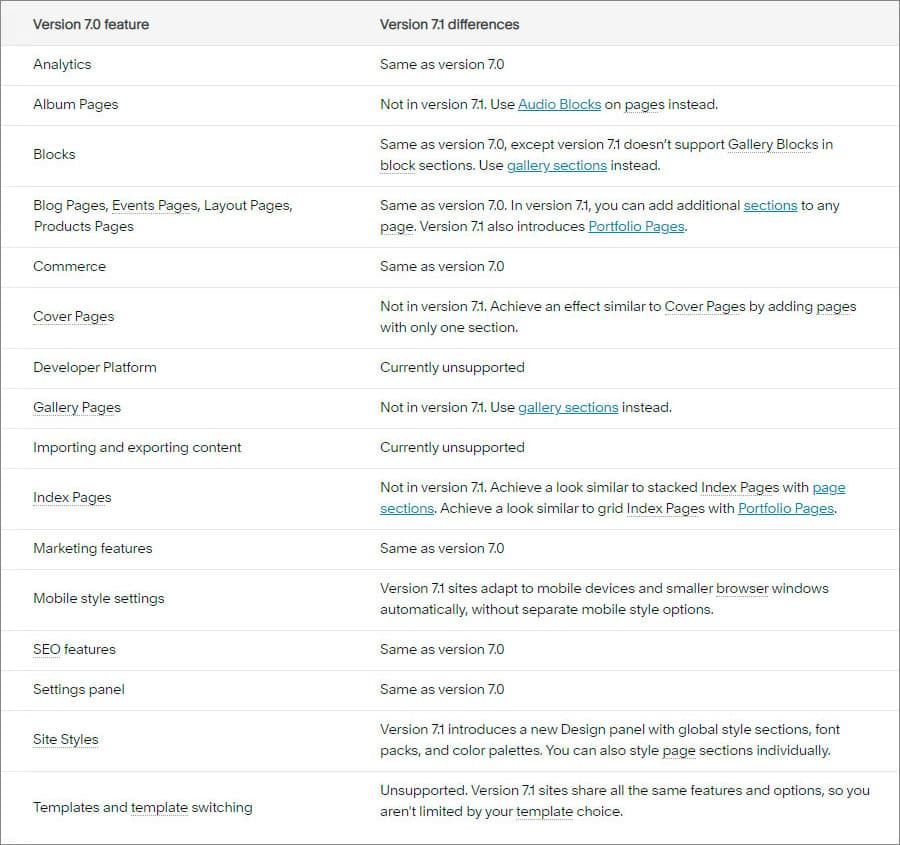 Differences between Squarespace 7.0 and 7.1
There are a few unmissable distinctions between Squarespace 7.0 and 7.1.
Squarespace 7.1 comes with more design options as compared to 7.0. These design options include additions to the global color palettes and text spacing.
Editing on 7.1 is much easier since all templates offer identical design options. However, in 7.0, the controls differ by each template.
7.1 supports design alterations in real-time alongside content editing. Whereas, in 7.0, editing options and design changes are in separate sections.
7.0 supports the edit of specific elements of mobile site design exclusively.
7.1 does not allow users to add sidebars to the blogs.
How to Begin with Squarespace?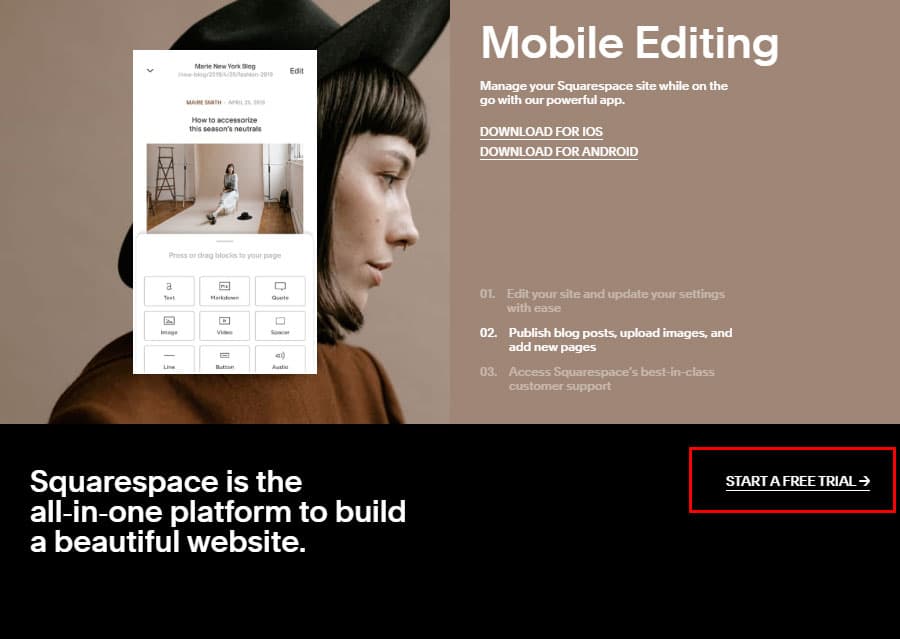 Start Squarespace free trial
You can begin a free trial of Squarespace by choosing one of the templates. To find the right one you can filter the templates by category and purpose. For example, when you click on "start free trial" Squarespace takes you to their templates section which has ready-to-use templates for portfolios, photography, online stores, blogs and podcasts, professional services, community and non-profits, events, musicians and bands, restaurants, real estate and properties, personal and CV, and small businesses.
The navigation of this page is simple, and the aesthetics are stunningly minimal. It is refreshing to see a website builder with no fluff of unnecessary options. It boasts a responsive design that you can access from your PC and mobile with equal ease. You can choose one of the popular templates too for beginning your website building journey with Squarespace. However, Squarespace needs you to create an account for beginning the trial. You don't need to provide your credit/debit card details.
What's Our Take on the Squarespace Editor?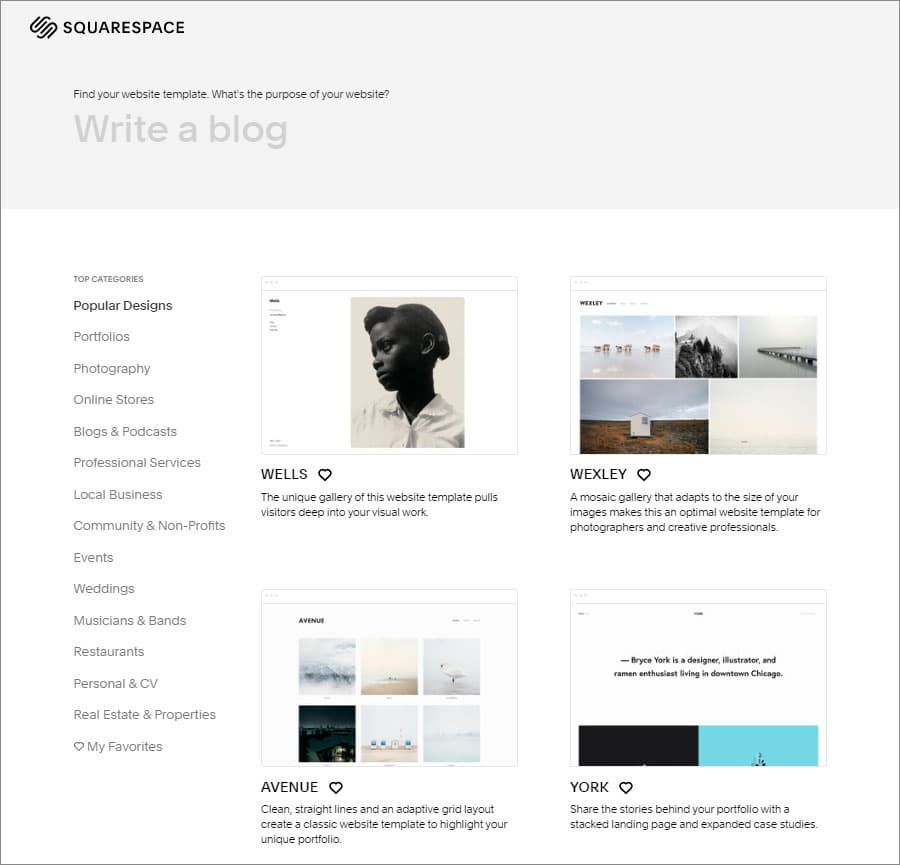 Choosing Squarespace website template
The Squarespace editor is neat and clean, yet robust. It has the features and options necessary for a website designer, complete with demo content for each page. Squarespace uses a WYSIWYG editor that enables you to preview your website as it would appear to the end-user.
The templates already come with a contemporary feel, so modern site designers require minimal editing for clients who need a contemporary look and feel. One of the caveats of choosing Squarespace is having to settle for only around 90 templates that work better with professional photography. That is indeed easy with unabated access to Unsplash's image library.
Stock Images for Squarespace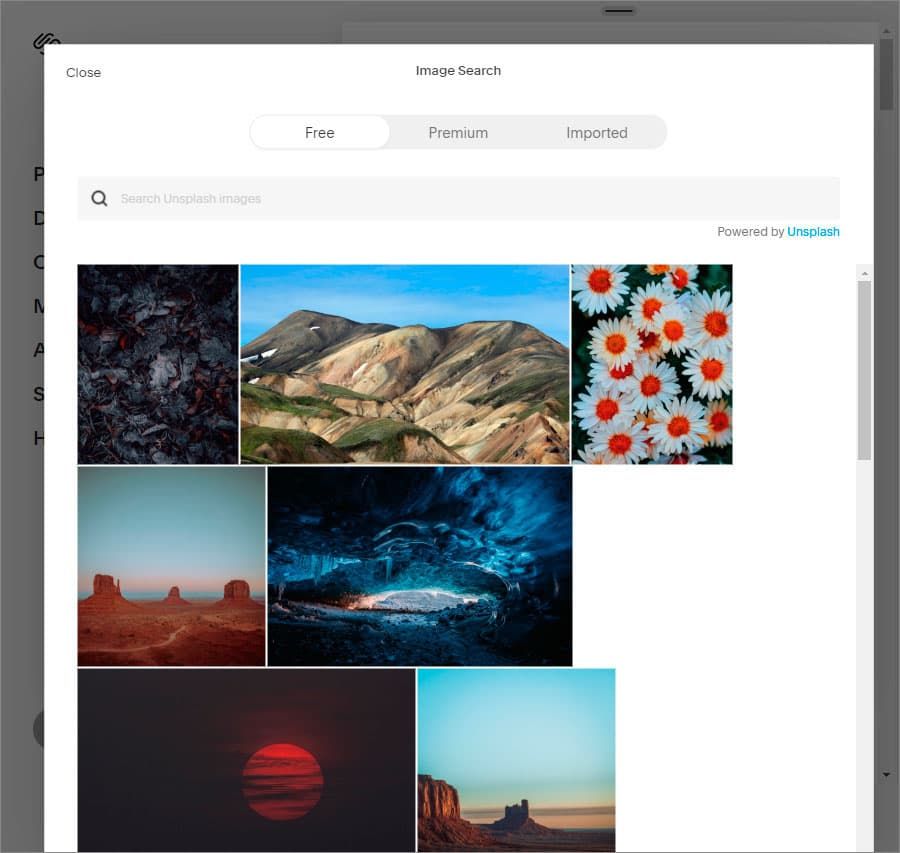 Stock Images for Squarespace
Squarespace gives you access to Unsplash's elaborate library of images. The majority of the collection are royalty-free and you can add these to your template to personalize them. "Search for image" and choose a fitting photo from Unsplash. It is as easy as that!
Squarespace also allows its users to purchase images directly from Getty. These images can cost around $10 each. Both Unsplash and Getty images are useful if your client does not have professional images handy for their websites. Having ready-to-use images at your disposal indeed makes up for any lack of branding effort from the client's side.
The Selection of the Fonts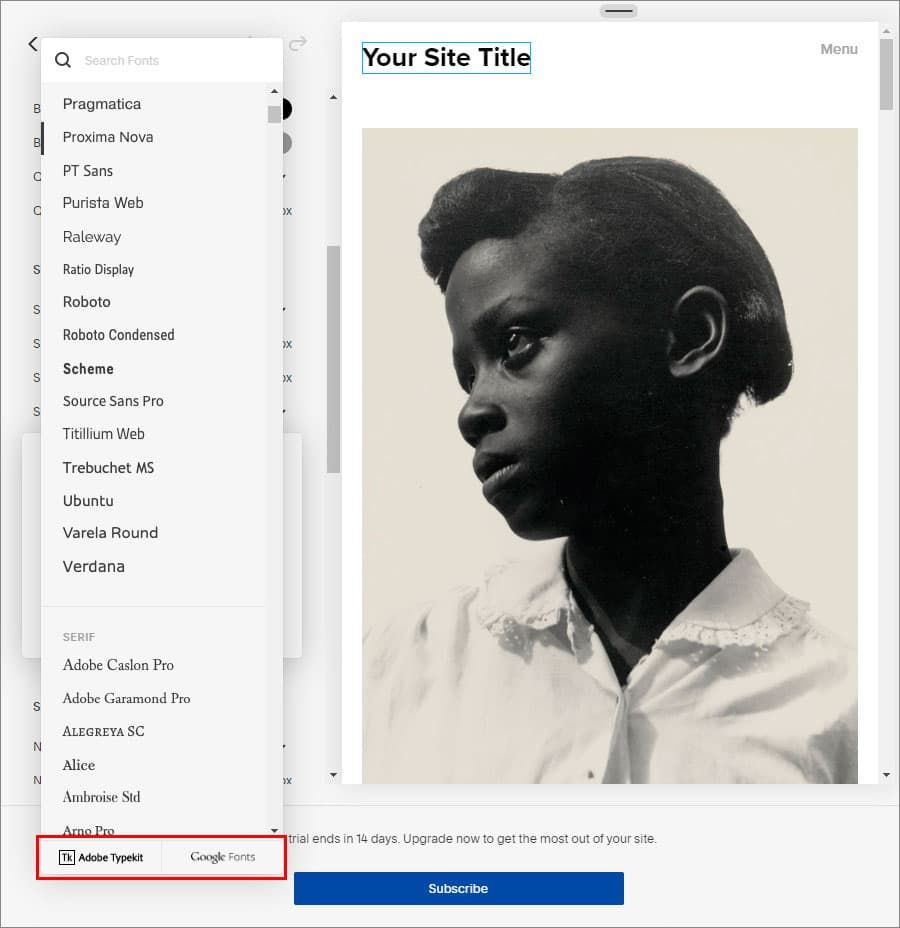 Fonts selection
Squarespace users will find thousands of web-fonts, 1000 on Adobe and more than 600 of Google. The huge collection of readily usable fonts are perfect for any site you build using Squarespace.
Editing the Template on Squarespace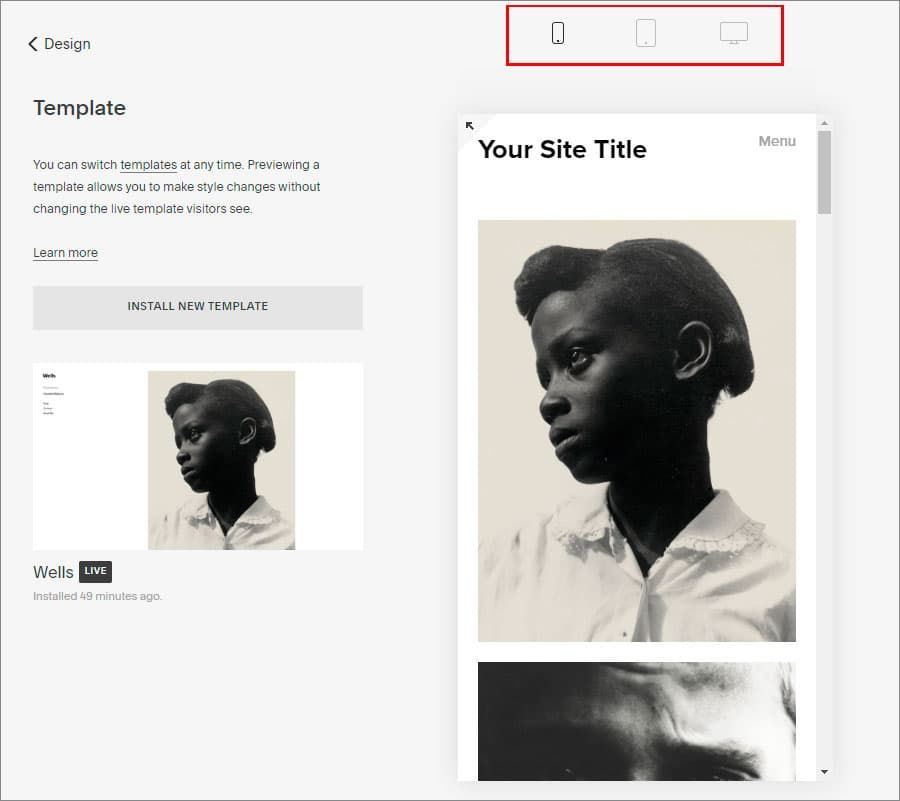 Editing Squarespace template
Currently, designers are using Squarespace 7.0 and 7.1. These are the two most popular versions, yet each has vastly different UI. Both versions make editing an easy task for all designers with a plethora of styling options. You can adjust almost every feature of a site including the font type, size, color and site width with minimum effort.
All Squarespace templates are inherently responsive, which makes editing the style, layout, and background easier than traditionally non-responsive sites. You have one site for all devices, and updating site elements on one version of the site reflect the changes for all devices and browsers simultaneously.
How Does the Squarespace Editor Look on Mobile?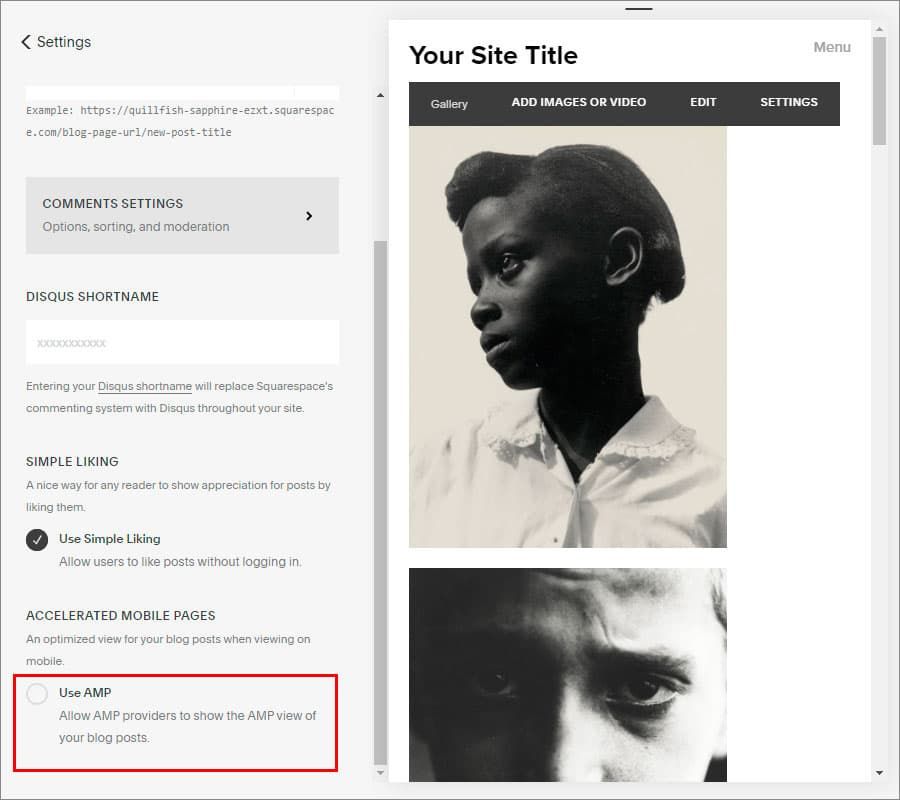 Squarespace Editor on Mobile
Any user looking for your site on mobile or tablet will a viewing-ready version thanks to the template's responsiveness. Mobile responsive sites provide SEO benefits by making the site accessible for a wide range of devices. Designers can also enable accelerated mobile pages (AMP) on their Squarespace sites. Since AMP speeds up content delivery to mobile devices, it contributes significantly to user experience (UX) and site SEO.
Using AMP you can create faster-loading webpages for mobile users. it reduces the bounce rate resulting from extended page loading time. Google prioritizes AMP content to some extent in the search result carousel and that adds SEO benefit to all sites. Currently, you can only enable AMP on Squarespace for the blog posts. Contemporary website builders including Shopify and Bigcommerce allow the enabling of AMP for products too.
You need to be careful while enabling the AMP on the blog. Only a few forms of content find space on the AMP version of a blog post and any custom code or embedded forms will come in the form of "click here for the original post". Since it takes away from good UX, you might have to pay in terms of site optimization to Google. Go through your blog posts on a mobile device after you switch the AMP on in your Squarespace blog posts.
Does Squarespace Support Video Backgrounds?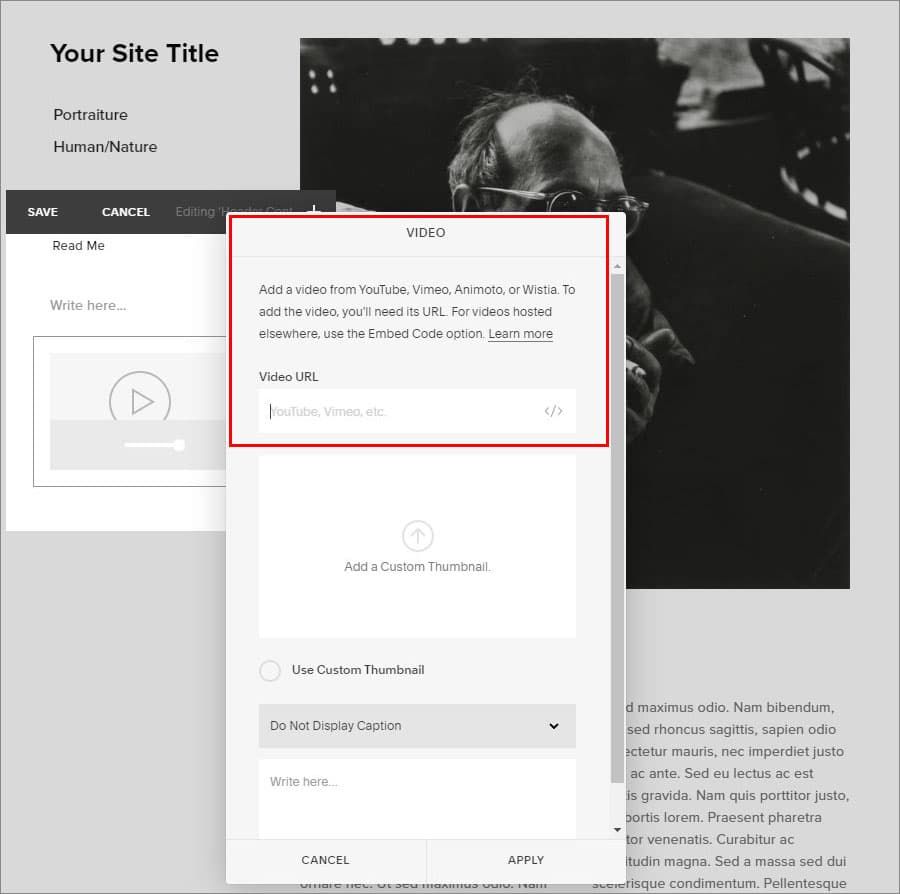 Video background support
Squarespace templates support video backgrounds even in the trial versions. The video background feature allows each designer to use a YouTube video URL for creating a magnificent looped background for your site.
Additionally, you can control the speed of the playback, and apply any filter from the Squarespace video background filter options. The use of the video background feature makes an already beautiful Squarespace template look stunning and sophisticated beyond measure.
How Does Logo Designing with Squarespace Work?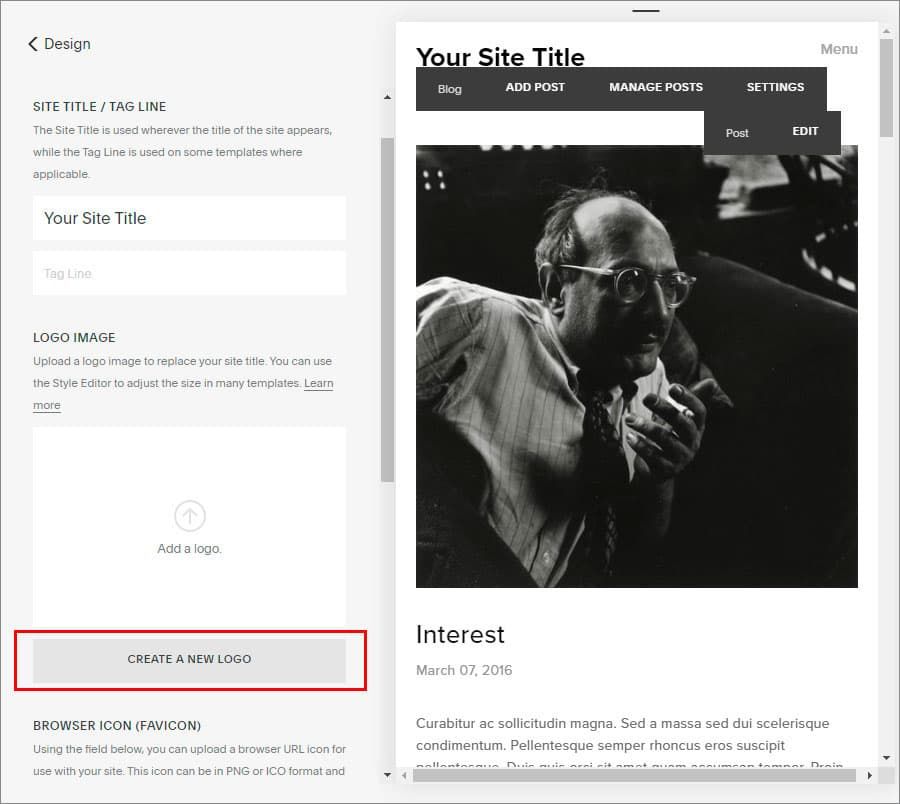 Creating a logo
Squarespace comes with an inbuilt logo design app. You can browse through a huge collection of symbols and typefaces that can create professional logos from scratch. If you are anxious or confused about creating your very first brand logo with Squarespace, be sure to watch their video tutorial on the same. You should try their drag-and-drop builder. Download a high-res version of the same when the logo is ready and you can use it on your website as well as print marketing material.
Some limitations of the logo builder tool from Squarespace include:
The designer has access to only a few selected typefaces.
You cannot upload images to the tool even with the pro-Squarespace plans.
It is available to everyone, including those not registered with Squarespace.
How to Manage Content on Squarespace?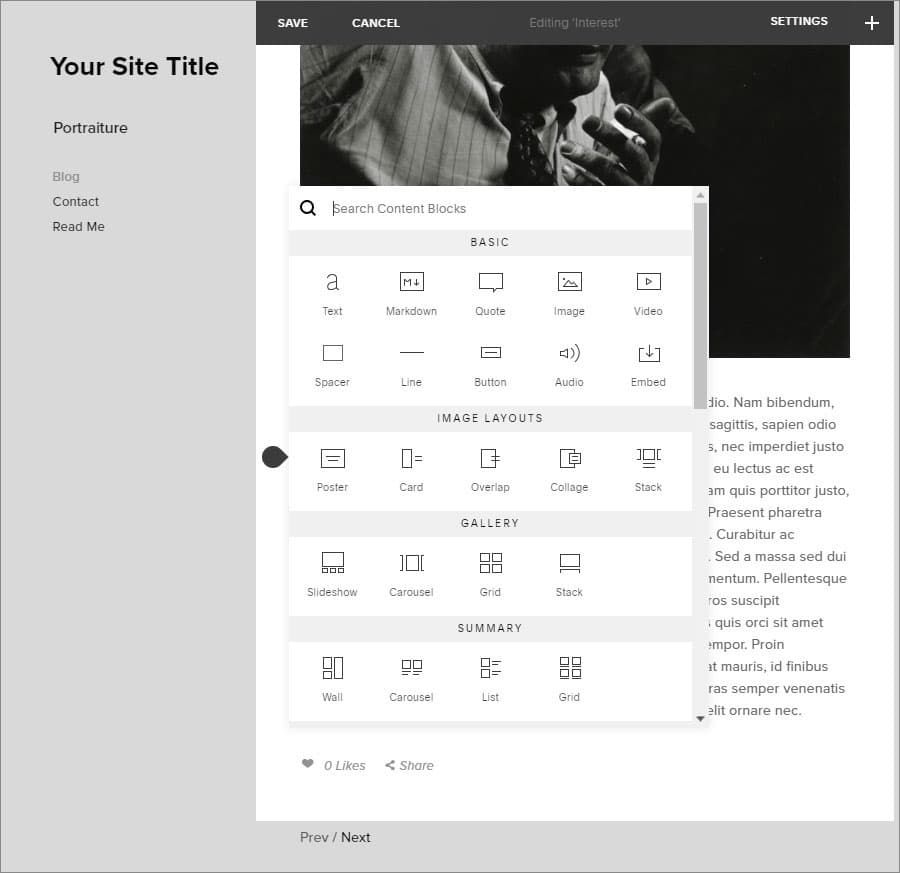 Content editing
Squarespace brings a refreshing take on content management for all types of websites. Indeed there is a lot you will love about its content management strategies and options if you believe in building quality websites with a content-first and SEO-ready approach.
Here are a few features you will love about Squarespace's content development and management tools:
Content blocks – The "layout engine" is super simple, as it supports a complete drag-and-drop content building method. You can drag and drop content (images, videos, forms, and code snippets) anywhere on your website. Squarespace has one of the most flexible and easy-to-use content management UIs among website builders.
You can add myriads of content blocks to a page, including (but not limited to) text, images, audio, video, calendars, content summaries, code snippets, markdown, and maps.
You can peruse a wide range of preset page layouts for your About Us, Contact, Product/Features, Services, Pricing, and Team pages. These can prove to be incredibly time-saving for all website designers, who are tired of creating every page from grounds up for each category and sub-category.
Images – Image management is incredibly easy for all Squarespace users. As a designer, you will be delighted with the uncountable image manipulation and management tools for your site. Resizing, cropping, rotating, color adjustment, and adjustment of focus point are only a few of the editing options designers can leverage to create a one-of-a-kind, image-rich website.
Once you have checked out all the image editing options, you should browse the various gallery options. Select from slideshows, grids, and carousels to collate the images and imagery that best describe the brand you are working on.
Easy-to-use charts – Squarespace does not skimp on the different types of charts and the editing options. You can readily create pie charts, bar graphs, and line charts by using the Squarespace chart tools. They give you the option to lessen the text content and create a visual representation of the data.
Irrespective of the wide variety of charts, Squarespace fails to integrate tables into their design options.
How is Squarespace as a Blogging Platform?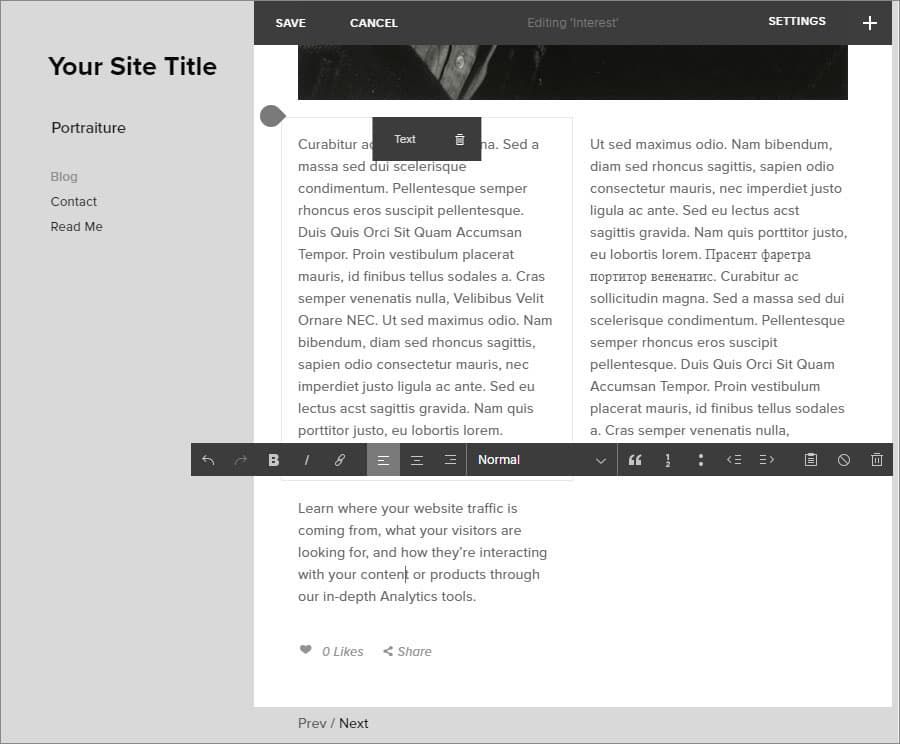 Squarespace blog options
Squarespace has several pros, beginning with:
You can add as many blog posts as you wish.
You can create blog summaries and "drop" them to any page of your site.
You can enable AMP on all blog posts for catalyzing their loading speed.
Nonetheless, here are some drawbacks you should consider as well:
There is no option to autosave your drafts.
You cannot access archives for your older posts.
Working on older posts is a pain since it does not support draft versions or archives.
These pose CMS problems that become quite unavoidable once the blog and website start picking up pace. With hundreds of pages and blog posts, you might want an add-on feature on Squarespace that supports the archival of older posts and editing of published blogs.
Does Squarespace Integrate with Other Applications?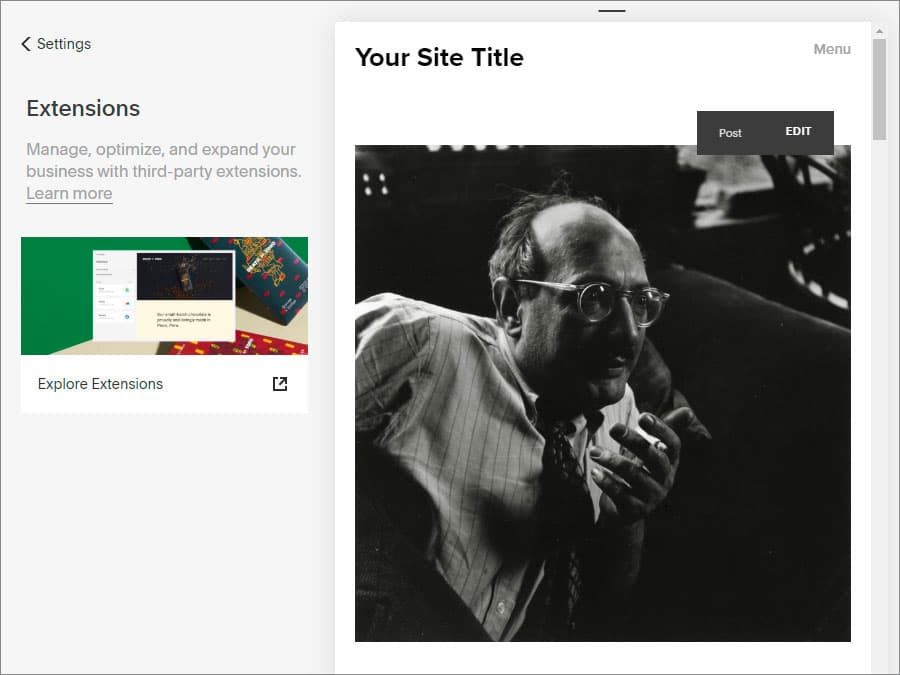 Squarespace app integration
Squarespace comes with multiple built-in integrations of apps. You can utilize the features of at least the following marketing and communications applications while using Squarespace:
Zapier – is a popular IFTT tool that aids in data management on a site and CMS.
MailChimp – is an email marketing and communications integration that enables brands to commit to their digital marketing campaign directly from their website.
Dropbox – now share large files, folders, and bulk data during site-building and management with in-built Dropbox integrations.
Google Drive – Google Drive integration further helps in data archiving, sharing of posts and page content, and better management of content files for your site without the need for installing more plug-ins.
Other integrations include Pinterest and Github, but you will need access to the Business plan to make the most of these app integrations. These integrations contribute significantly to data capture and management on any Squarespace website. the platform also supports a varied pricing range of email marketing plans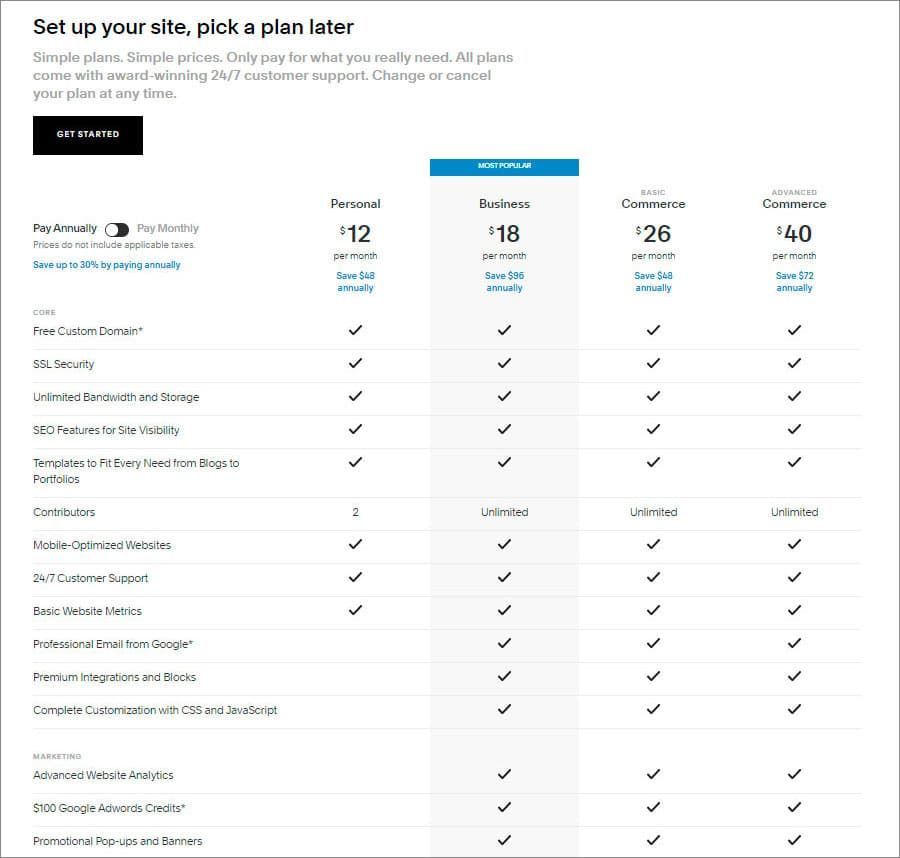 Squarespace pricing range
Does Squarespace Support Code Editing?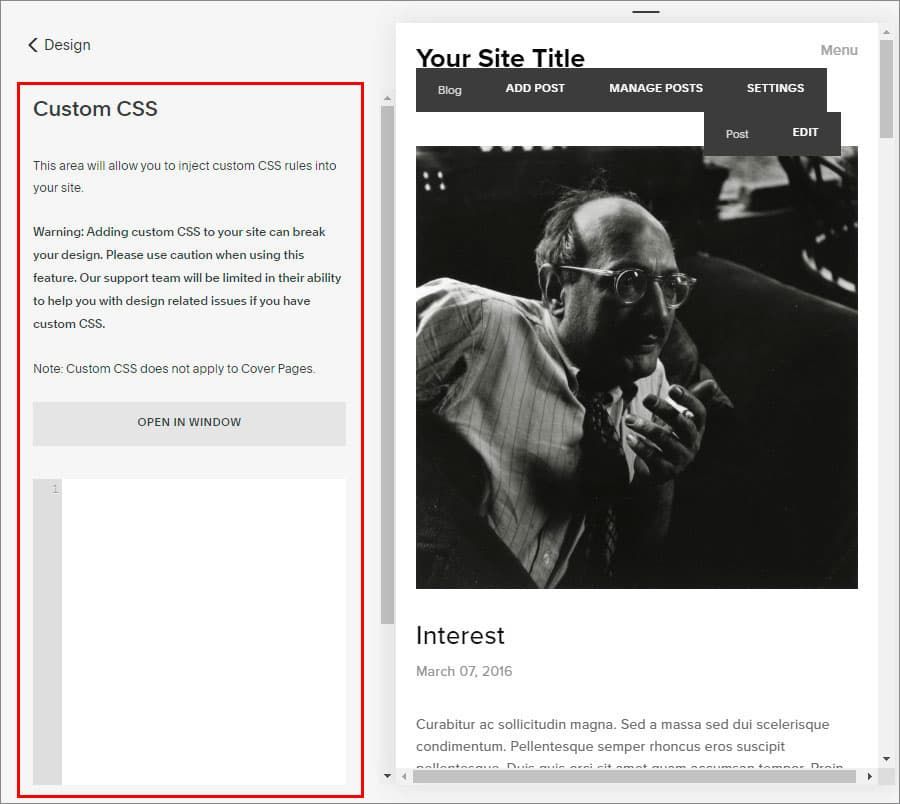 Custom CSS rules
You can edit CSS and HTML codes, but we don't typically encourage it.
Both Squarespace versions do allow the addition of CSS to the website. Squarespace does not display the full CSS stylesheet to the designer, but you can include personal CSS rules for altering the appearance of specific items on the site. You should remember that if you add your own CSS, Squarespace might limit their customer support towards your site.
The only way to gain complete access to your template's CSS and HTML is by using the developer's version. Currently, the developer's version isn't available for Squarespace 7.1.
Does a Squarespace Template Contribute to SEO?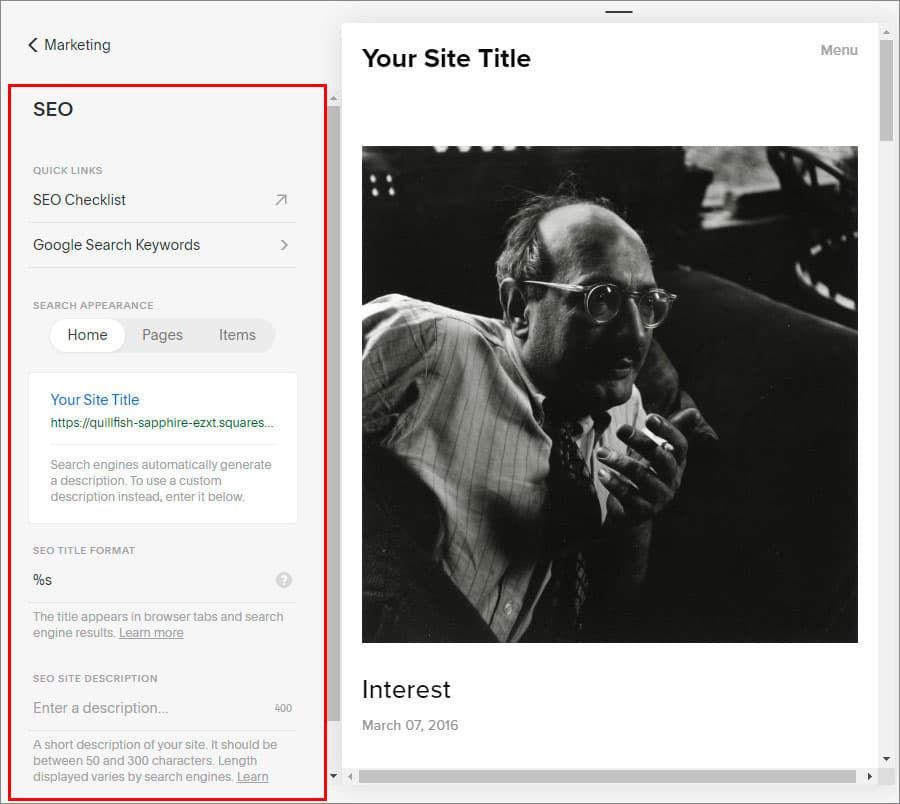 Squarespace SEO options
Squarespace templates are naturally SEO friendly. All websites powered by Squarespace get brownie points from Google for their optimization. These sites are visual feasts and they are easy-to-navigate for all users. additionally, they are mobile-friendly and have the option of AMP enabling on their blogs.
You can enable SSL for the site. Since Squarespace is a completely hosted solution, you don't have to worry about page speed, especially since Squarespace assures that their page loading speeds are well within optimization limits.
Sadly, the alt tags and URL redirects options for Squarespace users are confounding. Especially changing URLs can be a pain for the SEO team or webmaster since the entire task is highly manual. There are no options for adding rich snippets either. Moreover, you will find no SEO tool. A Yoast-like SEO tool would indeed be welcome from Squarespace by now!
Does Squarespace Have Additional Options for Ecommerce Sites?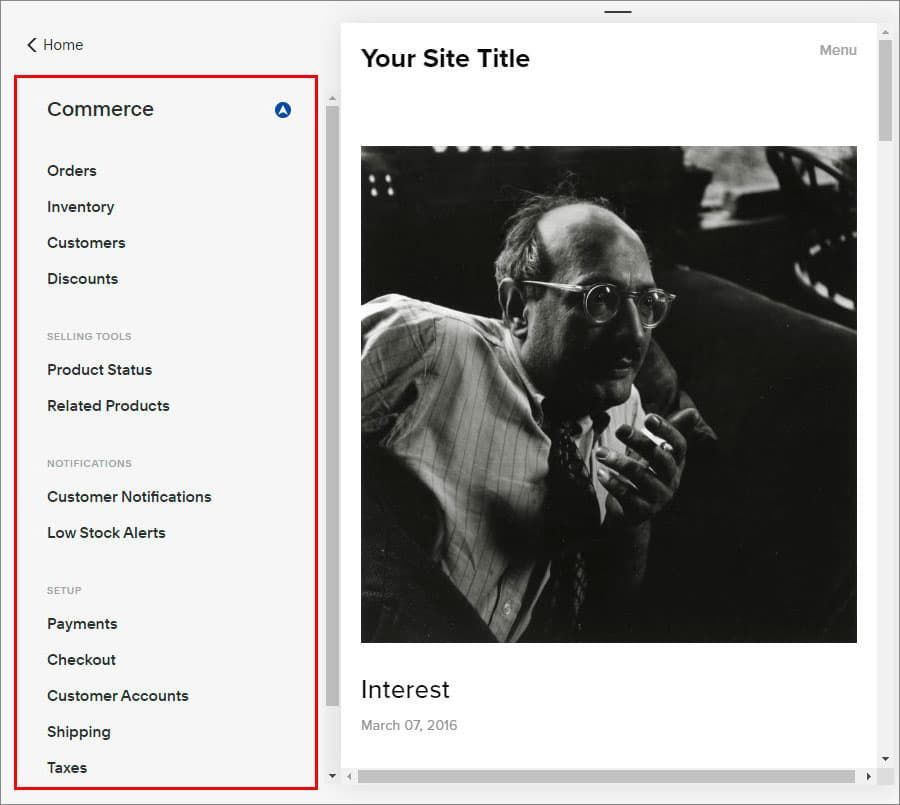 Squarespace Ecommerce options
Squarespace eCommerce sites have VAT Mini One Stop Shop (VAT MOSS) integration. It makes trading for EU-based sellers much easier due to their VAT MOSS regulations. You can create and add new tax rules, but it does not reduce manual intervention and often makes the integration of tax, pricing and shipping rules messy.
In short, if you want a full army of eCommerce integrations and functions, you might be better off with Shopify, WordPress, and BigCommerce instead of Squarespace.
What Can be the Deal-breaker When Considering Squarespace for Powering Your Site?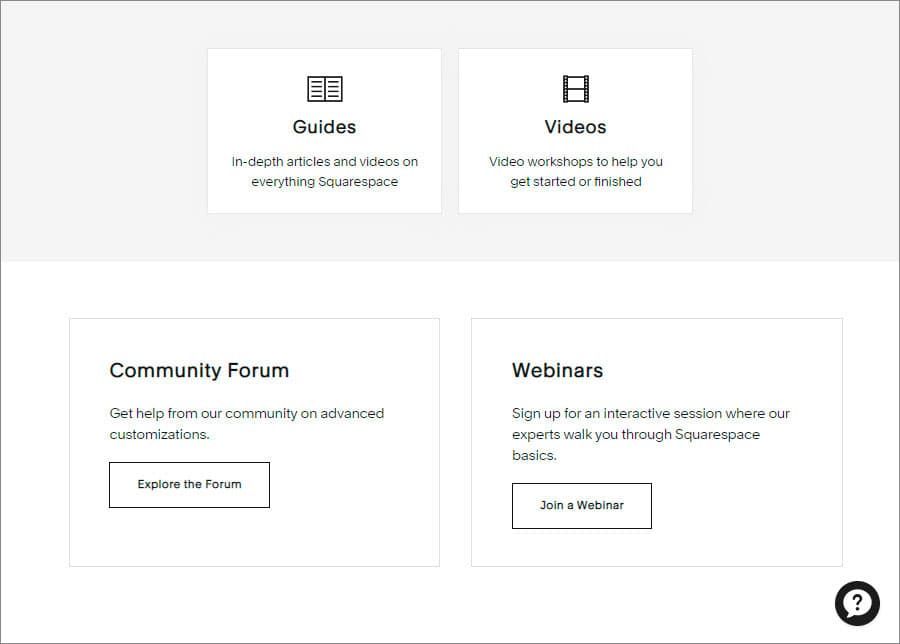 Squarespace Help Center
With round-the-clock customer support, and it super-easy web builder interface, Squarespace is rapidly gaining popularity among the beginner-level website designers. However, you should know that adding novel features or functionalities to your Squarespace site won't be easy if they don't come out-of-the-box.
Yes, Squarespace is easy to use and you can switch templates in 7.0, enjoy higher customizability in 7.1. However, according to veteran users, Squarespace can be quite sluggish and prone to crashing, and its lack of autosave options does not do bloggers any favors during such situations.