Best Website Builders and Platforms for SEO
WebBuildersGuide.com earns commission from some of the web builders and hosting providers listed on this website.
Learn more
For a long time, I've been eager to highlight the importance of SEO capabilities in website builders through my site. I know from firsthand experience how important it is to choose an appropriate platform for your website from an SEO perspective.
I've not just promoted the website for my own web design agency, but also carried out search engine optimization on a lot of my client's websites too.
And while doing all of that here is what I figured out – Not all website builders and platforms are good for SEO. Websites built on certain platforms are more likely to achieve better SEO results, whereas it is harder to rank higher in Search Engine Result Pages (SERPs) with the websites built on some other platforms.
In this review, I'll tell you which website builders and platforms are ideal for SEO and why.
Best SEO Website Builders for Beginners
All web platforms can be divided into two categories – for beginner users and for experienced users.
Beginner users are those who don't have any web design, HTML layout, or programming skills. But they can do basic tasks, for example, sign up for Facebook and create their own email.
Here, I have mentioned four website builders aimed at beginner users with different primary focuses but with great opportunities for SEO.
NOTE: The website builders in this list are not arranged in the order of their ratings and show no evidence that one platform is better or worse than another. Each of the website builders listed here has its own particular scope of application.
Wix – Free, simple, and universal
Wix is a leader among online website builders and all that is not for nothing. In view of most independent lists, Wix is a top choice when it comes to drag and drop website builders. And as for SEO, Wix is really good at it too, since it comes with dozens of useful options, tools, and widgets for SEO.
WIX SEO tools
Also, Wix was one of the first website builders to abandon Flash technology and switch to HTML5. Thanks to that, web pages on Wix get easily indexed on all search engines.
NOTE: In the past, Wix has had some problems with search engine optimization on its websites. But then the management reconsidered the importance of SEO for their clients and did a great job in this direction. Now, Wix is one of the most SEO-friendly online website builders. However, you might still see old-school SEOs hating Wix, recalling its past shortcomings.
Wix is suitable for SEO due to its following features:
More than 500 perfectly responsive templates
Wix does not just have the largest template library but all Wix templates are created by professional web designers and have a responsive web design too. This means that the templates display correctly on any device screen, whether it's a mobile phone, a laptop, or a tablet.
Search engine optimized website infrastructure
Websites created on Wix have a simple search engine optimized infrastructure and thus search engine bots easily index webpages and pass on the links within a Wix website without difficulty.
Wix also has server-side rendering (SSR), which allows rendering website pages on the server and not in the customer's browser. As a result, website page load speed increases, even if the customers have a slow internet connection.
Free SSL certificates with all plans
All Wix websites have HTTPS as Wix offers a free SSL certificate with all their plans, including the free one.
Automatic structured data creation
Wix automatically adds structured data to its website pages. You don't have to make an effort to add schema markups. Though you do get the option to manually create schema markups and add them to certain pages and use specific schema types like products, ratings, FAQ, and also statistics.
Automatic robots.txt and sitemap.xml file creation
Wix automatically creates robots.txt and sitemap.xml files. Moreover, it also gives you the option to edit the contents of these files, if necessary.
Automatic canonical tags creation and management
Wix automatically creates canonical tags for all new pages (like WordPress does with installed SEO plugins). In the Advanced SEO tab, you can also delete the canonical tag for a certain page or add one, if it isn't already there.
Integration with Google Marketing Tools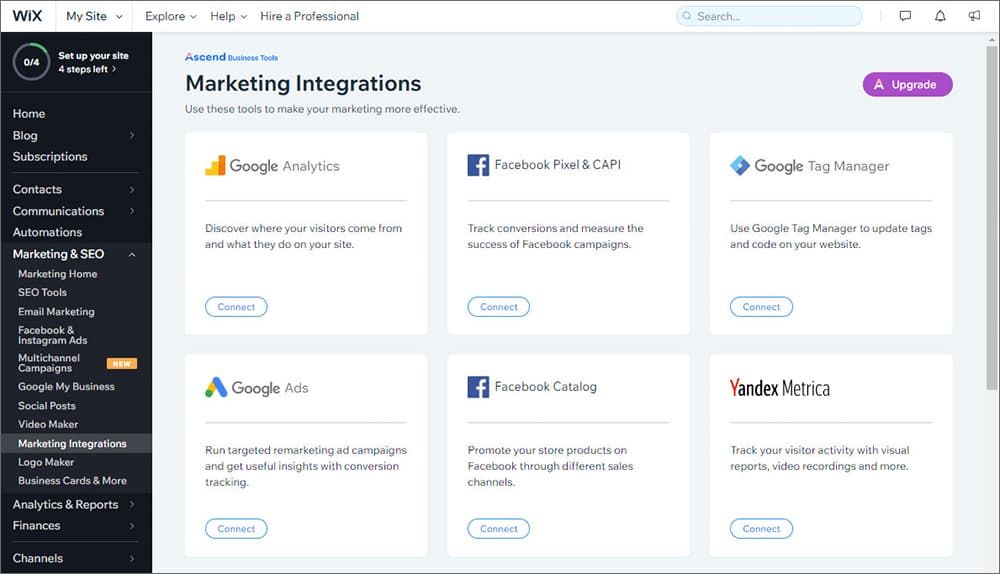 WIX Marketing Integration
One of the greatest advantages of Wix for SEO is the possibility to integrate every possible marketing tool from Google with your website. Primarily, the integration option with Google Search Console directly from the Wix dashboard makes it simple, quick, and convenient.
You can also integrate Google Analytics for getting expanded statistics, and add Google Tag Manager for launching your advertising campaign.
NOTE:
In the near future Wix is looking forward to taking a decision on launching Wix managed solution to offer integration with Google Optimize. This will allow analyzing the efficiency of a Wix website SEO's status with the help of A/B testing. Also, it is possible to integrate Google Optimize using Google Tag Manager. Here's Google's guidance for such integrations.
Integration with Google My Business
Your WIX website's integration with Google My Business will be useful for local SEO. Thanks to it, you'll be able to create and further edit your company's profile directly through the Wix dashboard. Again, this integration can be performed in a few clicks, which saves time while delivering excellent local SEO results.
Personalized SEO Setup Plan
This is a unique Wix option that makes it much easier for beginners to perform search engine optimization on their websites. Wix takes into account the particularities of your website and business and then gives you a step-by-step SEO Setup Plan. Just implement the given recommendations as per this plan in order to carry out all the basic SEO activities for your website.
NOTE: In order to use Wix SEO Wiz you'll need to connect the website to Google Search Console. After this, SEO Wiz will create a step-by-step plan for you to perform your website's search engine optimization. You don't necessarily need to carry out all the steps right in the order they are stated in the plan, but the steps you miss will be highlighted as incomplete. You just have to finish implementing all the Wix SEO Wiz recommendations in order to make your website SEO-friendly.
SEO apps in the Wix App Market
One of the greatest Wix advantages that makes it one of the best website builders is that it has a large app collection available in the Wix Apps Market.
These additional solutions can be added to a ready-made Wix website, which increases its SEO and other capabilities. This may be comparable to WordPress plugins.
Here are some of the best SEO and marketing apps offered by Wix App Market:
rankingCoach SEO – It analyses your website and the websites of your competitors, and then creates a step-by-step SEO strategy specifically for your website. All SEO guides are in the form of simple how-to videos.
Rabbit SEO – A comprehensive tool for searching the most appropriate keywords, analyzing competitors' keywords, website page optimization, and many other things.
Site Booster – It will automatically register your website in business directories, review websites, and popular mobile apps and business listings like Google Maps, Yahoo Local, Bing Maps, Business Data Index, FourSquare, SMB Home Online, Yelp, and some others.
Visitor Analytics – This is a multilingual SEO app that shows expanded statistics related to website attendance with a convenient interface. It allows performing user behavior analytics by using heatmaps and conversion funnels.
How much will Wix website builder with expanded SEO options cost?
Despite the fact that Wix is a free website builder, as you'd already know, with the free plan you won't get any of those useful SEO options which were referred to above.
Advanced SEO options are available in the Unlimited plan (it costs $18 monthly) and the plans above it. As a free bonus for your first year, you'll also get Visitor Analytics App, Site Booster App, and 3 free ads vouchers:
For Local Listings – $100
As a result, by spending $216 yearly on Wix (Unlimited plan), you get free SEO tools and advertising vouchers amounting to $425, which is twice as much as your expenses.
These free bonuses and all those SEO tools and options described above make Wix the best online website platform for SEO for beginner users.
Squarespace – more automatic SEOs options
Like Wix, Squarespace is another top website builder, with some wonderful SEO capacities. Squarespace is especially good for developing portfolio websites, websites for photographers, and online stores.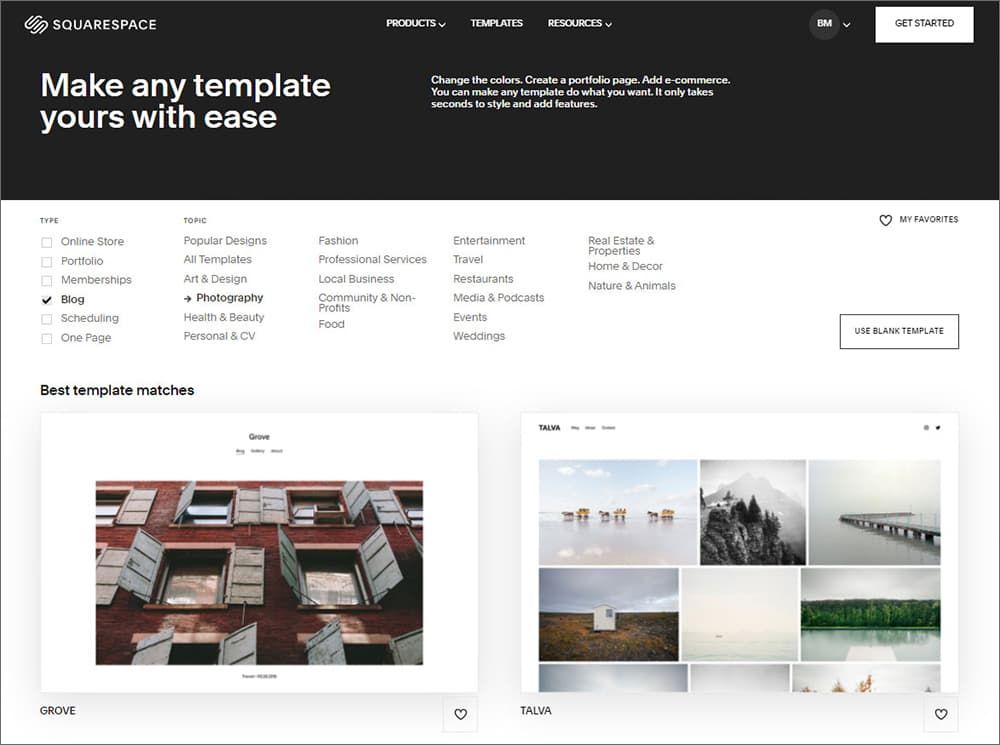 Squarespace
Squarespace is a well-designed website builder focused on beautiful website designs, elegant minimalistic templates, and lots of SEO features. Moreover, most Squarespace SEO options are fully automatic, which will especially please beginners by making the tasks simpler for them.
Let's figure out what Squarespace offers in detail.
Automated Heading Tags
Despite the fact that Squarespace allows editing HTML code (I'm sure web developers have a smile on their face right now!), its webpage structure is designed in such a way that users don't need to add tags <H1>, <H2> for subtitles in HTML manually. You just choose the headline style you want, and Squarespace will automatically create the correct Heading Tag. It is really user-friendly. Here is how Squarespace describes this.
Automatic creation of <alt> and <title> tags for images
Thousands of articles and instructional SEO guides are written about the importance of correctly stating the <alt> and <title> tags for images from an SEO perspective. And Squarespace automatically adds the <alt> and <title> tags to your images with its image description feature.
Automatic sitemap creation and update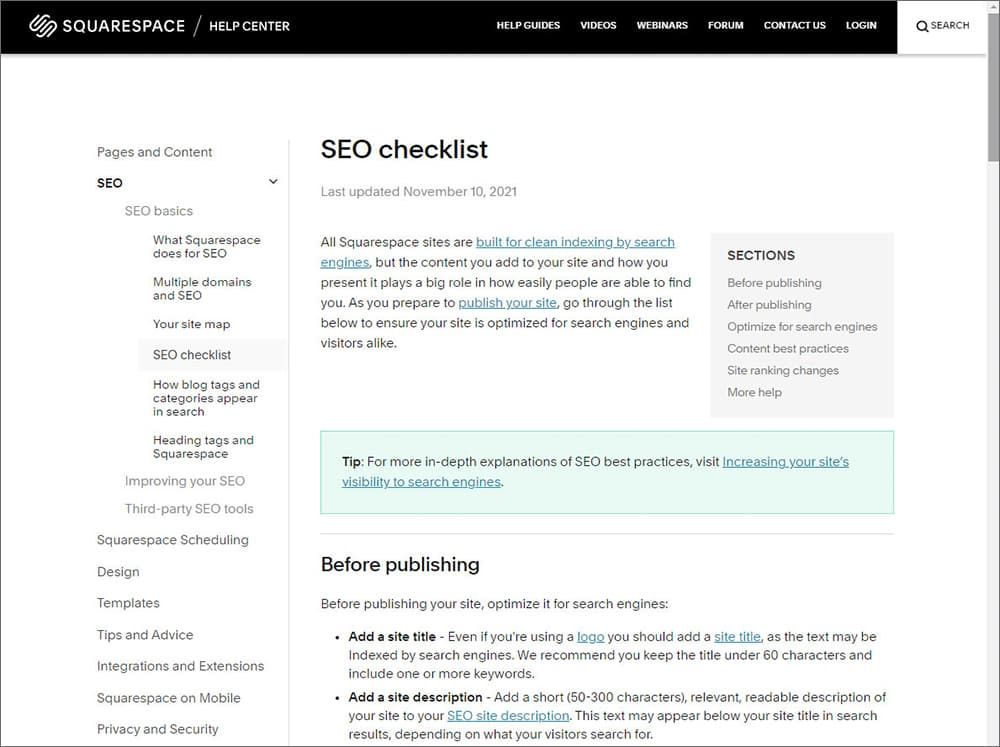 SEO Checklist
It's difficult to overestimate the importance of having up-to-date sitemaps for SEO. As most SEO-friendly website builders, Squarespace independently creates a sitemap for your website in XML format. But that's not all. It also keeps automatically editing and updating the sitemap as per the changes in your site's structure.
For example, if you've added a new page to your website, then Squarespace will add it to the sitemap. And vice versa, if you delete a certain page, then it will be deleted from the sitemap. This saves manual efforts.
NOTE: Even though Squarespace automates the process of sitemap creation and updating, the updates to the site map don't happen instantly. After you have changed something on the site, the update in the sitemap usually happens in about an hour. In some cases, this may require up to 24 hours or even more, especially for larger multi-page websites.
Automated mobile optimization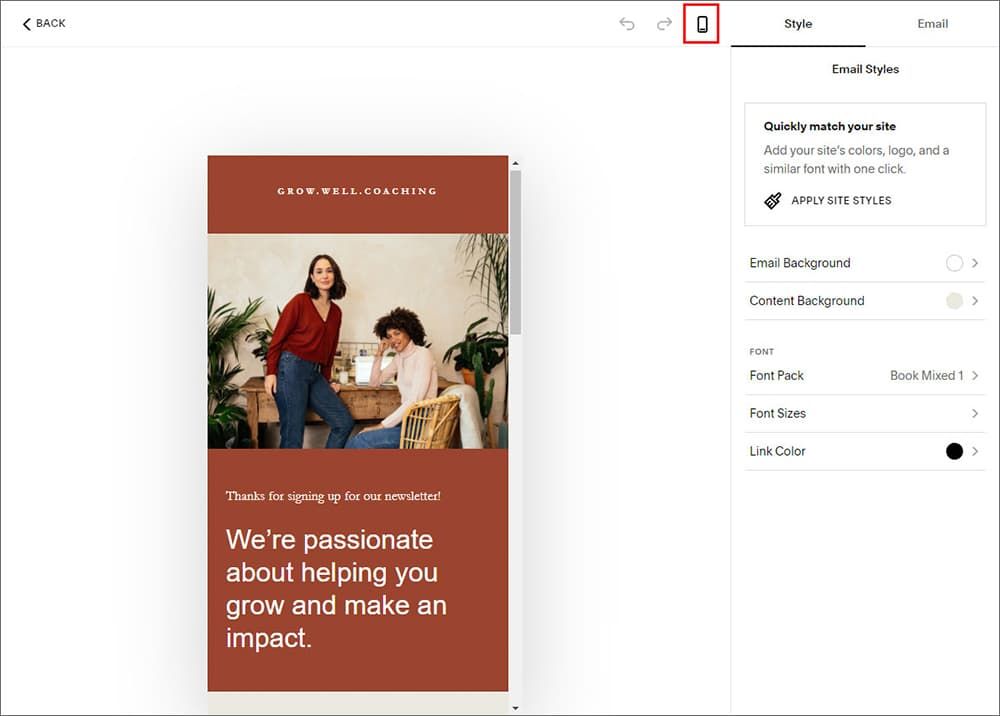 Automated mobile optimization
Like in Wix, all the websites developed on Squarespace have an inherently mobile-optimized design. For this, Squarespace saves text and visual content in a format that can be easily displayed on any type of device. You don't have to take any action for mobile optimization, Squarespace does that for you.
Automated AMP creation
Squarespace supports Accelerated Mobile Pages (AMP). For all the pages on your website, it creates simplified mobile versions called AMP. These pages download faster and thus, positively affect site speed. This will be an undoubted plus point for SEO, especially if the majority of traffic on your website comes from mobile phones.
NOTE: AMP can be a really effective solution, but you should know that using AMP can sometimes lead to the reduction of website conversion. Similar results have been observed for some online stores, where webmasters noticed declining sales after AMP introduction. However, the organic traffic remained the same.
Management of Meta Titles for pages and posts
Squarespace allows assigning and editing the Meta Title both for the website as a whole and individual pages and blog posts. You can also edit Meta Titles manually and get the best SEO results for every single page.
NOTE: A good SEO practice is when the H1 title differs from Meta Title. It's not necessary to have completely different titles, but it would be better not to have 100% copies. Moreover, it's important to test Meta Titles. Perfect Meta Titles as per SEO standards may actually have fewer clicks in SERP positions (lower CTR). And prettier, user-friendly titles, are likely to be actively clicked by users but may appear not so effective in search rankings. It's important to strike the perfect balance for every page – this is one secret of success in SEO.
Squarespace SEO consultations
Squarespace has a special Squarespace Select Plan with additional possibilities, including some SEO advantages too. If you choose this plan, you'll get a dedicated manager for developing your website and online business.
And you can also get personal consultation about search engine optimization for your website from Squarespace's SEO specialists. This is a unique offer that isn't available with any other website builder.
How much will Squarespace with maximum SEO options cost?
All Squarespace plans include SEO features for website visibility. This means that you'll be offered simple step-by-step instructions using which you can improve the SEO for your Squarespace website.
The most basic Personal plan will cost you only $12 per month if you pay for the entire year at once.
But if you buy the Business plan for $18 per month, you'll get access to advanced site analytics and the possibility to edit CSS and JavaScript. This may help you with more accurate SEO optimization of the HTML code of your website.
In addition to this, you'll get a bonus of $100 Google Ads Credits. This is a good start for launching your own PPC campaign with Google Ads.
Squarespace also offers the Basic Commerce plan for $23 per month specifically for online stores. In addition to all the things that you get with the Personal and Business plans, with this plan, you'll also get access to Powerful E-commerce Analytics.
This is a more profound analytics system specifically built for E-commerce businesses. You'll be able to monitor lots of additional parameters, for example, sales conversion as a whole or for selected products. Moreover, you can get insights about which products sell better than others, why, and much more.
I must admit that Squarespace has always been good at creating websites for online sales. And the Basic Commerce plan is a perfect solution in terms of the price-quality ratio. Besides that, unlike Shopify, the Basic Commerce plan doesn't charge a commission for each transaction. Though the Squarespace Business plan charges a 3% commission on every sale. Once again, the Squarespace Basic Commerce plan proves to be a profitable proposition.
As for getting maximum SEO capacities, you'll have to go with the Squarespace Select plan, which I referred to earlier. Its main feature is that it comes with personal SEO consultation. It's up to you to decide how important it is for you, but generally speaking, Squarespace Select is the same Advanced Commerce plan but wrapped in an "individual package".
Shopify – Ideal for E-commerce
When it comes to E-commerce, the importance of SEO gets multiplied manifold. This is primarily because E-commerce websites often have a more complex semantic core and have not one or two landing pages, but lots of them. In fact, every product's page is a landing page. The same is true for category pages too as they all are optimized for certain search queries.
Considering such a large quantity of pages, working on off-page SEO optimization for every page is nearly impossible. And in this case, what comes to the forefront is technical SEO website optimization that, in turn, depends directly on the SEO possibilities of a chosen website builder or platform.
Among all E-commerce website builders, Shopify is the best adapted for SEO. Being the absolute leader among online E-commerce platforms, Shopify couldn't help but give due consideration to SEO and marketing tools.
Let's take a closer look at Shopify's SEO advantages:
Lots of search engine optimized themes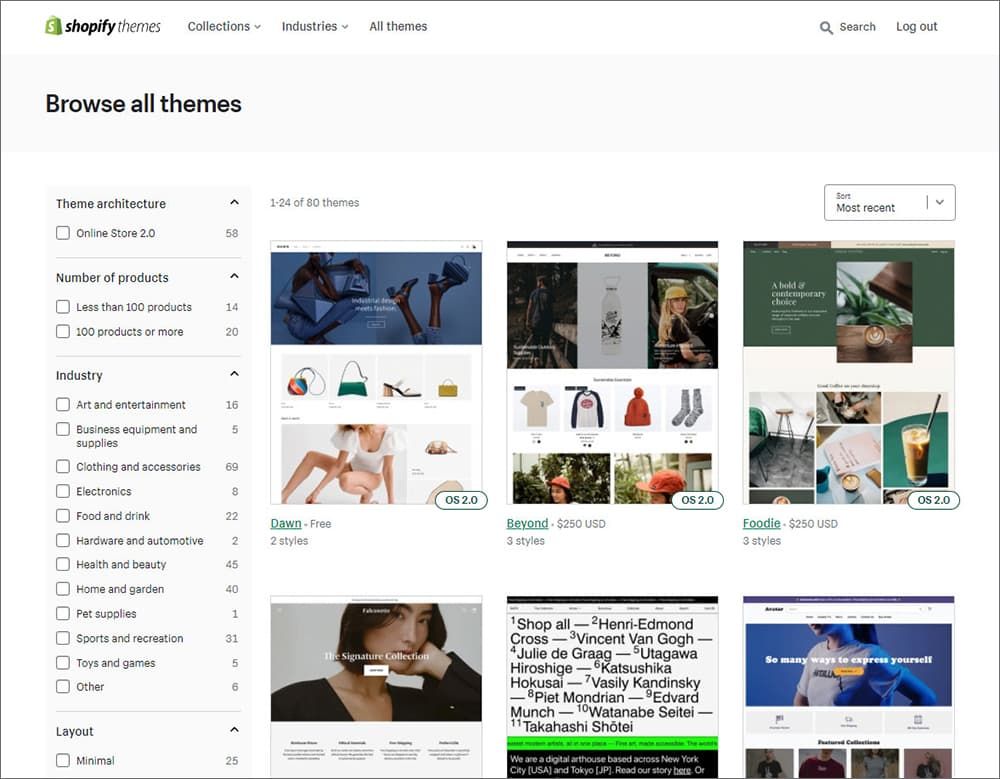 Shopify templates
Shopify has a large library of free (about 100) and the largest library of premium themes (thousands). By default, you have access to all the free themes, which is fine for most users. However, if you are interested in a website with a more unique design or you have a specific niche business, then I recommend checking out the premium themes to find suitable options.
The largest collection of premium Shopify themes is available on the ThemeForest platform. Here you can find every kind of Shopify theme for selling various goods, relating to various niches, and designed in different web design styles. The prices of these themes are also quite affordable and range from $20 to $90 per theme.
And of course, these themes have great opportunities for search engine optimization. The features of these themes include SEO-friendly HTML/CSS layouts, accelerated page loading speed, and various SEO tools and plugins.
For example, most premium Shopify themes already include Google's Rich Product Snippets, and some of them are tentatively checked by the MOZ SEO tool or equivalent SEO tools.
Adding Meta Title and Meta Description for every page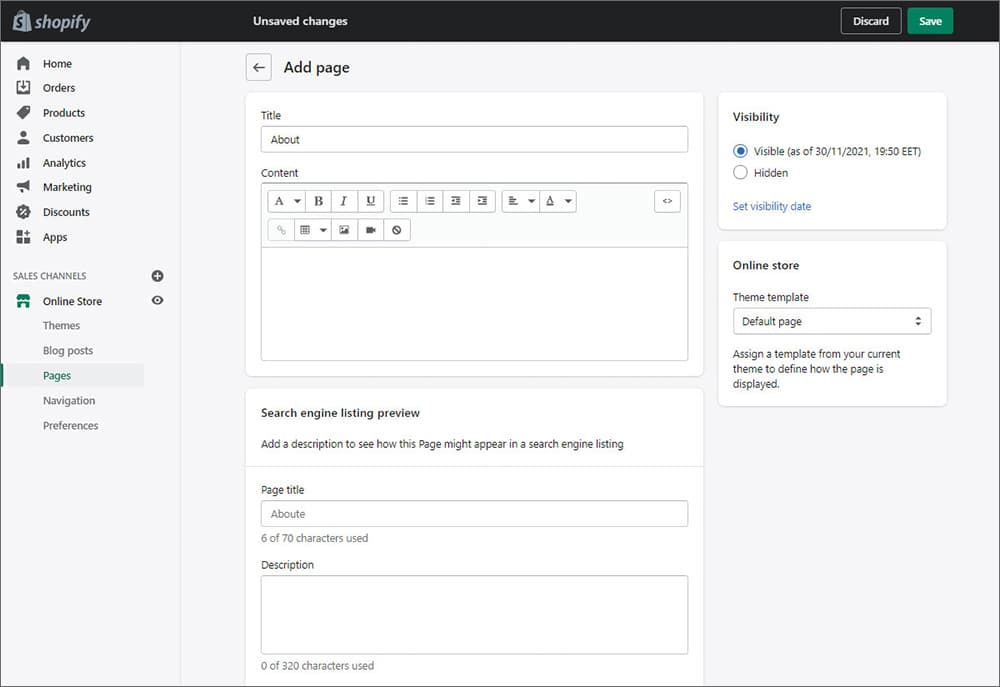 Adding meta title and meta description for every page
Like all SEO-friendly website builders, Shopify allows adding Meta Title and Meta Description for every page, whether it's a page from the main section, product subcategories, or product cards.
As a result, you get the possibility to attract organic traffic to all pages of your website. The main requirement from your side is to just optimize the content on your website based on popular and relevant search queries.
Advanced features for robots.txt editing
All websites designed using Shopify have automatically-created robots.txt files that already meet SEO requirements. But you can additionally edit it using the special robots.txt.liquid template.
With this, you can prohibit or allow indexing the pages you need, manually add some extra URLs to sitemaps, add crawl-delay rules, and much more.
NOTE: Despite the fact that having robots.txt.liquid template creates considerable SEO advantages, be very attentive while editing it. If you make a mistake, you can lose organic traffic for certain website pages or even the whole website. Meanwhile, the Shopify Support Team is unlikely to help you as editing robots.txt.liquid isn't included in basic Shopify possibilities, and that's why it isn't maintained by the Support Team.
Automatic sitemap.xml creation
Shopify automatically generates a sitemap.xml file. It is a record containing the links to all the pages on your website that must be indexed on search engines. Shopify also automatically sends the XML sitemap file to Google Search Console in order to let the pages of your website get indexed as soon as possible.
NOTE:
Basic Shopify plan allows the automatic creation of sitemap files only for primary domain names. But this will be unavailable to international and region or country-specific domain names. In this case, you'll need more advanced plans like Advanced Shopify. You can learn more about this here.
Numerous other useful SEO functions
Shopify was initially planned in order to save the clients from the problems that arise while getting organic traffic.
Here are some important Shopify SEO features:
SEO-friendly structure of page URLs
Compliance of logical hierarchy of categories for online stores
The absence of iFrames in pages code, which accelerates their loading speed
Possibility to optimize navigation throughout the site
Possibility to integrate Google Analytics
Indication of canonical webpage addresses
301 redirect configuration
Possibility to use descriptive image names to search engine optimize images
Additional SEO apps in the Shopify app store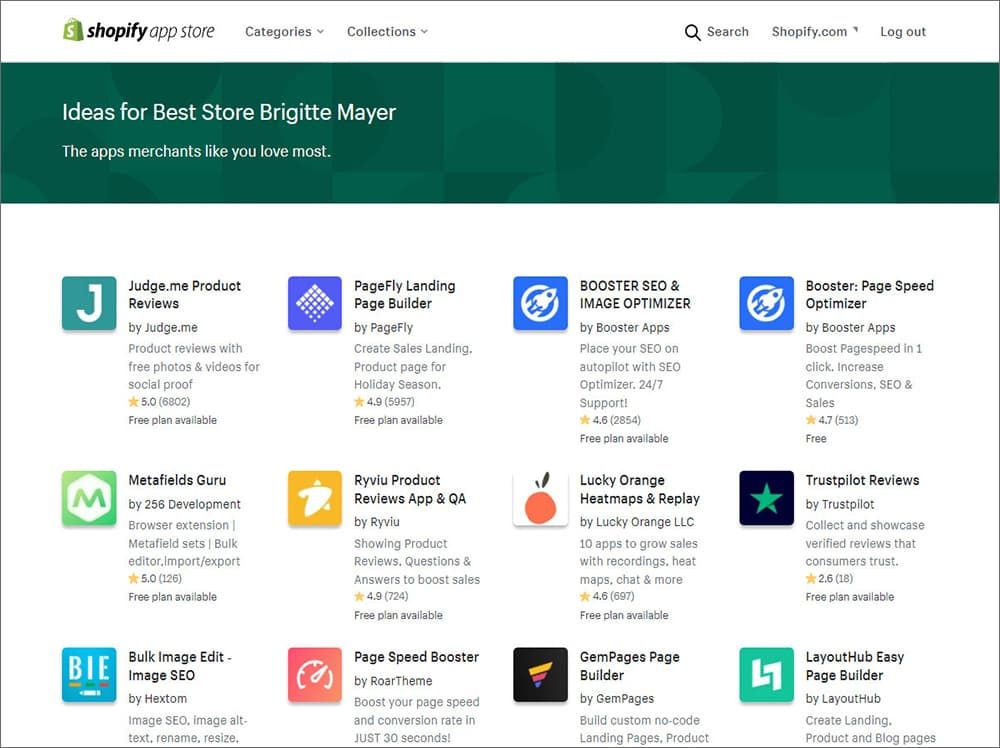 Shopify App store
Shopify has a large selection of apps for increasing the possibilities and performance of Shopify websites available in the Shopify App Store.
Wix and Squarespace also have such apps, right? Well, Shopify boasts of an extremely large collection of apps – about 2700 free and 2400 premium ones. And of course, Shopify has got apps for more successful online store SEO promotion too.
Here are the most powerful of them:
Booster SEO & Image Optimizer – A complex SEO solution for automatic online store optimization. It contains lots of built-in tools, and it can scan your website for SEO compliance and fix critical SEO issues. The app comes with a free plan.
Plug In SEO – One of the most popular universal SEO plugins for Shopify, Plug In SEO allows editing lots of Meta Descriptions and Titles at once, implementing Structured Data/JSON-LD Schema, finding and fixing broken, links and a lot more. The plugin allows performing SEO optimization of Non-English language pages as well.
About Bulk Image Edit & Image SEO – A shareware app, offering a full suite of image optimization features – from reducing the size while maintaining the same quality to adding Alt and file names.
SEO Manager – It scans the website to find SEO errors and provides opportunities for their removal. It contains step-by-step SEO instructions and reference materials for independent online store technical optimization.
How much will Shopify with maximum SEO options cost?
Shopify is definitely aware that it is the best E-commerce website builder in the market. That's why it doesn't offer a free plan, you have to pay to access their best-in-class services. However, they do offer a 14-days free trial version.
The cheapest Basic Shopify plan will cost you $29 per month. It includes all SEO options and tools except for those relating to International domain name support and International pricing.
As a result, Basic Shopify is likely to be a perfect solution for a small US or UK-based online store. But if your website has several language versions, then you'll need the higher Shopify plan that comes at a price of $79 per month. It allows performing International SEO and is not limited to only English language webpages.
What features should an SEO-friendly website builder have?
SEO has always been an important criterion for determining the best website builder. You can check out my previous guides on choosing website builders and you'll see that SEO has always been a factor in consideration. But today, I'm going to bet on SEO as the fundamental determining factor.
So, then what features should a website builder have to be liked by Google crawlers? Check them out.
Perfect webpage indexing
The HTML code on a page should be easily identifiable by search engines. And as for the website architecture, it must be simple and without complex elements and technologies that are hard to index.
NOTE: About 10 years ago most online website builders used Macromedia Flash technology. The websites built using Flash looked pretty and had spectacular animation. But it was very difficult for search engines to index them, and they were unlikely to rank higher in Google. Due to that, website builders started getting a bad reputation in SEO communities. But since then, a lot has changed. Today, website builders have completely abandoned Flash in favor of HTML5, and the problems with webpage indexing are now long gone. Moreover, website builders began coming equipped with built-in SEO tools, SEO widgets, and SEO tutorials, which radically changed the situation for the better.
Ability to add Meta Descriptions and Headings
Website builders must allow users to add some MetaData, such as Title, Meta Description, and headings (H1, H2, and H3) separately for each page. It should also be possible for users to specify Alt attributes for all the images on the site. All these options allow accurate search engine optimization for every single page.
SEO-friendly URL structure
SEO-friendly URLs are those which have a simple and clear structure that search engines can easily understand. Such URLs contain the basic keyword or webpage title (most often a fragment) and a minimum amount of enclosures.
Some examples of non-optimized URLs:
1) https://www.yoursite.com/news/?p=637
2) https://www.yoursite.com/articles/2022/09/25/sample-post/
3) https://www.yoursite.com/blog/archives/637
Some examples of SEO-friendly URLs:
1) https://www.yoursite.com/best-seo-friendly-platforms/
2) https://www.yoursite.com/seo/best-platforms/
3) https://www.yoursite.com/best-platforms/seo/
Availability of SSL certificate
The best website builders in the market offer SSL certificates with all their plans, even the free ones. They understand that having a website with HTTPS is not only a security issue but also an important factor for SEO. Moreover, the Chrome browser marks all the websites without HTTPS (that is the ones that don't have SSL encryption) as 'isn't secure' in the URL tab. This may have a negative impact on your website traffic as well as your reputation.
Responsive web design
After Google launched Mobile-First indexing across the web, having a mobile-friendly website design became a crucially important factor. If a website does not display correctly on mobile devices, then it is unlikely that it will rank higher in Google SERPs.
That is why the website builders targeting SEO must ensure that their templates are as responsive as possible so that they are displayed well across all device types and sizes.
Robots.txt and sitemap.xml creation and editing
The robot.txt file gives search engines the information about which pages have to be indexed and which don't. As for the sitemap.xml file, it is used to specify the URLs of all pages on your website in the order of their priority to be indexed.
The best SEO website builders can automatically create robots.txt and sitemap.xml (like Tilda). You don't need to take any efforts to get these files, but at the same time, you have the option to edit them if necessary.
Rapid webpage load
Page speed has been an important SEO factor, as officially announced by Google officials. So, the faster your website loads, the better it is for SEO. And a rapid webpage load speed can be achieved in several different ways. The most effective ways include reducing the page size and optimizing the images on the website.
Moreover, the most advanced SEO platforms also use CDN technology, image conversion into WebP format, and delayed image download (Lazy Loading). All these can significantly accelerate the speed of website operation.
Integration with marketing and analytics tools
Most website builders come with their own built-in analytics systems. But almost always their capacities aren't sufficient. That's why you need a possibility to add external marketing tools, A/B Tests, and marketing analytics systems.
In most cases, having the option to add Google Analytics and Google Optimize (for A/B Tests), and Google Search Console is enough.
Common SEO Mistakes That Prevent The Growth Of Your Website
Setting up a pretty-looking website is not enough. You need to ensure that the website ranks well on search. This is more easily said than done. The launch of a site is the beginning of the long battle to reach the top of search engine rankings. You need to resort to search engine optimization or SEO techniques.
However, SEO practices evolve constantly as Google and Bing fine-tune their algorithms. Here is a primer about what to avoid.
4 Common SEO Mistakes To Avoid In 2023
1. Not implementing HTTPS
HTTP or HyperText Transfer Protocol comprises a set of rules that govern how data is exchanged between your computer and others on the internet. Think of it as traffic rules for the web that governs the exchange of packets of data.
In recent years it has become obsolete since HTTP is not secure. The data transmitted using the system is not encrypted. This allows others who choose to eavesdrop on a computer to find passwords, user names, phone numbers, and credit card information.
HTTP has been replaced by HyperText Transfer Protocol Secure or HTTPS. Unless you use it, your site will rank lower on Google. In fact, since 2019, the Chrome browser warns users about proceeding to a site that is not HTTPS certified. Chrome has a 70% market share and you do not want to show up as unsafe to such a vast number of users.
2. Posting duplicate or plagiarized content
There are two ways to look at this SEO mistake. The first is information that is plagiarized. Google cannot decide which page to place higher since the same information appears on both sites.
The other is duplicate content published by mistake. This can happen on product pages and blogs. Two product pages that describe the same exact product are to be avoided. Not only scrutinize the description on the pages but pay attention to URLs as well. They need to be unique.
Most websites host a blog for disseminating information. Since a blog contains a series of posts, a topic might get published twice by mistake. Duplicate content on the blog can prove to be vexing for the search engine to rank.
3. Keywords strategy that is sub-par
A search engine cannot actually read and understand content from a page as humans can. That is why every page carries keywords in descriptions and content. Incorrect keywords are a top SEO mistake.
The keywords allow the search engine to understand if the page is meant for someone looking for information about dental braces or an online store for potted plants.
Keywords are available through Google Keyword Planner and other similar tools. Not only must you place keywords correctly, but choose those that accurately describe your site and the page.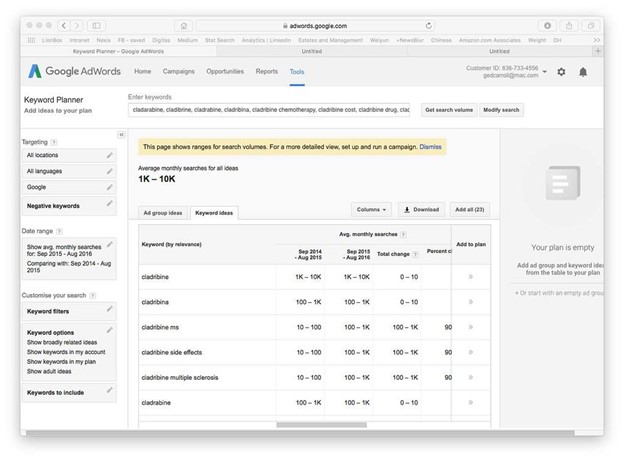 Image source: staticflickr.com
4. Not fixing errors in H1
Header tags or H1 tags are the first and largest tag of a webpage.
Think of it as newspaper headlines. When you want to find the score of a soccer match, you locate it by glancing through the headlines on the sports page.
A search engine does something similar. Wrong header is among the most common SEO mistakes made by a rookie site owner.
For this reason, the H1 tag has to be descriptive and give a summary of what is on the page.
For this page, the H1 is <h1> Common SEO mistakes that prevent the growth of your website</h1>
If instead, the tag read <h1>How to optimize web pages</h1> it tells the search engine nothing about the actual content. It is an SEO issue you need to avoid at all costs.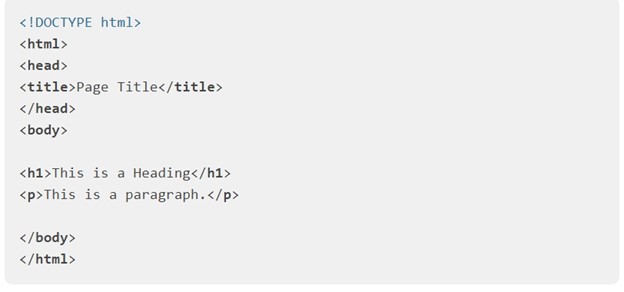 5. Publishing content that is too concise
Search engines prefer lengthy blog posts.
Posts that are about 1000-2000 words are the norm. In some cases, such as buying guides, content can be 4000 words long.
Shorter posts that contain less than 500 words do not get much attention from search. A longer post contains more details and therefore provides greater value. Ensure that you avoid the most common typos that plague low-effort content.
At the same time, pepper the writing with as much data as possible. This is very attractive to other writers who love to find someone who has done the hard work for them and would gladly provide a backlink to your site.
6. Neglecting SEO-friendly meta descriptions
Meta descriptions are the short snippets that appear below the URL and H1 in the search result.
They have two purposes. The first is to describe the page for the search engine and the second is to inform the visitor about the page.
The meta description has to be no more than 160 characters. Many site owners do not bother with a meta and as a result, the search engine shows the first 160 characters of the webpage content.
To fix it, generate a meta description for every page in 1-2 sentences. Your search ranking would skyrocket.