The Best Hotel Website Builders
WebBuildersGuide.com earns commission from some of the web builders and hosting providers listed on this website.
Learn more
Making a hotel successful is mostly about offering great services, being responsive to the needs of the guests and lodgers, knowing when to get out of the way and knowing when to repeat your suggestions of trying out specialties from your restaurant, serving the coffee hot and the towels clean, and doing all this with a smile that makes the guests comfortable.
Of course, there's more to making a hotel really successful, operate at full capacity with no redundant staff and feature on the preference lists of guests whenever they're around the same parts of the world again, and a swashbuckling hotel website is right there at the top of the super successful hotel's toolbox.
It's understandable for hotel managers to not warm up immediately to the marvels of a hotel website; however, it's for them to understand the leverage that a website can provide to the hotel. Reservations to help guests plan their stay, automated occasion greetings to patrons to be in their minds without pestering them with undesirable marketing messages, and broadcasting promotional rates to motivate off season occupation – all these and more desirable outcomes can be catalyzed for hotels that choose to invest in creating a power packed and terrific looking website. Here's a more layered presentation of the most exciting benefits that the best website builders for hotel can offer:
Remotely provide a realistic view of your hotel's rooms – Printed brochures hardly manage to convey the real image of the rooms you've got to offer. A website for your hotel allows you to categorically showcase high quality images of the various kinds of rooms, so that your prospects have reasons to try you out!
Offer easy reservations – With readily available information about the tariffs and vacancy of rooms presented through a clickable calendar, you can help visitors plan their travel and accommodation better, which speaks well for your accommodation services.
Upfront payments – Give tremendous to your cash flow cycles by using payment processing gateways to motivate patrons for paying fully or partially before availing your hotel services. What's more, you could bundle in discounted breakfast and dinner options to nail down the deal hunters.
Internal portal for managing large setups – Of you own or manage a large hotel, or a chain of hotels, your website works as a centralized portal where employees and managers have their own accounts with suitable access privileges. This makes management of staff easier than ever before and frees up management's time for more important activities.
Massive potential for more organic clientele – With a well planned and SEO friendly hotel website, you could feature in searches made by frequent travelers, which is guaranteed to be a substantial boost for your client pool.
We're sure you get the point; it's time to walk the talk now and learn about the best hotel website builders that you would want to consider for creating your all important hotel website. So, here are the most suitable website builders for hotel website:
WIX Free Website Builder for Hotels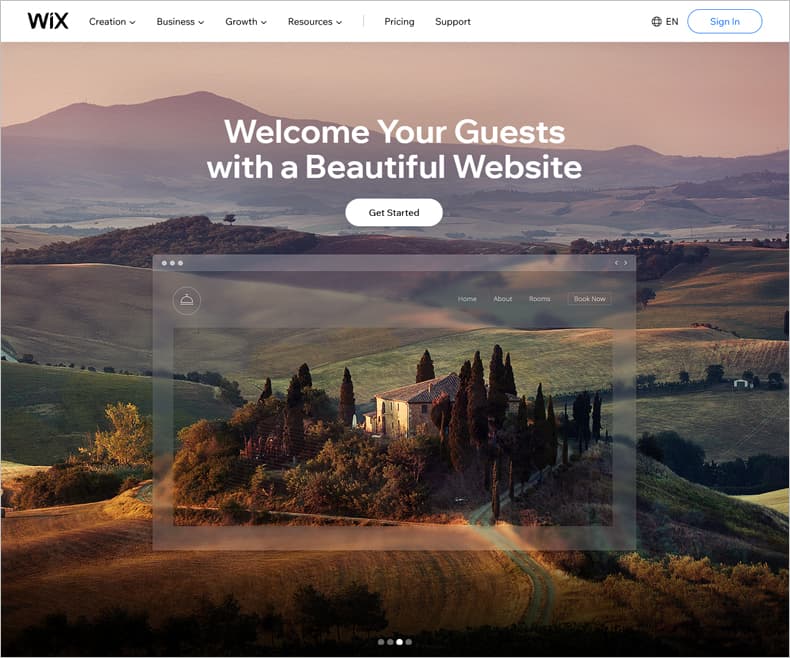 WIX provides lots of advantages comparing to other hotel website builders and the first of them – it's absolutely free. And it's not a 30-day trial version, like other website builders usually offer, but really free version. Of course, you can get more advantages for your hotel website with WIX premium package but free opportunities of WIX builder also impress.
So, it's amazing to note how generic website builders that encompass all possible website building features prove to be relevant for niche requirements such as hotel website, and Wix is a perfect example of the same. Trust Wix to empower your hotel business with a breathtakingly beautiful website design that's guaranteed to put you way ahead of completion. Right from SEO, social media integration, drag and drop styled website building to in-page widgets such as Google maps, feedback forms and a whopping apps marketplace – there's enough in the Wix artillery to appeal to discerning hotel owners.
Swanky templates, stable hosting, mobile responsiveness; everything – Wix is what you need if all inclusive services appeal to you. Begin with a fascination selection process from the enviable collection of professionally designed hotel website template, trust Wix hosting to help you maintain a speedy and secure website, and be at peace when users use their mobiles and tablets to access your hotel's website, courtesy mobile responsive templates – all this and more with Wix. It's not an overstatement to tell you that Wix can help you create a fully functional website in a couple of hours, leveraging its fluidic drag and drop styled website editor interface.
Maintain a terrific blog and enjoy social rub-off – Wix includes really powerful blogging features to help you populate and maintain a dedicated blog with your hotel website. Not only does this complement the SEO boosting features of Wix, but also adds credibility to your hotel services. Then, you could link your hotel service's social networking pages with the website and can even allow users to leave comments, Like and Share your web pages and blog posts. All this can be managed without any major investment of time, which makes Wix a top class solution for busy hoteliers.
A world of niche features from the inimitable App market – Wix's prowess as a website builder stems to a great extent from the awesome app marketplace it has. Find all kinds of free and resume apps relevant for your hotel website, such as bookings and reservations manager tools, flash elements to add terrific content, contact forms to gather feedback and enquiries from users, gift cards and coupons to manage promotional campaigns and polls to administer surveys to your guests. Email marketing and live chat are other special features for hotel websites to leverage for facilitating customer satisfaction and delight.
Build business effortlessly and effectively – Wix is right up the alley of adventurous and aspiring hotel owners who believe that Internet has a lot to benefit them. Use the contact manager to maintain and act upon all leads collected for your hotel, leverage traffic generation tools to invite more website visits, use site analytics to identify the content that's contributing to building trust and business with clients, and integrate toll free number to enable customer support – all with Wix's top notch business tools.
IONOS Hotels Website Creator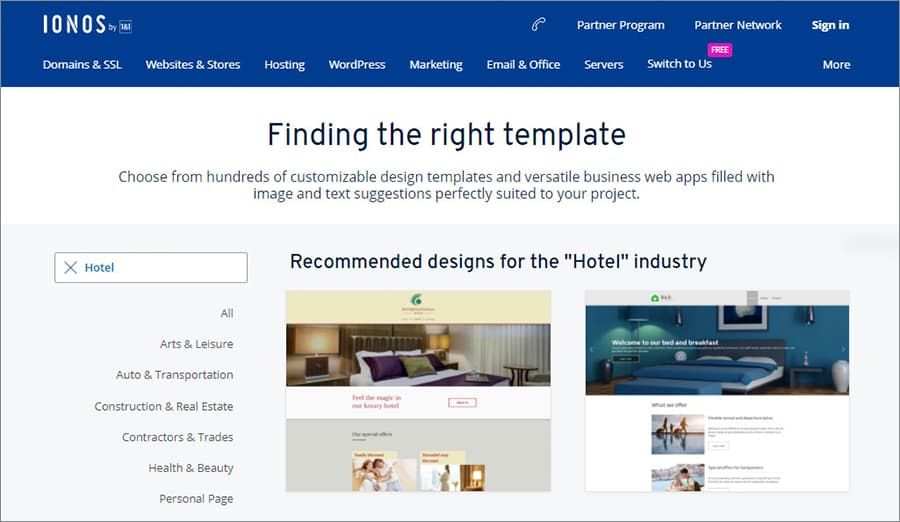 1&1 has carved out a fair reputation or itself by ensuring that it takes industry specific issues into note while designing it with this website builder with hotel reservation system, and that works well for hotel owners and managers trying to set up a smart website without tying out time and money resources in the process. Showcase your best rooms with amazing high quality images on your site's landing page, sell well with selling tools relevant for hotels, and trust the drag and drop website building interface to give you a fulfilling website building experience.
Flaunt breathtaking designs for your hotel's benefits – Visual aplomb goes a long way in nailing business, and that's what you get with the swashbuckling hotel website templates on offer by 1and1. These templates are professionally designed for the best hotels and hence make your hotel look too good to be ignored. Substantial resource allocation allows you to upload all those HD images and videos to put things in perspective for viewer. Then, you have the responsive design advantage because of which users get the same wonderful viewing experience when they log in to your website on the move.
Flaunt photos, share documents, and publish multilingual content – 1and1 races past several other website builders because of the powerful tools that it provides you with the fluidic website builder. Translation tools ensure that your website is globally relevant so that foreign clients can effortlessly connect with your hotel. Then, you can leverage sophisticated image galleries to showcase images in a great manner. Sharing newsletters and other documents is also easily and effortlessly possible with the 1and1 website builder.
SEO to entice new clients and social integration to maintain existing client pool -1and1 doesn't limit itself to website creation; instead it extends to come up as a selling solution for your business. Use all the SEO features to make your website feature well on Google and other search engines, which is guaranteed to be a major push to organic traffic and more business. Then, you can smartly work with social media features that enable you to connect with old and existing customers apart from opening up gates for new ones.
Web based selling to make your business win – 1and1 encompasses selling oriented tools such as integrated payment gateways, booking calendars, email marketing and newsletters. All these go a long way in ensuring that hoteliers are able to leverage their website for generating more business apart from using the same as a broadcast medium of communication. With 1and1's renowned customer support systems to back your efforts, it becomes a truly special pick for hoteliers.