How to Build a Hotel Booking Website: Top Hotel Website Builders
WebBuildersGuide.com earns commission from some of the web builders and hosting providers listed on this website.
Learn more
Which website builders have their own hotel reservation system? Check out the list of best hotel website builders with direct bookings. These hotel booking website builders will allow to book hotel rooms directly on a hotel website. And also accept payment without any commissions.
Which website builders are the best for creating a hotel website? For not just a simple one-page website but also modern hotel websites with room reservation systems?
Riddled by questions like these and many others?
This guide will walk you through hotel website builders that have their own reservation options. Also, you'll learn what factors to consider when choosing a website builder for your hotel.
Being the owner or manager of a hotel business, you'd be aware of the importance of a website for your hotel.
Of course, you can go digital just by registering with global hotel booking sites, like Booking.com, Hotels.com, Kayak, Momondo etc. But this isn't quite the same as having your independent hotel website.
Here's why:
1. No Fees
Having your hotel website with a built-in reservation system allows you to run a direct booking on your own website and saves you from paying fees to intermediaries.
2. More Flexibility
Global hotel booking sites offer limited display and coverage of additional hotel services. Your hotel might also have a restaurant, a gym, car rental, massage services, excursions, and so on. At most, third-party sites will let you mention such services in your hotel's description. With your website, you can create individual sections/pages for additional services. You can also include photos and videos and even allow prior bookings.
NOTE: When choosing a hotel, most people look for information about it on the Internet first. Even after finding a hotel on a booking site, some visitors prefer visiting the hotel's website. This is done to validate the details. For example, people are usually interested in knowing the restaurant's timings and the possibility to reserve a table for dinner. They also want to check out the pictures of the sauna/swimming pool/bar. So, if a hotel has its own, and at the same time, attractive, website, it's another reason to choose it over the others.
3. More Freedom
Unsatisfied customers can leave negative reviews about your hotel. This can significantly drop your hotel's rating on third-party sites. And it is almost impossible to prove to the site that the client hasn't been objective, or the review isn't credible. Having your hotel site gives you the freedom to decide which reviews to publish and which not.
4. More PR Possibilities
No matter what marketing strategy you choose, it will be easier and faster to implement it with your hotel website. You can place ads in various magazines with a link to your hotel website. Or you can go for contextual advertising with Google Ads. Or just create pamphlets and business cards with your website's URL. All these will be impossible or painstakingly difficult to pull off with hotel aggregator sites.
Top 5 Website Builders for Hotels

Now that we know what factors to consider, let's get to the reviews of the best hotel site builders.
Wix – Easy Website Builder With Direct On-site Bookings
Wix is a free website builder that has managed to establish itself as the best website builder for small businesses.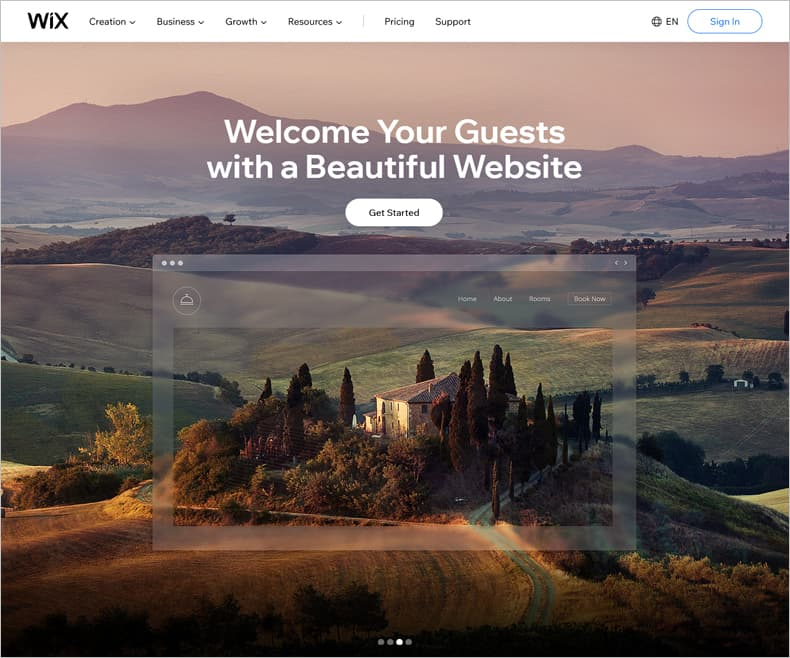 Wix – easy website builder to create a hotel website
Hotels businesses are no exception. Wix comes laced with all the features required for creating a modern hotel website. And its direct booking functionality is better than any other online website builder. Other features that it offers include:
Lots Of Templates Perfect For Hotels
Wix has the largest collection of website templates suitable for hotels. All the templates are fully responsive and automatically adapt to any device. Wix even went a step ahead and designed templates for various types of hotels. For example, there are templates for business hotels, resorts, family hotels, apartment hotels, motels, and bed and breakfast hotels too.
Simple Drag-and-Drop Editor
Wix has one of the best drag-and-drop editors of all online website builders. This means that you'll be able to edit your favorite hotel template on your own. You can change the color scheme, replace photos, edit the logo and text, and whatever else you want. And it is easy to do even for non-techies.
Wix Hotels
Wix Hotels is Wix's online booking system. Thanks to this, you can configure and manage room bookings on your website. It is available for free for Wix clients using the Combo plan or higher.
Wix Hotels app
What Advantages Does Wix Hotels Offer?
Direct reservations without any fees.
Accept payments directly via the website.
Flexible pricing options.
Works on any device – PC, Mac or mobile.
Multilingual booking page.
Allows configuring automatic confirmation emails to be sent out to customers immediately after payment.
SEO-Friendly
Wix has everything that you need for creating SEO-friendly websites. This means that your website will get indexed by and rank on search engines without any problems. There's a set of SEO options that also allow you to customize every website page for different search queries. You can learn more about this in the article: Best SEO-friendly Website Builder.
Free Hotel Website Builder
Wix is a free website builder. So, you launch your hotel website with Wix without any charges. Of course, your free hotel website will have several restrictions. The key limitations include the Wix ad in the footer and the inability to use your domain name. Instead of your domain name, you'll get a domain that looks something like www.yourhotelname.wix.com. If that's not what you want, switch to one of the premium plans. The basic plan where you'll be able to use your domain and have no Wix ads – Combo – comes at $14 per month.
Hotel Apps In The Wix App Market
Wix has an App Market from where you can find additional apps for improving and enhancing your website. Most of them are free. Others charge a certain monthly fee. The amount varies from app to app. Some of the apps available for enhancing a hotel website include:
WordPress.com – A Powerful Online Platform For Launching Hotel Websites
WordPress.com is one of the most popular online website builders. It is the paid and managed version of the free and open-source WordPress CMS. And just like its free counterpart, it has a large (and impressive!) collection of templates and additional plugins, including plenty of options suitable for hotel websites.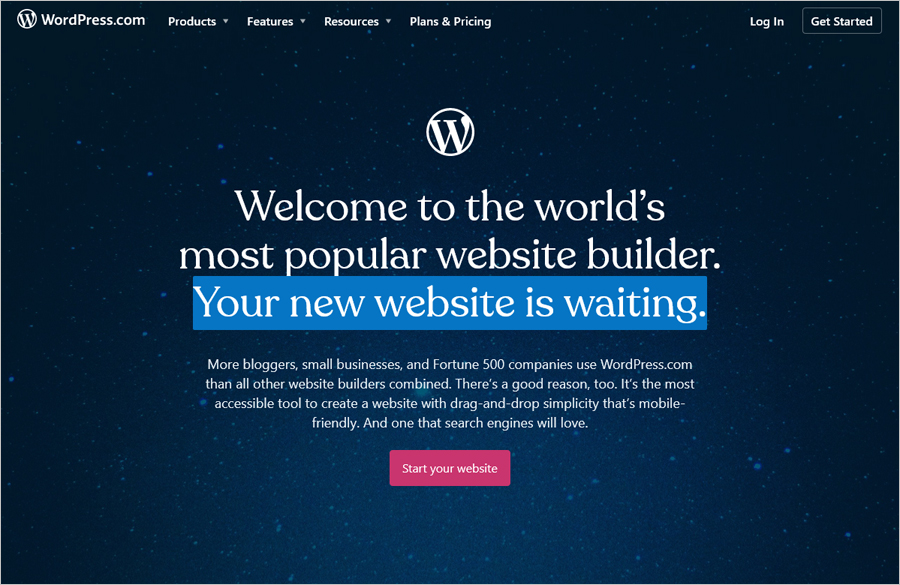 WordPress.com – powerful online platform to create a hotel website
Let's explore its features in detail.
WordPress.com Hotel Website Themes
In the world of WordPress, website templates are called themes. Irrespective of the name, they work the same way. You choose a theme and customize it.
Now, the total number of themes available with WordPress.com is higher than with Wix. But there are only two options in WordPress under the hotel category. These include:
Also, WordPress.com's themes lag behind Wix's templates in terms of the quality of design. However, thanks to a large selection of free universal WordPress themes, you can customize any of them for your hotel website.
Hotel Reservation System In WordPress.com
For developing a hotel booking website, WordPress.com offers a unique extension called WooCommerce Bookings. It's a powerful booking extension that can be integrated into any WordPress.com website. WooCommerce Bookings allows customers to book and reserve hotels, apartments, restaurants, beauty salons, and even rent equipment.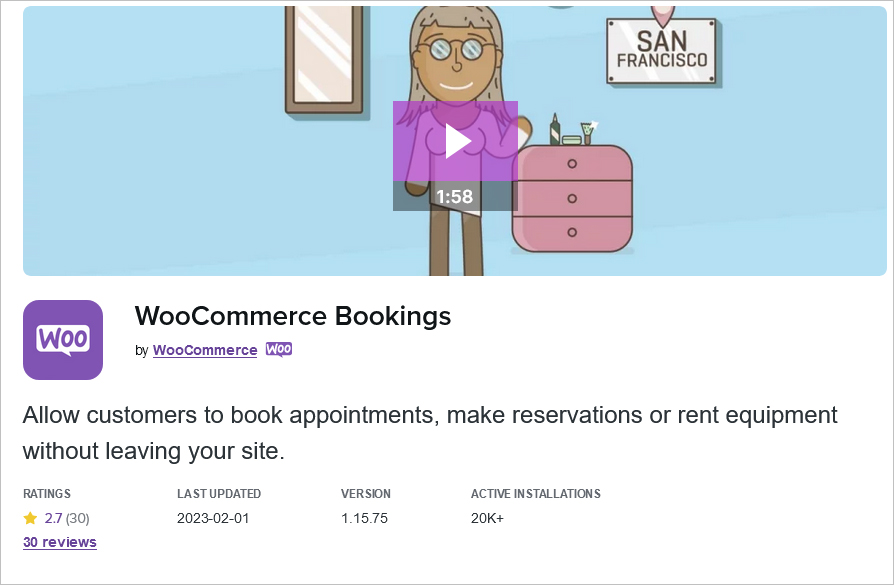 WooCommerce Bookings plugin
It has a wide range of settings too, which allows building the perfect hotel website as per your needs. For example, WooCommerce Bookings makes it possible to offer group discounts for those who book several rooms at the same time.
The WooCommerce Booking extension comes in at $249 (billed annually).
With this extension on your hotel website, you can also integrate some additional hotel plugins/add-ons.
For example, there is the WooCommerce Accommodation Bookings add-on. It is a free option that let you add the "Accommodation" option for managing the time of arrival and departure of hotel guests.
Another convenient add-on is WooCommerce Bookings Availability. For $49 per year, you get to place a calendar or schedule of the available hotel rooms. It also offers lots of additional options like pop-ups in booking process.
NOTE: You can always find more WordPress plugins for your hotel website. But make sure you consider their capacities well. Some hotel plugins, for example, don't allow receiving payment for bookings online. They only let visitors make booking requests for the selected date.

You then need to contact the customers via email, WhatsApp, or phone to clarify booking details.

Other plugins allow both booking and paying directly through the hotel website itself but may not be free. So, you should exercise caution before selecting any plugin.
How Much Does It Cost To Build A Hotel Website With WordPress.com?
WordPress.com offers 4 plans. The basic plan costs only $5 a month. However, you can add the WooCommerce Bookings extension and other add-ons only after buying the Business plan ($25/per month, if billed annually) or a more expensive eCommerce plan.
The Personal and Premium plans won't allow this.
Further, don't forget the cost of the WooCommerce Bookings extension ($249 per/year). The total bill thus rises to a considerable amount of $549 per year.
And that's when you have a free and not a premium WordPress theme.
Due to this, despite the huge functional opportunities and customization flexibility, I have placed WordPress.com below Wix. Moreover, Wix is also simpler to use than WordPress.com.
Weebly – 100% Free Hotel Booking Website Builder
Weebly is one of the oldest site builders that managed to establish itself as a free yet reliable option. And you can easily create a free hotel website with a booking system on Weebly. However, note that Weebly doesn't have a built-in booking system. Instead, you can add a room booking widget from the Weebly App Center. That saves you from having to turn to third-party room booking services.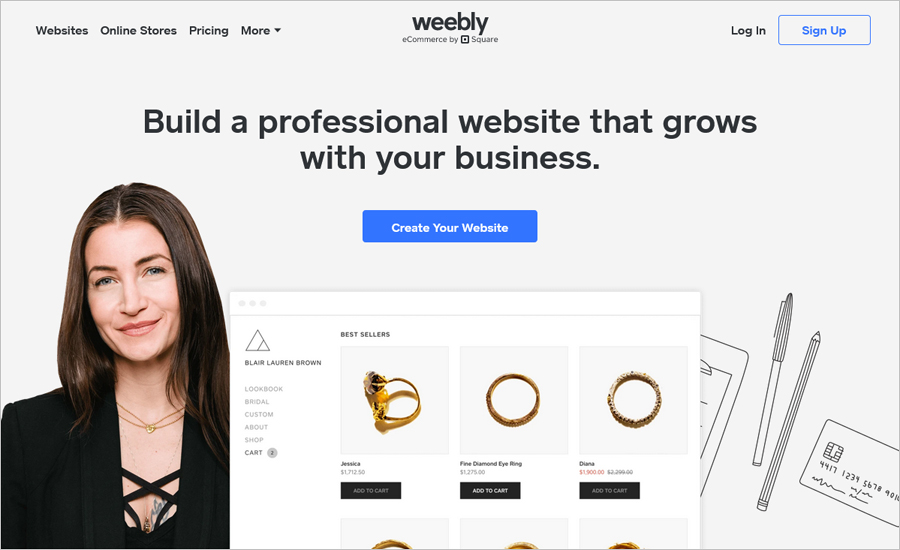 Weebly free website builder for a hotel website
Truly Free
Most website builders don't offer a room reservation system for direct bookings. Wix and WordPress offer additional hotel apps and hotel add-ons for that. But they are available only in the premium plans. (Even though they both claim to be 'free' website builders!)
In case of Weebly though, you can add a room booking widget even with the free plan. Therefore, Weebly is a truly free hotel booking website builder.
NOTE: Despite the fact that Weebly has a free plan, I recommend upgrading to one of the premium plans. With that, you'll be able to remove Weebly ads from your website. And more importantly, you'll be able to use a custom domain name. Both these are really important for any business.
Weebly's Templates
I am a long-time Weebly enthusiast. It was the first website builder I ever used. But still, I have to admit that the platform's templates are not its strongest feature.
Weebly doesn't have a wide selection of templates like Wix and WordPress do. And even if the designs are somewhat comparable to WordPress templates, it falls short compared to the templates available on Wix.
Moreover, you can't even preview Weebly's templates in the fullscreen mode before registration. I don't know what made the team behind Weebly do it, but it's really inconvenient. The maximum it lets you do is see a small template preview.
For example, in the Business category (because there's no hotel category in Weebly), you can't see a preview.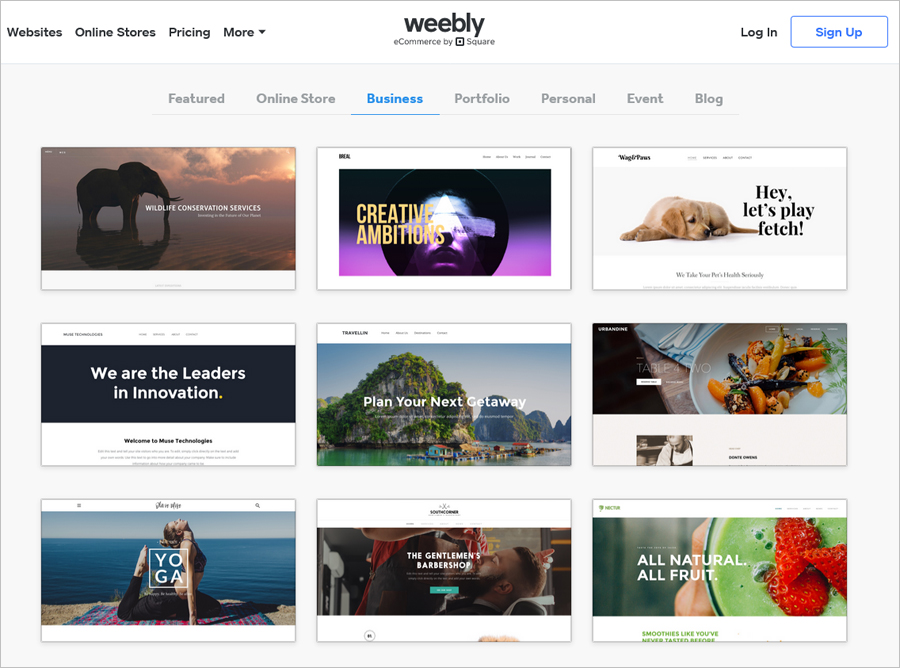 Weebly website templates in Business category
Feel like turning to the description for some deciphering? Hard luck there too as there's no clarification about the template. Not in the template name and neither in the category name. And one is very likely to go crazy trying to gauge what is written on the previews.
Perhaps, that's a marketing trick to push people towards registration, but in my opinion, it's a lowly attempt.
Weebly Hotel Reservation System
To add a hotel reservation system to your Weebly website, you only need to get a booking app of your choice. And Weebly offers both free and paid options for that.
Two of the best solutions that I'd recommend include:
Futurestay – Allows adding direct booking with Google Vacation Rentals integration to the website.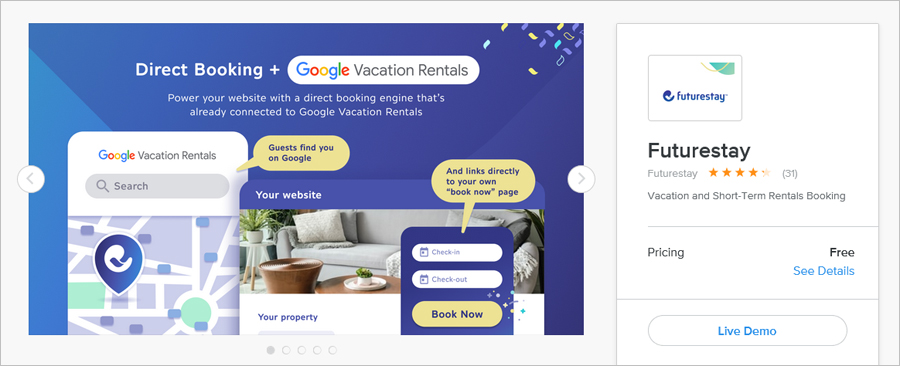 Vacation and short-term rentals booking app
Appointedd – A universal booking solution for various kinds of businesses, including those dealing with rental of premises and accommodation.

Ultimate online booking for Weebly sites
How Much Does It Cost To Launch A Hotel Website On Weebly?
Other than the free plan, Weebly has 3 premium plans to choose from.
It should also be noted that Weebly is one of the most affordable website builders and its plans are cheaper than most contemporaries in the market.
The basic Personal plan costs only $10 per month (paid annually). It lets you build a hotel website using your own domain and comes with 500MB Storage. You also get a free SSL certificate.
For just 2 more dollars, you can go for the more powerful Professional plan, which comes in at $12 a month. With that, you get unlimited storage, access to advanced website statistics and free domain for 1 year.
This is the most profitable Weebly plans in terms of price-quality ratio.
Then you also have the Performance plan for $26 per month that offers maximum features. It is especially beneficial for building online stores since it includes Advanced eCommerce Insights.
NOTE: The Weebly plans are named and priced different for their European audience. The basic plan is called Connect costs €5 a month (paid annually). The Pro plan costs €10 a month. And the Business plan comes in at €20 a month. The functional capacities of these plan are however, identical to their American variants.
Duda – Simple Website Builder For Multiple Hotels
Duda is another easy-to-use website builder that lets you build hotel websites with booking systems. Thus, Duda is remarkably remunerative for constructing websites for multiple hotels at once.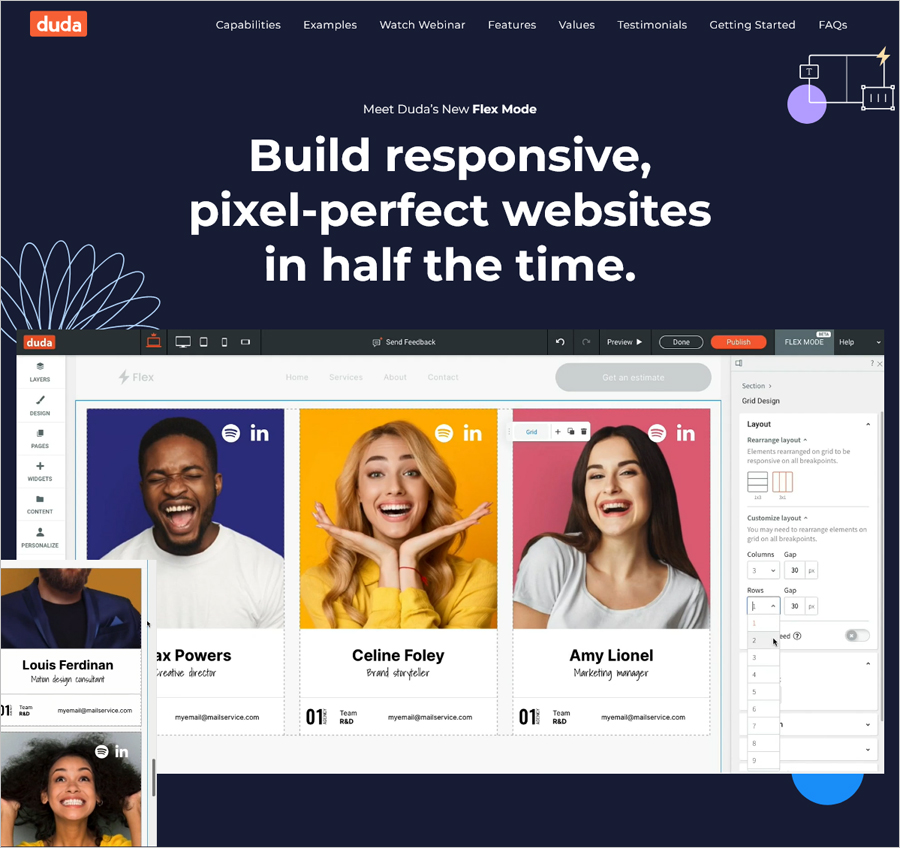 Drag-and-drop editor DudaFlex
It uses a built-in drag-and-drop editor called DudaFlex. You can choose from the available templates or create your own like all other website builders.
Duda Hotel Templates
Duda has a large selection of templates. But that includes only one hotel website template. That shouldn't upset you though. You can use almost any template and turn it into a contemporary hotel website with DudaFlex.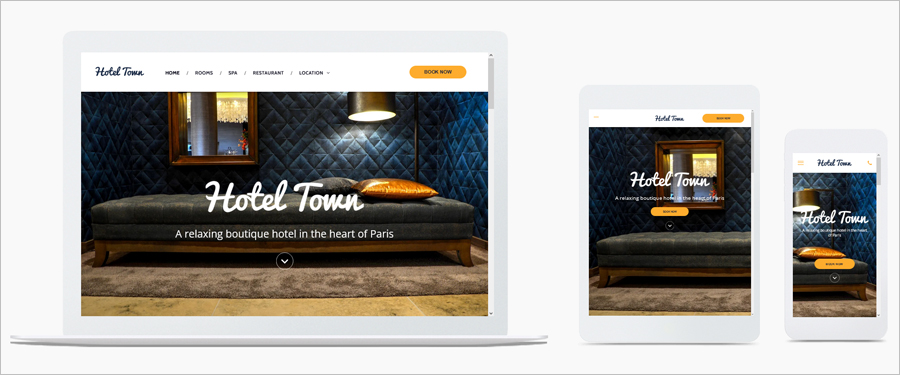 Duda City Hotel websie template
Most of the templates feature a minimalist design, including large elements, big images, and clear and convenient navigation. That's why they can be easily turned into the website of any theme, including the hotel business.
It is not hard to do that either. In fact, it is simpler than how it seems at first glance.
And of course, like all modern templates, they are responsive. You won't need to put in additional effort to make Duda templates adapt to PC or mobile screens.
Hotel Booking System
Like previously discussed hotel website creators, Duda lacks a built-in booking system. Instead, there are two booking apps in the Duda App Store that you can add to your website:
Bookingmood – Allows configuring a system for online booking of hotel rooms and accepting payments without fees. There's also an availability calendar which displays free rooms for the selected days. Bookingmood plans start from $2.50 a month.
Bookafy – It is a universal app that is better suited for planning events. But as it allows creating a standalone booking page, you can use Bookafy for apartment rentals or small family-run hotels. The best part? Bookafy is free to use.
SEO-Friendly Websites
Duda understands the importance of marketing effectiveness and SEO. Thus, like most leading SEO-friendly website builders, Duda has in-build SEO functionalities that let you effectively optimize your site for search engines.
Another thing I personally liked about Duda is that it offers AWS hosting. It is a quick and very reliable hosting from Amazon. That's why the Duda websites load faster than other website builders.
How Much Will A Hotel Website On Duda Cost?
Duda isn't a free website builder. It has the following premium plans to pick from
The most affordable Basic plan allows launching a simple hotel website for $14 per month. It is definitely not the cheapest option for a basic set of options.
The Team plan comes in at $22 per month and allows adding Client Billing and up to 4 people as team members. It's a convenient option if the website will be taken care of by several hotel managers.
The Agency plan, for $44 per month, is a really interesting plan. It supports 4 different websites and will be a good solution for someone who owns a chain of hotels. It also offers access to the Widget Builder and the possibility of exporting the website.
NOTE: Duda allows adding extra websites to every plan. However, the most profitable option is the Agency plan for 4 hotel websites where you can include additional websites for $12.99 each. It's a very attractive offer given that you get AWS hosting. For owners and managers of hotel chains, this is definitely worth considering.
Best Hotel Website Builder – What Features To Look For?
Before you choose a hotel website builder, it is important to note what features it must have. The presence of the following features makes a website builder suitable for creating a contemporary hotel website.
1. Perfect Hotel Website Templates
The more hotel template options, the better it is for you. A large template library helps you choose the website design that will work best for your hotel.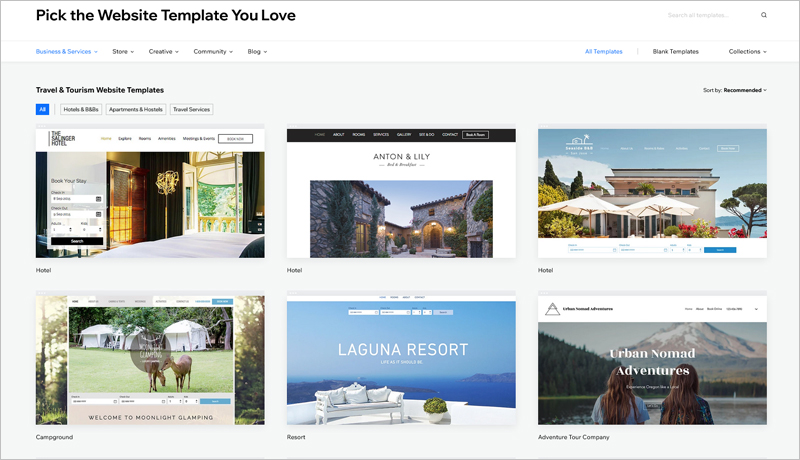 Collection of hotel website template
2. Responsive Templates

Having lots of hotel template options is great. But they must be responsive as well. This means that the templates are going to look equally good on both PC and mobile devices. Without the need for an independent mobile website version. Since many customers use mobile phones to access the web, this becomes important.
3. Photo and Video Galleries

Photos and videos of hotel rooms, the reception desk, the restaurant, and the area around the hotel…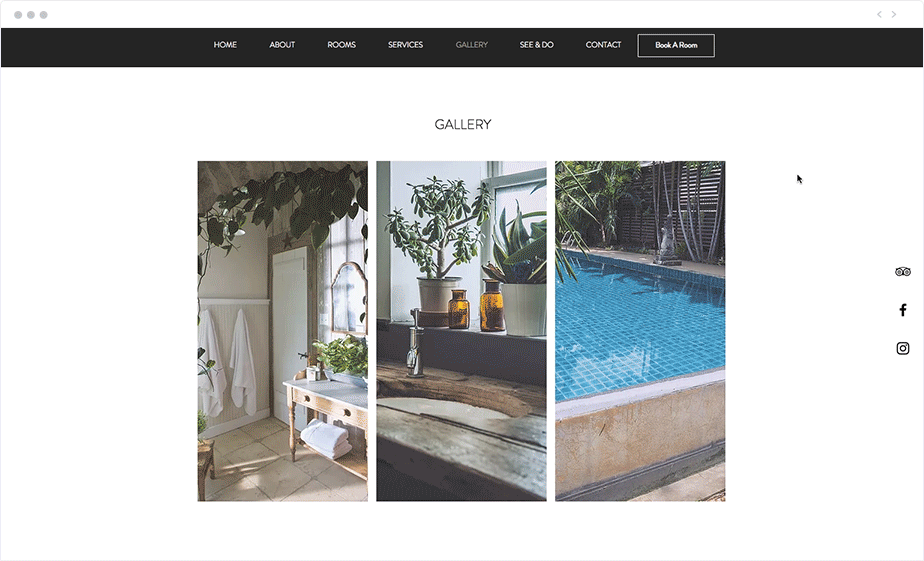 Image source: wix.com
These are the first few things that people take into consideration before booking a room. Having a good photo and video gallery option on your website is thus, essential.
4. Phone Number

A good website builder for hotel businesses must allow placing a phone number in the header of the site. Some clients prefer to not book hotels online but via call. Therefore, remember to place the phone number at the most noticeable place on the website. It is usually in the upper right corner.
5. Hotel Reservation System

A reservation system is, perhaps, the most important feature that hotel website builders must have. The best options on the market have built-in reservation systems. Others might offer third-party integrations, third-party plugins, or additional apps for the same. One way or another, a hotel reservation system should be the key factor of consideration when choosing a hotel website builder.
What is a Hotel Reservation System and how does it work?
A Hotel Reservation System is a software solution that enables hoteliers to manage room bookings and reservations efficiently. This type of system allows hotels to streamline their booking processes, maximize occupancy, and improve the overall guest experience. By automating and centralizing various aspects of the booking process, hotel reservation systems make it easier for both hotel staff and guests to navigate the reservation process.
The system typically includes features such as real-time room availability, online booking, payment processing, and guest communication tools. It may also integrate with third-party platforms such as Online Travel Agency (OTA) and Global Distribution System (GDS), which help expand the hotel's reach to potential customers worldwide.
The Hotel Reservation System allows guests to easily search for available rooms, compare rates and amenities, and make reservations, all from the comfort of their own devices. This technology not only saves time for both hoteliers and guests but also reduces the possibility of human error in the booking process, resulting in a more seamless experience for all parties involved.