Shopify Review – is really the best solution for ecommerce?
WebBuildersGuide.com earns commission from some of the web builders and hosting providers listed on this website.
Learn more
Shopify Website Builder: The simplest and shortest means to web and eCommerce
Building the elements of simplicity and scalability into eCommerce platform services, Shopify is one of the most advanced eCommerce website builders in the market today. Founded in 2006 by Tobias Lütke, Daniel Weinand and Scott Lake, Shopify was an attempt of its founding members to come up with an easy to use eCommerce software. Over the next few years, the sheer simplicity of the platform managed to attract a lot of businesses to endorse Shopify for making the transition from the 'bricks' to the 'clicks' model of commerce.
The USP enjoyed by Shopify is that it makes the task of setting up an online store with all selling and marketing functions extremely simple, unlike the rather DIY and hands-on platforms like WordPress and WooCommerce. With its website building, administrative panels, content marketing and SEO functionalities, Shopify comes across as an end to end selling solution for businesses looking to go online.
Today, Shopify empowers online sales from Encyclopaedia Britannica, GitHub, Tesla Motors, General Electric, and hundreds of small and mid-sized businesses.
Shopify is a leader among eCommerce Website Builders
If you are looking for a turnkey solution to create beautiful online store without investing a lot of time, then Shopify is precisely the tool you need. With store designing, eCommerce, marketing, SEO and mobile commerce functionalities brought to you under one roof, Shopify lends you the power to scale up anytime, and to any level.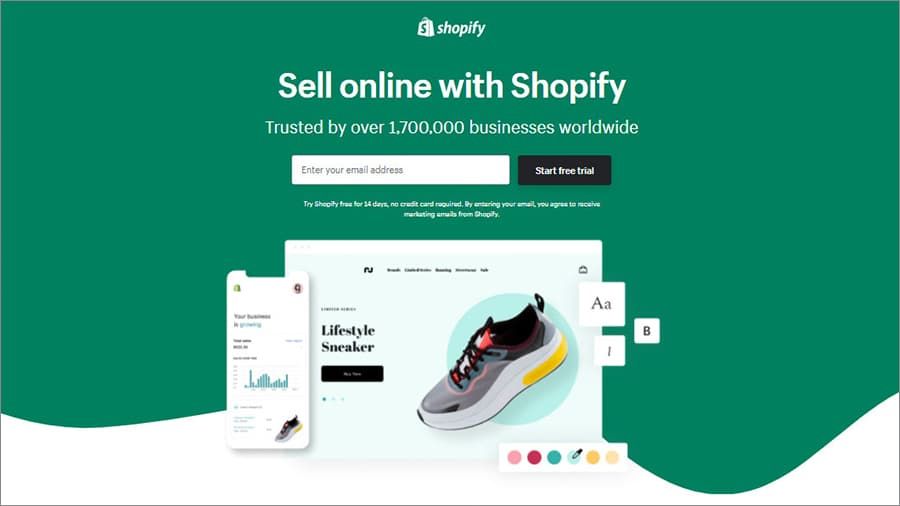 Sell online with Shopify
Flexible website designing with efficient features
Shopify is recognized by many as the best website builder for ecommerce for a reason. And here is why. With more than a hundred readymade templates suiting varied business needs ready for you, all you have to do is to choose. The Theme Store hosts several premium and free templates. You can even filter out templates based on the kind of products you intend to sell online, ranging from clothes and fashion to more abstract art and photography products.
In order to make your way to tailored web pages, Shopify provides you ample options to fine tune the look and appearance of your web store. You can affect all the customizations to the design without having to touch HTML and CSS files. Homepage layout, colors, fonts, slideshows – all these spices lend you a lot of flexibility in terms of creating web store designs that reflect the value propositions of your brand. In fact, the three step methodology just requires you to pick a template, customize it according to your preferences, and launch it.
Shopify supports several international languages and currencies, thus providing you the flexibility to expand your business to different geographies using the virtual platform.
Create stunning eCommerce stores with Shopify
Converting your website into a full-fledges online store is super easy with Shopify.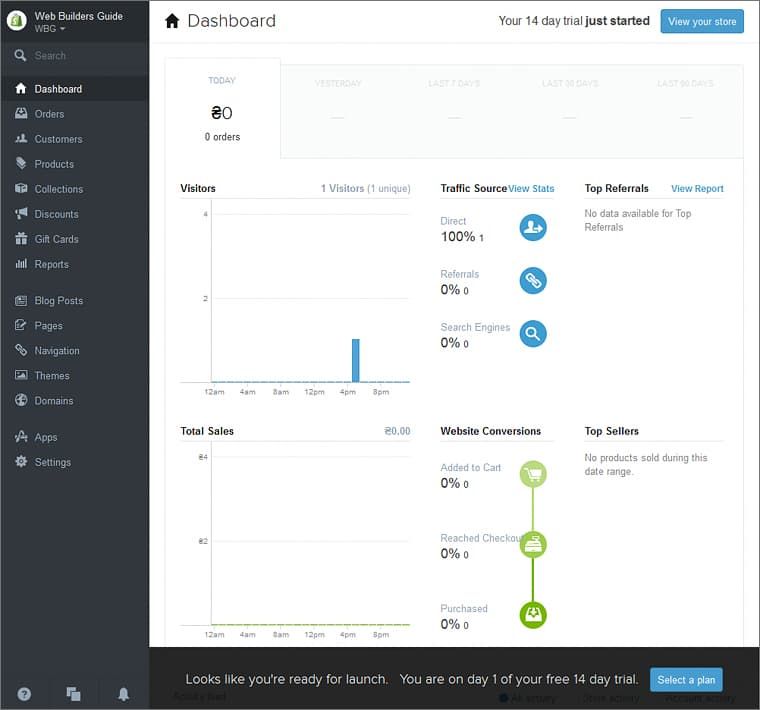 Shopify dashboard
Adding products with their images and descriptions is easily managed with Shopify, and its stock management system let you keep the stocks updated.
In-built image editor makes adding photos swifter than ever before, and the inventory editor works in conjugation with the order tracker to let you manage stocks and pending orders without being lost in calculations. Adding several products in one go is also possible.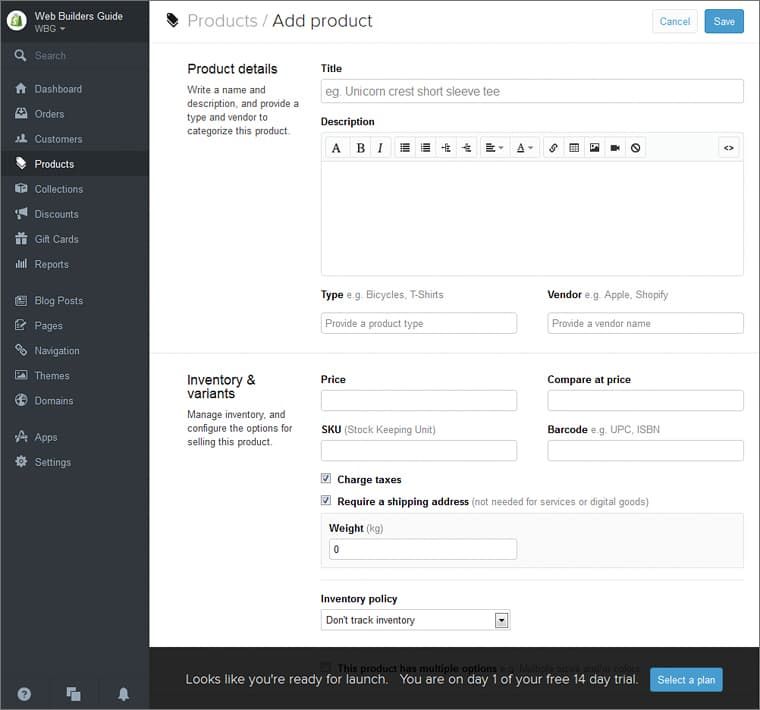 How to add product to your store
You can use the "collections" functionality provided by Shopify to categorize products in multiple categories, and also enables your viewers to filter out the products according to various criteria.
Payment gateway integration enables your customers to make purchases conveniently. Order tracking is integrated with logistics partners, and hence provides a seamless shopping experience to buyers.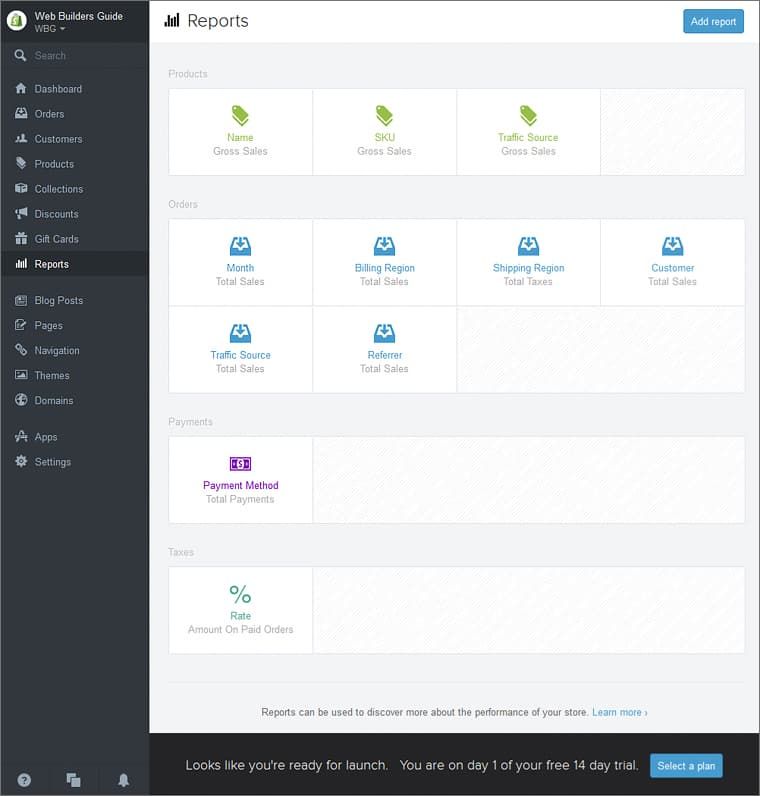 Shopify online store reports
The next level – marketing and SEO
Shopify is not just about creating websites and eCommerce stores, but also integrates marketing and SEO functions into the service bouquet. Analytics capabilities keep you firmly in control over the progress made by your websites and web stores.
From the profiles of customers shopping the most, to the viability and success of online marketing campaigns conducted by you, the analytics functions of Shopify tell you everything crisply. The Discount Codes Engine makes the planning and execution of promotional campaigns effective. SEO best practices are built into the Content Management System of Shopify.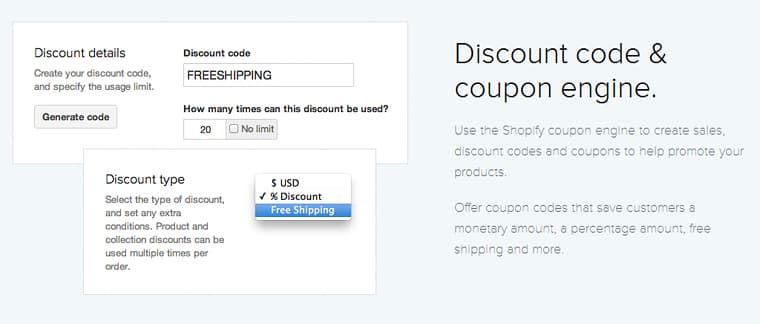 Discount code and coupon engine
VIDEO Tutorial – How to create a professional online store by using Shopify?
Attractive attributes of Shopify's service mix
Strong on basics, and fully loaded on peripheral functions – Shopify provides you the essential tools of selling and marketing bundled into its website and eCommerce store building and management services. Automating business function for maximum efficiency is easily enabled. Over that, there is the App Store from Shopify, hosting some exciting free and paid tools that let you do more, such as social media campaigning.
Manage on the move, and let users shop on the move – hopify translates your websites beautifully so that they are easily accessible on mobile devices, thus enabling users to purchase on mobiles as well. Also, you can access the dashboard through your mobile and manage the website on the move.
Hosting and bandwidth issues taken care of – Keeping in sync with the central philosophy of making the user's experience simplest and absolutely free from unnecessary management, Shopify bundles hosting into the monthly plans it offers. So, you have all the web hosting troubles accounted for without any added investment from your side. Also, the unlimited bandwidth feature ensures that irrespective of the traffic on the website, it will not slow down.
Reliable customer support to fall back upon when questions stare you in the face – For some, it could be a pre-requisite, but for others, having customer support ready to help them out in terms of doing the administrative chores of one's stores is the biggest differentiator for Shopify, something that separates it from other more modular eCommerce solutions like WooCommerce and WordPress. Delays and unbudgeted expenses are certainly not healthy for the initial phases of your transitioning to the virtual business world, and Shopify's FAQs, chat, email and telephone support keep you immune from both these bumps on your road to business growth. Expect guidance that uses a developer's technologically adept thinking, and complies with the expectations of a business owner.
Expert solutions for special requirementsFor enhancements such as adding custom apps to the web store, creating differentiated web store designs, and migrating to the Shopify platform from any other platform, you have the option of hiring professional support services from Shopify.
Flexible pricing, depending on the resources you need – You could begin exploring the world of features offered by Shopify from as little as $14 per month. Moreover, they are also offering a completely free 14 day trial.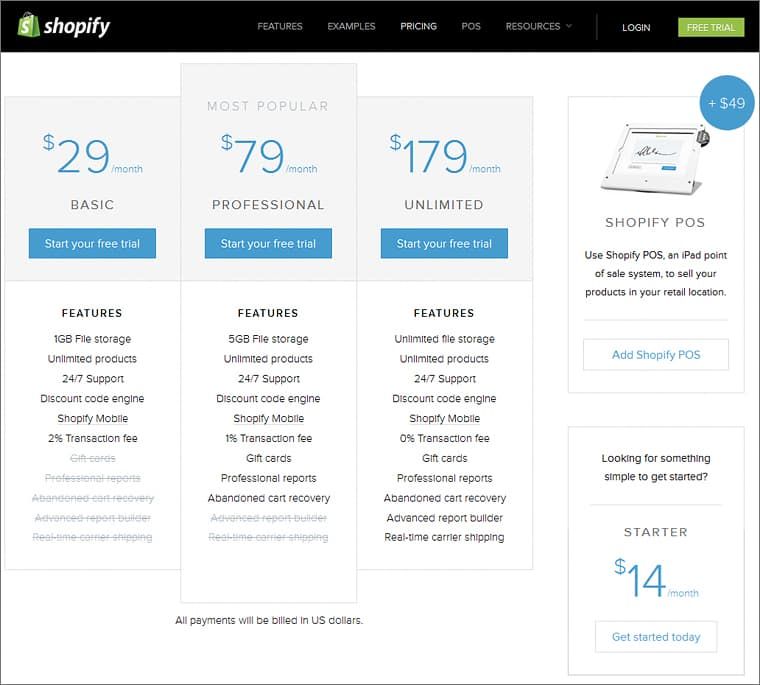 Shopify price range
Why and when should you shop for Shopify?
Simply put, Shopify is for those who want to deal with the business management, and are looking for easy to use technological platforms for that.
With its pre-built templates, ease of customization, fully integrated business functions management tools, marketing functionalities, and promotions management, topped with the multi-lingual and multi-currency compatibility, Shopify is ideally suited for those looking to quickly scale the terrains of online business, without being lost on the intricate web of technologies.
If you have a rich range of products, and business ideas that just need precise execution to yield great results, then Shopify is bound to provide you ample returns over the expenses you invest into it. The availability of several attractive themes in the theme store, and apps in the app store ensure that you will be able to spread your reach anytime.
Commitment to exploring the massive range of features and functions provided by the Shopify platform, and then translating them into business enhancement is the key to making the most of the turnkey solutions provide by Shopify. However, if you are not too keen on leveraging professional eCommerce functions in exchange of a recurring expense every month, then you might have to sweat it out with the DIY platforms that cost less, or come to you completely free. Find out about such Shopify alternatives in my next article – Shopify Alternatives: Which Free and Paid Website Builders are Able to Replace Shopify? In this article I've collected 6 of the best alternatives to Shopify and found out why they are better or worse.