Weebly Review – the perfect website builder for multi-page websites?
WebBuildersGuide.com earns commission from some of the web builders and hosting providers listed on this website.
Learn more
Weebly – fully loaded website builder services with ample scope for Ecommerce
The fears of having to struggle with complex website building tools, intricate coding languages, or shelling out heavy bucks contribute to the inertia that several web enthusiasts have. Thankfully, the past decade has seen the inception and growth of quite a few simple website building services, most of which also have a free version to impress users. Users are ultra-selective as regards the web designing tools they embrace, and only the top notch services have managed to survive in this market.
With some pretty distinctive benefits that showcase it a shinier light than that of others, Weebly is a popular and one of the most popular website builder, which comes to you in free as well as premium versions.
Whereas the above mentioned benefits that Weebly brings to the website development table are pretty much the standard offering with any other tool, one can't deny that there are some pretty impressive and differentiating benefits and features up its sleeve. Providing a separate mobile website editor for users to fine tune the mobile versions of their web pages in the best possible manner is one such attribute of its feature list.
Then, the Ecommerce prowess of the Weebly framework becomes all the more impressive, particularly in terms of its free website builder, with the unlimited products adding flexibility that it grants to users. For those who wish to have a super simple website designing experience, without missing out any flavor of the extended services like Ecommerce, blogs, and forums, Weebly has a lot to promise.
Free Website Builder
Using the free website builder as good as a cakewalk for first timers. The best part is that this ease of usage doesn't come with any compromise on content delivery. Here's how you can use the free website builder from Weebly.
Sign Up
Taking a cue from the best in the business, Weebly offers you a simple three field joining form, so that you can quickly get down to the real business. You can also sign up using your Facebook account.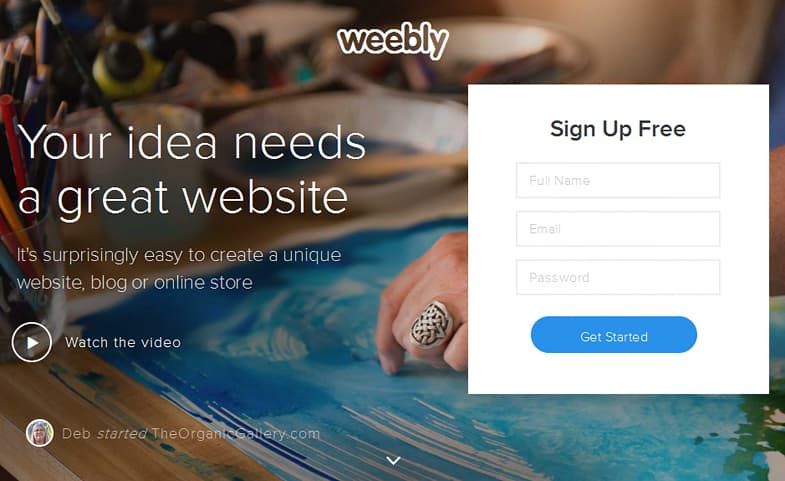 Type Selection
The next screen that greets you asks you about the kind of web project you want to begin with. Pick from among the options of a website, a web store, and a blog.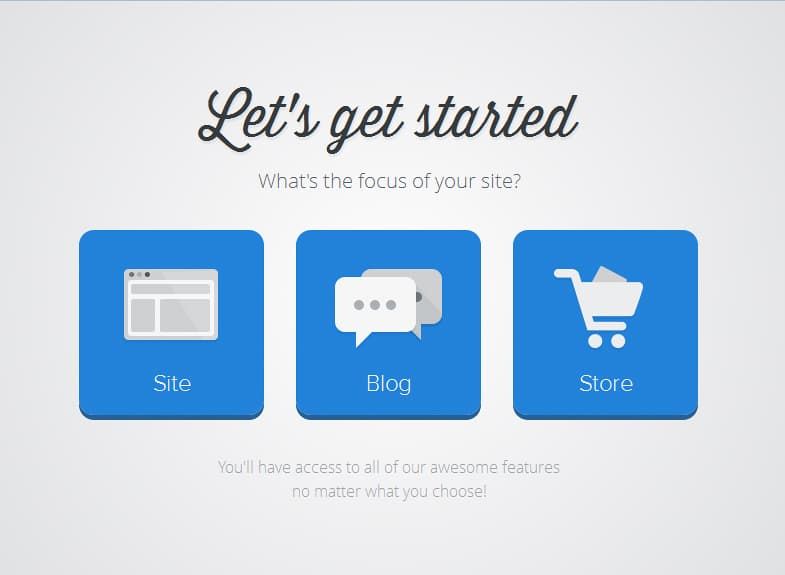 Theme Selection
You need to select a theme before heading over to the design phase of your first website made using Weebly. Once you make your pick in the above step, website for example, you are taken to a theme selection page. You will find dozens of crisp and classy themes with well laid out sections for contents of different types. The theme catalog put forth by Weebly is pretty impressive, and lands you with ample options to pick from. Most of the color tones are covered by the hundred plus themes presented on Weebly.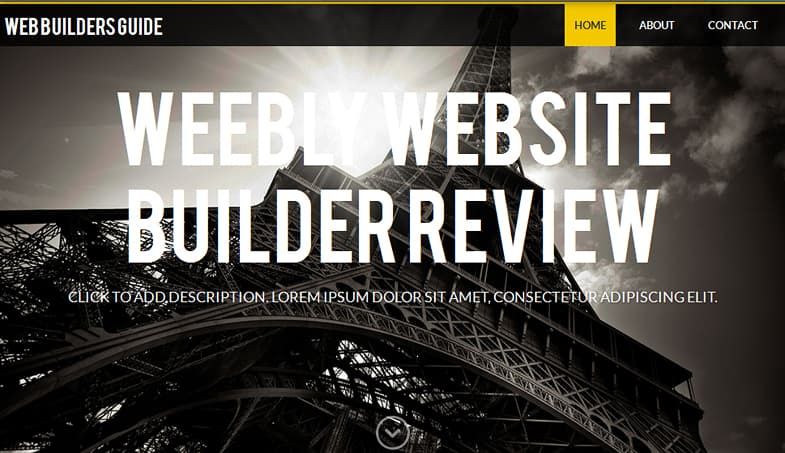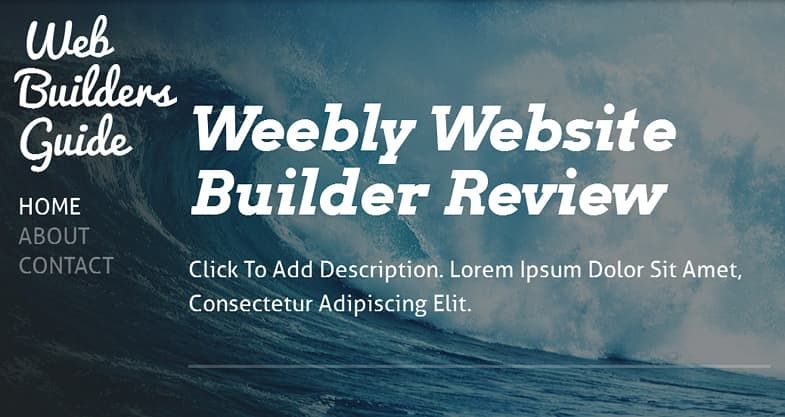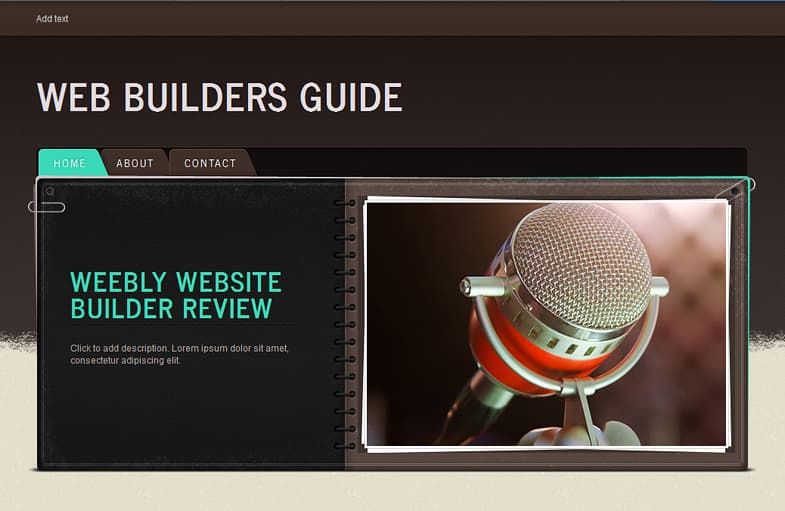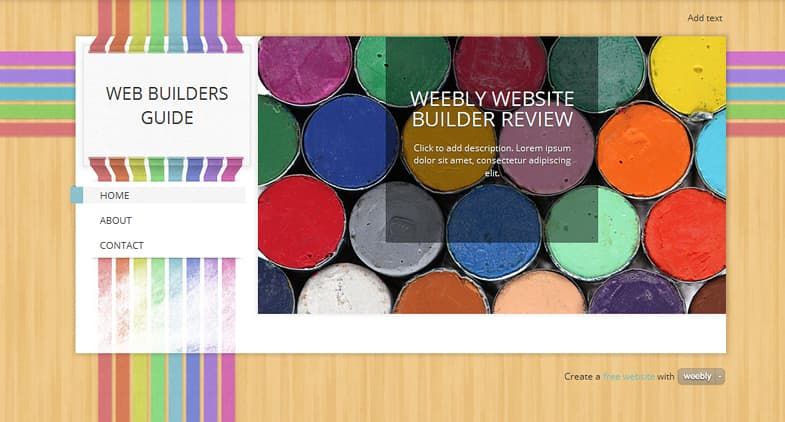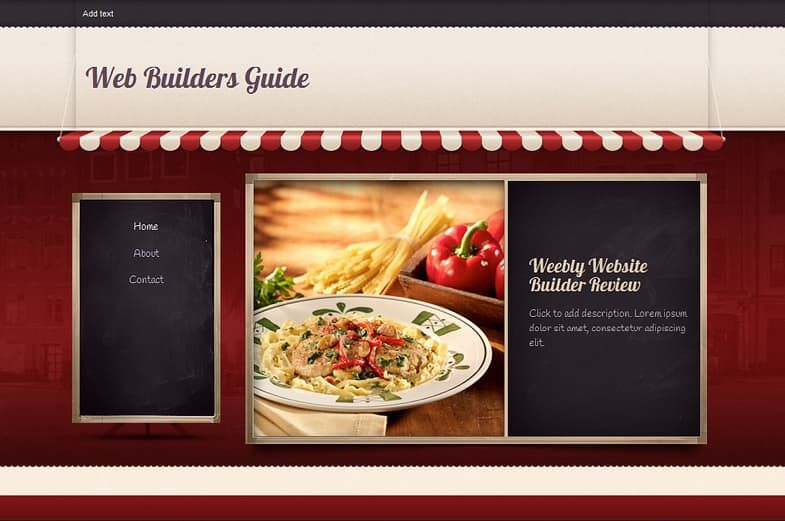 A logo on the top left, and navigation around the top right – that's pretty much the standard design philosophy followed by the designers of all these themes, so you might find yourself somewhat clamped in this regard. Thankfully, the color variations across the themes are sufficient to lend you enough flexibility. Also, you can change your theme at a later stage, so you don't necessarily have to invest much effort here upfront.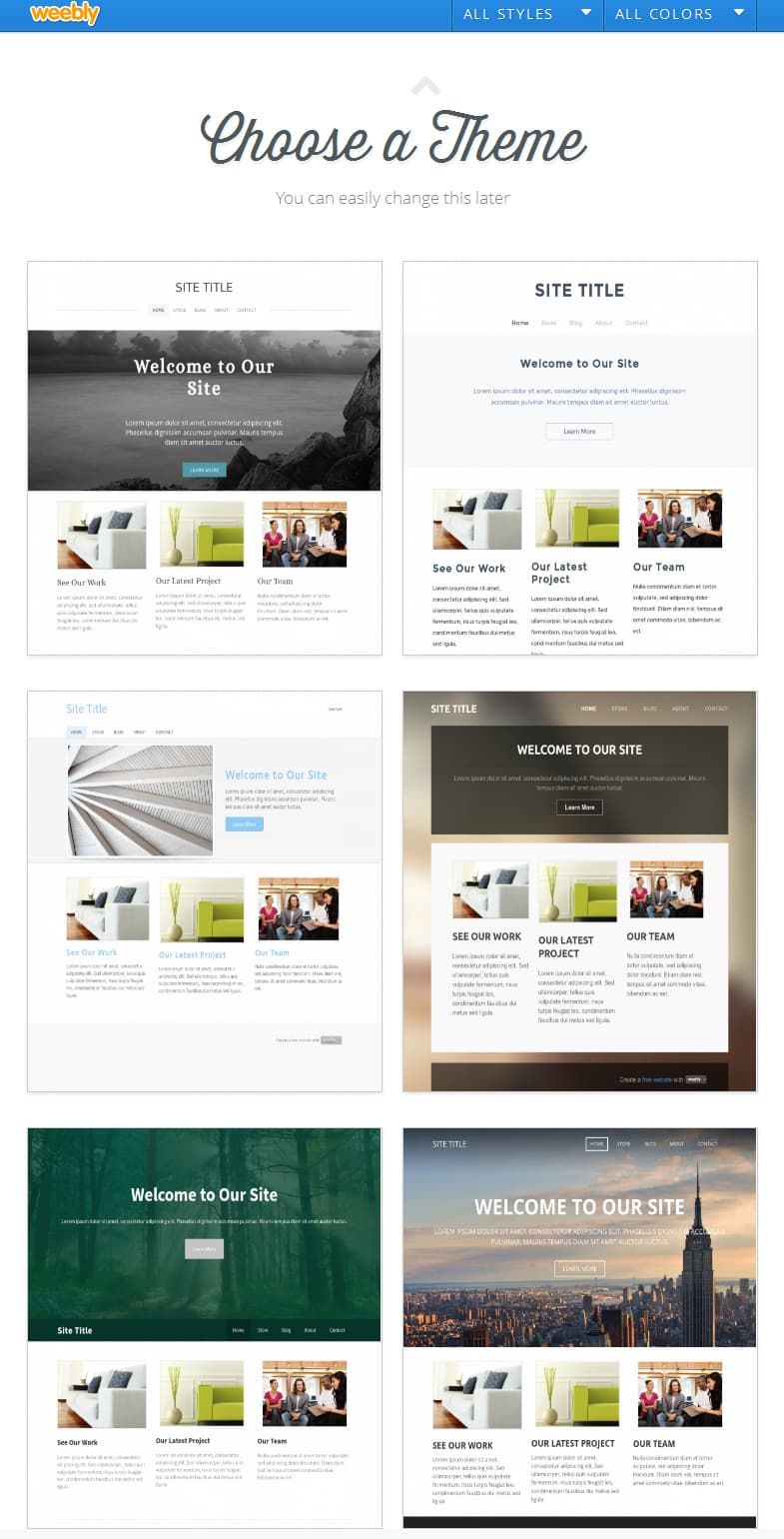 Domain Selection
This is where you specify the domain name for your website. Of course, this step becomes more important when you are closer to finishing the website and making it live. Unless you completely know the domain you want to use, you can use the "Use a Subdomain of Weebly.com" option, wherein your website is saved with the .weebly subdomain, which is completely free.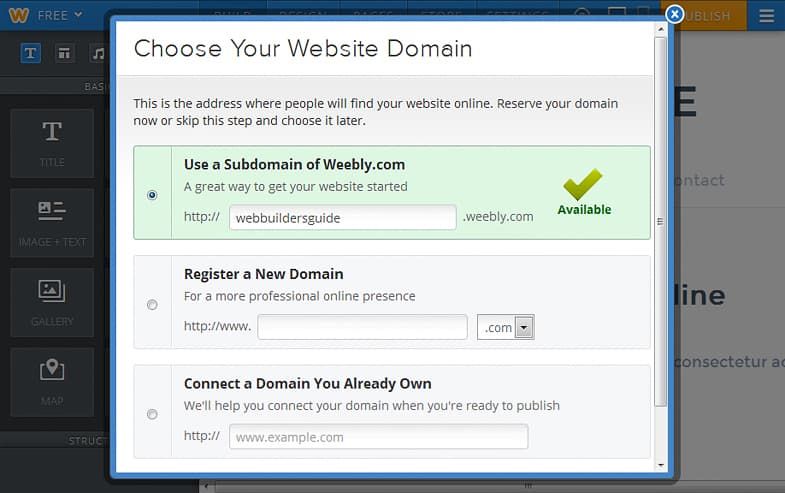 Once you are done with all these steps, you are led into the editor screen, and this is where the real business begins. Most of the features of the editor are accessible easily through the horizontal strip of long buttons at the top, and the sections of vertically arranged buttons in a sidebar to the left of the page.
You are in the Build mode by default. The Design button helps you change the theme of the website. You can add, copy and delete pages using the Pages button. Head over to Store if you wish to begin with the Ecommerce magic of Weebly. The Settings button is what will lead you to all the site wide settings configuration options.
The sidebar is divided into 5 sections:
Basic – Adding titles, text blocks, images, gallery and slideshows is made ultra convenient with the movable buttons of this section. Just pick up the button, and move it to a screen area where you want the corresponding content box to come up! You can also add maps and content forms using this section's buttons.
Structure – Here's everything you'd want to make your web page's layout stand out. Present your content in the best possible manner with all the dividers and columns that this section lets you create with simple clicks and releases.
Media – The ability of conveniently adding multimedia elements right into the page is something that can help you create breathtaking content rich pages. However, Weebly reserves the privilege of using audio and HD video content for premium users. Thankfully, you can still use flash content, Youtube video links, different file formats like Word documents and Excel spreadsheets, etc, to lend content richness to your pages.
Commerce – This is where you get the options of adding products to your web pages. Moreover, you can also configure Google Adsense options using the Adsense button provided in this section of the sidebar.
More – If you wish to have some HTML fun, this is where you need to look. You'll find Block Quote and Embed Code buttons here, along with the options of adding Poll, Social Media icons, RSVP forms, and Surveys.
VIDEO Tutorial – How To Create a Successful Blog – Fast and Free!
Impressive features of the free website builder
Super easy to use – Despite the fact that Weebly is not the only Drag and Drop website editor in the market, it still manages to stand apart from the rest purely in terms of the ease of usage it offers to users. Almost inexplicably, the number of features, the interface's simplicity and the effectiveness of the menus and buttons blend into a perfect framework that makes website building a breeze. If you are making your first forays into the virtual design domain, Weebly's uncluttered interface is bound to win your heart.
Mobile ready – enjoy maximum reach – Enjoy the wonderful Weebly mobile website editor service, using which you can fine tune your website for crisp mobile viewing experiences. Unlike most website building services, Weebly doesn't endorse the responsive school of thought, and instead provides you a standalone mobile website editor. The good news is that the changes you make to your desktop viewing website get automatically made to the mobile version, just that you have the added flexibility of playing around with design elements and themes.
Limitless Ecommerce, even for the free versions – Here's arguably the biggest differentiator for Weebly, at least as far as Ecommerce experimenters are concerned. Weebly's Ecommerce store building framework lets you add products along with rich details very easily. Moreover, you can add unlimited products, even in the free version. If you wish to have quick tastes of how Weebly can help you sell online, it is ideal for you to try out the free Ecommerce solution. Of course, you are also given payment gateway integration in the free version.
SEO ready – If you're serious about your web projects making it to the upper echelons of search engines' result pages, you would love the simple SEO settings and options that Weebly offers. From site wide settings to individual page level tweaks, you can do it all. Manipulating the titles and descriptions is easily managed using Weebly. You can trust this website builder to offer you pretty much all the basic options that a small business can need in terms of SEO.
Room for customization for you to make your website grow with your business and traffic – Although the extent of modifications you can make to the website layout and theme might not be the first demand you place from a free website builder, you have reasons to be elated in the sense that Weebly offers you ample customization options. The catch here, however, is that you'll have to 'dirty' your hands with code in order to affect massive changes such as altering the background of a page.
Embedded Documents for richer content presentation – Using third party tool Scribd, Weebly lets you embed documents of different file formats easily into the web pages you design. Moreover, these documents can be crawled, as well as indexed in a search engine. For readers accessing your web pages from the mobile, you have the option of letting them enjoy mobile optimized reading.
Apart from the impressive benefits discussed above, there are few gems up Weebly's sleeve. Here's a quick run through them:
Easy form building and survey creation for agile data collection
Helpful site planner app to let you organize your thoughts and strategies for quicker and better results
Blogging platform with drag and drop editor