Webnode Review: How Good it Really Is?
WebBuildersGuide.com earns commission from some of the web builders and hosting providers listed on this website.
Learn more
The All New Webnode – Redefining Simplified DIY Website Building for Web Entrepreneurs
Have you been thinking about getting your own website up and working for quite some time now? So what's stopping you? The cost, the technology or is it the fear of not being noticed in the dot com clutter? Let us tell you that there is a foolproof way of getting your sophisticated and cool website up and running in less than 30 minutes. And guess what? You can even set the preferences so that you always show up at the top of every search result page for target keywords.
Let us introduce you to Webnode, one of the most popular website builder, which has powered over 62,600 websites around the world. Webnode has over 22 million registered users worldwide. Around 90,000 websites have chosen Webnode from time to time for its easy builder options and SEO features. This is a ready to use website builder that can be used by even middle school kids for creating brand-new, working websites.
Quite a few types of websites can be created using Webnode. Over the last few years, business websites, personal websites, online stores and blogs have seen precedence over the other kinds. Creating any kind of fully functional website is no rocket science with Webnode. You don't need extra software programs or coding knowledge to make your website work. So, let's deep into Webnode website builder review.
How to Create a website using Webnode?
The very first step for creating any kind of a website with Webnode is registration. A pop-up dialog will ask you to register a name for your website, your email address and a password that will enable you to log into your Webnode account. (You can always change the name of the website later.)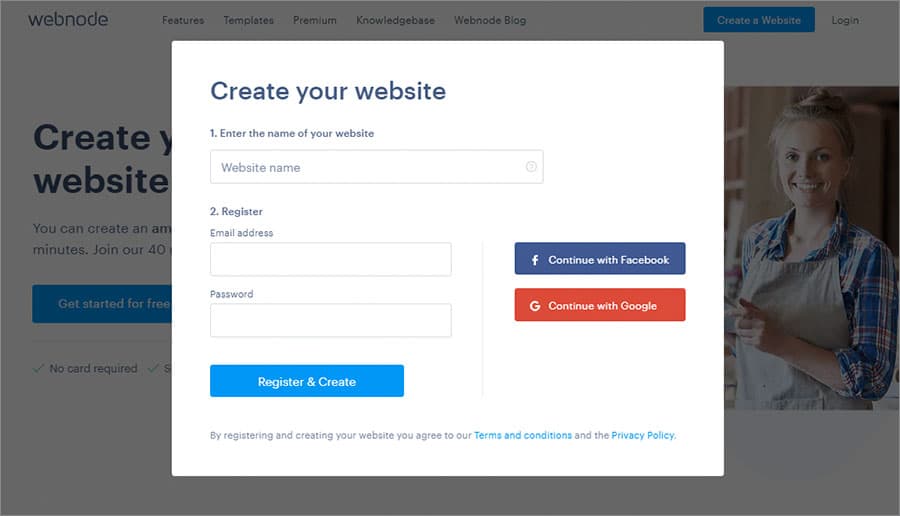 Then you will be prompted to select a specific type of website you would like to create. You will have to make a choice between Personal website, Business website and Online store at this stage.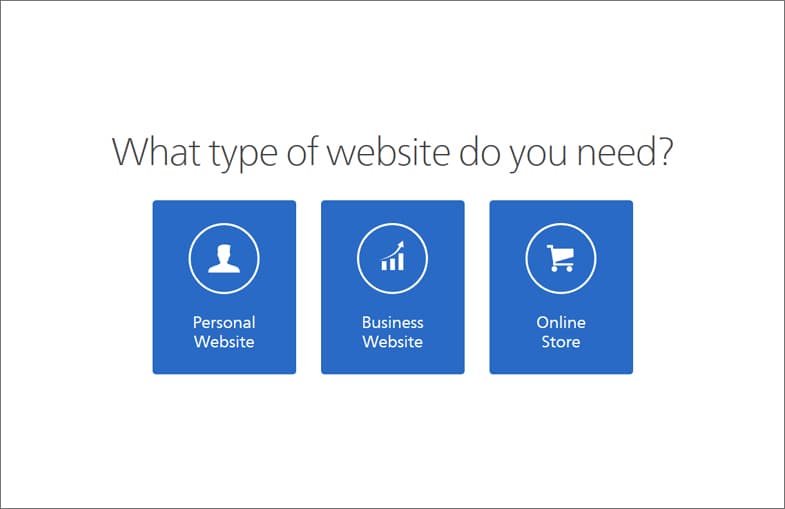 Your particular choice will take you to the Webnode template library. Here, you can take your time, preview hundreds of templates before you decide on the one that speaks to you.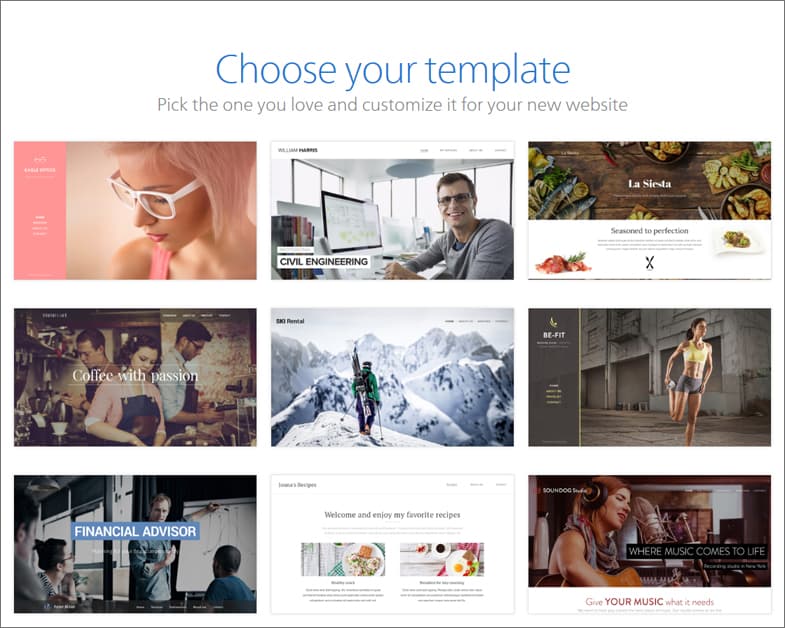 The template options will spoil you for choice – You will need more than two hands to count the type of templates available at the Webnode template library. Choose from hundreds of designs for personal websites, business websites and online stores. All templates featured on Webnode are 100% modern and responsive. Webnode enables you to create a mobile version for your website.
What is a mobile version of a website?
If you can readily access a website from all mobile devices, without any compromise in resolution, text quality and navigation options, it is dubbed as a mobile version of the website. Today, most websites have a mobile version and this is made possible either by choosing templates that have responsive designs or by adding snippets of codes to the core code to make the website responsive.
With Webnode you need not worry about the mobile readiness of your website at all. All the templates you can see in the template library are mobile ready (responsive). These templates adapt to all existing smartphones and tablets.
A little more on the templates :
Personal websites: There are over 35 templates that you can choose from, to create your own website. You can create a working website for free and the best part is, your users will never be bothered by annoying ads while using your website.
Professional websites: from babysitting website templates to advertising agency profile templates, you can find it all at the Webnode repository. Browse among the hundreds of templates under the business category.
Online stores: even the online stores can be christened, created and inaugurated in less than 5 minutes if you follow all Webnode instructions by the book. Choose among the countless fashion, lifestyle, electronic, jewelry, pet, food, travel, real estate, furnishings and automobile themed store templates to get started.
How to create a personal website?
Once you decide on the template you will be taken to a new screen with editing options. The top toolbar of the Webnode website builder has quite a number of useful options.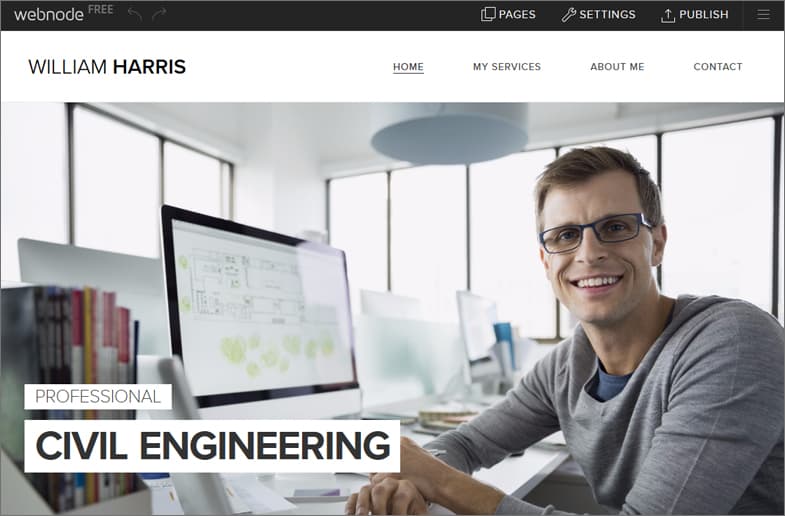 The first two diverging arrows signify redo and undo, to help you correct the mistakes you make during the construction process.
Next comes the Add Page option, that kind of looks like the Android "copy" option. This will allow you to add multiple pages to your website. You can add a black page, a photo gallery, ready-to-use contact page, blog, services, pricelist, two-column pages and three-column pages to your existing website template. Select a page type, give it a name and it will be added to your template.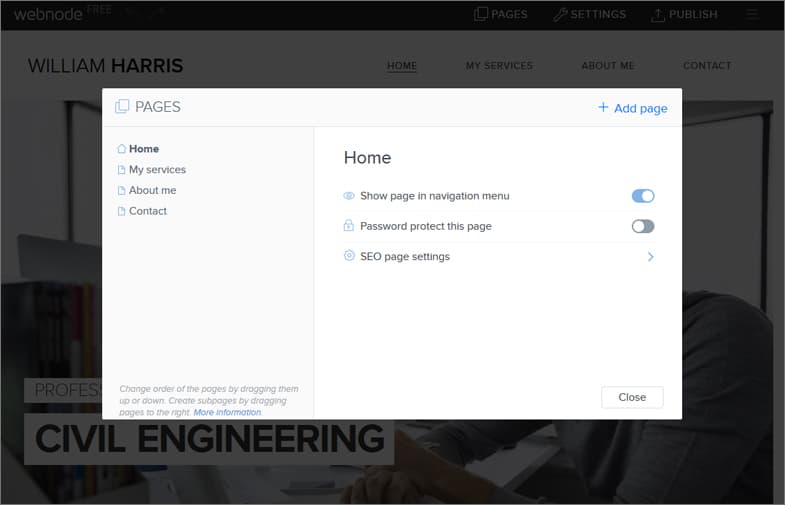 The pages are filled with demo content (text and pictures). These can be easily updated, deleted and replaced with real content from your source files. You can change the font options of your text, and the alignment as well. Each new page is followed by a footer at bottom that is common for all pages in your website template.
For changing the order of the pages all you need to do is drag and drop a page up or down. For creating sub-pages, simply drag a page to the right of the other. You can customize the SEO of each and every page from by clicking on the "Add Page" option. Click on the page to set your preferences for visibility in the navigation menu, password protection and SEO settings.
The template has a given name (for example, WILLIAM HARRIS). In all probability you will want to change that to something more professional. You can add a logo or format the text to add a personal touch to your website.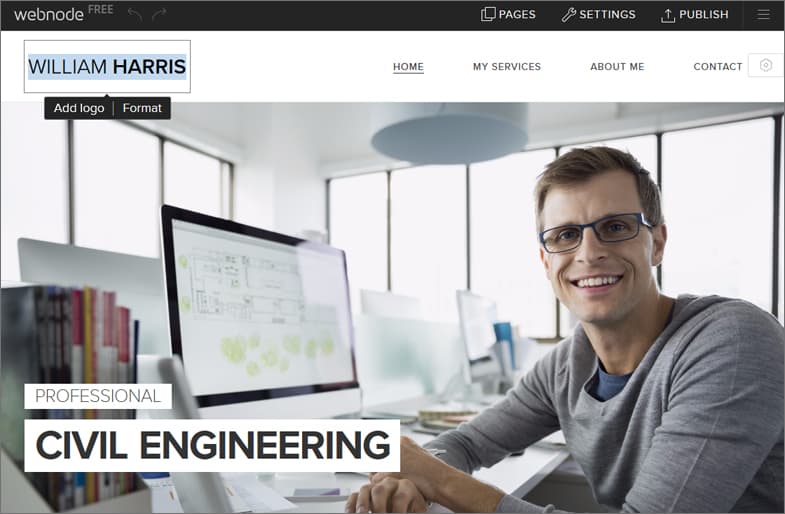 The template is broken into separate elements for the ease of editing. Although there is no drag and drop feature at the moment, the separate tool panels for each element make it super easy to edit one thing at a time without getting distracted by the rest of the clutter.
Webnode enables you to edit the background color and background image. You can choose any color from the repository or you can upload your own design from your PC.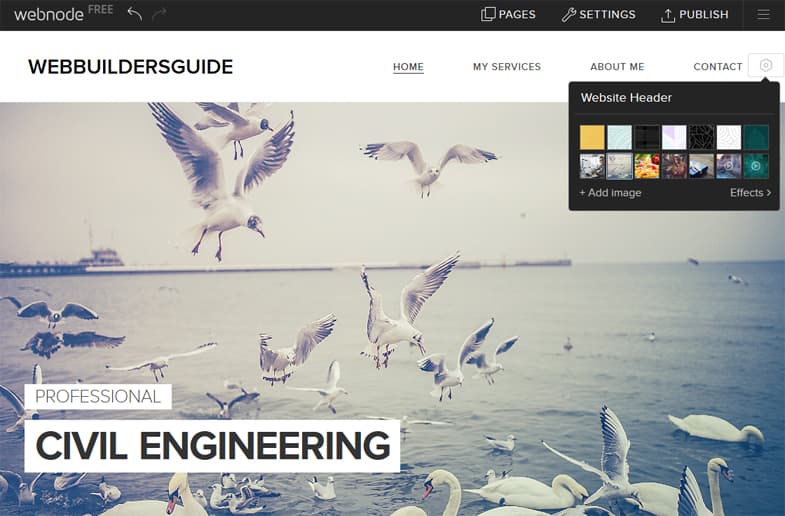 In some specific templates you can see that the homepage has a huge picture gallery. This is a portfolio website in the making; hence the inclusion of a detailed photo gallery in the very first page is justified. Now you would definitely want to replace the stock photos with real ones from your own collection. For that, select the gallery element and click on the "Edit" option. This will take you to another dialog-box that will prompt you to upload the images. You can upload images one at a time from your PC to the gallery.
You can keep adding pictures to the gallery. For adding more sections, including text and image boxes, two-text columns, a services section, order forms, headlines, pricelist, newsletter registration, contact, testimonials, products, heading with a button and blank sections simply click on the "plus" at the end of a section. You can even add a variety of content after the main header before the photo gallery begins. The types of content include:
Inserting images – you can insert/upload images from your personal gallery. You can always edit and/or remove the images later as per requirement.
Inserting videos – inserting videos to a website was never easier than this. All you need to do is click on the option and insert the URL. The YouTube or Vimeo video will be embedded to your website instantly.
Inserting photo gallery – gallery insertion is very similar and extremely easy. Click the option, select and upload multiple images. You can rearrange, organize and edit the images according to your taste before publishing the website.
Heading with button – the button option enables you to embed a one-click button so your users can easily share your website to other websites including Facebook, Twitter and Pinterest. This is simple and an extremely useful option.
Contact – This is a very utilitarian option that allows you to display the physical location of your store or business to your viewers and/or potential customers. Just by clicking the map option and inserting your location, you can integrate Google maps to your website that will allow your users to easily navigate to your store. If you believe in lead generation then you will love the contact forms that can be embedded in the website templates pages. You can insert it in any of the multiple pages and subpages. Your viewers can simply insert their name and contact details in the forms and get themselves registered for promotional offers, discounts, newsletters and much more. This gives you a glorious opportunity to build your own consumer database. You can also add and remove fields, and change the properties of each and every field of the contact form.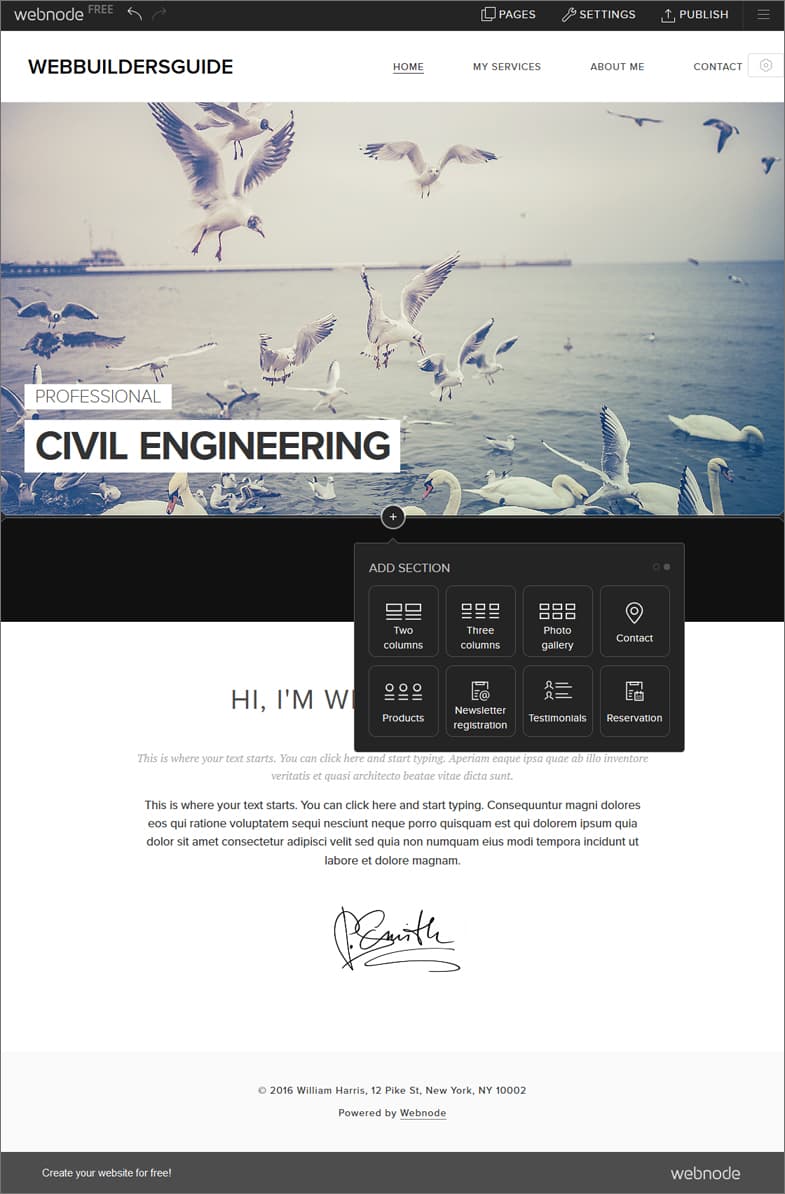 Blank form – a blank form enables you to create and edit a field that can act complementary to the contact forms.
The form item options will impress you no ends with all the choices. You have at least 16 options to choose from. You can include short text, long text, single choice and multiple choice options, a dropdown list, emails, date, number and phone options. Webnode is a super cool website builder with all the choices any modern, active, mobile friendly website would need.
Settings – This is a crucial option that will give you an access and control over:s
The general settings of your website – you can view and upgrade your domain plans and storage plans at the same time.
Domains – you can use existing domain if you plan to stick to free plan or get a customized domain for the price of peanuts.
Email accounts – only premium users are entitled to free email accounts
Website editors – you can collaborate with others for backend management of your website
Website settings – you can manage your website name, search engine indexing, Google analytics, cookie consent bar view, favicon and website header-footer through website settings
Backup and recovery – you need to upgrade to premium for enjoying online backup and recovery services
Languages – although your primary language is English you can add new languages to cater to a local crowd. This is again a premium service that is privy to paid users.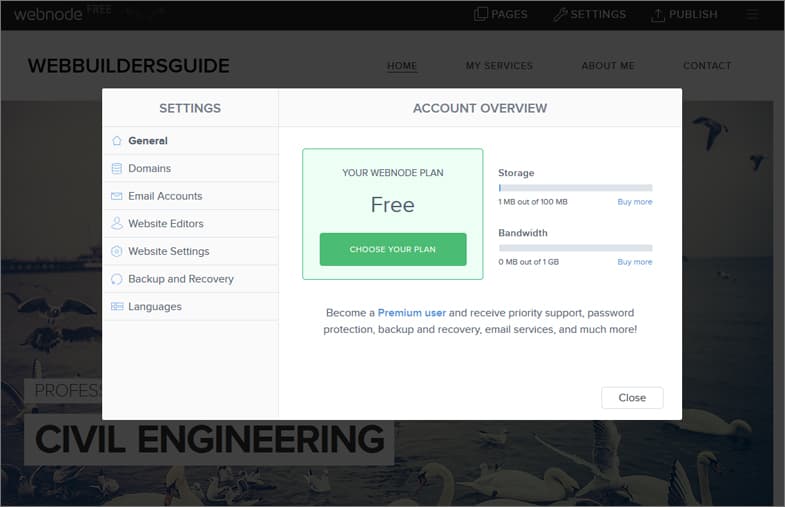 About Me page – The about me demo page is simple and yet informative. You can replace the picture with something from your own inventory or remove the picture altogether to insert fresh information about you and your company. Tweak with the header of the page, change the color of the layout and make this section truly about you. For any website and company, the About me/us section speaks the most about the personality of the owner and the proficiency of the company. Pay extra bit of attention while framing this bit and use all the Webnode tools at your disposal to create a world-class page for public viewing.
Contact me page – The contact page is the most important of all. Your viewers will turn to customers or clients based on the info you provide here. You can insert a Map containing the physical location of your services. For inserting a map you just need to put in the address and wait for Webnode to do its magic trick. Feel free to link your social network accounts that can give your followers a clear idea about you and your company. The most commonly used links are from Facebook and Twitter. You may as well edit your Gmail account before integrating it with Webnode. Do not forget your contact number where your clients can reach you directly for a one-on-one.
Publish – Publishing with Webnode is easier than a child's play. All you need to do is hit the Publish button. Now wait and watch as your website goes live.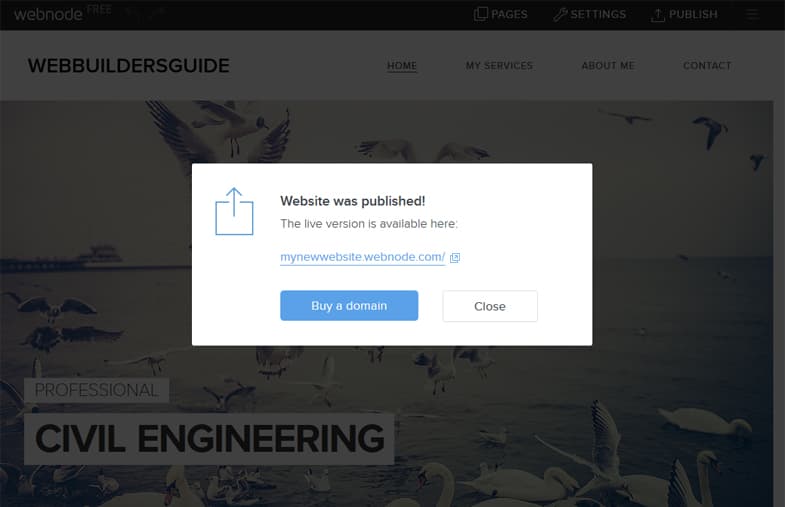 P.S. – you can also choose to buy a domain through this option. You will need to subscribe to premium services for buying your own domain and here the Webnode service ceases to be free. You can choose any domain name from the pricelist and you can then enjoy a year of registration. From the second year onwards you will have to pay $18.95 per year for the customized domain. Upon registration for 2 or more years you can save up to 20% each year.
Creating a business website is very similar to creating a personal website.
How to create an online store?
Creating an online store is a whole new ballgame with Webnode. The first page prompts you to save your contact details including your address, phone number and VAT number for the initiation. You can christen your website right here, for example, we called our "MYONLINESTORE".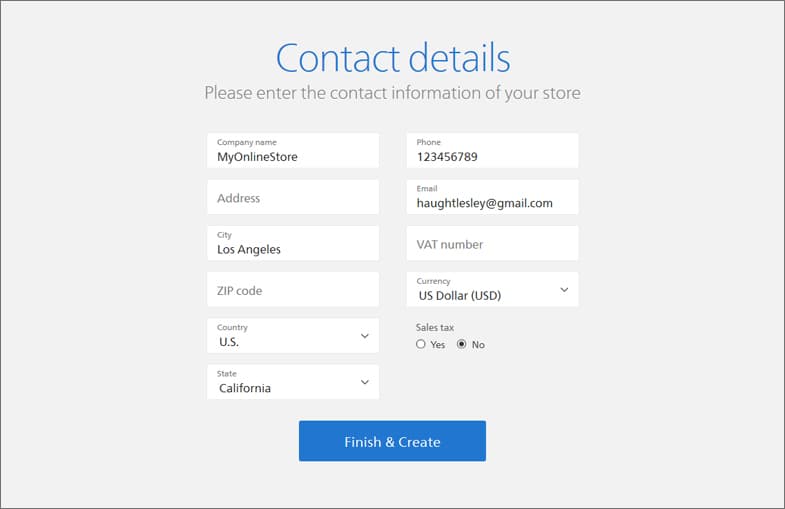 As you can see in the screenshot, all the options required for editing are nicely packaged in the top toolbar. In this section we will go through each and every option given to the creator at this stage of website building.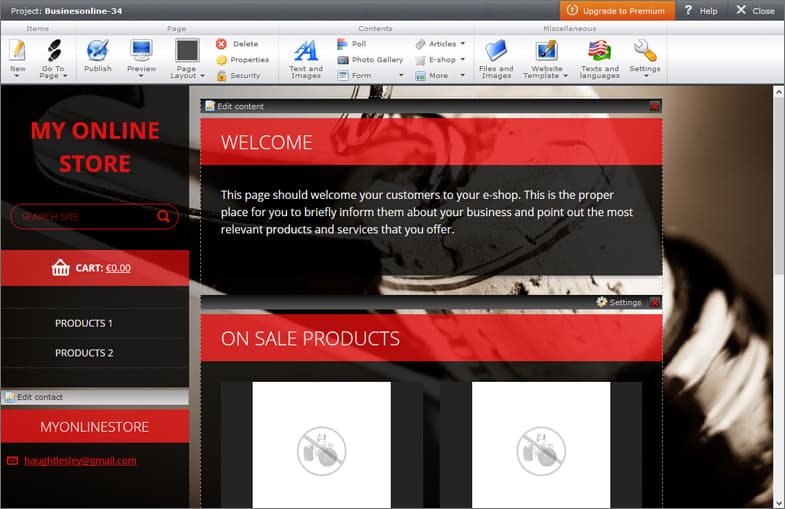 Quick edit section
New – through this option anyone can create new Products, Store Category, Page and Article. Creating a new product is easy with Webnode. A new dialog box pops up where you need to input the product name, price (in local currency), list price and category. An image is always recommended for adding new products to the inventory. You can also set new offers, manufacturer details, availability details, variants, warranty and much more through the Advanced option of the New > Product option.
Creating a new category for the store is just as easy, just enter a page name and select a category before hitting the save button.
For creating a new page select New > Page. Insert a page name, designate a parent page and select a template type for beginning your construction.
The Go To Page option is as wonderful as it sounds. You can see and search all pages, check all articles and item lists on a particular page. This option also enables you to check system pages like Full-text, Site Map, 404-errors and RSS feeds.
The Page section
Publish – the publish button is right before the preview button that lets your website go live in just one click. You can also learn more about your domain options and registration from the dialog box that opens after hitting publish.
Preview – this is a great option for the first-timers who would love to check the looks and functionality of their website before it goes live to the world. You can either check the current version of the website or the published pages before hitting the publish button.
Page properties – possibly the best option here for all online website creators. Page properties enable you to designate a unique page name, web address, parent page and title to your webpage/website. You can also adjust your meta-tags right here to fare better with SEO.
Security: you can secure your website with password protection that will make you privy to the backend. This is a part of the premium package that starts at $39.95 per month. With it comes 4000 MB storage and 100 mailboxes. You can also enjoy unlimited bandwidth, personalized domain name and backup-recovery options with the paid version.
The Contents section
Text and images – this icon looks almost identical to the word art option in MS Word. Just click and drag the icon to any place you want to insert text and image in the page.
Poll, photo, form, article, store and more – each of these options enable you to create and insert new poll, photo, form, article, store and widgets, social networks, business tools and embedded codes respectively.
Miscellaneous section
Files and images – you can upload files within your permitted storage limit. All free users can upload up to 10 MB of data through this option. You can include JPEG, PNG, MP3 and MP4 file formats.
Manage template – at this stage of editing you may want to go with another template. Well, worry not. You can change you template or mobile template without losing any of your edited data by using this option.
Settings – this is the option that enables you to edit the website header, website footer and contacts on your website.
The entire template is divided into neat blocks containing demo text, blank image boxes and demo contact. Every element can be edited. The main block has a number of "edit content" options. Clicking this option takes you to a separate dialog box where you can insert the relevant text. You can edit all the categories, begin with the content block name and you can also decide how many pictures can be displayed per page along with their images. You can add countless tags like Sale, New, Discount, Offer, Festive and everything relevant to your website and the products. Add subpages, insert new links, move content or drag and drop new chunks, basically, Webnode lets you go crazy with creativity within a very short time.
Pricing And Feature Comparison
You may have already understood from this Webnode review that the basic Webnode website is free. There are three paid packages: Mini, Standard and Profi that bring certain upgrades to storage space, bandwidth, mailbox services and domain customization. For all personal and business websites Mini is priced at $5.95/month, Standard at $11.95/month and Profi at $19.95/month. All in all, if you want premium Webnode services you may need to pay less than the price of a pizza per month for it. Services for ecommerce websites are a little pricier but nonetheless very affordable for any start-up or small-scale endeavor.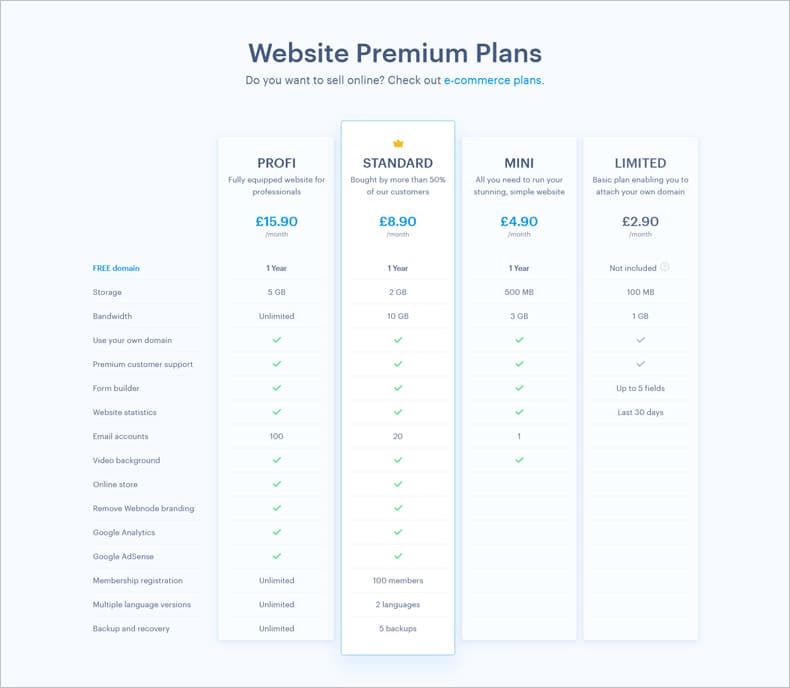 Check actual prices on Webnode.com
Why Webnode?
Let us dive into a little more detail to unfurl the exclusive perks that only Webnode users can enjoy.
You can get your own website up and running in only 5 minutes
You get only modern and user-friendly templates at the Webnode store
You can enjoy PayPal integration at the payment gateways for credit cards at your online stores
The builder has an easy and intuitive UI
Business websites can enjoy 1GB per month bandwidth for free and 100 MB of storage space as well
You can get a website with your own domain name
All kinds of websites built with Webnode builder are free from the ad plague
Conclusion
The fact that over 22 million people have trusted this free website builder over the years is proof enough that Webnode provides something extra that most website builders cannot. This could well be among the most loaded and feature rich website builders, with professionally designed templates, and tremendous ecommerce functionalities, of these times. Go ahead, give it a shot.