10 Best Open Source Ecommerce CMS
WebBuildersGuide.com earns commission from some of the web builders and hosting providers listed on this website.
Learn more
Massive data is common to all successful ecommerce businesses, as apart from a good product at a good price, the factor that makes e-shops successful is its ability to fine tune the selling proposition for individual customers. Not only does an ideal CMS ecommerce solution get you the perfect empowered platform that you can use to publish dedicated and personalize content to users, but also the blessing that your product catalogue needs to churn out the revenues that it promises.
Beginning with an easy to use and intuitive content creation and publishing platform, and encompassing dedicated selling tools such as automated and rule based calculators and pricing elements, marketing tools such as email newsletters and customer surveys, user experience enhancement widgets such as poll and surveys, and product ratings, eCommerce CMS solutions are the vehicle for web selling success.
To create your onine store you can choose one of the best website builders, or you can choose one of the best open source ecommerce CMS. Choosing the most easy to use eCommerce CMS with a manageable learning curve, a solution hat's as manageable as it's scalable, and a web store management platform that empowers you towards more results in minimal time is a cricitcal success factor for eCommerce. Avoid getting lost in the ocean of several eCommerce CMS options, and go for the best in the business. Here, we offer quick reviews of 10 of the top content management systems for eCommerce.
Magento – Magnetise your e-store!
Unlike ecommerce website builders Magento is an open source ecommerce CMS that one can use to fuel the growth of online stores and content shops offering downloadable content, for free! Developers have the flexibility to alter the core codes as well as add features and even improve functionality by installing extensions through the "Magento Connect" platform. Magento is ideal for those looking to optimise back-end workflows of their businesses.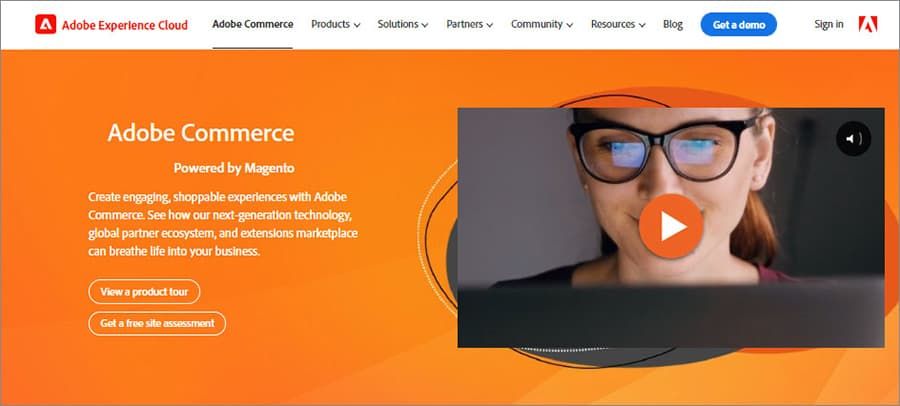 Magento
There are over 100,000 ecommerce websites built on Magento – more than any other ecommerce platform except for online website builders. You can see Magento online store examples (and not only Magento) in another review: 20 Best Ecommerce Website Examples in 2023.
Businesses that use the Community Edition of Magento, the open source ecommerce solution,in order run their online stores will obviously need to have access to their very own Magento experts, especially since Magento does not provide any sort of technical support for this software. However, the answers to the most common technical questions regarding the platform are easily available on the site's User Forum.
Magento's open source community is rapidly expanding and constantly engaged in helping you run your online store! Magento gives its customers access to hundreds of extensions as well as an open architecture which provides for even more functionality. Magento also allows users to integrate it with other top quality enterprise systems . For those clients running medium to large scale businesses that need constant support, additional features, and our best performance can opt for Magento's Enterprise Edition.
Magento's Enterprise Edition offers the following flexible features:
Flexible Marketing Promotions and Tools
Online Analytics and Reporting
Search Engine Optimization with meta-information
Site Control and Management
Google base integration and Catalogue Management
Layered Catalogue Browsing and comparison
Mobile based commerce with iPhone optimization
International, multi-lingual and multi-currency support
3 step Checkout, automated calculation of costs like Shipping, integrated and secure Payment
Feature rich customer support
Tailored customer accounts
Fully customizable order management system
PrestaShop – ecommerce simplified
PrestaShop is a totally free, open sourced e-commerce platform solution. The software supports a variety of payment gateways likePayPal, PayPal Payments Pro DirecPay, Google Checkout, Skrill, Authorize, Netand even EBANX Checkout via their related APIs. There is an even bigger array of payment modules that are offered to customers, commercially. The Prestashop platform offers e-commerce solutions and training to various levels of merchants, developers, and integrators.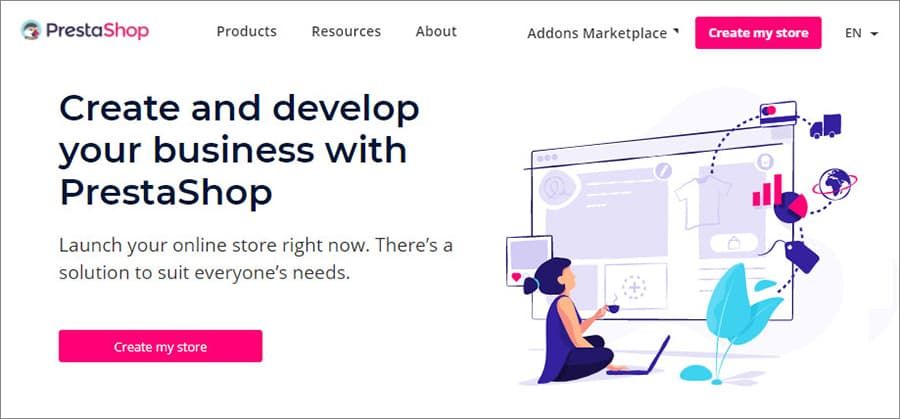 PrestaShop
Prestashop comes loaded with over 310 exquisite features that are carefully designed and developed to help businessmen increase sales with almost no effort. All the program's features are integrated in to the software and are 100% free. It allows user to manage diversified product lists through its back-office. So, whether a business deals with one kind of product or a thousand, the easy to use interface allows users to manage complex inventories with its simple single-click updates.
Prestashop's incredibly effective user interface is ideal for complex business needs. The platform includes features such as:
Product Export to online portals like eBay
Choose the Number of Products per Page
Sale of Downloadable Products
Unlimited ranges of Products, Categories, Attributes
Empowering Layered Navigation
Advanced-level Stock Management
ZenCart – Make the world your store!
ZenCart is an open source shopping cart software. The software is free and extremely user friendly. The ecommerce web site design program is developed by a group of industry experts which include people like programmers, consultants, designers and even business owners themselves. ZenCart software can be installed and set-up by anybody who possess even the most basic website building and technical skills. The software is a personal home page tool which uses a MySQL database and various HTML components.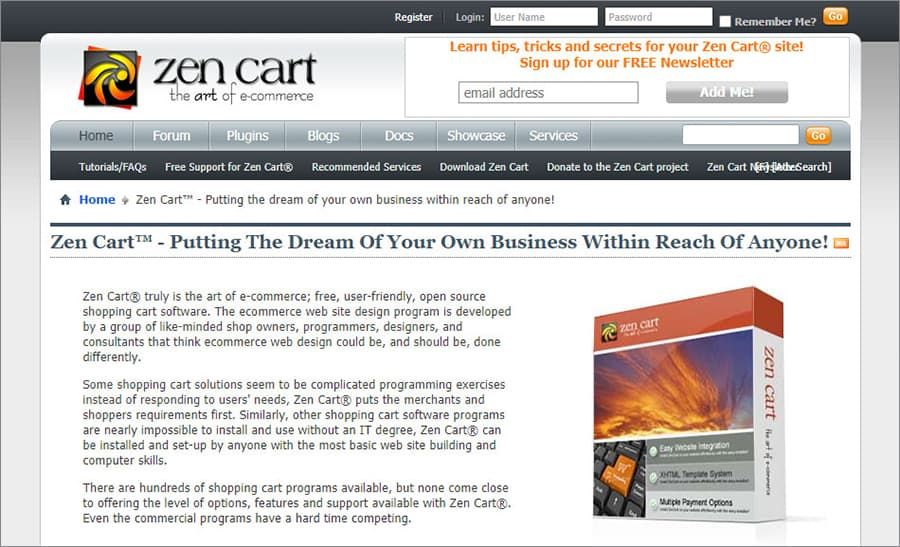 ZenCart
Of the dozens of shopping cart programs available in the market, none come close to offering the kinds of options, features and support that are available with 100% free Zen Cart software. So much, that it gives commercial platforms a run for their money. Since ZenCart is a free Open Source software and is licensed under GPL2. This licensing allows users to freely modify the source code in whichever ways their application requires it. Because ZenCart comes with many common payment gateways built-in, users can accept payment almost immediately. And if a custom module needs to be integrated, hundreds if not thousands of community-contributed payment modules are available.
Some of the features of the ZenCart ecommerce software are:
It gives customers 24×7 shopping convenience 365 days a year.
Allows for easy updating of product catalogues without having the need for complex HTML coding that would normally be required to alter products.
It runs on the effective combination of PHP and MySQL technologies.
Provides a fool proof and secure platform that provides access only to the authorized administrative personnel.
Comes in a step by step, easy to install package.
It comes with an advanced template system which usesboth stylesheets and images.
OsCommerce – the pioneers of ecommerce solutions
With a legacy of more than a decade of open source ecommerce solutioning, osCommerce is one of the best CMS for ecommerce of choice for more than 12,800 webmasters and sellers across the world, and is continuing to grow. With a mindboggling and whopping library of more than 7,000 add-ons, and a community of developers and users that really cares for the platform, osCommerce is right up the alley of anyone looking for a free to use ecommerce platform that has the open source blessing of an ever improving widget store.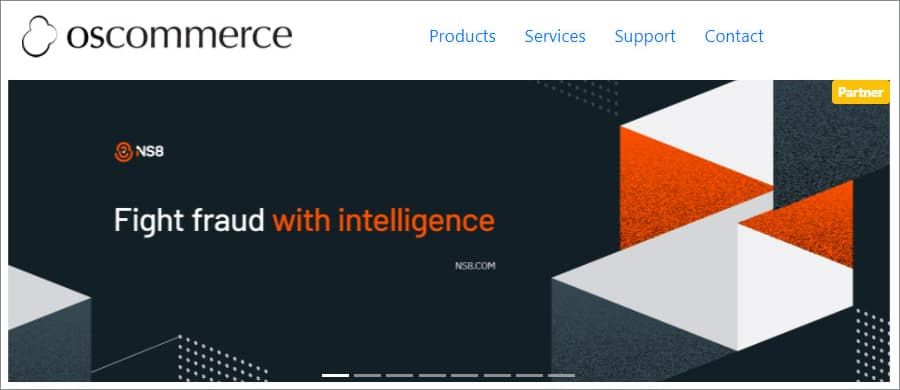 OsCommerce
Theree is no upper limit to the number of products that can be uploaded via the platform. Thousands of free community add-ons are available which make almost any in-store function possible. The OsCommerce platform has been in the market for more than 13 years, making it the oldest ecommerce solution in the world . This ensures wide availability of active community users as well as numerous 3rd party services which integrate with it seamlessly. Also, being highly customizable makes osCommerce one of the most versatile platforms available.
OsCommerce provides support to its users in many languages, furthering its versatility. The platform comes loaded with features and is extremely easy to install and use.
OsCommerce comes with the following features:
PHP 4 compatibility with backward compatibility
Out-of-the box, fully feature enabled
Multi-lingual with English, German and Spanish as default
Unlimited product and category support
Dynamic product attribute relationship
HTML based, product descriptions
Loaded with breadcrumb trail for easier navigation
Automated website display on home page
VirtueMart – Handle your ecommerce business with ease
VurtueMart is a free, open-source ecommerce plug-in. It works in tandem with the renowned Joomla content management system. VirtueMart is a complex ecommerce plugin which is not for the average business as it works on an entirely different platform. But, left in the hands of an experienced web developer or programmer, installing, implementing and maintaining the platform successfully can provide some very long term benefits.
VirtueMart
VirtueMart does not come with any kind hosting support and requires a separate hosting package from another vendor in order to function. Mobile compatibility is fairly effective but is only available via iVM Store application that can be purchased from the iTunes App Store or even Google Play. However, the real time application of the VirtueMart plugin is best limited to computer use.
The VirtureMart plugin has the ability to handle "one off" products because it stores every single purchased product's details as well as the user information in a completely separate component. This user information is entirely in the control of the administrator. In terms of payment options PayPal is the easiest to install and can be done at no cost whatsoever. Conclusively, the VirtueMart plugin is ideal for small to medium scale online retailers who have advance-level technical knowhow.
The VirtueMart plug-in comes loaded with more than 500 features, some of which include:
Enabled with the widely used Joomla extensions
Equipped with a fully customizable shopper input form
Multiple payment, vendor , and shipping options
SEO integrated reviews provided by default
100% anonymous checkout portal
AlegroCart – making ecommerce as simple as 1-2-3
AlegroCart is a shopping cart solution for all your ecommerce website needs. It is open-source, and is based on the MVC framework. The features of AlegroCart include maintenance mode, worldwide currency support system, and even comes with multilingual capabilities for ease of use.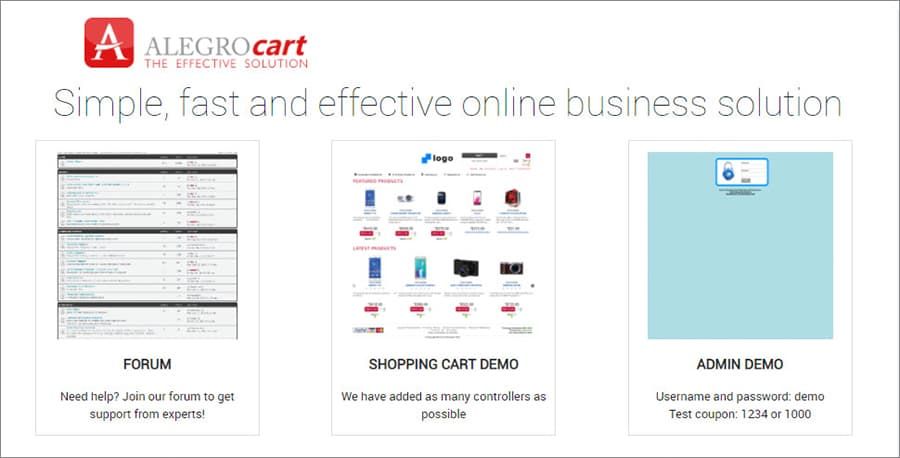 AlegroCart
AlegroCart even has SSL support, one-click currency updater features and also multiple tax and weight classes, providing all-round shopping cart usability. You can use this to display products that can be categorised on the basis of search or manufacturer, and you can add instant price updates on multiple products as well. There is also a selectable picture size option, where you can display your products in the size you want. The solution even comes with automatic search engine URL alias generator, and with full SEO optimization. Apart from these, other great features include:
You can display products based on current, featured, latest, related products and so on.
Modifications in one file in one template ensure that the changes are done with the same file in other templates as well.
Templates include display templates, side column templates and a centre multiple column template as well.
All of the module display pages have an Ajax add to cart function, which you can switch on and off as and when required.
Searching by the cart is done on the basis of product name or number.
You can display quantity discount options by the percentage of the price of the product available.
OsCmax- the one-stop solution for all your shopping cart needs
OsCmax is one of the most proficient CMS for ecommerce websites and is used extensively nowadays by start-up and growing businesses. This ecommerce CMS includes a plethora of stunning features, starting from unlimited categories for products and coupons and gift vouchers, to a web based admin panel that makes it easier to manage your website and its contents. Other features also include virtual and downloadable product support and integration and support of various popular payment methods such as PayPal, real time credit card processing and AuthorizeNet.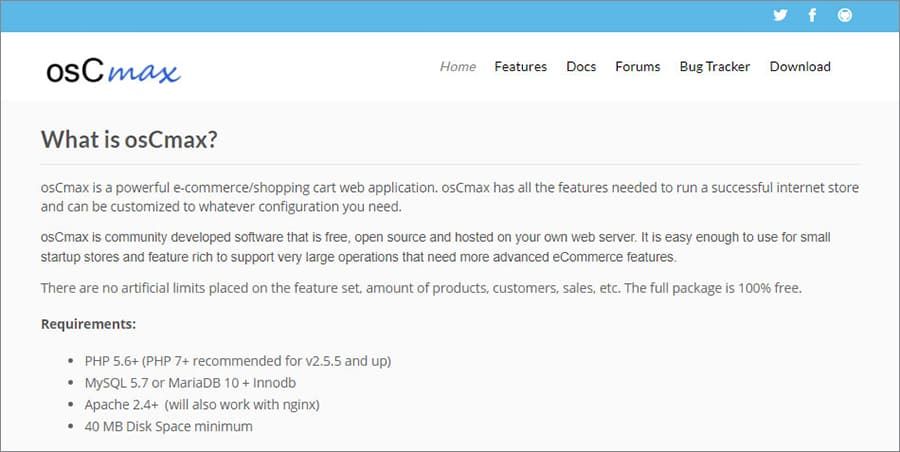 OsCmax
With osCmax, users can also track the full inventory at all times and the application even supports Fedex shipping capabilities and USPS and UPS. Data entry is Excel based, so anyone can get started with this right away. Customer credit reports and customer wishlists can also be saved effortlessly with this application. And apart from these, a gallery of other features include:
Specials display on the main page by default.
Per product shipping options.
Descriptions of all categories neatly displayed.
Separate pricing options for varieties of customers such as wholesale, retail or customised groups.
Products listed by columns.
A dynamic meta tag generator.
It also comes with admin controls and toggle.
Compatible with almost all the modules on the osCmax platform.
Payment methods include Geo Quick Trust Payments, standard osC Credit Card, EFS Net, or simple money orders and cheques.
There is also an admin log for easy categorization and options for affiliate news and affiliate newsletter manager.
WordPress Ecommerce – the grand daddy of ecommerce CMS platforms
WordPress is one of the pioneers in the field of building websites from scratch, and with exciting features. It packs a punch in terms of useful features for CMS systems. Of the many WordPress Ecommerce features is the fact that not only can store owners use the readymade ecommerce templates, but can also explore design differentiation with CSS and HTML. These packs come with video tutorials for easy setups, and there are integrations with popular payment gateways such as Stripe, Gold Cart, and the best part is, you can integrate automatic pricing modules and offer sophisticated discounts and rebates to frequent shoppers.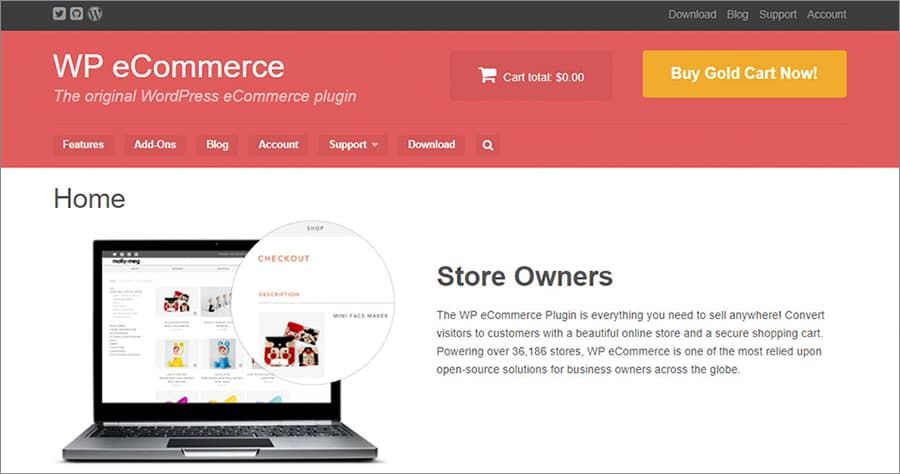 WordPress Ecommerce
Here's a look at some more special features. And a variety of other features include:
Strength and flexibility both on the back end and front end.
Hundreds of unique themes to choose from, and each one is customisable to the last point.
Premium extensions can be added as and when you need, such as table rate shipping, product CSV Import Suite, bookings and others.
You get a host of free extensions such as delivery notes, Google Analytics, PDF Invoices and Packing Slips, Custom Product Tabs Lite, etc.
Implementing the most fine tuned ecommerce strategies with Drupal Ecommerce
Drupal Commerce is the best way to go about managing or configuring your ecommerce website according to your needs since it's one of the best ecommerce CMS. It has very stringent development standards, and comes with features designed for maximum flexibility. Out of its many features, Drupal Commerce comes with the advantage of creating different custom attributes, VAT support, tax calculation and even discount pricing rules. You even get dynamic product displays and order management means and methods for smooth running of your website.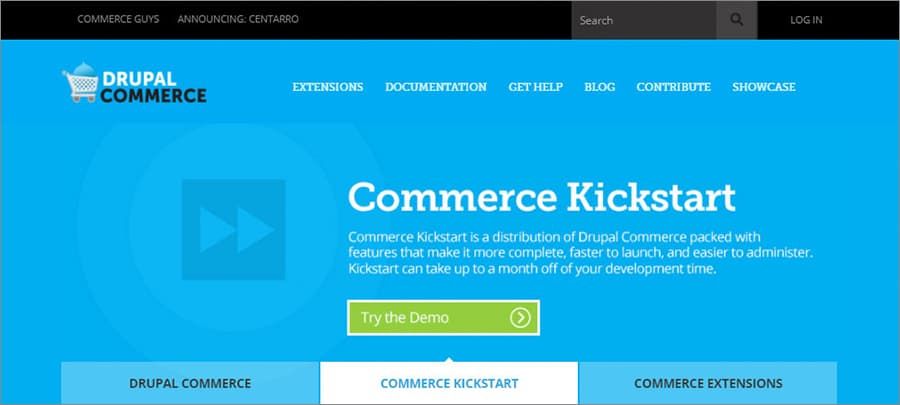 Users can also follow different and multiple payment gateways and Drupal Commerce also comes with integration with Drupal 7's Fields, Rules, Views and Entity API as well. You can enhance all the modules such as payment modules and PCI compliance, and get the top notch features of analytics as well. Why not check out these top notch web commerce enabling features available with Drupal Commerce?
The platform even comes with full documentation in terms of commerce kick-start guides, merchant guides and developer guides as well, and a host of other strong features like adaptability to any kind of changes that your website goes through.
Users get establish social network integration with top networking sites such as Twitter, Facebook and Pinterest.
There are many theme layers, with fully customisable features and is fully responsive, so it works on all display devices.
Smart check out processes and integrated payment gateways enable fulfilling shopping experiences for users.