20+ Pixpa Portfolio Website Examples
WebBuildersGuide.com earns commission from some of the web builders and hosting providers listed on this website.
Learn more
Creating a portfolio website from scratch is a difficult task to carry out, especially if you aren't a web designer. To save you from such a heavy set of burdens, the Pixpa website builder allows photographers, graphic designers and illustrators to create a modern portfolio website on their own.
Pixpa is a perfect website builder for photographers, but its capabilities allow you to create not only portfolio websites, but also blogs and an online store. The platform offers dozens of templates for art and design, photography, fashion, health, business, real estate, restaurants, music, and personal CV or portfolio.
Besides the responsive templates, it also offers many useful features to its users, such as a free domain, SSL certificate, E-commerce functionality, advanced SEO tools, a blogging platform, etc. Moreover, it's easy to use and offers fantastic customer service.
This review has collected 20+ modern Pixpa website examples to give you an idea of what a website built with Pixpa might look like. Scroll down to explore the best one for you.
Thomas Le Floc'H Photography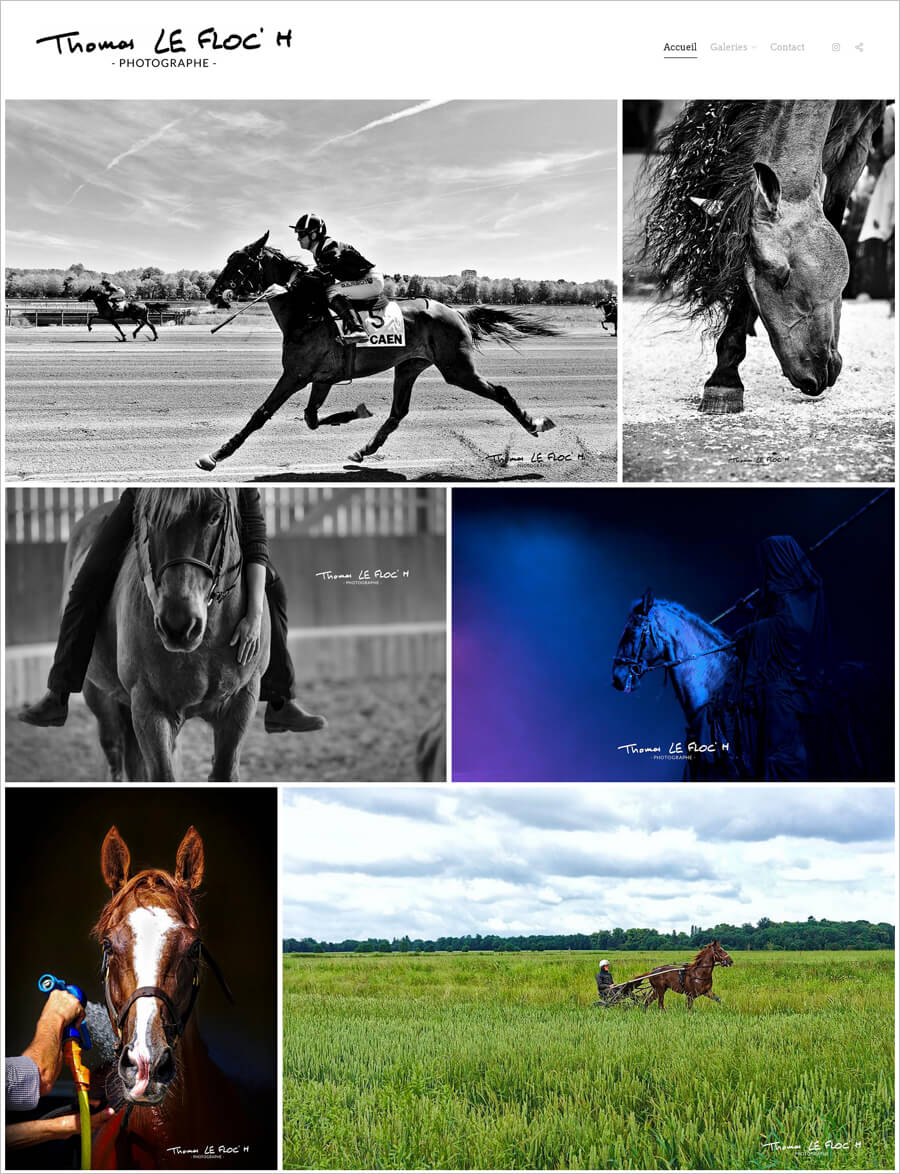 Check this portfolio example
With a passion for photography, Thomas Le has designed a phenomenal portfolio. He has showcased his incredible shots of horses with special effects and unique points of view. His portfolio is predominantly balanced with striking black and white images. It's an excellent example for all the photographers out there.
Zoooom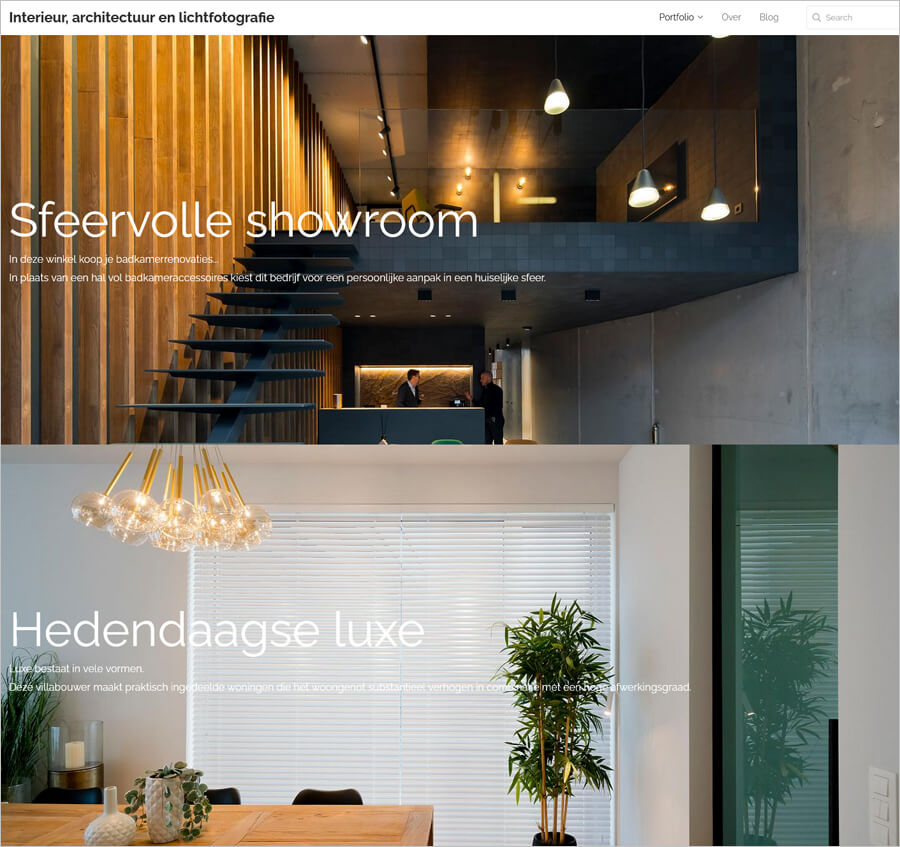 Check this portfolio example
Zoooom, an interior designer portfolio, is a well-crafted and engaging portfolio website. The website's landing page is a powerful representation of designers' architectural skills. Full-width images of his best pieces and a blog category create an impression of competency on users. Unlike other portfolios, this site contains a minimalistic approach and less navigation.
Andrew Guy Photographer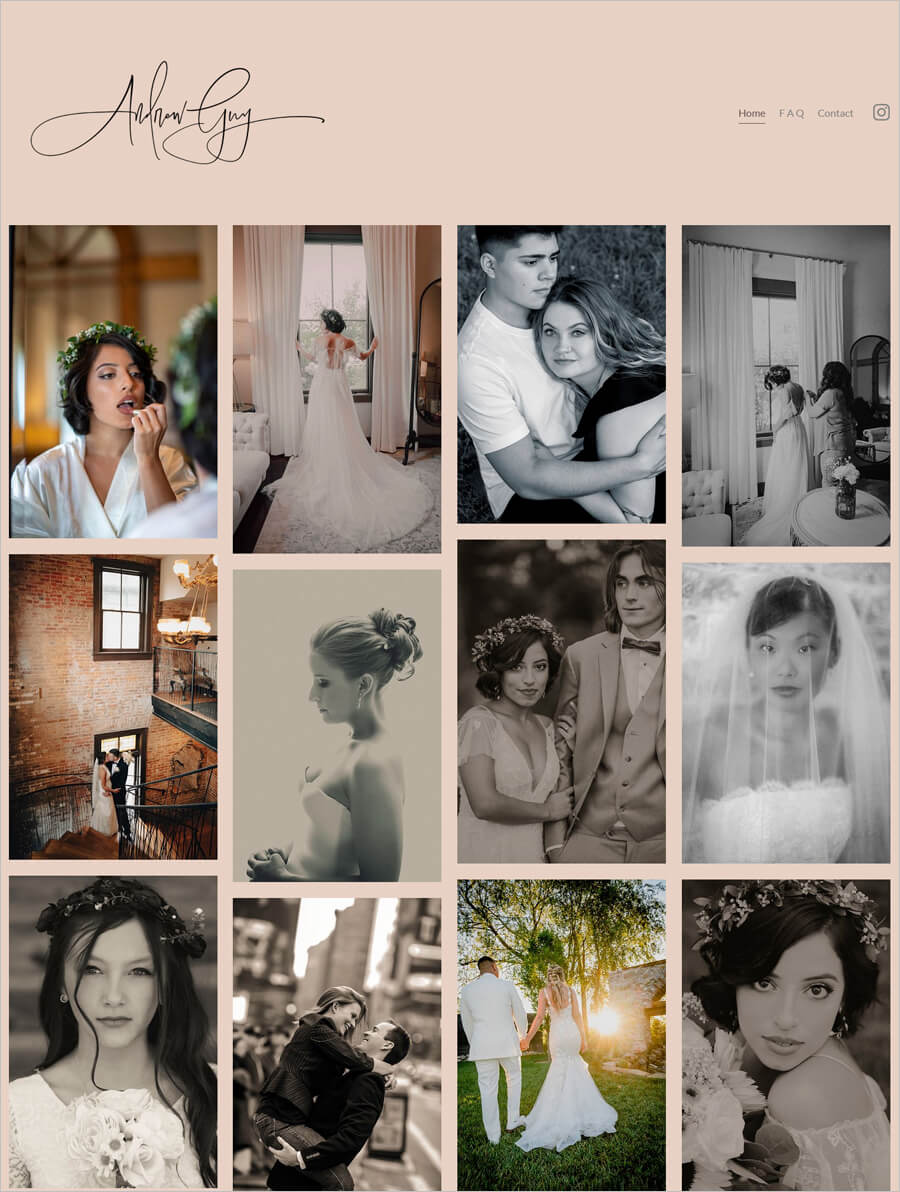 Check this portfolio example
Andrew Guy falls under the best Pixpa photography portfolio. His portfolio is a true expression of his work and represents his passion for wedding shoots. This site contains a structured layout with horizontal and vertical images. The soft shade colors in the background craft a peaceful and calm environment.
Wayne Holt Chan Art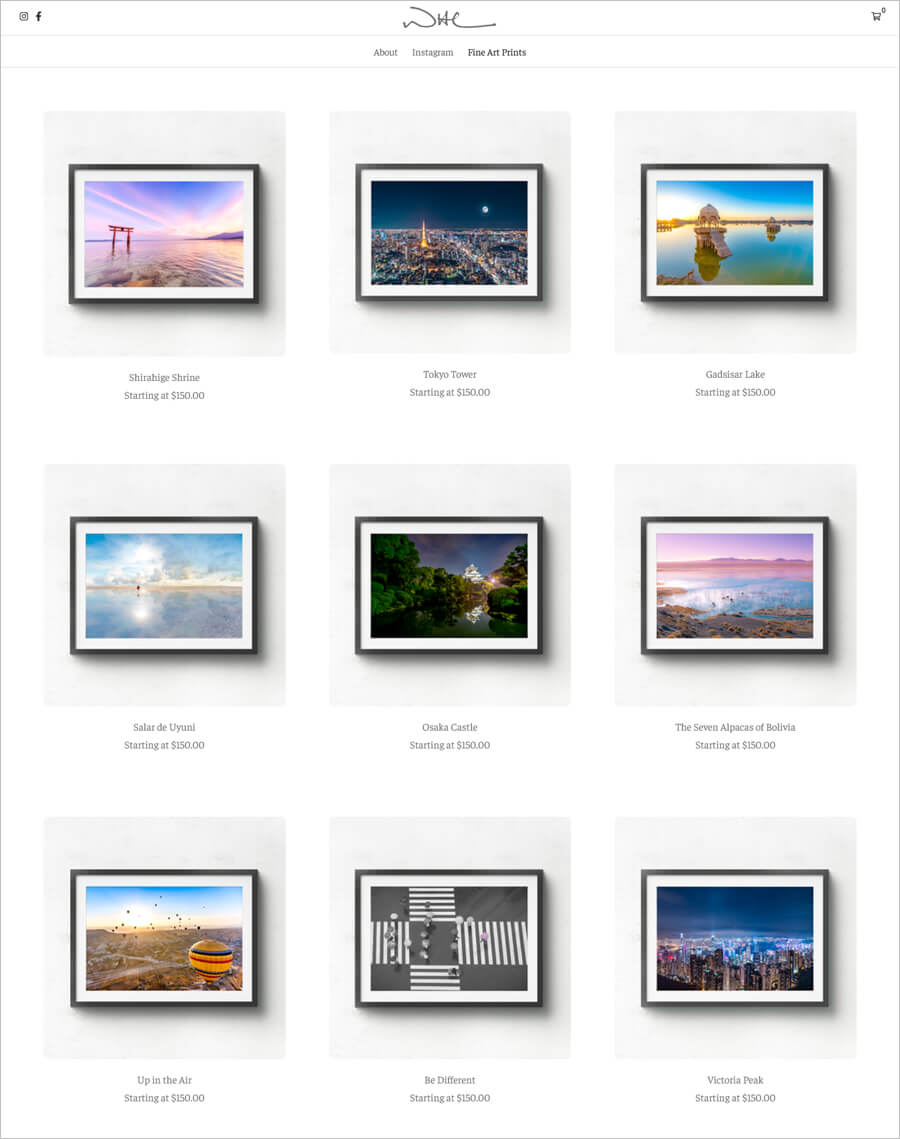 Check this portfolio example
Wayne Holt Chan Art is one of the best Pixpa artistic portfolios. The breathtaking paintings of the artist exhibit his creative skills very well. White background along with grey hues is adding exceptional beauty to his portfolio. His site is a complete example of minimalism. It's an exciting option for designing your art portfolio.
Frame It!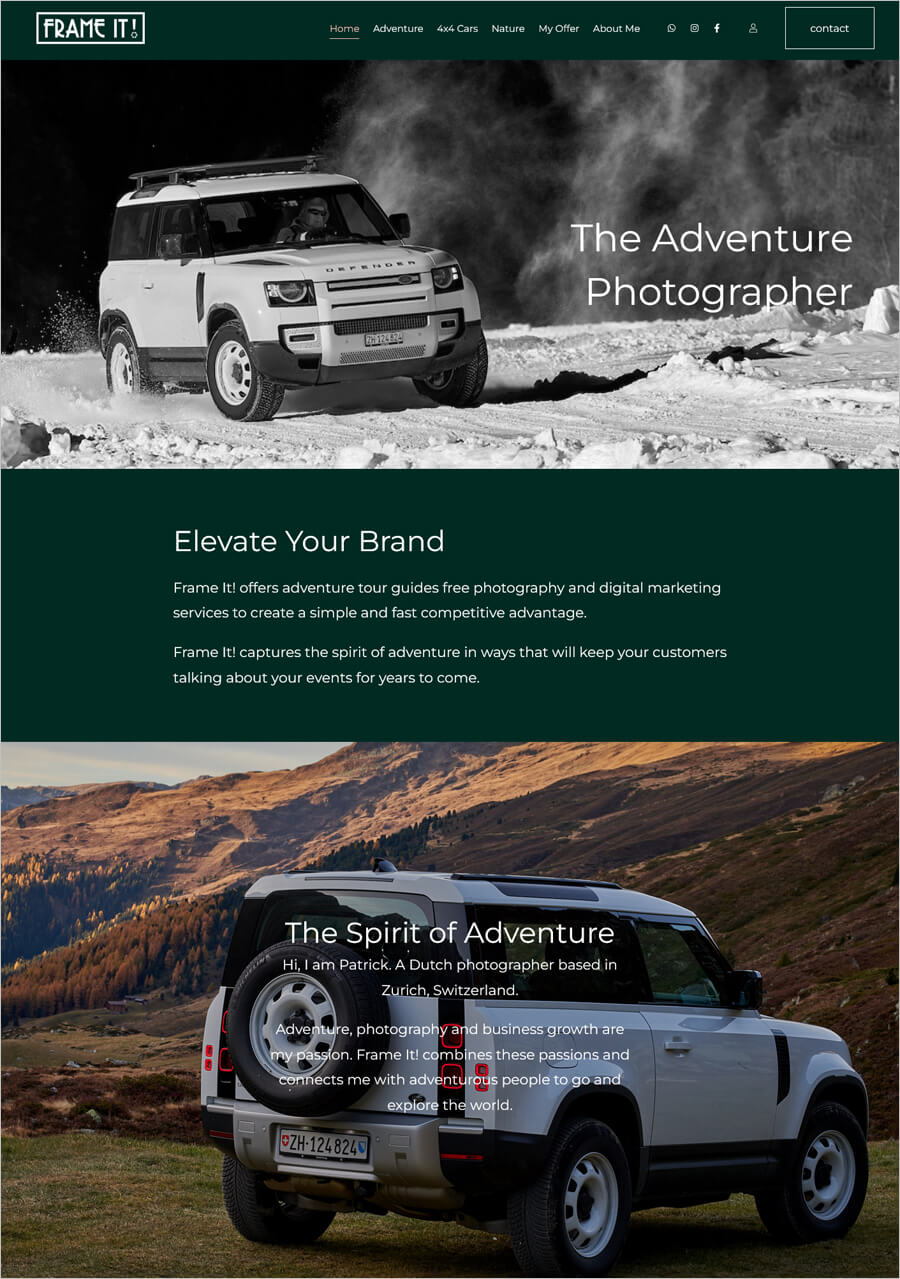 Check this portfolio example
Frame It is an online photography portfolio of an artist named Patrick, based in Switzerland. Landing on the leafy green shade home page immediately attracts visitors. His photos are evidence of his spirit of adventure and photography. Rather than exhibiting his photos on the homepage, he preferred to use the power of words to build trust.
Reuben Singh Photographer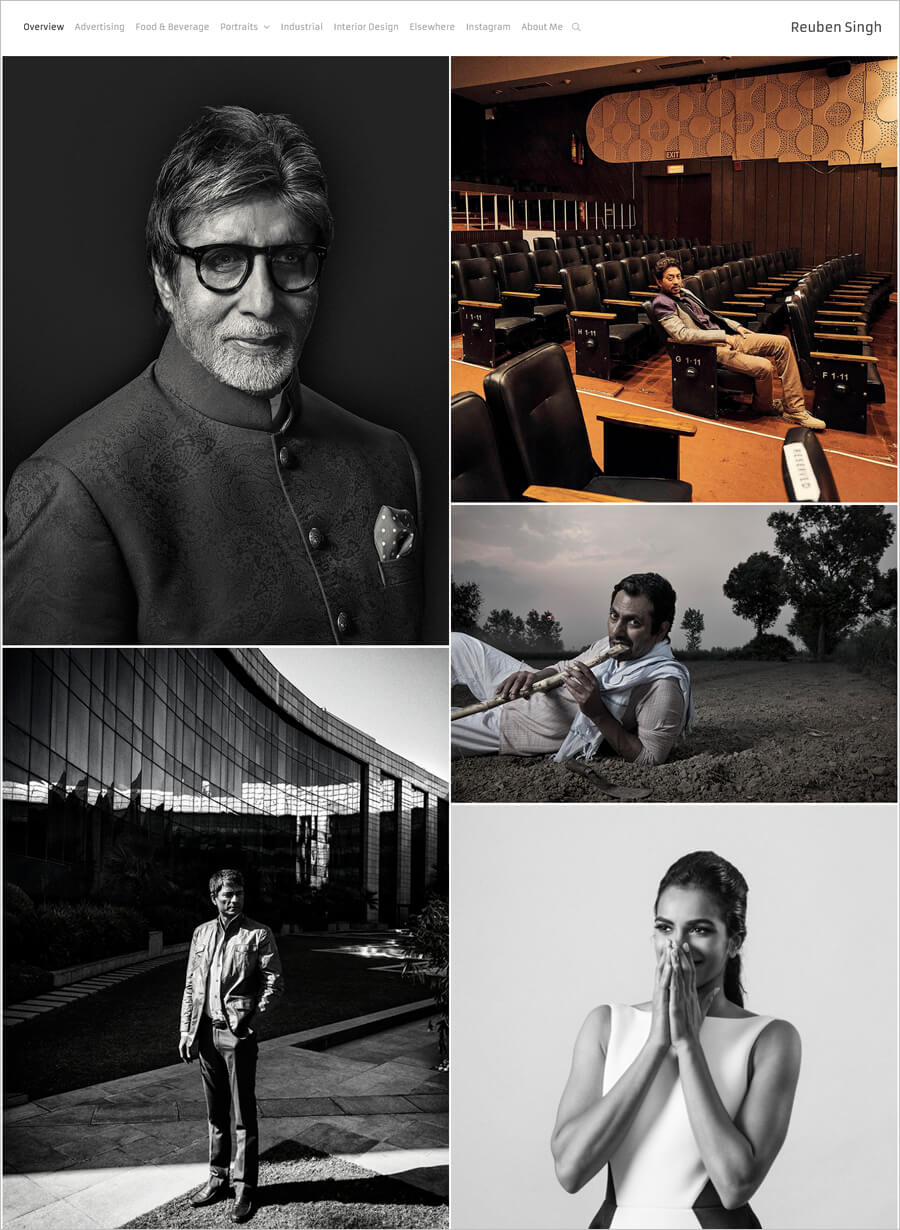 Check this portfolio example
Reuben Singh, an Indian photographer, is a die-heart fan of Bollywood. The minute you open the website, well-known celebrities of the Bollywood industry greet you with their beautiful shoots. He uses his homepage as an overview of all his fantastic photography. His extraordinary photography skills reinforced the visitor to explore more about his site.
Emma Da Silva Portfolio
Check this portfolio example
Another Pixpa portfolio example that gives the users a user-friendly and excellent experience. This site hasn't complicated things by using irrelevant and extra features. Rather than this, Emma has added simplicity to her website. She put a slideshow of her incredible photography on the homepage. Moreover, the black background adds a note of gracefulness and high style to her website.
Shailendra Rana Photography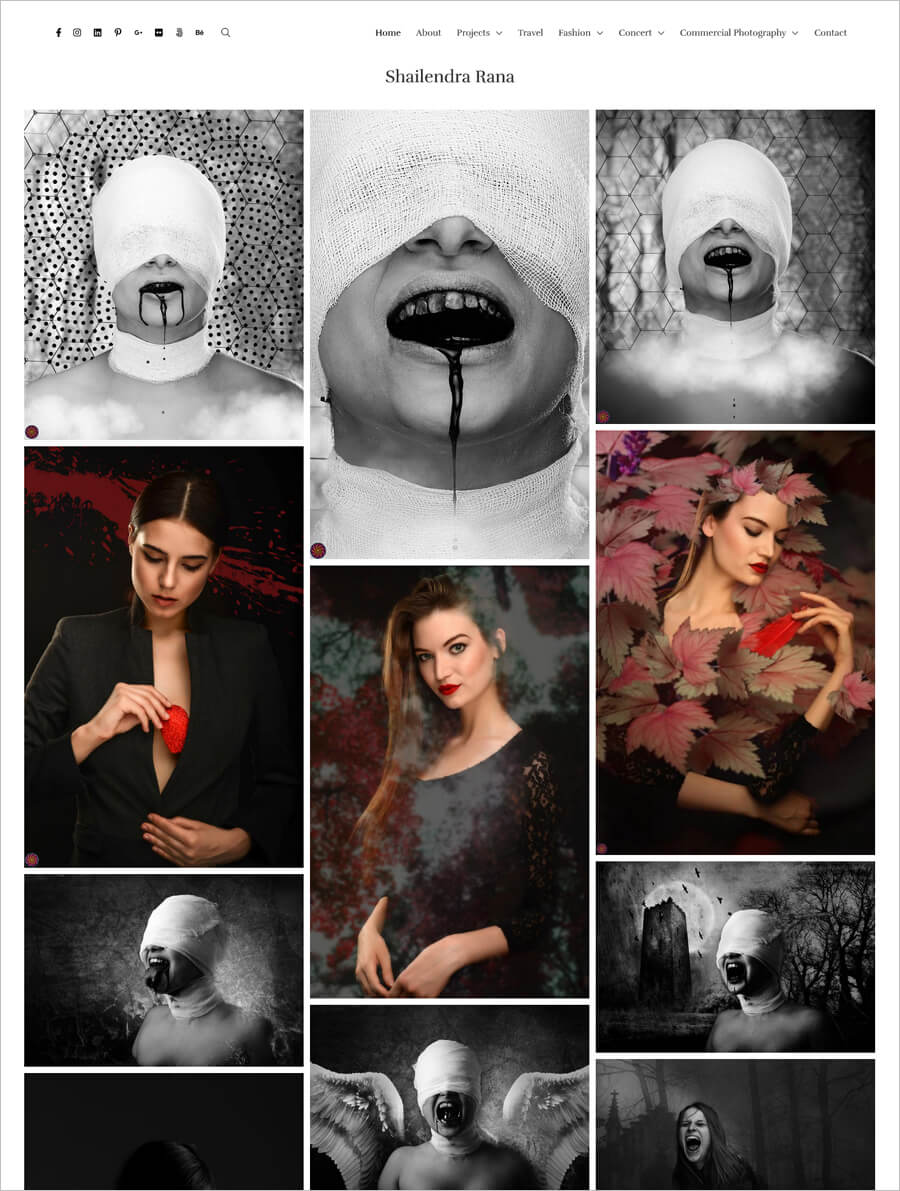 Check this portfolio example
Shailendra Rana's portfolio is truly one of the unique sites of Pixpa photography portfolio examples. This portfolio gives a horrifying look because of the scary shoots it has. His mind-blowing photography speaks for himself. All the pictures are structured in horizontal and vertical grids, adding more beauty to the site.
Kiara Martino Designer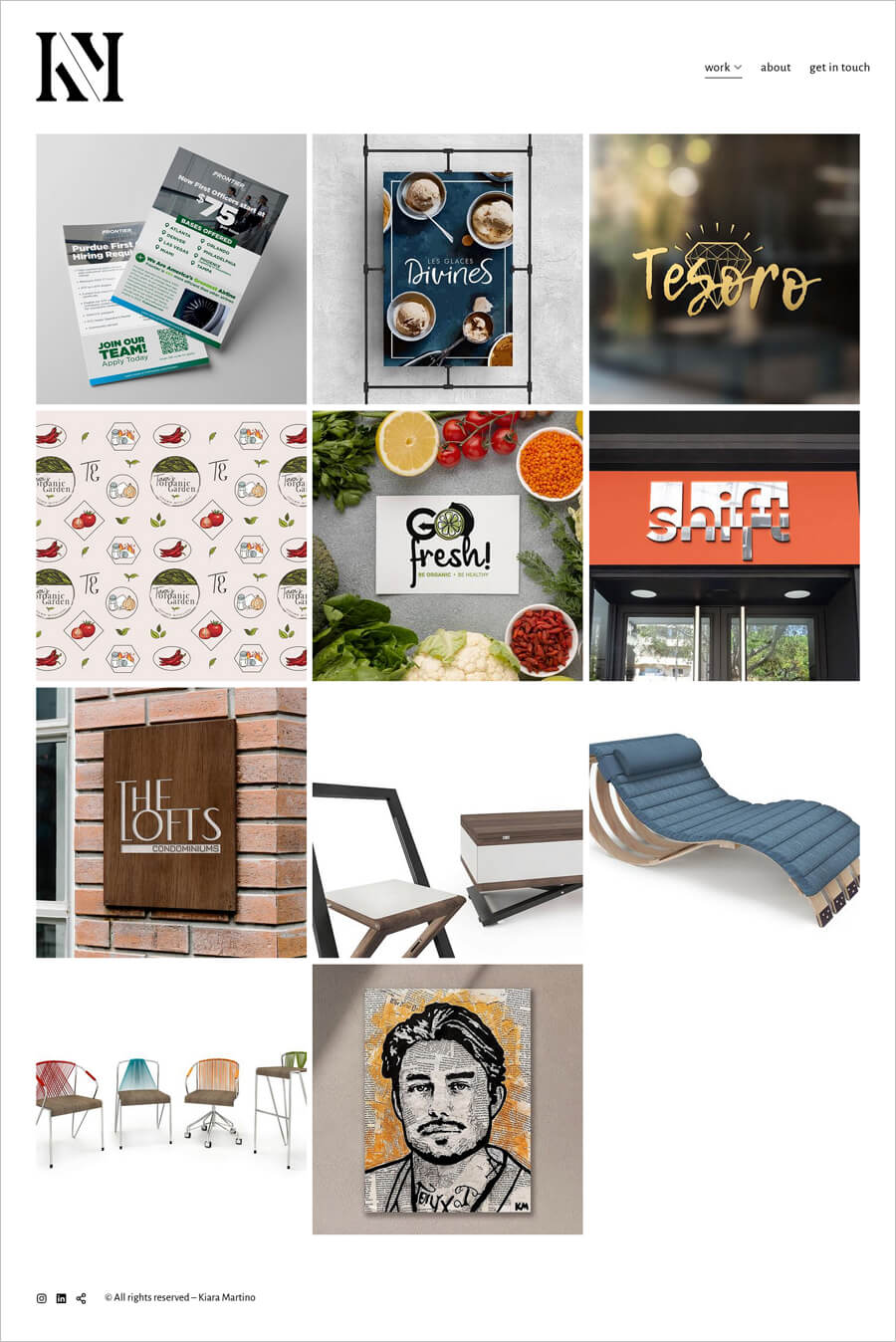 Check this portfolio example
Kiara Martino's website portfolio proves that she is a brilliant graphic designer. Her outstanding portfolio is a great expression of her creativity and mastery. She designed her website in a very sophisticated way. Using organized grids has reduced the other distractions and emphasized her work only.
Paul Raats Portfolio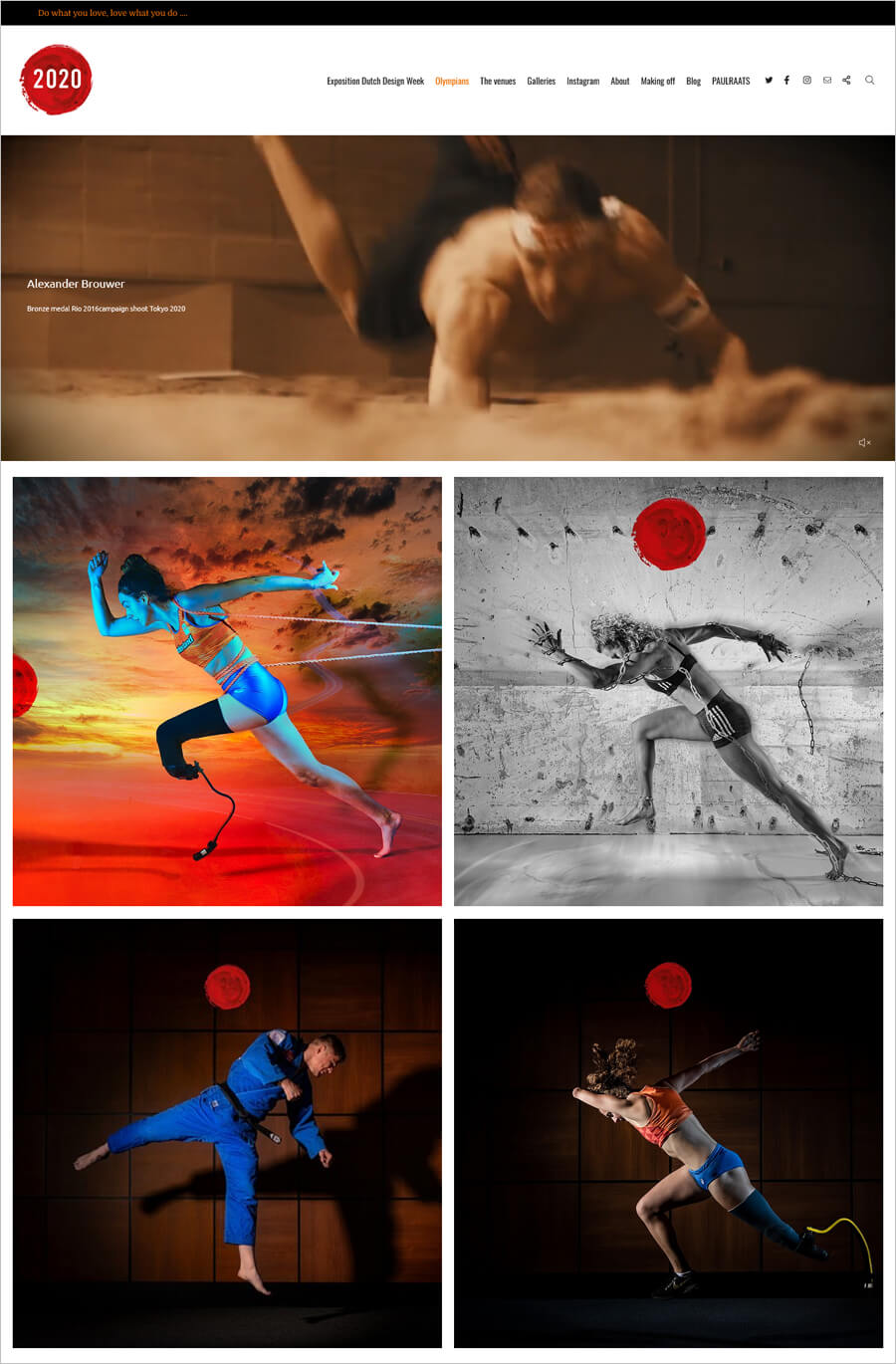 Check this portfolio example
One of the most eye-catching photography portfolios of Pixpa portfolio example is Paul Raats's portfolio. Most of his work belongs to the field of sport. His photographs are captured at a perfect angle that makes them so captivating. The red color logo on the website shows his powerful, risky approach and invites visitors to scroll down.
Josh Loves Light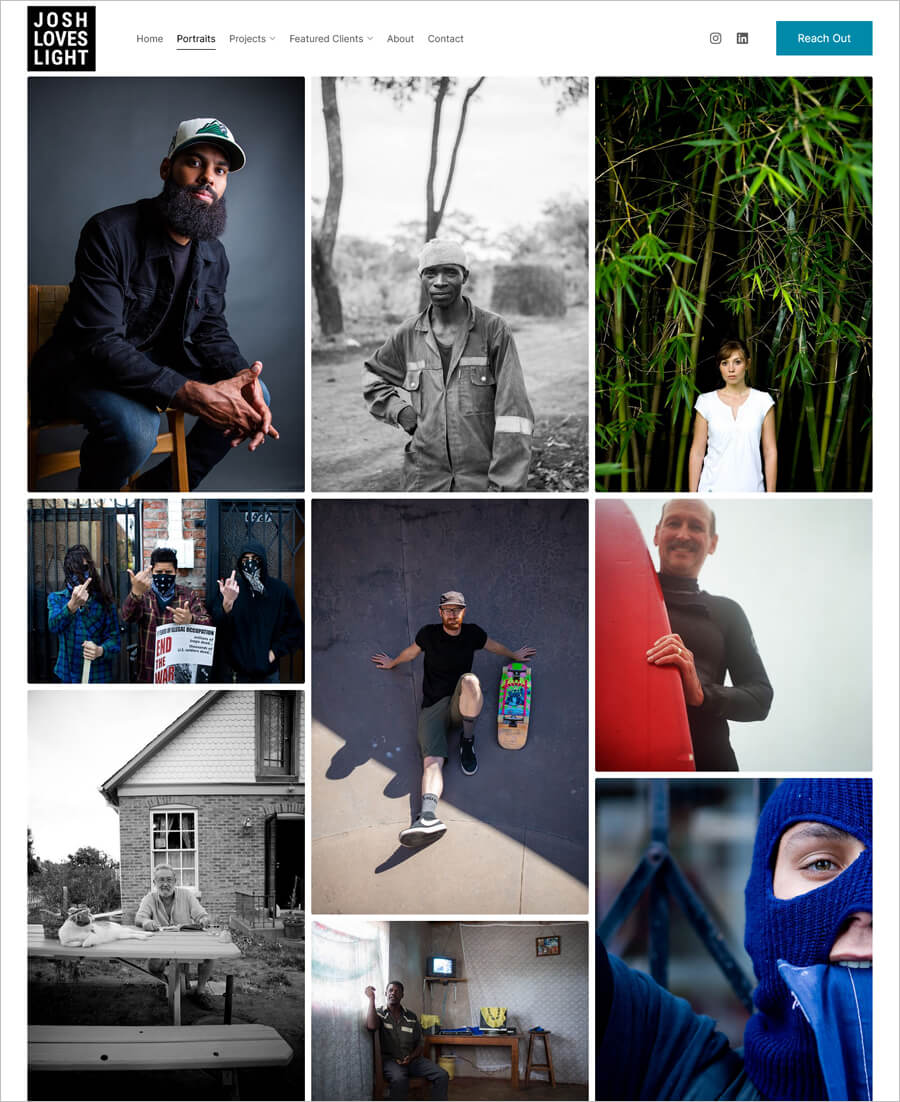 Check this portfolio example
Josh Loves Light is an incredible photography portfolio that represents the photographer's unique style. Josh's site is full of his splendid endless shoots. Every photograph is of high quality and has captured every detail beautifully. The structured layout and defined categories make this site highly professional and easy to use.
Nyx Aurelia Art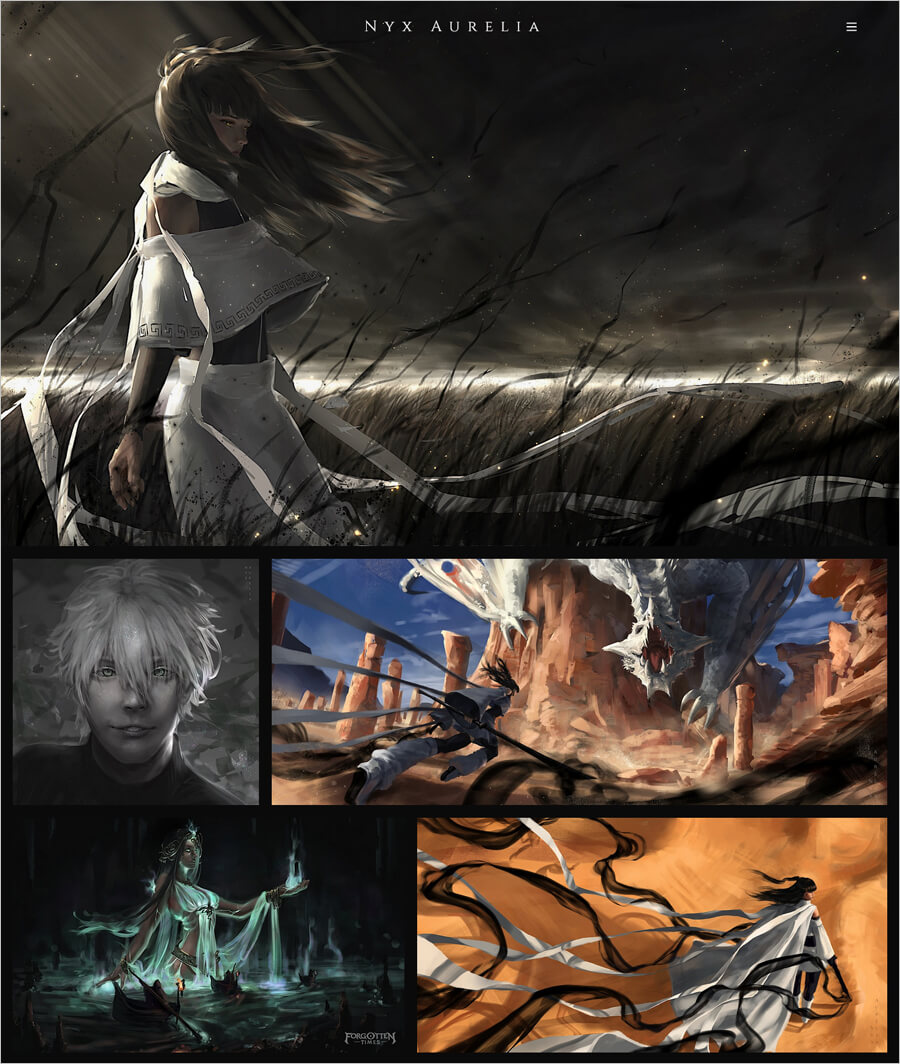 Check this portfolio example
Nyx Aurelia Art's portfolio website offers an apparent and straightforward visual layout. Her portfolio showcases her beautiful illustrations designed with unique elements. Her homepage is all about fantastic anime art designs. It instantly grabbed the visitors' attention and reinforced them to appreciate her skills.
Tyler Grace Portfolio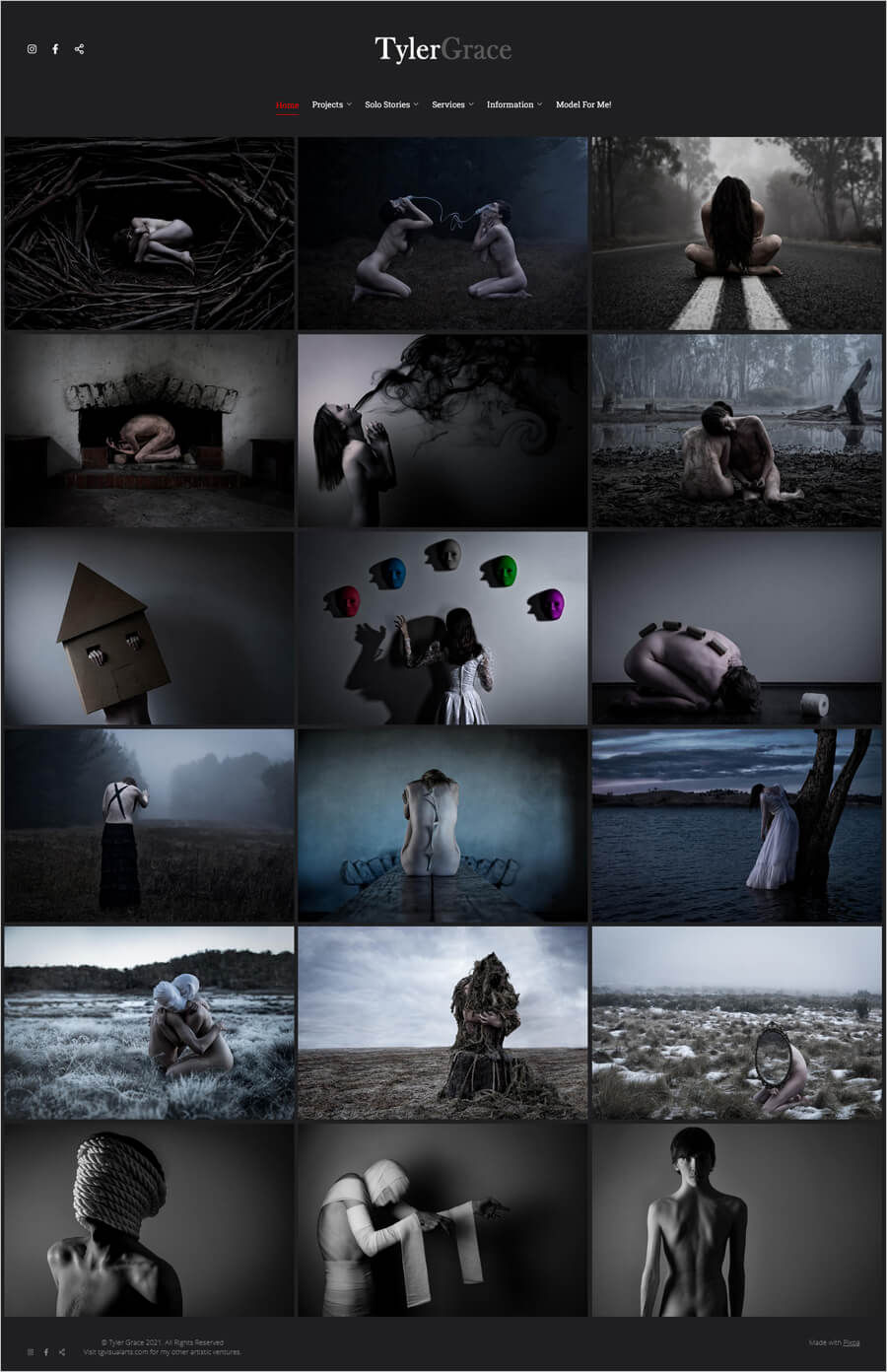 Check this portfolio example
He believes that photography allows people to create stories and share life experiences. That is why his shoots are super expressive. His photography revolves around bold projections. The website's layout, along with his excellent artistic skills, makes the site more appealing. Without creating a mess, his portfolio focuses on his work and creativity.
Obladee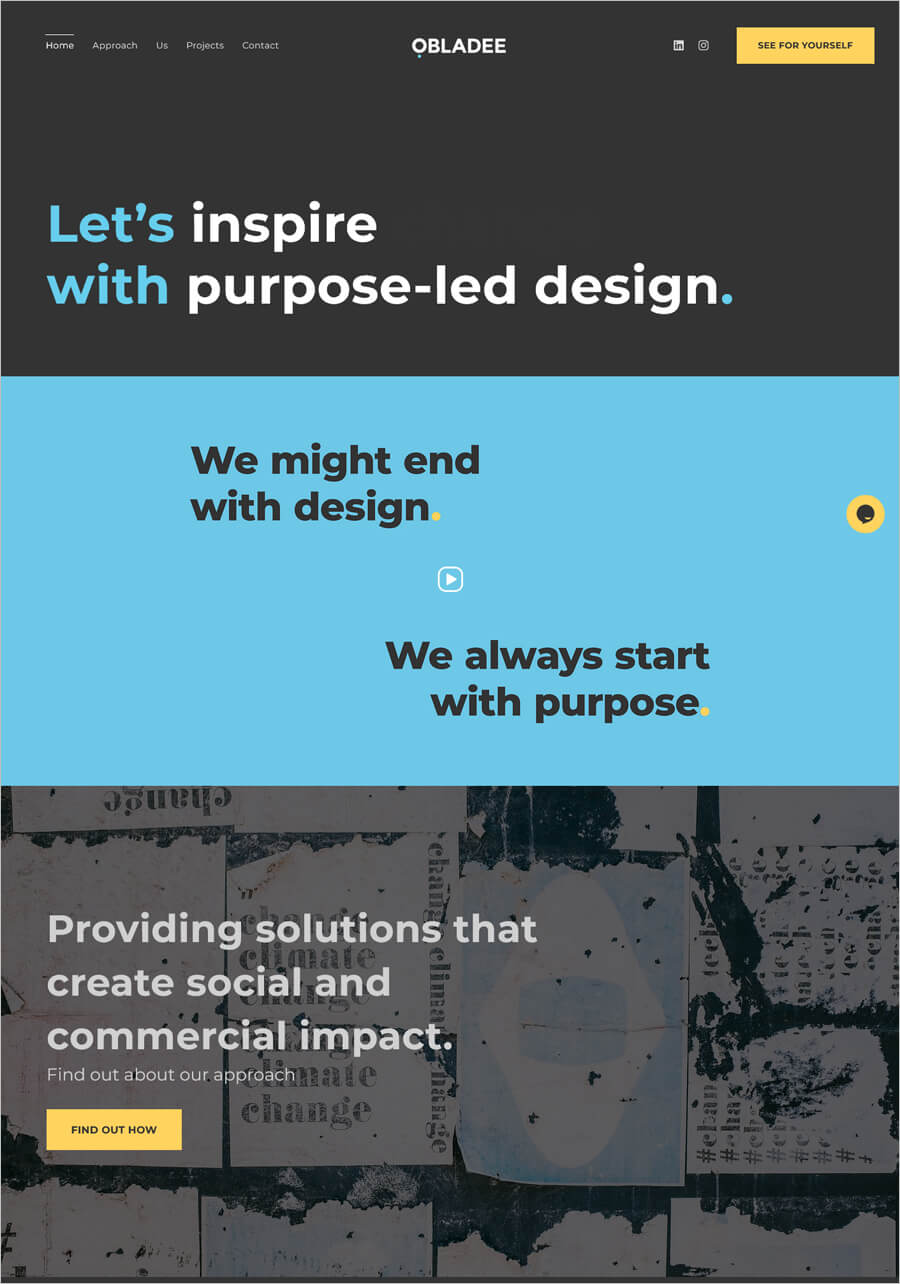 Check this portfolio example
Obladee is another unique portfolio design that will leave you surprised. The website's superb layout and attractive color themes make it more impactful. Without using extra visuals, Obladee has beautifully played with the words to create an influence on visitors. The mixture of yellow, blue, and grey shades makes the site unique and impressive.
Leah Sands Art Design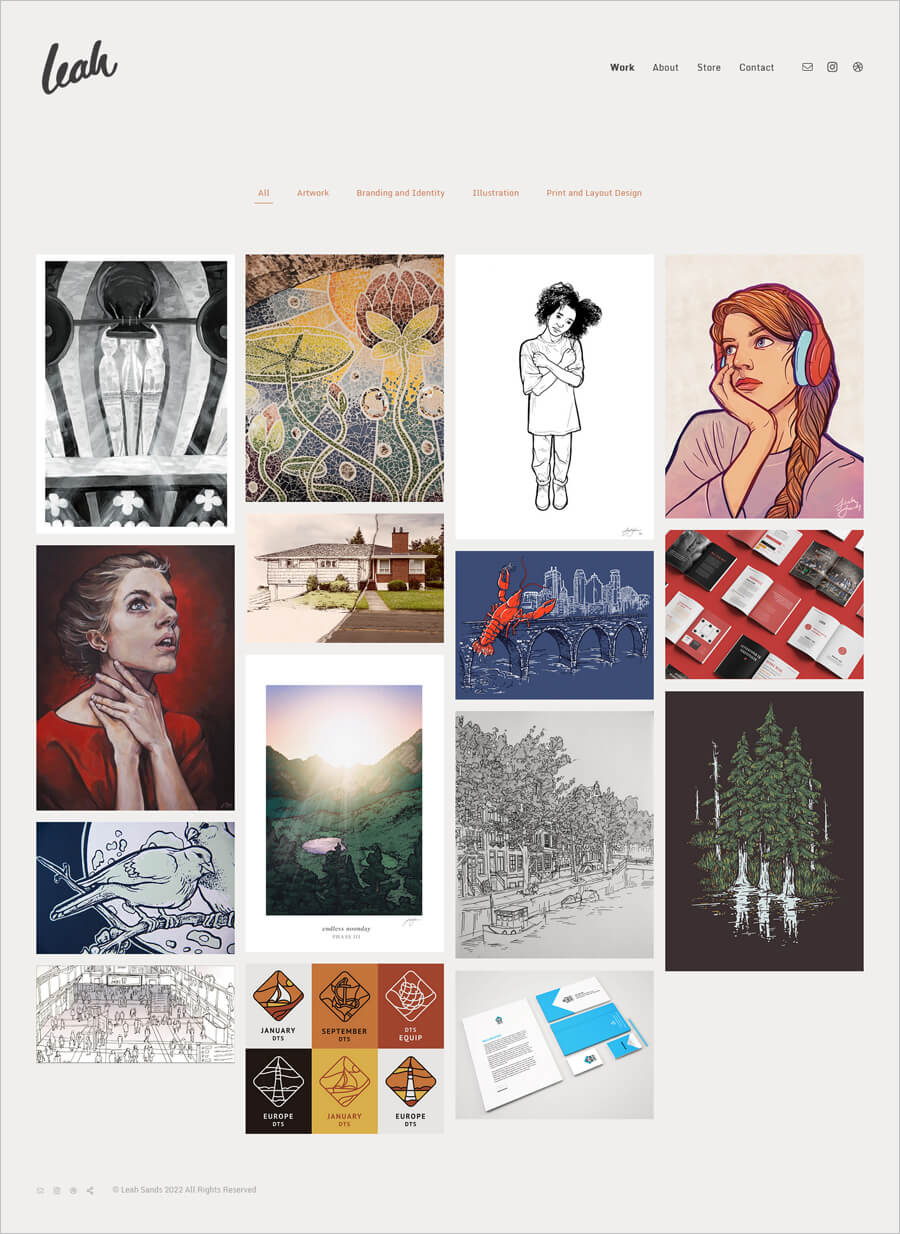 Check this portfolio example
Leah Sands's graphic design portfolio is the best inspiration for all illustrators. Her unique illustrations express her style and creativity. The layout of the portfolio is simple, which makes it understandable. This Pixpa portfolio example looks very professional and is inviting to visitors. You should give it a chance if you want to add simplicity to your site.
Paul Raats Portfolio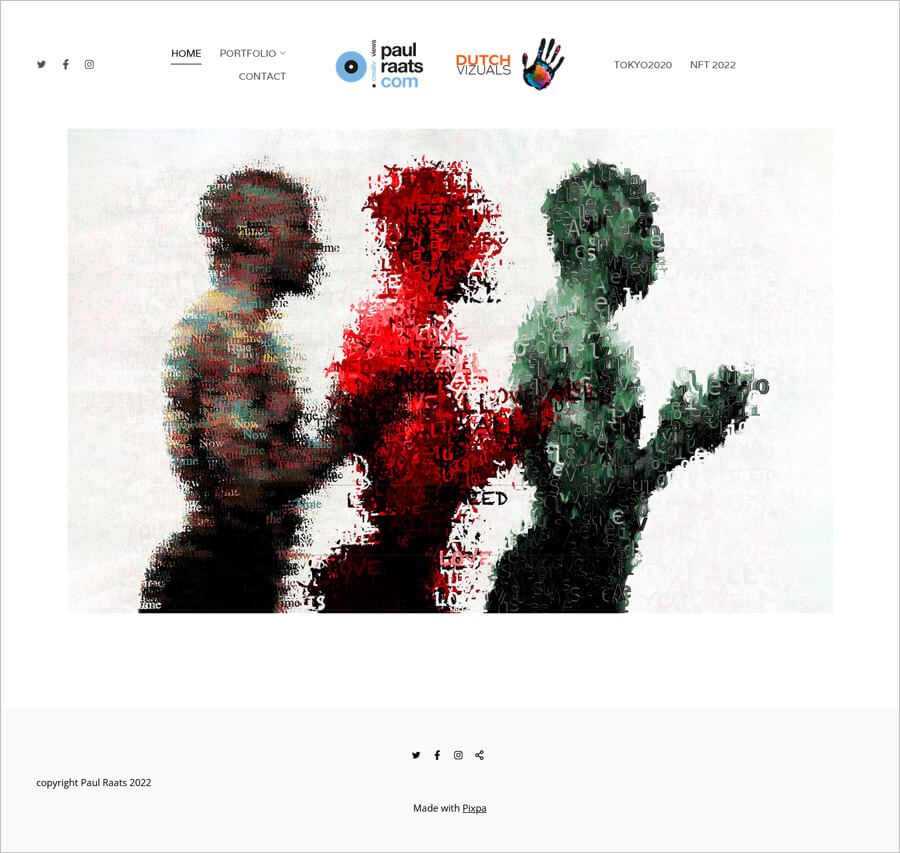 Check this portfolio example
Paul Raats Portfolio is an excellent example of the most straightforward best portfolio websites. This site has no distractions and unnecessary features. Furthermore, using an incredible slideshow of images has made Paul Raats's portfolio stunning. The addition of social media links on his site makes it easy to approach him.
Steve Algie Fine Art Photography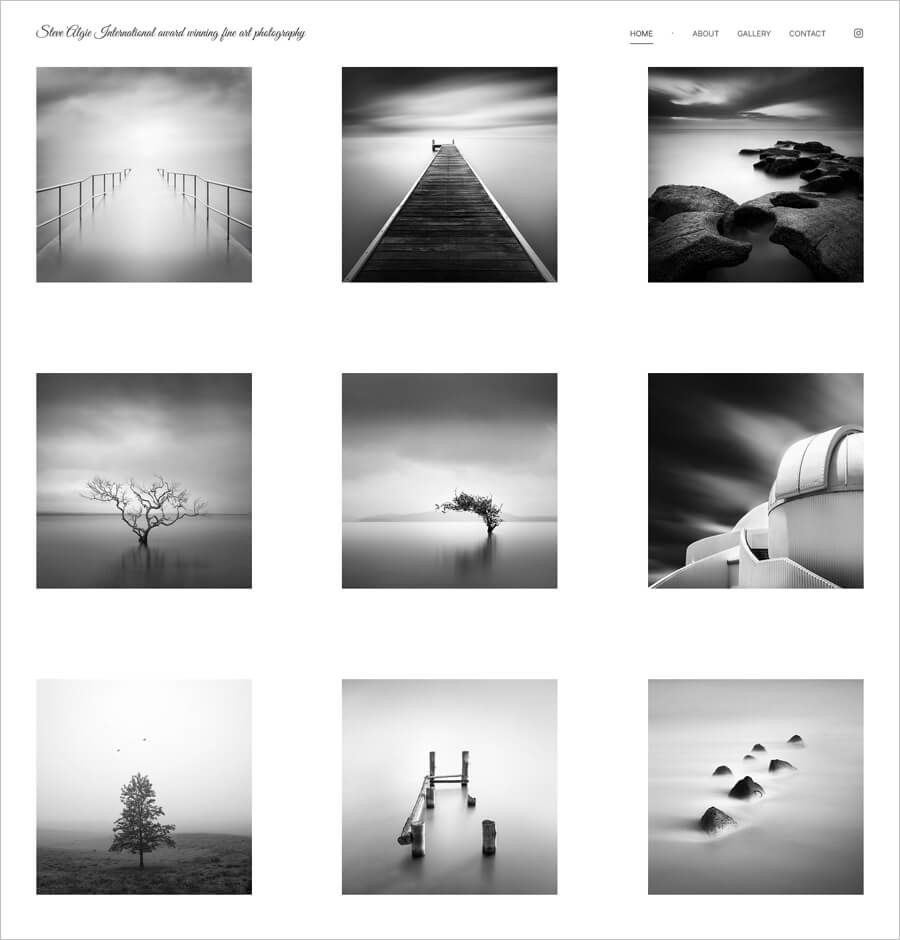 Check this portfolio example
Steve Algie Fine Art Photography portfolio is a light theme site with monochrome images. The shoots are exceptionally appealing. His portfolio effortlessly makes the visitors engaged and gives them a user-friendly experience. The site is simply professional and well-structured. By using a white background, the designer has put all the emphasis on his work.
Knolton Photography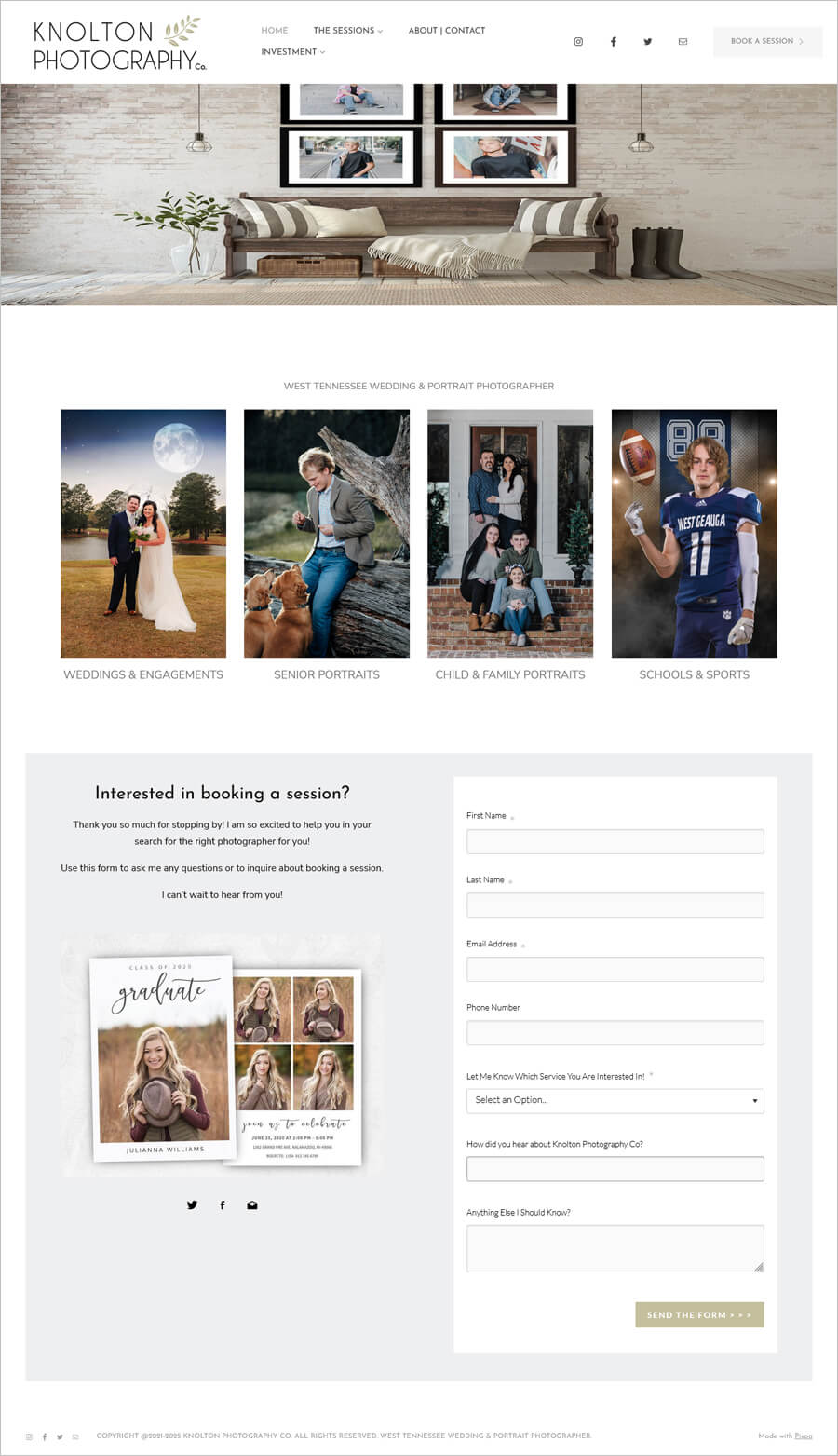 Check this portfolio example
Knolton Photography portfolio is an effortlessly beautiful and impressive Pixpa's portfolio. It's one of my favorite portfolio designs as it's visually appealing and interactive. Her photographs not just depict her skills but they tell you a story. There is nothing to distract visitors with many features that make her site more charming.
Rose Boutique Photography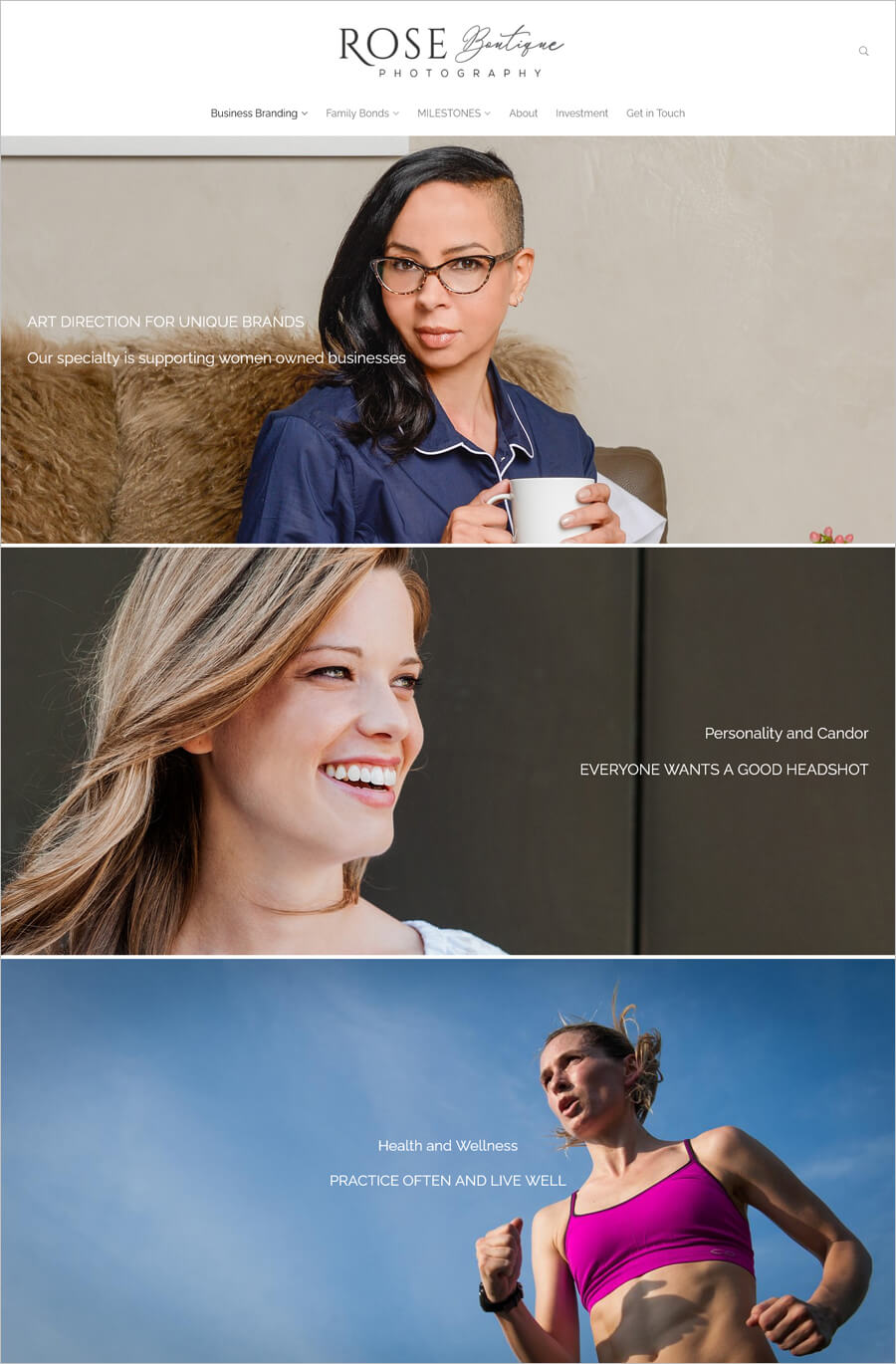 Check this portfolio example
Rose Boutique is a photography studio based in Chicago. Her portfolio contains full-width images and well-defined categories that engage the users for a long time. She took advantage of clean white background to make his work more attractive. No doubt, it's a great choice to opt for while making your portfolio.
Andrew Furney Photography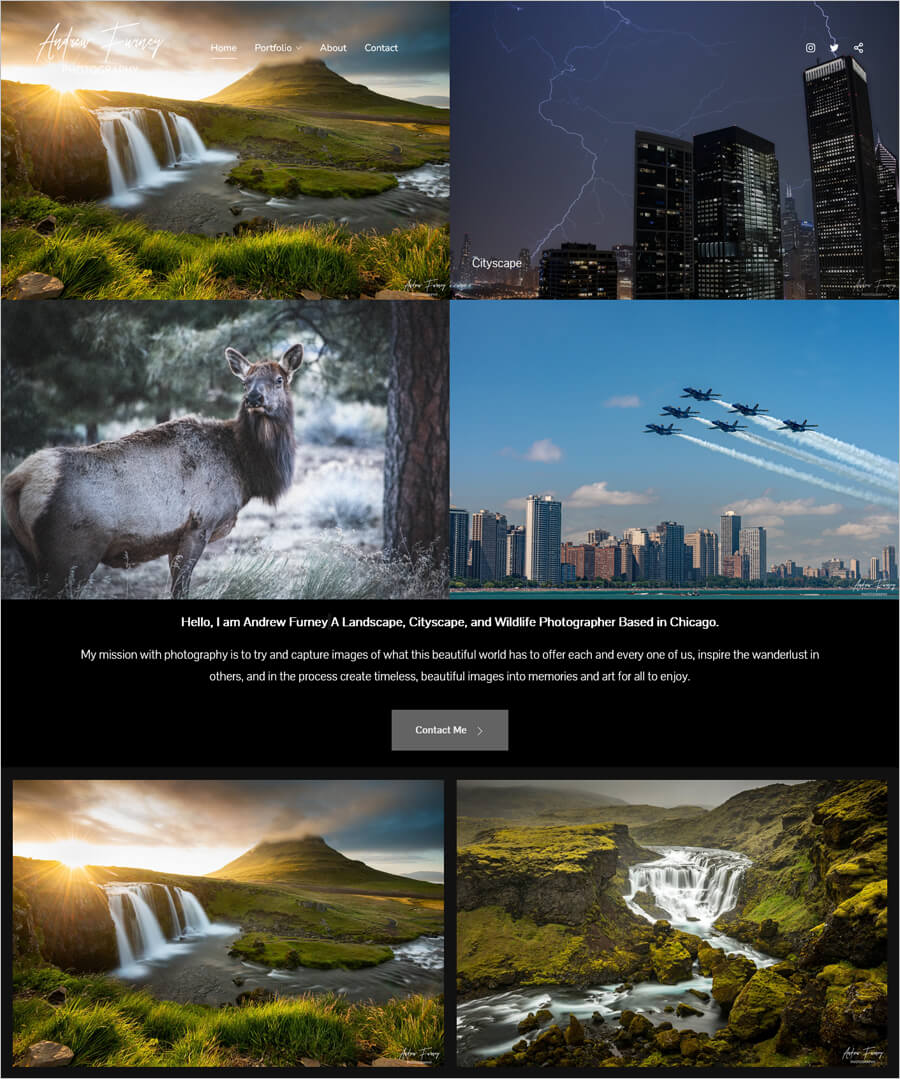 Check this portfolio example
Andrew Furney is a high-end nature photographer with an outstanding online portfolio. Eye-catching and picturesque images greet you at his homepage. It's entertaining to watch his shoots. He makes his portfolio simple and fantastic with an exceptional layout and color scheme. It creates a long-lasting impression on visitors.
Tia Fennelly Photography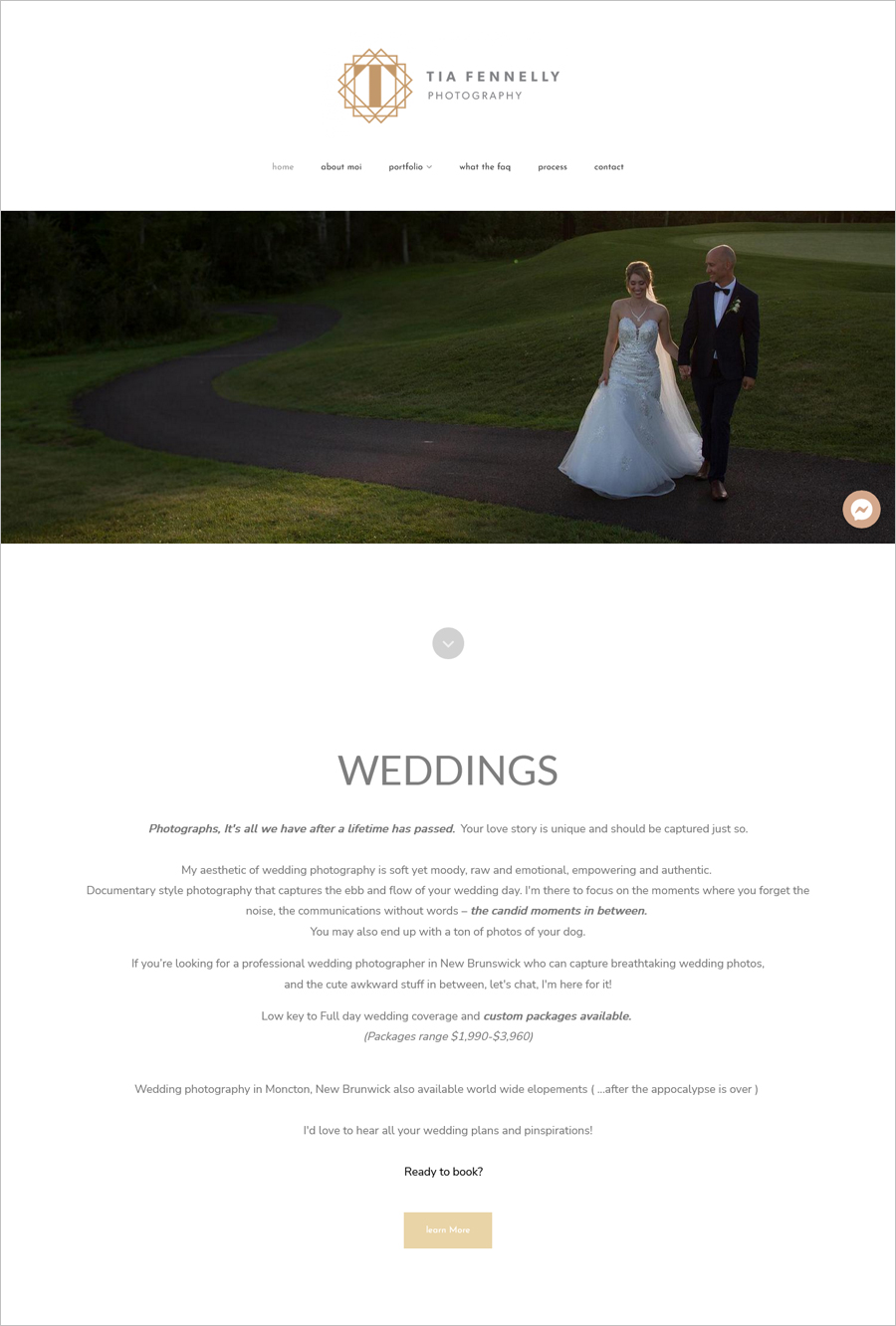 Check this portfolio example
Tia Fennelly's photography portfolio design differs from other portfolios on our list. She has balanced the website composition by using the text and visuals equally. Her photography revolves around wedding shoots. Moreover, the layout is interactive, beautiful, and engaging. You will discover Tia's incredible photography skills if you scroll down more.