GoDaddy Website Builder Review
Creating a colorful website that gives a good viewing and browsing experience to visitors is no more a skill limited to master coders and website building experts. Light and easy website building tools have changed the face of the market, and creating a web page is as easy as a clicking the mouse button and then releasing it. "Drag and Drop" is not something that would baffle you anymore, as most website builders have embraced this super cool methodology of website building. However, users continue to be very picky in terms of the drag and drop styled builder they go for, depending upon the quality of the website building experience that they get. Consequently, presentation of all value adding features in an organized manner that does not make the interface intimidating for the users proves integral for the success of a website builder. GoDaddy pays a lot of heed to this school of thought, and comes to the fore with its light and intuitive website builder.
Bringing the best and most coveted benefits of drag and drop based website builders under one roof and leaving out the unnecessary stuff, GoDaddy has quickly mustered up a massive reputation as an easy to use and effective paid website builder. With a builder that provides you all sorts of content elements ranging from text and images to videos and widgets in the form of buttons that can be dragged and dropped anywhere on the web pages, GoDaddy indeed makes website building a breeze affair. Of course, there is the icing in the form of features such as SEO tools, mobile website and dependable customer support. We explore the worth of GoDaddy as a website builder with this review.
GoDaddy website builder

If you have spent any amount of time experimenting with website builders, you'd know that a builder can either choose to provide you a simple and chaos free website building experience, or offer a steep learning curve with a functionally rich and sophisticated website at the other side of the curve. It will be a pleasant surprise for all of you to note that GoDaddy blends the best of both worlds. Here's more about the experience that awaits you at GoDaddy.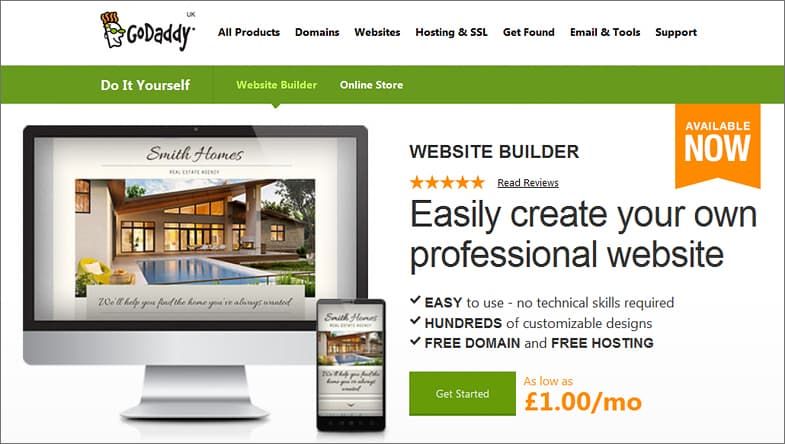 You will need to specify the plan type you wish to try out pretty early into your journey with GoDaddy. There's no free plan from this website builder as of now, but the Economy plan is pretty affordable for starters.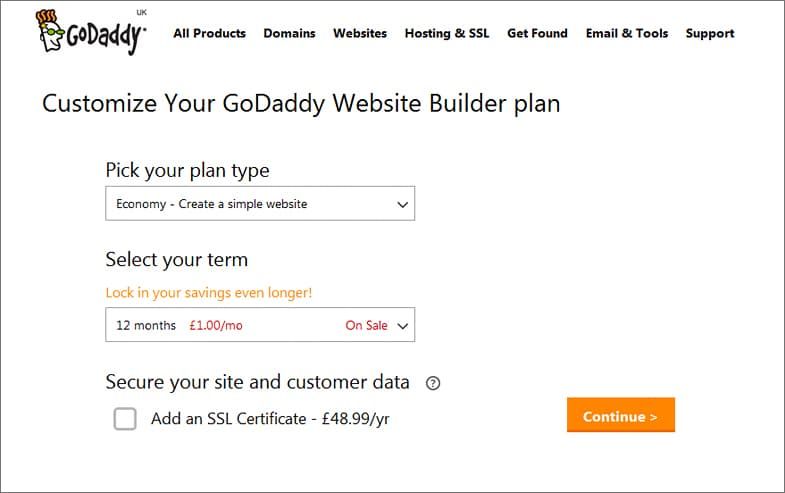 After specifying your intended plan type, you will need to enter a domain name. You can either find a free domain name using GoDaddy's service or skip the service.

Now, users will need to register by providing more details.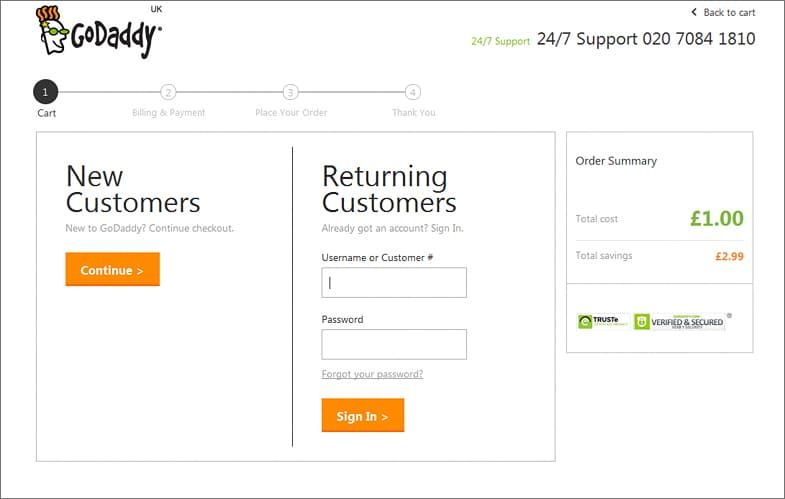 After the basic details are given, users need to specify the domain they'd prefer using with the website they are about to create.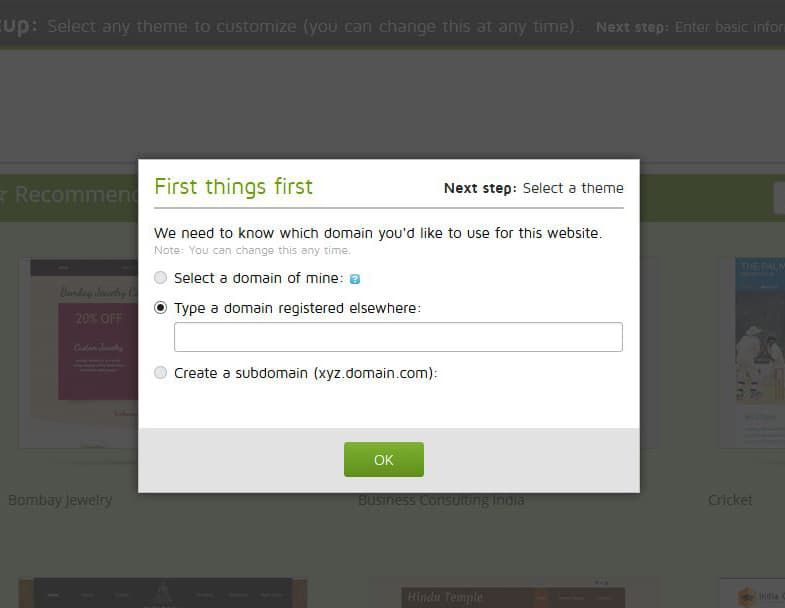 Post the domain specification, the theme needs to be selected. You might want to know more about the kind of themes offered by GoDaddy. Spread over different categories such as Health, Beauty, Business, Finance, Design, Art, and Education in addition to several others, the 300+ themes that GoDaddy offers can capture your attention on the first look itself. So, your website building activities become much quicker and the results become absolutely amazing because of the designer themes. In addition to this, there's the terrific benefit of these themes coming with pre populated content. This means that you can just replace the existing content with your own content and have your website up and running within just a few minutes.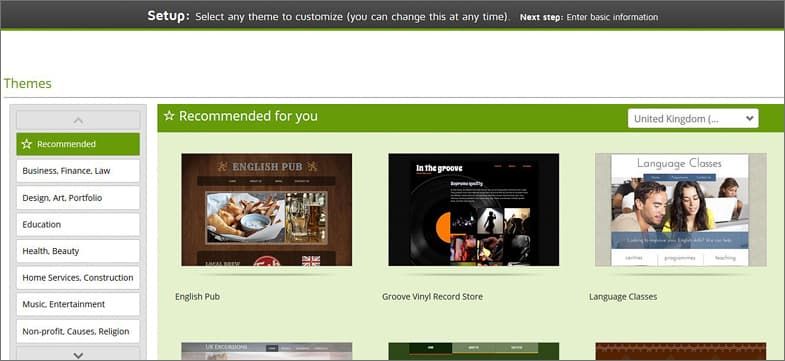 After theme selection, some more important details such as website name and email address are to be specified.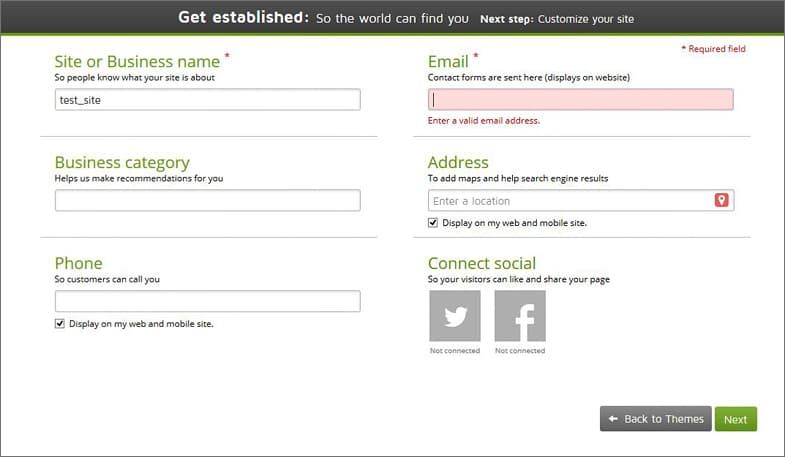 The editor window appears after all these steps are completed.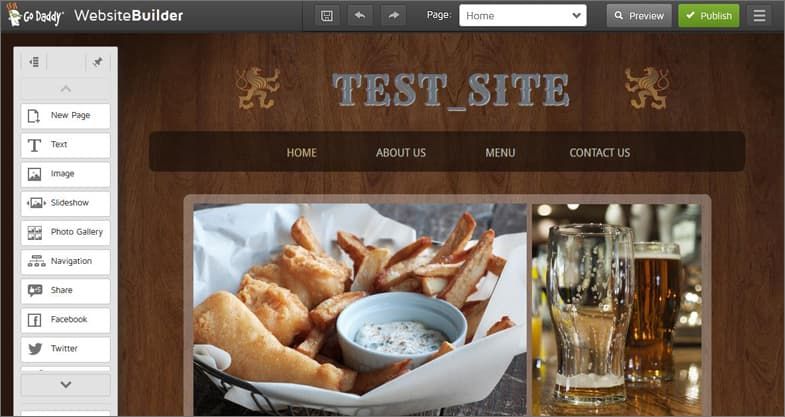 The first sight of the editor will unfailingly make you feel invited because of the neat layout of all options in a single sidebar, with a horizontal menu on the top of the page for very basic functions. Here's more on how you can use this simple yet powerful drag and drop styled website builder to create websites that look professionally designed.
The SideBar houses all the content elements that you will need to create your website using GoDaddy. You can even drag and place the entire side bat at a convenient position on the editor window. Here is all that the side bar lets you do, with its intuitive drag and drop styled content elements.

New Page – Easily add a new page into the website; just click on this button and give a name to your new page in the box that pops up.  
Text – Just drag this element and place it anywhere on the page for a text box to pop open there. You can use different fronts that go well with the theme of the page, and size the text as per your desires.
Image – GoDaddy offers advanced image management options in its editor; you can play around with the border, gradient, and transparency and rounded cornering of the image, apart from giving it one of the cool effects that the image editor presents.  
SlideShow – All the image management features mentioned above can be used with the slideshow element as well. Of course, this one also is a drag and drop styled element, so placing slideshows on your web pages is as easy as imaginable. Setting slideshow effects and delay between images is also possible with single clicks!      
Photo Gallery – Again, all tweaks such as image swapping, adding border, shadows and rounded corners is possible here. Also, you can easily upload all the images you want to be a part of the gallery.
Navigation – Managing the navigation aspects of your websites is never easy, and the sheer importance of an intuitive navigation panel makes this aspect absolutely monumental. Not many website builders get it as perfectly done as GoDaddy. You can easily outline the navigation map of your website by arranging page bars, with the flexibility of creating indents up to two levels. Also, the settings dialog box of the Navigation content element lets you add links to pre-existing pages.
Share – Social Networking is organized in one smart looking Share box for you, and you call the shots in terms of deciding which networks you want to connect to, the order in which their tiny icons appear, and the style of the icons. This is absolutely awesome, considering that not many website builders allow you this level of detailing in terms of customizing your website.
FaceBook – The social networking powerhouse does warrant a special widget, and GoDaddy gives you just that. Drag and drop the FaceBook widget wherever you want it to appear, and configure it in terms of the account it links to and how it appears on the page.
Twitter – Let little birdie bring you more popularity. Drag and drop the Twitter button and configure it just you did the FaceBook button in the last step. 
Google Map – Make it easier for your visitors to find your office easier by adding a Google Maps screen on your web page. This drag and drop ready element can also be configured in terms of adding your address and specifying the zoom level.
Blog/RSS – Make your web pages content rich by embedding a smart looking blog content box that can be configured in terms of how many posts it shows, the URL it links to, and how the box appears on the page.
YouTube – Pretty obvious; this content element is what you need to drag and drop to link a YouTube video at any part of your web page. You can also specify the style of the video box, along with specifying whether or not the video should go on automatically.    
Button – Here is another useful element. You can place a button on any part of the page and link it to any URL. Also, changing the color and style of the button is possible.      
Shape – This content element lets you add any shape of your linking to the web page.     
Line – Just like the shape, adding a line at any part of the web page is a matter of a drag and a drop.    
HTML Code – Use this element to add HTML code based content into the web page.
Exploring the different plans on offer for users

GoDaddy differs a lot from the business model adopted by most website builders ( check this list ), as it does not have a free taster for users. The bare minimum they can begin work with is a Persona website plan for a single month to try out the different features that this builder packs into its editor and then make the choice of upgrading. The GoDaddy experience is offered to you in 3 different formats – Personal, Business, and Business Plus. Let's quickly understand how these plans differ from each other so that you can choose one that suits you the most.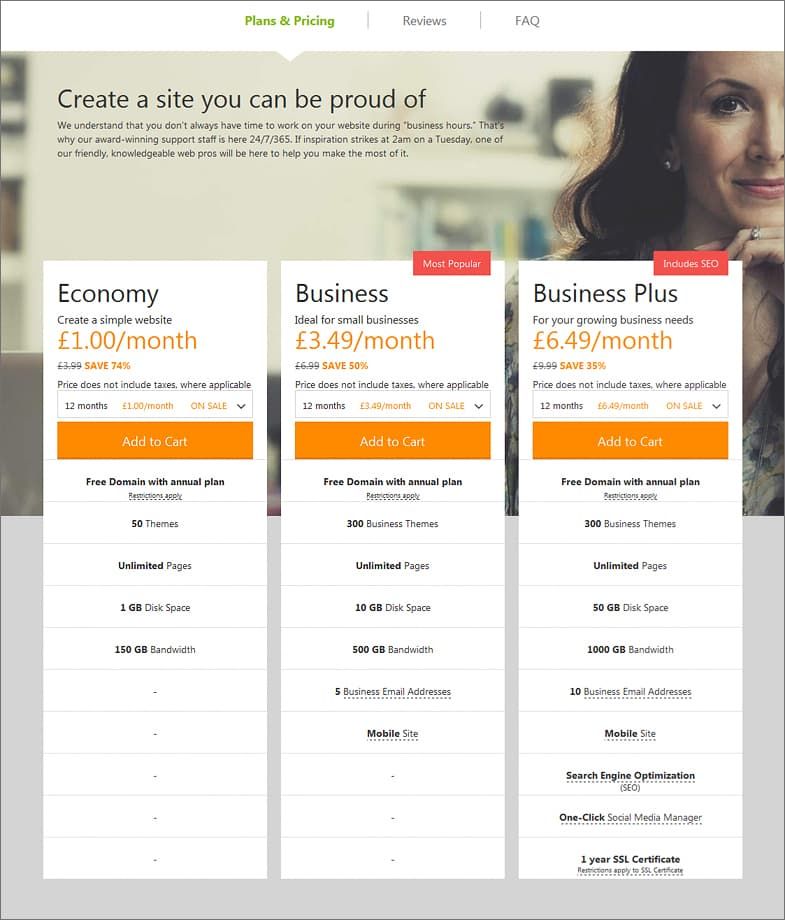 Check actual prices on GoDaddy
All the three plans come with some common features, some of which are too awesome for you to ignore as you look for a dependable website builder for your web projects. Apart from the intuitive and deceptively simple to use website builder, features such as creating a mobile website with the flexibility of specifying elements that you wish to switch off from appearing in the mobile version of the website, basic SEO settings that help your website come up on search engines' results, and industry benchmark customer support that always makes you feel secure make GoDaddy a good pick, irrespective of the plan you opt for. Here's a detailed analysis:
Mobile ready website, controlled by you – A basic mobile website without any additional work from your side, that's a pretty cool feature to have, and GoDaddy secures its place in the hearts of many web experimenters because of this. As you create your desktop website, you always get the option of 'hiding' specific content elements from being viewed in the mobile website view, which makes the website optimized for mobile viewing. With a website that looks good and loads quickly on the mobile devices, you can expect your business to benefit a lot.
The SEO leverage – You don't have to integrate any plugins or seek the services of expert SEO wizards to make sure that your website remains relevant for search engines, all because of GoDaddy's SEO features. You can specify Title and Description for each page very easily. If SEO is absolutely vital for your website, then GoDaddy also offers a premium SEO service that comes with benefits such as single click site submission to 100+ search engines, keyword and topic analysis tool and ranking reports. Whereas you can always choose to use these features without going for the premium service, but be prepared to invest decent amount of time for that.
Backup for your website – A unique aspect of the GoDaddy experience is the availability of a smart backup feature using which you can create a restore point at any stage of your website building exercise. You can restore your website to the way it exists at the restore point at any stage, which gives you a lot of scope to experiment with peace of mind.
Top class customer support – As a person who's navigating through the streets of drag and drop styled website building for the first time, customer support assumes an integral role in making the experience sweet. GoDaddy gets everything spot on as far as this is concerned. A support rep is always a few minutes away from you via phone call. You also have the responsive email ticketing and live chat based support mechanisms. The best part – support is unlimited and active for every day of the week, throughout the year!
Now that the most power packed features of the three premium service packs from GoDaddy are clear, let's analyze the differences between the three.
Economy plan provides you access to 50 personal themes in comparison to 300 swanky themes that the Business and Business Plus plans give you. Moreover, the 1 GB disk space and 150 GB bandwidth restriction of the Personal plan is overcome in the other plans, with the Business plan offering you 10 GB disk space with 500 GB bandwidth and the Business Plus plan giving you a whopping 50 GB disk space coupled with 1000 GB bandwidth.
Business and Business Plus plans come with automatic mobile website builder that creates a mobile optimized website automatically for you. Moreover, these two plans provide you 5 and 10 business email addresses respectively.
Business Plus plan comes with the added advantages of advanced SEO features and Twitter Profile Management. Also, it includes SSL Certificate for the first term of the plan, making your website come across as a secure place for transactions.
Conclusion
GoDaddy does a lot of things differently from many other website builders. By not offering any free plan or any free trial period for its drag and drop styled editor, GoDaddy makes a strong statement of being a no-nonsense tool for those who are really ready to walk towards their first fully functional website. The Personal plan is easily affordable, and is a close alternative to having a free look at the website builder. The drag and drop styled editing wins users' hearts at the very first instant, and the uncluttered interface makes it infinitely easy for first time website builders to have a hassle free experience. The menus are well laid out and organized, and finding one's way around the features of the builder is intuitive as well as fun filled.
GoDaddy positions itself clearly as a useful and easy to use tool for all those interested in having a great looking website up and running in minimum time. There is no integrated ecommerce offering with the website builder, which lets GoDaddy price its packages attractively for the relevant market segments. So if your goal is online store website then choose more suitable website builder from our list of the best ecommerce website builders. The terrific themes, drag and drop content elements, and the industry benchmark customer support are infallible pillars upon which the reputation and popularity of GoDaddy rest. Users have every reason to opt for GoDaddy as a dependable website builder.
GoDaddy Review