BigCommerce Review
BigCommerce – the big daddy of all ecommerce and shopping cart solutions
Commerce has never had any impetus as massive as that given by the provisioning of transactions through the Internet. The sheer meaning of "local" business has been wiped off the pages of the commerce dictionaries, at least when you consider the most successful names in business these days. Right from the most gigantic multinational companies to the most well spread out retailers, from underground artisans to street side boutique owners, everyone acknowledges the power of Internet and how huge it can make their businesses. Especially for small businesses, ecommerce is a blessing that can make them multiply like the heads of a hydra!
Whereas the realization of the success that awaits businesses on the other side of the decision of moving online is spread far and wide, the misconception that ecommerce is a simple endeavor with sure shot returns is equally prevalent. Many manufacturers and retailers realize the truth the hard way, and understand the need of a strong platform to base their e-shops on for the ecommerce ventures to stand any chance of succeeding. In fact, a good platform is just a pre-requisite of setting up a successful and functional web store. Ecommerce success depends a lot on the quality of the products being sold, the value proposition you're offering to your customers as a reason to choose your store over another person's, and the effectiveness of the marketing efforts you organize to gather mass for your business. This clearly means that the platform you base your web store on must not only be technically sophisticated and sufficient to translate all business aspects into processes, but also must have been devised with a clear understanding of how virtual shops can succeed. That's precisely what BigCommerce is, and that is also why BigCommerce is counted among the most powerful web store building platforms for businessmen and entrepreneur.
BigCommerce gets several tough tasks done in order to showcase itself as a worthy choice for setting up ecommerce stores, that's because it comes across as a perfect blend of uncluttered interface and comprehensive functionality – a truly lethal combination. Whether you wish to sell products, services or digital downloads, whether you wish to manage a heavily populated e-store in a volume driven business model, whether you wish to showcase your niche products to the world in order to make your markets truly global, or whether you just want to fascinate yourself by stepping into the ocean of ecommerce – BigCommerce serves you well. In the subsequent sections, we take you through a fulfilling ride that will help you understand BigCommerce better and use it to create your very own successful web store.
BigCommerce web store builder
BigCommerce gets its marketing messages right on the spot, not letting itself get mistaken as a website builder with added ecommerce capabilities, succeeding to give the vibes of a no nonsense ecommerce oriented package. The home page is uncluttered and gives you a pleasant surprise by not forcing you to enter your credit card information. You just need to key in the desired name for your store to get things moving.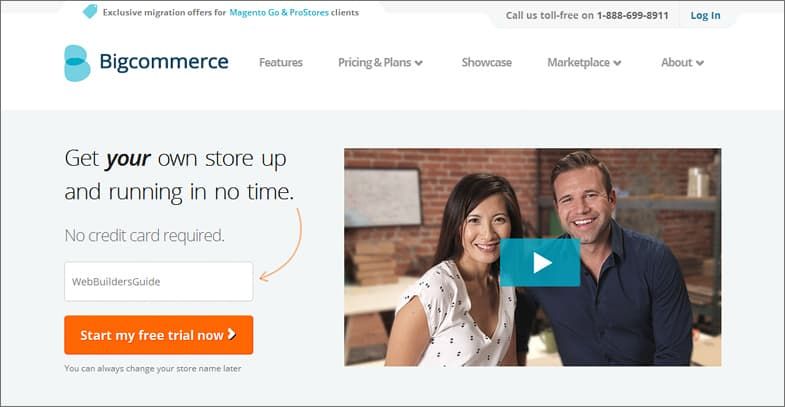 The next page is where you are asked to divulge more information about yourself, and get to create an account for yourself. Once you key in the details, click on the prominent "Create my store now" button.
Here, you'll see something really pleasing, a screen congratulating you on opening a new online store and a "Visit Your Store" button.
That's it, you are now taken to the cockpit that controls the flight of your online business.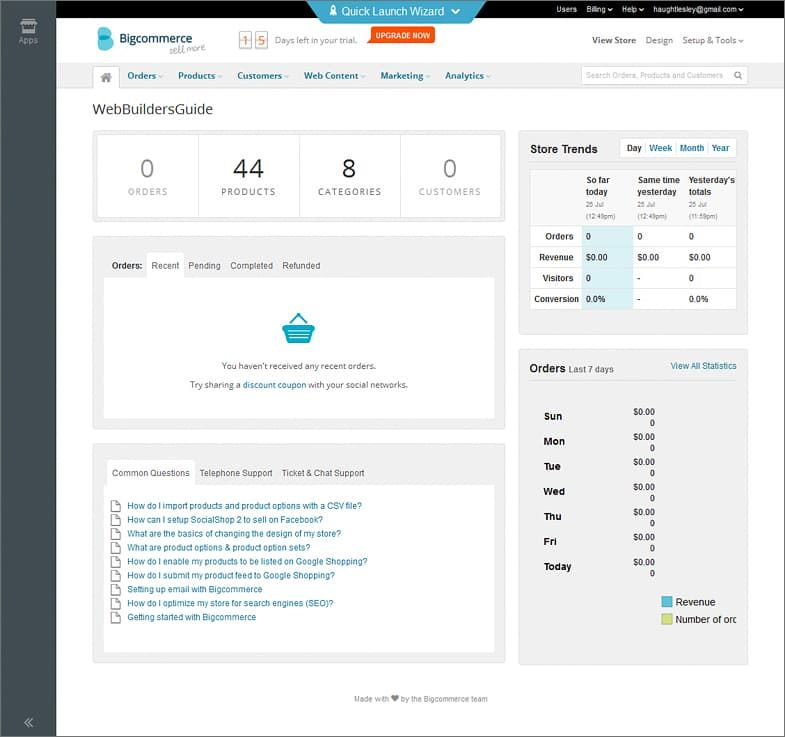 The BigCommerce control panel can be somewhat domineering at the beginning, primarily because you are faced with all the store management tools, options and buttons without having to add products and other details to the store. However, it is important to understand here that BigCommerce attempts to involve minimal hassles to your store set up and hence builds the store layout right inside the themes. Options in the control panel are visible in different groups, primarily a group of three options on the top right, a ribbon menu with most store management relevant features, and a sub menu that gives you access to specialized functions inside every menu option.
Giving a face to your store
The first step you'd want to take is to get a cool look for your swanky store, and that's where the proficiency of BigCommerce as a one-stop ecommerce platform becomes evident. It offers a whopping catalog of eye-popping themes that can leave you and then your visitor's with dropping jaws because of their classiness.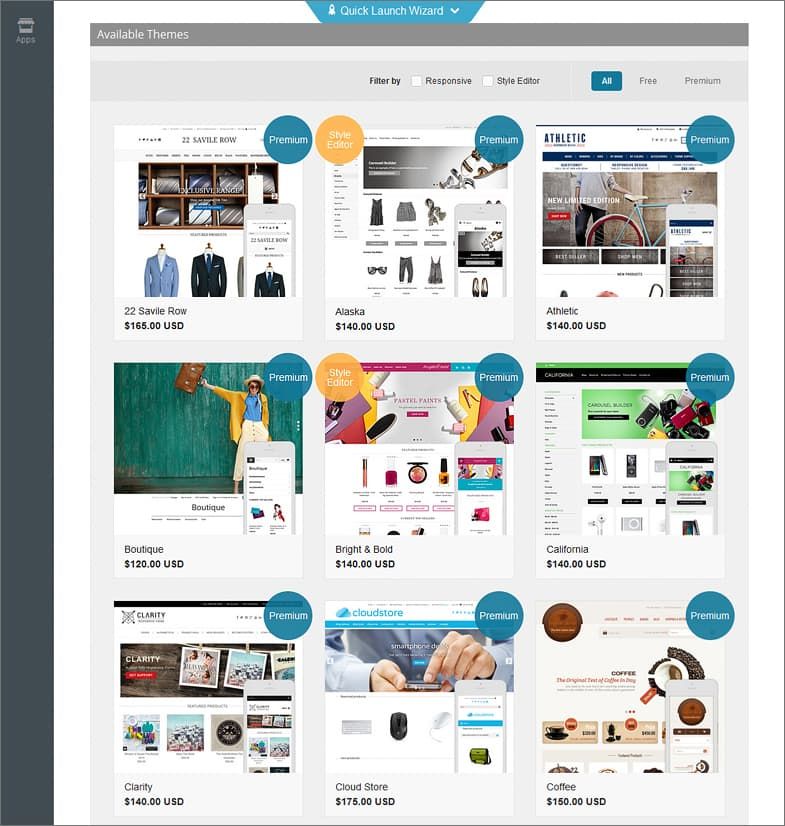 You get to filter the themes on the basis of whether they are responsive, and availability of Style Editor. Moreover, you can also filter out free and premium themes. Whereas the free themes are fully loaded to work for you, the premium ones can give you the required edge when you want to be unique as an online retailer.After you specify a theme, you can go in the Style Editor view to change the look and feel of the theme, can showcase your HTML and CSS skills to make the most of the theme, or seek support from the BigCommerce team on any theme related issue.
There are more adventures awaiting you in the Design view: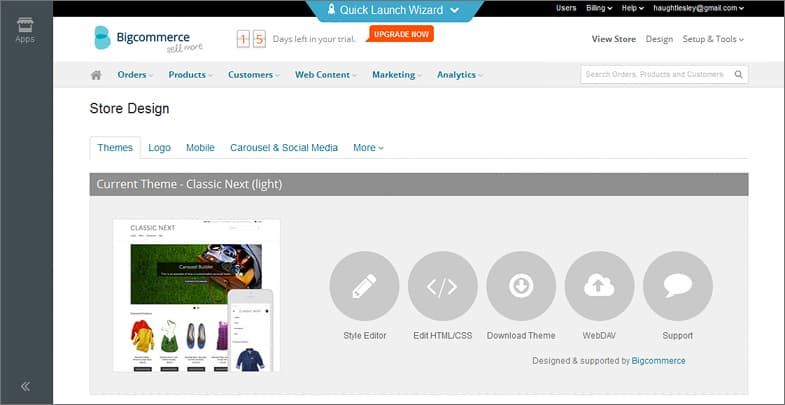 Logo – You'd certainly want to add a logo to your store, and this is where you can do it. Not only can you upload a logo image from your disc, but can also use text in place of logo if that's how you prefer things to be.      
Mobile – Do you want your store to be accessible on mobile phones? Of course you do, and that's what you can do in this sub section of the Design view.    
Carousel & Social Media – Here's a very important sub section for you, allowing you to define how your store's home page looks to the customers in terms of the contemporary slideshow of deals and offers that most modern successful online stores leverage. Right from the number of slides to the time gap in seconds between transitions of one slide to another, everything regarding the store's carousel display can be configured. Moreover, you can arrange the required social media icons where you want them to appear so that there's easy bridging between your store and social networks.
More – Click on more to unfurl, more design related features. For instance, you have Design Mode that lets you reorganize the prominent sections of the store them you're using. You can decide upon the email template to be used to send invoices and other communication to customers, the Favicon to be visible in the address bar, and you can also affect manipulations regarding the header of the theme.
Populating the store with products
You'd need to head over to the Products button on the ribbon menu at the top of the control panel in order to manage all the product related actions for your store.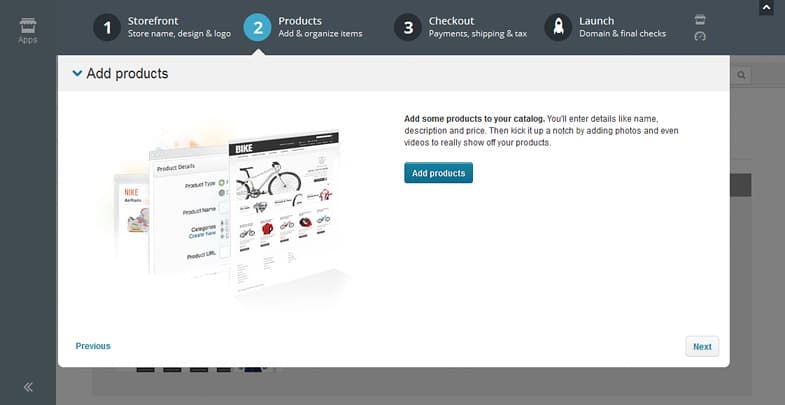 Once you click on the Add a Product sub menu option, you'd see the screen with several product management related tabs, each of which catering to specific aspects of adding and managing products. The details tab lets you add the name, price, categories, weight and type of the product, apart from helping you specify volumetric shipping rates. The Images and Videos section helps you add multimedia to show your product more clearly and in action, helping you convert prospects into clients.You can manage inventory relevance of the product in the Inventory tab, and can add product variants in terms of sizes and shapes in the Options tab. After that, you might want to check out the Custom Fields tab to add specialized information about the product. Staying abreast of the times is made easy with Google Shopping options and adding details like minimum order quantity, packing related info is easily managed in the Other Details tab. To wrap it up, there is the Delivery/Event date tab to specify whether customers could choose to purchase the product on specific dates, and the Bulk Pricing tab to specify discounted prices depending upon purchase quantity.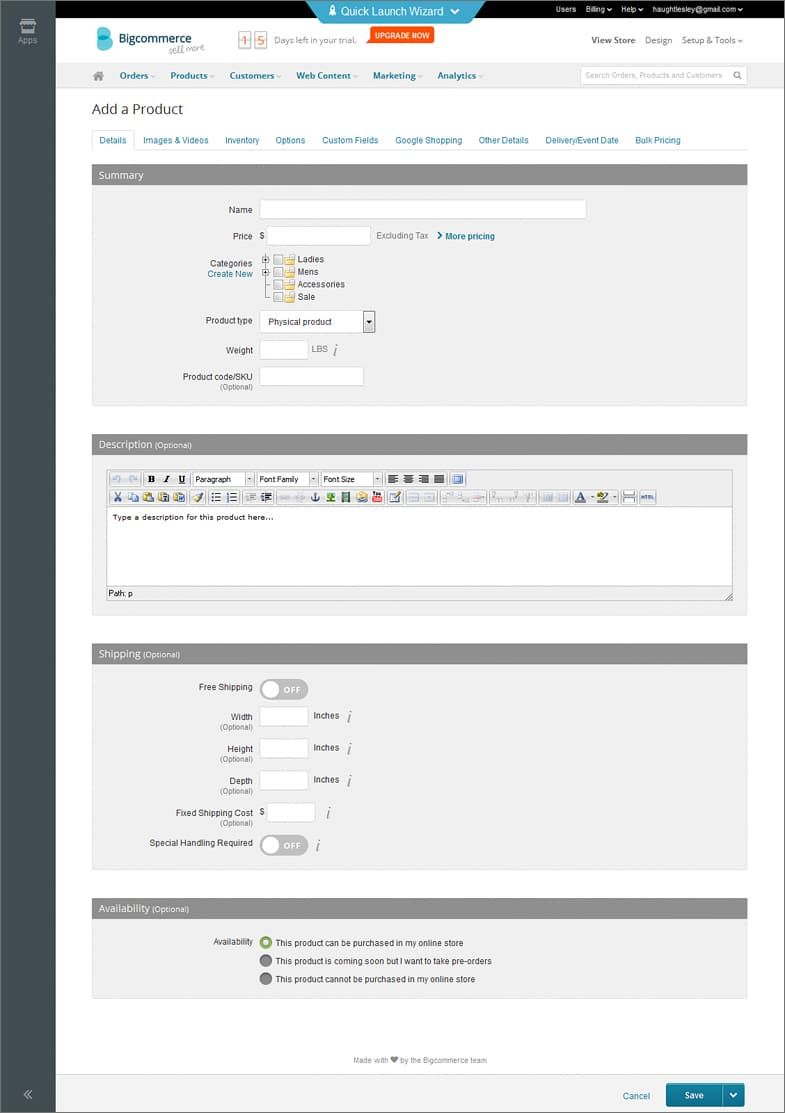 Set up billing
Now that you've added a design and products to the store, it's time you configure it to be able to effectively and accurately bill all customers. The billing administrative functions await you through the Setup & Tools button, in the Payments option. Integrated payment gateways make your store a perfect revenue making machine as customers lose little time in making instinctive purchases when they have convenient payment methods to rely upon. You will be able to accept credit card payments without any costly deductions or monthly charges. Moreover, you can integrate your Paypal account to accept payments. These are just two of the several payment methods available. Apart from specifying payment related terms and conditions, you can also set up shipping and tax rates using complex rules and insight from the tools provided by BigCommerce. Once you add your address of sending shipments and specify the transportation zones of intended recipients, the shipping costs can be automatically calculated.
That's it; you're now ready to launch your store and let the sales pour in. Here's another important point to pay attention to. BigCommerce pays a lot of attention to minimizing the learning curve and time for users, and offers a Quick Launch Wizard that takes you right from the first step of selecting a theme for the store to the last step of launching it, without you needing to find the relevant options from the various menus and sub menus.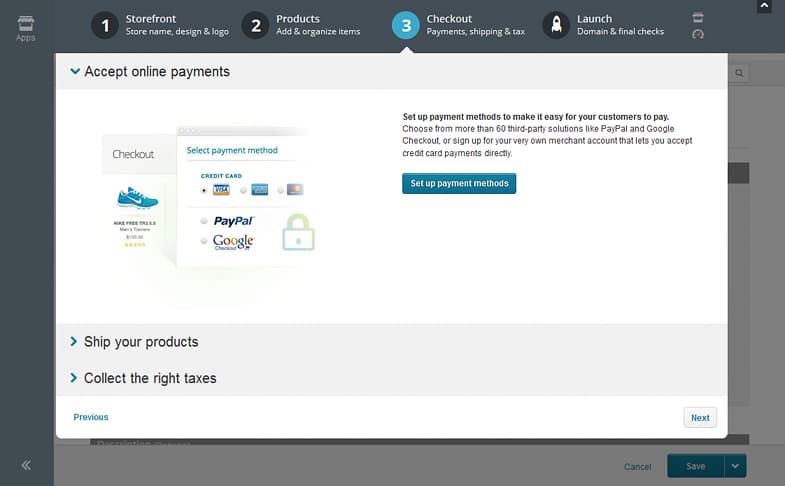 What makes BigCommerce such a heartthrob? – The top features
BigCommerce is really the big daddy of web store creation packages, primarily because of the wholesomeness of the service basket it offers. Here's a look at all the special features of BigCommerce.
Killer designs empowered by flexibility of customization – BigCommerce doesn't leave any stone unturned when it comes to helping you create a wonderful and professional looking storefront. The dozens of free and premium themes spread across multiple categories make your search catalog fulfilling, and the CSS and HTML editing options ensure that skillful web designers have the necessary leverage to zoom past competitors. The point and click styled store building interface also helps businessmen a lot in getting off the blocks quickly without leaving anything wanting in terms of design.
The SEO advantage for your store – You really can't hope to make it big in the ecommerce sphere unless your store gets a lot of organic traffic, and that's only if your store is SEO empowered. BigCommerce brings to you the SEO advantage that gives your store visibility on search engine result pages. SEO oriented URLs, robot.txt files, meta tags, automatic sitemaps – all are included in the amazing SEO leverage that BigCommerce offers your web store.
A marketing centric package – When it comes to selling on the web, 'selling' becomes just one of the several beneficial outcomes of the more important activities of marketing, and BigCommerce combines several smart marketing tools for you. Not only can you easily add discounts and discount codes to your store, but can also generate newsletters to keep your customers informed about upcoming promotions. Customer lists can be automatically generated, abandoned carts can be saved and converted later, your selling can leak on to FaceBook, eBay, ShopZilla and PriceGrabber, and marketing tools such as product reviews and wish lists can be used to give more reasons for your store's visitors to shop.
Support that you can count upon – Unless you are a design expert yourself and have had experience with web store configuration in the past, you will need strong support to be able to seamlessly sail across the store set up phase and then through the administrative duties. With more than 500 articles and tutorials, webinars that help you expand your capabilities with BigCommerce, inimitable BigCommerce University courses, and a thriving community of store owners, BigCommerce has a whopping huge support database for you.
Integration without losing on wholesomeness – BigCommerce chooses to take care of momentous store management aspects such as SEO, marketing, report generation, product reviews, marketing and discounts on its own rather than relying upon rusty 3rd party systems. In parallel, it is open to integration with platforms that can help you scale up, such as social media platforms and popular payment gateways. In fact, you will be able to use well known payment processors to get payments from customers, and will also be able to find compatibility with reliable inventory and accounting management systems.
Stay safe and keep your customers secured – You'll love the fact that you will get a PCI compliant web store with BigCommerce. Moreover, you can rely on the anti-hacker security provisioning at BigCommerce data centers along with the use of redundant network architectures to provide your store the best from the security standpoint. Not only will this give you confidence in taking your store to the next level, but will also inspire trust in your customers as their financial information will remain safe and secure.
Awesome product management – BigCommerce is all about not holding yourself back in terms of adding products and anything related to product management. You can add unlimited product variations in terms of colors, shapes, sizes etc, setting up different prices for different SKUs. Want to offer personalized products? Even that is enabled. Moreover, you can use rule based pricing and discounting to affect all sorts of offers and deals to attract customers and make them increase their cart size.With high resolution images and videos of the products in use, you can bridge the 'virtual' gap that some customers feel with ecommerce and enjoy more revenues. That's not all; apart from products, you can sell digital goods, services, and even event tickets!
Conclusion
Ecommerce can be a tough battle with minimal returns, that's if you take the leap without the backing of a specialized ecommerce and shopping cart solution. For fully fledged success, you need to work with a fully fledged ecommerce, and that's what BigCommerce is for all you enthusiastic business owners out there. Providing you an easy to understand and convenient to use interface that helps you build upon a theme with customizations and activate a working web store is just the beginning of BigCommerce. The intricacies of all the ecommerce aspects such as product management, billing, pricing, storefront designing, and marketing are fully explored and offered by BigCommerce, which makes it a top pick for serious business looking to take their business online for global exposure. So, BigCommerce is the ideal ecommerce platform for those who have more than just the desire to be visible online; it's something that can speed track the success of entrepreneurs with an understanding of their business and markets and a proper long term marketing plan that can really scale the business up.
Create an online store on BigCommerce
BigCommerce Review