Appy Couple Review
Appy Couple – Build Your Dream Wedding Website
Weddings are one of the most important milestones in the life of any person. The event celebrates the union of two individuals in the bond of holy matrimony and celebrates their love in the company of family and friends. The structure of weddings has remained more or less the same for several decades across different cultures but one of the key changes that have taken place in this time is the provision of leveraging the Internet to make marriages more expressive, accessible, archivable, and memorable. The World Wide Web has spread its influence across almost all aspects of human life and so, it was only a matter of time before it affected marriages, albeit in a positive way. Couples now have the option to build a website exclusively for their wedding. These new wedding websites have proven to be extremely popular and convenient for the purpose of collecting different sorts of information, directions, hotels, personal facts about the bride and the groom, and lots of modern wedding website builders now support RSVPs online. This releases you from the hassle of having to track down the RSVP of every single invitee via mail.
There are lots of different builders on the Internet that allow you to create your own website but one of the best ones out there is Appy Couple. This site is extremely easy to use and navigate and you will have no trouble "creating" the perfect website and app for your wedding. We say "creating" because in fact, there's little cumbersome creation you do. You simply select a design you like and add your wedding informationto a pre-built solution that allows you to get your own wedding site and app up and running in a short span of time. However, the main reason why Appy Couple has garnered so much attention is owing to the unique alternative it provides – not only are you setting up your wedding website but you're also creating your wedding app. As a lot of people use smart phones nowadays, Appy Couple enables them to build custom wedding apps that contain all the necessary information and which we think guests will find really helpful, especially as the wedding day approaches, when everyone is rushing around. Appy Couple also gives you the freedom to select the ideal theme for your wedding website and app. They have over 500 designs in their Boutique collection as well as 14 in their Luxury collection. Switching designs within each collection is free and you can do so as many times as you like at no extra cost. The nice thing is that as you switch designs, the details and content you've added about your wedding is instantly updated on the new design without you having to do anything.
The tools available on Appy Couple are not at all complicated, making the entire process of creating your wedding website and app very simple and easy. It allows you to pick an amazing template and be up and running very quickly without worrying about intricate coding and messy layouts. Appy Couple gives you easy access to all the tools that you will require to make the concept of the perfect dream wedding website a reality, and you can then publish the final product with a mere click.Appy Couple has a lot of features working in its favour – everything from adding your pictures and stories about how you met your fiancé/fiancée to managing your guest list, your travel and event details, where you're registered etcas well as some which are available on the app only (e.g., chat, digital guestbook, a champagne toast), all of which are clearly listed right on the home page of the site. However, this does not mean that novice web users are overloaded with options. Instead, Appy Couple makes it easy to by giving you a step-by-step process to start building the best wedding website and app. There are tons of themes and templates to choose from (e.g., Vintage, Chalkboard, Art Deco, Sparklers etc.) in various categories and selecting them is very easy. You can check out demo previews to better understand what the final finished product will look like. The service operates at a moderate one-time only cost of $35 which gives you unlimited everything (photos you can add, guests you can invite, content you canadd) and given what you get – the website, detailed info and personalized wedding app – it is well worth the price. Once you become familiar with the various aspects of the Appy Couple website, you can use the tools freely to create an impressive wedding website and a coordinating app.
Get ready to create the perfect wedding website and app with Appy Couple and immortalize your big day in the form of a fully functional wedding site and app on the Internet as well as your phone with the assistance of this powerful, beautiful and comprehensive platform.
How to create a wedding website with Appy Couple?
The Appy Couple home page offers you a brief description about the wedding tool, listing the important features it offers and maintains the focus on simplicity. The "Get Started" button is positioned at the bottom centre of the page and catches the eye of the viewer easily; as soon as you click on it you can start building your wedding website.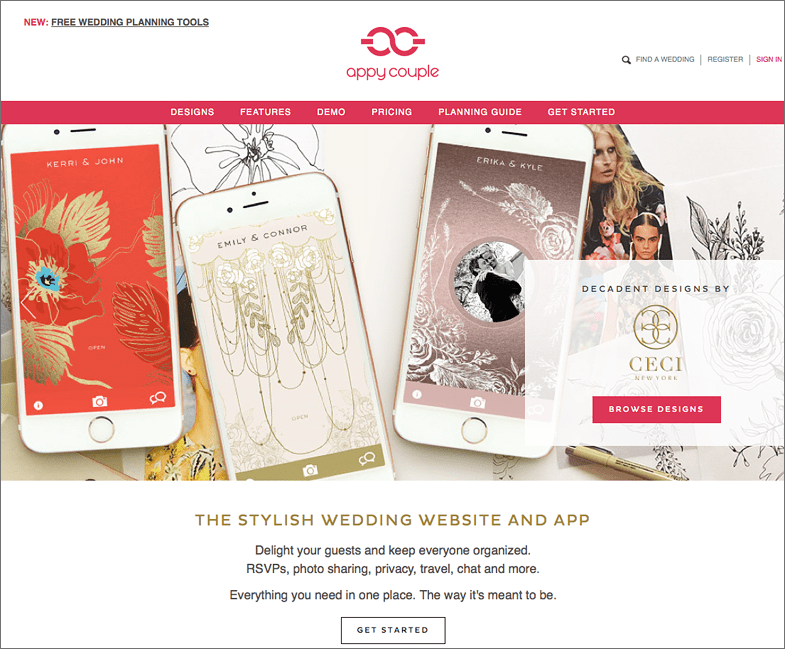 The first step that you need to complete is the selection of the design for your website. There are loads of design options to choose from, and you can easily switch between "Boutique" and "Luxury" designs. It is easy to search for designs by colour to find one that will match your tastes. The price of the template is displayed clearly and as soon as you have finished choosing the design you want, you need to click "Select".
You will then be directed to the "Create Account" page where you will have to provide your personal details, including your name, the name of your fiancée/fiancé, the wedding date (if you have it), as well as how you want your name to appear on the website and the app (you can edit this later). Make sure that you go through all the Terms and Conditions carefully before you proceed to "Checkout".
The Secure Checkout page is fairly simple and straightforward and you have to enter your card details and a confirmation e-mail will be sent to your address once you are done with the process. The contents of your package are listed on the left-hand side of the page and you should check it out once. Moreover, Appy Couple supports the use of promo codes and so you can enter one at the time of checkout in order to get a discount on your purchase and save a some money.
As soon as you're done checking out, you will be directed to the Appy Editor page which will serve as the main interface for your web building activities. All the important details such as the wedding code, the website address, the date of the wedding and the privacy of the website are on display on the dashboard. On the top are quick links to the design page, the main welcome page, Gallery page, additional entertainment, people, guest list, registry etc. The right hand corner of the page contains three icons that lead directly to the Dashboard, Settings and Log Out page when clicked.
The "Design" option leads you back to the page for design selection. This indicates that you do not have to stick to a particular design once you choose it and are free to choose a different design from the original design you selected when you signed up. So, even if you or your partner changeyour mind later about the look of your wedding website and app, you can change it instantly without any sort of hassle
You are free to log out of the site at any time. If you close the window without logging out, you will find that you are still logged in when you access the Appy Couple website again. You will see that the home page now has undergone slight changes and now contains more options for the user, including a list of features and innovations unique to Appy Couple. The bottom section of the page mentions some of the highlights of the wedding website building tool.
Features – If you require a list of comprehensive features and tools available on Appy Couple, you should access this page. Check out why this website builder is so popular among couples!
Demo – Demo allows you to check out a finished website just to get a feel of how your completed wedding website may look like.
Pricing – The "Pricing" page easily lists the prices in a clear manner so that you do not have any problem selecting the website design that suits your budget. You get the benefit of all the website features along with excellent customer support in the package.
Planning Guide – The "Planning Guide" page is another great featureof the Appy Couple website since it provides you with access to free wedding planning tools and you are able to benefit from expert advice directly from professionals. We thought the wedding budget tool was especially useful and very beautiful as well.
The "Welcome" page is an important part of your wedding website since it will serve as the home page of your website and application and it will also be the first thing that the users see when they access your wedding site and app. Thus, be sure to come up with something that is bound to create a lasting impression on the minds of the viewers. A preview of the mobile app is shown to the left of the page and any changes you make will be reflected in the preview. You can choose a picture to greet your guests along with a short message of 140 characters. You can determine whether the message and picture will be visible both on the website and the app or any one of the two by setting the slider above, marked in green, to the correct position of your choice.
Stories – This page enables you to fill your site with beautiful and memorable photos of the happy couple and you can edit the page any way you want . A preview will be visible on the left. Basically, this page allows you to add any picture you want and then add interesting captions to it. It is a nice way to share with your gueststhe story of how the bride and the groom met and eventually ended up together. This is a very sweet gesture and sets the tone for the whole website and app.
The "Gallery" page will provide you with access to any pictures that are posted by the guests at your wedding. Photos can easily be uploaded through the phone or desktop. However, Appy Couple gives the couple the final editing rights. So if one of your guests adds a picture you don't like, you can easily delete it.
The "Entertain" section contains innovative ideas to keep your guests in the festive mood by allowing them to play games like Slider Puzzle connected to your wedding and they can even check out the Wedding Countdown.Guests can also leave a Champagne Toast for you. These features, while visible on the Appy Editor to the couple, can only be viewed on the app by the guests.
The next section includes "Key People", "Events", "Travel", and "Registry".
"Key People" lets you create groups of people who are important in your wedding. This could be your family and your fiancé/fiancée's family, your Bridesmaids and your Groomsmen. You can add pictures of each person along with some details about each one. It's a nice way to highlight to your guests the important people at your wedding and give them a chance to 'meet' everyone before your big day.
"Events", "Travel", and "Registry" are areas where Appy Couple really shines. They've done all the work of thinking about what information you may need to share with your guests. For example, in the Events section, you can not only share the venue details and the time of the event but also add things like a colour palette, an event theme, parking information, a music playlist, quick polls, weather, child care among others. To add any of this information, Appy Couple provides you with pre-filled rectangular widgets. You simply have to click on them to 'add' them to your wedding site and app. You can then configure them to add the content you want.These widgets are repeated in the Travel section.
In the "Registry" section, Appy Couple has about 50 widgets for stores that offer wedding registries. This gives you ideas on where you can register, if you don't already know that. If you do, you can simply find the widget of the store and add it to your Registry section. If you are registered somewhere which is not listed by Appy Couple, you can add your custom link to your registry.
And this is how your wedding website could look like:
What are the various Appy Couple plans all about?
While various website builders target all kinds of web users, Appy Couple is meant solely for couples who are planning to get married. Thus, the appeal of this website builder will be limited to a niche section of users. However, this is actually a good thing since there are not many wedding website builders online and Appy Couple provides you with the perfect wedding site and an app at a very competitive one-time price.
The cost of Appy Couple depends upon the design you choose and whether it's from their Boutique or Luxury collection. This is the main difference between the two packages, otherwise you get access to exactly the same features and moreover, the cost difference between Luxury themes and Boutique themes is very minimal. All of the wedding designs and packages are completely ad-free which ensures that you get to showcase your wedding website and app as a dedicated, professional and credible website that will appeal to couples of all types.
Appy Couple also gives you the option to purchase a custom URL for your wedding website. The cost for that is extra and it starts at $19.99.
In order to make your wedding website and app accessible and relevant to your wedding and attracting guests to your site, Appy Couple has introduced features like Entertain and Gallery which help you turn your wedding into a fun event rather than a stuffy and serious affair. Choosing the right combination of colour and design is essential to your wedding site and can influence it in different ways. The aesthetics of the site should be kept in mind at all times and they should reflect the tastes of the couple.
The mobile app offered by Appy Couple removes the need for you to ensure that your wedding site is viewable on mobile devices. The smartphone users can simply download the app and get all the necessary details about the wedding they wish to acquire at their fingertips without any problems. In the contemporary digital environment, having a mobile wedding app is going to boost the popularity of your website and will ensure that it is well received by all the guests to your wedding.
Conclusion
There are many dedicated website builders available on the Internet but finding a wedding website builder that simplifies the process extensively is difficult. Appy Couple, thankfully, offers a unique approach to the whole affair, making it fun, stylish and convenient. You can finish building your app and website in just a matter of clicks and the site gives you access to all the best tools you need to build a wedding app and website that caters to every aspect of your wedding.
Appy Couple Review