The modern world is living online. This means a lot to small business owners whose website is a mandatory attribute to stay successful and demanded on the market. With the help of just one Internet resource – a website – one can spread a word about his products, interact with customers, cooperate with partners, advertise goods and services and much more. Even a simple landing page can become the company's online business card and the major promotion tool.
Where to find a simple, convenient and inexpensive solution for creating an efficient site for a novice entrepreneur like you? Search for a drag-and-drop website builder because one helps even a non-professional in web design and coding create a site intuitively. A variety of templates and tools as well as convenient plugins even allow you to extend the site's functionality to the level of an online store. Finally, any builder serves as a content management system that lets you fill in and update the site's information simpler and faster.
Let's review 10 best website builders for small business and learn more about their pros and cons for small business owners, as well as compare their main features and prices for some paid resources.
Wix – Editor's Choice!
Wix is always at the top of the website builder for small business and not for vain. The most Wix capabilities surpass its competitors not to say the builder is free and has no time limits. The project exists since 2006 and throughout this period, Wix did a great job creating a powerful tool for website development and yet kept one simple and easy to use. Wix uses HTML5 and has one of the most advanced web editors, user-friendly interface and the largest selection of web templates from all site builders. All of this allows you to create truly beautiful and functional sites, in particular bright, memorable and high-quality business cards.
The builder has a nice and functionally well thought out control panel with a large number of available settings. Among the interesting tools one can find: website background videos, large-format landing pages, geometric shapes, icons, parallax effects, animation and much more. Here you'll find the best image editor, sort of a mini-Photoshop where you can edit photos right before publishing and place it directly at the right place of the webpage.
Pros:
Large selection of modern and stylish templates;
The site's mobile version editing mode;
Simple and intuitive interface;
Various add-ons that provide unlimited opportunities for your business project development.
Cons:
No option for redesigning the existing site – only customizing;
Own domain name and having an online store are paid options;
Limitations on the website downloading speed.
VIDEO Tutorial – How to build a free website on WIX? Step-by-step guide
Conclusion: Wix is a perfect option for newbies in web development and those who wish to get a functional and beautiful business website for free.
1&1 Ionos Website Builder – A Complete Solution
1&1 Ionos is a well-known web hosting company based out of Germany.
Like other reputed names in the domain, they offer not only hosting but also a website builder, and associated services, e.g. SSL certificates, email accounts, domain name registration, and WordPress hosting services.
Wix and Weebly have made WYSIWYG editors popular. That's a mouthful and translates to "what you see is what you get".
In simple English, a web editor that can be used with no knowledge of coding.
IONOS provides a capable WYSIWYG editor that lets a newbie build a site in a few hours. Note that adding content to a site would take many days, if not weeks, but you can launch the website in a day.
Features of 1&1 Ionos
Highly affordable, with prices starting from a few dollars per year. Of course, that includes hosting and not domain registration or SSL.
1&1 Ionos offers all types of templates. Whether you want to start an online store or a photography portfolio site, there is something for everyone.
They have 12 million clients, 10 data centers across five countries, and 2000 employees. A highly dependable platform that assures maximum uptime.
One of the most reliable hosting services in the world. You would receive help 24×7 if something goes wrong from your personal consultant.
With geo-mirroring, data is always close to your location, reducing latency.
Pros and Cons of 1&1 Ionos
Pros:
The editor is straightforward and does not need a steep learning curve.
The left pane has tools that are intuitive, and changes are easy to make. A website editor that is perfect for absolute beginners who are looking to set up their first site with minimum fuss.
The template design facilitates SEO. Each page allows you to add page titles, descriptions, and SEO tags easily.
Easy to integrate payment options. Paypal, Stripe, and Square are supported.
Preview in three modes–desktop, tablet, and mobile. It is possible to perfectly configure the site for any device.
Quick loading speeds and no lag at all. The navigation is responsive and the e-store filters are well designed.
Cons:
Not enough templates. Those available are bland and cannot be personalized adequately. Most website builders offer at least several dozen templates to choose from.
No modification to HTML is possible. This severely restricts the user from adding elements. You can make alterations to the header, but nothing more.
Webnode – Best for Multilingual Websites
Webnode is a multipurpose free website builder software originated from Czech Republic in 2008 and helped to launch over 20 million sites. This HTML5 site constructor provides a large collection of free and high-quality templates, not to say one is easy to learn even for newbies. Among the major free features of Webnode is the ability to create multilingual websites. Perhaps it's the best free website builder for small business in 20 different languages versions!
The obvious Webnode advantage is the fact that the service free plan offers to set the site's mobile version, while other well-known builders would charge you a fee. Speaking of the Webnode premium services pricing, there are 4 available plans starting from $3.95/month for a Limited plan and ending with $19.95/month for a Profi plan.
The latest 2016 update made the platform even more convenient and functional than before.
Pros:
More than 200 fully-adaptive templates;
Convenient Drag-and-Drop editor;
Free automatic mobile version;
Multilingual support for more than 20 languages;
The ability to make changes to CSS.
Cons:
Not the best functionality;
No additional applications and widgets.
Conclusion: Webnode is an excellent solution in two cases: 1) for creating small business cards and 2) for creating websites that would support many languages.
Shopify – Best for Online Stores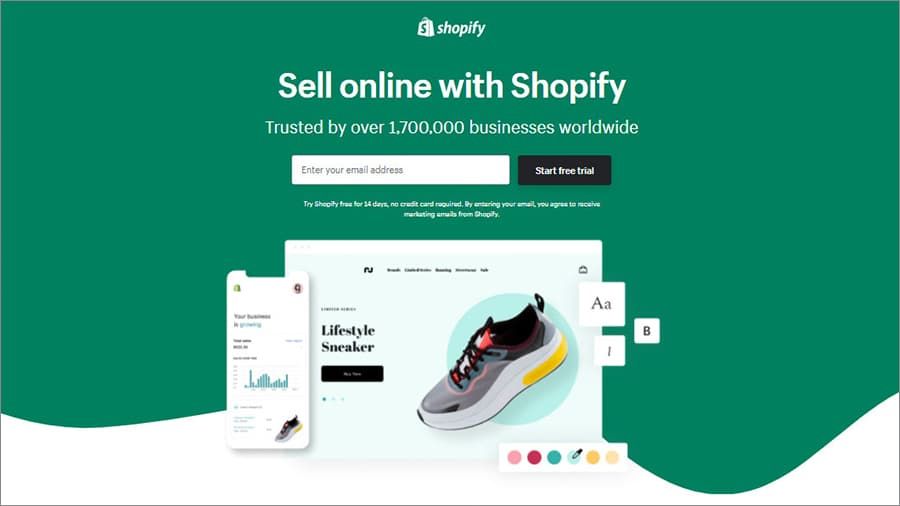 Shopify is beyond doubt one of the best website builders for developing eCommerce stores. Claiming itself as a tool for online sales, Shopify allows users to create online stores of any complexity. No wonder why more 200,000 eCommerce projects around the world are based on Shopify. Quite an impressive result counting on the fact that the builder isn't cheap (starting from $29 for a Basic Shopify and ending with a $2000+ Shopify Plus package).
Those customers who use Shopify are, first of all, interested in its broad range of opportunities for conducting online business. Shopify has a free test period for 14 days, so afterwards, you'll be offered to choose one of the paid packages. One of its major advantages is a powerful visual editor and wide functionality opportunities, in particular, a large collection of additional free and paid apps and paid premium templates. All of those allow you to expand the capabilities of a regular online store to a super-advanced eCommerce business project.
Pros:
High-quality free and paid templates;
The ability to track sales statistics, order details, visitor actions and much more;
Unlimited hosting for any package;
Excellent website indexation;
Using the platform via your mobile device;
Educational materials and video lessons included.
Cons:
Additional paid apps and templates are charged separately;
Commission sales – from 0.5 to 2%, depending on the chosen plan.
Conclusion: If you need a powerful online store with the maximum functionality, you'd hardly find something better than Shopify.
Site123 – Simple and High-Quality
Thanks to a great functionality set, SITE123 can definitely compete with other top-end platforms for being the best website builder for small business. Only $10.80/month and you'll get everything necessary to create a good business card site, blog or landing, get 10 GB of space for storing the site files, a domain as a gift and all the functionality, except for the eCommerce store option.
SITE123 offers a different approach to page customization than other mentioned small business website builders. One uses modules – ready-made blocks designed for specific tasks – instead of widgets, which makes the working process different in many ways. The interface of the control panel is very convenient and easy to understand. The built-in templates have an adaptive design that helps you get a beautiful and relatively unique design.
In general, SITE123 is a good match for small eCommerce projects. Here you can find payment settings (PayPal), delivery methods, selection of the necessary currency, the ability to implement several languages and discounts etc. Installing some plugins can help you grow the website audience, build a client base, analyze statistics, integrate social networking services and much more.
Pros:
Large set of modules with individual settings;
Flexible and simple design customizing means;
Integration with many social services;
Convenient template switching through a small panel in the site settings;
The ability to create a new project from scratch super fast and develop one into a large multipage website.
Cons:
Domain is available only at a paid rate;
The page editor is also quite truncated – no sizes, font colors etc;
The necessity to save text when editing the site;
Small set of templates, although of a high-quality.
Conclusion: SITE123 is an acceptable option for both novice users and professional webmasters who create client sites. The builder offers an unusual approach to editing content and also offers a minimal set of tools for changing the design and the site's internal configuration.
BigCommerce – Old but Gold
BigCommerce is one of the most powerful and oldest SaaS platforms for online sales. BigCommerce is founded back in 2003 but still remains to be popular in more than 70 countries. The total number of customers is slightly less than that of Shopify, but also impressive – more than 27,000 operating online stores, some of which have a total annual turnover of more than $100 million!
BigCommerce offers a broad functionality, including many options for online store customization etc. The major advantage of BigCommerce has to do with impressive integration opportunities with niche online stores in Facebook, Google Shopping, Pinterest, Amazon, eBay, Shopzilla, Beso, PriceGrabber, Shopping.com, MySimon and others. The web builder helps you manage (download and unload) products to these platforms automatically from your BigCommerce store. Such integration is available for any BigCommerce plan.
The service is paid and starts from $29.95 per month, while the most expensive will cost you $249.95. Still, there is a free trial for 15 days to help you make the right decision.
Pros:
Wide functionality for online stores;
Fully adaptive templates;
The ability to track sales statistics, order details, visitor actions and much more;
No limit on the number of products and downloads;
Integration with eBay, Amazon, Facebook, Google Shopping, etc.;
Ability to manage an online store via mobile phone;
Personal consultant for each client;
Various educational materials and video lessons.
Cons:
Not the easiest web builder;
Not possible to pay monthly – only annual subscription;
Each plan has a limit on the maximum amount of current assets (except the Enterprise plan).
Conclusion: BigCommerce is a perfect fit for those users who need a powerful online store with an integration with Facebook, Google Shopping, Pinterest, Amazon, eBay etc.
Weebly – Powerful Builder
Weebly is one of the oldest and most popular free website constructors that already exists for almost 11 years on the market. Weebly helps to develop all kinds of websites, from business card sites and blogs to online stores. Weebly is truly a convenient and easy-to-use tool offering excellent templates that users can easily edit and modernize to their own taste. Aside from colorful templates, Weebly has a powerful Drag-and-Drop editor, which simplifies and fastens the site creation process in times. Also, users are open to a large selection of applications in the AppMarket allowing you to improve the site's capabilities and keep it up to date.
Weebly offers several more great options, one of which is an opportunity to download your own templates and the ability to make changes to the HTML code. Finally, the free Weebly version offers pretty nice options compared to other website constructors with somewhat limited plans. The price of Weebly plans range from $8 to $38 per month depending on the package and the website type (plans for online stores are a bit more expensive).
Pros:
Fully adaptive templates;
Extensive options for editing templates;
Functional and intuitive interface;
Convenient Drag-and-Drop editor;
Excellent website indexation;
Ability to download your own templates;
Ability to edit HTML / CSS;
Possibility to transfer a Weebly site to another hosting (paid plans only);
Google Ads $100 bonus for any paid plan;
Various educational materials and video lessons.
Cons:
Only 100 available web templates;
Creating an online store is available only for a paid plan;
High price for a plan allowing you to develop an online store;
Sales commission – 3% for online stores.
Conclusion: Weebly is a good choice for novice business owners with almost no budget for their site development.
Jimdo – Nice Option
Developed by 3 German developers in 2007, Jimdo has become an excellent free website builder that nowadays serves more than 15 million existing sites. This HTML constructor allows you to develop sites for various purposes. Although the market offers many more attractive website editors for business card sites, Jimdo can surely compete with Shopify for being the best constructor for eCommerce projects. Don't hope for a wide functionality of a free Jimdo plan, though – it only implies developing a simple website without the possibility of online sales and a limited number of tools. If you need more advanced options or you plan to create a full functioning online store, you'll have to pay. But one can be sure: paying $20 annually for a Jimdo Business plan is totally worth it!
Pros:
Powerful and convenient visual editor;
Functional and intuitive interface;
Excellent website indexation;
Affordable prices for paid plans;
Ability to load your own templates;
Many useful options for online stores.
Cons:
Only 16 available free templates;
Weak functionality of a free Jimdo version;
Creating an online store is available only for a paid plan;
Full access to SEO settings is available only in the Business plan.
Conclusion: Jimdo is totally the best option for small- or medium-sized eCommerce business owners searching for the cheapest site building services.
GoDaddy – Site Builder + Hosting Provider
GoDaddy small business website builder is a fairly popular American constructor for small business with the opportunity to connect domain, hosting and create a corporate email. It's a suitable option for business solutions and online stores development where you can use various templates divided into 20 categories. The possibilities expand depending on which your chosen plan: Personal, Business and Business Plus. All the plans are expensive, starting from $167.99 for a personal one and going up to $749.99 per month. Still, you can always "start for free".
GoDaddy provides an access to a huge number of images. GoDaddy multimedia components are also at a very decent level with built-in photo albums and the ability to support video, audio and animation.
Unlike other offered software for small business, GoDaddy does not have a free plan. Basic plan provides you an access to a limited number of functions, and by purchasing the most expensive plan, you get an access to high-quality business templates, advanced functions of online stores, SEO optimization, disk storage, and an annual SSL certificate.
Pros:
Simple and convenient interface;
A plenty of interesting features;
Powerful marketing tools.
Cons:
Expensive pricing and no free plans;
Difficulty in combining with the browser;
The site promotion and updating will cost you a fortune.
Conclusion: GoDaddy perfectly fits heavily loaded websites and large projects that need an excellent technical support. Then, it will totally pay off its price.
IONOS by 1&1 – Website Builder for Business
1&1 helps to quickly and easily create a high-quality website using customizable templates with the possibility to edit HTML and CSS, as well as flexible editing capabilities, web applications and a plenty of marketing tools. Whatever your business is, 1&1 offers you a choice of 10,000+ site designs. This constructor has an integration with Google Translate allowing you to easily translate the site's content into more than 50 languages. Another cool feature of this business website builder software is its WYSIWYG editor.
Compared to other website editors, 1&1 looks slightly awkward. The service, unfortunately, lacks the ability to export the site or make one responsive. Speaking of the offered plans, there are 3 available options: Basic for less than $1 per month, Plus Package for $9.99/month and Premium Package for $19.99/month.
Pros:
More than 10,000 stylish all-purpose templates;
Easy templates switch with all the content saved;
Using own HTML/CSS code and creating your own unique template;
Great Drag-and-Drop builder;
Excellent built-in photo editor;
Integration with Google Translate;
Cons:
Some templates are outdated;
Cancelation of the 1&1 account can be a tedious process.
Conclusion: The 1&1 builder offers more practical rather than creative designs, which makes one perfect for business websites and not a good option for eCommerce projects, landing pages, portfolios, and blogs.
Webs – Offers One Unique Function
Webs is by far the oldest platform developed back in 2001 under the name Freewebs. At the moment, Webs is a free business website builder that serves more than 65 million websites and this number just keeps on growing. The builder is known as an honest and free platform for creating sites. This means, if you make a website using Webs, it can exist for years and would still remain absolutely free. Webs features a simple and intuitive interface as well as a wide selection of fully-adaptive templates and additional applications for the site upgrade.
So what makes Webs different from all other 9 builders mentioned above? Actually, it lets you deploy a membership system on the site. This means you can make a part of your site content available to only one group of users who have a special access to this information. A noteworthy reminder: this unique function is available only in Webs, while other site builders do not offer one.
Pros:
450+ available templates;
Functional and intuitive interface;
Ability to develop sites with a membership system;
Ability to change the template at any time instead of starting again from scratch;
Additional applications in AppMarket;
SEO Booster for site optimization;
Affordable pricing for paid plans.
Cons:
Not all templates are free;
Average quality of the templates, many have an outdated design;
Minor editing options for templates;
Fewer features of a free plan;
Creating an online store is available only for a paid plan.
Conclusion: Webs is an excellent website constructor for developing sites with a membership system and a private access.
Why Modern Small Business Can't Exist Without a Modern Website
Nowadays, both novice and experienced entrepreneurs understand the necessity of having their own small business site. The World Wide Network is the place for potential customers to search for products and services, read reviews, learn opinions of friends from social networks think etc. Bill Gates once said: "If your business is not on the internet, then your business will be out of business" was indeed right.
If there your website represents your current business but it's unattractive, potential customers will hardly trust you and would rather turn to alternative services with a strong online presence. In case your website has no effect on your business growth, there is a high chance your webpage is outmoded and contains irrelevant content.
Below are 6 more reasons why having a modern website is a must-have for every small business owner:
Saves you money. If you want to run and maintain the site, you don't need to make any significant investments, especially if you use cheap or free website builders;
Helps achieve a broader market;
Convenient platform for demonstrating a product or service;
Helps keep in touch with old customers and attract new ones;
Helps build a solid brand.
How Should a Small Business Website Look Like?
A successful small business website has to look professional and be of the highest quality. Everything from its design to content optimization must be well performed. The user has to understand why the website is worth the attention from the first second the of his visit. If the company has a serious attitude to create a representative commercial site and does its best to ensure the visitors' convenience, it means that it appreciates customers and cares about its business development.
The site should have a good hosting provider as well as an understandable and memorable domain name. The business owner should provide a full and trustworthy information about the company and its location. The overall content should be literate and unique. If you want clients to contact your company through the site, it makes sense to create a feedback form and provide an opportunity to leave comments on published materials.
To maintain the interest of the audience to your business site, do not forget to regularly update the site content by adding new useful materials, relevant information or news. The small business site should always be customer-oriented. It will not only be a trading platform but also a place for interacting with the company's customers.
What Are the Advantages of Using Business Website Builders?
The main advantage of the website builder is the ability to work on your own without the necessity to hire developers or web designers. A set of instruments allows you to create websites of the same quality as those developed by private web studios or freelancers. This significantly reduces the cost for your small and medium-sized businesses.
Such services are easy to use: in just a few minutes, you can create a pretty decent business card site due to pre-designed templates that users can choose and customize however they wish. There is just no need to write code or draw pictures. Downloading content is as easy as clicking the mouse. Whether it's text, audio or video file, everything can be downloaded online within seconds and change them at any time if necessary.
Finally, most website builders provide hosting and domain services, which gives you a chance to craft and run the website from only 1 place.
How Website Builders Can Help With Ecommerce Business
Aside from saving your time and money, website builders provide several more tempting benefits for any eCommerce project:
1. Technical support on high-traffic days
Website builders oriented for eCommerce projects will always have your back in times of heavy traffic days. During Black Fridays, Cyber Mondays and all the other occasions when the number of site visitors rises in times, the last thing they want to see is a 404 error page or get in the downtime hour. Similar situations lead to losing customers and respectively affect profits. With a good website builder, you can forget that such situations can actually exist.
2. Marketplace integrations
70% of online shoppers prefer Amazon over mom-and-pop websites, which proves the fact that eCommerce businesses should integrate their sales with Amazon, as well as other similar trustworthy platforms like Etsy, or eBay. However, tracking orders across multiple marketplaces is extremely difficult. To make the tracking process easier, some website building platforms (for example BigCommerce), provide this feature in their paid packages.
3. Modern payment options
Paying with bitcoins is no longer something extraordinary, so when it comes to new payment options, online stores should stay tuned to the latest technologies. That's when website builders can come in handy.
4. Variety of unique tools
Developing a large eCommerce project requires not only a standard drag-and-drop editor and some other basic features but rather more complicated and advanced options to make the buying process easier for any customer. Fortunately, giants like BigCommerce and Shopify offer a variety of tools for all kind of purposes, starting with managing sales and discounts to comparing products right on the website.
Do you agree with our top 10 list? If you tested some better website builders for small business, please share this with one in the comments section.