Zenfolio Review
ZenFolio – The Professional Photographer's Ultimate Web-Setup Manager
Setting up a professional looking portfolio to showcase your photography skills is not something you can be casual about, certainly not with the cutthroat competition. Presenting your master-clicks in the best manner, organizing and delivering your visual content in a professional way, and selling your services, galleries, and related products with a technologically empowered framework – these are 3 pillars of success in the world of new age photography. Zenfolio, with its multi—faceted web platform for photography enthusiasts, is the right choice for any contemporary photographer to step past competitors and truly leverage the World Wide Web for phenomenal success.
Zenfolio allows you to store images via a website host, create professional-looking websites, create a well organized online gallery of photos, edit your images with various filters and effects, and offer your masterpieces for sale through integrated shipping and pricing functions. That, however, is just the icing on the cake; here's a quick look at what makes Zenfolio special –
Quick, effective, and attractive – Zenfolio's readymade website templates appeal to all kinds of photography niches, and help you quickly set up a professional looking portfolio. Uploading images is as simple and intuitive as it gets, setting access rights is a matter of a few clicks, and with all this, you get a WYSIWYG editor to design custom pages and blog posts for your website.
Power packed portfolio management – This photography portfolio service also allows you to set u a structured gallery of images under various projects. Setting up guest books to promote your galleries is easy enough. Within a guestbook, guests and customer can comment on your photographs and even make purchase inquiries. With Zenfolio, you are empowered to digitally promote your content, engage with masters of the trade, built contacts, and of course, sell!
Wholesome Help & Support – Zenfolio complements its simple interface with a massive catalog of help material, including a 24×7 online help center. The help center also offers additional help in the form of online documentation, training videos, and even a user forum. And if you need technical help regarding issues that you just can't seem to overcome on your own, you can schedule online training sessions with actual Zenfolio staff members. This open network of communication is great for new users.
Eager to know more? You can sign-up for a free 14-day trial to find out for yourself, just how awesome this website builder and store set up platform really is.
Using ZenFolio to set your photography portfolio up

The ZenFolio homepage (accessible from www.zenfolio.com) encapsulates the major information bites about the website builder, along with pricing and a sneak peek at some templates. Look for the Try It Free button to kick start your Zenfolio website set up.
When you log on to their website and choose to take the free trial, you will be prompted for a few very basic details, these include:
Your name or the name of your studio.
An email address, and.
A password.
Click on Get Started once you key in the details. This leads you to the template selection screen, wherein you can choose from an exciting range of awesome templates, each of which can be previewed before you decide in its favor! These themes are crafted by professionals, to ensure that you have a ready to use template for actualizing your photography portfolio.
Next up, you are provided the link to access your Zenfolio hosted portfolio website. Plus, you will be prompted to watch a quick video tutorial while you wait for your new site to load. You can choose to quickly scan through the video, or can even download it for later. Then, you can either get on with the business and begin uploading your images, can choose to complete your profile, or can even sign up for free training.
Let's see how things pan out when you choose to upload photos. In the Create New Gallery pop up, key in the gallery name, a caption, and some keywords. After this, you can specify the location of the gallery; it can be a parent folder, or a sub folder in the directory structure of your online portfolio. So Zenfolio offers you a coherent and organized portfolio management solution.
You can even define access controls here, choosing to make the gallery public, private, or password protected. Click on Continue To Upload, specify the files you want added, and you're done – a s simple as that.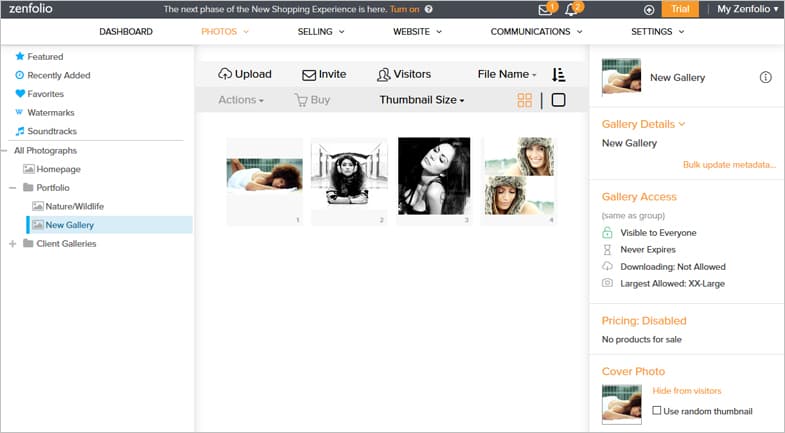 Now, you are taken to the main admin panel and user interface of Zenfolio, wherein you'll see the consol e divided into 3 sections – the top menu bar, the dashboard, and the sidebar. Let's understand the importance, functions, and benefits of each of these sections. It's important to understand and appreciate here that Zenfolio offers an absolutely uncluttered user interface. In the same direction, the dashboard is purely meant to offer quick access icons for the most frequently used and most important features and buttons from the menu bar. So, we'll dissect the menu bar and all its options to explain pretty much everything that you'd need to know about Zenfolio.
Dashboard – A cheeky link really, as it does nothing but take you on the same page!
Photos – The in-built organizer allow you to categorized your work under various heads, including Featured, Recently Added, Shared Favorites, Watermarks, and Soundtracks, with instructions available at every step. Right from previewing your uploaded photos to tweaking access rights for the same, from setting images as cover photos to inviting users to view your images, from using mass maintenance features to managing folder structure – everything can be done here. Plus, settings for pricing of the images are also managed from here.
Website – This is your workhouse in terms of designing the structure and page flow for your website. Adding custom pages to your Zenfolio website is a breeze; just click on the Create New button you see, and you will see a WYSIWYG style editor window pop up on the screen. You can even add META description here. The range of built in pages includes About Us, Blog, Features, Guestbook, Login or Register, Contact, Client Access, and more. Maintaining a blog is also made simple enough, as you can add Quick Posts, and can even import content from any of your existing blogs. Also, check out the PDFs option to effortlessly upload PDF content.
Communications – Settings and controls from this tab allow you to manage your contact list, emails, Guestbook and comments. From the Contact List sub-tab, you can quickly view your emails and check their status. From the Guestbook and comments sub-tab, you can approve guest comments. You can alter what and who can be seen on your guest list and you can choose to make visitors' comments and reviews visible or can switch them off. The "Visitors" Tab also provides a summary of the total number of visitors you've ever had, along with the number of visitors you've had for the previous week and the present, and previous month and the present. It also shows you the most popular galleries and most popular photos from your portfolio, based on visitor views.
Selling – This one's probably the one you're most interested in. Under the "Selling" tab, you can view and track everything about your sales, these include your:
Pending orders – Get a snapshot of all pending orders so that you know how to prioritize and avoid customer attrition.
Price Lists – Define all your sellable products here, create price lists and assign them to galleries as well as individual photos. You'll need to complete payout and tax information to be able to set price lists up.
Your Orders – This is an encapsulation of all the orders placed by you.
Products from integrated vendors – Selling products from integrated vendors like mpix, ivoke, NUSHOTS, photobox, and PictureItPostage is taken care of by Zenfolio, with fulfillment, credit card processing, and customer support service.
Self-fulfilled Products – Take control of the way you sell, set up self fulfilled products, along with shipping methods.
Digital Products – Add digital products effortlessly, and add licenses, from here.
From the Selling tab, you can also view your reports and request payouts, create new templates or manage existing ones, create new or manage existing coupons and promotional campaigns, and create new or manage existing gift certificates. You can also set "Vendor Preferences", from the Selling Tab.
Settings – The "Settings" tab is by far the most important because this is where you have all your account, selling & billing and website options.
Account Information – Displays the language of your site, the membership level of your account, your join date and the expiration date of your membership. It also gives you information about the amount of storage used for photos and videos, as well as raw storage.
Display Name and Copyright – This allows you to create a display name that will appear as your official name throughout your site, and to create a custom copyright or use your display name as one.
Personal Information – This is where you fill up all your personal information including location and residential details, phone numbers and any other relevant data.
Profile Questions – Allows you to ask a set of limited questions that the company collects as user statistics.
Email and Password – This is where you can change your passwords and your registered email address, just in case.
Email Notifications – This tab enables you to change the various email notification preferences, including whether you want to receive their newsletter, routine updates, how you want to be intimated if a visitor likes, comments or expresses interest to buy your products.
Referrals – From here, you can refer your friends and acquaintances and avail of many benefits and cash discounts, and share the same via social media platforms.
API Access – Allows you to allow or deny access via Zenfolio's API's.
Upload Settings – From here, you can choose to upload photos with their original titles.
The "Billing" sub-menu allows you to:
Set up your payment information so you can get paid.
View weekly and monthly account statements, and.
Manage your user subscription settings.
From the "Website" sub-menu, you can:
Set custom domains, if you have your own registered name.
Set your home page according to your preference, choosing between a default page, or your own custom page.
Perform visitor tracking activities with Google Analytics or the inbuilt StatCounter.
Perform SEO optimization and create a website description.
Use Google's Webmaster tools to find out how to index your site.
Edit cookie warning settings for full disclosure, and.
Control visitor view settings according to your preferences.
Under the "Selling" sub-menu, you will be able to:
Set default print ordering parameters for all of your vendors.
Change vendor preferences.
Specify a default email address to communicate with clients.
Set your default VAT preference.
Manage your shopping cart messages.
Choose a collection payment for self-fulfilled order.
Set numerous shopping cart reminders regarding abandoned carts.
View the various service fees, in a currency of your choice, and.
Edit your payout profile and tax information.
Plan Comparison

While all of Zenfolio's plans come with a fully-featured portfolio website and blog design template, SEO, image galleries, access control, and slideshows with music capabilities, there are a variety of plans on offer, each focusing on delivering a reasonably priced solution to photographers looking to create portfolios and web stores of varying degrees of sophistication.
Check actual prices on Zenfolio
STARTER – Loaded with lots of features, the starter plan also features unlimited content storage, HD video hosting and allows you to make use of your own domain name. Social media integration and an uploading plugin are bundled with the basic plan.
PRO – The PRO plan, apart from all the features of the STARTER plan, also comes with the added capability of helping you integrate selling into your portfolio website, via an integrated shopping cart. You can also sell your work via your own shipping means or via partner print labs, for a small fee of course! This plan comes free of Zenfolio branding and allows you to add your own watermarks to images. This is your first step towards professionalizing your hobby.
ADVANCED – This plan has been created for any account with an annual lab bill of over $5,000 and comes with a dedicated account manager. This plan also affords the lowest service fees compared to other plans and allows you to create entire catalogues to sell your photo products. A bulk download option allows users to self-fulfill their orders and offers exclusive print discounts. You can upload files up to a maximum of 100 MB and upload videos that are up to 30 minutes long.
Conclusion

Building upon the winning virtues of simplicity and niche-appealing features, Zenfolio suggests itself as a one-stop solution for all kind of photography hobbyists, professionals, newbies, and even web-service providers for the photography market. Beginning with catchy templates, building upon them with a neat and clutter-free admin interface, and sealing everything with specialized features and capabilities – Zenfolio is a complete package. It blends the best of well organized menus and options, WYSIWYG builder, customer support, 3rd party solutions, and more to deliver the most comprehensive, value adding, and empowering photography portfolio, blog, and store builder for users.
Zenfolio Review