PhotoShelter Review
PhotoShelter – the most complete builder for professional photographers
One hardly has to walk far these days before bumping into self proclaimed photographers who are actually just DSLR owners. However, there continue to be ardent photography lovers, whether they own the expensive DSLRs or not, who don't mind skipping sleep just to wait for that perfect shade of sunrise in the skies so that they have a moment that can be captured for eternity. Photographs, if showcased with a proper setting and in a structured manner, can win hearts and can even make hobbyists turn into professionals who can churn out fairly decent amounts courtesy their sensational photographs. The simplest, most economical, most effective, and least time consuming method of showcasing your photography prowess, you guessed it, is a portfolio website that a photographer can use to resent all his stunning work in a stunning fashion to create stunning impressions on the minds of the viewers.
For all those photographers out there reading this, the importance of recognizing the difference between a basic photography website can't be stressed hard enough. The former lets one share images in an organized manner and do some supplementary stuff in addition to that. In utter contrast, an advanced portfolio website dedicated to the needs and expectations of serious and professional photographers lets users perform functions like creating unlimited image galleries, creating sellable packages out of the uploaded images, integrated payment gateways for clients to make payments through, and multiple delivery options such as digital downloads and lab prints. Let us introduce PhotoShelter, an end to end website building tool dedicated for the use of professional photographers.
Clubbing simplistic website building using a drag and drop editor with powerful image gallery management features and ecommerce, PhotoShelter is the true one stop shop for the website building needs of serious photographers. Apart from being an intuitive website builder that makes it easy and breezy for you to create a website as breathtaking as your photographs, PhotoShelter pulls together several features that can help you leverage your skills behind the lens to great effect. With advanced social media tools, watermarks based image security and other gallery management features, ecommerce facilities including LightBoxes for client collaboration, delivery through FTP, responsive support and responsive designs, PhotoShelter is that a photographer can ask for and a little more. We thoroughly analyze the user experience along with the differentiating features of this superb website builder for you.
PhotoShelter Website Builder
PhotoShelter comes with a huge reputation, and it's not too much to expect being impressed when you begin your PhotoShelter trial. Once you have your trial account set up, you have a seamless and thoroughly enriching experience awaiting you.
The Navigation Bar is where most of the action is, as you can use all the easy access features provided in this bar to do everything possible with this builder.
Home – In the trial period, you find a special home page that introduces you to the necessary website development processes here. After the trial period, this is where you get the Blog Updates, Webinar Scheduling, Featured News and Refer-A-Friend program details.
Images – Use this browser to find all images, galleries, image management actions, options for restricting access privileges, etc.
Website – Every customization of your website is done here, right from the tweaking of theme, settings, pages, image security options such as watermarks and download controls, analytics for your website, and SEO features.
Sell – This is your one click interface to the powerful sales management features provided by PhotoShelter. In the MySales view, you can see all pending orders and completed invoices. You can manage various pricing profiles from here, and can also create all sorts of image bundles. Configuring important selling functions such as sales taxes, coupons, payments processing etc are also done here.
Clients – Features such as collaborating with clients through LightBoxes, letting Trusted Clients have access to all content, tracking Shopping Carts for individual clients, setting up FTP account for mage transfer, seeing downloading logs – all can be accessed and tweaked from here.
Hi, You! – Find all your account and billing related details here. Also, the Refer-A-Friend credits are also visible here, along with your own contact details that can be published and enlisted in the Photography Directory.
My Site – Want to see how your website looks? Click this button and see the website branch off in a different tab.
Help – You can find upcoming webinars' details, video tutorials and textual help here.
Now that you are comfortable with the Navigation Bar, let's take you through two of the most important processes of working with PhotoShelter.
Uploading Images into your PhotoShelter account
Adding images is the first step for any photography website, and doing this is utterly easy with PhotoShelter. All you need to do is to go to the member home page and use the Upload images link, after which you get the option of either dragging your images or selecting and uploading them. There are other uploading methods, such as PhotoShelter Desktop Uploader and Adobe LightRoom Plug In; choose what suits you the most.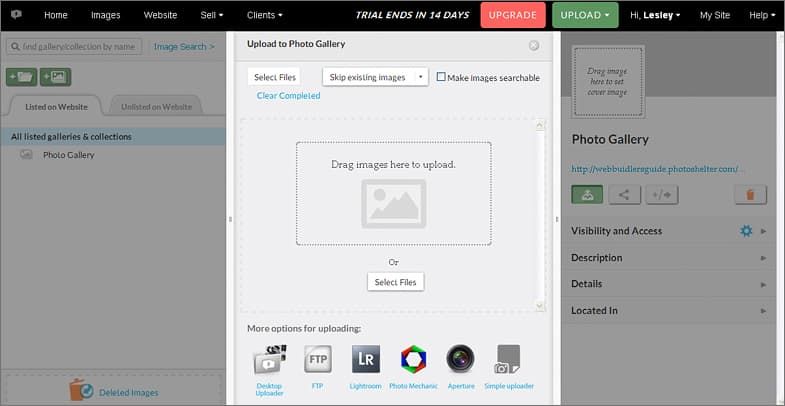 Selecting a theme for your website
Once the images have been added, you need to select a theme for the website or go about creating your very own masterpiece with your HTML and CSS knowledge. Click on the Website button from the Navigation Bar and choose Enter Site Builder. You can either go for the preset Templates or the Manual option wherein you can design your PhotoShelter from the first brick.
What's there for you in the premium accounts?

Because of the 14 day free trial format, a serious photographer would invariably have to consider the premium plans offered by PhotoShelter, which makes it integral for all users to understand how the premium service packs work. In fact, photographers will hardly wait for a second before jumping on to the premium PhotoShelter plans, because of the dozens of special features that these plans have up their sleeves. Considering that the 14 day trial gives you a thorough look at all the premium features, you would also find several reasons for at least trying out the free version once you are through with the features of these premium plans.
Check actual prices on PhotoShelter
Here's a run through the three premium plans offered by PhotoShelter – Basic, Standard and Pro. All these plans are specially devised to let photographers showcase their works in a catchy manner, ensuring that they attract eyeballs which can then translate into increased sales. Let's have a look at the benefits that all premium plans come with:
Scaling your website up for more traffic will never be a problem because of the limit-less resource allocation in the form of unlimited site traffic and file sizes. Also, you have the flexibility of uploading all image formats including the popular ones in PSD, JPG and PDF, along with others like RAW and TIF.
Delivering your files to your clients via FTP transfers is easy. Also, you can password protect your links and then share them with client to complete sales. Quick Zip files also ensure that you are able to complete and deliver sales quickly.
Extended eCommerce features let you transform your hobby into a fully fledged business. Not only can you sell your photos by integrating print services from renowned photo labs like EZPrints, BWC, WHCC and AdoramaPix, but also you can use your own print lab to create prints before delivering them. Also, you get to use the FotoQuote price calculator to sell your photo units effectively and at the right prices.
Pricing your photographs differently for different clients is an easy affair. Also, PayPal and Stripe accounts can be integrated for easy payment options. Accepting international currencies is also possible, which makes your web photographs store a truly global one.
Custom LightBoxes let you collaborate with clients – a unique feature that sets PhotoShelter apart from several other website builders for photographers. Private client collections and galleries can be created to make your sales management easier. Multiple formats can be converted to the widely preferred JPG format on the go. The images that you need to deliver for a completed sale can be resized as per the desired specifications. Also, clients have the option of rating, selecting and searching for specific images.
A swanky pack of security and image protection features await you with the premium PhotoShelter packs, right from indestructible watermarks to disabled right click and dragging to avoid photo copying – PhotoShelter has everything you need to avoid duplication and unauthorized use of your photos. You can even opt out of search engines if you think that's an activity worth doing in the interest of keeping your images safe.
Leveraging your strong social connections to the advantage of your photography store is easy and effective with PhotoShop. You can post your images directly to FaceBook, Twitter, WordPress and Google+. Advanced options such as enabling or disabling comments on the posted images can also be used. In addition to these, you have the options of embedding your slideshows and photos on other websites, and uploading images directly to social websites.
In order to enhance sales, PhotoShelter lets you use some pretty smart features in addition to the dedicated eCommerce and marketing tools. These include – adding your profile to a searchable database that buyers use to meet creative photographers like you, creating discount codes and promotional coupons for churning more sales.
Whereas the Basic plan only lets you create a single website, the other two packs let you work with as many as 15 website designs, thus making the latter more useful for photographers who are planning multiple themes stores. Also, the Basic plan comes to you with 10 GB of image archiving and cloud storage whereas the Standard and Pro packs come with 60GB and 1TB space respectively. 5GB monthly bandwidth for the Basic plan appears pretty meager for photographers looking to really make it big. For them, the Standard and Pro packs with 20GB and 50GB bandwidths for high resolution image delivery are more suitable.
The Standard and Pro plans offer you some distinct advantages over the Basic service plan, and we quickly introduce you to these features here:
You will be able to use your own domain name with these two service plans. That said, the domain inclusion feature is generally expected in even the no-frills basic accounts, which is something that's missing with PhotoShelter.
In order to ensure connectivity with your audiences even while they are on the move, these plans give you a fully mobile optimized website automatically created for you.
Retina ready display ensures that your photos are viewable in all their glory.
In order to enhance the impression created on the viewers, you can use full screen portfolios when you use any of these two plans.
If you wish to integrate your photo store with Vimeo, WordPress or Tumblr, you can use the integration features enabled in these two premium plans.
The Basic plan is ideal for those photographers who have a preliminary market that they can depend upon for sales, so that the time and money investments going into the subscription are accounted for.
The Standard plan is also the most widely used one, and is ideally suited for photographers who've already used digital stores for selling their works but are now looking for a one stop shop for all their online photos selling.
The Pro plan works well for seasoned photographers who have a massive database of high quality images ready to be sold, as the whopping space and bandwidth allocation are the only observable differences in the plan as compared to others.
Conclusion
It is easy for any website builder to put together some portfolio themes and claim to be a dedicated tool for photographers. However, it takes deep understanding of how the web based photographs store market works, the expectations of the clients who buy photographs from such stores, and of course, the photographers who wish to have a stunning portfolio website that lets them sell without being stonewalled in any way. It is heartening to note the PhotoShelter backs its claims with substance, and easily makes its place in any list of the best website builders that can accommodate the interests of professional photographers.
Flexibility in terms of working with the website builder, the simple website builder with all the options that anybody can ask for, and flexible options in terms of colors and fonts, topped with CSS and HTML based DIY templates – all these provide for a fulfilling website creation experience. A photography website is nothing without reliable photo protection tools, and PhotoShelter doesn't disappoint with its many features such as indestructible watermarks and right click disabling. Selling photographs and managing clients effortlessly comes easily with PhotoShelter courtesy its effective tools like configurable sales taxes, customer group based pricing, collaborative working with customers using LightBoxes, and international currency acceptance. All these features are enough in establishing PhotoShelter's prowess as an end to end, advanced and comprehensive website building, selling and marketing platform for professional and serious photographers.
PhotoShelter Review