All About WordPress In-Built Theme Builder Plugin
Enhance your website building experience using WordPress themes with in-built theme builder plugins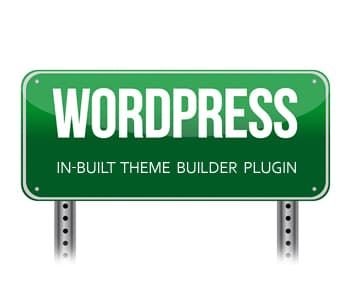 WordPress is inarguably among the most loved platforms for bloggers and everybody who wants to have a stable and content-rich website up and running on a secure and powerful platform. Among the several reasons that make WordPress such a force in the world of online website building tools, the availability of hundreds of themes spread across a range of categories such as travel, services, medicine, blogging. Portfolio building and others surely counts as a leading one. Most web designers are used to the course of action wherein the website building features of the WordPress act as a core, and the website themes come on top and act as the design or visual layer. However, there's another approach that website designers and web project builders can adopt, and that's by opting for smart themes that come with in-built website building plugins, allowing web developers to build the website features and functionalities right from inside the theme. Before we explain the benefits of adopting such a course of designing, let us give you a brief glimpse of how WordPress website themes are more than just a collection of design elements to make your job easy.
Customization – The possibility of customizing your WordPress themes is what makes them so powerful. You'll find several customizable themes that help you adjust the primary design elements in accordance with your requirements rather than stonewalling you in any manner. The important thing – these changes are possible without delving into coding intricacies.
Responsiveness for your website – People have warmed up to mobile phones, tablets and other devices for WWW browsing. You really don't want your website to look concocted in any way when your viewers browse it on their mobiles and tablets, and responsive themes ensure this seamless layout adjustment across screen sizes for you.
Automatic and lifelong upgrades – WordPress is an ever improving platform, and modern themes ensure that you are never constrained into staying behind with an incompatibility issues. Premium themes come with automatic upgrades so that you continue to enjoy the best of WordPress.
Support – Contemporary and sophisticated themes lend you the benefit of support from the developers, answers to frequently asked questions in the form of FAQ pages, and active forums wherein people discuss how they can explore the dozens of features of the theme.
Specialized tools built into the themes – An ecommerce centric project might not be served well with a choice of a portfolio theme. With contemporary themes, you will always have specialized themes with features that are extremely relevant to the category they serve, for instance, ecommerce themes will come with integrated payment gateways, abandoned cart notifications, tax and shipping cost calculations, etc.
Why opt for WordPress themes having built in theme builder plugins?
Having warmed up to the potential of WordPress themes as more than just visual structures for your websites' presentation, it's time now to know more about themes that come with built-in website building plugins.
Get off the blocks quickly and enjoy an efficient web building experience
When you're planning a website, what you want is a platform that doesn't slow things down for you, so that you are able to quickly create, edit and delete objects. WordPress is inherently suited for experimental website building, but your efficiency literally multiplies when you use themes with builder plugins. Here's how you are able to quickly create terrific websites using such themes.
Contemporary page composers – Forget the slow and old fashioned methods of using short codes; contemporary page composes help you add pages with as little as a click, and also give you the flexibility of duplicating pages and making changes as and when needed. That said, you also have hundreds of shortcodes to lend you the gift the efficiency.
Pre – populated content – In the interests of getting your website public and live in the minimum possible time, it helps you a lot if you have content pre-populated under relevant sections. When you get this benefit, all youneed to do is to replace the content with your own version. In some themes, you will be able to use the generic content without changing, which ads meat to the website and helps you get live quickly. Moreover, pre-made content gives you much better understanding of the design and helps you get your content placed perfectly.
Readymade post types – Most websites have at least a few post types, and it can help a website creator get over with the first draft of the website quickly if the theme provides multiple post types. This also gives differentiation and variety to the website's content presentation. You can rely on modern WordPress themes with theme builder plugins to offer you multiple post types.
Useful pages readymade for you – From FAQ to About Us, Contact to Terms and Conditions – there are some standard pages that every website ought to have. With theme builder plugin based themes, you will have default structures of such pages with pre populated content, so that you are able to add and modify content quickly and finalize these pages quickly.
Enjoy website designing flexibility with configurable content elements
The most enjoyable benefit that WordPress themes with builder plugins bring to the website creation table is the availability of dozens of simple to use and easily configurable content and design elements. Whereas the basic theme design is itself mesmerizing enough to motivate you into continuing with it unchanged, you can always pick up your designing hat and use the configurable elements to chisel out stunning outlooks for your websites. Here's more on the content and design centric benefits associated with plugin based themes.
The power of WYSIWYG – Nothing beats the sheet ease of having a drag and drop or click and point styled website editing interface. You'd easily find some terrific theme builder based WordPress templates that help you with WYSIWYG styled editing interfaces. Just select the content elements such as text boxes, images, videos, widgets, etc., place them where you want them to appear on the page, and configure them!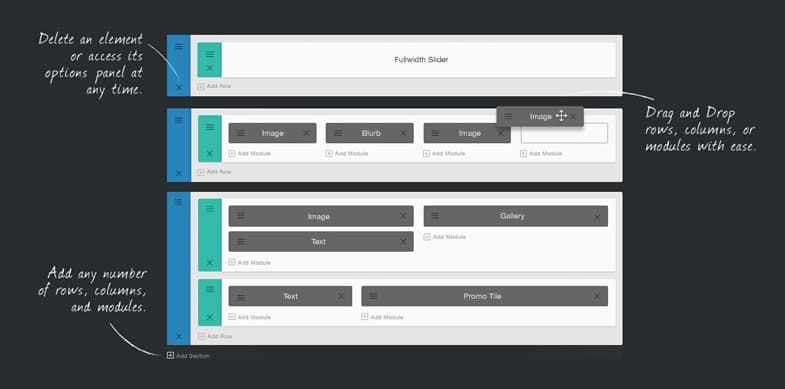 Image courtesy of Divi WordPress Builder
Sophisticated color picker – You can give a massive makeover to the look of your website by using the whole spectrum of amazing colors with all their shades that's offered in the form of color pickers that come embedded in the themes. Apart from helping you experiment with pre-formed color schemes, these pickers also help you to identify shades from within the theme's design elements and use them.
Change the outlook with different layouts – Theme builder based WordPress templates let you use different preset layouts. In this manner, you will be able to change the outlook for your website with a single click. Creating a variety of web pages is enabled seamless with the availability of different layouts. Choose from among content heavy, visuals heavy, minimalist and blended layouts.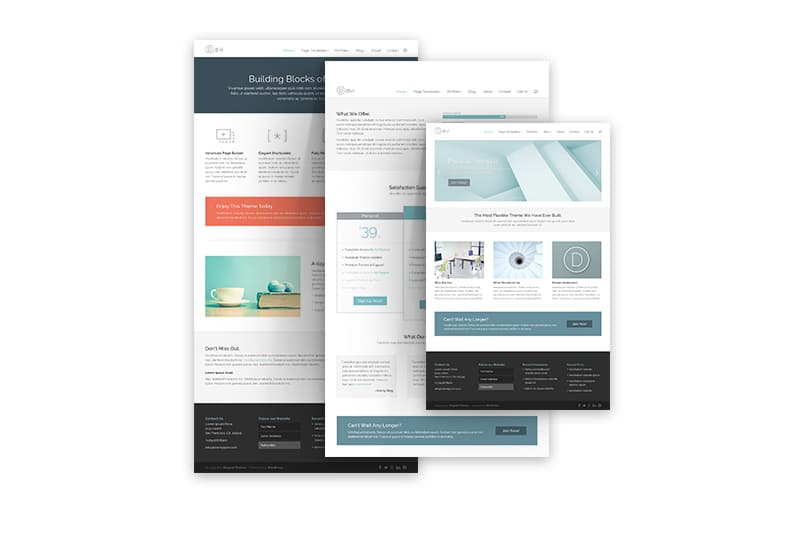 Image courtesy of Divi WordPress Builder
Experiment with headers and sliders – Your website's headers capture a lot of the attention of the viewer, and with theme builders offering you amazing header configuration features, you have all the control you could want. Right from using your saved images as headers to in-theme editors that let you create stunning headers quickly, there are several exciting options for you. Moreover, you can use terrific slideshows with all sorts of transition effects, even including HD quality images that are scaled as per the device they're being viewed on.
Fonts, sidebars, and images – Wouldn't you absolutely love having a readymade database of free to use fonts and images in your website? Well, quit a few theme builder plugin based themes offer you free content elements such as images, and provide hundreds of awesome fonts that can help you make your content substantial as well as beautiful.
Explore ecommerce and widget based functionalities
With theme builder plugins adding to the powers of WordPress themes, there's really no end to all that you can do with the themes. Imagine basing a full-fledged ecommerce store on a WordPress theme! Baffling, but true! Moreover, there are dozens of specialized widgets that help you explore the full range of options with your website. Here's a quick look at all the amazing things that are possible with WordPress websites having theme builder plugins.
Ecommerce features to help you expand your business – With easy to create product pages, configurable tax and shipping charge calculations, abandoned cart notifications, marketing tools like coupons, integrated payment gateways and what not, your WordPress themes will help you expand your business like never before, with an integrated web store.
Labomba – WooComerce WP Theme
– download
Use intuitive form builders – Collecting information in multiple formats is easily achieved with the help of configurable form builders wherein you can add any number of fields, multiple option queries, radio buttons, et cetera. With these forms, you can build up your lists for trying outbound marketing campaigns, and can also create analytics reports that help you fine tune the content of the website.
SEO advantage – All the efforts you make in order to create a content rich website can fall short of results of the website is not visible at the top of search engine result pages for the keywords being targeted by you. With the SEO features of modern WordPress themes, you can ensure that your web pages remain relevant for the SEO advantage, all by quickly creating meta keywords, descriptions, titles and URLs with the help of the SEO plugins embedded in the website theme.
With widgets and apps, sky is the limit – There really is no end to how you can enhance the powers of your WordPress website because of the theme in use. Right from social networking apps such as Facebook, Twitter, MySpace to other tools such as calendars, maps, suggested content, etc., the world of apps and widgets that come with theme builder plugins based themes is an exciting journey for you.
The most fulfilling website building and maintaining experience
Whereas ordinary WordPress themes stick to the task of providing a face to the website in the form of the pre-arranged content elements, the ones with theme builder plugins provide you ample support and help you enjoy your website building experience. Not only will you find the support system sturdy enough to make the journey seamless for you, but also will find managing your website much easier than otherwise. Let's tell you more about the magic that awaits you in the form of these themes.
A neat yet powerful control cockpit – The reference here is to all the controls that you can use from the admin panel of the theme, right from approving memberships, allowing privilege accesses, moderating comments, and affecting site wide as well as page specific changes. The admin panel is where most of the maintenance action of your website will be staged at, and it's imperative that you find a good theme with a terrific admin panel.
Responsive themes for cross – device compatibility – Modern WordPress themes are responsive, ensuring that irrespective of the screen size of the device the website is viewed on, the design and content will look uniform. What's more, your theme could also give you the option of taking away some of the content for mobile website viewing. The best part – you get your mobile optimized website version without having to work for a single minute additionally.
Limitless – Multipurpose Drag&Drop Theme
Retina ready themes for unmatched visual appeal – For all those portfolio builders out there, the world of theme builder based WordPress themes if filled with some retina display ready themes that comprise top quality HD design elements. Viewing such websites on devices with top class screen resolution is a pleasure to the eyes, and adds a lot of weight to the impact of the website.
Tripod – Retina Ready Photography Theme
– download
Ample documentation to keep you on track – You will never find yourself stuck at any point, despite the fact that the range of features and functions packed into these themes is massive. That's because of the comprehensive documentation and usage instructions that come with the theme, in addition to the fact that there are actively participated communities of users and developers wherein you can find answers to your queries and ideas about using the somewhat lesser known features of the theme.
WordPress Builder Themes