Making a Personal Website With the Best Free Personal Website Builder
Websites are not static; they are dynamic and change constantly. You could pay a professional to build you a stellar website, use your own coding and designing knowledge, or use any of the many HTML5 based website builders to get started with a professional website. The minute you accomplish something, you have the choice of including it in your personal website. Upon finishing a project, you can add it to a portfolio so all your visitors can view it. This means that website building is not a one-time effort, but a continuous one. Of course, this makes your choice of platform very important..
New content, updated listings, changes in contact details, transactions management – there's a lot more tomaking a personal website than meets the eye. Modern website builder helps with the process. These drag-and-drop tools allow you to create your very own site without any coding knowledge. There are numerous website builders out there right now, and all of them claim to be the "best" in the industry. Unfortunately, only one can take the top spot and that belongs to Wix.
Why Wix Should Be Your Personal Website Builder of Choice?
Wix is a super easy free website builder, and with good reason. Allowing people without advanced technical knowhow to create stunning, attractive websites is all the tool is about. The biggest contributor to Wix's popularity is its free plan, which allows you to set up your personal website at zero cost as long as you don't mind using the Wix subdomain.Creating a personal blog site that can compete with professional websites, without spending a dime – that's Wix's value proposition.
Wix is extremely simple and easy-to-use, making it the go-to tool for DIY website owners. If you need to whip up a decent website in minutes, Wix is the perfect option for the job. You get everything bundled and offered to you without any technical fuss. The overall design and backend are 100% functional, retaining numerous functions on one screen while maintaining impressive apeparances. Wix is extremely intuitive and literally lets you drag and drop elements as per your choice.
First-time website owners should have no trouble figuring out pages, navigation, design – all the different site elements can be configured easily. The onboarding process is also worth a mention as it immediately starts your account on an email training sequence and guides you through various design choices. If that's not all, Wix boasts a solid mobile experience, which means users can get their design running on a mobile design from the start and perform the finishing touches later on.
Wix has recently updated its collection of themes and designs and unlike other website builders, most of them don't need big, professional photos to look great out of the box. Wix has also introduced an impressive Artificial Design Intelligence that takes care of most of the manual work involved with designing a website with an algorithm. This allows for faster, more responsive designs that are easily accessible.
How to Make A Personal Website for Free – Step by Step
You can design a Wix personal site in one of two methods.
The first involves using the Wix Editor, which is the basic site builder that people recognize. Offering over 500 templates, users are spoiled for choice. What's more, you are free to add and reshuffle all the elements present in the site as per your preference. Wix lets you develop beautiful websites in a few hours, making it the perfect tool for restaurants, small businesses, bloggers, online stores, and photographers.
Wix also lets you develop your own site in the most unique possible way. We're talking about the Wix ADI, which makes it easy to create eye-catching websites from scratch. ADI, in fact, is a key factor that makes Wix the best personal website builder. All you need to do is input some of your basic details, including your contact information, business type, and online presence. The Wix builder takes care of the rest. You're also allowed to tweak the design after the site has been generated so that it caters exclusively to your tastes.
Considering its speedy application and ease of use, the Wix ADI is perfect for busy business owners, bloggers, and users without vast technical knowledge. Wix ADI, however, trades flexibility for simplicity. No longer are users able to seamlessly drag and drop images, apps, videos, and other elements like in the Wix Editor. Your actions are a lot more restricted.
At the end of the day, no matter which tool you select, you will find it easy to create a stunning website easily. If you're unsure about which method is right for you, check out the step-by-step guide below that showcases how you can use each tool to build your own Wix website.
Using the Wix Editor
Of course, the first thing you must do is sign up with the website. Head over to www.wix.com and click the 'Get Started' button on the home page.
You'll be redirected to the Login page which goes a little something like this:
Enter your details and you will be asked a few questions so they can help determine your needs better.
Choose the options that fit your requirements.
Once you're done, Wix will give you the option of building sites from scratch or using Wix ADI to simplify the whole process. Choose whichever you're comfortable with.
Since we're using the Wix Editor first, we will go with the second option.
When you hover over each blog, you see the price along with options for editing or viewing the template.
We chose the one below:
Once you're done looking at the template, you can begin the editing process by clicking the "Edit this site" button on the top right.
Wait some time for the template to load, and you will be greeted with the screen below:
It can all get a bit overwhelming for a first-timer, so let's start from the top. At the left corner, you'll notice the Page tab right next to the Wix logo.
You can use it to seamlessly switch between the pages of your website and manage them according to your needs.
Right next to it, is the option for switching between desktop and mobile versions of your personal site.
Next to it, you have the 'Site' drop down list that allows you to save any changes you've made so far to your website. After all, you'd hate to lose all that progress, right? You can also 'Preview' your site-in-progress, and get feedback from clients and friends regarding what they like and dislike about the page. The 'View Published Site' option takes you directly to the live website, while 'Site History' lets you see all the previous versions of your website in one place and restore any, if necessary.
Wix also gives you the choice of making a duplicate of your website or handing over ownership to another user. When you are finished with the editing process, feel free to click the 'Exit Editor' button.
The Settings tab on the Wix is a mixed bag.
Some of the tools like SEO and Social Share are incredibly useful, but others like 'Upgrade' are promotional in nature. The free version restricts some of the accessibility to these tools, but there is more than enough to get a beginner started.
Wix's SEO Wiz, for example, is great for boosting your website while 'Business Info' provides valuable information like address and phone number to your visitors. In 'Tracking & Analytics' you can add tools like Facebook Pixel, Google Analytics, and others. You are also able to make your website more accessible so that users can browse the website easily. Just use visual indicators and switch on the keyboard navigation. The 'Multilingual' option is great for users who want to create websites that visitors can browse in the native language.
The tools included with this website builder include Toolbar, Rulers, Guidelines, and Snap to Objects. Each one has its own unique utility. For example, Toolbar is used to align, position, and size all the elements on the homepage quickly and easily.
The Rulers & Guides option make it easy enough to position and align different elements. Gridlines allow the user to make a website that is viewer-friendly on both mobiles and tablets. This feature improves the responsiveness of your website. Snap to Objects is good for those who have trouble aligning the various elements on the page after constant dragging and dropping.
In the 'Code' section, Wix lets you don the Developer's cap and gives access to unique tools.
If you have some idea about coding, then this feature is a godsend as it enables you to harness the full capabilities of the Wix Editor.
You get more information from resources like Documentation, API Reference, and Forum.
The 'Help' section is meticulously arranged to provide users with everything, from keyboard shortcuts to Editor assistance. There are video tutorials available for users who have trouble grasping a specific method with visual cues. The Terms of Use and Privacy Policy can also be seen under this tab.
The 'Upgrade' button is precisely what it sounds like. If you wish to pay cash to unlock more features on the Wix Editor, this option is the right choice.
On the right hand side of the screen are a few tools for Zooming the screen in and out, and Undoing or Redoing a particular action. Besides that you will find the options for 'Preview' and 'Publish' the website.
To the left side of the page is a series of options.
The first is 'Menus & Pages' which has two options – one for editing the Site Menu and the other for selecting the page transitions in the new website.
The second is the 'Background' that lets you choose the right background for your page.
The third 'Add' button lets you add anything to the pages from images, vector art, video, music, and store, to boxes, shapes, lists and grids.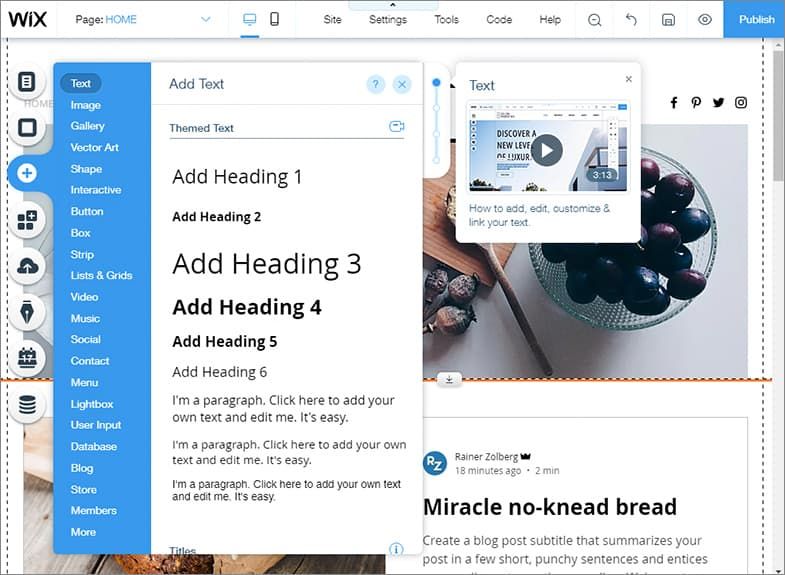 The next button 'Apps' opens up the Wix App Market.
The next 'My Uploads' and 'My Blog' provide a list of your uploads as well as help you keep track of your blogs easily.
Harnessing the Power of Wix ADI
Wix ADI makes it extremely easy to design a website. The site asks you several questions, and based on your responses, creates the perfect website for you. Although the editor is rather straightforward, the Wix ADI is the perfect addition for users who are technologically impaired, or those who balk at the thought of spending hours perfecting their website.
Thus, if you're busy trying to balance work and phone calls, creating your own personal site is just a few steps away with Wix ADI.
When you sign in, and click the 'Start with Wix ADI' option, you are asked the first question – What type of site do you want to create? Enter your answer, and a drop down list offers several options.
You must then select the features you require. Tick all the necessary boxes and hit that 'Next' button on the bottom right hand side. It doesn't matter if you change your mind. You can always go back and edit the option later on.
Now that Wix ADI is aware of the personalized features you want in your new website, it's time to enter your contact information. Try providing as much detail as you can. This will enable the ADI to form comprehensive navigation menus, headers, footers, and contact pages with relative ease. Keep in mind that the more accurate your answers are, the better Wix ADI is able to customize the best site for your requirements.
As far as design is concerned, the ADI remains in control. But the user is still able to input some of their aesthetics and tastes into the mix. Sure, it isn't anything expansive but it still adds a personalized touch to the whole website. The ADI is capable of producing billions of image and text combinations. So, you are bound to end up with a website that looks sleek and unique.
The next step involves the ADI taking you through the whole design process. Once you click on the 'Start' button, you will see different color schemes. Choose the one that appeals to you but don't spend too much time on it. After all, this is one element you can easily change later on during the creation process of your website.
Completing this step will provide you with a selection of new homepages. You will definitely love the results, but it all comes down to your preference. Pick the one that captures your fancy the most.
If you are satisfied with the overall appearance of the final website, you can take things a step further through personalization. Try playing around with the font style of your new website or adding media with the help of the smart assistant from Wix ADI. It is quite fast, and provides decent creative control over the look of your website.
But remember, that the smart assistant is a lot more restrictive when you compare it to the Wix Editor. Thus, if you're inspired to put your own touch to the personal website or are not satisfied with the outcome of Wix ADI, you are always free to change to Wix Editor mode as soon as you feel like it. However, make sure you understand the results since it is difficult to reverse the process. You must save your last ADI version before you can restore it.
Once you're done with all the bits and bobs, Wix ADI provides its final proposal. At this point, you are free to go through the earlier steps and conduct any changes as you see fit. This is crucial because if you aren't happy, then it's more than likely that your visitors won't be happy either.
Once you've created the final product, you are ready to publish your new website. Just hit the 'Preview' button situated above the ADI screen to take one last look at your completed website. Then all you need to do is hit the X icon to go back to the editing page. Just click the button marked 'Publish' near the top of the window.
If you still have some doubts regarding the design choices, edits can be done any time you want after you've published on Wix ADI. Simply head over to the dashboard after you've signed in to the website and then go to 'My Site'. Click the 'Edit' option on the ADI website.
Recommendations About What A Good Personal Website Should Be
Granted: Wix gives you all the power you need to create a stellar website. But, the responsibility of making your website better than the thousands out there is for you to own. A good personal website has, among others, these qualities:
Your value proposition: The home page ought to tell readers, in a glance, why they need your website! Think of this as your website's most important pitch. Tell them why your website is much better than a routine personal website, showcase your experience and prowess, and make them stick.
Your personality: It's a 'personal' website; it just cant be like any other website. Bring your personality through, from the design elements, as well as from the content. Include a detailed 'about myself' page, with at least one high-quality image of yourself, so that readers know more than just your name.
Your best work: If you're an artist, dedicate a page to showcase your best creations. Similarly, if you're a writer, create a 'best of' or 'collections' page, that could hook visitors. This could be a part of the accompanying blog within your personal website.
All your channels: Tell visitors where they can find you (social media, personal email, via query forms, etc.)
Testimonials: Showcase your credentials by neatly presenting testimonials and press coverage.
Case studies: Helped a client increase his sales? Tell your readers about it in the form of a case study.
'Hire me' page: Yes, a dedicated page, so that you know which visitors are reaching out to you with an intent to hire.
Concluding Remarks
Right now, Wix is making waves in the world of personalized website builders and it all comes down to how much the company is offering to the users free of charge. The first of its kind, Wix has successfully transformed a task that is mentally draining into an easy process. All you need to do is answer several questions, choose the color scheme you want, and shuffle the elements on the page to your liking.
If you want flexibility, the Wix Editor is here to help you out. But if easy accessibility and speed are things you're looking for, it's best to go for the Wix ADI. With Wix, you get the best drag-and-drop design in the industry along with text boxes that are easily editable. Thus, while you're enjoying the simplicity of both Wix tools, the Editor provides a lot more freedom to the users. It is also a great way to create personal websites, owing to the wide range of apps and features.
Best Free Personal Website Builder