10 Best Free Website Maker Software 2020
There was a time when website development used to be the domain of professional designers and software engineers. Back in the day, one needed some serious coding skills to create and launch even the most basic web layout. All that changed with the introduction of website builders. Today, anyone can build a functional website without having to write a line of code. All you need is a free website maker to take care of everything from the content to the SEO and marketing.
A web development platform gives you complete control over the design and functionality of the website. You simply have to drag and drop the elements you need on the interface, customize the look to your liking and then save and publish your content – the entire process takes but a few hours! Also, most website builders you see today are based on the WYSIWYG concept. This lets you get a preview of the web page as it would appear on any web browser.
What Is The Best Free Website Maker?
Website builders are truly multipurpose tools using which you can build websites in a few simple clicks. It is a cost-effective hack for beginners who don't have to spend a fortune hiring professionals for the job. It doesn't matter if you want a basic blog or a professional business store with advanced ecommerce capabilities – here are a few best free website maker software that you can try.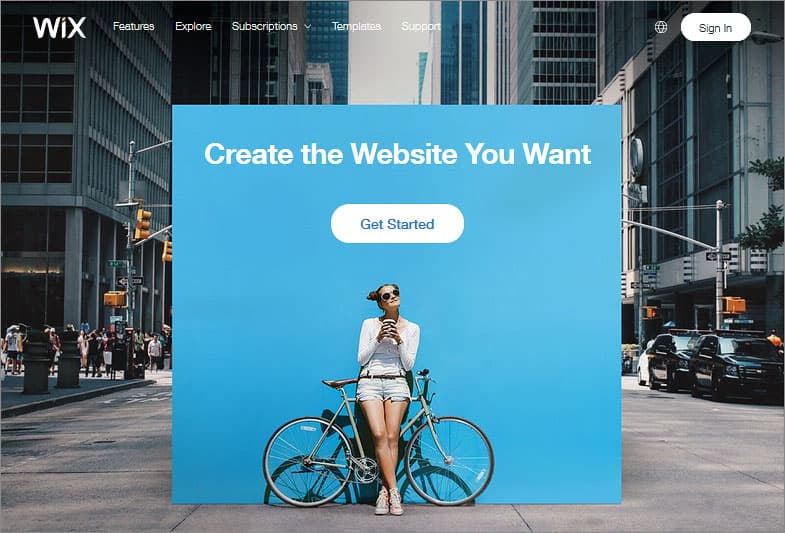 Wix is more than a mere "drag and drop" website builder; it is an all-around web development solution that anyone can use. Here, you can choose from superb responsive website themes, insert images and videos apart from other multimedia content in your web pages, and ensure decent online visibility for your websites, courtesy easy yet strong SEO options. You get a collection of 500 stunning templates and themes to choose from, all fully customizable and fully compatible with mobile phones. Other editing tools on the dashboard include galleries, social media icons, e-commerce solutions, CTA buttons etc.
Wix now even offers its clients a specialized ADI framework, where the platform creates a website for you. You have to fill in a questionnaire and state your preferences – the AI-powered design algorithm takes care of the rest. The Wix App Market offers over 200 third-party extensions, some free while the othersare premium. Wix remains one of the most loved web development solutions in the market. We recommend Wix for small-scale businesses and growing start-ups.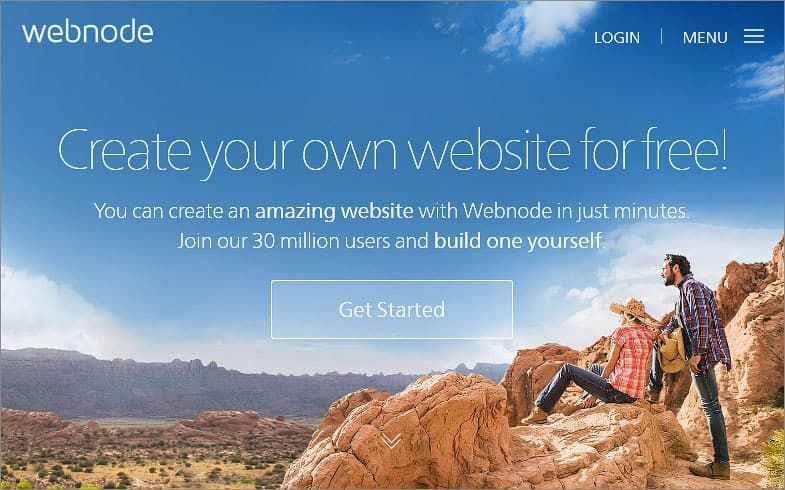 With over 27 million websites worldwide already built using Webnode, you have a popular choice for building blogs, portfolios, custom forms and e-stores. The drag and drop powered intuitive interface comes with a loaded dashboard. There are 17 sections and elements that you can mix and match to create a dynamic web page in just under 5 minutes. Choose the elements you want to drag them down to the interface, edit the draft to your liking, and then publish it online- it's that simple. What's more, Webnode also offers its customers a wide range of e-commerce solutions. There are over 18 e-commerce tools to add multiple payment gateways, insert product catalogs, automatically calculate taxes, integrate shopping carts, and support foreign currencies.
Webnode as an open source website maker has been around for 7 years, assisting developers with web hosting and domain registration services. SEO solutions are built into the tool, allowing you complete control. There are over hundred themes and readymade layouts, all optimized for mobile phones. In fact, Webnode automatically generates a mobile application for the website as soon as you publish your website.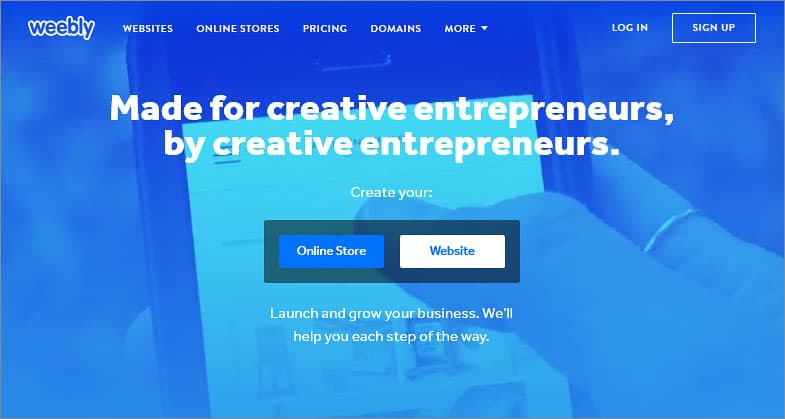 Weebly is among the easiest, most user-friendly website builder that we'd recommend for first-time developers and amateur entrepreneurs. The platform offers you two ways to build a website, both of them online. The basic in-house editor is for creating a simple web page that doesn't require a lot of customization. You get a drag and drop interface, CMS integrations, and access to HTML5 code files for tweaking web pages the old school way. The second option is the standard WYSIWYG Editor where you can add elements in a point and click interface and see the final web layout before it's published on the browser.
Weebly, as an open source SaaS, gives you complete freedom over customizing the content, managing SEO and personalizing the many free themes and templates you choose. The e-commerce solution includes PayPal integration, tax management, actionable CTA buttons, live chat option, and digital gift cards. The App Centre is a hub for third-party software and extensions, all of which add tremendous new features to your websites.
Jimdo is a great option for users who want to expand their online presence and also get quick hands-on support in their web development efforts. The drag and drop editor is easy to work with. You don't have to continuously switch back and forth between the interface and the published page. The live editor brings it together, giving you the opportunity to make changes in real time. There are over 120 free themes, all mobile-friendly and easy to customize. Most users feel Jimdo is lacking in features, especially when compared to the likes of Wix and Weebly. However, what Jimdo lacks in functionality, it makes up in its aesthetics. The templates though few are of excellent quality.
Jimdo is among the few free website makers that don't require your credit card details at the time of registration. You can stick to the Jimdo Free plan for as long as you want, there's no pressure to convert to a paid package.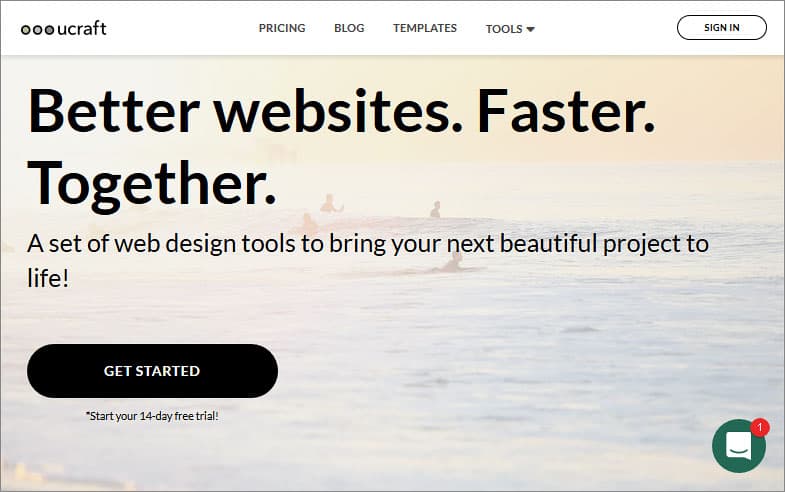 Ucraft is an intuitive online website maker that offers separate blocks for different elements. Each of these blocks is connected, customizable and compatible with one another. All you have to do is stack them vertically on top of one another to build a functional web page. We recommend Ucraft for building artistic portfolios, photography websites and creative blogs – basically any web platform that requires a critical eye for detailed designs. You get 13 retina ready themes and 32 landing pages to choose from. These elements are all optimized for Android, IOS and Windows devices.
Moving on to e-commerce functionalities, the platform offers PayPal and Intercom integration and accepts and currencies, giving your business a truly international feel and appeal. It is integrated with Shopify for free cloud hosting, unlimited bandwidth, and SEO solutions. Ucraft, though a relatively new player, has come a long way in establishing a solid reputation among developers. It now competes with the likes of Wix, Webnode and other big-shots of the industry.
Site123 is a pretty basic website builder that lets you build a website in… you guessed it, 3 simple steps. The platform has been around for 15 years now and is considered among the easiest options for beginners. However, an immediate drawback that we cannot ignore is that Site123 has no templates. You have to choose from the 11 different categories presented (e.g.: portfolio, CV, blog, estore etc.). You then get a default website layout based on your preference and an interface to customize it to your liking. Everything is tailor-made, though you don't get the creative freedom to choose a readymade template like in Wix and other website makers.
Site123 comes with a one-click setup wizard that allows for quick and easy installation on your desktop or mobile. Add unlimited pages, integrate images, link social media accounts, enhance SEO, integrate Google Analytics – you can do it all and more here. This website builder's USP is its ease of use and clutter-free interface, which actually lets beginners create a good looking website within a few hours or less.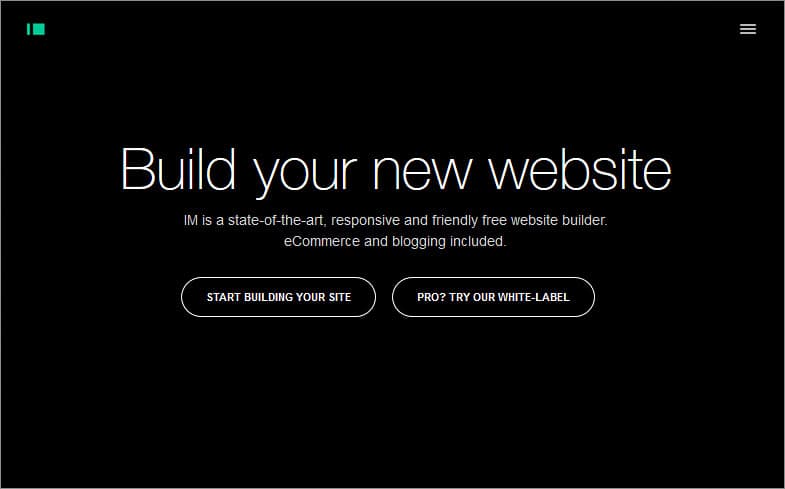 If you want to build an attractive, elegant and professional website then IM Creator is your best bet. This state-of-art online website maker offers free webs hosting, domain registration and cloud storage services. Browse through the extensive collection of pre-set templates, drag your content on it, add images, customize the layout and you're done. The platform is extremely flexible, allowing you single-page blogs, multi-page e-stores, and portfolios – all under one account. Plus the SEO tools, CMS integrations, ande-commerce support aretop-notch for taking care of the website's online visibility and reach. The e-commerce solutions are powered by ShopRocket that optimizes your store for mobile devices.
IM Creator is based on the XRPS framework that uses readymade blocks for building websites. Each block is fully customizable and compatible with the others. This makes IM Creator one of the fastest website builders on our list here- most of the designing tools are pre-populated with content saving you the effort of having to build everything from scratch.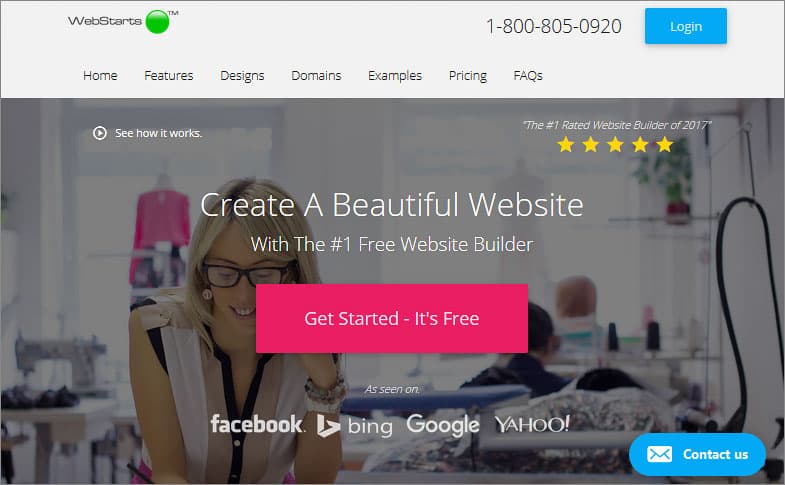 Your search for an organized website builder ends here. WebStarts is among the simplest, most well-managed option in our list and rightfully so. The grid-view design is clutter-free, clean and extremely orderly. You get a wide range of templates here, arranged in separate categories so that you find the best suitable layout easily. Once you've selected an appropriate theme, drag it and the content on the blank canvas editor to customize it anyway you want to. The platform is built on a WYSIWYG framework that works pretty much like PowerPoint. You get to see what your visitors see on screen.
WebStarts is pretty flexible and versatile. Here you can build blogs, business websites, portfolios, CVs, and contact forms. It even offers MailChimp integration that lets you send out newsletters to potential leads and visitors. The basic version of WebStarts gives you free web hosting, unlimited bandwidth, cloud backup and access to all the templates, SEO tools, and other features. And the best part is, it doesn't cost you a cent!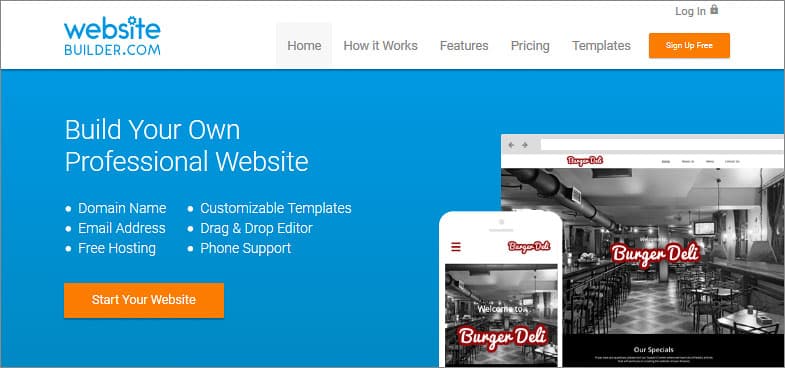 WebsiteBuilder is a good free website maker that's loaded with features and functionalities. Don't worry though, the platform is user-friendly and not in the least bit complicated. There are over 10,000 mobile-ready templates to choose from. Plus there are several analytical tools, e-commerce options, SEO improvement tools, CMS integration and social media buttons for advanced customization. The in-house live editor allows you to make real-time changes on the website even after you've launched the website. You can either drag/drop the elements on the interface for direct customization or tweak the HTML5 source code to make the necessary changes (if you know how to, or have a developer in your team).
The one-click installation feature saves you a lot of time and effort. Talking about the e-commerce features, the platform does disappoint a bit, especially when compared to the big-shots like Wix. You can build but a basic ad-free store using the marketing tools provided by WebsiteBuilder.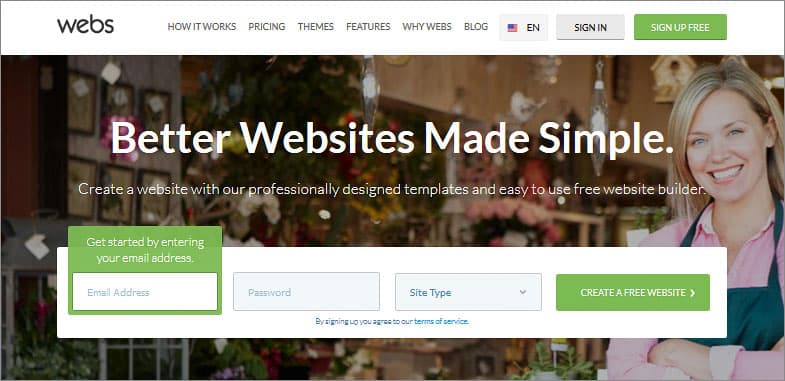 Webs is perfect for developers who love doing things their own way. The website maker offers a unique DIY framework and WYSIWYG interface. It gives you absolute creative control over the website, store, blog or anything else that you're building using Webs. Here, you can create multiple web pages under one account, edit the content live, share it on social media for better monetization opportunities. In-built SEO support further ensures solid web presence and promotion. You can even host your website and get your domain registered for free. The free version of Webs offers 500MB bandwidth and 40MB storage, upgrade to a premium plan to explore the advanced features.
Webs works on a point and click framework that's pretty easy to work with. You don't require any coding skills or in-depth knowledge of software, anyone who can handle a computer will be able to work on Webs. We would recommend the platform for the creative content makers who require a dynamic and interactive interface for customizing their content.
Best Website Maker Software