Mozello Review: Easy and Free Website Builder for Small Business
WebBuildersGuide.com earns commission from some of the web builders and hosting providers listed on this website.
Learn more
Fast, free, and easy. That's how Mozello markets itself. A product of a small software company located in Latvia (Europe), Mozello enables you to create high-performing websites, blogs, and online stores. This website builder has been designed to allow small and medium-sized businesses to quickly create a functional, good-looking website.
What makes Mozello so special?
To use Mozello, a browser is all you need to get started. Here are the other main benefits of using Mozello.
1. Create a website in minutes
Mozello lets you build a website and enjoy the process. You can expect to be able to build a decent e-store in 5-7 hours using Mozello. Many website builders claim that you can build a website in minutes. That's technically true, but you can't launch a website built in 30 minutes; it'll be incomplete, incoherent, and ineffective.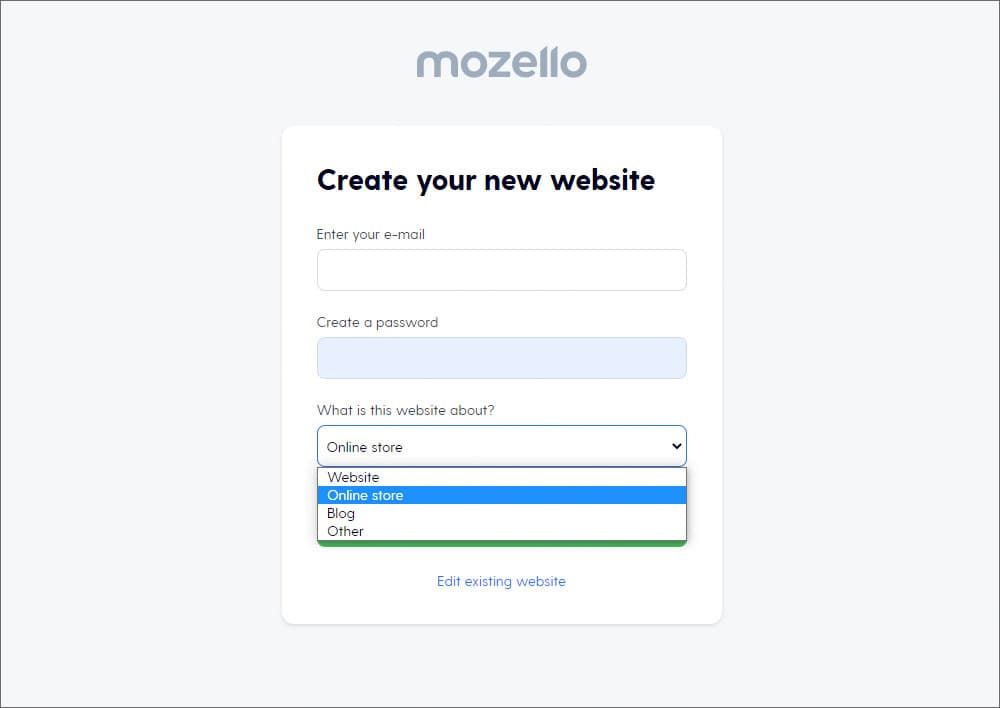 Create your new website
The editor is straightforward and does not require an extended learning curve. The working area is divided into a three-column setup like the Gutenberg editor.
You can remove a pre-built page; add new pages and subpages based on your requirements. Mozello's content layout editor makes adding, arranging, and customizing content a breeze.
Keep in mind that Mozello is not a drag-and-drop editor e.g. Wix, Weebly and Elementor plugin for WordPress. You have to add and reposition elements from the left side toolbar.
You can also customize the main menu, the footer, the content and background color, and the number of columns. Making these changes takes little time. Adding a new content block, for instance, only requires you to click on the "+" sign visible above or under the existing blocks.
2. Create multilingual websites
Mozello supports over 60 different languages, including English, French, German, Spanish, and Russian. This allows you to create multilingual websites that cater to a wider audience/customer base and boost your business.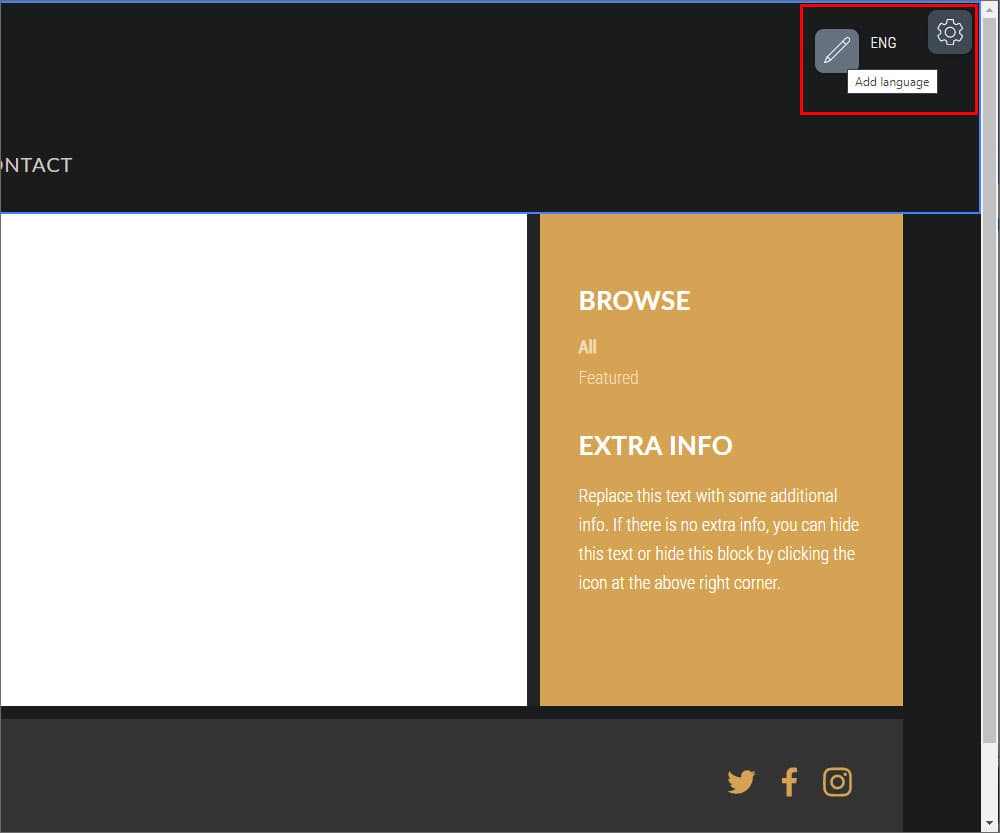 Create multilingual websites
Users can select the language they want to view the website by using a link at the top right corner of the website.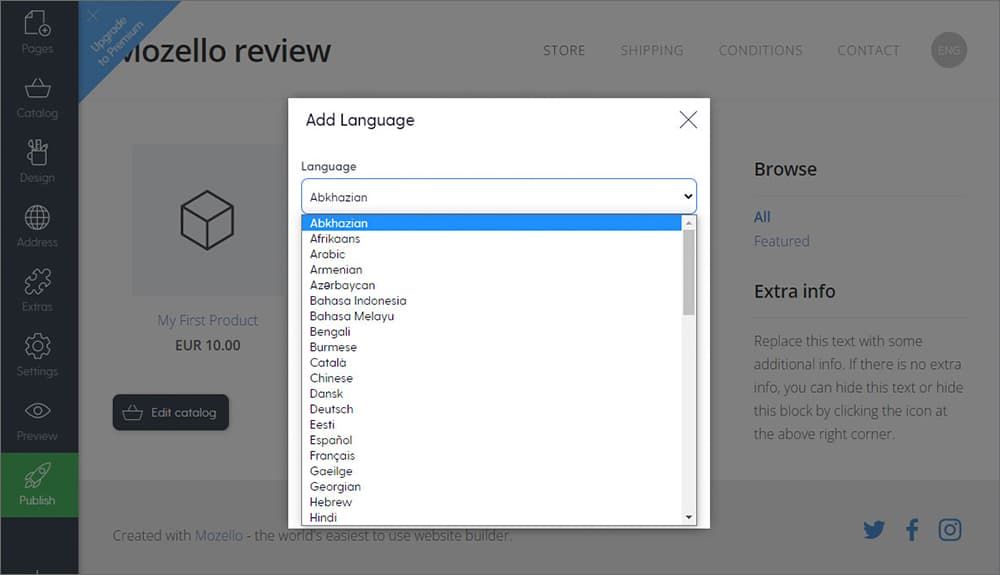 Select the language
3. Flexible layout design
Mozello gives you an amazing degree of control over certain aspects of the layout design. You can customize the front page banner to create a unique visual effect. You can use text, images as well as call-to-action buttons in your banner.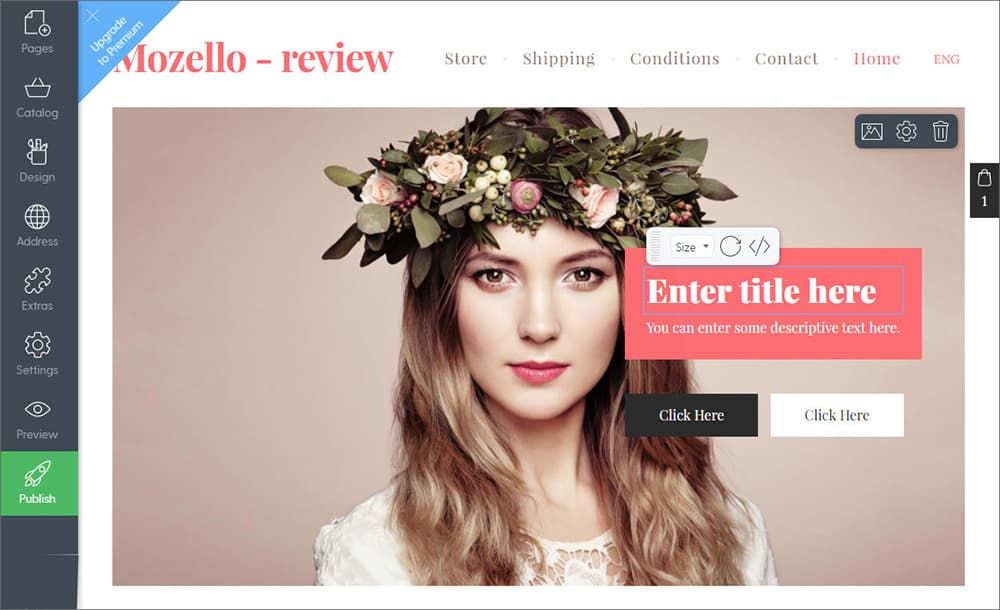 Flexible layout design
You also get complete control over the placement of text within the banner as well as the appearance of the buttons. Mozello has several different button styles that you can choose from. These include regular buttons, bold text, solid colors, and transparent buttons.
4. Third-party integration
Mozello API (Application Programming Interface) allows integration with third-party systems to enhance the site's functionality.
Mozello API
Application Programming Interface is a collaboration between two apps. The best example is Uber and Google Maps. Mozello offers APIs that seamlessly bind delivery services, warehousing and accounting programs, and payment processing platforms to your site.
5. Advanced analytics support
Mozello supports Google Analytics 4, one of the most powerful analytical tools around today. This allows websites built with Mozello to track the customers' journey across different platforms, better identify the users' preferred paths and better predict the probability of sales and churn.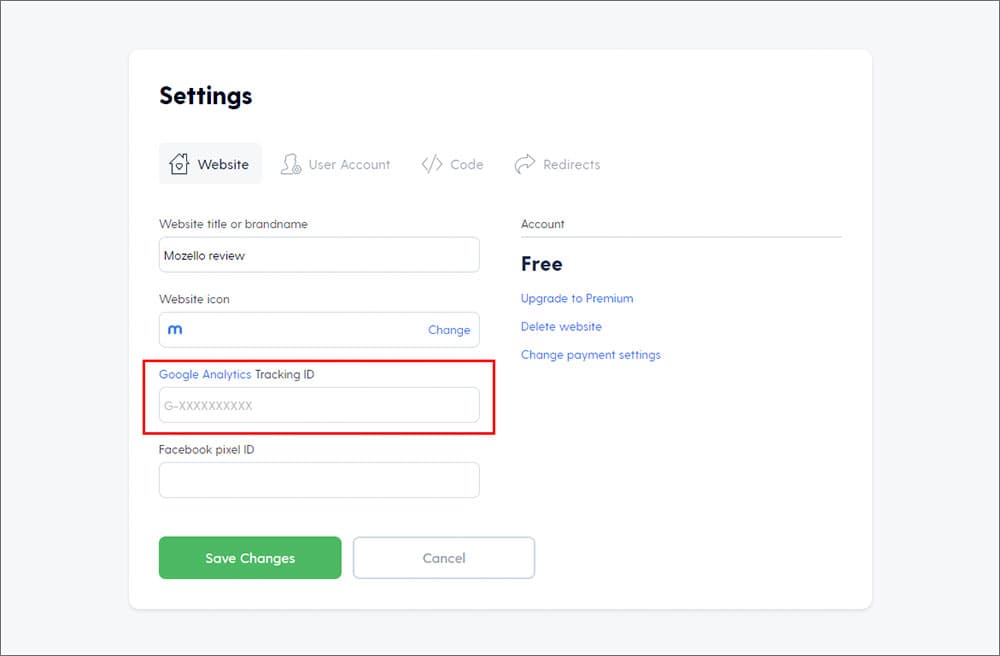 Google Analytics 4
Analytical tasks such as tracking conversion rate and events such as product search can be executed without the need for coding.
6. Auto-backup
Mozello backs up your website automatically. In case of a disruption, you can recover the version of the website that you were last active on from the backup data center.
7. Always improving
Mozello has been evolving since it first became accessible to its users. The Mozello team regularly approaches its users to ask about their experience and invites suggestions for changes and new features. The current area of focus for Mozello is its eCommerce capabilities.
Mozello templates: Beautiful, mobile responsive
Mozello offers 48 ready-to-use templates. These are all responsive and automatically adapt to different screen sizes. You can customize the templates' color and font to meet your design needs.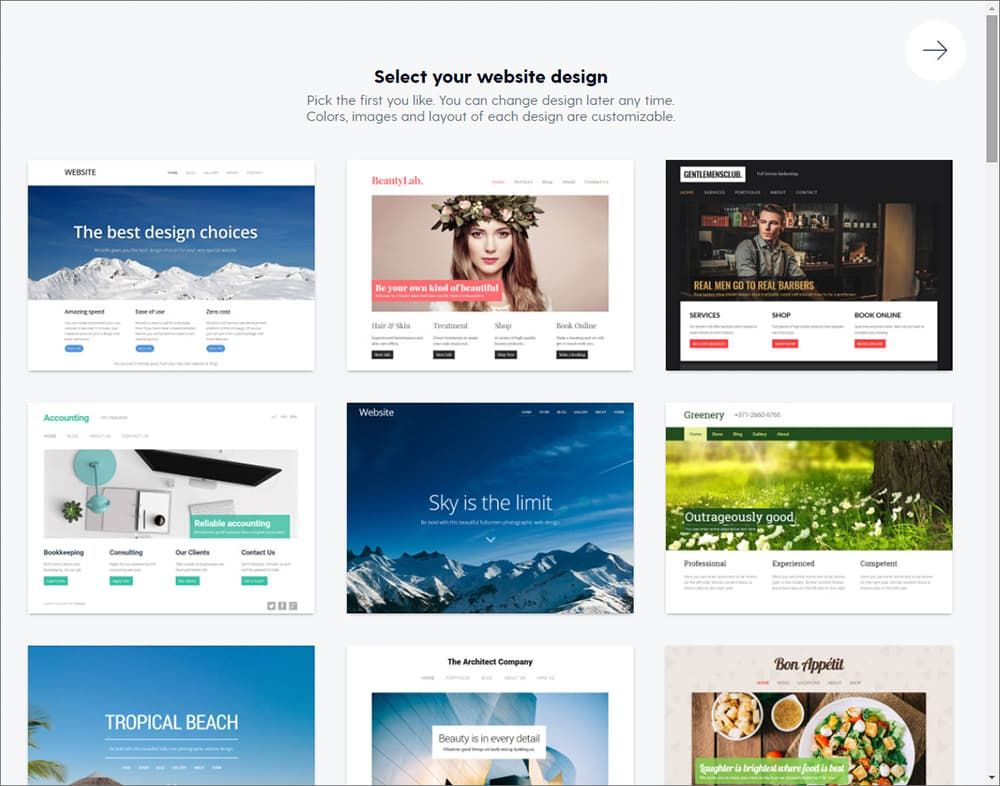 Mozello templates
You can also swap the chosen template for another at any point during the act of website building. Swapping templates will not affect the work you've already done. The edits that you've made so far will be saved to the draft.
Mozello shows you several examples of how your website may eventually look like. These examples serve as proof of template quality, as well as samples for you to emulate, using Mozello's templates.
Mozello Free Plan
Mozello's free plan lets users experiment and determine whether they enjoy the UI, and can build a proper website or e-store using it. Your free website will be hosted on a "mozello.com" domain. The free plan gets you 0.5 GB of storage space and gives you access to all of Mozello's themes and templates. You can create a full-fledged multilingual website using the free plan.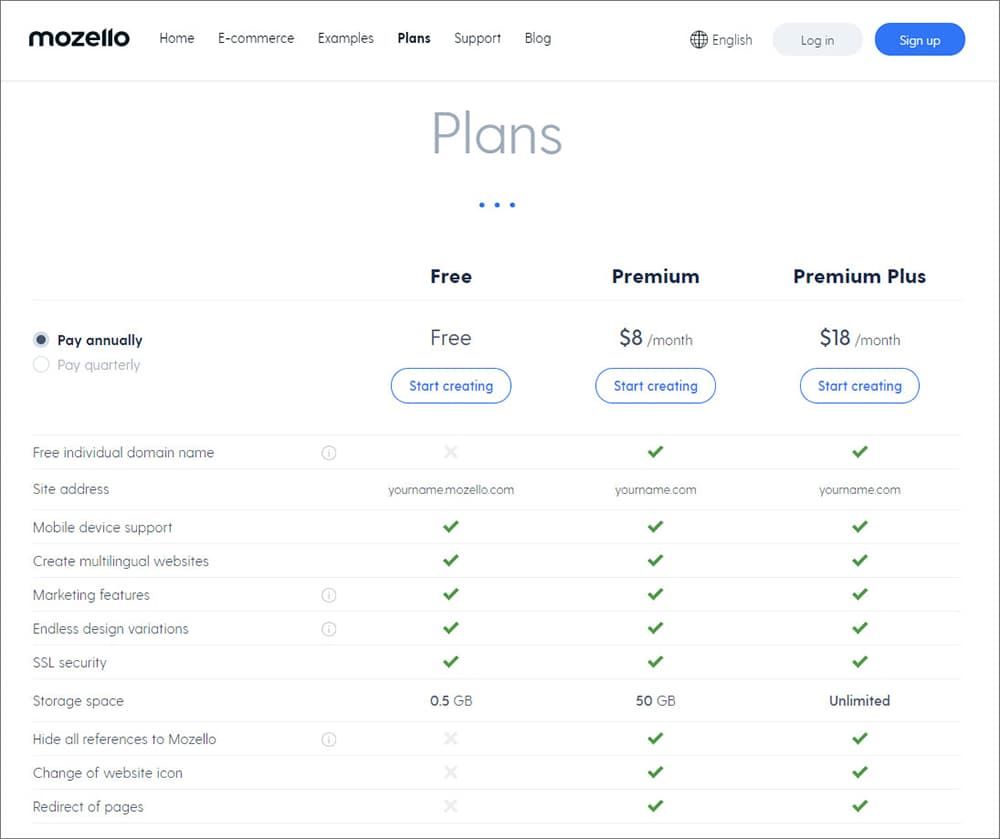 Mozello Plans
Mozello is one of the fewest free website builders offering free online store creation. If you create an e-commerce store using the free plan, you get to display up to 5 products on the store. You can use 5 different product variants and accept online payment through PayPal. Mozello doesn't charge any commission on the sales you make. There's also no transaction fee on processing the payments.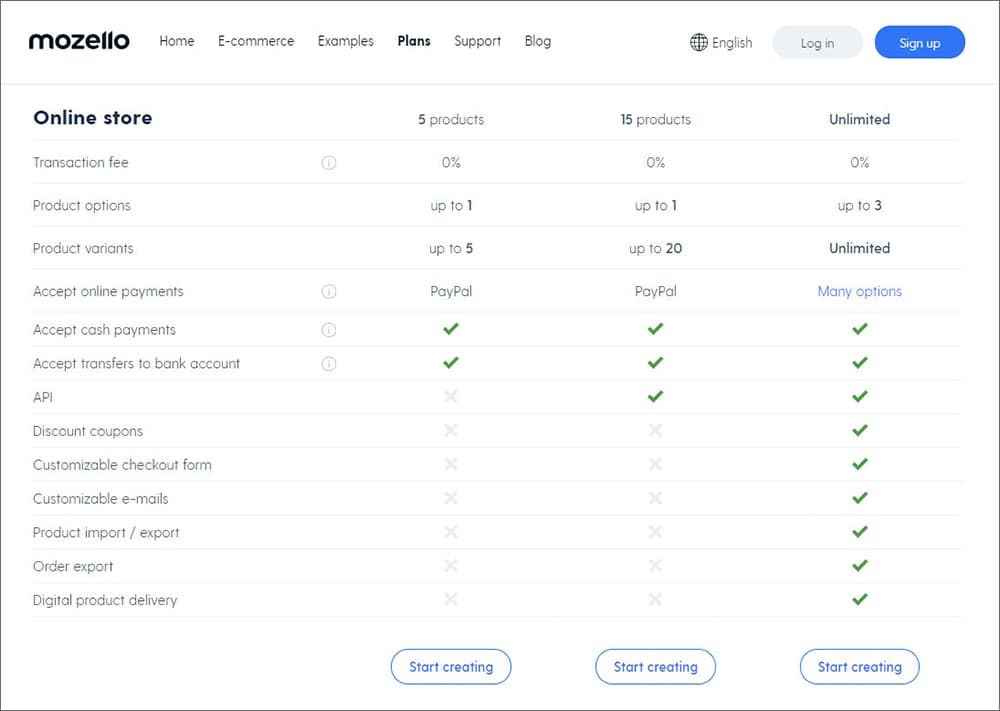 Mozello online store plans
Mozello's free plan comes with customer support through email. The customer support, however, is only available in the English language. The free plan also lacks API support and key marketing features such as discount coupons and the ability to sell digital products.
Mozello for small businesses
Building a small business website using Mozello is both easy and affordable. Mozello's free plan pretty much covers all the basic features that a small business owner would typically look for to create a digital presence.
With Mozello's user-friendly interface, business owners can have a website set up in quick time, without the need for technical assistance.
Of course, for a better experience, you need to upgrade to paid plans, which cost less than what you'd pay for most website builders offering similar features.
Premium Plus offers access to a whole host of features:
Three payment gateways – Paypal, Stripe, and Braintree.
Product Import/Export from CSV.
Customizable checkout form.
Mozello for creating blogs
Mozello's blog editor is easy enough to use even for newbies. The interface is simple, yet attractive. Actions such as adding image and video content, tables and files to a post are easy to execute. Mozello also has a built-in commenting platform that can be integrated with Disqus.
Adding image
Mozello's blogging features, though not vast, are satisfactory for hobbyist bloggers and small businesses looking to use the blog as a marketing tool.
Mozello for E-commerce
Mozello enables you to create a beautiful, fully-functional e-commerce store capable of the following functions:
Set display images for different product categories
Categorize the different products/services that you offer
Display the out-of-stock products under the "Sold out" label
Include the prices for your products/services in multiple currencies
Include multiple shipping/delivery modes
Include taxation information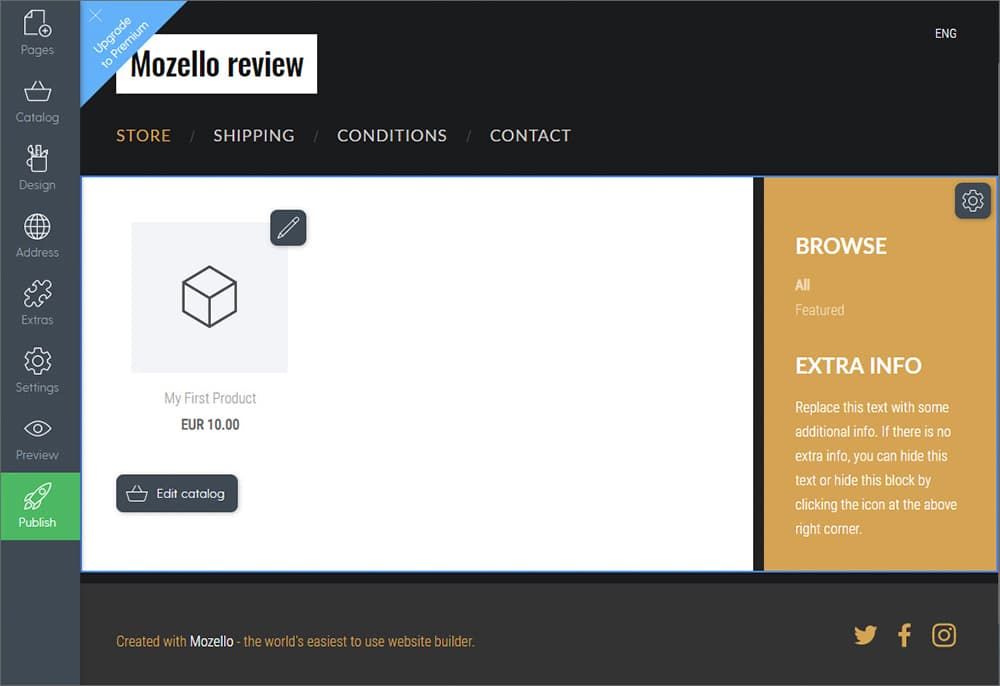 Mozello for E-commerce
Mozello allows you to offer discounts to your customers using coupons. The discount function is included in the "Catalogue Management" section. You can create custom coupons based on parameters such as a fixed monetary value, number of uses or time frame. You can also limit the applicability of a coupon to a particular product category.
With Mozello, the page headlines are SEO optimized. This allows prospective customers to find products from your website through a simple Google search. Another big advantage of Mozello is that customers from countries that have sanctions or restrictions on trade with your country cannot place an order.
Mozello's Engaga tool allows you to create call-to-action pop-ups to engage website visitors and improve the chances of converting visits into sales. You can also create slide-ins, sign-up forms and marketing promos without writing a single code.
Mozello supports multiple payment processing platforms. These include PayPal, WebMoney, Paysera, BlueOrange, Kevin, SEB, Klix, and DECTA. It also supports multiple shipping networks, including Estonian Omniva and Lithuanian.
If you've opted for the Premium Plus plan, you can sell digital products on your Mozello-made e-commerce store. These include e-books, PDFs, videos and images in a wide range of formats.
Mozello: Drawbacks
One of Mozello's biggest drawbacks is its inadequate knowledge base. The knowledge base is limited to a simple, rather brief list of FAQs. There are no video tutorials or detailed user guides.
Another big drawback is that Mozello doesn't offer customer support via phone. But they have live chat support. Alongside with support via email and Mozello's Facebook and Twitter pages.
However, you'd not find any forums where Mozello's customers have complained of this. This indicates that users find value in Mozello's support resources on its blog. Also, the UI is intuitive enough, such that anybody with basic MS Office experience can easily develop a website.
Mozello's paid plans
Mozello has two paid plans – Premium and Premium Plus.
The Premium plan is meant for websites only or small online stores (to showcase a catalog of products). It is priced at $8 per month. You can choose your own custom domain name. This plan offers 50 GB of storage space. You can change your website's icon and hide all the references of Mozello from the web pages. This plan supports API integration. E-commerce stores built with the premium plan can display up to 15 products.
Mozello's Premium Plus plan is meant for eCommerce. It's available for a monthly fee of $18. This plan gives you your own custom domain, unlimited storage, and the ability to display as many products on your store as you like. In addition to the benefits included in the Premium plan, this plan also includes features such as customizable emails and check-out forms, discount coupons, and the ability to sell digital products.
You can upgrade from the free plan to any of the paid plans at any time. You can't, however, switch from one of the paid plans to the free plan. Also, there's no refund if you happen to cancel your Mozello subscription midway.
Mozello: Whom is it suitable for?
Mozello is a pocket-friendly website builder for creating beautiful, responsive websites capable of supporting a basic small business website, blog or online store. Even the free plan offers enough functionalities to help you get started.
If you're a solo blogger, entrepreneur or small business owner that wants a personalized website, fast, spending little to no money, then Mozello is the ideal choice for you.